D&H RV Center gives Truck Camper Magazine access to an extremely rare molded fiberglass Roamer truck camper.  Roamer RV is no more, but there are some very interesting ideas in this extinct design.

"Do you guys know anything about a Roamer truck camper?"
The voice on the phone was Dave Hofert of D&H RV Center.  He had found a mysterious molded fiberglass truck camper at an auction house in Florida and bought it sight unseen.
"Roamer went out of business about the same time we started the magazine," I answered.  "Honestly, we've never seen one in person.  That's pretty astounding considering how much we travel, and how many truck campers we've encountered."
"Well, it's in Florida.  You're in Florida.  Would you like to see it?"
Until Dave's phone call, we had only seen a few grainy online photos of Roamer truck campers.  A Roamer would show up on the web here and there with a single photo, maybe two.  The invitation to actually see a Roamer in person was an offer too tempting to refuse.  Besides, we were only about 45 minutes away.
The next morning we ironically published, "6 Tips For Buying Used Campers" and went to see the used Roamer.  Dave called ahead to the auction house so we would have access to the unit.  At long last, we would see an actual Roamer, in the fiberglass.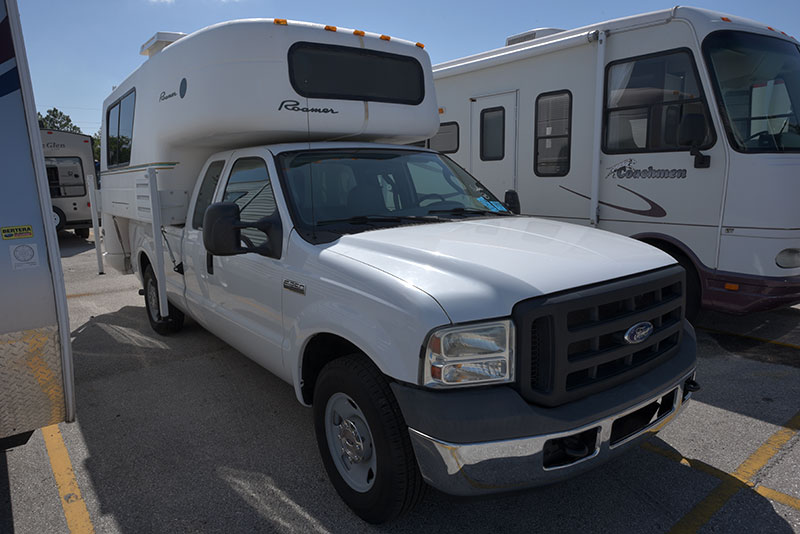 A short golf cart ride later, there it was; a 2004 Roamer Norfolk DS, their base model.  It appeared to be in good condition, at least at first blush.  Keys in hand, we opened the rear entry door to explore the camper.
The Oliver Twist
In the fall of 2017, we came across an Oliver travel trailer at Hallmark RV.  Now we don't normally pay much attention to travel trailers, but the build quality and concept of Oliver was unique.
Oliver trailers feature a two-piece gel-coated molded fiberglass exterior clamshell.  That's an approach truck camper manufacturers pioneered decades ago, but Oliver doesn't stop there.
Oliver trailers also feature a 100-percent gel-coated and molded fiberglass interior with fiberglass dinettes, fiberglass cabinets, fiberglass walls, and fiberglass floors.  The entire Oliver structure is molded fiberglass.
Oliver utilizes wood for drawer boxes, but the drawer faces are molded fiberglass.  You could literally sink an Oliver trailer in a lake for a year, pull it back up, clean it, restore a few wood items, replace the appliances, batteries, and wiring, polish the fiberglass, and have yourself a usable travel trailer.  Try that with anything framed in wood or aluminum.  Forget about it.
All of this got us thinking, "Why don't we see this 100-percent fiberglass manufacturing approach with truck campers?"  Then we saw the Roamer.
Ahead of Their Time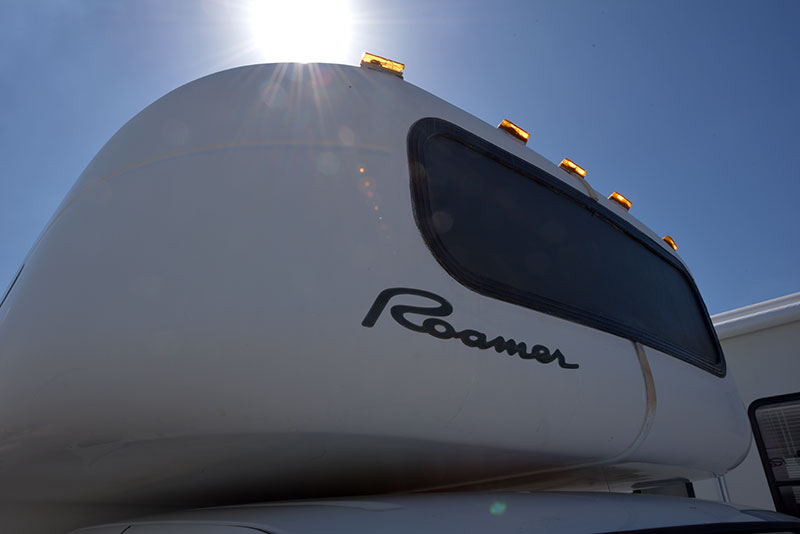 While we knew Roamer RV had built a molded fiberglass camper, we had very little information about their interiors.