D&H RV Center gives Truck Camper Magazine access to an extremely rare molded fiberglass Roamer truck camper.  Roamer RV is no more, but there are some very interesting ideas in this extinct design.

"Do you guys know anything about a Roamer truck camper?"
The voice on the phone was Dave Hofert of D&H RV Center.  He had found a mysterious molded fiberglass truck camper at an auction house in Florida and bought it sight unseen.
"Roamer went out of business about the same time we started the magazine," I answered.  "Honestly, we've never seen one in person.  That's pretty astounding considering how much we travel, and how many truck campers we've encountered."
"Well, it's in Florida.  You're in Florida.  Would you like to see it?"
Until Dave's phone call, we had only seen a few grainy online photos of Roamer truck campers.  A Roamer would show up on the web here and there with a single photo, maybe two.  The invitation to actually see a Roamer in person was an offer too tempting to refuse.  Besides, we were only about 45 minutes away.
The next morning we ironically published, "6 Tips For Buying Used Campers" and went to see the used Roamer.  Dave called ahead to the auction house so we would have access to the unit.  At long last, we would see an actual Roamer, in the fiberglass.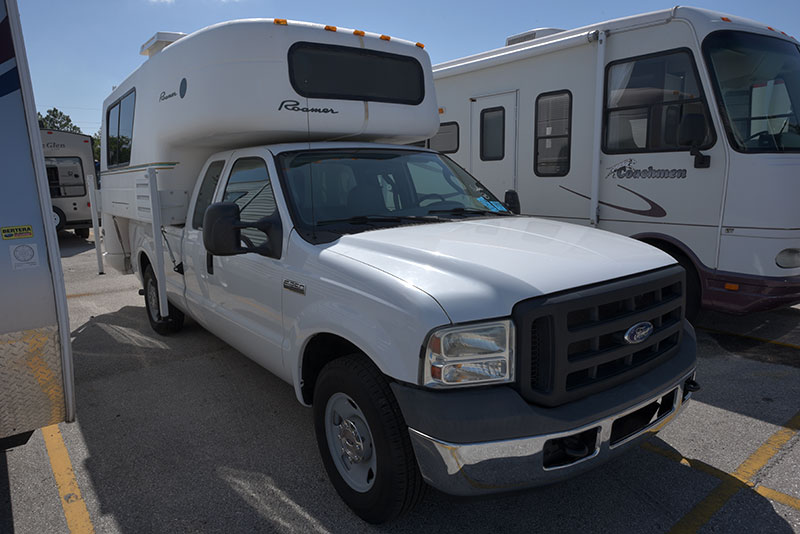 A short golf cart ride later, there it was; a 2004 Roamer Norfolk DS, their base model.  It appeared to be in good condition, at least at first blush.  Keys in hand, we opened the rear entry door to explore the camper.
The Oliver Twist
In the fall of 2017, we came across an Oliver travel trailer at Hallmark RV.  Now we don't normally pay much attention to travel trailers, but the build quality and concept of Oliver was unique.
Oliver trailers feature a two-piece gel-coated molded fiberglass exterior clamshell.  That's an approach truck camper manufacturers pioneered decades ago, but Oliver doesn't stop there.
Oliver trailers also feature a 100-percent gel-coated and molded fiberglass interior with fiberglass dinettes, fiberglass cabinets, fiberglass walls, and fiberglass floors.  The entire Oliver structure is molded fiberglass.
Oliver utilizes wood for drawer boxes, but the drawer faces are molded fiberglass.  You could literally sink an Oliver trailer in a lake for a year, pull it back up, clean it, restore a few wood items, replace the appliances, batteries, and wiring, polish the fiberglass, and have yourself a usable travel trailer.  Try that with anything framed in wood or aluminum.  Forget about it.
All of this got us thinking, "Why don't we see this 100-percent fiberglass manufacturing approach with truck campers?"  Then we saw the Roamer.
Ahead of Their Time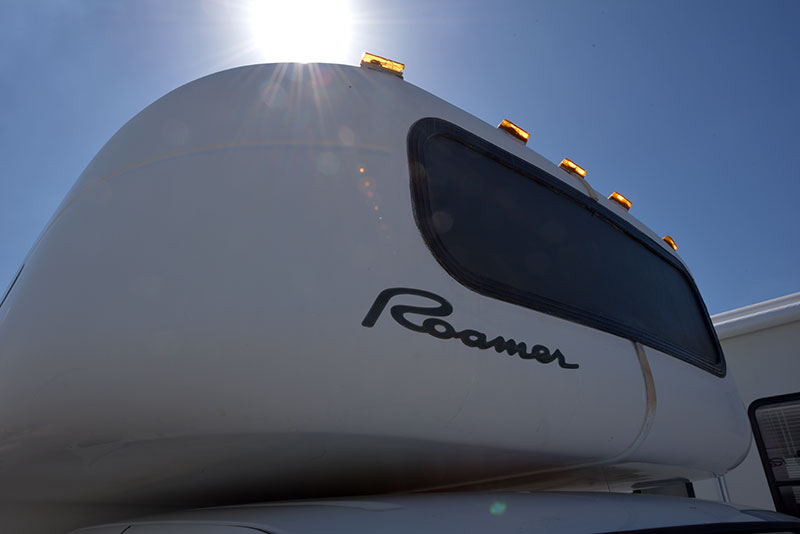 While we knew Roamer RV had built a molded fiberglass camper, we had very little information about their interiors.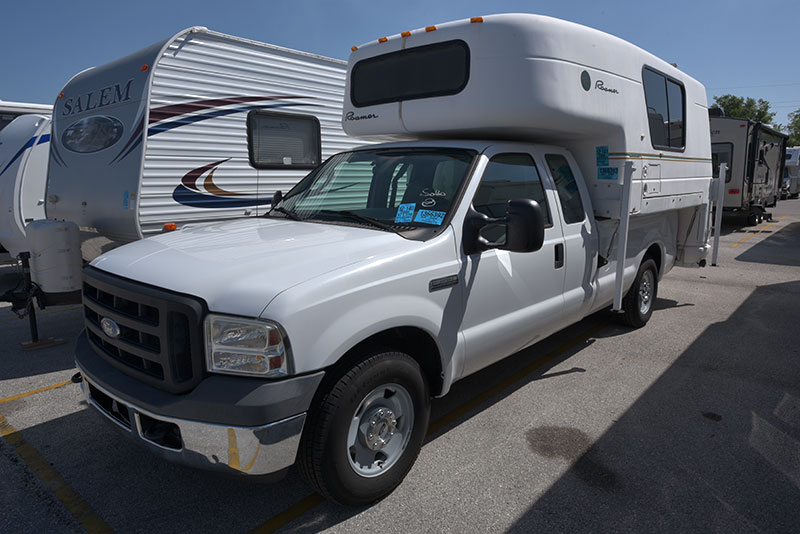 When we walked in and saw a molded fiberglass dinette, fiberglass cabinets, and fiberglass walls, we could barely contain our enthusiasm.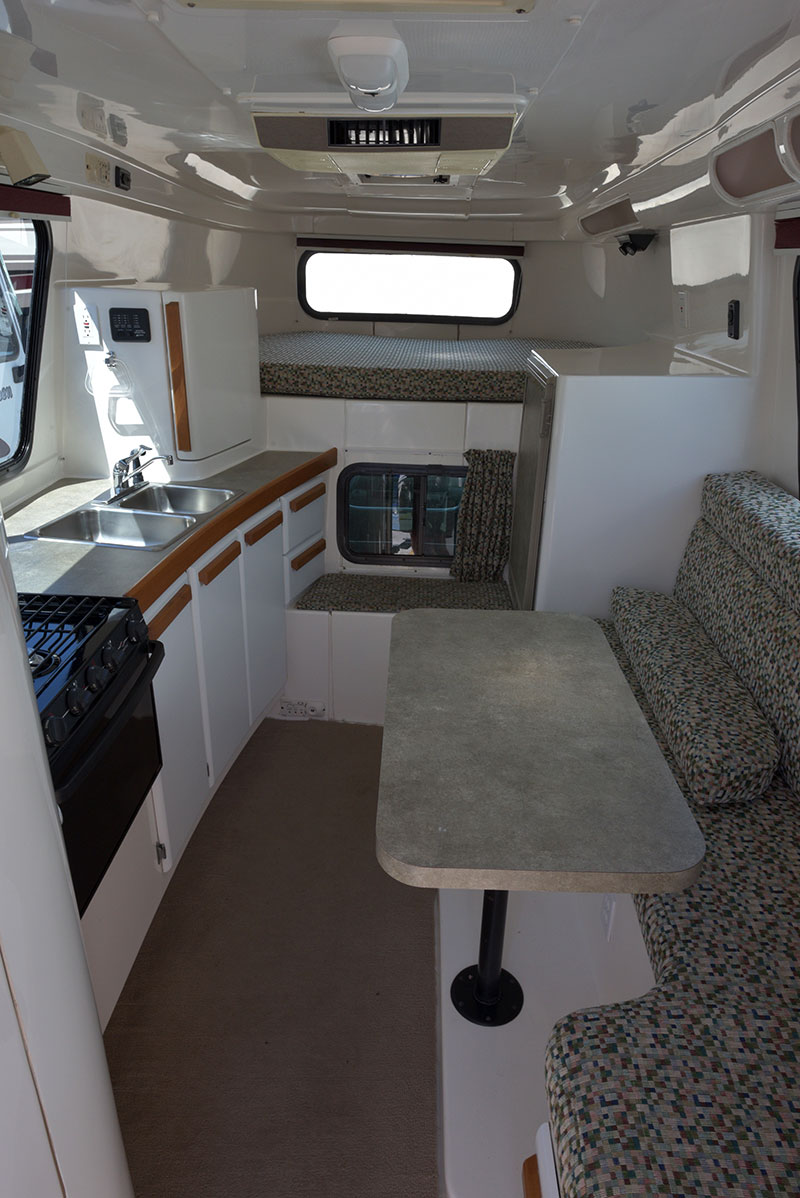 It's almost like the entire truck camper interior is a white gel-coated molded fiberglass wet bath.  The walls, ceiling, and floor are white gel-coated molded fiberglass.  The white gel coat gives the Roamer a clean and bright interior aesthetic.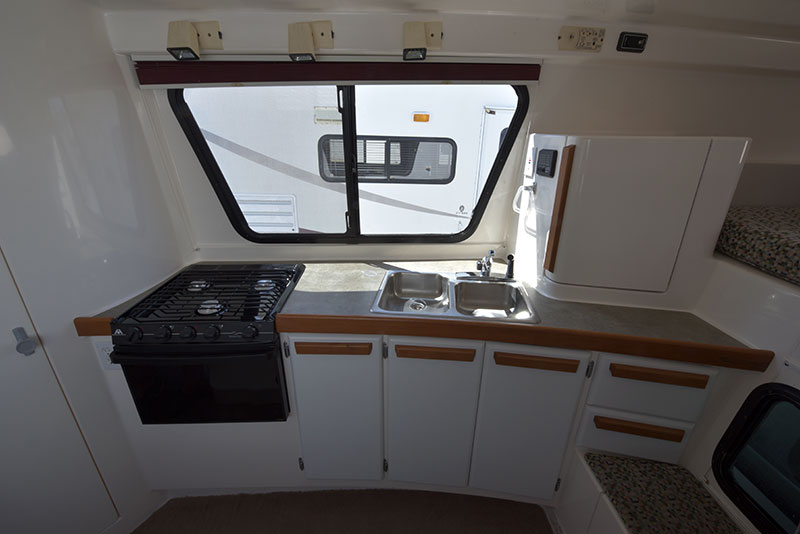 The cabinetry fronts and faces are white gel-coated molded fiberglass.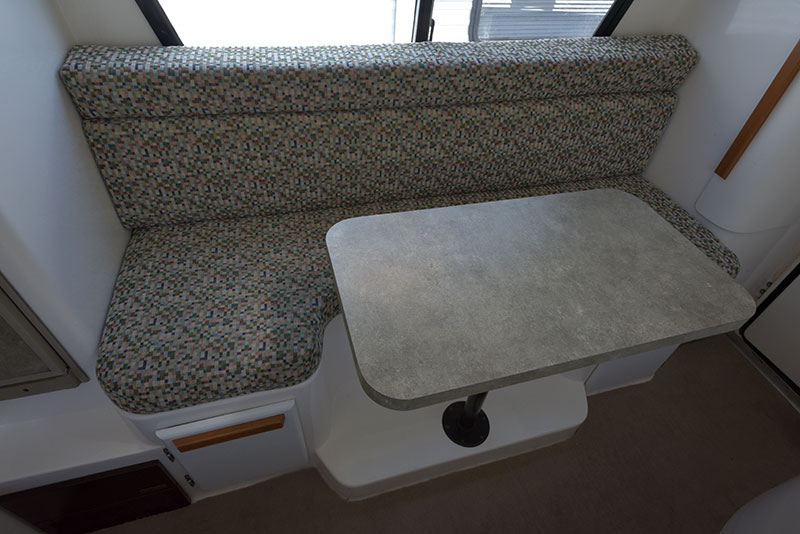 The dinette seats are white gel-coated molded fiberglass.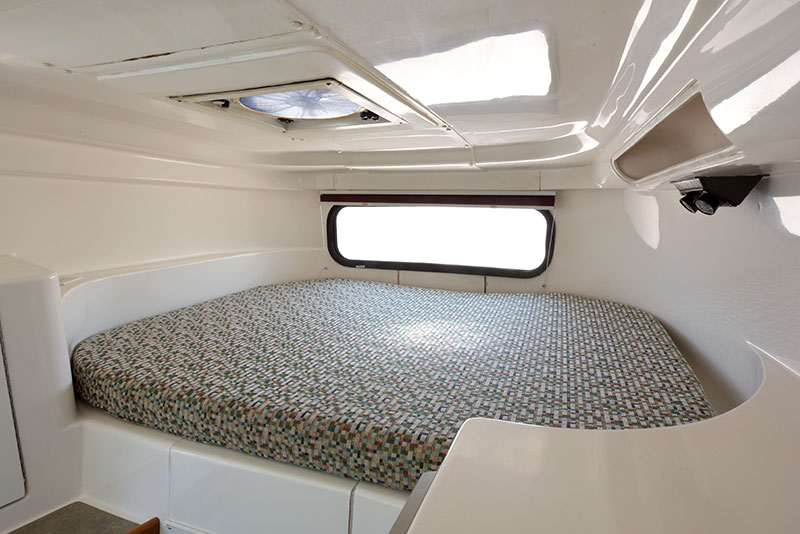 The cabover is white gel-coated molded fiberglass.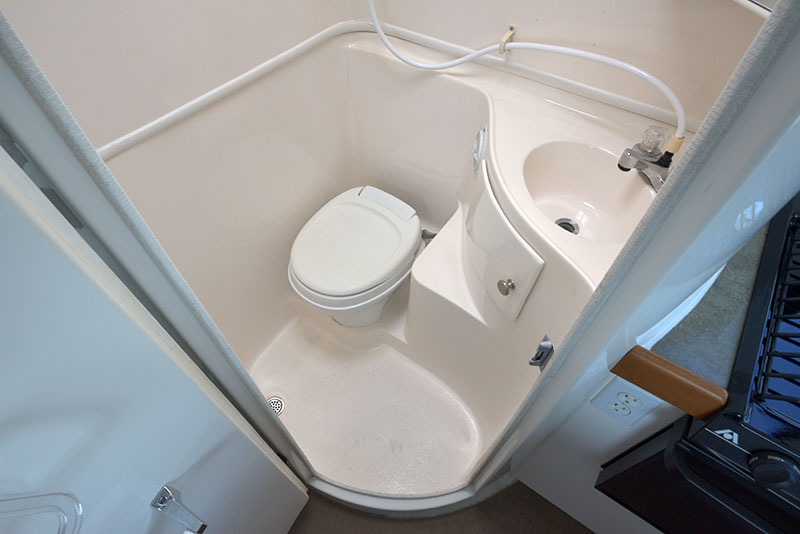 And yes, the wet bath is white gel-coated molded fiberglass.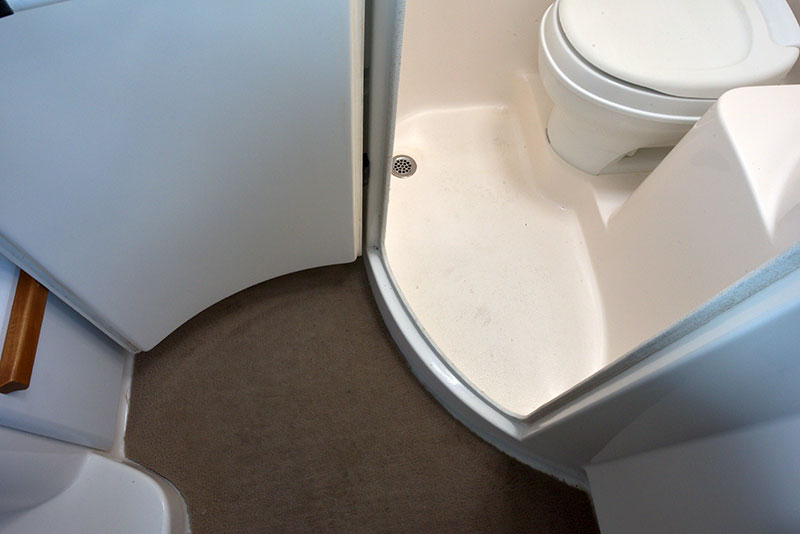 As molded fiberglass, Roamer is able to design complex curves into their walls and cabinetry further giving the camper a unique sense of space and modern design.  If anything, it looks and feels like living quarters on a boat.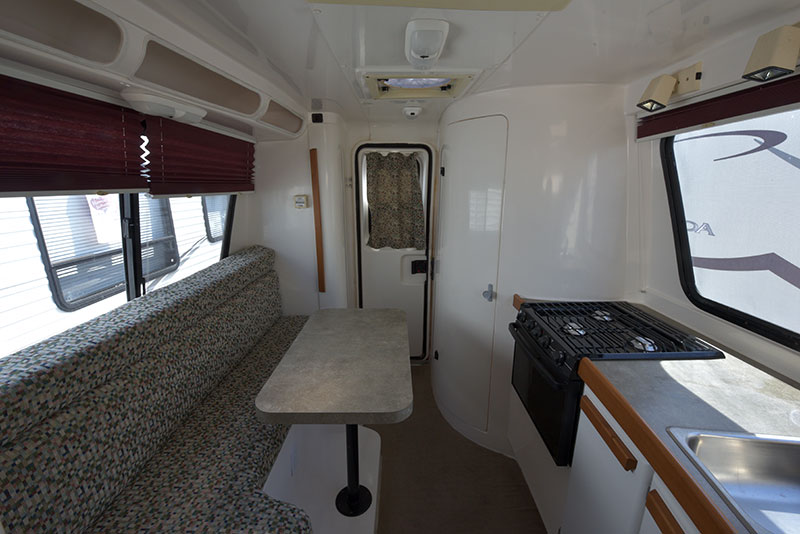 Available storage leaves a lot to be desired, but we are looking at the Roamer for floor plan inspiration.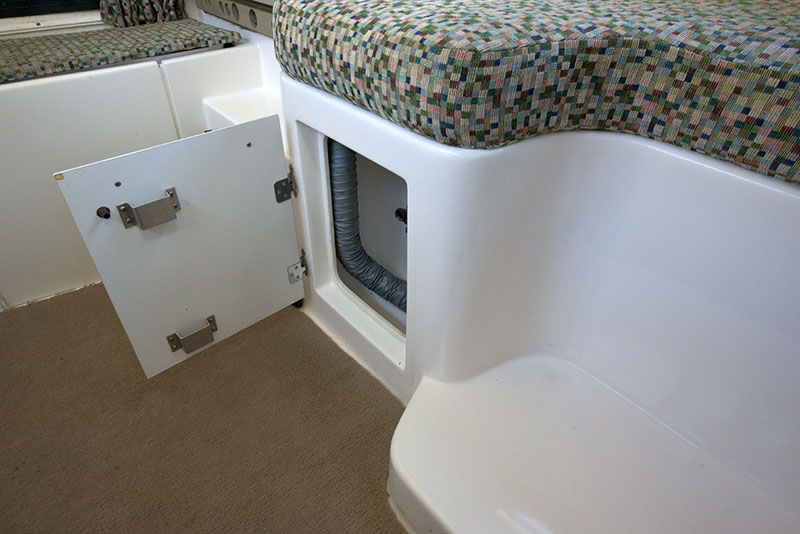 This camper is essentially un-obtanium, so the fact that still has incandescent lights and lacks storage for your stuff misses the point.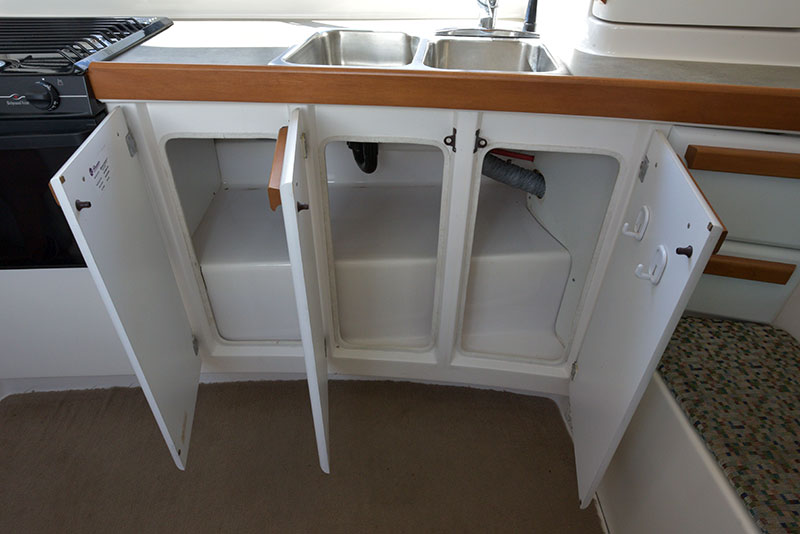 We are looking to bring this manufacturing approach to light, and perhaps inspire the current truck camper industry to think about the this nearly 100-percent fiberglass manufacturing approach.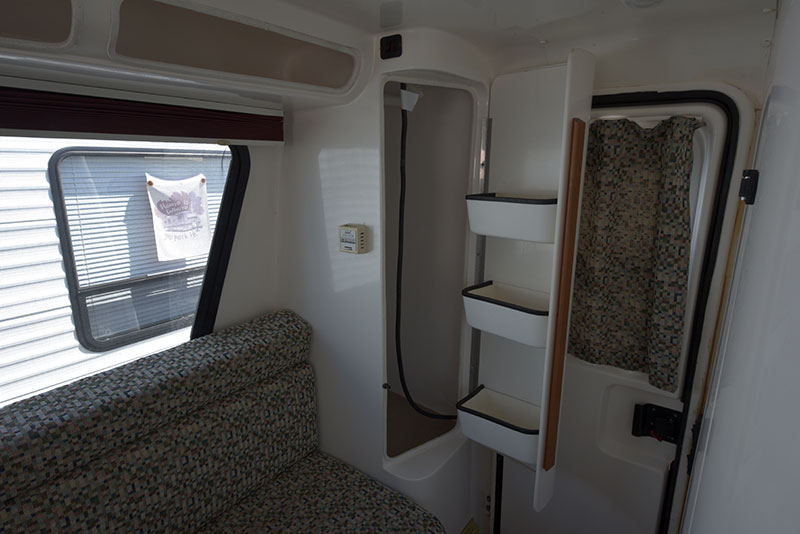 Below are some additional photos of the Roamer Camper.
Unfortunately, the Roamer before us had seen better days.  The vertical seam that runs the length of the camper appeared to have been compromised with visible water stains, rusting screws, and compromised interior ceiling seals.
Using my patented smell test, we did not detect a musty odor, but the floor was quite spongy under foot.  When Dave picked up the unit, he quickly discovered the wood floor was rotted and in need of replacement.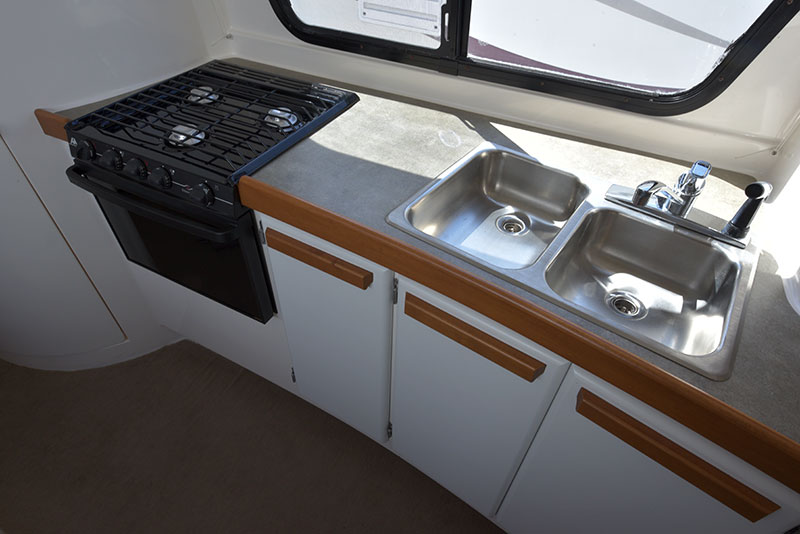 Lucky for Dave, this is a relatively quick fix with a molded fiberglass camper.  For any non-molded fiberglass camper, this story would have ended with a total loss.
Roamer RV: Postmortem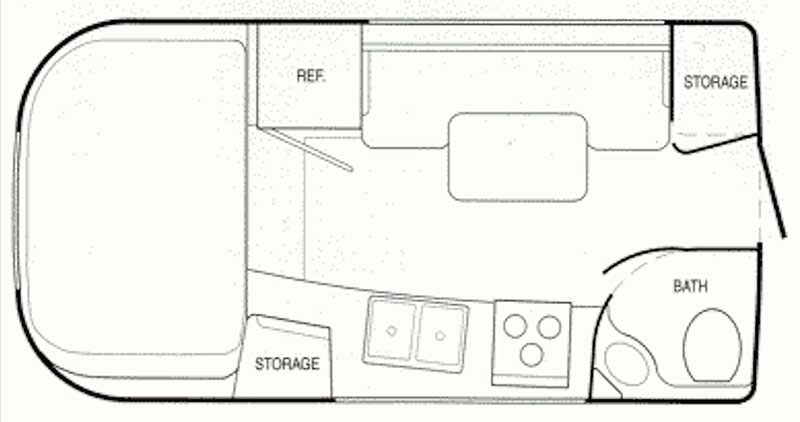 Above: The Roamer Camper floor plan from the brochure
While we do not have the complete history of Roamer RV (they ceased operations in 2008), we know they were in business as far back as 2003, possibly earlier.
As a division of Wesco Fountains (also out of business), Roamer RV was located just south of Sarasota, Florida.  Roamer RV sold their molded fiberglass truck campers factory direct and were custom built to order.  From everything we can find, Roamer truck campers were very limited production products.  Again, this is the first Roamer we have ever seen in over 13 years of truck camping.
Above: A Roamer Camper brochure image
We attempted to call the phone numbers listed for both Roamer RV and Wesco Fountains, but they were both disconnected.  We were able to pull up their defunct website on the Way Back Machine and learn a few more details about the company and product, but that's about it.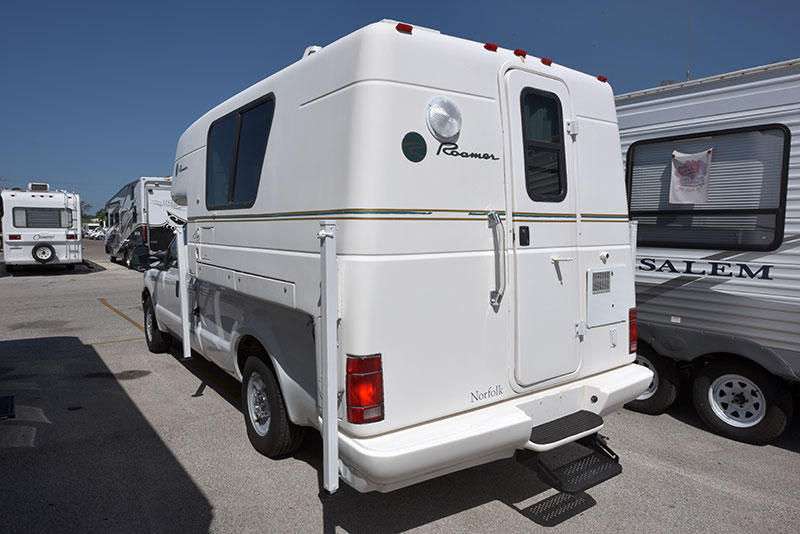 Roamer RV is truly extinct.  Thankfully, a few examples of their visionary molded-fiberglass truck campers are still here to inspire future truck camper design.
Check out more orphaned and vintage campers in our Vintage Camper Gallery.