Jim Bursen retired at age fifty and hit the road to freedom.  That was 1991.  Now in his second Alaskan Camper, Jim's still having fun, twenty-three years later.

WARNING: If you're reading this article at work, stop immediately.  We do not want to be responsible for your sudden irresistible urge to run out of the office shouting, "I'm outta here!  I quit!  I retire!"  Besides, you've had these thoughts for years now.  Don't blame us, we're just a magazine.
Jim Bursen did something in 1991 that most people don't even dare to think about.  At age fifty, Jim retired from a good job with security and benefits and dared to retire.  Was Jim courageous, or crazy?  According to Jim, many said he was mad, but he was undeterred.  The open road, and its endless possibilities, beaconed.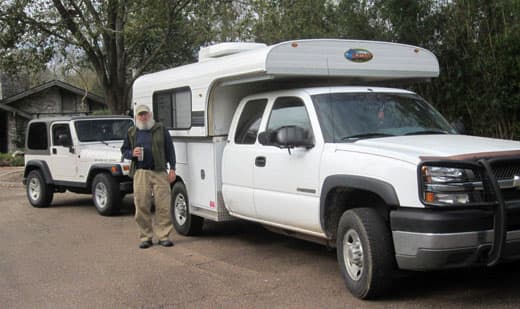 TCM: How did you get into truck camping?
Jim: I retired from working at the university when I turned fifty in 1991.  I was a trumpet teacher for twenty-one years.  They gave me the name of the "mad professor" because I gave up my tenure and health insurance.
TCM: Wow.  That's a very young age to retire.  Any regrets?
Jim: I don't regret retiring at all.  Most people are afraid because they think they're going to be bored or go broke.  If you're in a position to retire and hit the road, you'll never be bored.  I was in the service for four years, played trumpet professionally, and then taught for twenty-one years.  I am on my 23rd year of retirement and I am still not bored, and I get by just fine.  I think retiring to a truck camper is a great idea because you're like a turtle, with your house on your back.
When I retired, I sold all my horns or gave them to students.  I played in orchestras for thirty years.  When you professionally play, you don't play for fun.  I still go to a lot of live recitals and am very interested in Jazz.  When you are traveling there are all kinds of festivals in the summertime.  With the internet now, I am connected all the time and seek out music recitals and festivals.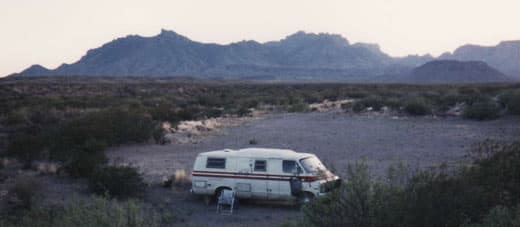 Above: Jim's first RV, a 1968 Dodge camper van
TCM: Did you start out with a truck camper?
Jim: In 1967, I started traveling with a Dodge camper van.  Then, in 1995, I bought my first Alaskan camper and had it for seventeen years.



Above: Jim's first Alaskan Camper
TCM: You had your first Alaskan Camper for seventeen years?
Jim: Yes, I did.  Back when I was volunteering at Olympic National Park in my Dodge van, I saw an Alaskan Camper.  I thought the hard side pop-up camper with a hydraulic lift was pretty neat.  At Olympic National Park people couldn't use canvas pop-ups because of it being bear country.  That's why I like the hard sided pop-up camper.
I later called Alaskan Campers from my home in Indiana.  At the time, Bryan's father, Don Wheat, was coming out to visit his mom in Duluth.  Don had a used Alaskan Camper available that he drove out to me when he visited his mom.  That was April of 1995.  I really used that camper.  When it came time to get a new camper, I ordered a brand new Alaskan.  This time, from Bryan.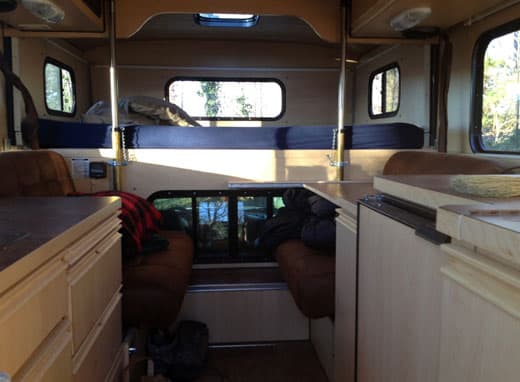 Above: The interior of Jim's Alaskan Camper.  You can see the hydraulic lift mechanism.