Scott and Angela Woodhams custom designed a demountable chassis-mount Phoenix Camper and charted a remarkable course through the beaches, deserts, mountains, and jungles of Central and South America. And they're just getting started.

When you come across a young couple who's (a) not working and (b) living a full and adventurous life, it's hard not think, "How are they able to afford that amazing lifestyle?"
The knee jerk assumption is that they must be rich, or living on credit or the charity of others.  That's the only way life can be that free, that young – right?
Not necessarily.
In their earliest young-adult years, some individuals know exactly what they want in life.  With a burning vision, they make critical decisions that drive their path forward.  They might move to New York or Los Angeles.  They might start a business.  Or they might start investing in real estate.
Most of us know someone from our high school or college years who showed this kind of ambitious determination and focus, and catapulted their life and career to places we could hardly imagine.  How did they do that?
Scott and Angela Woodhams were talking about the adventurous lifestyle they live now when they met over 20-years ago.  They married, had successful careers, and a family, but they also made bold choices toward their shared vision.  In the Woodhams' case, they reached their goal and earned their freedom one rental property at a time.
When their son graduated high school, it was time to put their life-long travel dreams into action.  They quit their jobs, added their own home to their rental income, commissioned a custom demountable chassis-mount truck camper from Phoenix Custom Campers, and charted a breathtaking course through Central and South America.
With the rat race in the rear view mirror, the Woodhams dared to envision a life full of travel, adventure, and giving back – and made it happen.  Life all out.
Next time you see a young couple living the life, ask yourself, "What choices did they make to earn that amazing lifestyle?"  Who knows, you might be renting their house.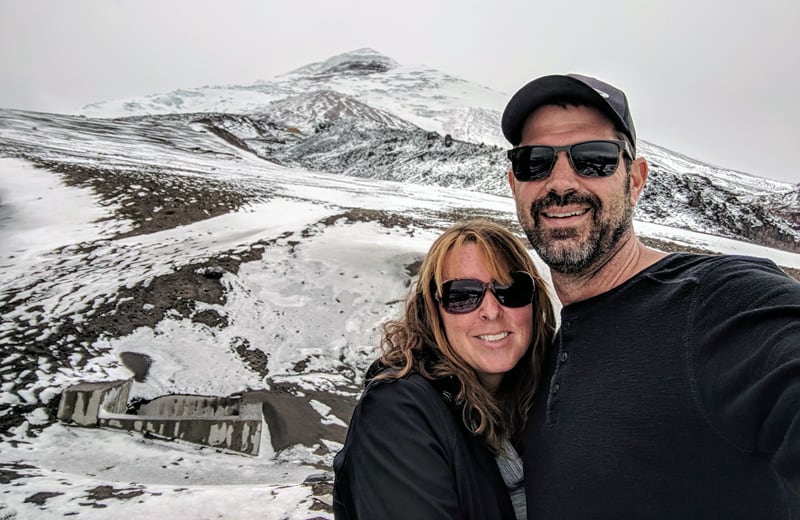 How did you get into truck camping?
It was a natural progression. For most of my life I have had some type of camper, tent, or pop-up. Many weekends have been spent camping at our local lake.
As I was rapidly approaching 40, I wanted something new and exciting. We began planning a four month trip camping and traveling through Mexico, Belize, and Guatemala.

We caravanned with our friend, Bernard, each of us having our own a Land Rovers and roof top tents. The trip was life changing and the adventure bug hit us hard.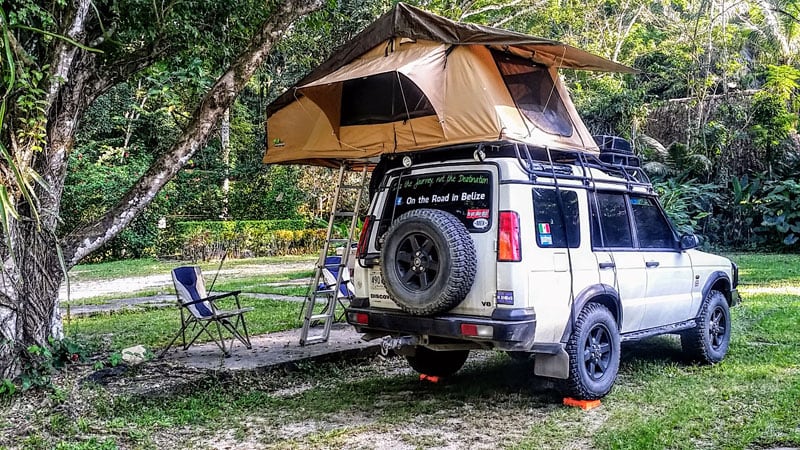 After making several more trips through Mexico and Central America, we decided to embark on an indefinite trip through all of Mexico, Central America, and then South America. One of my wife's requirements was to have our own bathroom and security. I made these my priorities. I wanted off-road capabilities and a cool factor.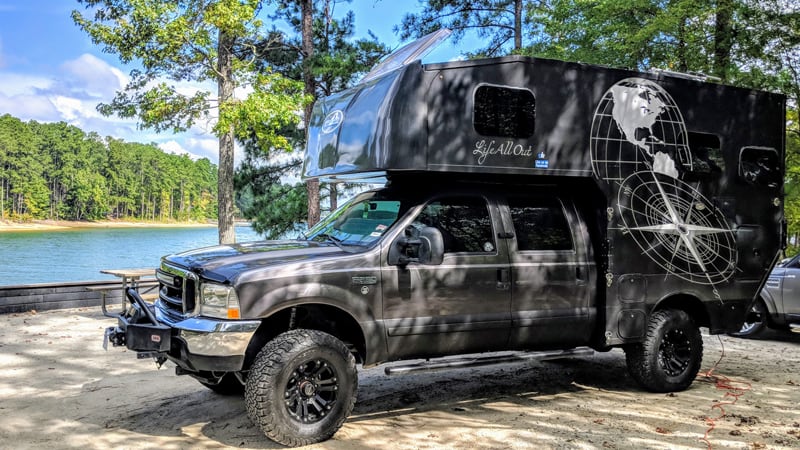 What led you to the concept of having a custom hard side camper built?
The ease of only driving a truck and camper on the back was our obvious choice because it offers much more flexibility and maneuverability. Towing a trailer was not appealing because of the rough terrain we would surely encounter.
We met the owners of Phoenix Custom Campers at Overland Expo. We hit it off and began making plans to have a custom built camper for our preferred truck; a Ford F250 with a 7.3L diesel.
We loved the ability to design our own custom camper. The design was only limited by our budget and imagination. When we sat in the Phoenix demo and talked with Robby and Cari Rowe, we were sold on the idea of creating a custom camper.
Our travels prior to that point gave us our requirements for long term travel. We had planned to take an indefinite trip that would take us into unknown territories to do things we hadn't done before. We compiled our wish list and then focused on the aesthetics.
I began sketching the rig out and writing down requirements. My wife's request for a bathroom and security seemed best suited for a hard side camper. This would provide security, privacy, and protection from the weather.
After several months and lots of brainstorming, our camper was complete. We set out a month later. We have lived in our truck camper for over a year and a half, and visited sixteen countries.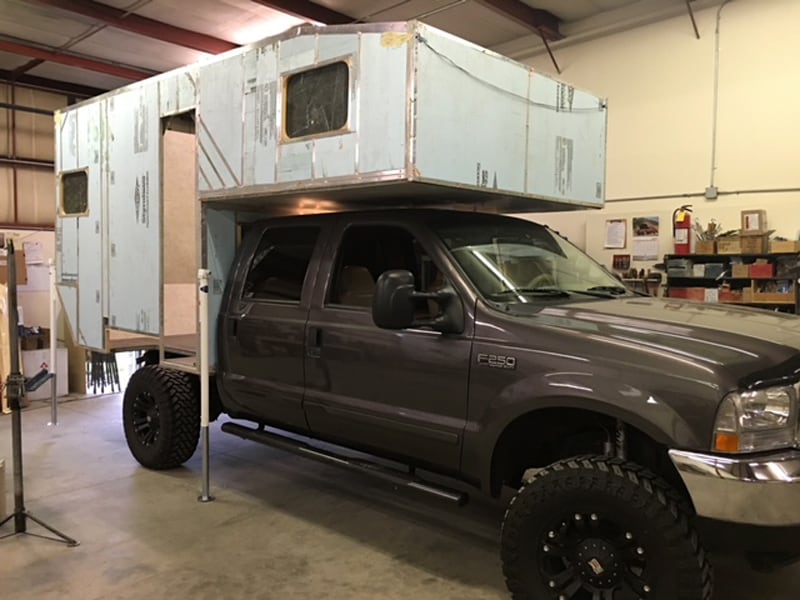 With Phoenix Custom Campers being located several hundred miles away from you, what was the design and build process like?
Cari and Robby worked with us and heard from me on a regular basis by phone and email. I would send them sketches and ideas. We went back and forth on materials. They were good about working with me on the details.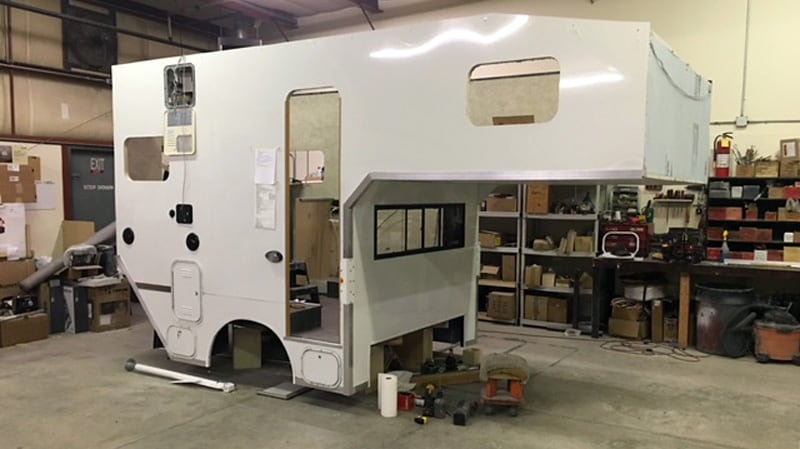 I flew out to Phoenix in Colorado a couple of times to check on the camper's progress. That's due to my nature. It was not about them. I also saw other builds they were working on so I could see the quality we were getting. They kept me posted on how they were doing and sent me pictures along the way. It went fairly well.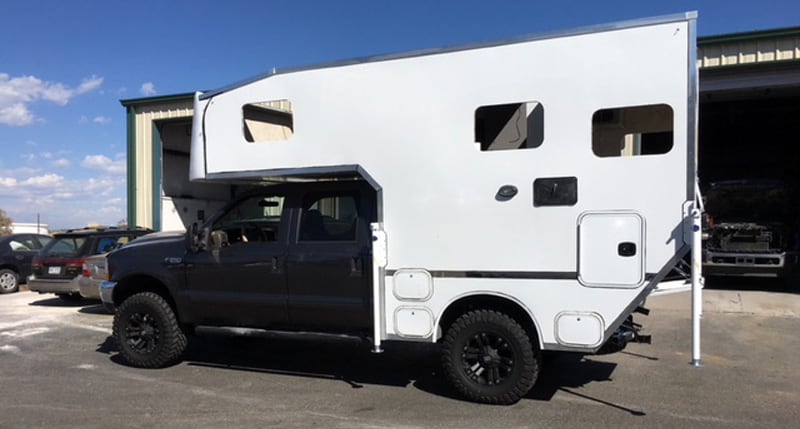 It's amazing how attached you get to your camper. It's your safe space. It's your calm and peaceful place. It's your home. When you're on the road as much as we are, it becomes more important than your house.
When you're traveling for an extended period of time, it's also a grounding place. At times it is all we have tying us to any normalcy. Each night we can retire to our clean and comfortable accommodations, regardless of where we are located, or what we have encountered that day.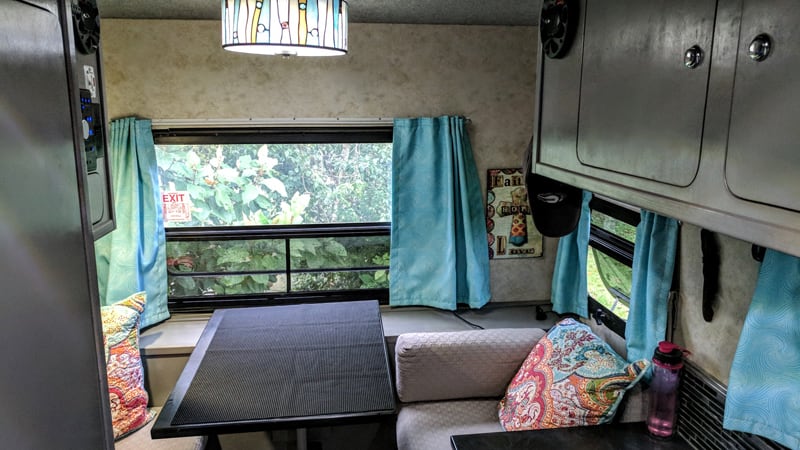 We 100-percent understand the feeling of a truck camper bring home, no matter where we are. Was your design inspired by Phoenix's Statement Camper? It seems inspired by that model.
Yes, our camper was fashioned after the Phoenix Statement Camper. That was the foundation. It was helpful to go through the Phoenix Statement and see what worked and what didn't work for us.
The floor plans are similar, but there are a number of important differences. The Statement was a pop-up and built on a bed frame. Our camper is a hard side and mounts directly to the truck chassis. I am 6'5" tall, so I wanted maximum head room. We have 7'0" height inside.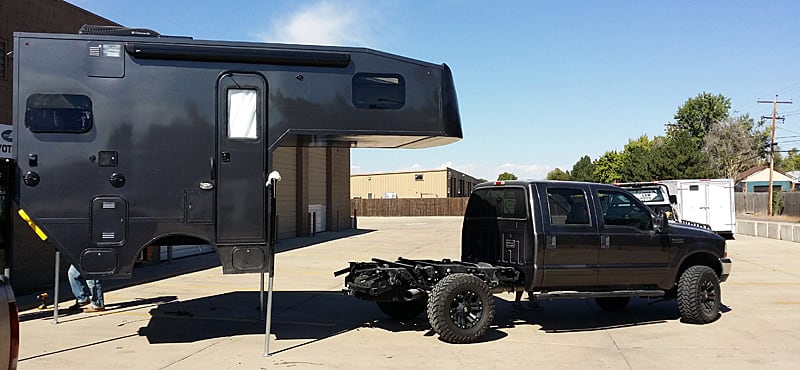 There are no jacks on your unit, but jack brackets on the corners. Is it truly demountable?
Yes, it's truly demountable. We have the jacks with us, so we can put them on and demount the unit if we need to. The jacks are installed and removed with a few bolts and a plug. We wanted the option to remove the camper.
I am really impressed with Phoenix because they have double angle welding on all their campers. We have traveled on some horrendous roads with speed bumps and potholes. We have climbed volcanoes and driven on rocky roads. The camper was shifting up and down.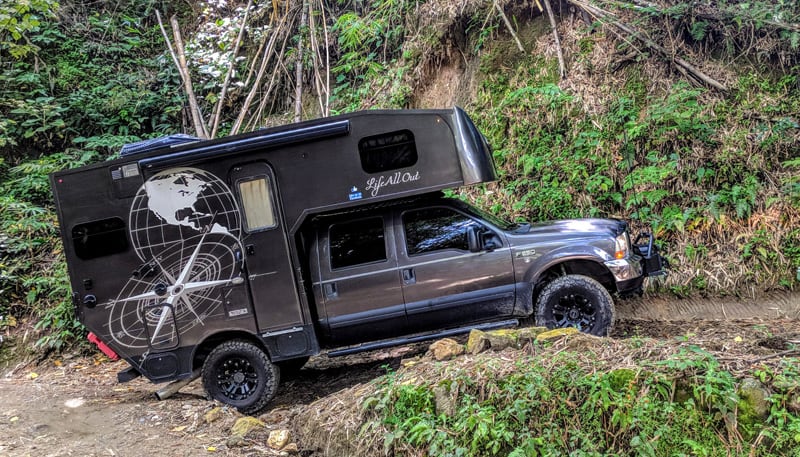 Above: Rough road in Minca, Colombia
I have kept an eye on our rig. There is not one single crack in the shell. We have a rigid box structure. They sandwiched insulation and boards together to make the walls. It's held up tremendously for what we've put it through.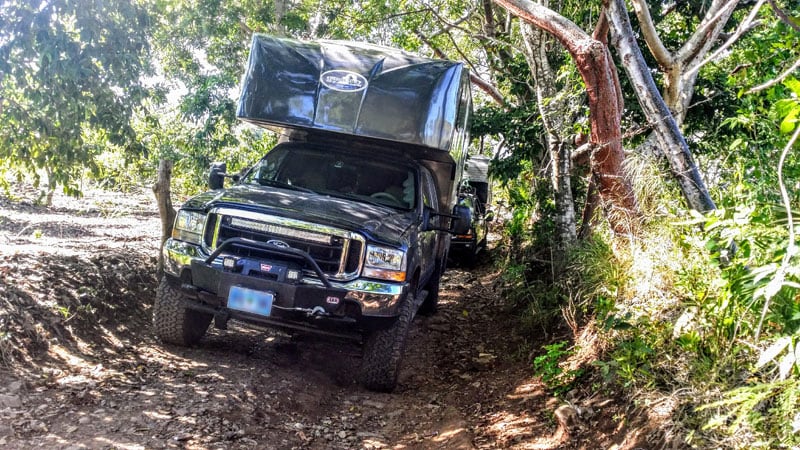 Above: Near San Pancho, Mexico
Other than exploring Central and South America, what draws you to the road?
Traveling opens up opportunities to meet people. Rarely do people in the United States step out of their routine to invite someone over. When you meet someone in Central or South America, they love to see your camper, ask what you've been doing, and then invite you over to have dinner. If there is a family birthday they ask us to join them. That happens a lot. It opens the doors for opportunities to connect with others.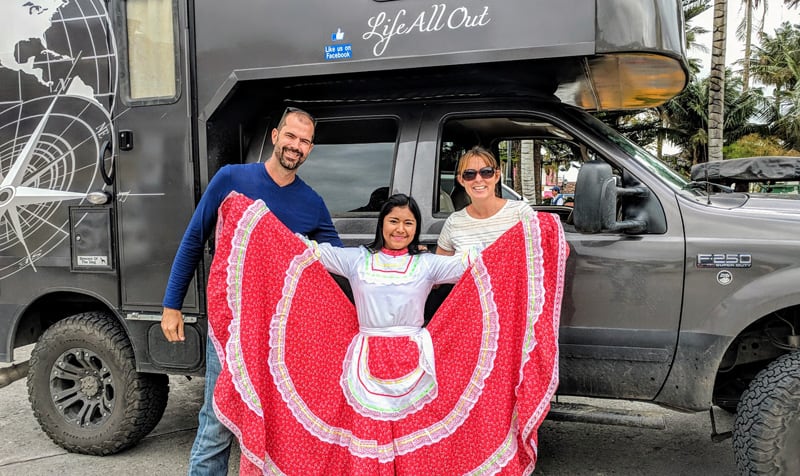 We are also self proclaimed adrenaline junkies. We are always looking for new, fun and exciting adventures. Our truck camper has afforded us the ability, transportation and lodging for some pretty incredible experiences.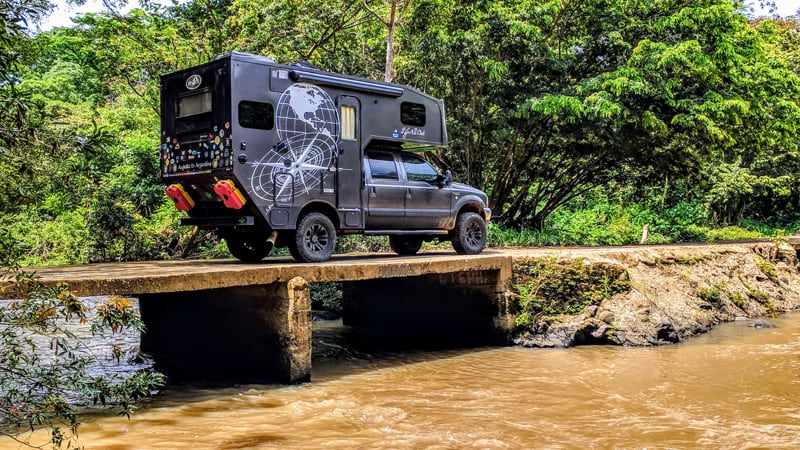 Above: Bridge In Costa Rica
We have hiked dozens of waterfalls, active volcanoes, jungles, and deserts. We have flown powered parachutes and sandboarded down an active volcano in Nicaragua, twice. We have volunteered building homes, bathrooms, and children's playgrounds in most of the countries we have visited.
Above: Agua Caliente Guatemala Coconut Water Sales
We have gone off-road trekking to find hidden Mayan sites and have had local introductions to many things most tourists never see, such as a glass beach in Belize. We have helped Riddell turtles in Mexico by digging up their eggs to be incubated.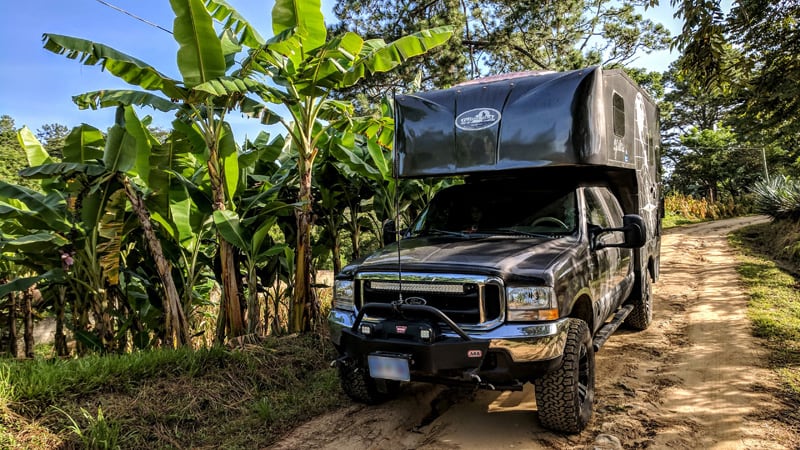 Above: Arenal Honduras Banana Farm
We have hiked through the Jungles of Costa Rica with sloths and monkey's swinging above our heads. We have taken in a cultural events in Guatemala City. We have swam with sharks, manta rays, and multitudes of fish in Ecuador and the Galapagos.
We have pet llamas and alpacas in the wild in Peru. We have driven across miles and miles of desert for days in Chile, and so much more. Our truck camper was there for all of these experiences.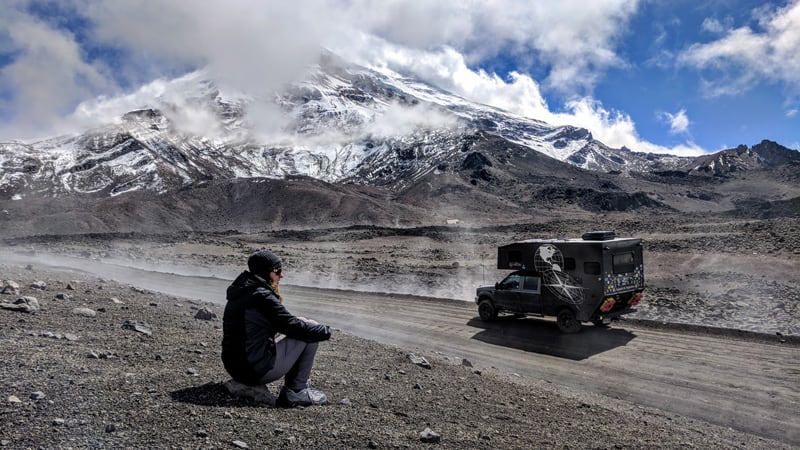 Above: Chimborazo, Ecuador at 20,564 Feet
That's an incredible list of experiences. How are you able to do all of these things?
We get that question a lot. Angela and I have been married for twenty years. We talked about this type of travel when we met.
Early on in our marriage we invested in rental properties. Based on that rental income, we set a monthly budget to cover our travel expenses.
When our son graduated in 2012, we started going on adventures. The Lord blessed us with the ability and desire to travel.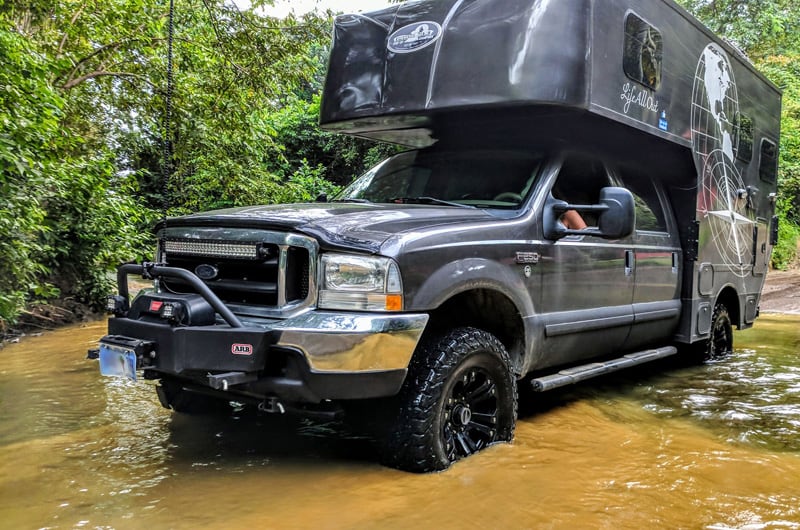 Above: Ostinal, Costa Rica
It is possible to live cheaply on the road, as long as you limit fuel and campground costs. How did you manage these expenses as you traveled through South America?
One of our highest expenses is fuel. We cut back on fuel costs by slowing down and staying in places up to a month.
Food is a given, but there are ways when traveling that you can eat for cheap. We like farmer's markets and roadside stands. We cook more when we're on the road. Food is also less expensive south of the border.
Lodging is the largest difference from the United States to Central and South America. Many of the places we stay are $5 a night. We could stay there a month. There are ways you can cut costs.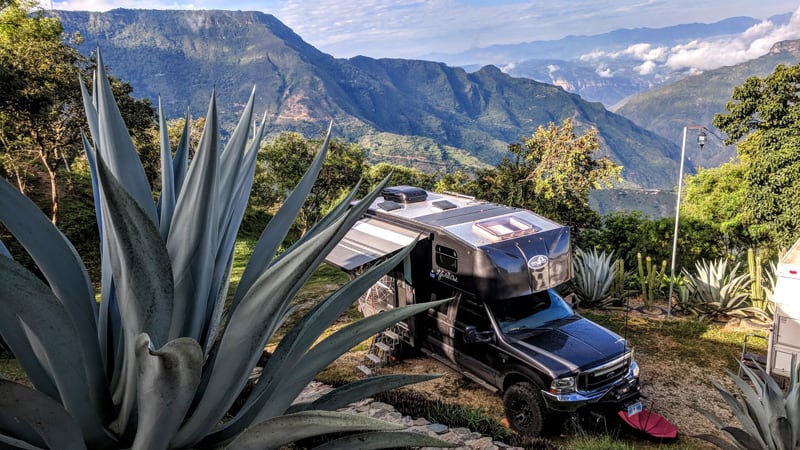 Above: Chicamocha Canyon, Colombia
Do you have an actual house somewhere?
Yes we have a house in Georgia. We rented our house when we were on our trip south. We're now back in our house for a bit but, once we take off on our western trip and then on to Canada and Alaska, we'll rent our house again.
What's it like to transition back to a house after being on the road for so long?
Over the past six years, we have literally come back to Georgia for a month or two. At one point we had a very small cottage as a place to bounce back to. We were making sure we really wanted to live full-time on the road. In reality, we spend most of our time on the road, not bouncing back and forth.
This time we have been staying in the smallest bedroom and left the rest of the house alone. We are more comfortable just staying in there. We are reevaluating the need and necessity of a house after living in the camper and enjoying it.
After a year and a half of going strong on the road, and not seeing family and friends in person, it was nice to get back to our hometown. It is nice to be stationary for a little while. But, very quickly, the adventure bug and fire kicked in and we have gotten antsy.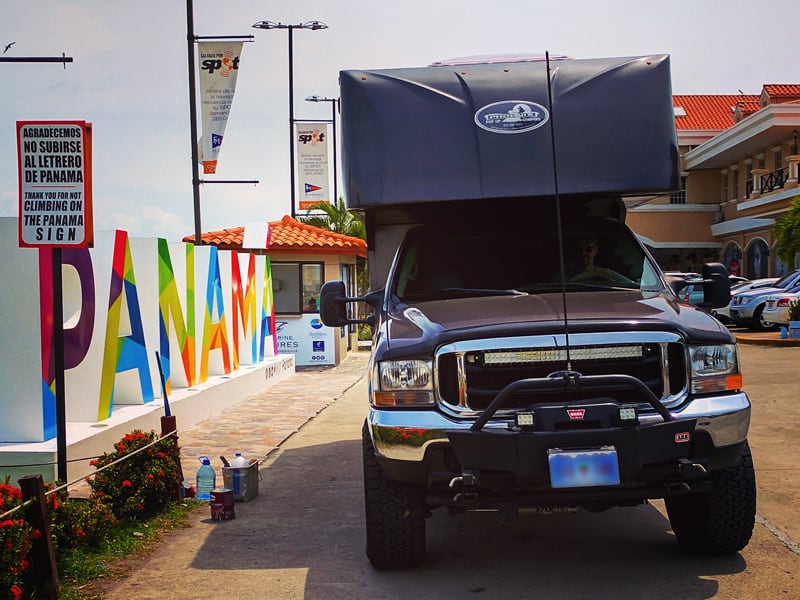 Above: The Panama sign is next to their rig
How did you ship your camper to South America?
We traveled for a year throughout Mexico and Central America spending time in different areas. We were able to drive to all of that.
Once in you're in Panama, there's the Panama Canal. In order to get to South America and continue on the Pan America Highway, you have to load your rig on a boat.
The most economical and safest way to transport your rig is via a shipping container. That's where the pop-up campers come in handy. Drop the top and fit it in. Then they seal the container and you fly over. Then you pick up your vehicle on the other side.
With the height of our hard side camper, it will not fit inside a container. To get our rig to South America, the shipping options were RORO (roll-on, roll-off) or flat rack.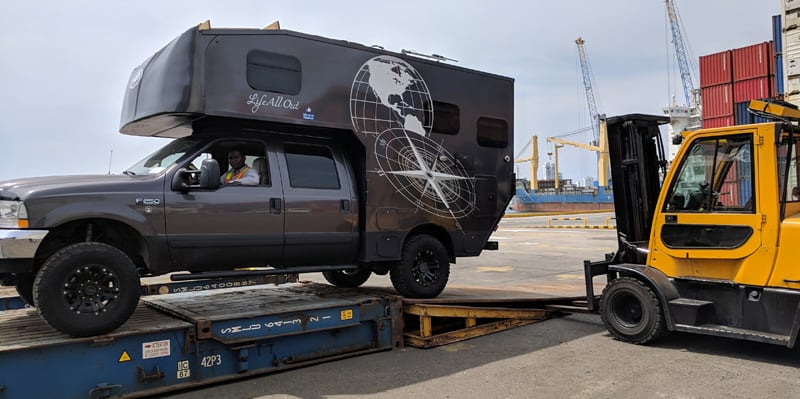 When you go to the port there are customs and police inspections. If you are putting your rig into a container, some companies will allow you to drive it inside. Some will not. You will have to release the vehicle to them. You give them your keys and hope for the best. It's hard to see your home roll away without you.
There are many different companies and prices. Some shippers will put your rig on the boat and go back up the coast before crossing and going to Colombia. That can take a few weeks to a month.
We did not want to be without our home for that long. It was tough enough not having it for a week. We chose flat-rack shipping, found a shipping partner and split the cost. Both vehicles were put on at the same time.
It's like an open container. There are no sides and no roof. Once on the rack, a forklift puts them in place on the ship. Then we flew Cartagena, Colombia and got an Airbnb for a couple nights as we waited for our rig to arrive.
The process on the other side was a bit more challenging. It's not the most efficient process. You have to pay on the other side of town, bring the receipt back, and then go to a building somewhere else. It was a lengthly process with a learning curve. There are brokers who will guide you through for a fee.
For us it went well. Our truck and camper were in good condition. Nothing was stolen. That particular port and shipping was good.
The people of Central and South America love holidays. It seems like they have one about once a week. When we were in Panama they happened to qualify for the soccer finals. That night at midnight the President declared a national holiday the next day. That was the last day for us to load to make the shipping sail date. That was a challenge.
Then the vehicles landed on Cartagena on a holiday and we had to wait through the weekend, which was a little nerve racking. There have been so many pioneers ahead of us that it's a matter of asking questions.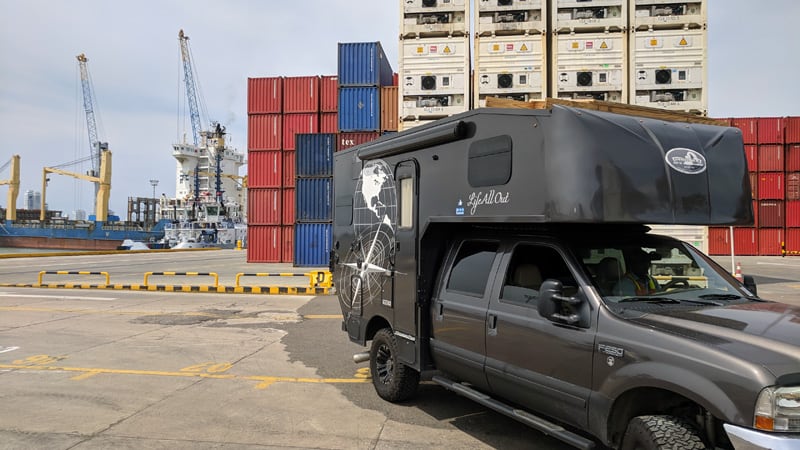 What did the flat rack shipping cost?
It was a little pricey. In general it depends on the size of your vehicle, if you are sharing space, and which company you use.
Most pop-up truck campers and SUVs would be about about $1,300 to $1,500 to ship your vehicle in a container. We were larger, so we had to use a flat rack. The flat rack was about $2,400. That was in 2017.
Our motto is, "It's the journey, not the destination". If you are on a tight timeline when you travel, it can get frustrating. When the journey is the destination, things like waiting for the ship to arrive and other shipping processes are less stressful.
It was difficult to adapt to the different atmosphere in South America. In the United States we try to be efficient and get things done in a timely fashion. In South America, if a business opens at 9:00am and you show up at 9:37am, they may not be open yet. It's a different pace. It's really noticeable going back and forth.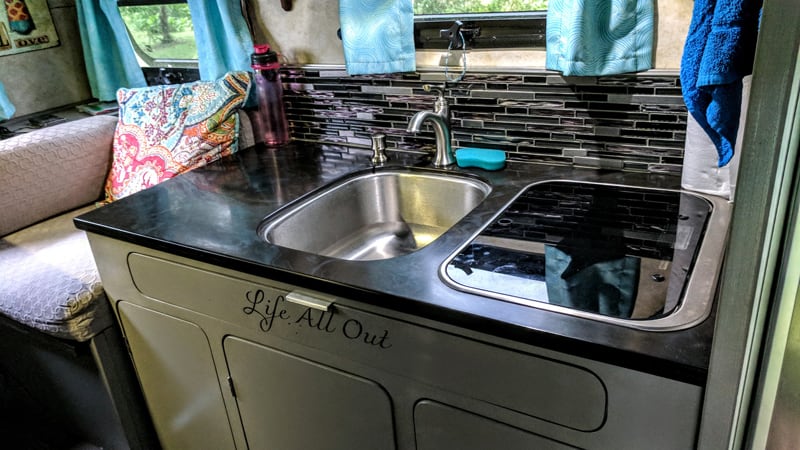 They do seem to have a more laid back attitude about time in Central and South America. We don't see the typical overland modifications on your rig including water filtration systems, composting toilets, etc. What was the thinking there?
Our experience traveling to Costa Rica, El Salvador and other countries gave us the experience to know what may or may not be necessary. Our goal is to be 100-percent self-sufficient so we are not burdening communities.

We have a cassette toilet. It is self-contained and easy to dispose of using existing plumbing at gas stations and other public bathrooms. That's why we went with a cassette toilet system.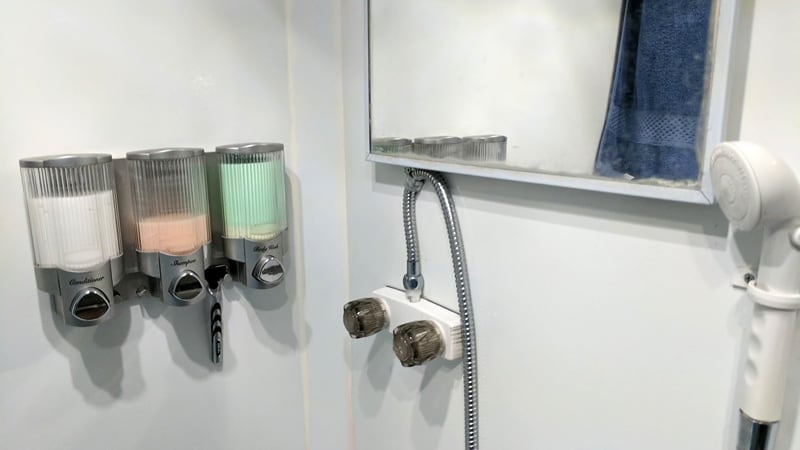 A rooftop air conditioner was a luxury that we didn't need, but was nice to run. We found over the year and a half that we were living in the camper that we only used it five or six nights. That would be something that we probably would not have added. After awhile it was easy to acclimate to areas because we were not going in and out of air conditioning. It was hot everywhere. We also found that our fans did better and were more efficient.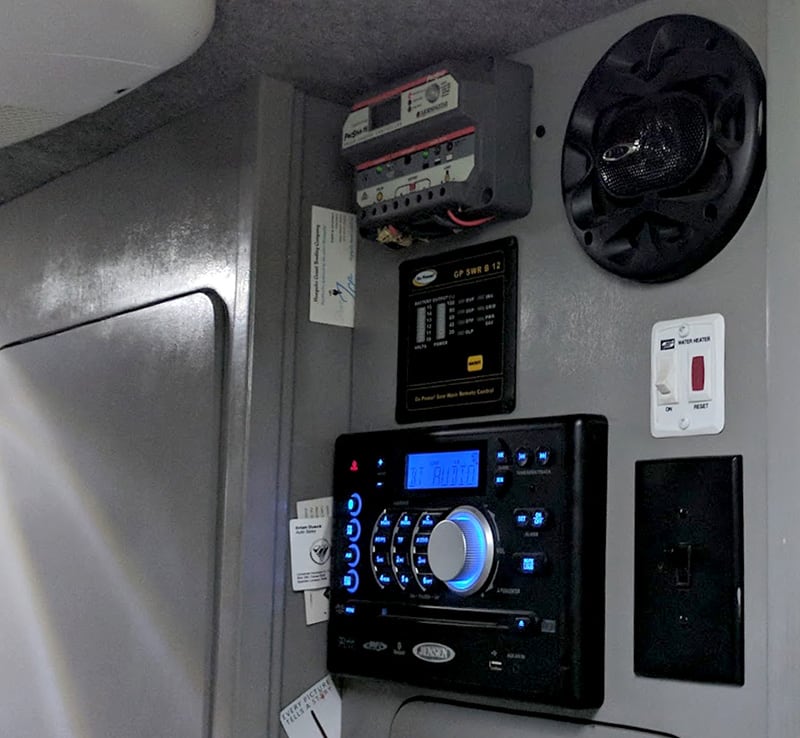 Due to power requirements we were not really using the convection microwave. It was also running through a 3000-watt inverter. We have pictures of Thanksgiving and Christmas meals where we made food in it, but it was not something we used on a regular basis. We would have rather had storage space.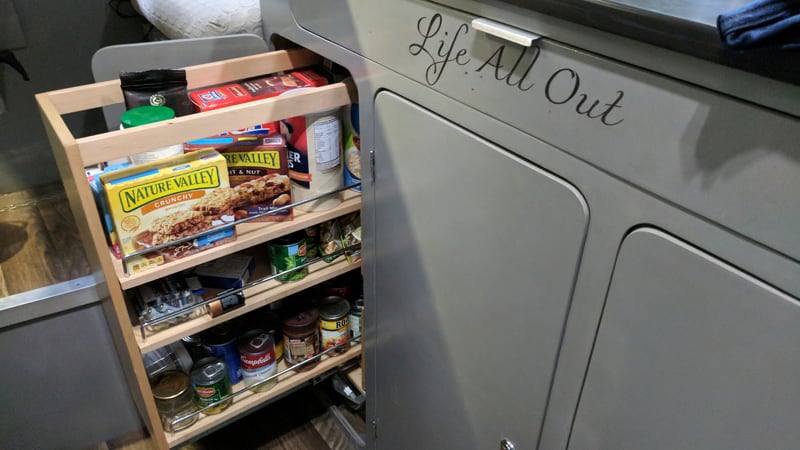 There are custom parts of our camper that are neat like the hidden silverware drawer that drops down from under a cabinet. We also have drawers that double as steps with a platform, a pantry on slides, and a modified residential lamp converted to LED.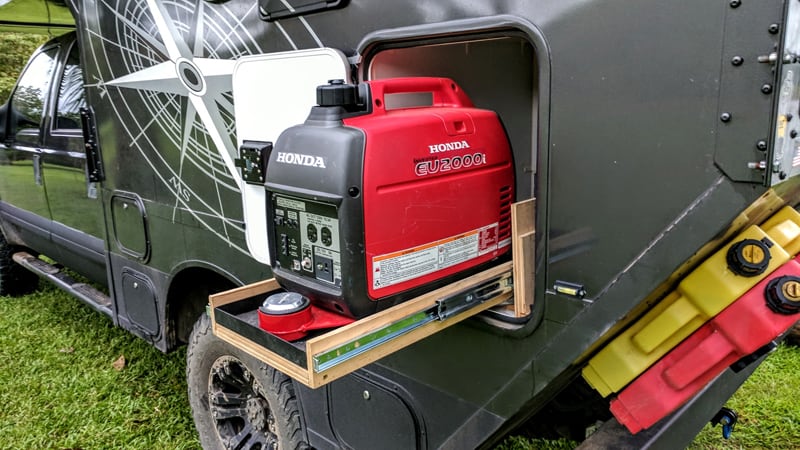 A lot of times you overthink and over plan. We over planned. Instead of adding things as we went along, we were shedding things. In the United States we always have access to everything, so we had that mindset. Once we got down into Central and South America we simplified.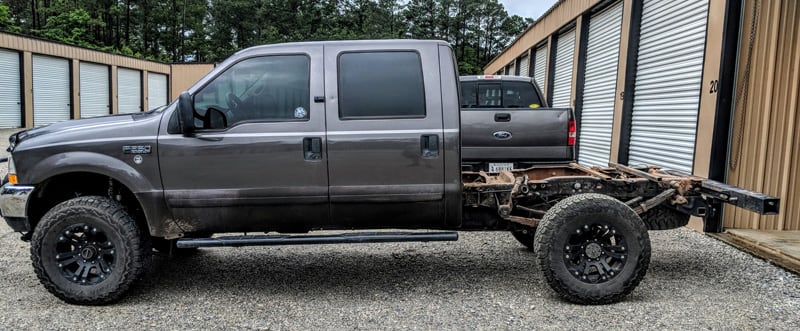 Did you make any modifications to your truck?
We added extra leaf springs, air bags in the rear, Fox shocks with reservoirs, a rear bumper that holds an air compressor for tires or air bags, and a four-point receiver-style hitch-mount for a motorcycle or bikes.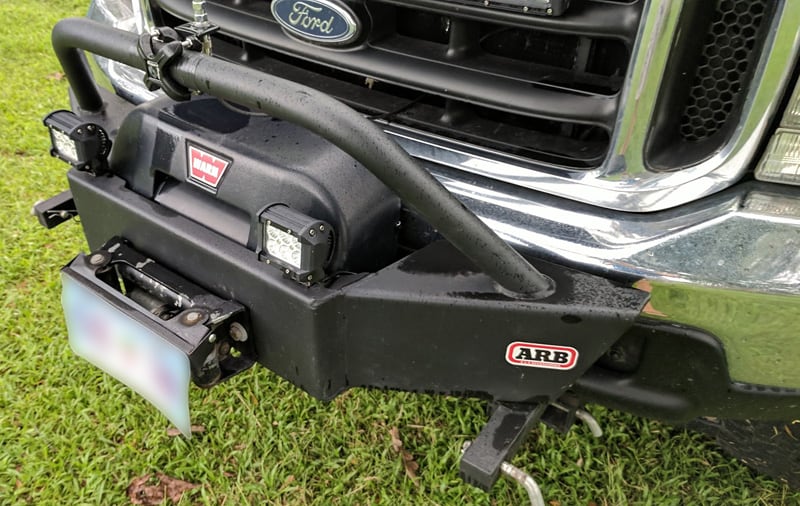 We lined the lower rocker panels with Line-X for protection and have 3M security shatterproof tint on all windows. I custom made extra security pins to lock the doors using a Reese hitch pin lock. I added a 0-gauge, 25-foot jumper cable pigtail attached to the four house batteries. This allows me to jump the truck using house batteries, or other vehicles, if necessary.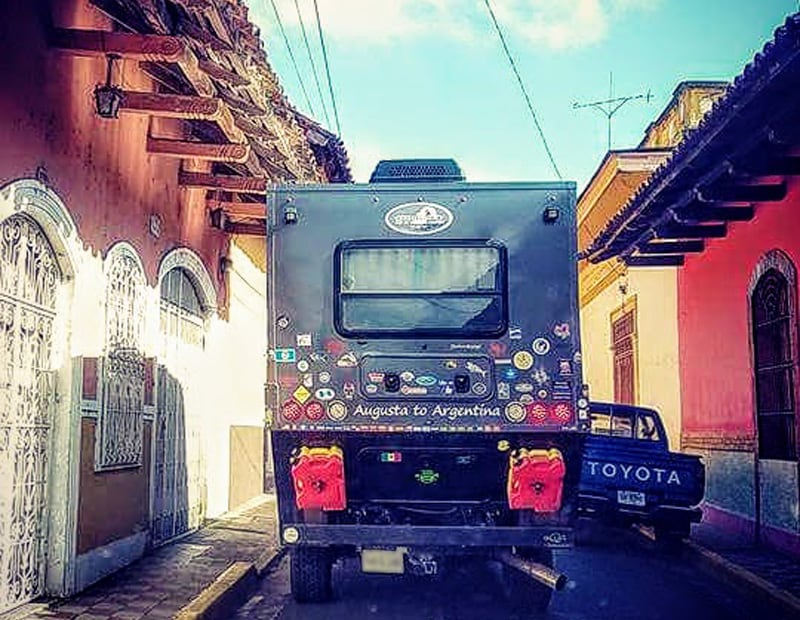 Above: City street in Granada, Nicaragua
You may notice that we went with a short wheel base truck. We have limited space but, because of that, we could get into small villages. The small villages are not accustomed to big campers. It is nice to have shorter wheel base to make turns. We balanced the storage and comfort for maneuverability.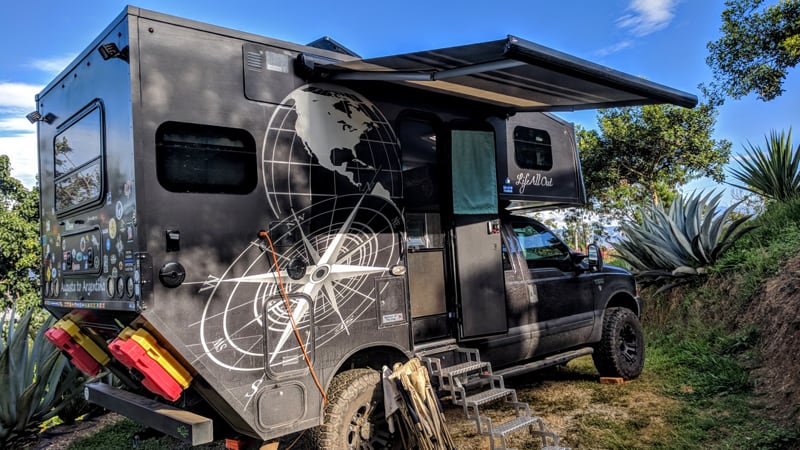 Were the security additions necessary?
They're like insurance. You have it, and hope you don't need it. When you don't need it, you might think you wasted money. We didn't utilize any of those things. Maybe something we added was a deterrent. I'm glad we had the peace of mind, but found we didn't need it at all.
Another safety feature we added was a GPS tracking device that can be tracked online. That gives friends and family access to where we are located.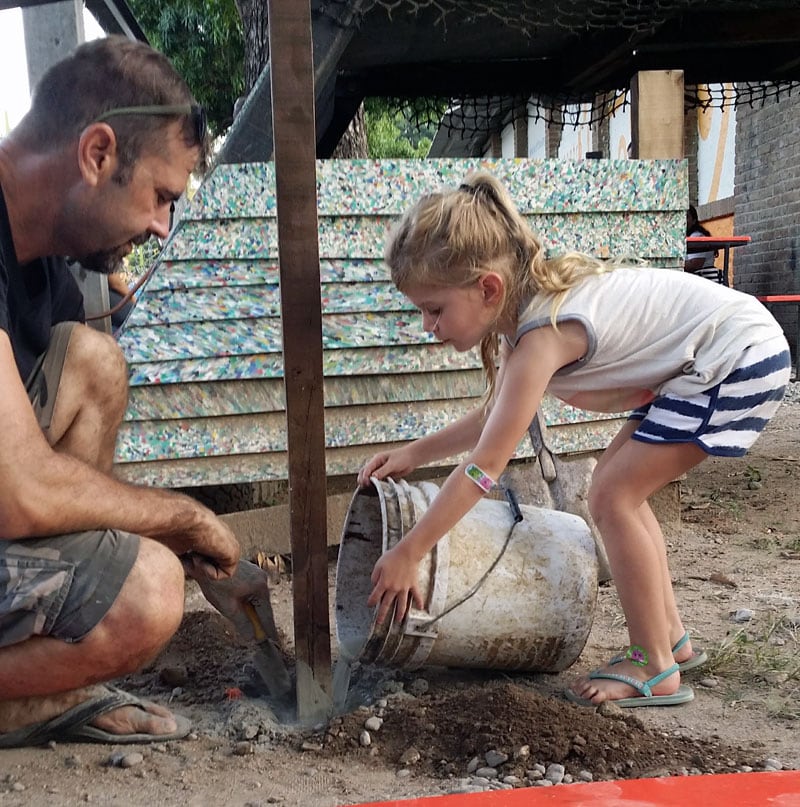 Earlier you mentioned volunteering as you travel. Tell us about that.
We love to seek adventure, but have also developed an equal passion for volunteering anywhere we can during our journeys. For example, we have been able to build a playground for the children in San Pancho, Mexico, countless houses, roofs, and bathrooms for the underprivileged throughout Mexico and Central America.
In South America we volunteered by reading, playing, and interacting with the children in an after school program. We have built book shelves, repaired floors, and even built a composting box.
We have been blessed to be able to be a part of so many projects and organizations on our trips, which has allowed an unusual and enlightening exposure and interaction with the local people in each country. It is these encounters and experiences that we hold the most precious.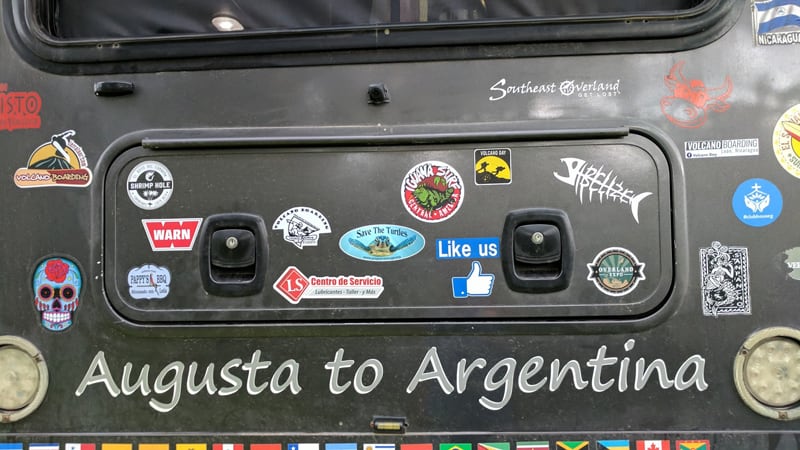 Everywhere we travel, we look for commemorative stickers that we can add to the back of our truck. This has sparked countless conversations, breaking the ice with many people along the way.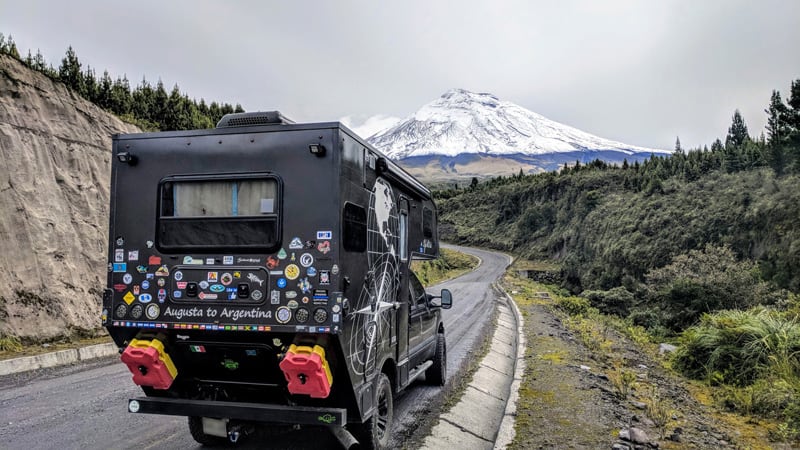 One particular special memory is finding two small pieces of paper taped with clear shipping tape. They had hand written messages on them from two girls we volunteered with at the after school program. They were intrigued by our stickers and wanted to add their own. It was so heartwarming.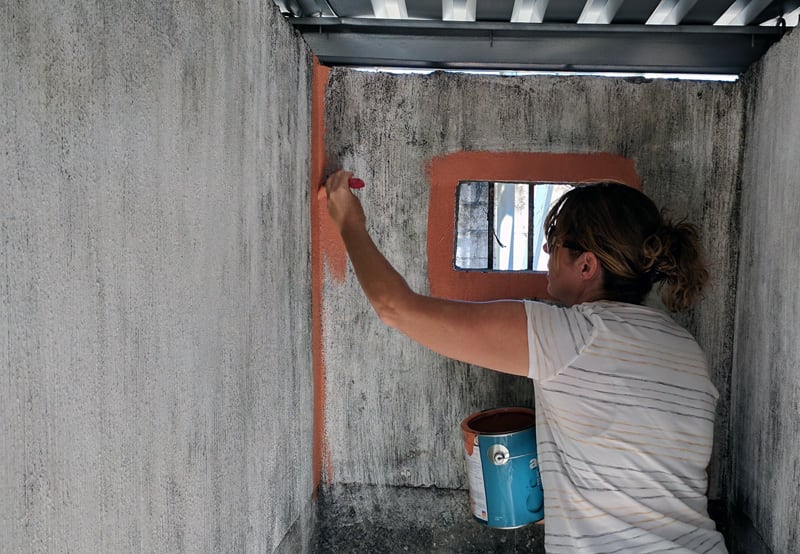 How do you find those opportunities when you're on the road?
We often ask the same question. It's not as easy as you would think to find volunteer work. There are many organizations, but the ones that really appeal to us are the small local organizations.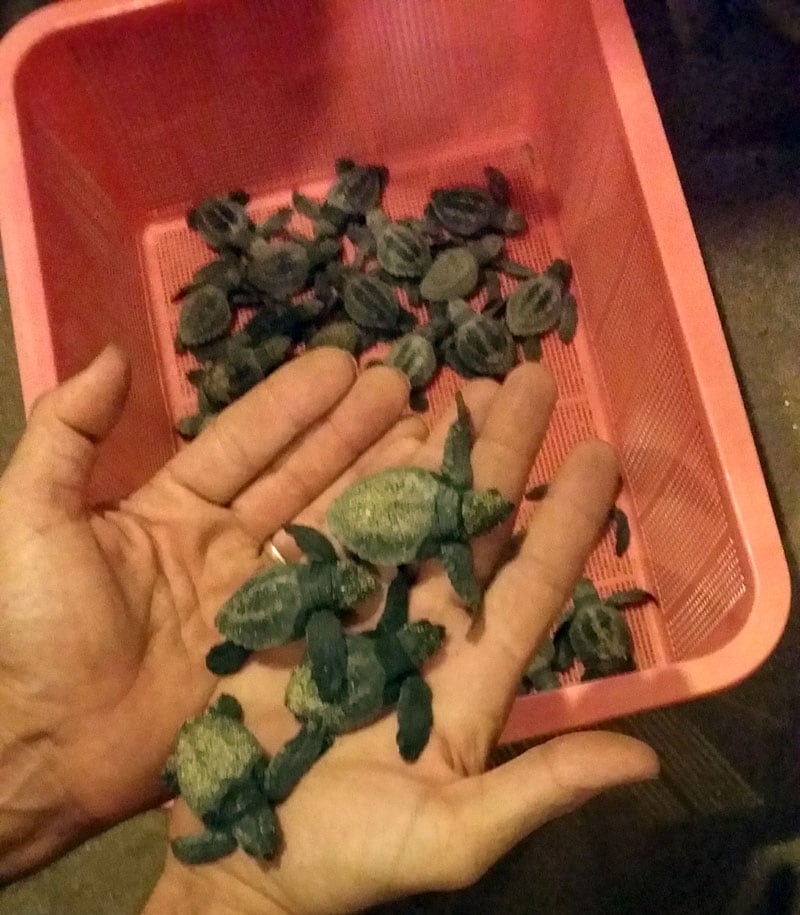 In 2012 we found a turtle preserve. We volunteered there a few weeks working with the turtles and their eggs. We knew we wanted to go there again. The beach needs to be watched 24-hours a day during egg laying season.
The turtles are becoming endangered. After the turtles lay their eggs we carefully dig them up and put them in containers. Then we put them in an incubator until they hatch. The baby turtles are then released out to sea.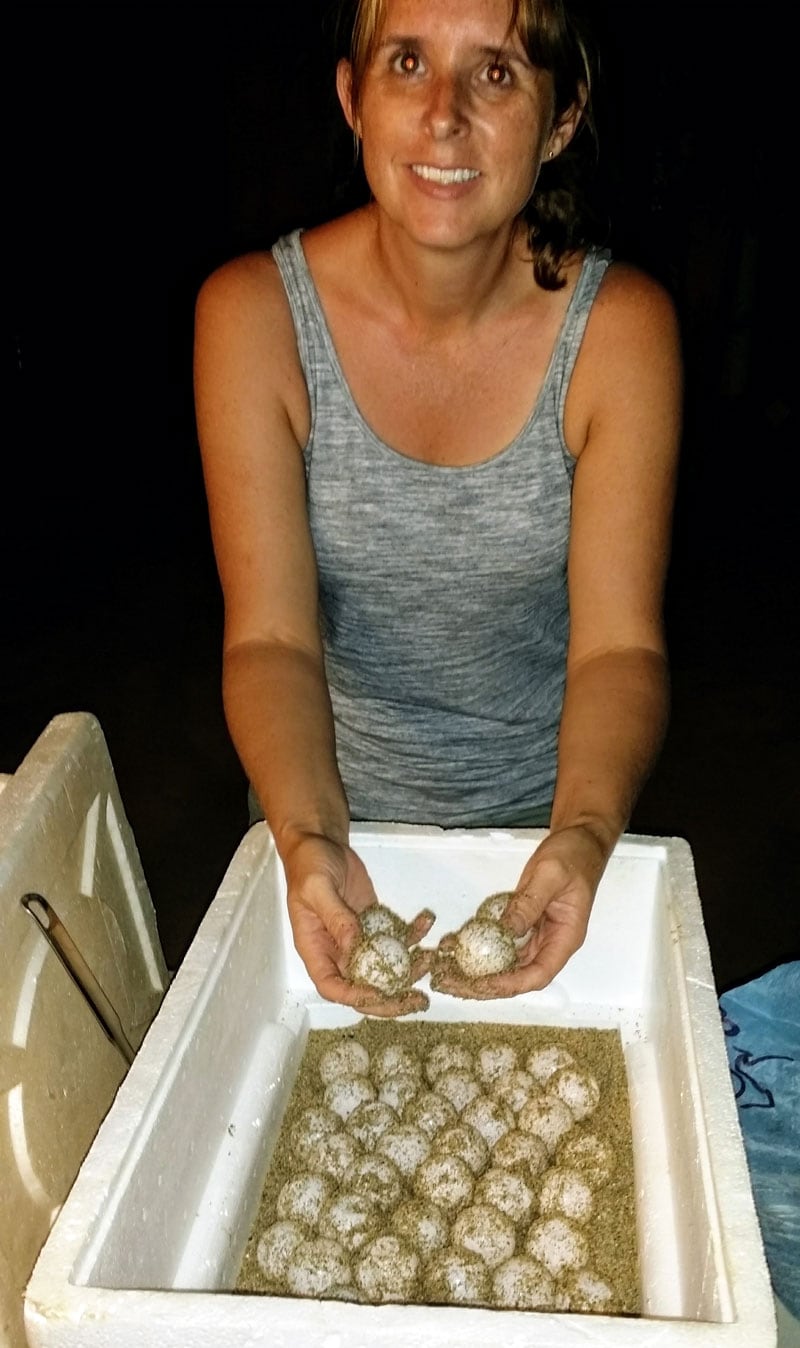 During that time we found out about a children's community center on other side of town. We were teaching in an after school program. We also stayed a week or two building a playground. In the recycling program we melted plastic and used it for plastic planks to build the ship in the playground.
Word of mouth has been the best way to find the volunteer opportunities. A friend in the states told us about volunteer work in Guatemala. It was off season and they needed help because of a storm. We were able to help replace the roofs.
We've been back there three or four times. That's where we made cinder block bathrooms. There's just nothing more rewarding and satisfying than helping out. People need so much. It is easy to make a big impact.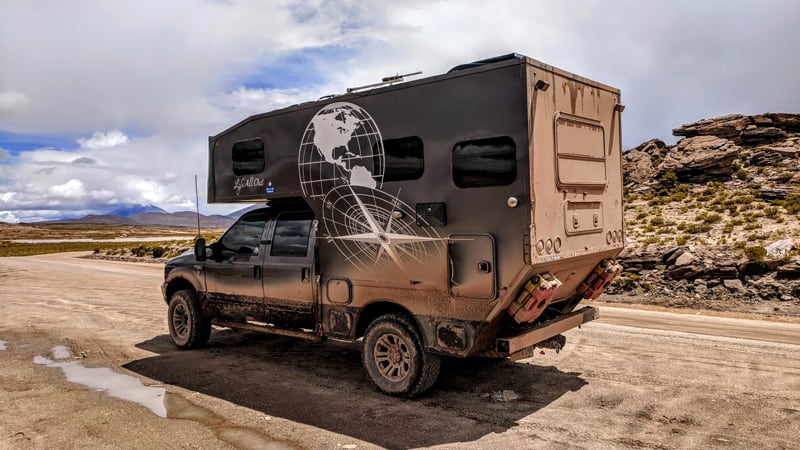 You have carved out an incredible life of travel and volunteerism. Is there anything left on your bucket list at this point?
Bucket lists are meant to be added to. Our bucket list when we got the camper was to navigate around Central and South America. We wanted to immerse ourselves in those countries. We have now done that, but there are always the things you miss.
Now our plans are to be back in the United States for awhile. We will be exploring the western states more extensively. Then Canada and Alaska.
My wife has put in a request to go to Europe, so we are going to ship our rig there. It was great to be at Overland Expo East this year because we met travelers who had been overseas and gave us advice.
We continue to add bucket list items. Knowing new experiences are coming helps during the down times between traveling. We are thankful when we have our camper, can enjoy the 80-degree weather, and go exploring.
Scott and Angela Woodhams' Rig
Truck: 2002 Ford F250 Super Crew cab 4×4 with 7.3 diesel, short wheel base.
Camper: 2017 Phoenix custom camper
Tie-Downs and Turnbuckles: Chassis mount bolts
Suspension: Hellwig sway bars, airbags, Fox 2.0 shocks, 3 extra leafs per leaf spring, bushings