Mario Mercier of Quebec has built a stunning custom hard side, side-entry, single-slide truck camper that challenges just about every conventional truck camper manufacturing technique.  You've never seen a fiberglass truck camper like this.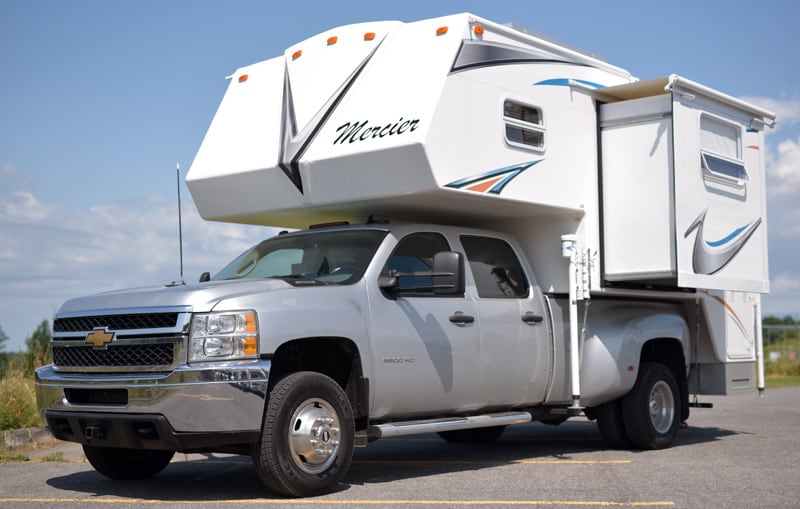 As the campers rolled into the Quebec Caravan last summer, Angela and I called out the brand and model to each other.  That's a Lance 1172 double-slide.  That's a Northern Lite 10-2.  That's an Eagle Cap 1160.
"What is that?" Angela asked as the next camper drove into the field.  Even from a distance, the camper's shape was unlike anything we had seen before.  Was it vintage?  Or a local Quebec brand we somehow had never heard of before?  We had no idea.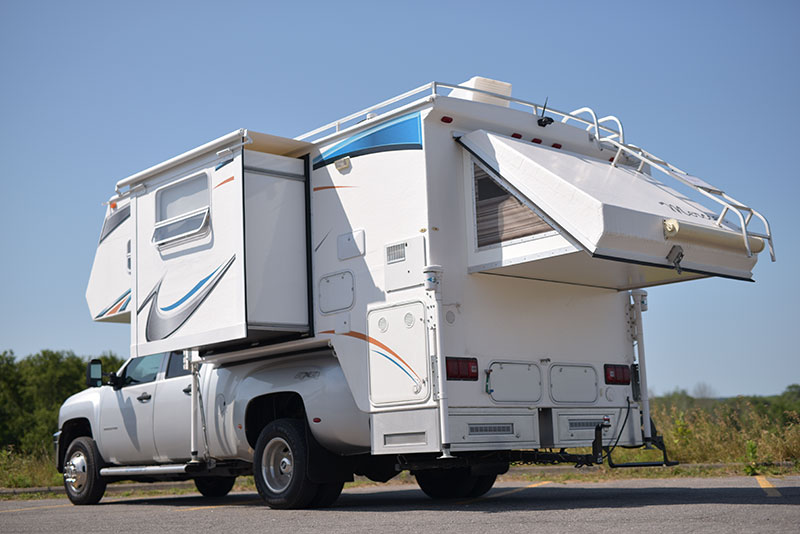 When I walked over to the now parked unit, the questions mounted.  As someone who's been in nearly every truck camper factory in North America multiple times over the past 12-plus years, I was seeing techniques and materials that I didn't recognize.  I was literally running my hands on the sides and edges of the camper's exterior in excited wonderment.
Like a clamshell fiberglass camper, there were no seams, no banding, no screws.  The transitions from sidewall to nose, nose to underbody, sidewall to roof and beyond were all continuous and smooth.  I kept thinking, "Who is the genius who built this – and how?"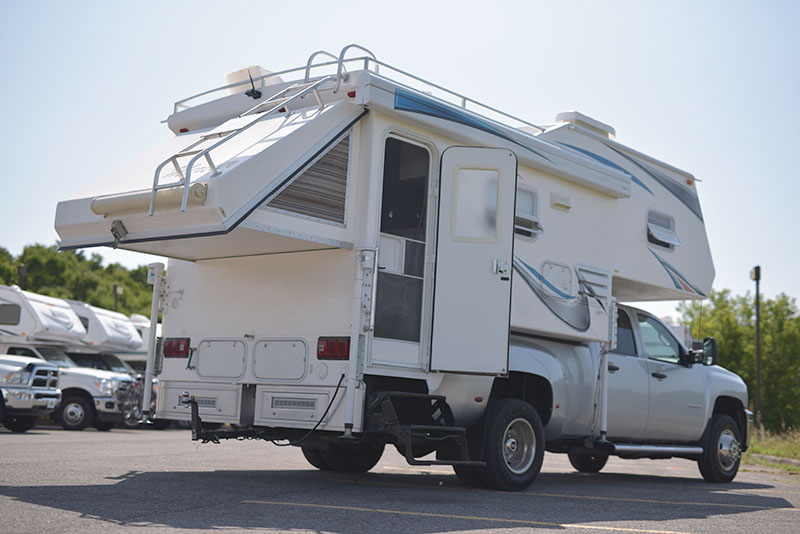 For a minute, I completely forgot I was in Quebec and asked all my questions in rapid fire to my new French-Canadian friends – in English.  How was this camper framed?  What was this fiberglass material on the exterior?  How was it applied?  How did the rear room unfold and work?  What processes were used?  What techniques?
"Mario Mercier built it," Sylvain answered.  "You need to talk with him. Unfortunately, he doesn't speak English."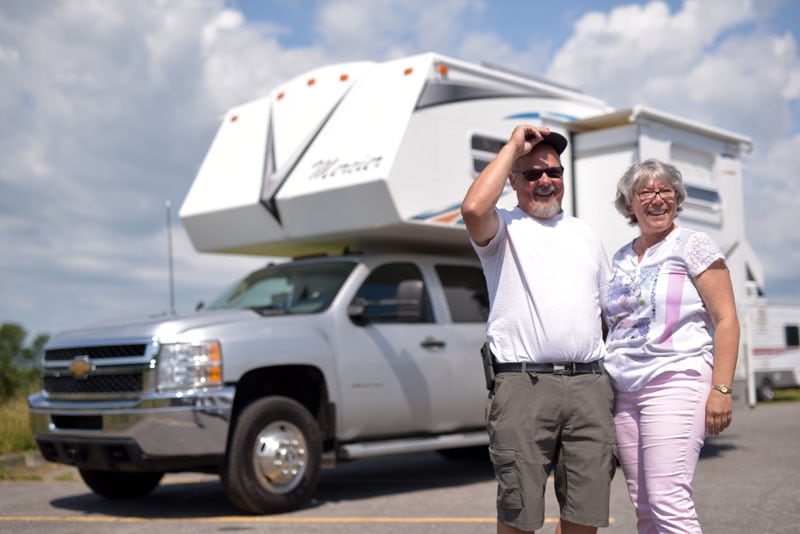 Above: Mario and Fernande and their Mercier Camper
Sylvain introduced me to Mario and explained my enthusiasm for his camper – in French.  Sylvain and the other English speaking attendees graciously translated my questions and Mario immediately answered – all in French.
They then translated his answers in English, but I just didn't quite understand what I was hearing.  The important details – admittedly specific – were literally lost in translation.  Time to take a different approach.
Lucky for me, Mario's wife, Fernande, spoke English.  I told her that I'd like to do an article on her husband's remarkable camper, and asked permission to photograph the unit inside and out before the caravan was over.  I suggested we could follow-up after the caravan via email with written questions.  She asked Mario, and he agreed.
A few days later I photographed their camper like a unit under review.  They allowed me to open cabinets and photograph every square inch of their stunning home on wheels.  Imagine letting me into your camper during a camping trip and letting me take pictures for an hour plus!  It was truly a privilege to have that kind of unfettered access to Mario's creation.  Even their cat was welcoming.
After the rally, I wrote up my questions and sent them to Fernande.  She worked with Mario and some English speaking friends and family members to come up with the following answers.  They also sent photographs of the build process.
I want to thank Mario, Fernande, Sylvain and everyone who helped to make this story possible.  Mario's camper is a remarkable achievement, and just might inspire the truck camper industry to try some new design, material and construction ideas.  Thank you Mario, friends and family.  We are inspired!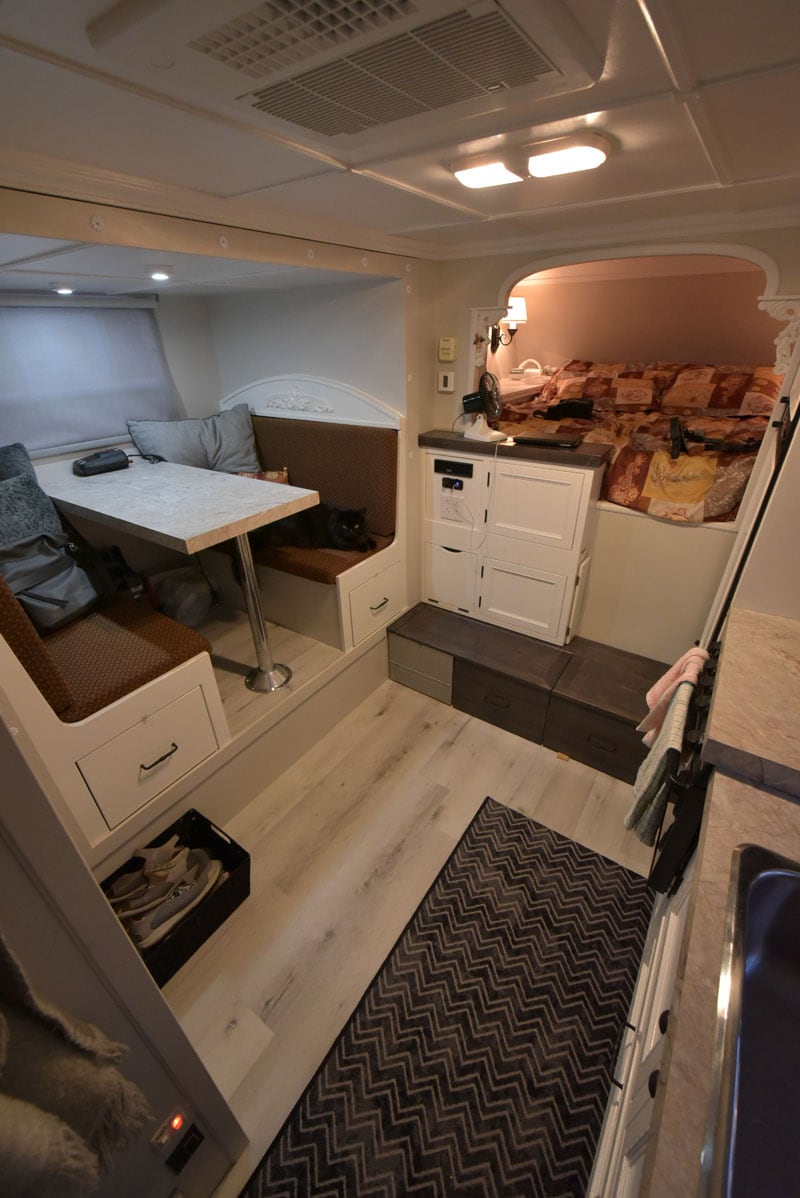 Above: The interior of the Mercier Camper
Why did you decide to build your own camper instead of purchasing a new or used camper?
It was a dream for me to have a truck camper to go fishing.  I was talking with a friend about that and he said to me, "Why don't you build one yourself?"  I said, "Why not?"  It was cheaper for us to build one ourselves than to buy one.  Plus, I could design and build it for my own needs.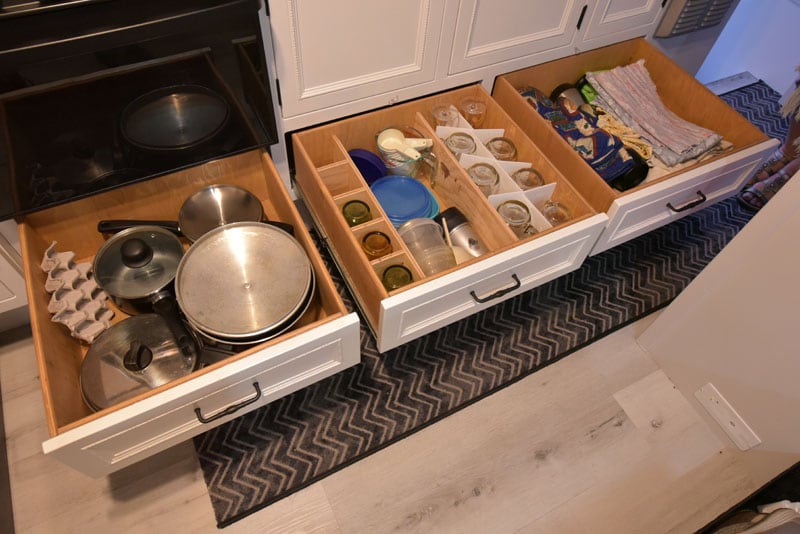 Above (kitchen) and below (bathroom): The Mercier Camper has a lot of storage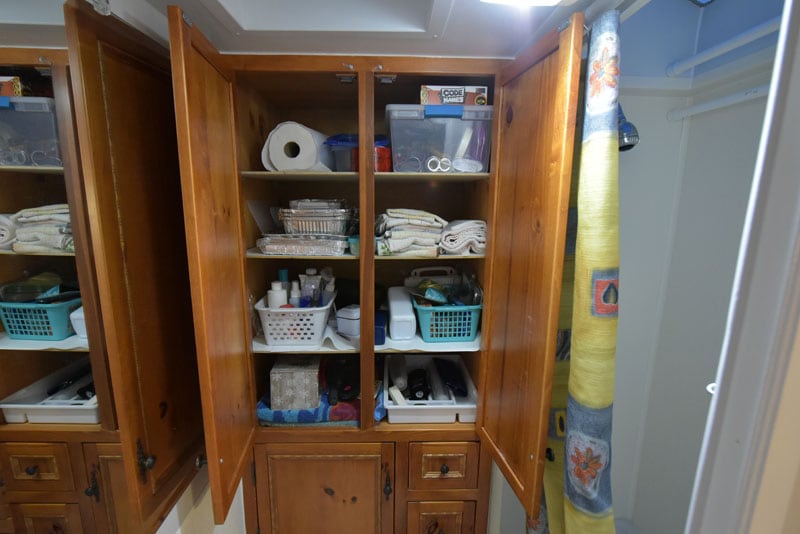 Where did you learn the skills needed to build a truck camper? How did you know you could do it?
I am a carpenter.  I knew I could do this because I had already built a truck cap.
How did you design the camper?
I visited many RV shows and took note of the plans from different campers.  Then I figured out the design as well as the construction process.  I like a challenge.  The decorations came from my wife.
It started with a hand made drawing.  Then, I built the actual structure.  After that, we decided on the place for everything like the bathroom, dinette, etc.
Why did you decide on a side-entry floor plan?
We wanted to put a bed for our children in the back.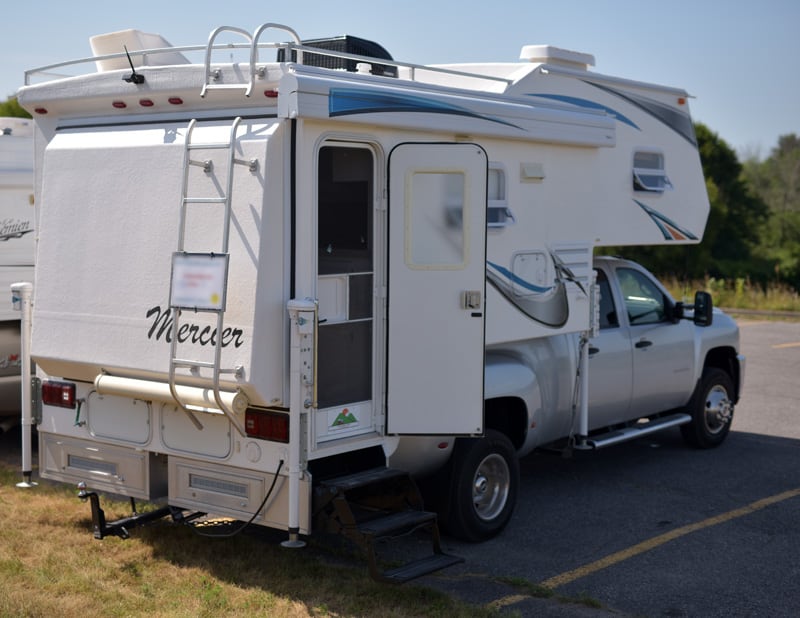 Where did you get the materials and components to build the camper?
The door, the windows, water heater, and furnace were bought used.  The rest of the parts were bought new from an RV dealer.
The exterior fiberglass walls you constructed are incredible. How was that done?
It is fiberglass mat with a coating of resin and catalyst mixed.  It was all done by hand.  I applied the resin and catalyst with a paint roller.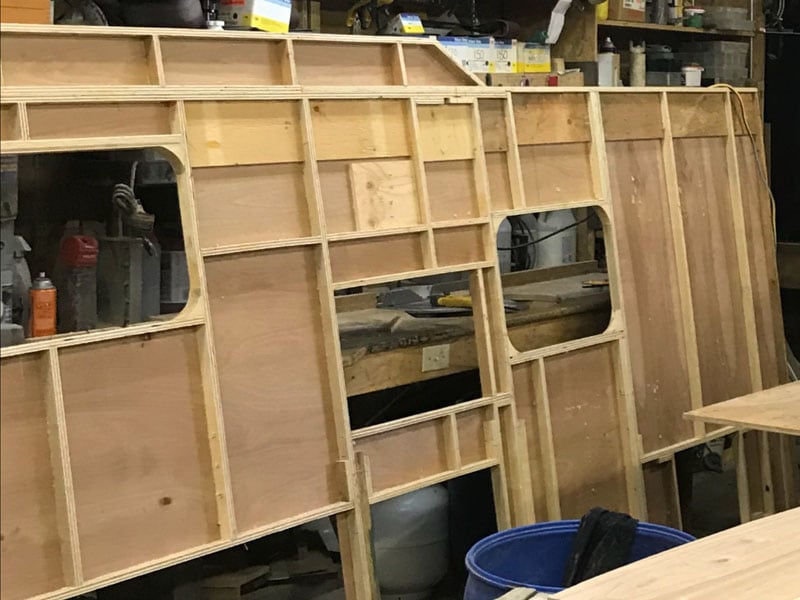 Everything is 1/2-inch plywood from the basement to the top.  The walls are made with 3/4" x 1 1/4" plywood edging with pink insulation and steam cut like a house.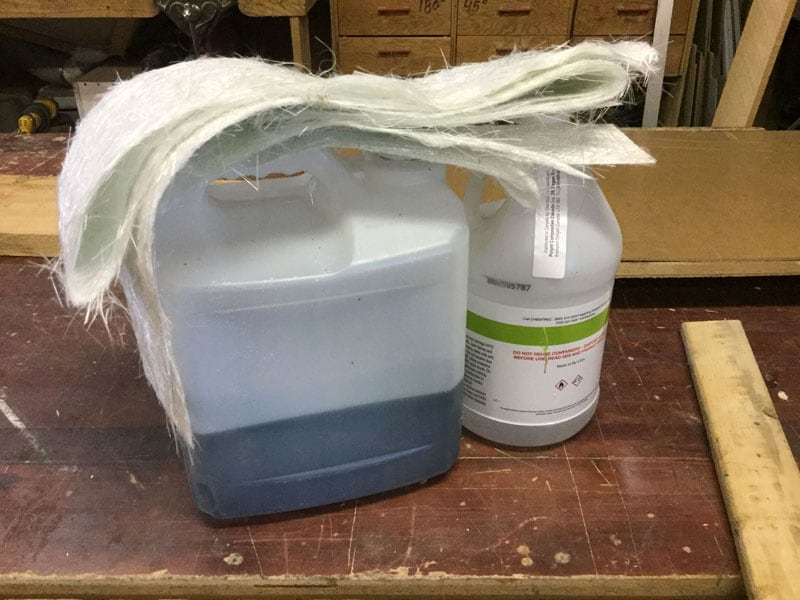 Above and below: The fiberglass resin that was rolled onto the sidewalls of the camper, and the end result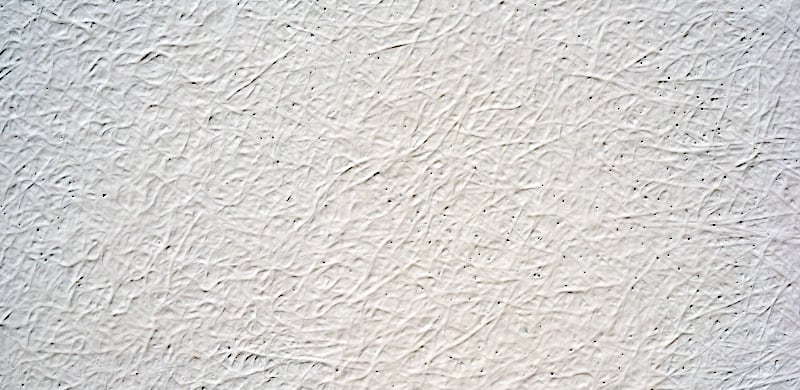 The finish inside is made with 1/8-inch luan and the outside with 1/4-inch luan re-covered with fiberglass.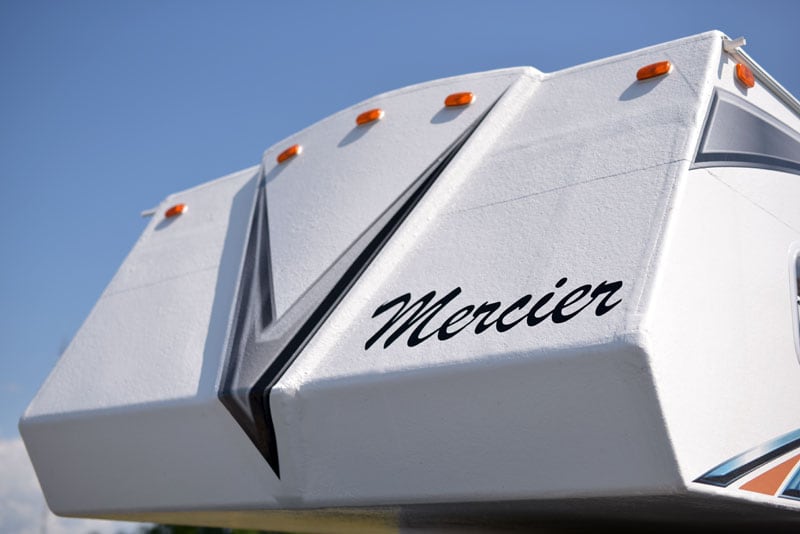 The rooftop is made with 2-foot by 4-foot sections of 3/8-inch plywood covered with Rexoseal.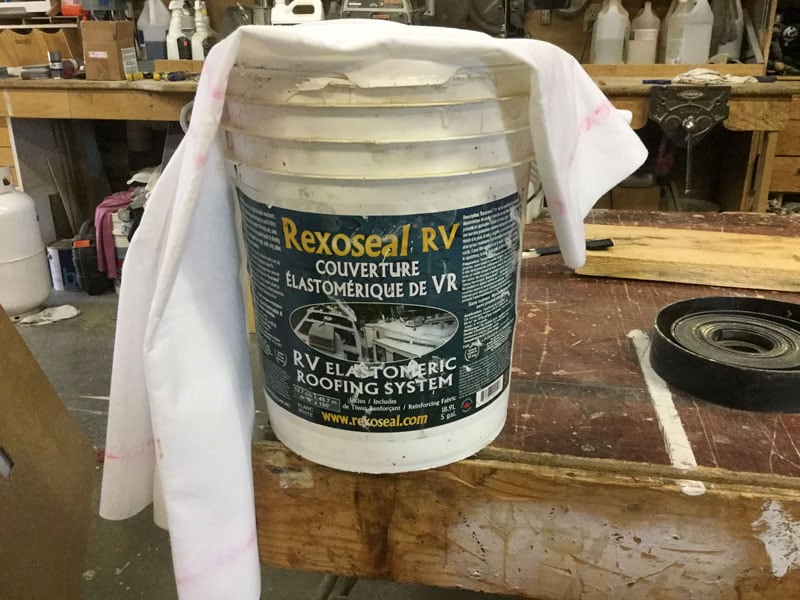 Above and below: The rooftop is made with 2'x4' with 3/8" plywood covered with Rexoseal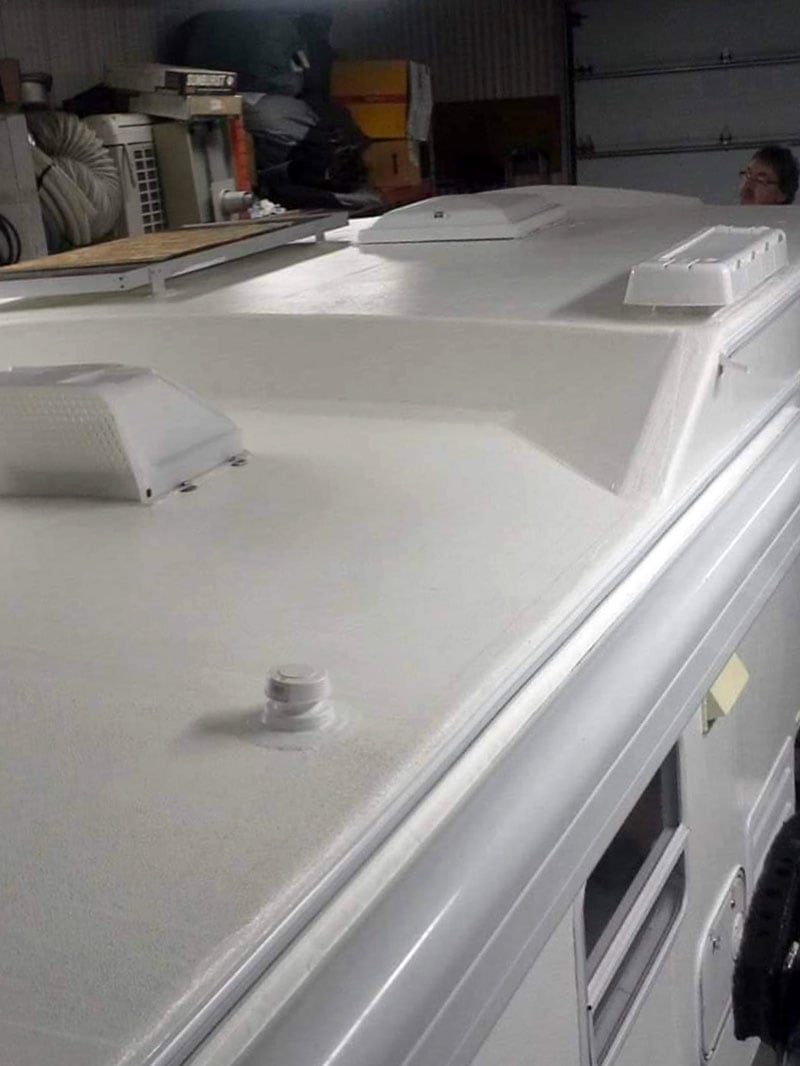 Does the camper feature a basement for the fresh, grey and black holding tanks?
Yes, the camper has a basement that is 10-inches high.  We have 40-gallons of fresh, 29-gallons of grey and 29-gallons of black.
Was the drop down rear bedroom part of the original camper design or did you add that later?
It was in the original camper.
Where did the drop down rear bedroom idea and design come from? It looks like a Snap-N-Nap from a 1970's Amerigo truck camper.
The idea came from a picture of a truck camper I found online; probably an Amerigo.
I built it from plywood with an aluminum frame and a garage door seal.  The exterior is fiberglass except for the removable sides.
Can adults safely climb into and sleep in the drop down rear bedroom?
Yes, one adult, even a big one, or two children.  It features a 48-inch wide mattress.
Was the dinette slide-out part of the original camper design or did you add that later?
It was not originally part of the camper.  We added the slide-out last winter.
How did you know you could cut the side wall open for the slide out?
I knew I could cut the wall open because I built it myself.  I knew where everything was and how it was made.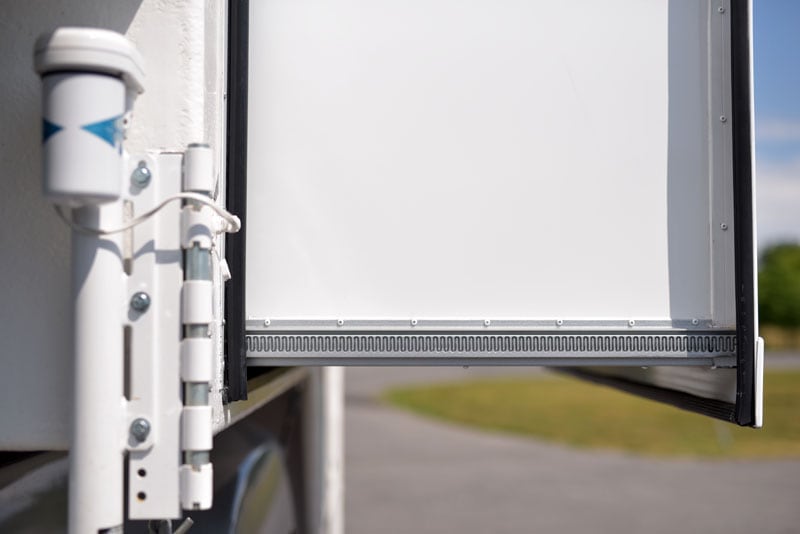 What type of slide mechanism did you use for the slide out?
I used a Schwintek slide mechanism that travels out 28-inches.
I started by doing it in my workshop at home.  I removed it with family and friends, mostly for their arms.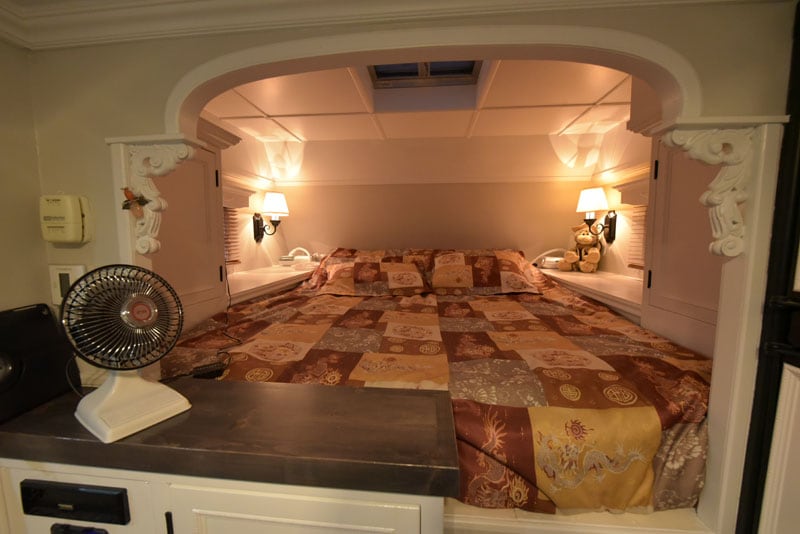 Above: New taller cabover bedroom
Was the taller cabover part of the original camper design or did you add that later?
We wanted to be able to sit-up comfortably in bed without knocking our heads!  And, as we say in French, "tant qu'à".  We had to rebuild it, so why not do it better?
The cabover is now 8-inches taller.  We also added 30-inches by 96-inches by 8-inches of additional storage.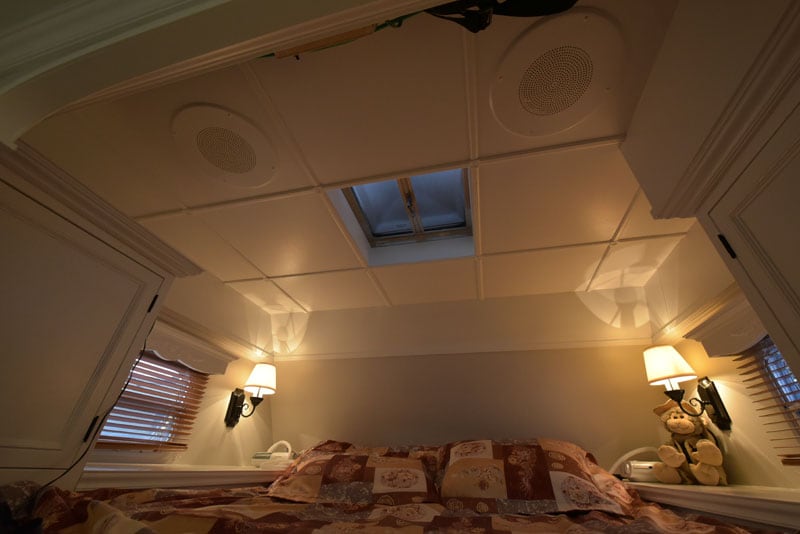 The taller cabover was not part of the original design.  I added the taller cabover in March of 2017.  That's also when we rebuilt the roof.  We discovered a leak due to a fallen tree branch.  During the roof repair, we heightened the cabover.
Above: Before and after the camper's cabover was made taller
Did you essentially rebuilt the entire cabover roof, front-nose and sidewalls?
Yes, we rebuilt it all.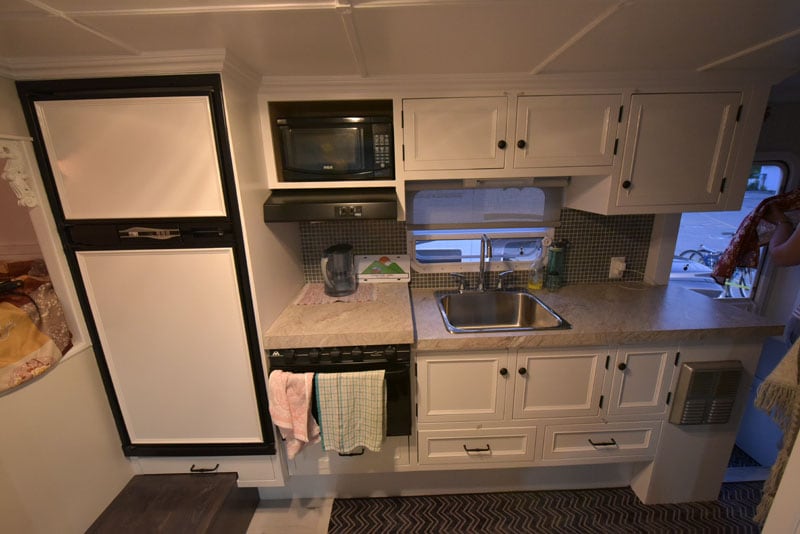 The interior decor and style is different than anything we have seen before. Where did that interior look come from?
We built it like a tiny house.  We like classic contemporary interiors.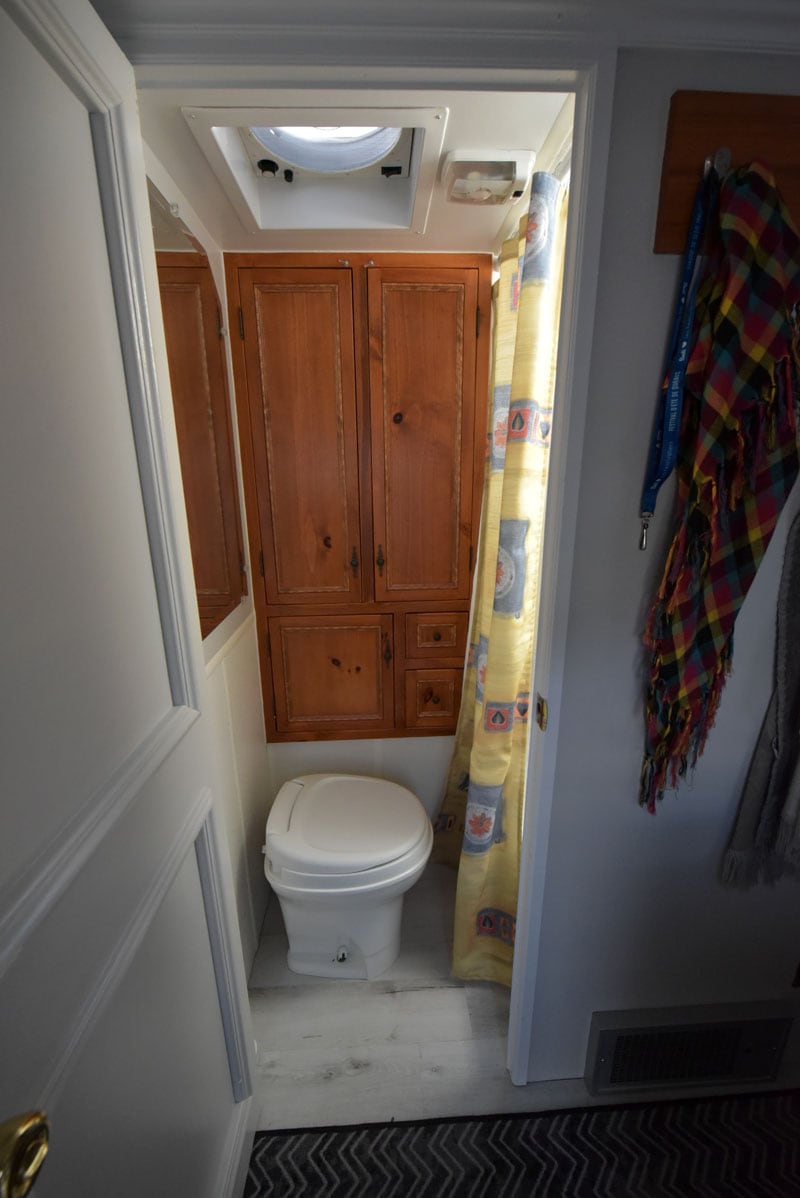 Everything is built in pine to keep the weight down.  It's our signature Mercier-Dion look.
How long did it take you to build the first version of the camper? When was that?
We started the camper in the autumn of 2005.  We worked on it for three months on the weekends and then a 40-hour week in the spring of 2006.
The rear room was completed with the original camper in 2005.  The front nose was done in 2017, and the slide-out in 2018.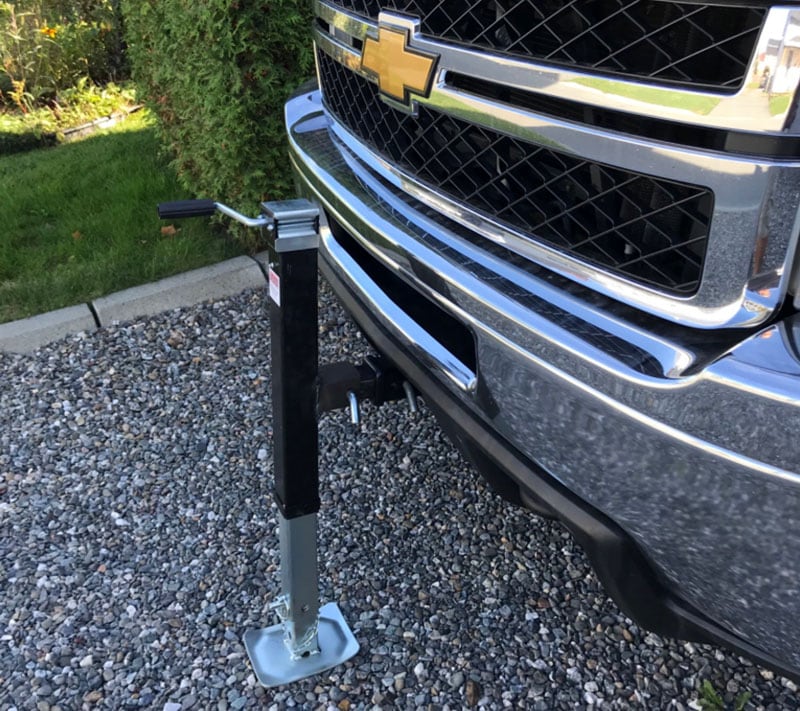 Above: The hitch on the front of the truck for leveling the truck easily
Is the camper completely finished?
It is never completely finished.  I still have to do two valences over the windows of the slide and the kitchen.  We also want to change the way the cabinetry locks because we are not satisfied with the way it works.
Since we met you at the Quebec Caravan, we changed the fixation for the camper on the truck.  We also added a MaxxAir, changed the attachment for the boat, and added a hitch on the front of the truck for leveling the truck easily.  There is always more to do for the better.
What does it weigh?
The camper is 3,989-pounds with full propane, water, food, two people and all we need for camping.
Any idea where the center gravity is on your camper?
No, but it feels good on the road.
What's the story behind the name Mercier?
It's my last name.  My wife wanted me to sign it because she was proud of my work.
Your cat is in many of the photos. Does he go with you on your truck camping adventures?
He goes with us most of the time if we are on a trip for more than three days.  He needs medication and the guardian is not able to give it to him.  He's a good boy and he likes truck camping.
Do you have truck camping plans for 2020?
After the Quebec Caravan in July, we went to the Festival Western in St-Tite for twelve-days in September and a Jamboree in Quebec in October for four days.
In 2020 we are going on a truck camping and fishing trip in May and June, to the Gaspésie in July or August, and will go on plenty of other truck camping trips.