Truck Camper Magazine attends a 7-day, 200-kilometer French Canadian truck camper rally and tour of Quebec Province in Canada with 15 fellow truck campers.  We had never been to Quebec.  We don't speak French.  And you won't believe what happened…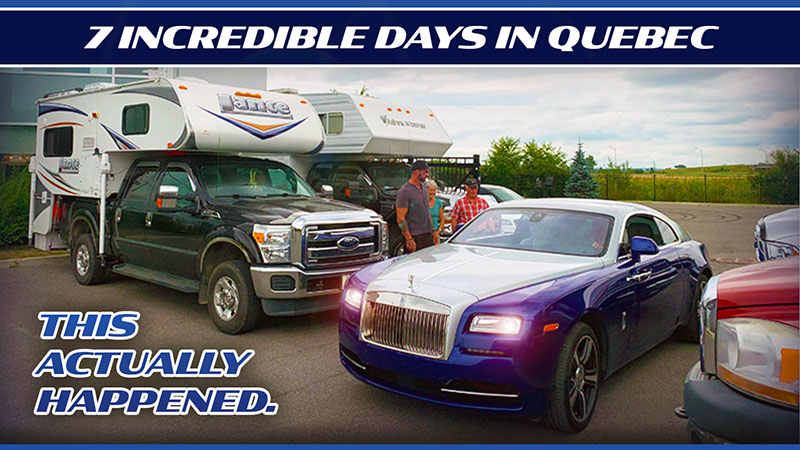 In February of 2018, we were invited by France Lanouette, the Founder of a French-Canadian truck camper group, to attend a traveling Quebec truck camper rally at the end of July, 2019.
We don't typically make plans 18-months in advance, but this invitation was impossible to refuse; Montebello, Gatineau, Ottawa and more – all with fellow truck campers who really know where to go, what to see and what to do.
30 new truck camping friends?  15 new places to explore? A traveling truck camper rally in Quebec?  Yes, please!  Thank you, France!
If I had a concern, it was the language barrier.  They speak French in Quebec Province and I worried they might not accept us if we didn't.  I took a little French in school, but it was never my forte.  Beyond a few choice words and phrases, I would be lost.  Worse, Angela took Spanish in school.  How would this work?
Lucky for us, the rally organizers spoke fluent English, as did a number of the rally attendees.  Others spoke enough English to communicate effectively with us, and the remainder spoke to us through translation.  In other words, we were able to communicate with the group.  There were times when not speaking French was isolating, but that in no way hampered our enthusiasm for the group or the incredible opportunity they presented.
Was French spoken just about everywhere we went?  Oui.  Was it a problem?  Non.  In fact, Angela got the group to teach her a little French every day.  That was both charming and quite funny.  We tried!
Arriving in Montebello, Quebec, and Lots of Kissing!
There were already a half-dozen or so truck camper rigs when we arrived at the first gathering location; Marina Municipale in Montebello, Quebec.  The group had arranged to use the center field.  We drove onto the field, parked, put Harley inside the camper, and opened the windows for ventilation.  That's when the kissing began.
Not between Angela and I – but rather the arriving rally attendees.  Most of them are good friends from past rallies and were extremely happy to see one another again.
As is the French custom, the women kiss and are kissed.  For those who have not partaken in this greeting, it goes like this; quick peck on the right side, quick peck on the left side, and voila!  I think some of the fellas kissed Angela twice, but that's understandable.
Angela and I navigated the kissing custom with great care.  Which side do we kiss first?  Get that wrong and things could get awkward.  With lots of laughing, we managed to kiss our way through the custom.  I haven't kissed that many women since college.  When in Quebec…
Just kidding, Angela!  Just kidding!
The group has one rally per year.  Each rally is organized by one person or couple within the group.  They plan a one week truck camping trip showcasing the cultural treasures of their respective home area.
Denise Hupé was the organizer of this rally that went through the Outaouais area of Quebec.  The Outaouais is the region of western Quebec that is located on the north side of the Ottawa River opposite Canada's capital, Ottawa.  Denise also included Ottawa during the seven day rally.
Denise and her husband, Bob, grew up in Quebec and have deep connections to the province, its towns and cities.  Denise also happens to be a long time reader of Truck Camper Magazine.  She was even featured in her own story in November of 2012.
Guess who had no idea we were attending the rally?  Via email, France had invited us to attend the rally nearly two years prior, but never once told Denise or Bob we were coming.  France knew how much Denise enjoyed TCM, and wanted to surprise her.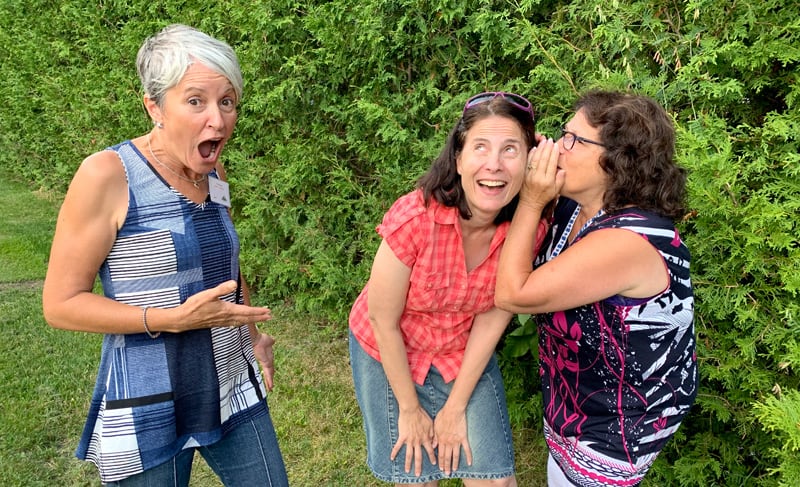 It worked.  France introduced us to Denise, casually saying, "Gordon and Angela, of Truck Camper Magazine…"  The look on Denise's face was priceless.  What fun!
Late that afternoon the rally gathered around in a large circle and talked about the rally plan and schedule.  At least that's what we think they said as they spoke almost entirely in French.
As non-French speakers, Denise, Bob and France translated the important details, and spoke in English with us during the course of the rally.  We can't thank them enough for their patience and generosity with us.  Merci beaucoup!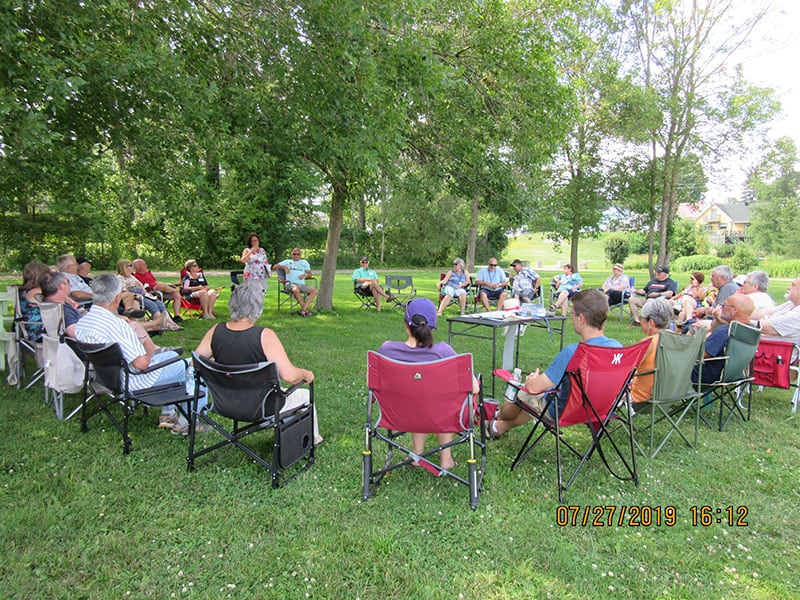 Part of what was discussed and established that evening were the traveling groups.  To avoid having all 16 truck camper rigs traveling together, the organizers divided us into three groups – five, five, and six – and spaced each group's departure by five minutes.
Angela and I were in the first group behind France and her husband, Jean, in their Eagle Cap 1160.  Whenever we went anywhere during the rally, we were to follow the 'Cap.

Easy peasy, right?  Just wait.
Day 1: Chateau Montebello, Montebello, Quebec
"Beep! Beep! Beep!"
Before dawn, we awoke to the unmistakable sound of a blaring car alarm.  Immediately I reached for my keys worried that our truck was waking up the rally.  It wasn't us, and we went back to sleep.  Who was the mystery morning beeper?  We didn't know, yet.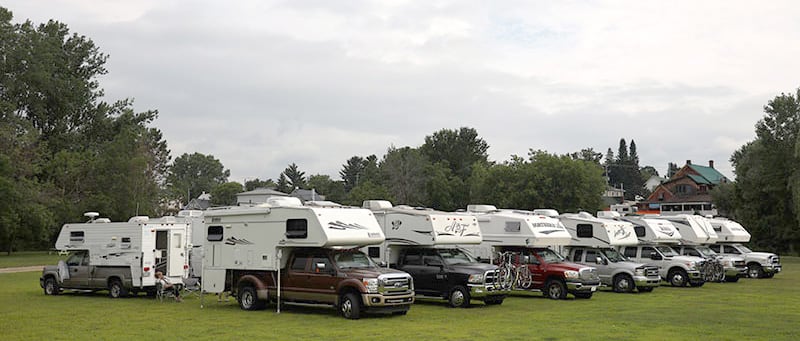 As a rule, the group tries to camp for the night within a short distance of the next day's stop.  For example, the marina where we camped was within walking distance of Château Montebello, one of the largest log cabins in the world and our first rally destination.
After walking a short distance in lovely Montebello, Denise led us into dense woods, past signs warning of poison ivy and right into an ambush of dive bombing French Canadian mosquitoes.  Wait a minute!  I thought she liked us?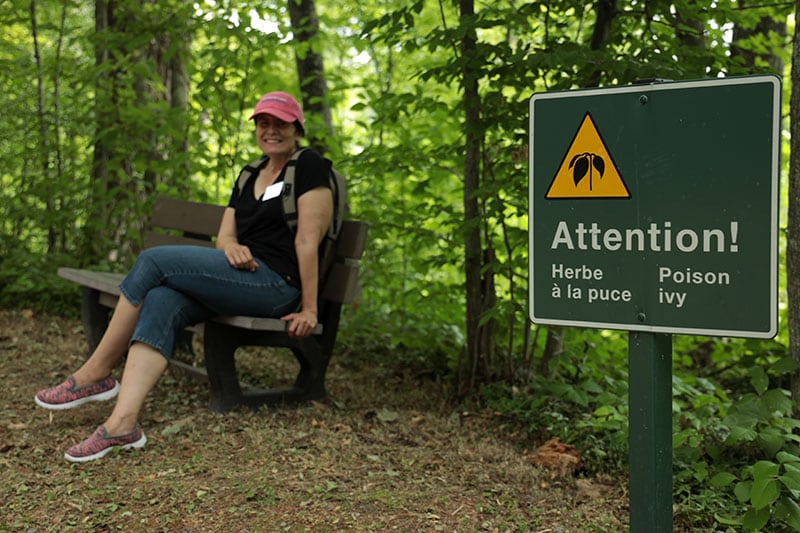 A few minutes later we emerged to discover an immense log cabin structure.  It's hard to call something so massive and luxuriously presented a log cabin, but there it was; 211 guest rooms, red-tipped logs and all.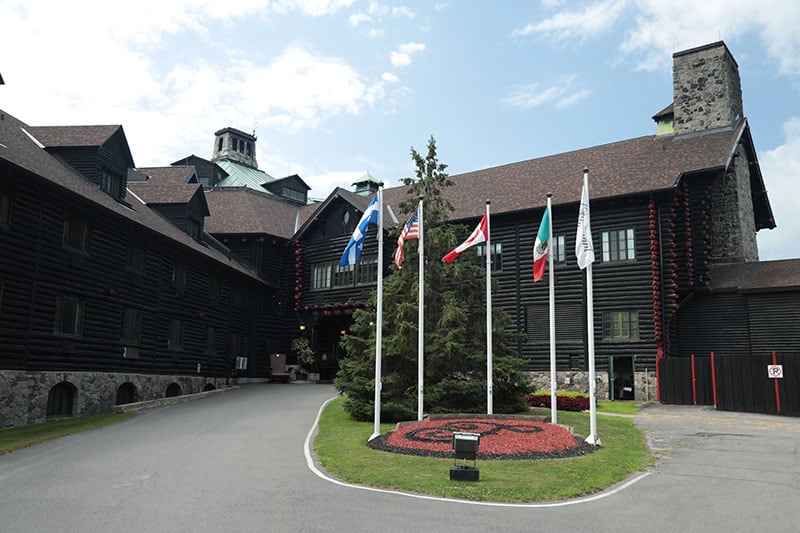 Founded in 1930, Château Montebello is a Fairmont Hotel and has spectacular sister locations in Banff, Alberta, Victoria, British Columbia and all over the world.  If you have to ask what a room for the night costs, it's probably too much.  But what a hotel!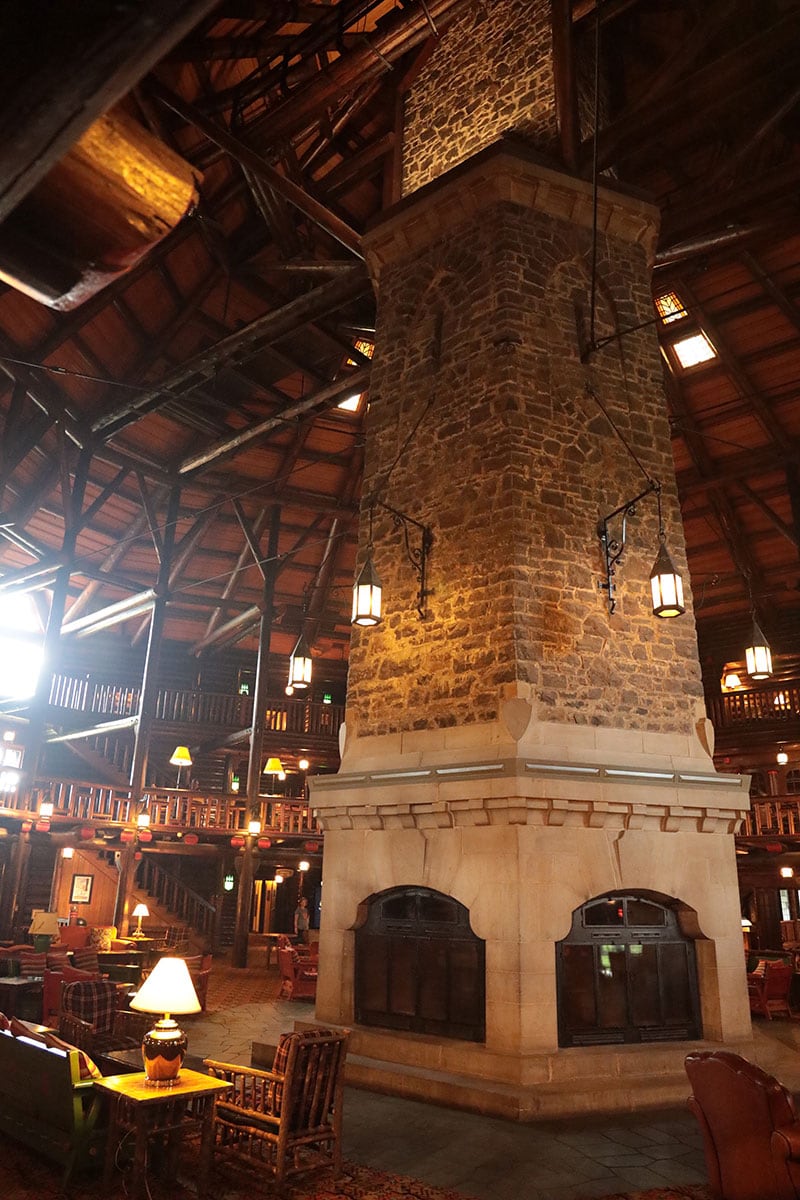 We walked the grounds and explored the interior of Château Montebello for the better part of an hour.  You could just imagine past guests including Bing Crosby, Perry Como, Bette Davis, Joan Crawford, Pierre Trudeau, Margaret Thatcher, Ronald Reagan, Francois Mitterrand and George W. Bush walking around the spectacular central fireplace.  What a stunning hotel.
Returning to the marina, it was time to move.  Setting out that first day was quite an experience.  Everyone was packing up their rigs at the same time, getting into their campers, and waiting for the order to ship out.
Over the walkie-talkie we heard France, "Okay, Angela and Gordon. Are you ready?"  Angela replied, "Ready, France!"  As we rolled out behind the Eagle Cap, we waved to the fellow truck campers.  An incredible adventure was just beginning.
The other campers mostly had CB radios.  We opted for a walkie-talkie as we only needed to communicate with France and the group CB chatter would be entirely in French.  The walkie-talkies worked well, as long as we were within a few hundred feet of France.  This limitation couldn't possibly create the most notorious incident of the rally, could it?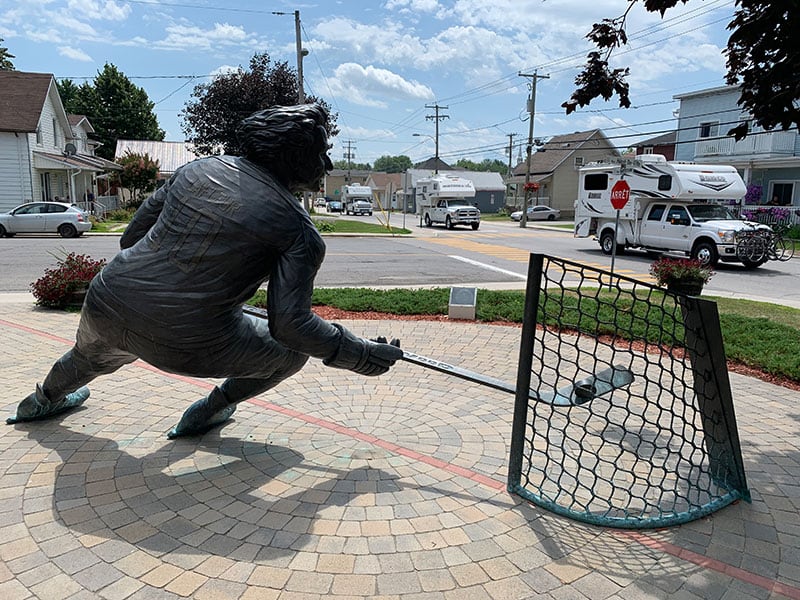 The next stop was to see a magnificent bronze statue of Guy Lafleur in his hometown of Thurso, Quebec.  When we pulled into the small parking lot I thought, "They'll never get all 16 truck camper rigs in here.  No way!"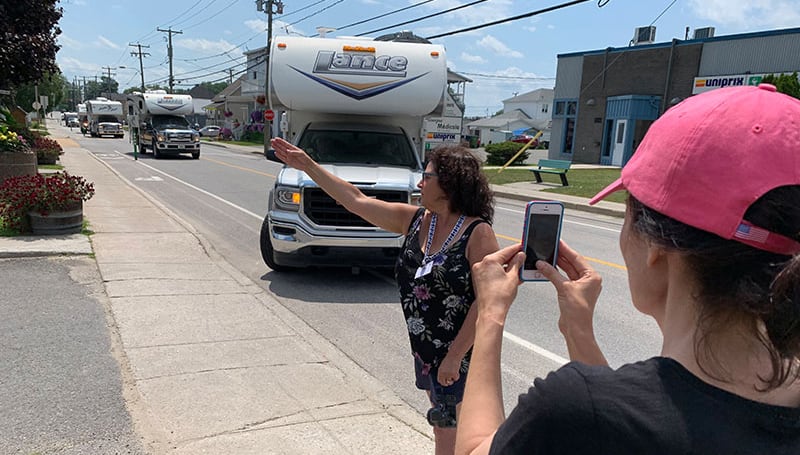 And then they did.  It was incredible to watch France point and place every camper.  We would see numerous examples of this precision over the following week.  This precision made urban parking possible with 16-rigs, again and again.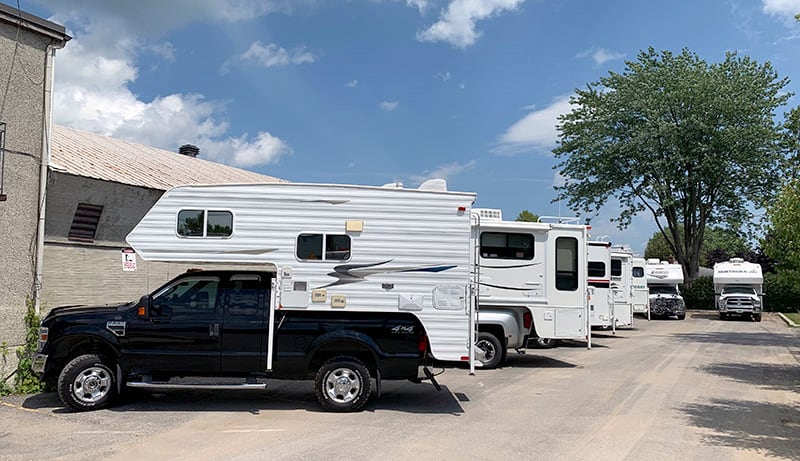 Guy Lafleur was the first NHL player to score 50-goals and 100-points for 6 straight seasons.  Guy's 17-season NHL career spanned 3 teams and included 5 Stanley Cup championships.  To this day he remains the all-time leading scorer in Canadian history with 1,246 points (518 goals and 728 assists). He was inducted into the Hockey Hall of Fame in 1988.
So imagine the looks of shock and horror on the faces of our new Quebecker friends when we told them we had no idea who Guy Lafleur was.  "Tu ne sais pas Guy Lafleur?"
Nope.  Not a clue.  Neither of us follows professional sports.  Not football or soccer.  Not baseball or basketball.  Not even hockey.  For a brief moment, I think the group considered deporting us.
Thankfully, we were quickly forgiven for our hockey faux pas.  They even gave us a signed picture of Guy Lafleur and a pin of his statue.  Needless to say, Guy Lafleur is now our favorite hockey player.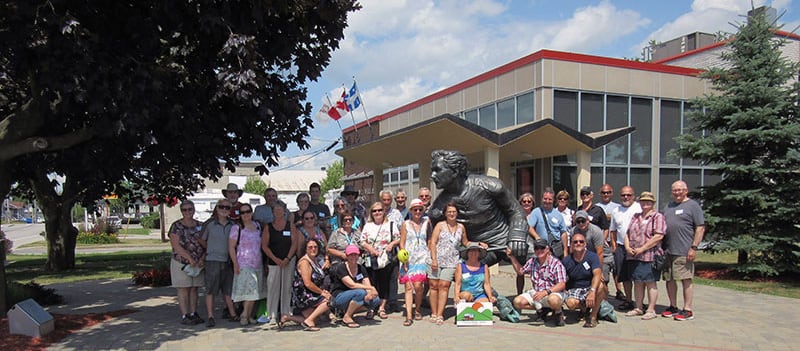 Before we left, a friendly passerby was asked to take a group photo with the statue.  As the cameraman took aim, someone in the group chanted, "Guy! Guy!" which actually sounds like, "Gee! Gee!"  Well, it took about half a second before the whole gang was chanting, "Guy! Guy!"  This chant returned for every group photo for the rest of the rally.
That afternoon we parked at a grocery store and visited Buckingham Museum and learned about the local history dating back to the early 1800s.  From there we traveled to Dalton Ecological Park, an all-volunteer sugar shack (for maple syrup), farm house, school house, orchard and floral park.  After eating dinner in our camper, we slept well.
Day 2: Dalton Ecological Park
"Beep! Beep! Beep!"  Not again!  And this time the horn was much louder as we were parked right next to…  Denise and Bob!  It turns out that their truck was having some kind of electrical issue that couldn't wait for morning.  After this second round I had a new nickname for Bob; Beep Beep Bob.  He took it well.  Poor guy.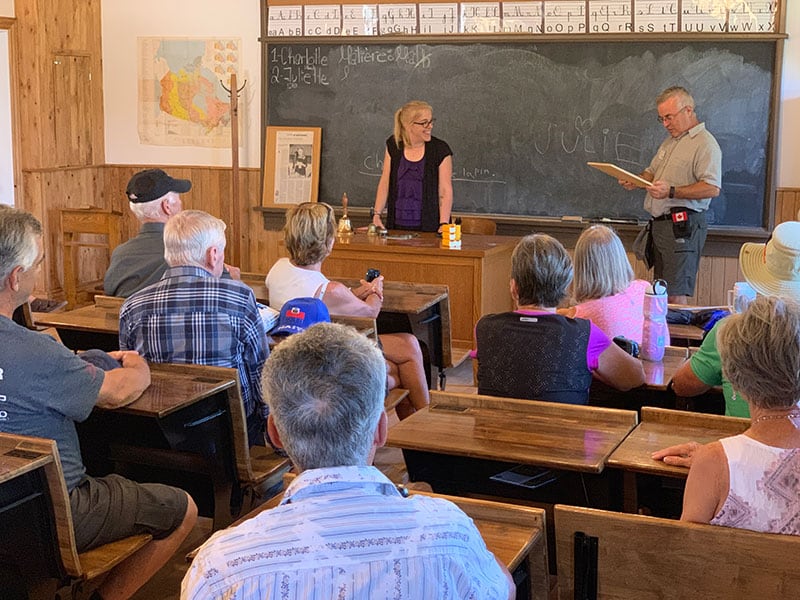 Following breakfast in our camper, the group went on a guided tour of Dalton Ecological Park.  The highlight of that experience was the schoolhouse.  Something about 32-adults sitting at student desks facing a chalkboard and our tour guide "teacher" brought out some of the most knuckle-headed behavior we have seen at a truck camper rally in a very long time.  And that's saying something.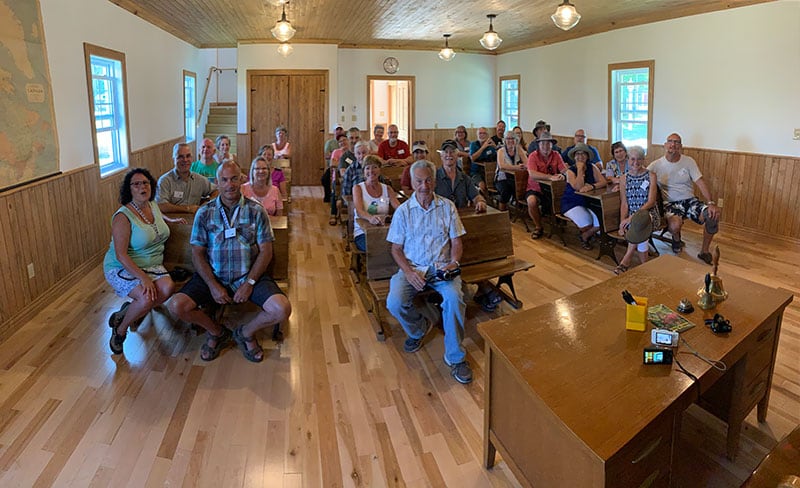 Just when I thought the energy in the room had peaked, the entire group broke out into song. At full volume they were singing, Adieux Monsieur le Professeur (Farewell Professor), a popular French song that students sing at the end of class.  We had no idea what they were singing, but it was positively joyous to see our new truck camping friends singing, laughing and having so much fun.
After school, the tour guide took the group through the floral park and dismissed the class for lunch.  An hour later it was time to roll.  Next stop, Vintage Wings of Canada at Gatineau-Ottawa Executive Airport.  I have to admit, as an aviation enthusiast, I was very excited about this next stop.  Sports?  Not so much.  Aviation?  You bet!

Once again, Denise, Bob and France managed to get all 16 truck camper rigs backed into a relatively small space.  The parking lot itself was huge, but they racked and packed us tight to conserve the parking space for others.  This group is practically the Blue Angels of parking formations.  And they do it fast!  After a week in reverse, my back-up parking skills have definitely improved.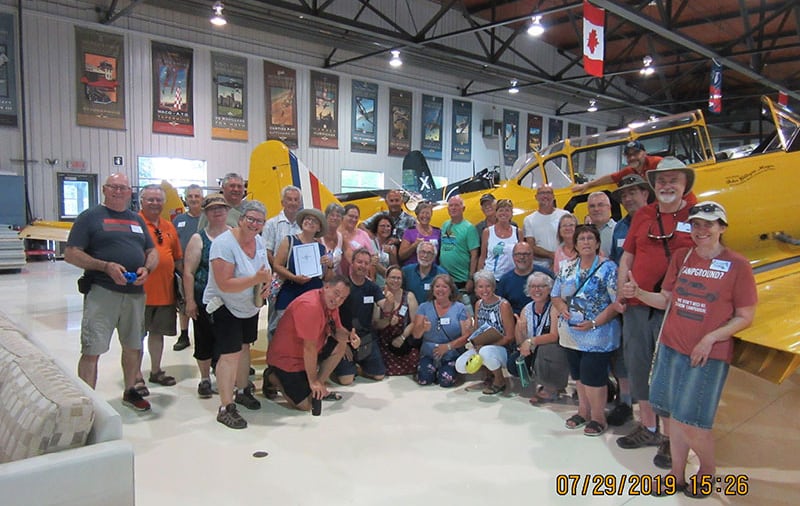 I was elated to discover the tour guide at Vintage Wings of Canada was perfectly fluent in French and English.  The group split into thirds; two-thirds got the tour in French, the other third in English.  And what a tour it was.
The not-for-profit aviation museum is contained in a 23,000 square foot hanger and includes vintage aircraft in flying condition or in mid-restoration.  Among their current collection is a P-51 Mustang IV, Supermarine Spitfire XVI, Harvard Mk IV, and Fleet Finch II.  Several of their planes are painted yellow designating them as Canadian training planes.
The aircraft and history presented were top notch – especially for a small museum.  Vintage Wings of Canada is open to the public most Saturdays from 9:00am to 4:00pm.  Highly recommended.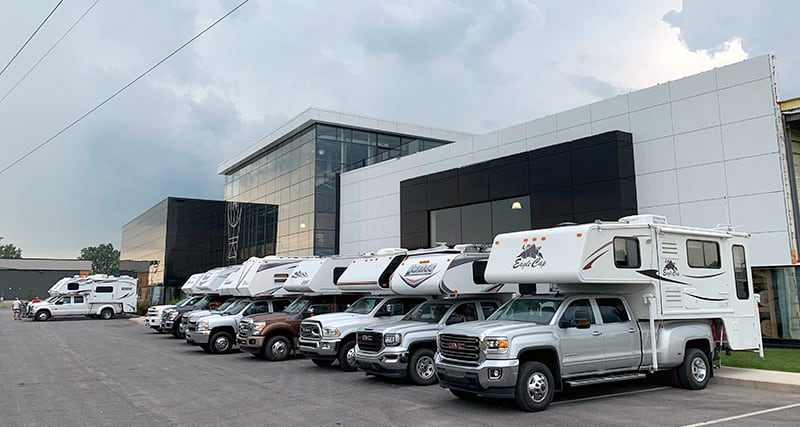 To top off an already incredible day, the group proceeded to Artist in Residence Distillery.  Artist in Residence is a self-described, "ultramodern micro-distillery" that produces artisanal vodka, gin, ginger liqueur and coffee liqueur.
After a guided tour of their gorgeous Olympic copper and stainless steel still, columns and boilers, the group went upstairs for a tasting.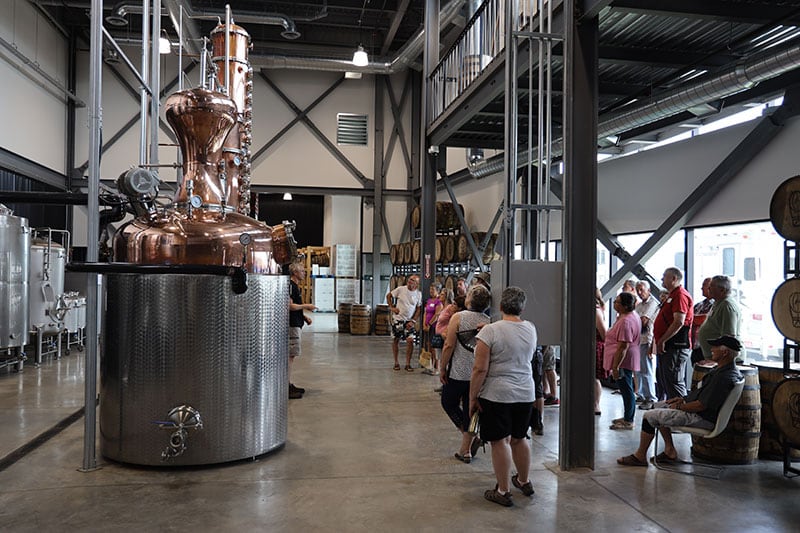 Remember what happened in the schoolhouse the day before?  That was a warm up for the laughter that flowed with vodka, gin and liqueur.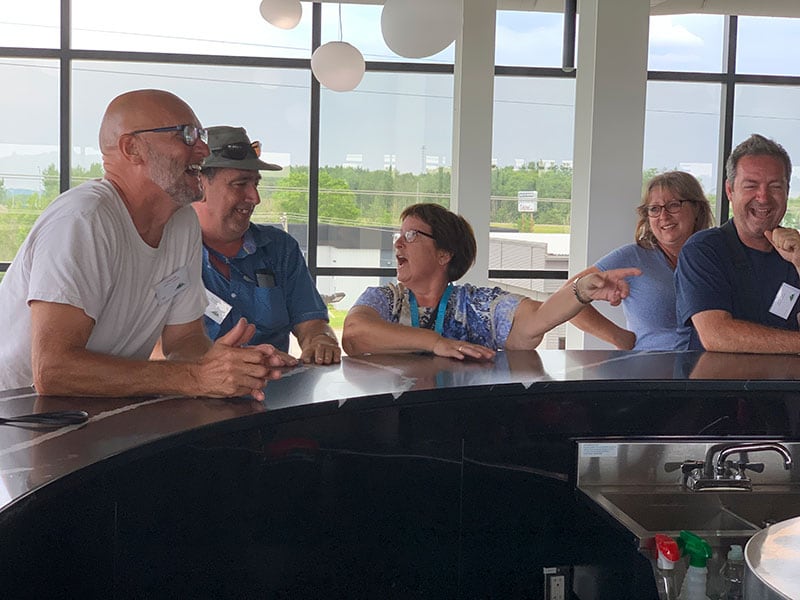 Only tiny thimble-sized tastings were poured, but it didn't take much to get this group singing and laughing again.
That evening Denise had a surprise 60th birthday party for Bob at a secluded barbecue restaurant.  Lucky for us, the restaurant offered overnight parking for 16 truck camper rigs.  Not only was the entire rally in attendance, but many of Bob's family members and friends soon arrived for the celebration.  After a barbecue pig roast feast, live music and dancing kept the party going late into the night.
Day 3: Preservation Center of Canada and Prestige Auto
I have no idea how Denise and Bob kept making this rally better day after day, but they most certainly did.  Looking at the schedule, I was most looking forward to the tour of Prestige Auto and their collection of exotic cars, but that wasn't the real star that day.  Not by a kilometer.
The parking lot for the day was an office supply store – think Office Max, but in French. Denise, Bob and France gained full permission for every parking spot we utilized.  They called in advance, talked to a manager and obtained express permission for the group. Y ou can't just park a truck camper anywhere in Quebec, much less sixteen.  A lot of work was involved.
At this point the group had split into two again; half going to the Preservation Center of Canada and half going to Prestige Auto.  The group was too large to accommodate all of us at once at either location, so we split the morning and afternoon schedules.  Our group started at the Preservation Center of Canada about a quarter mile walk from where we were parked.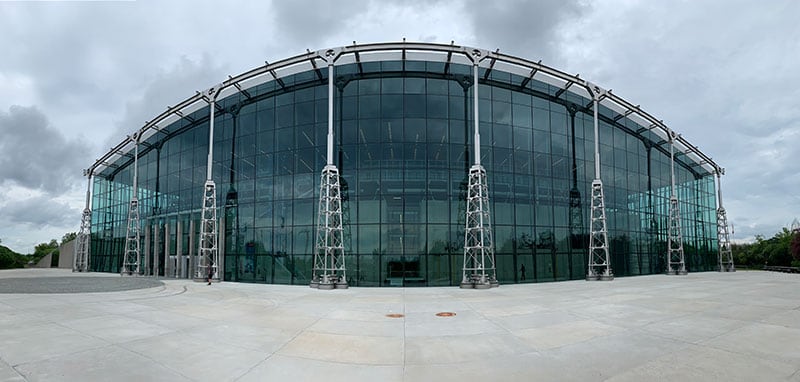 The Preservation Center of Canada is Canada's National Archive and Library.  It's also one of the most stunning, beautiful and thought-provoking buildings I've ever seen.
The intricate glass, steel and concrete structure-within-a-structure design contains 48 climate controlled storage vaults over three stories.  Inside these fortified vaults are important Canadian photographs, books, maps and works of art.  That's 30-million photographs, 22-million books, 5-million maps, and over 425,000 Canadian paintings and sculptures.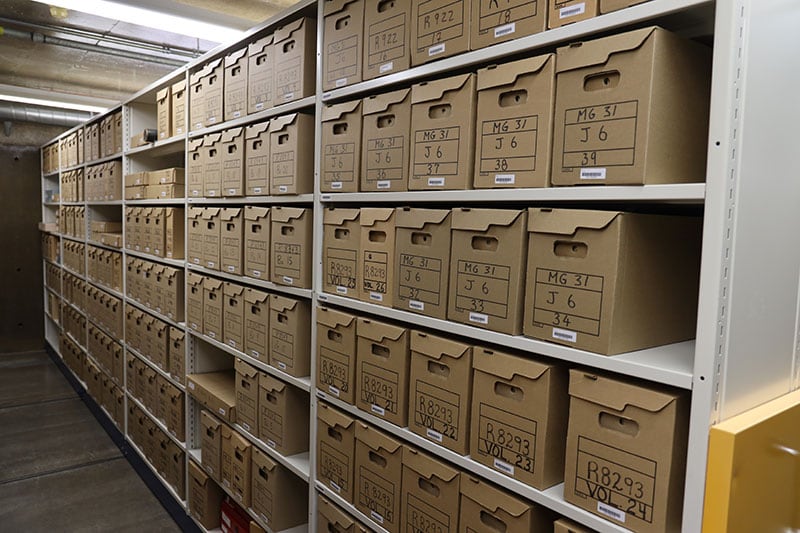 Our group was taken into a concrete temperature and humidity controlled room with thousands of meticulously labeled boxes of historically important documents.  The tour guide pointed out numerous design measures that ensure that the documents do not burn, flood or endure smoke damage.  I wonder if they'd hold onto my prized LP record collection for me.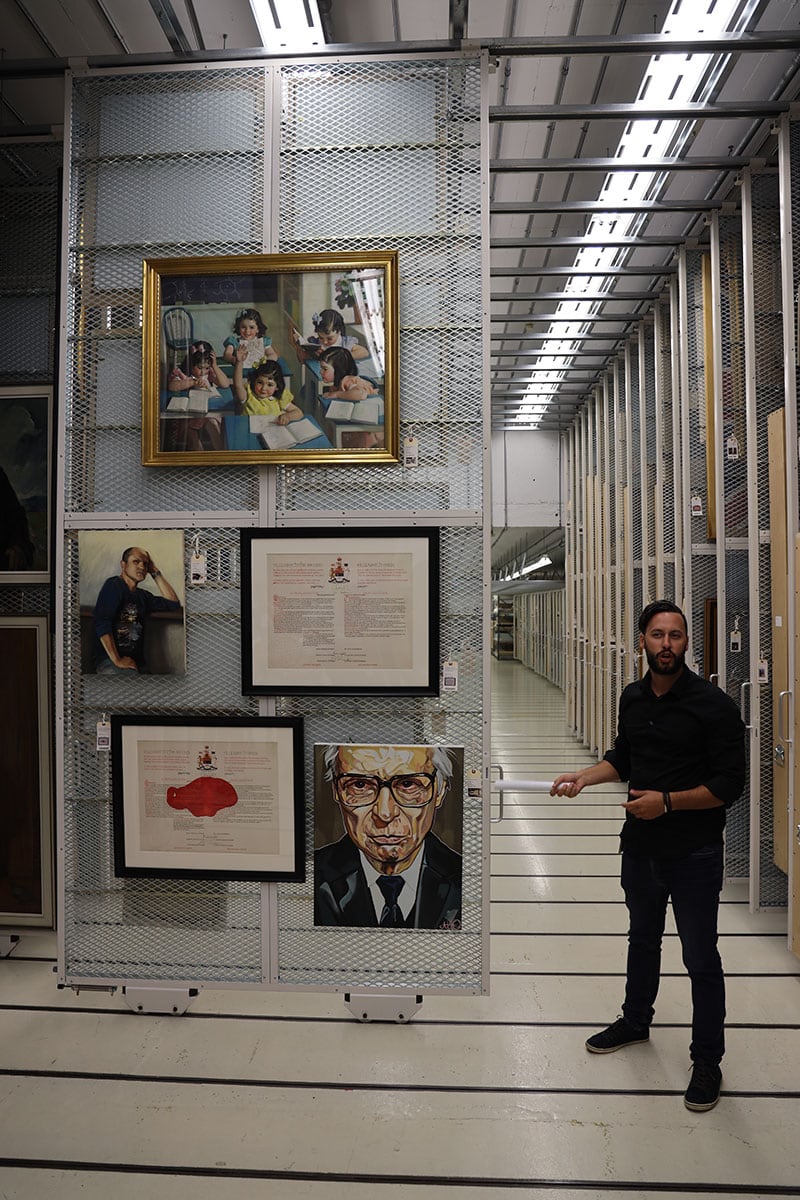 Next we entered a second vault containing hundreds of vertical racks holding thousands of Canadian paintings, prints and photographs.  I was deeply inspired just to be in the presence of this important artwork.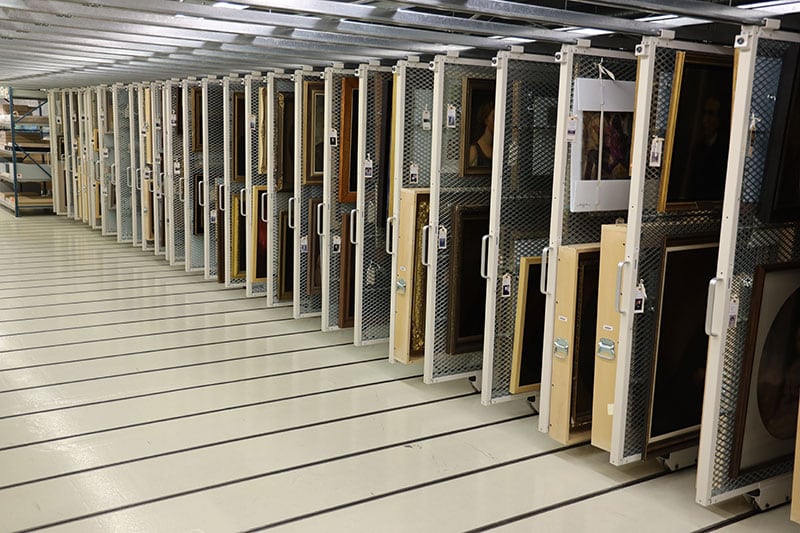 By this point I was going out of my mind.  I wanted to pull out every rack and enjoy every work of art.  Maybe I could hide behind a cabinet and get locked in overnight.  Unfortunately, Bob was making sure everyone stayed with the group.  He's no fun.
From there the tour took us upstairs to the inspection and restoration labs.  Along the way he pointed out how employee water bottles are kept on designated hallway tables to prevent spilling onto the documents or artwork.  Then he showed us the state-of-the-art cleaning, measurement and digital scanning equipment.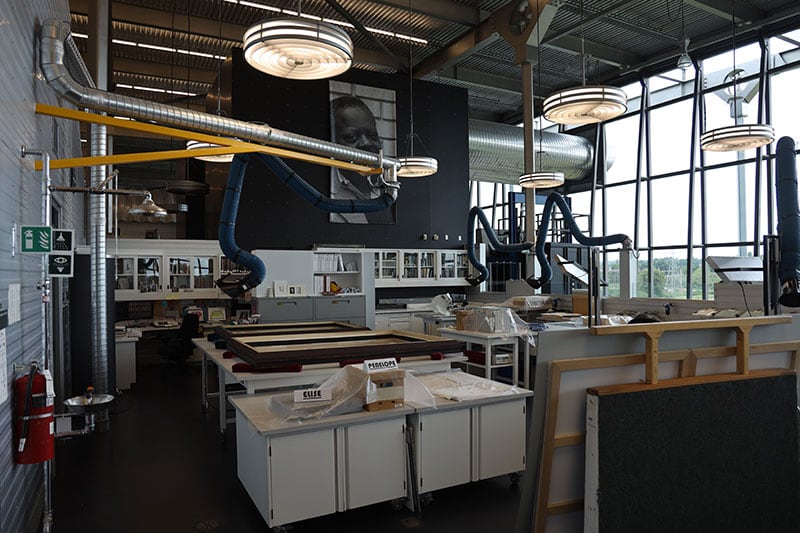 Even in the center of all those offices and labs, the building was quiet – like a library.  For the right people, this would be a very special and rewarding place to work.
Two hours after it began, the tour ended.  I did not want to leave.  I actually said to Angela, "If all heck breaks loose in the world, I want be stuck here."  If we brought enough peanut butter, we would be set with endless books to read and art to enjoy.  Yeah, I think like that.
Twenty minutes later we had walked back to our rig and were driving to our next destination; Prestige Auto.  When we arrived a short hop later, the parking lot was way too small for our rigs.  No sooner had I said so much then we were all parked.  Snug as bugs.  Like sardines in a can.  These Quebeckers are seriously truck camper parking magicians.
Our appointment wasn't for another 45-minutes, so we settled in our dinette for lunch.  When I looked out our dinette window I saw not one, but two Rolls Royces.  As I finished my sandwich, a 2016 Rolls Royce Silver Wraith approached the gate.  Holy smokes!  He's going to try to drive between our tightly parked truck campers!  Where's my camera?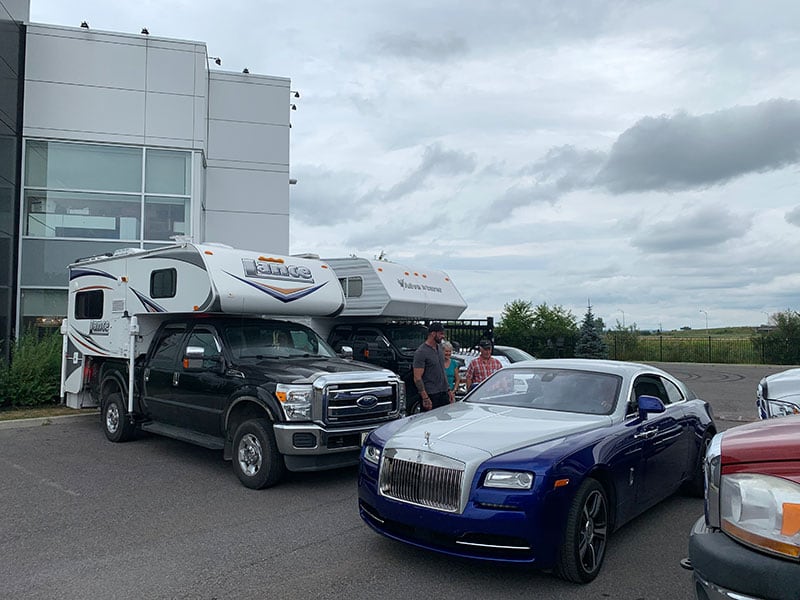 Folks, you can't make this stuff up.  There we were rubbing truck noses with a $180K automobile par excellence.  The funny thing is, I'd take my rig over that Rolls Royce any day of the week.  You can't go anywhere, camp anywhere or tow anything in a Rolls.  It's beautiful, but you can't shower in it.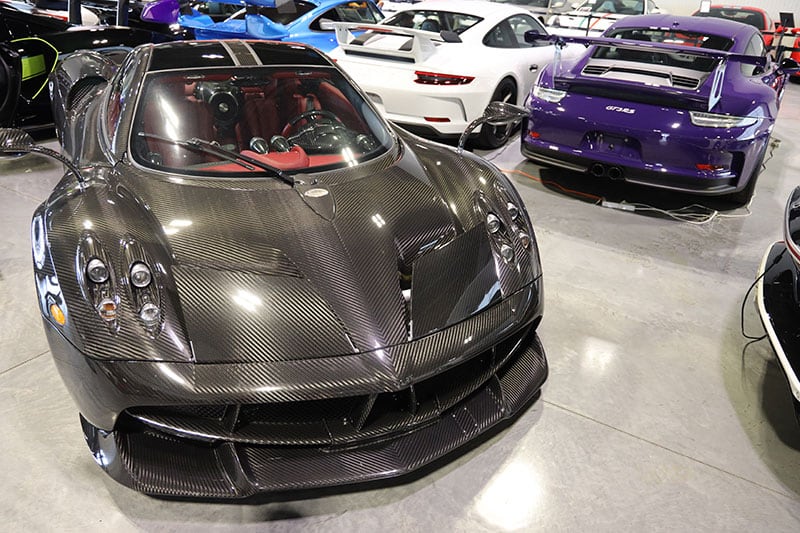 Prestige Auto is not a museum.  It's a private collection of collectable exotic cars purchased for investment.  Yes, the ownership and management teams are passionate about the cars.  Yes, they actually drive and race the cars.  However, the main goal for Prestige Auto is to purchase, maintain and eventually sell cars that appreciate in value.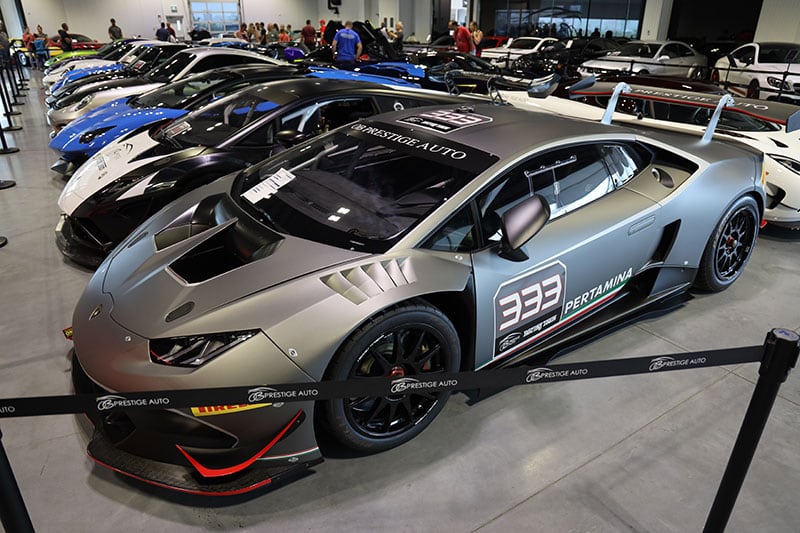 Here's the crazy thing; it's a sound business.  They are very strategically ordering and purchasing very collectable cars from Ferrari, Lamborgini, Koenigsegg, Pagani, Porsche, Mercedes-Benz, Bentley, McLaren, Bugatti and holding them until they hit a designated value target.  Then they sell them for a handsome profit.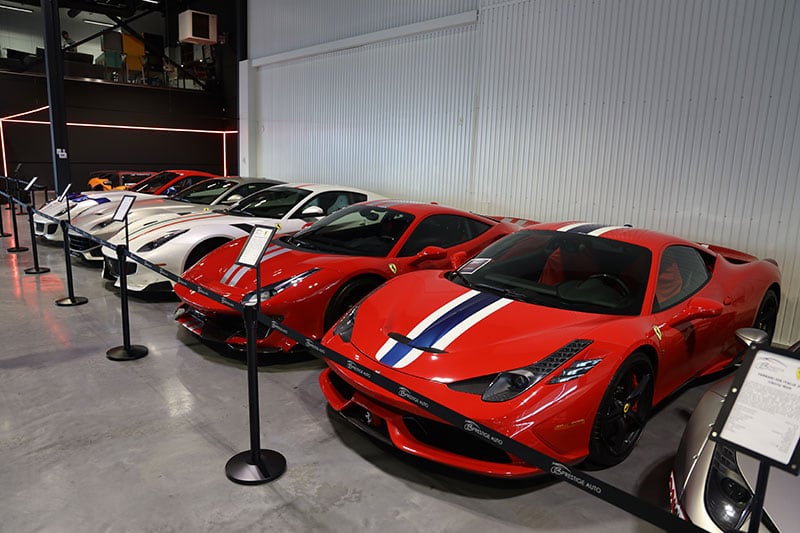 To be clear, these are exceptionally rare cars even among exotic cars; nearly impossible to find configurations and color schemes special ordered directly from the factories.
In the meantime, they promote, showcase and even race the cars to promote interest from prospective buyers. I know, it's nuts, but they're making money owning these cars. Many of the cars more than double in value. Seriously!
My jaw dropped at the 1990 Ferrari F40. I found the ghost on the 2018 Konesigg Agera RS.  I admired the 2019 Bugatti Chiron.  But oh that Pagani Huayra.  I just wanted to pull up a chair and stare at that gorgeous Italian carbon fibre beast.  Drive it?  Beyond my imagination.  Own it, at $3-million?  Well, they do offer financing.  Angela, I think we need a second vehicle.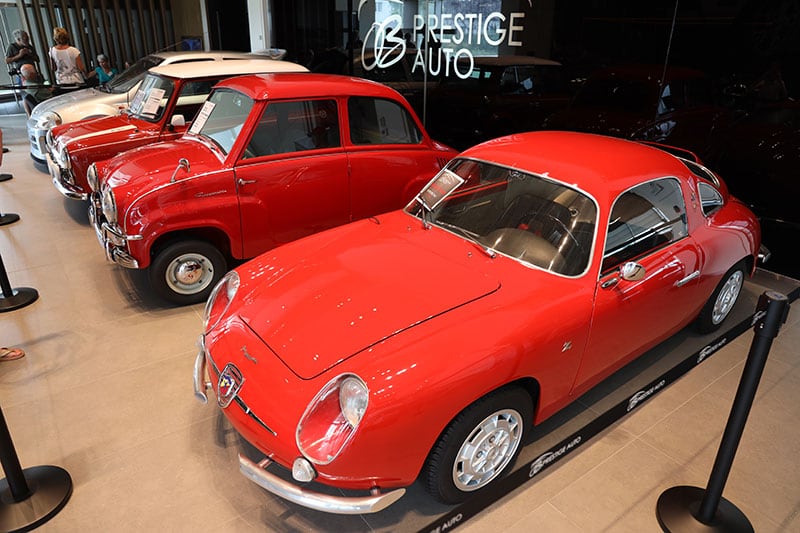 If you have even a passing interest in exotic cars of this caliber, you owe it to yourself to check out an outstanding documentary film called, "APEX: The Story of the Hypercar".  The movie tells the human interest stories of the founders and designers behind these remarkable machines.  You may never own or want to own one of these Iron Man suits, but you will be spellbound by the world that produces and supports them.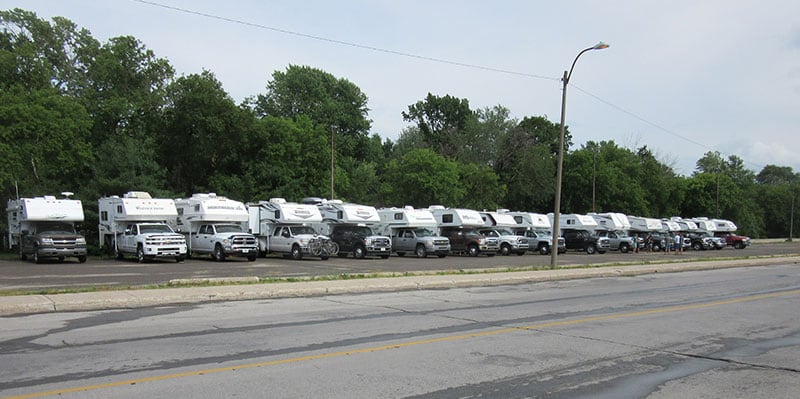 That night we stayed in the parking lot of Resolute Forest Products, a huge paper mill.  The mill was once the most significant employer in that area of Gatineau.  Today the plant is a shadow of its glory days having succumbed to the downturn of printed newspapers and the employment contrition of automation.
The plant is still active with 127 employees and still produces 200,000 metric tons of newsprint every year.  From our evening parking space a few hundred feet from the plant, the distinct smell of paper pulp hung in the air.
One of my favorite days, ever.  Thank you Denise, Bob, and France.  Wow.
Day 4: Gatineau and a Tischer in the Wild
By necessity, the rally took a very different turn starting on day five.  For two straight days we would be parking our rigs and taking public transportation into Gatineau and Ottawa.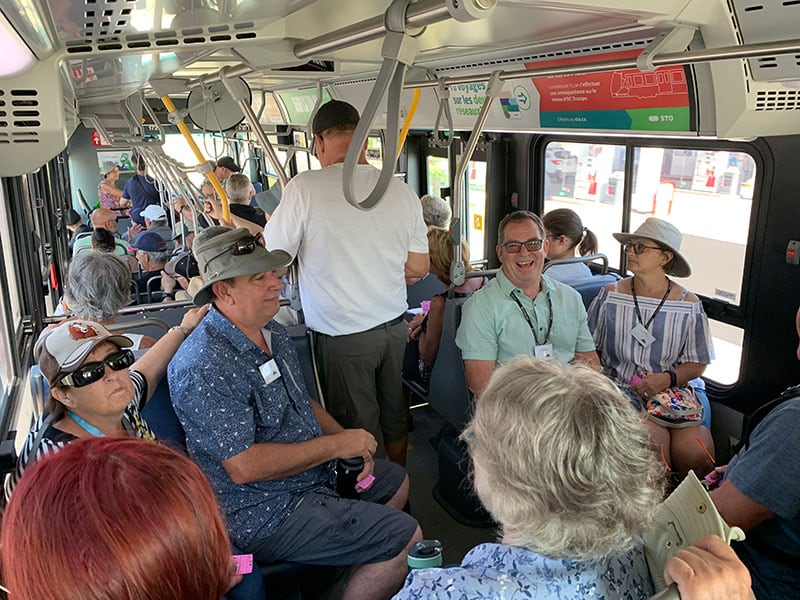 This is something I wouldn't have considered before joining this group.  We just don't consider parking somewhere and taking public transportation to reach urban areas.  Why?  Because I'm too chicken.  Chicken to leave my rig that long.  Chicken about major cities in general.  I'll admit it.  Bawk bawk!  I'm chicken!
Under the wing of the group and its steadfast organizers I felt empowered.  We can do this.  And there are so many things to see in major cities; museums, restaurants, historical buildings and cultural opportunities abound.  Let's go!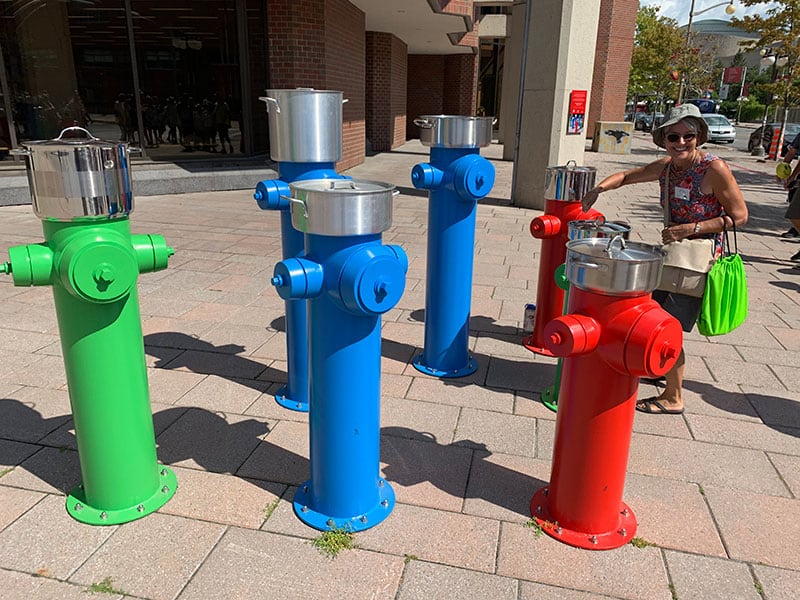 Stepping off the bus, we followed Gatineau's cultural trail, a painted red line inspired by Boston's Freedom Trail, and proceeded to Gatineau City Hall.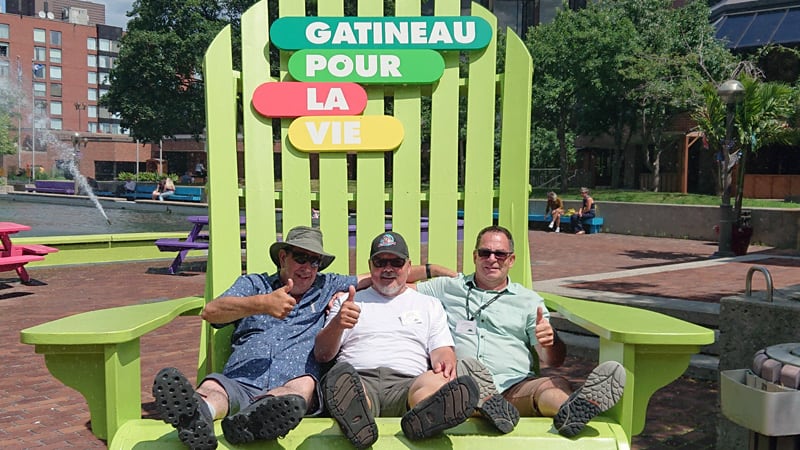 As we followed the red line, we came across public art of all descriptions.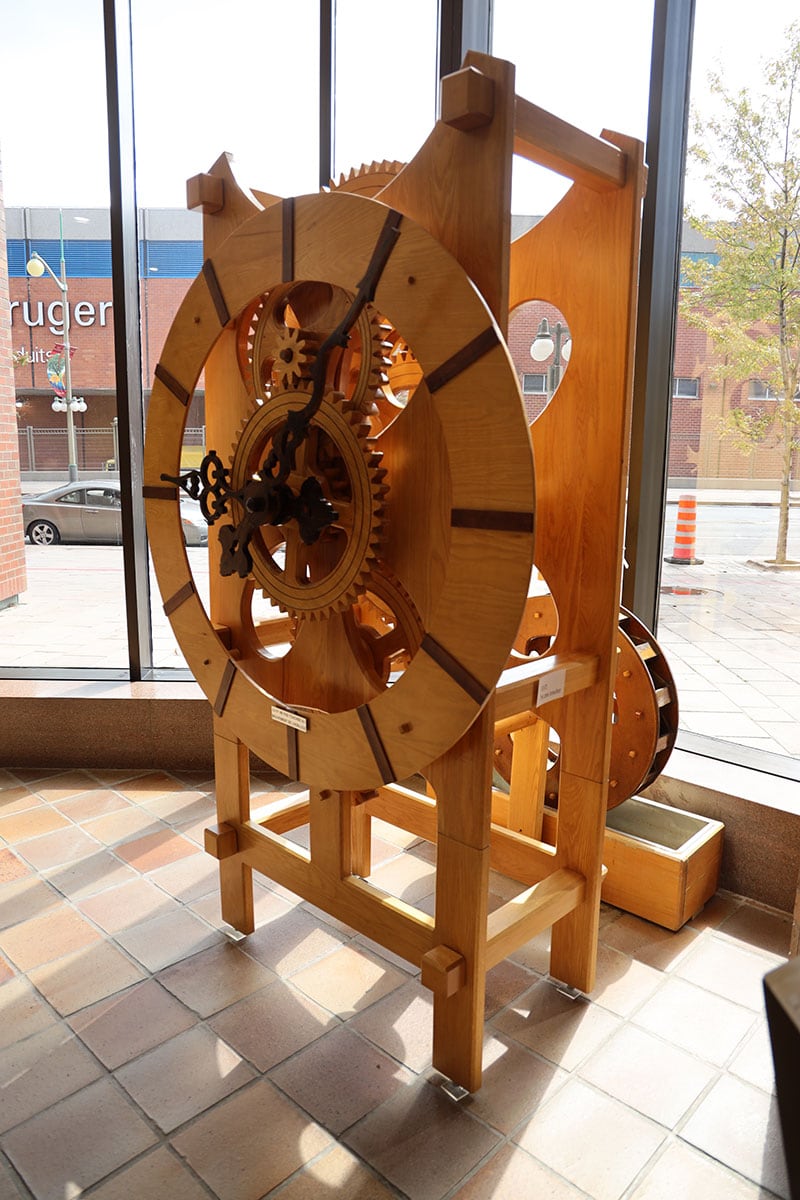 Gatineau City Hall is a modern building featuring a tall glass atrium and sculptures and paintings presented by various embassies.  A stand out was a giant wooden clock.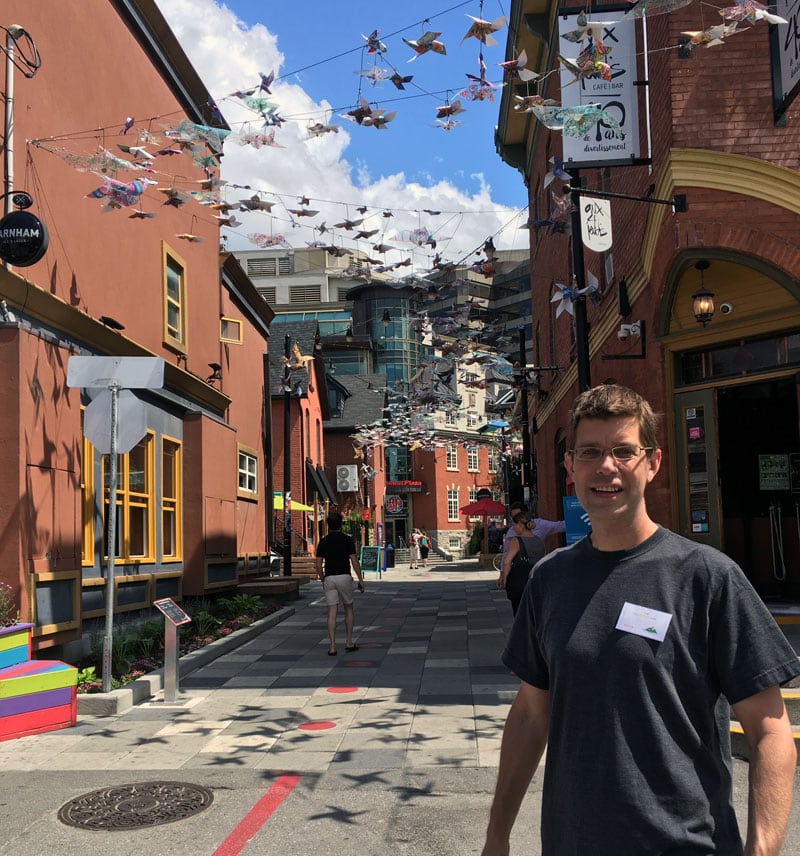 As we walked to our next destination, Angela spotted a German Tischer truck camper in the distance.  And off she went.  The group was going one way, and Angela was going another.  I managed to get her back on course, but it wasn't easy.  She wanted that story.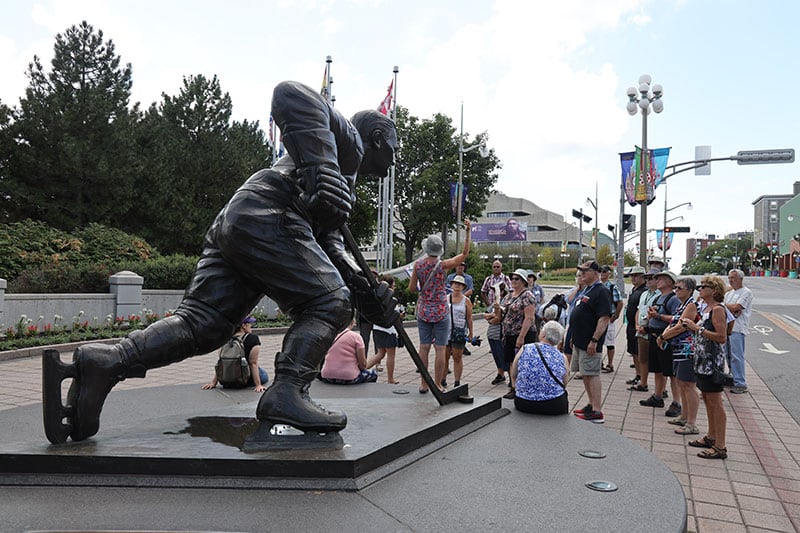 For the remainder of the day we explored Gatineau.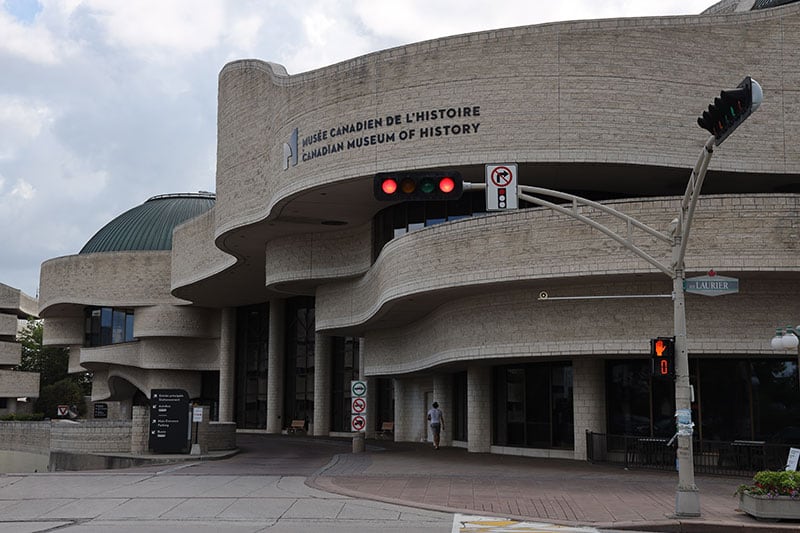 We walked past the incredible Canadian History Museum, stopped at the statue of Canadian hockey legend, Maurice "Rocket" Richard, learned about the terrible fire of 1900, and walked through Hull, Gatineau's central business district and oldest neighborhood.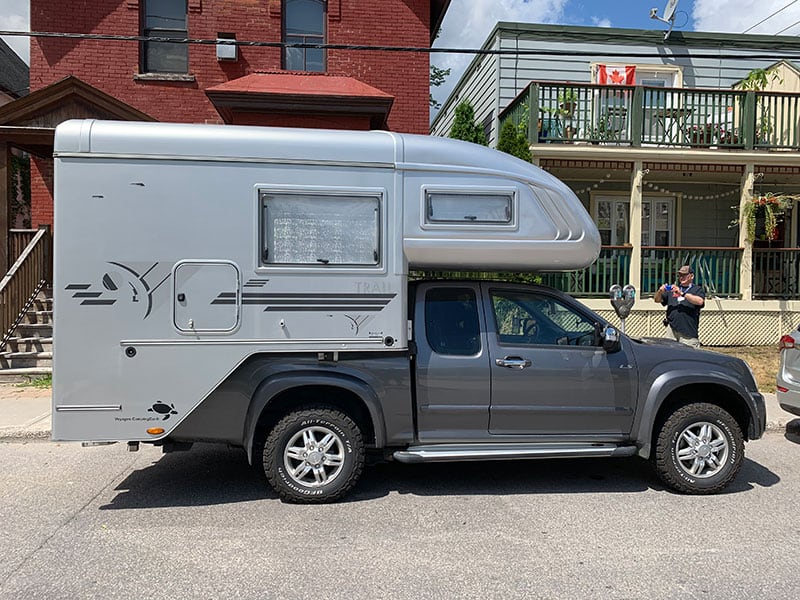 We did eventually wind our way back to the Tischer rig.  Nobody was there, but we explored the exterior and took photos.  Someday we will just have to travel to Germany and learn about Tischer and their products.  What we do for this magazine.
Returning to our truck campers, the group started up their trucks, checked CB and walkie-talkie signals and prepared to travel to our next spot for the night; a parking lot behind a police station.  It was time to saddle up our trusty 2018 Ram 3500 6.4L HEMI and chase that Eagle Cap once again. Onward!
At the very first light we lost Jean and France.  As I watched their rig escape I said to Angela, "Don't worry. They'll pull over and wait for us."  This had been the custom whenever someone got separated before.  Angela pushed the walkie-talkie and said, "We are stopped at the light, France."
No answer.  The light went green and we turned to follow their lead.  There was no sight of the Eagle Cap. We kept driving, all the time Angela on the walkie-talkie, "France, we lost you. Hello France?"  It would have actually been quite funny if there weren't truck campers following us too.
After going through a light or two, we noticed that we were suddenly alone.  Nobody was behind us.  Nobody was in front of us.  And because the morning meeting was in French, we had no idea where we were supposed to go.  Fortunately, Angela had Bob's phone number and made the call.
Bob immediately instructed us to turn around and take the previous light.  And that's when we noticed a black Ford F450 and Lance 1172 rig on our tail.
Sylvain and Sylvie, our group's designated tail gunners, had spotted our wayward direction and were in full pursuit.  Evidently Sylvain had CB'd to France that he had spotted the missing Americans and was instructed to rescue us.  Sylvain and Sylvie saved us!  Our heroes.
When we caught up with the group, they were all pulled over to the side of the road waiting for us.  Finally, France broke her radio silence. "Gordon and Angela… Get behind us."
As we passed rig after rig and regained our proper spot behind the Eagle Cap, I initially felt embarrassed about our directional blunder.  But then this wonderful sense of belonging came over me.  They were looking out for us.  After only a few days, we were connected.
Looking back, I'm actually glad we got lost.  That experience evaporated any concerns I had about being fully accepted.  French or no French, Quebecker or no Quebecker, we were now part of the tribe.
Later that night Angela asked if anyone else in their group's many years of rallies had ever gone AWOL like we had.  Their immediate answer?  Nope.  Just us.  Well, at least we made history.
Day 5: Parliament Hill, Beaver Tail and the Royal Mint
Day 6 started much as day 5 had; boarding a city bus.  This time we traveled to Ottawa, the capital city of Canada.  We got off the bus in front of Parliament Hill about an hour before the Changing of the Guard.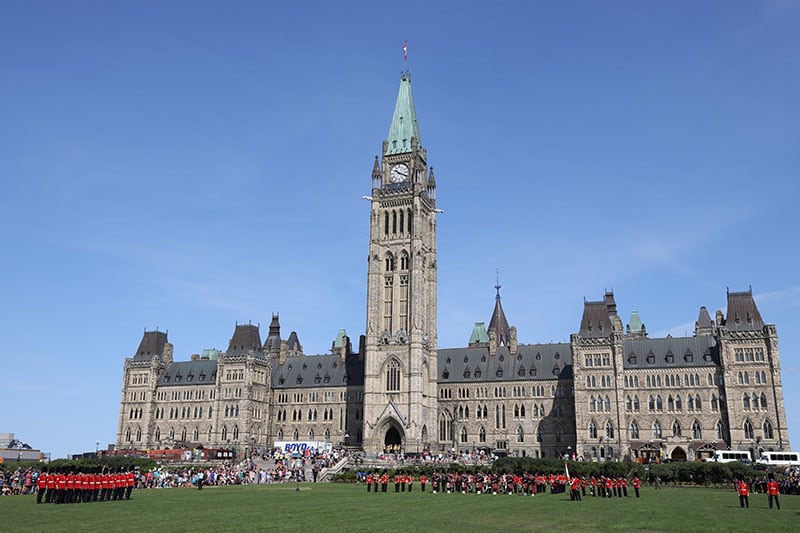 From late June through late August, the Changing of the Guard ceremony takes place at 10:00am in front of Parliament's Centre Block (East Lawn).  This must-see event is modeled after the Changing of the Guard ceremony in London, England.
The pageantry, pomp, marching band, uniforms, and narrated presentation (in English and French) were phenomenal.  For about 30-minutes, they marched in formation, played pipes and drums, and executed various inspections and protocols as the Old Guard transferred to the New Guard.
Leaving Parliament Hill, Denise and Bob led us about a half-mile to the Bytown Museum and Colonel By Locks.  The museum presented the history of Ottawa with an excellent pre-recorded headset tour in English or French.  Everything in Ottawa was accommodating to both languages.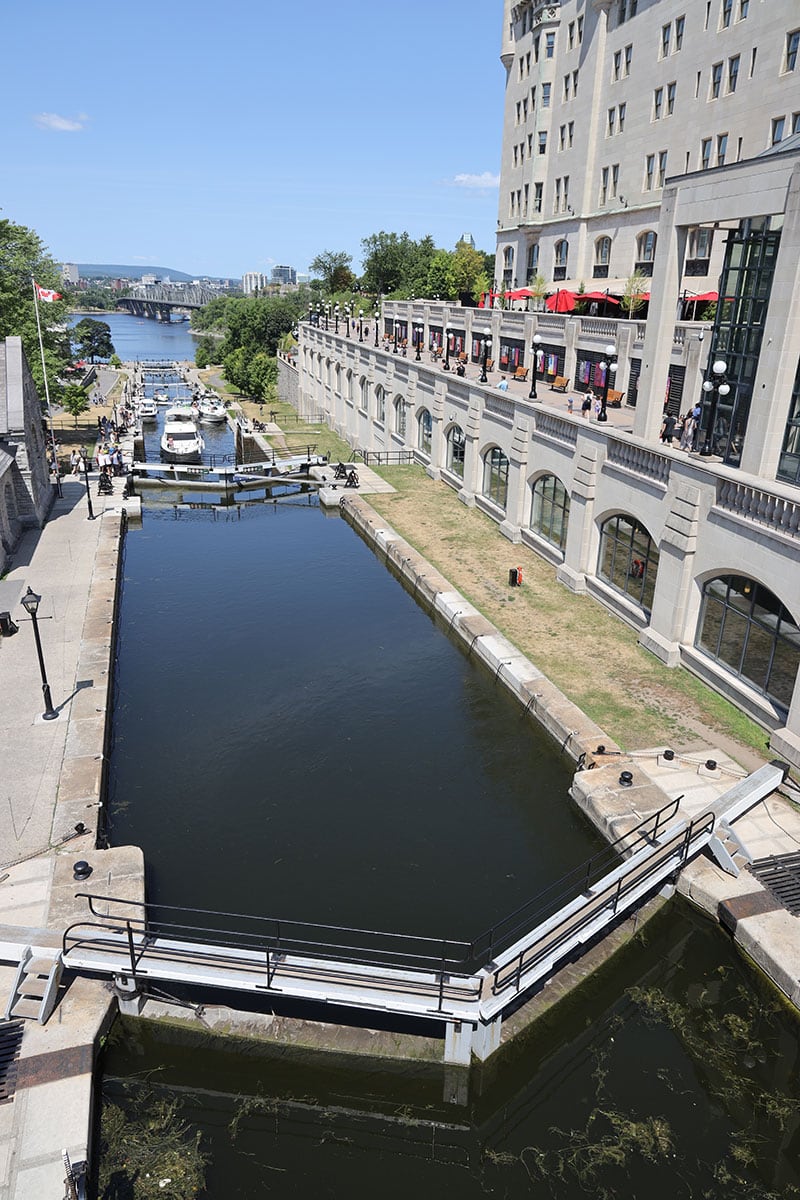 Adjacent to the museum, the Rideau Canal was opened in 1832 as a defensive measure for a possible war with the United States.  The mechanical locks are particularly impressive.  Incredibly, you are permitted to walk across the top of these locks when they're closed.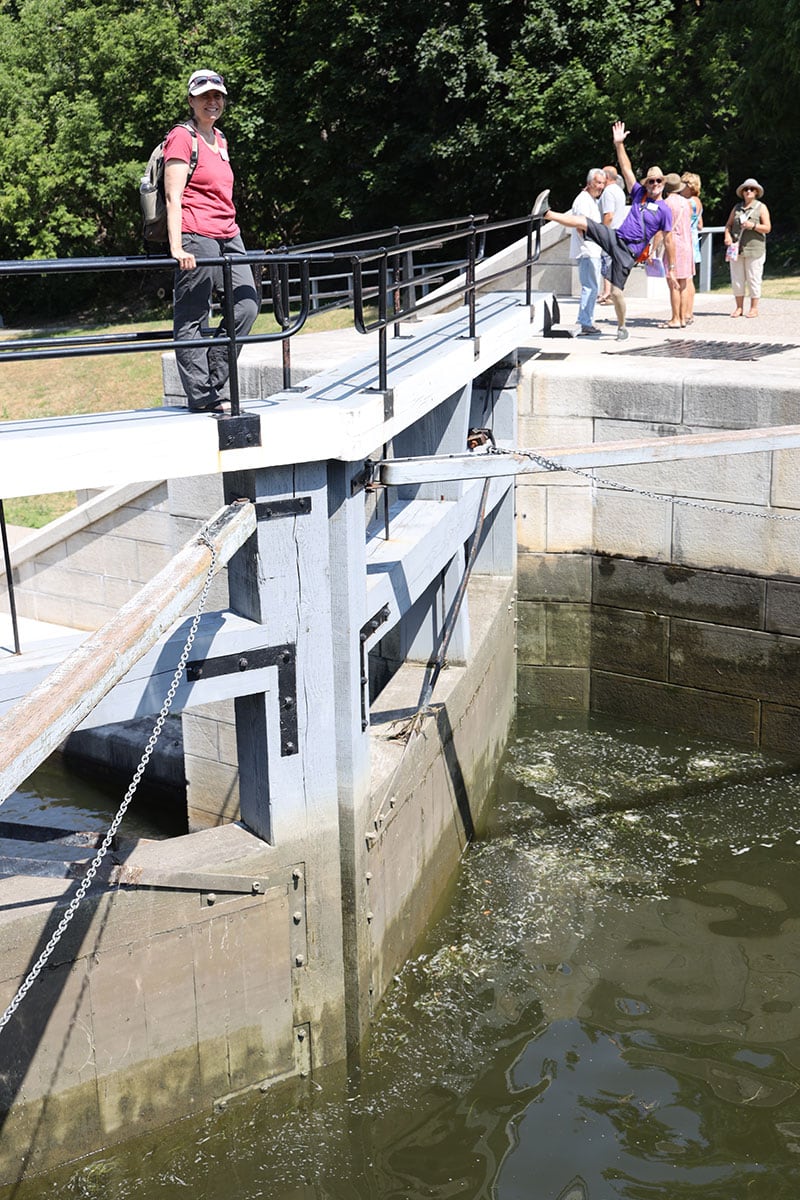 During the winter, Rideau Canal becomes the world's largest skating rink at 7.8-kilometers / 4.8-miles. Called The Skateway, it's open 24-hours and is the equivalent size of about 90 Olympic sized hockey rinks.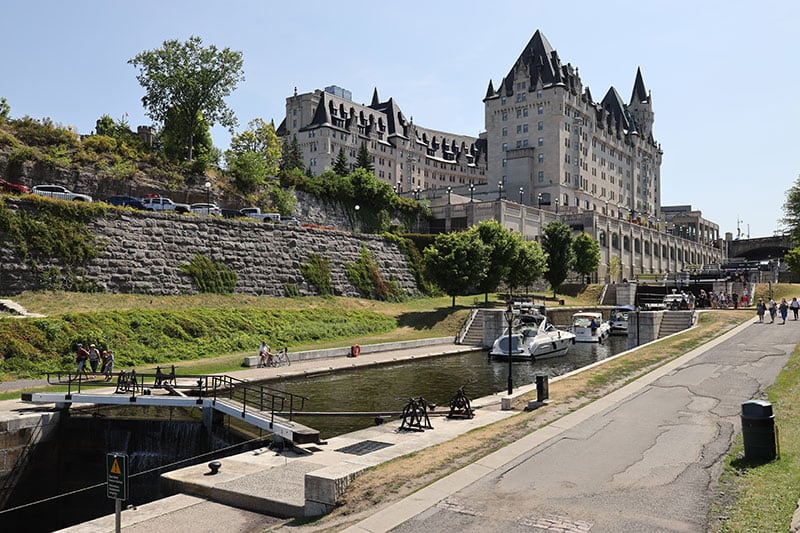 "You haven't experienced Canada until you've had a Beaver Tail."
Sylvain, our rescuer from the previous day, was determined to make absolutely sure that we didn't leave Canada without experiencing a genuine Beaver Tail.  If we were to remain part of the tribe, a Beaver Tail was in our future.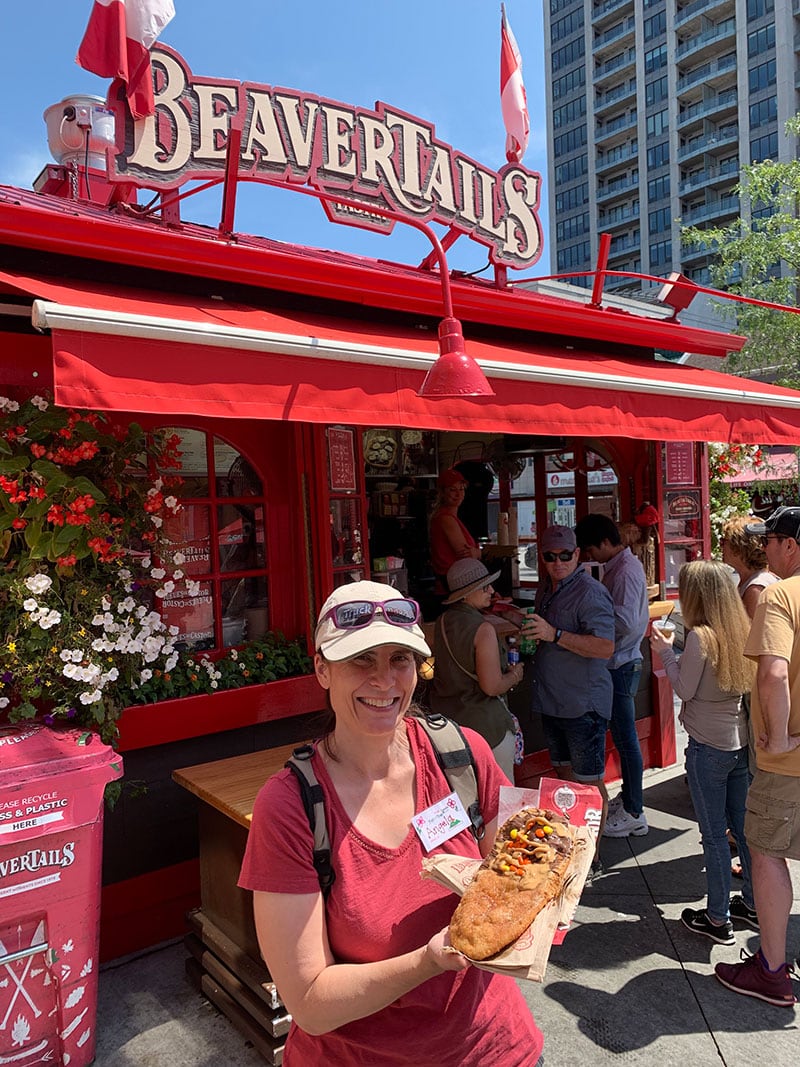 In the outdoor ByWard Market area, we approached a bright red kiosk emblazoned with the name, Beaver Tails.  Sylvain and the group were very excited that we were going to partake in this traditional sugar fix.  But what exactly is a beaver tail?
A Beaver Tail is flat fried dough pastry shaped shaped like – you guessed it – a beaver's tail.  It's served hot and designed to be eaten like a slice of pizza.  A classic Beaver Tail (my choice) is topped with cinnamon and sugar.  Discovering the numerous toppings choices, Angela ordered half of our beaver tail with chocolate and Reese's Pieces.
What emerged from this exchange was a delicious hot mess.  Making the situation more interesting, the group gathered around to watch us eat this traditional treat.  I cheated and pulled it apart with my fingers.  Angela showed no fear and bit the tail properly.
The classic half of the Beaver Tail had a flavor and consistency similar to a freshly baked cinnamon and sugar soft pretzel – like Auntie Anne's.  Bon Appetite!  Just make sure you have an extra napkin, or two.

A few blocks from the ByWard Market we passed an enormous bronze and stainless steel spider sculpture in front of the National Gallery of Canada.  The spider is literally over 30-feet tall and 33-feet wide.  I'm not afraid of spiders, but this sculpture was admittedly a bit terrifying.  Evidently the little girl in the photo didn't share my concern.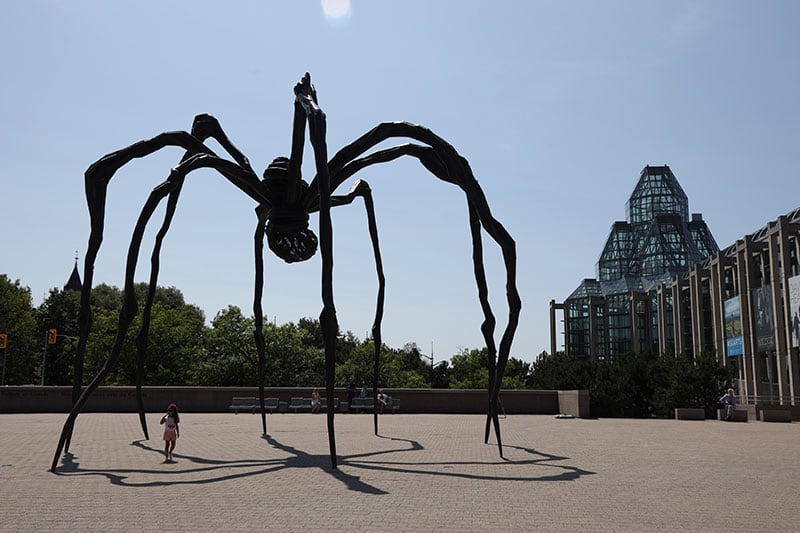 Unfortunately, there wasn't time to visit the National Gallery.  We had an appointment to tour the Royal Canadian Mint a few blocks away.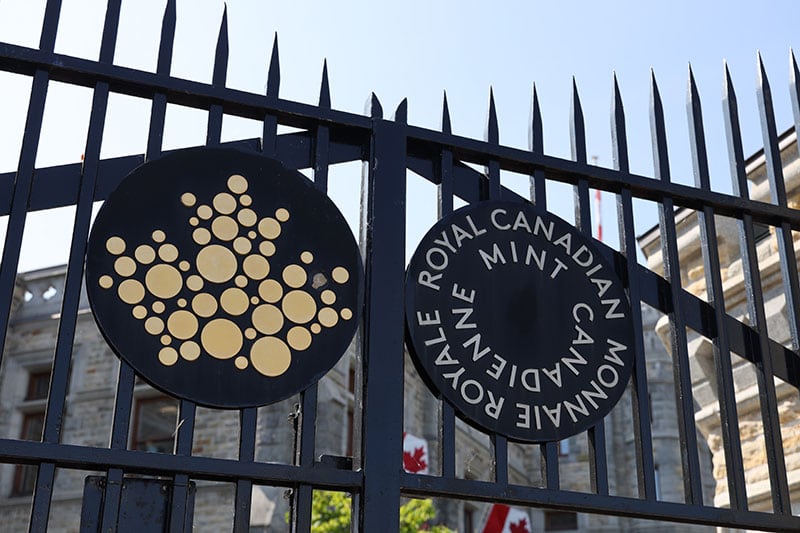 Before the guided tour, the group took turns in the gift shop picking up a 28-pound gold bar (valued at approximately $672,000 USD / $893,500 CAD at the time of this writing).  Of course the ingot was well secured to a post and under the watchful eye of a security guard – standing right there.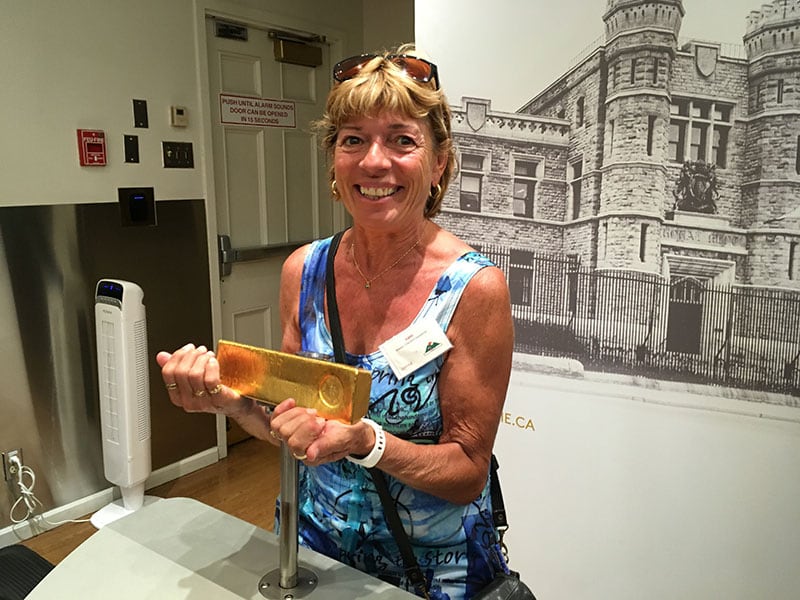 The tour took us over the gold and silver refining equipment.  Peering through the thick glass we could see the raw silver ingots, massive gold coils, and stamped gold and silver rounds.
No photography was permitted in this area, but I assure you it was a tantalizing display.  One particular stack of bins was filled with thousands of one-ounce gold coins.  So close, yet so far away.
After the mint we were spent.  We briefly explored the Notre-Dame Cathedral Basilica directly across from the spider, but then it was back on the bus to check on Harley.  A few from the group stayed to visit the National Gallery.  For us, the gallery and many other Ottawa attractions and museums will wait for our next visit.
That evening we parked across from the police station at Reno Depot.  Imagine Home Depot in teal green instead of orange.  Once again, the rally organizers got special permission for us to camp there.  After two days of intensive walking and exploring, it was an early night.
Day 6: A Welcome Day of Relaxation
Thankfully, day seven was a much slower day.  We published, sent the Email Alerts, and then followed Jean and France and their Eagle Cap to Symmes Inn Museum.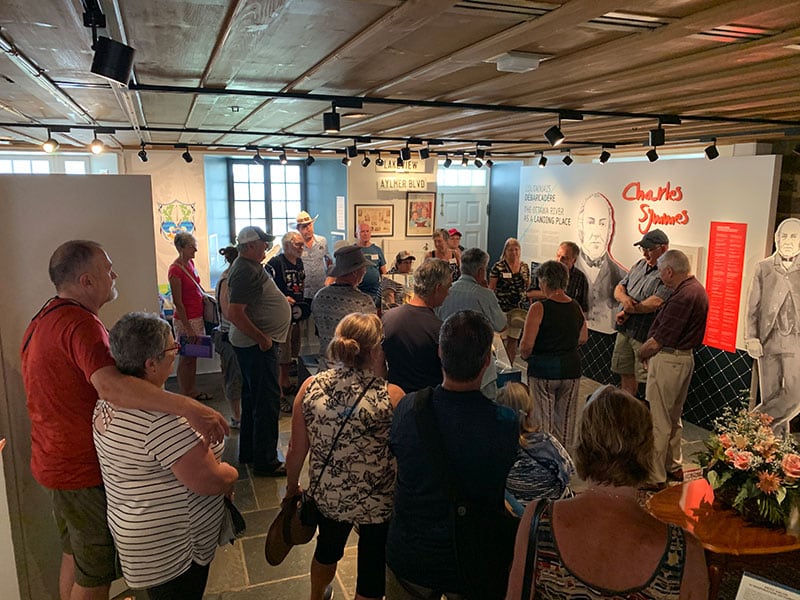 Located on the Ottawa River, the Symmes Inn Museum was a relaxing place to explore and have lunch.  The guided tour presented the building, constructed in 1831, and its transformation from a river landing location, to busy waterway for lumber transport, to a leisure attraction.
The museum wasn't as dynamic or engaging as the incredible places we experienced in Ottawa, but the quieter day was greatly appreciated.  That evening we settled at a nearby indoor sports complex.
Day 7: Diefenbunker Museum: Canada's Cold War Museum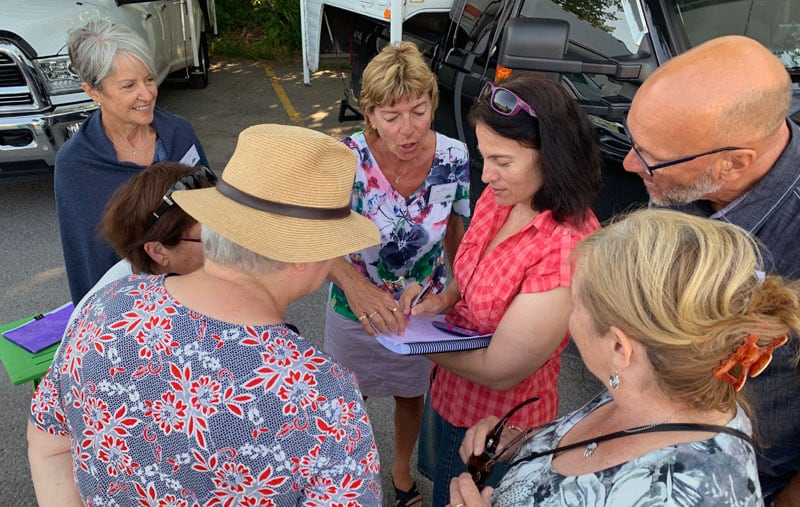 Above: Angela's morning French lesson
For the last official day of the rally we went to the Diefenbunker Museum, a massive 100,000 square foot, 360-room concrete and steel bunker built in the late 1950s to protect key political and military leaders in case of a nuclear attack.  The structure required 32,000 cubic yards of concrete and 5,000-tons of steel and was designed to endure a five-megaton nuclear explosion.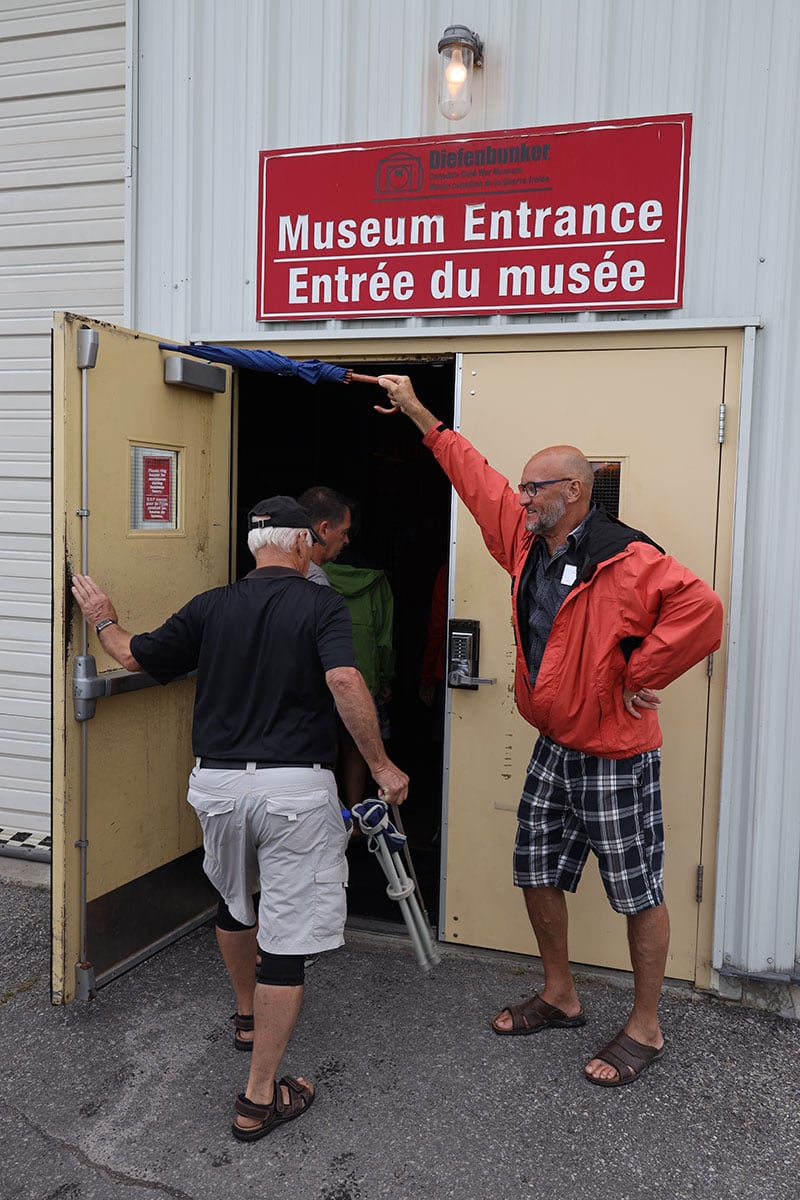 Located about 19-miles outside of the Ottawa in the town of Carp, the Diefenbunker lot was perfect for our now practiced back-in formation parking.  It's no Changing of the Guard but, add some uniforms, music and bagpipes and we could take this show on the road.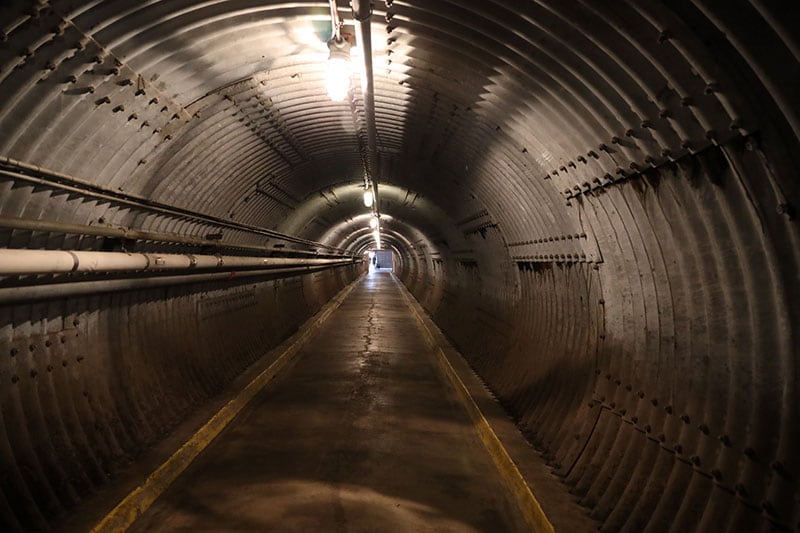 As the skies opened up for a brief downpour, we proceeded to the bunker entrance.  Down a blast tunnel, through some massive steel doors, and into the first floor of the structure.  The self-guided tour took us through a multi-shower decontamination chute.  As it had been a few days since I had taken a real shower, I was tempted.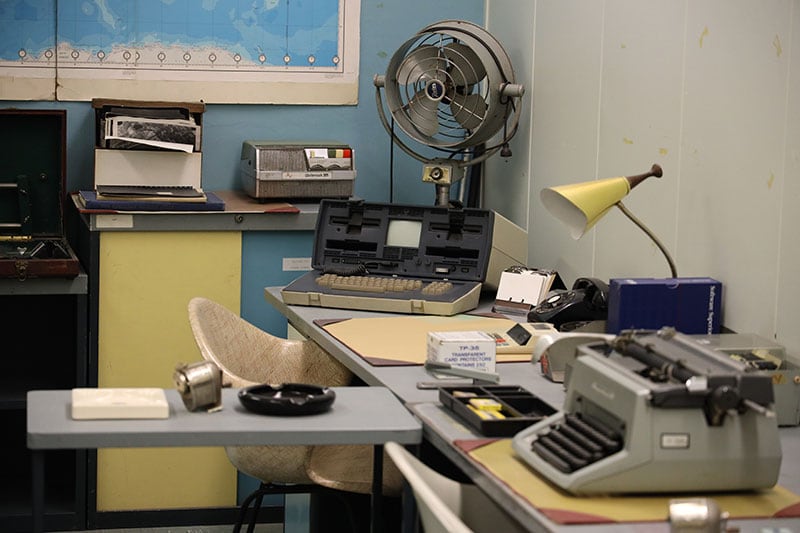 The maze of offices and rooms remain outfitted with period-correct equipment and appear as if the staff just walked out.  Banks of phones, rows of desks, and vintage computer equipment appear in position and awaiting for their operators to return.  It's an eerie place to be, especially when you consider what the facility was intended for.
The Diefenbunker is also quite austere.  The structure makes your typical cinder block high school look like the Louvre.  To put it mildly, I would much rather be stuck in the Preservation Center.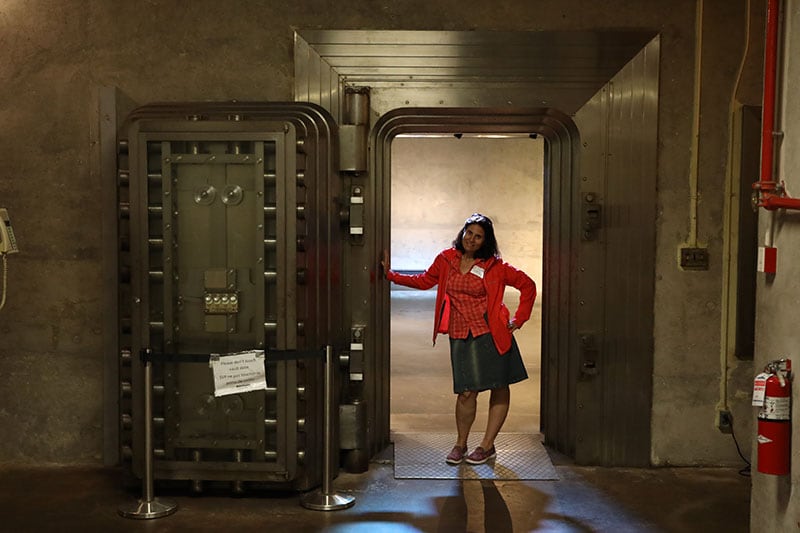 The highlight of the Diefenbunker has to be the gold vault on the lowest level.  Behind a massive steel bank vault door is a wide open space.  Should the red button be pushed, this vault was designed to hold the gold reserves of the Bank of Canada.  Standing in that vault you could just imagine the palettes of gold.  It looked like something out of a movie.
Following the tour of the Diefenbunker, we offered the rally group a tour of an even more impressive facility; our project truck camper.  Throughout the week we had been asked about our camper numerous times.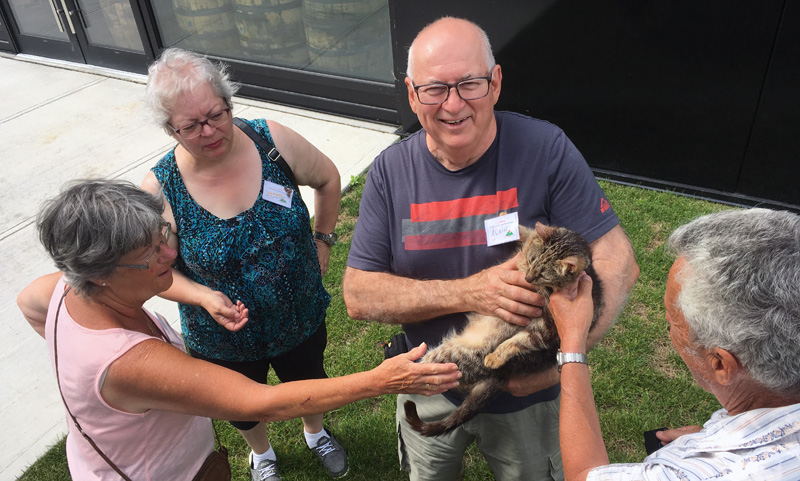 Naturally people were more interested in our intrepid feline friend than the camper itself, but Harley is always a scene stealer.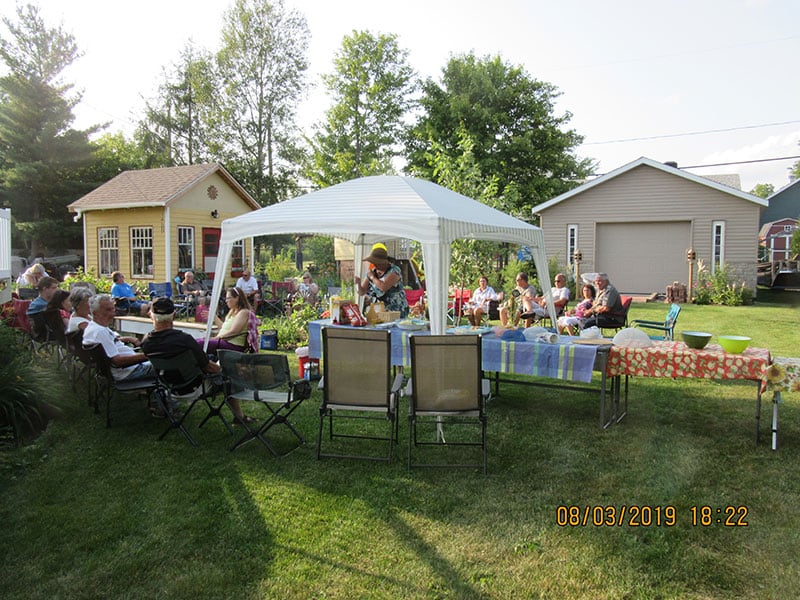 That evening we drove to Denise and Bob's house for an outdoor barbecue picnic.  We parked at a nearby daycare center that was closed for the weekend, and walked to their backyard.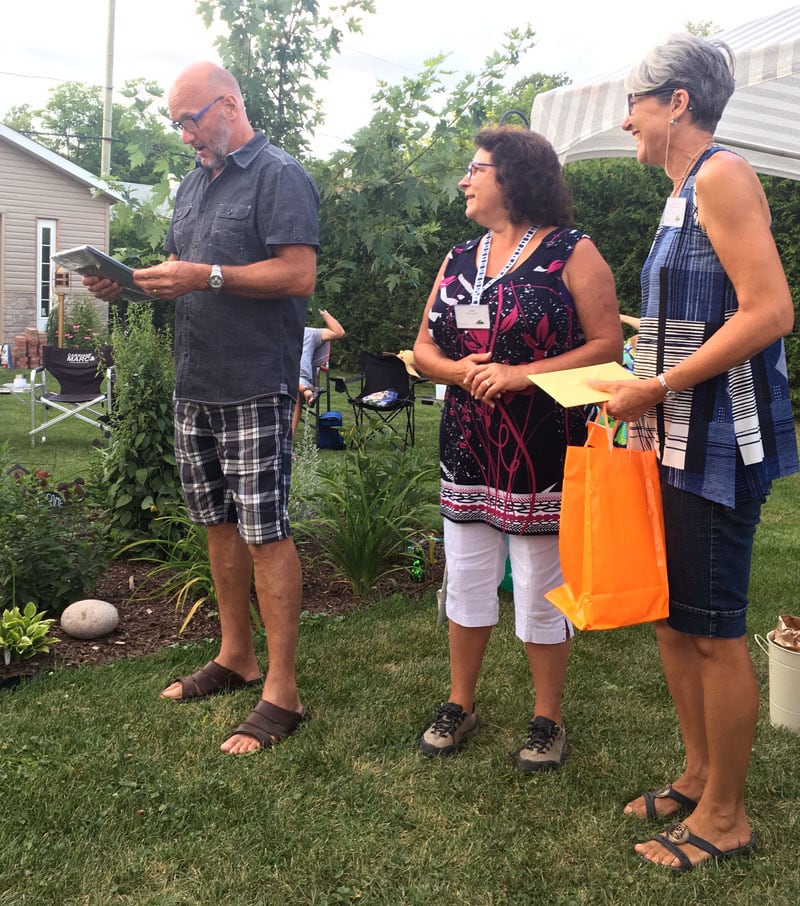 After a few beers and hot dogs, the group presented Denise and Bob with a thank you card and gifts.  It was a wonderful and sad moment as we knew tomorrow we would say goodbye.
Rally Conclusion
The rally ended much as it began; with a lot of kissing.  This time Angela and I were a bit more coordinated with the right peck, left peck protocol and navigated the smooching custom with relative ease.  I think we should introduce all this kissing to our friends in the United States!  That should go over well, right?
I can honesty say that the Quebec Rally will be one of the highlights of my life.  It's not just the new places and experiences that make that statement true, but the remarkably welcoming, accommodating and remarkably friendly Quebeckers we met.
The Quebec truck campers instantly embraced us, literally and figuratively, into their group and shared with us their Quebec culture and lifestyle.  We cannot thank Denise, Bob, France and all of the Quebeckers enough for their warmth and hospitality.
Thank you!  We will return.  Or should we say…
Merci beaucoup.  Nous reviendrons.