Laurie: We'll use the camera to see big rocks and the wheels in the relation to a cliff.  If I'm outside marshaling our progress and I ask for my purse, it's a bad sign, things are too squirrelly for me.
On the White Rim Trail we had a situation where the camper was smashed against a cliff and there wasn't any room for me to get out.  And one time in Baja I almost asked for my purse, but I didn't.  I pressed through.  Bruce takes us on interesting adventures.
TCM: We've never quite been that freaked out, but we haven't been off-road quite like you have either.  How long did it take for you to put the entire rig together?
Laurie: Amazingly fast!  Every evening Bruce would be planning, thinking, and communicating with people.  It was about six months from time we planned it until we got our truck.  We ordered our camper in October and got it in March.
Bruce: Part of my research was when we were sailing and I wanted to sail around world.  So, the research had been going on for a long time.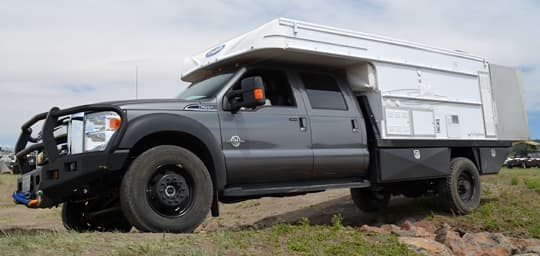 Above: Laurie driving the course at Overland Expo West
Laurie: We got the garage done last.  We took it in, and got it back the day before the Overland Expo.  It wasn't painted when you saw it, but now it is.
Bruce: We have had the rig two years and I'm still making modifications.  Hopefully we'll have it the way we want it before we leave on our big trip.
TCM: What modifications have you added in the past two years?
Bruce: Many of the smaller additions I installed myself like the TrailReady full-coverage bumper, front and rear SuperWinch-Talon 18.0 SR winches, two VaiAir 480C compressors, Steadymate 15546 series L track mounting hardware in the garage, eight Rigid Industries LED lights, as well as most of the special electrical equipment.
There is additional discussion about camper specs, wheels, tires, electrical issues and additional modifications I've made detailed in my Expedition Portal build blog.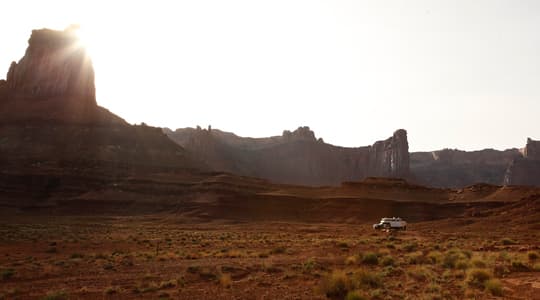 Stay tuned for How To Build A World Ready Rig: Part 2.  The Heimbigners dive deeper into their incredible rig build, explore its capabilities and limitations, attempt to break it on the dirt roads of Utah and Mexico, and reveal the personal reasons for their multi-year continent-crossing itinerary.
Rig Information
Truck: 2013 Ford F-550, Lariat, Crew Cab, Long Bed, Dual Rear Wheel to Single Rear Wheel, 4×4, Diesel
Camper: 2013 Phoenix pop-up, all custom
Tie-Downs and Turnbuckles: Direct bolt to bed's frame
Suspension: Air Lift – Air boost springs front and rear, Hellwig sway bars front and rear