We wanted at least 100 gallons of fresh water.  Robby worked that into the design so the water is in the camper, but out of the way.  A six-step water purification system was also built into the design.
Above: The interior of Bruce and Laurie's rig – click to enlarge
TCM: How did you go about designing a camper for global travel?
Bruce: We got a lot of information from different people who are traveling globally with vehicles.  We talked with people on the Expedition Portal website, and emailed a bunch of people who own Phoenix Custom Campers.  We also talked with people who took Ford vehicles overseas and people who built custom rigs who traveled around the world.  Everyone was extremely helpful.
We had our ideas, and Phoenix helped us build a better, safer, and easier to build camper.  They were very practical in coming up with solutions that fit our requirements.
Specifically, we wanted the sink certain way, and the stove in certain location.  Laurie wanted solid walls in the shower, and not soft walls.  Robby did a design and we went back and forth with more ideas.
Laurie: Robby was able to visualize and conceptualize what we wanted.  We wanted a north-south bed so that we didn't need to crawl over each other.  We wanted great deal of storage because we have to have everything with us.   There are dressers on each side of the bed and the bed lifts up for additional storage.  What Robby was able to design and build is simply awesome.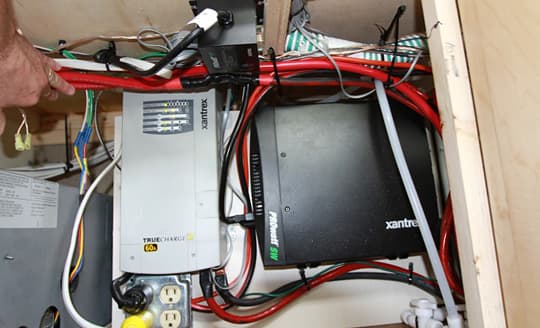 Above: Xantrex 60 amp inverter
We want to bake bread as we travel and opted for a convection microwave.  That kind of oven uses a lot of power so we needed a 2,000 watt (3,000 watt peak) inverter, which meant we needed a large AGM battery bank.
In the USA our power works with 110 volt or 220 volt.  Overseas we can use the 220 volt, 50hz power, but inside it is always 120 volt, 60hz.  The charging system is global and uses any kind of power.
We replaced the standard camper shower heads with kitchen sink sprayers to conserve water, yet they produce a good, satisfying spray.  They don't leak under pressure and you to have to press and hold the button to get any water.
We needed to avoid potential problems with an electric roof lift system.  Fortunately, the Phoenix roof lift system doesn't need power or complex mechanics.
Due to our being active photographers we needed to be able to walk on the roof and access the roof from inside the camper.  We have roof stabilizers we can place in the corners and an egress hatch over our bed.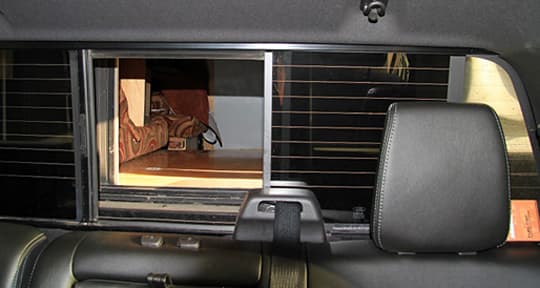 For emergencies and travel in African national parks, we need the ability to go directly from camper to truck, so have communicating windows that open between the truck and camper.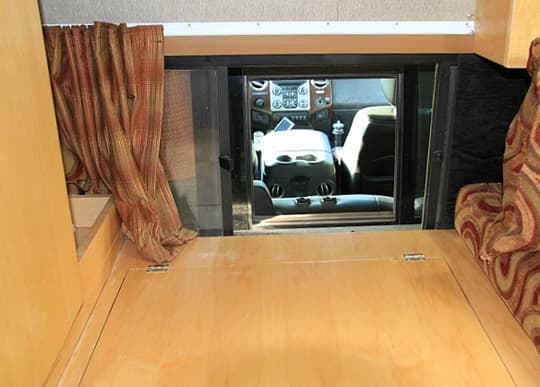 TCM: With this communicating window, can you can crawl through from the camper to the truck?
Bruce: It's like the old campers.  The rear window of the truck aligns to the front of camper.  I can barely squeeze through, but I can.  It's an emergency thing.  We want to be able to get through if we don't want to go outside.  We can get into the truck and take off.  In some of the national parks in Africa, people are not allowed out of the vehicle for their own safety, like if there's a lion around.  We would have to go directly back and forth.  It's an opening, but it's not to be used every day.