After a frustrating camping experience in Moab, Utah, Keith and Teresa Evans envisioned the ultimate base camp for their Polaris RZR adventures; a goose camper!  This is the story behind the construction and assembly of their Cram-A-Lot Inn.

The path to a truck camper often starts with a vision.  There's something you want to do that a typical motorhome or towable RV cannot achieve.  After considerable research, the only viable RV solution is a specific pickup truck, a specific truck camper, and – more often than not – a specific towable.  Put that all together and your vision turns into reality.
This approach works for the majority of truck campers, but isn't the only path to truck camper ownership.  For example, we have seen truck campers mounted to any number of unusual vehicles, sometimes even positioned backwards to fit the available platform.  In these situations, a truck camper was the right piece to complete the puzzle.
Even further out-of-the-box, truck campers are sometimes mounted on trailers.  We first reported on this approach in 2014 with an article titled, "Truck Camper On A Gooseneck".  Since then the truck camper on a gooseneck trailer idea has started to catch on, especially with the desert-bound off-road ATV enthusiasts.
Further outside the box is exactly where we discovered Keith and Teresa Evans and their Cram-A-Lot Inn.  A trip to Moab, Utah left the Evans unsatisfied with their set-up and imagining what the right solution could be.  That vision led them beyond the possibilities of motorhomes and toy haulers, and even beyond the normal configuration for a pickup truck and camper.
As it turns out, they wanted a goose-camper; part gooseneck trailer, part truck camper, part toy hauler, with something of a party deck out back.  The final result of their efforts is something you have to see to fully appreciate.
Speaking of appreciating goose-campers, it would be interesting if truck camper dealers began showcasing gooseneck trailers with truck campers.  Imagine a truck, gooseneck, truck camper, and RZR set-up out front of a truck camper dealership with highway traffic.  Kick it up a notch with a big sign that reads: Goose Campers Beat Toy Haulers!
I bet a lot of folks who would never otherwise consider a truck camper would pull off, turn in, and turn onto a goose-camper set-up.  Compared to similarly capable toy haulers, the affordability and versatility is unbeatable.  Even better, dealers get to sell the camper and gooseneck trailer.
Goose-camping?  Yeah, it's a thing.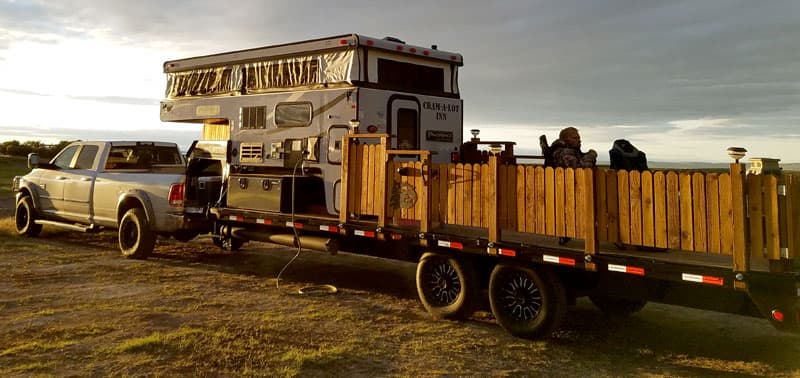 TCM: What brought you to truck camping?  Did you start as tent campers?
Teresa: We both grew up tent camping with our families.  Then we raised our own families with a lot of camping trips.  Those trips began with tents and then we worked our way up to truck campers and RVs.
We wanted a Palomino pop-up truck camper because they are lightweight, low-profile, and low cost.  We also liked the utilitarian design and how the pop-up offers a tent camping feel without being on the ground.

TCM: Why did you set up your truck camper as a towed trailer?
Keith: After we bought the Palomino, we took our RZR to Moab, got off the beaten path on a dirt road, and set up camp.  Once we leveled up, we realized that we no longer had access to our vehicle, if we needed it.  We finished up that trip and headed to Montana.
During that fourteen hour drive we thought, "What would be the perfect set up?  What would be better?"  A toy hauler came to mind, but there aren't many available for a four seater RZR.  We thought, "Why not put a camper on a gooseneck trailer and then we would have the truck once we leveled up?"
We did find one or two toy haulers that would probably fit the RZR, but they were approaching $75,000.  Plus, they're so big and heavy to pull.
Teresa: A truck camper is perfect for how we camp.  We like to feel like we're in the outdoors.  Plus, I don't want to clean a big space while I'm out camping.  Our camper has a refrigerator, sink, a bed, and a potty.  It's perfect.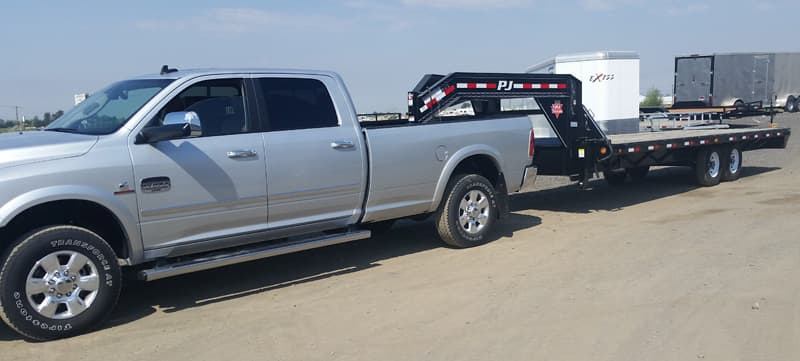 TCM: How did you put the rig together from that point?
Keith: I didn't have a written plan.  We made a few sketches, but it was mainly in my head.  First we had to find a trailer that met our length and construction requirements.
I measured the camper with the entrance door open.  Then I measured the length of the RZR.  From those measurements I knew I needed 25-feet of deck space.  I ended up with a PJ Gooseneck trailer because of its construction and safety.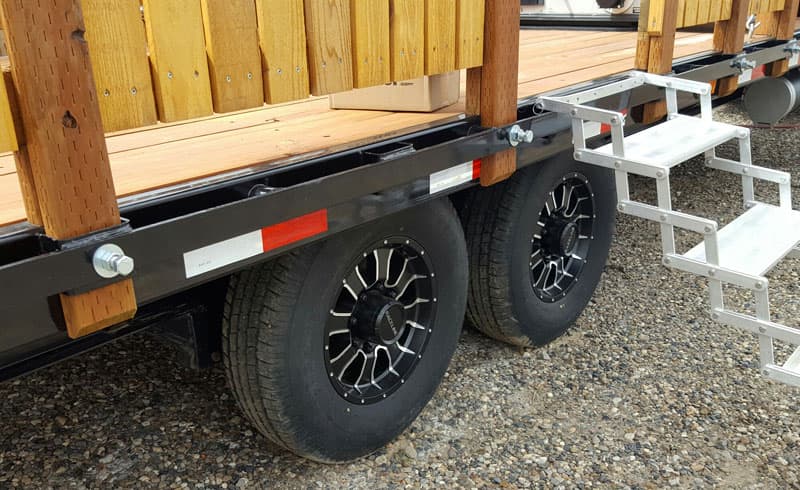 Then, we upgraded the tires and wheels.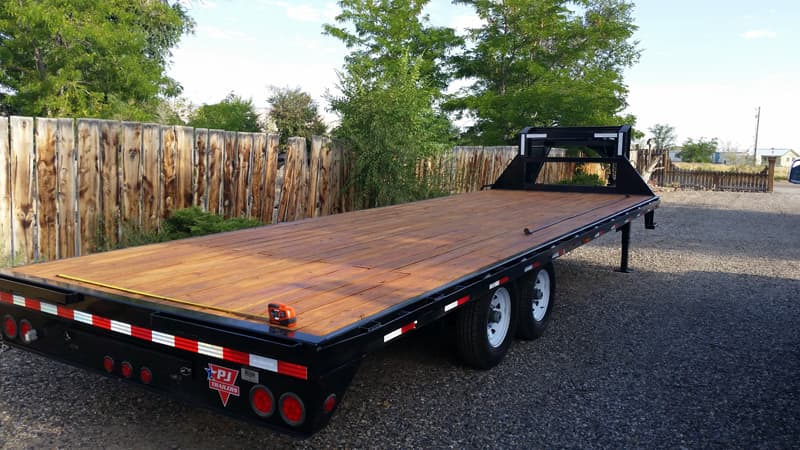 We started the project last August.  The camper was on the trailer and the deck was built by mid-September.  We've been tweaking it ever since.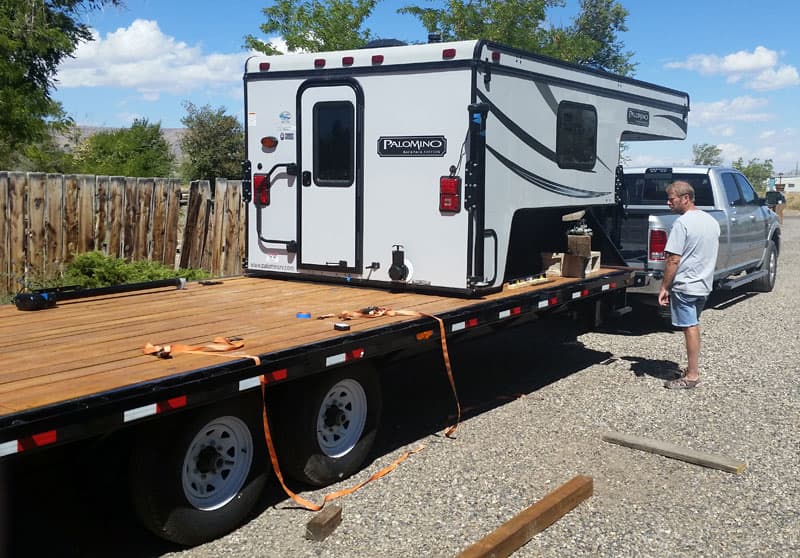 Above: The camper on the trailer before the deck was under construction
TCM: Did you assemble the truck and trailer yourselves?
Keith: We actually already had our truck, bought the trailer and mounted the camper onto the trailer with the help of our good friend, Jerry Barton.  Jerry had a heavy duty jack lift that he brought over and was able to lift the camper onto the trailer.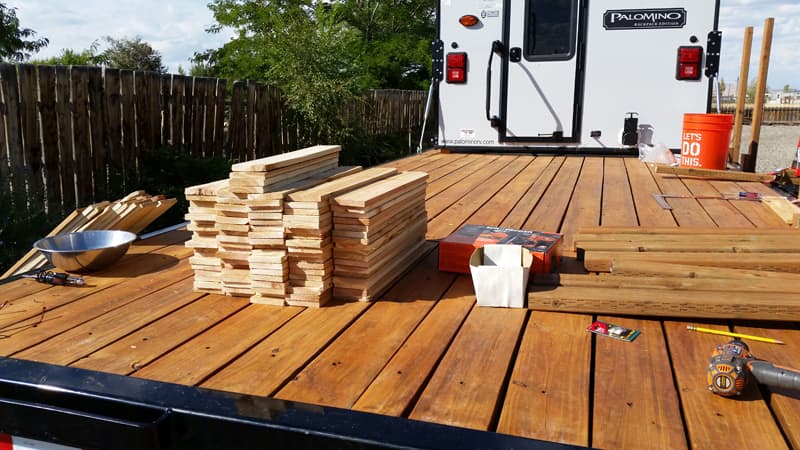 Above: Materials are out for the deck railing to be assembled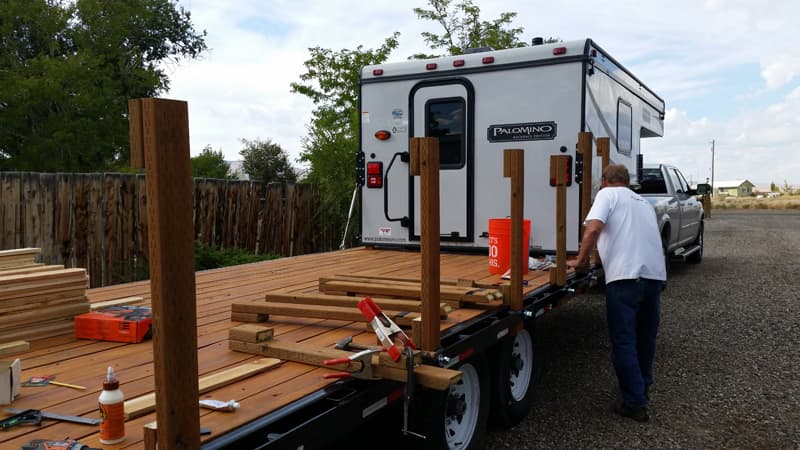 TCM: Where did you get the skills to put this rig together?
Keith: I am a Gold Miner by trade.  I work at a big gold mine in Crescent Valley and Teresa is a retired high school secretary, so we don't have a background in construction.  My dad taught me quite a bit about problem solving and woodworking, which helped a lot when completing this project.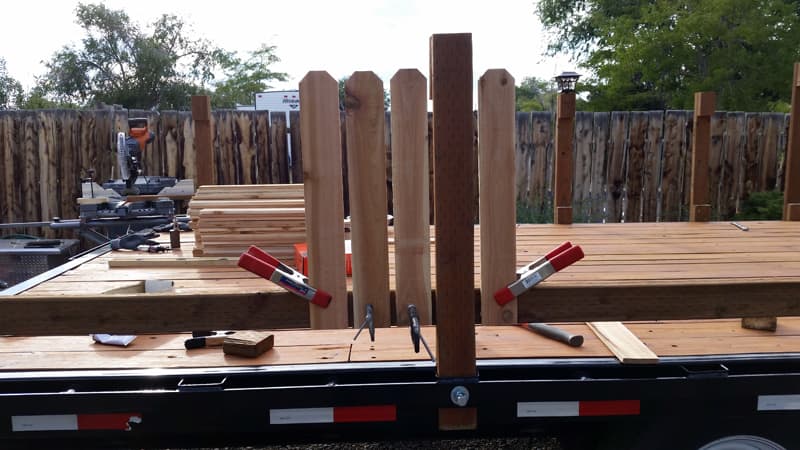 Teresa: We built the entire deck together.  Keith is super crafty and thinks about everything ahead of time.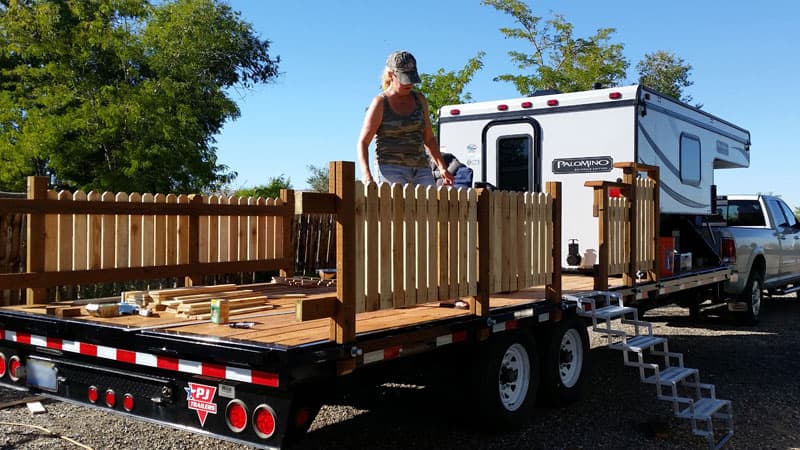 For this project we bought a table saw and Keith taught me how to use it.  I cut each board for the deck railing and screwed them on with a power drill.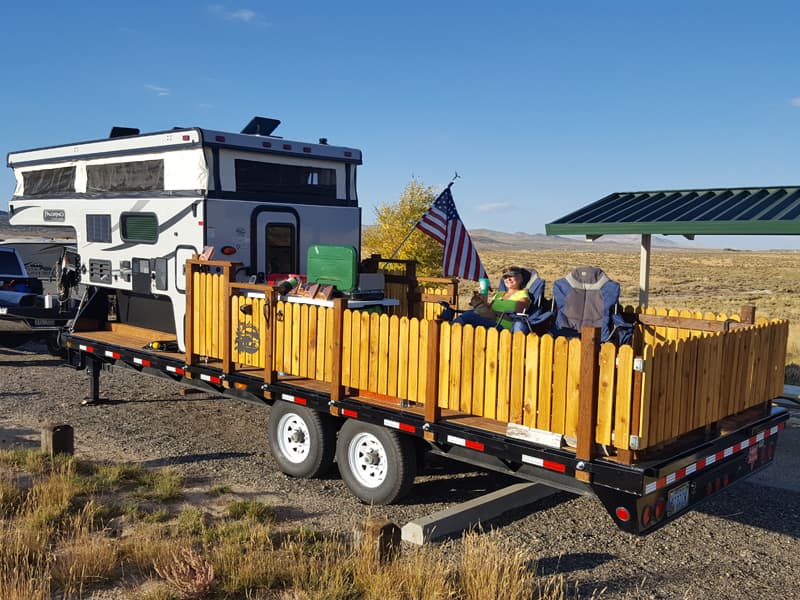 TCM: The final deck is quite elaborate.  Where did those ideas come from?
Keith: You know how you come up with one idea and that triggers a butterfly effect?  As we assembled the rig, one idea led to another.
What if we have a deck on the back?  We love to dance, so a porch would be great.  And what if we put up a cool gate like on a house?  We're still adding to it and making it better.  There's always a better mousetrap.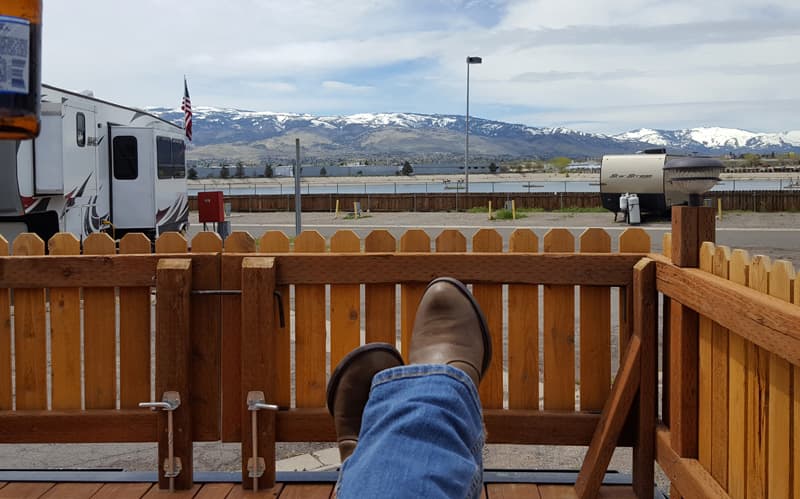 Teresa: When we thought about dancing on the deck, we realized we could fall off.  That's where we got the idea to put up a railing.  I didn't want it to look like a hayride, so we put up a yard fence.  The fence isn't too tall so we can see out when we're sitting in our lawn chairs.
Keith: We were not the first to think of putting a truck camper on a gooseneck trailer.  I believe we are the first to put a railing around the trailer with a truck camper.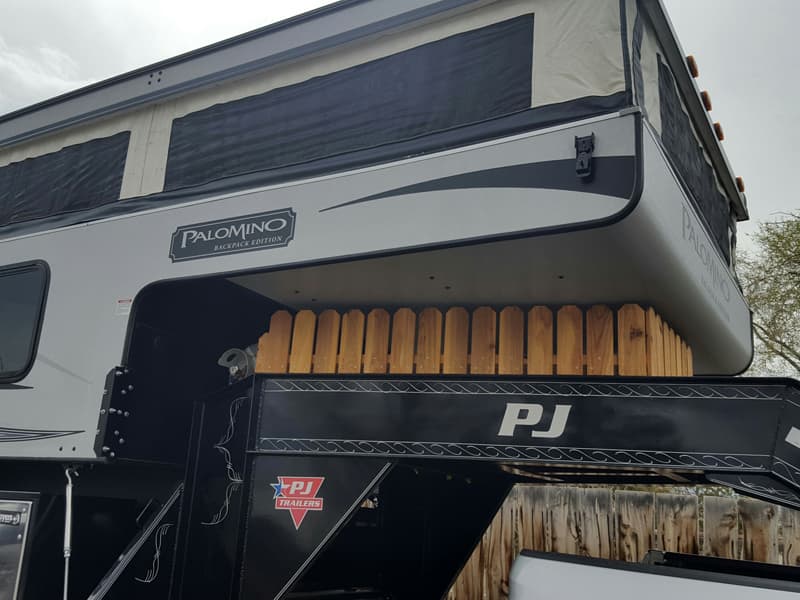 TCM: You also put a mini railing between the cabover and the gooseneck.  What's the purpose of that railing?
Keith: The cabover and the gooseneck looked a bit detached.  I wanted to make it look more connected and aesthetically pleasing.  The wood railing makes that area match the deck.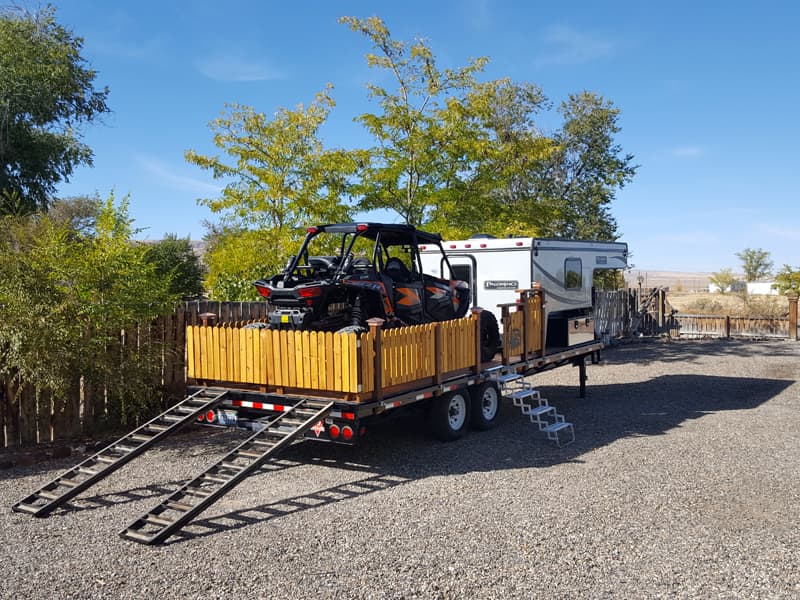 People sometimes ask why the railing doesn't come all the way down to the deck.  That's because after loading the RZR on the trailer I have to have room under the railing to attach the tie-downs to the trailer tie-down points.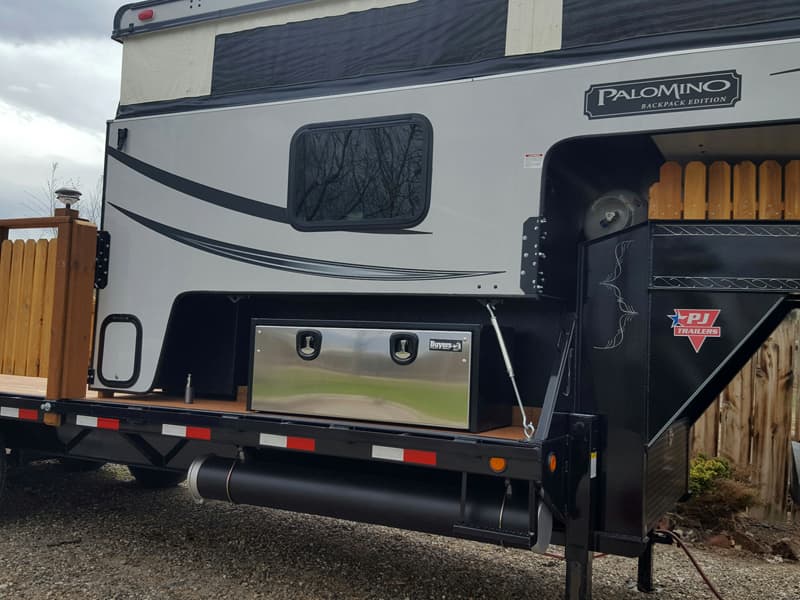 TCM: What's in the storage boxes under the camper?
Keith: Those are stainless steel flatbed storage boxes.  Inside I have tools, a Weber barbecue, lawn chairs, and more.  We don't like to put too much stuff in the camper because it can rub on the cabinetry while traveling.  We also want to have access to our refrigerator.  We're always brainstorming new storage ideas.
On the gooseneck part of the trailer where I added the mini railing between the cabover and the gooseneck I built an area where we can store three extra 20-pound propane tanks.  We also have a propane fire pit made by Camp Chef for our deck.  It can be used even when regular fires aren't allowed due to fire danger.  It gives us great ambience on cool evenings.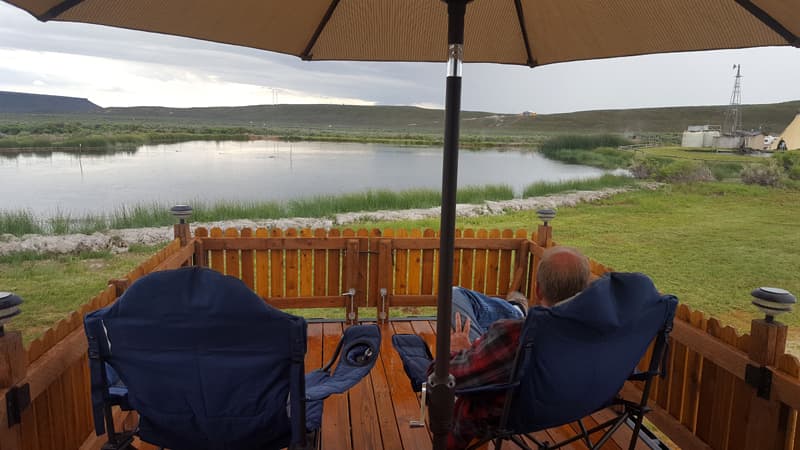 We also wanted an umbrella for shade and for when it rains, so I built a bracket that I mounted on the floor of the trailer.  The nine-foot umbrella is adjustable and sturdy so the wind won't take it.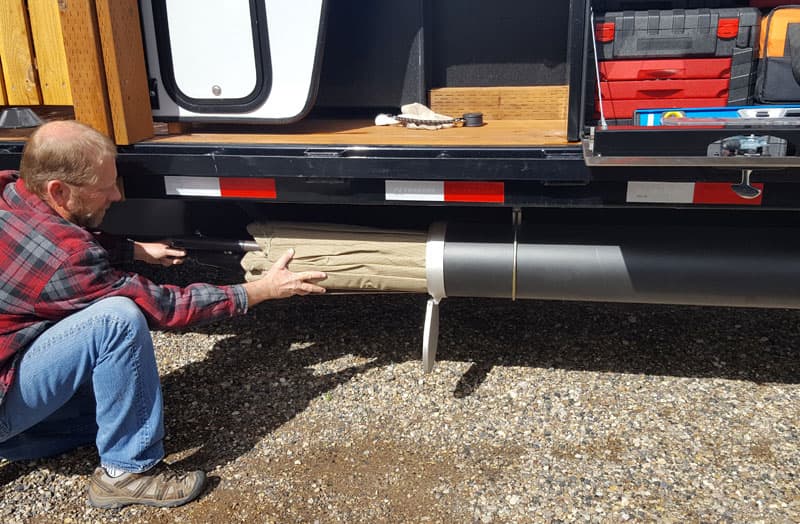 Teresa: There are large PVC conduit pipes mounted under the trailer on each side to store our fishing poles, RZR flags, and the umbrella when we're traveling.
Keith: We built the storage tubes from conduit kits we purchased from Northern Tool. The PVC pipes themselves were found in a scrap yard.  They are Schedule 80 PVC pipes and are very expensive to purchase, so we got lucky to have found them in the scrap yard for free.  One pipe is 6" x 7.5' for the flag poles and fishing poles, and other pipe is 8" x 7' for the umbrella.

Recently I mounted extra dinette table pedestal bases on the left and right side of the deck for use of the camp stove on our Palomino's table.  That way we can use the dinette table on either side depending on our camping situation.  That gives us a lot of versatility with the table.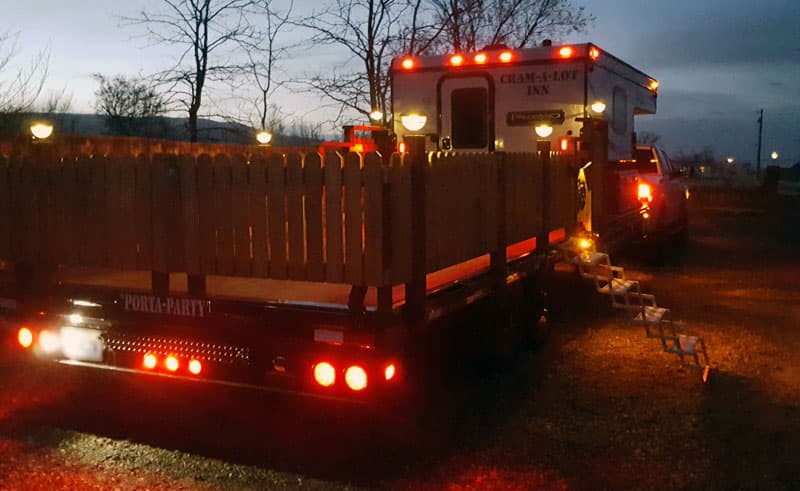 For light at night, we installed solar lighting on the railing.  The lights have on and off switches on them so that we can leave them on during the day to charge, but when traveling at night they can be turned off.  It is illegal to travel with them on since they are white lights.
TCM: This camper and deck is quite the party on wheels.  Now that you've completed the majority of the trailer, what might have you done differently?
Keith: I would make the uprights for the railing out of steel.  The wood fencing moves in strange ways with the heat and humidity.  If the uprights were steel, that would not be a problem.  Other than that, I wouldn't change a thing.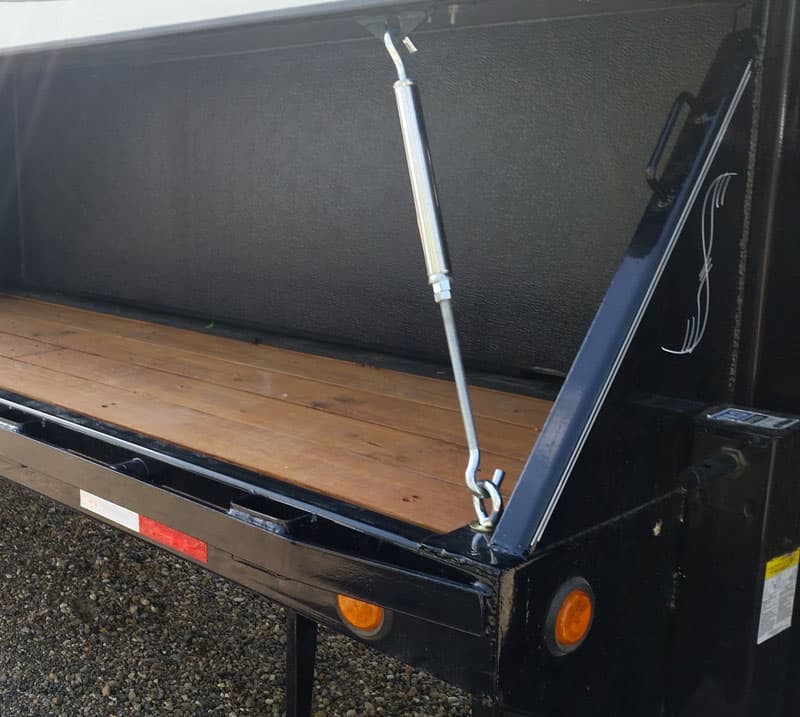 TCM: How is the Palomino camper connected to the trailer?
Keith: We used traditional truck camper turnbuckles to tie-down the truck camper to the trailer.  I put the eye bolts into the main frame of the trailer, not in the decking.
Instead of the camper tie-down points, I took the bolts out of the jack brackets and used the corner braces.  These braces are much stronger than the camper tie-down points.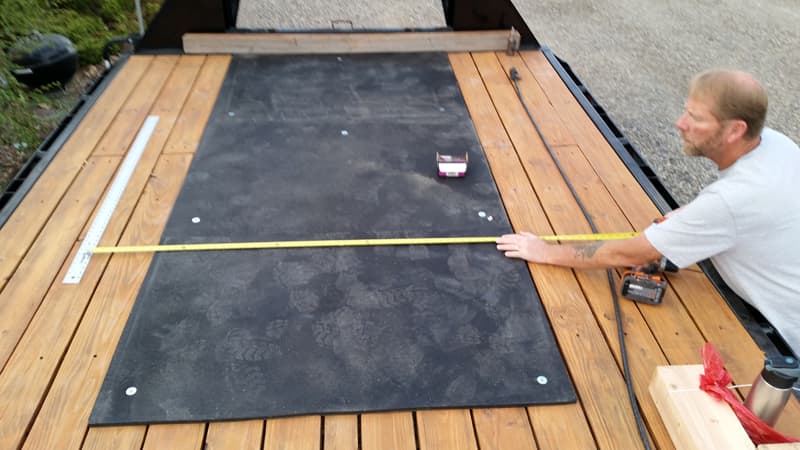 To keep the camper still, I bought a half-inch rubber mat and put the mat underneath the camper.  It doesn't slide and the rubber mat cushions the bottom of the camper.  I then put treated 4x4s on the front, left and right through the main frame so the camper can't slide side to side.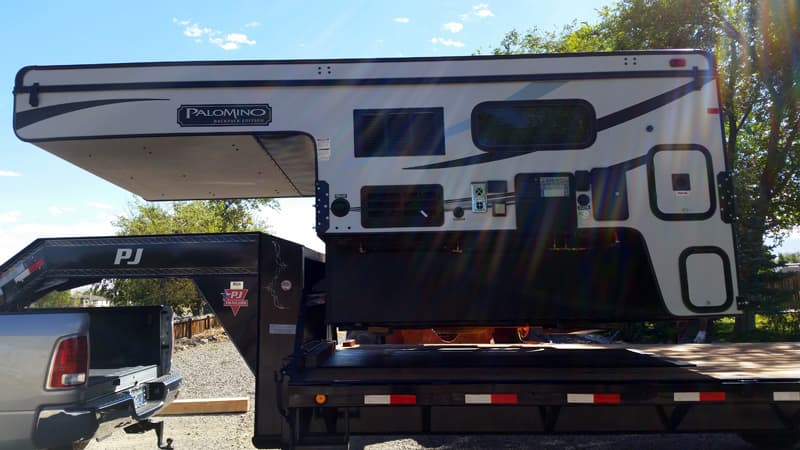 Above: The camper being loaded for the first time on the trailer
TCM: Is the camper still removable?
Keith: The camper is still removable.  The whole deck is reversible meaning it can be taken apart and returned to the original trailer.  The deck of the gooseneck is 102-inches, which is much wider than our camper.  It's definitely a challenge to get the camper off and on.

TCM: Does the camper and trailer set-up handle well on the road?
Keith: Yes, it does.  With the pop-up in the down position, the trailer has low drag at high speeds.  And the trailer looks cool with a pop-up truck camper.  A hard side camper would have a lot more wind resistance.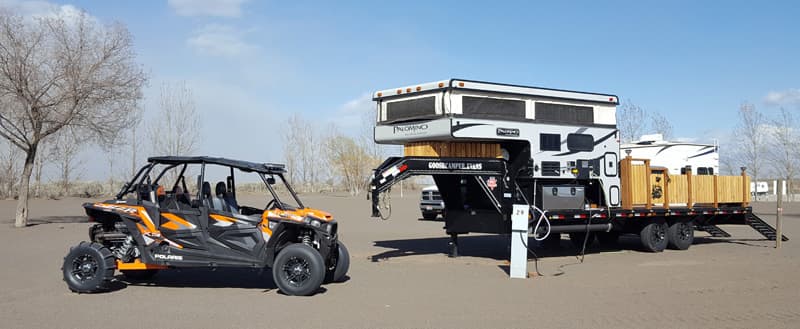 TCM: Do you have trouble fitting into camping spots?
Keith: Sometimes we can leave the truck and trailer hooked up.  In most places we unhook the truck so the overall length isn't a big deal.  The trailer itself is 33-feet long from the tail lights to the gooseneck.
Teresa: When we get to a campground we ask for a 40-foot spot to be safe.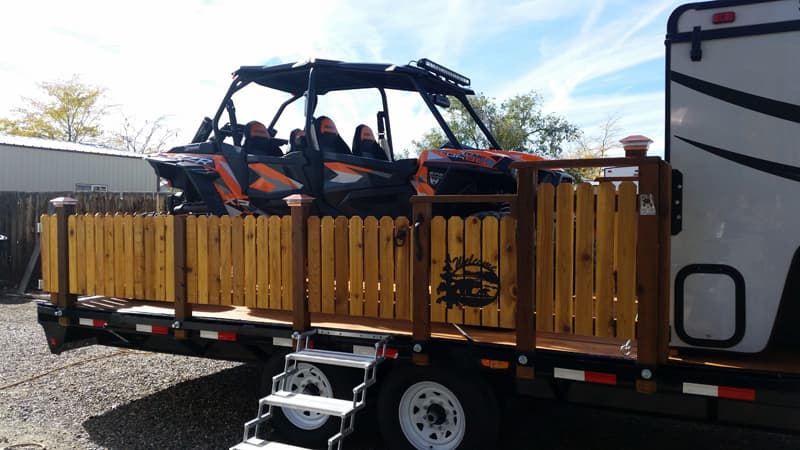 TCM: You said earlier that the rig is still a work in progress.  What does it need to be complete?
Keith: The overall construction is done.  As I described, I may swap the wood uprights to metal.  We are still looking for better solar panel deck lights with switches.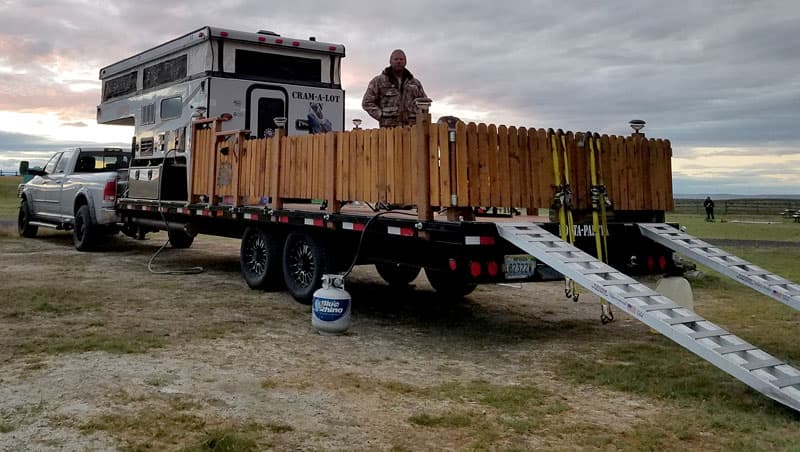 From this point there will be little tweaks.  We upgraded ramps for the RZR because the original steel set was too heavy.  We now have aluminum ramps.  It's almost sad that it's done.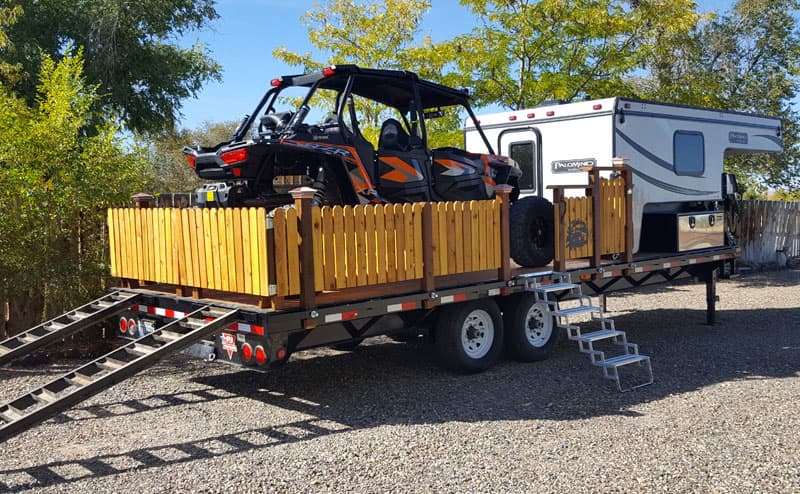 The Torklift GlowSteps that came with camper have been repurposed.  They are now pinned to the trailer and we use them to enter and exit.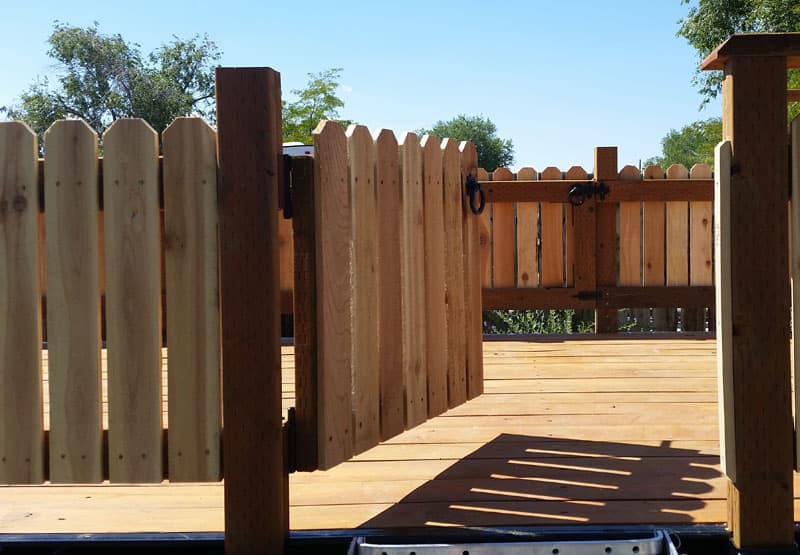 Teresa: We actually put gates on both sides so the stairs can attach on either side.  You don't know which side you may need to enter at a campsite, so this leaves it flexible.
TCM: Where did the name Cram-A-Lot come from?
Keith: That was Teresa's idea.  We were getting ready to go camping.  You know pop-ups don't have a lot of storage.  She said, "We've got to cram a lot in here."  That's where it came from and that's the perfect name.  So, we call it, "The Cram-A-Lot Inn".
TCM: The name is perfect.  Where are you going next with The Cram-A-Lot Inn?
Keith: We use the rig every chance we can.  We have to go to Reno this month for a doctor's appointment.   My hands are starting to give out due to over twenty years of operating an electric 4100 XPC Shovel with an 88 yard bucket at the gold mine.  When we go to Reno, we stay at The Grand Sierra Resort which has an RV park so we can stay in our camper instead of a hotel room.  We take it everywhere we go.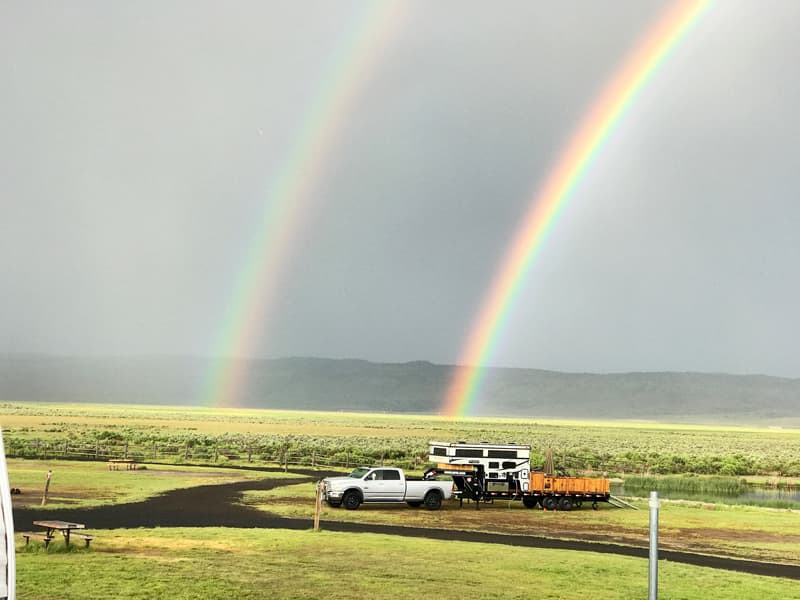 TCM: Is there anything else you'd like to add?
Keith: Our rig draws a lot of people to it.  Some people get it, and then other people say, "What is that?" or "That's redneck!".  My boss saw it and said it was redneck and I said, "Awesome! That's the look we were going for".
We've had cops stop to take pictures.  A waitress at a restaurant went out to take pictures.  It draws a crowd.  We enjoy having something unique.  We couldn't rob a bank with it.  They'd find us easily.  We're the ones in the Cram-A-Lot.
This rig puts smiles on people's faces.  We go down the highway and we get a lot of thumbs ups.  People will walk by and just smile at us.  Most everyone who sees it grins.
Teresa: We've met some unique and amazing people since we built this rig.  They will even offer their own ideas for Cram-A-Lot.  It's a lot of fun.
As you can see, we're spontaneous people.  We live outside the box.  We don't like the norm.  We prefer a truck camper for its size and weight and we like that we can go pretty much anywhere with our truck, trailer, and RZR.
Keith: With this project we wanted to see how far out of the box we could go.  We did it to mainly to suit our needs to haul our RZR, but it's also been a lot of fun putting it together.
Keith and Teresa's Rig
Truck: 2016 Ram 3500, Crew Cab, 4×4, Diesel, Single Rear Wheel, Long Bed
Camper: 2015 Palomino SS-1240 Backpack Edition
Tie-Downs/Turnbuckles: Torklift
Suspension: Factory Auto-Leveling Rear Suspension
Gear: 16 foot party deck/XP Turbo RZR parking/hauler
Gooseneck Trailer: PJ Trailers