After a frustrating camping experience in Moab, Utah, Keith and Teresa Evans envisioned the ultimate base camp for their Polaris RZR adventures; a goose camper!  This is the story behind the construction and assembly of their Cram-A-Lot Inn.

The path to a truck camper often starts with a vision.  There's something you want to do that a typical motorhome or towable RV cannot achieve.  After considerable research, the only viable RV solution is a specific pickup truck, a specific truck camper, and – more often than not – a specific towable.  Put that all together and your vision turns into reality.
This approach works for the majority of truck campers, but isn't the only path to truck camper ownership.  For example, we have seen truck campers mounted to any number of unusual vehicles, sometimes even positioned backwards to fit the available platform.  In these situations, a truck camper was the right piece to complete the puzzle.
Even further out-of-the-box, truck campers are sometimes mounted on trailers.  We first reported on this approach in 2014 with an article titled, "Truck Camper On A Gooseneck".  Since then the truck camper on a gooseneck trailer idea has started to catch on, especially with the desert-bound off-road ATV enthusiasts.
Further outside the box is exactly where we discovered Keith and Teresa Evans and their Cram-A-Lot Inn.  A trip to Moab, Utah left the Evans unsatisfied with their set-up and imagining what the right solution could be.  That vision led them beyond the possibilities of motorhomes and toy haulers, and even beyond the normal configuration for a pickup truck and camper.
As it turns out, they wanted a goose-camper; part gooseneck trailer, part truck camper, part toy hauler, with something of a party deck out back.  The final result of their efforts is something you have to see to fully appreciate.
Speaking of appreciating goose-campers, it would be interesting if truck camper dealers began showcasing gooseneck trailers with truck campers.  Imagine a truck, gooseneck, truck camper, and RZR set-up out front of a truck camper dealership with highway traffic.  Kick it up a notch with a big sign that reads: Goose Campers Beat Toy Haulers!
I bet a lot of folks who would never otherwise consider a truck camper would pull off, turn in, and turn onto a goose-camper set-up.  Compared to similarly capable toy haulers, the affordability and versatility is unbeatable.  Even better, dealers get to sell the camper and gooseneck trailer.
Goose-camping?  Yeah, it's a thing.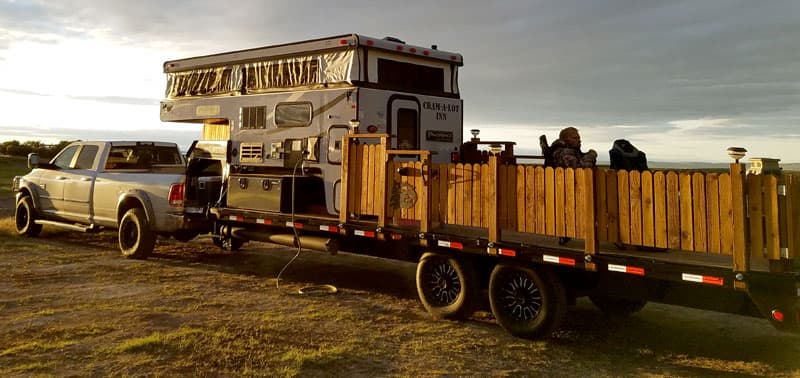 TCM: What brought you to truck camping?  Did you start as tent campers?
Teresa: We both grew up tent camping with our families.  Then we raised our own families with a lot of camping trips.  Those trips began with tents and then we worked our way up to truck campers and RVs.
We wanted a Palomino pop-up truck camper because they are lightweight, low-profile, and low cost.  We also liked the utilitarian design and how the pop-up offers a tent camping feel without being on the ground.

TCM: Why did you set up your truck camper as a towed trailer?
Keith: After we bought the Palomino, we took our RZR to Moab, got off the beaten path on a dirt road, and set up camp.  Once we leveled up, we realized that we no longer had access to our vehicle, if we needed it.  We finished up that trip and headed to Montana.
During that fourteen hour drive we thought, "What would be the perfect set up?  What would be better?"  A toy hauler came to mind, but there aren't many available for a four seater RZR.  We thought, "Why not put a camper on a gooseneck trailer and then we would have the truck once we leveled up?"
We did find one or two toy haulers that would probably fit the RZR, but they were approaching $75,000.  Plus, they're so big and heavy to pull.
Teresa: A truck camper is perfect for how we camp.  We like to feel like we're in the outdoors.  Plus, I don't want to clean a big space while I'm out camping.  Our camper has a refrigerator, sink, a bed, and a potty.  It's perfect.