Rick Spigelmyer tells us how he decided to load a 2012 Travel Lite 890RX truck camper onto a gooseneck trailer to go rock crawling.  Jeepers creepers, this is one insane rig.

Over the past decade or so, creative members of the off-road community have been developing Frankenstein combinations of truck campers and flat bed gooseneck trailers.  These "geese campers" are formed when a truck camper is mounted all-the-way forward on a flatbed gooseneck trailer.  Together, this combination presents a camp-ready tow solution for rock crawling Jeeps and other large off-road vehicles that would otherwise overload, or over-stuff a conventional toy hauler.
Is this madness?  Of course it is.  But it's also a clever and cost-effective solution that works.  In the passionate rock crawling community, clever and cost-effective solutions are the name of the game.  Well, that and not rolling over.
Rick Spigelmyer is the first "goose camper" to grace the colorful electrons of Truck Camper Magazine.  We are very excited to learn more about these rigs, and what draws the rock crawler community to do such a thing.  From what Rick tells us, we might be seeing more of these Franken-rigs as time, and rocks, go by.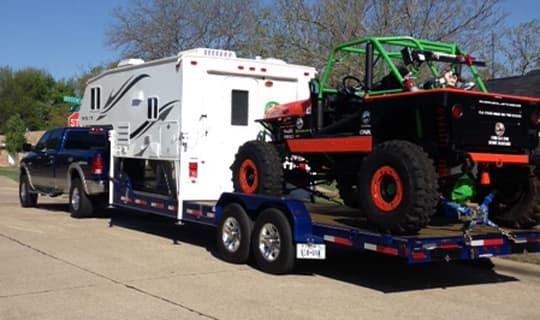 Above: Rick's Travel Lite 890RX and modded out Jeep Wrangler
TCM: How did you dream up this rig?
Rick: My parents took me out camping all the time and I've enjoyed tent camping my whole life.  Now that I'm in my mid-50s, I finally decided that I was getting too old to sleep on the ground.
I needed something along the lines of a toy hauler, but I didn't want to buy a travel trailer.  I travel to all kinds of off-road parks to wheel and camp.  I also couldn't find a toy hauler wide enough for my rock crawler.  Plus, the weight of my rock crawler would likely overload a toy hauler.
A truck camper and trailer wasn't my original idea.  I had seen several truck camper and trailer set ups online, but I wanted to improve upon the idea.  It's a cool set-up.  I keep the camper and trailer together all the time.  It's ready to go when I am.
I either go out by myself or with my girlfriend, Brenda.  The truck camper works well for one because it's small and self-contained.  It's also big enough for the weekend for two to four people.
The camper and trailer rig rides better with rock crawler trailer in tow.  The weight is equaled out on the trailer.  Whenever I drive with just camper, I can get bucking down the highway.  I keep the truck around 65 miles per hour, and I have no problems at all with the truck and trailer.  With the gooseneck, the weight is over the rear axle, so it handles well.

Above: The 24 foot flatbed gooseneck allows Rick to tow his truck camper and Jeep
TCM: How did your rig go from idea to reality?
Rick: I already had the truck when I had this idea.  I know how long the rock crawler is, and I knew the trailer would be a twenty-four foot flat bed gooseneck.  I special ordered it because I wanted it the same color as my truck.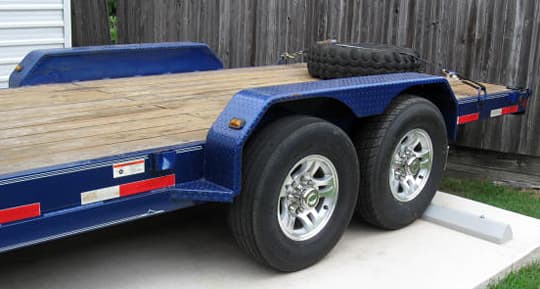 Above: 235/75-R16 Gladiator 14 ply rated tires and custom aluminum wheels
I also upgraded to 14 ply tires and aluminum wheels because it has to look good going down the road.