With his flatbed Four Wheel Camper, Adventure Trailer, and heavily-modded RAM 2500, Bill Elwell challenges the limits of his off-road abilities to discover the most spectacular off-grid campsites.  Warning: Stunning photos ahead!

Two years ago, we debuted a line of fun T-shirts celebrating the truck camper lifestyle. The most popular shirt featured a pop-up truck camper and stated, "Campground? We don't need no stinkin' campground." Even though our readership is 70-percent hard-side owners, that shirt was the run away hit of the series.
We certainly identify with that spirit. Just this year we went from the end of March through mid-July without a single paid campsite. We stayed with friends, family, at Harvest Hosts, Walmarts, Cracker Barrels and (our favorite) free public lands. That's our preferred camping style – free-wheeling and no reservations.
Bill Elwell and Pam Standley have taken the no campground lifestyle and kicked it up about ten notches. First, they designed and assembled a unique rig with extreme off-road capabilities to take them far beyond the reaches of civilization. Second, they took overland training classes to enhance their off-roading experience and abilities. As a result, Bill and Pam camp in places most of us can only dream about.
When they're not exploring dirt roads in Big Bend, Four Corners, or Alaska, Bill does volunteer tree work and trail construction from his mobile command center; aka, his truck camper rig. With his chainsaw, towed tractor, and winch, Bill can take down hazardous timber, trim obstructing limbs, and pull pesky stumps.
Bill and Pam's off-road abilities, off-grid ready rig, and tree wrangling skills all came into sharp focus when Hurricane Harvey struck in 2017. During an Alaska truck camping adventure, their Texas home took on four feet of water. What happens next is something you have to read.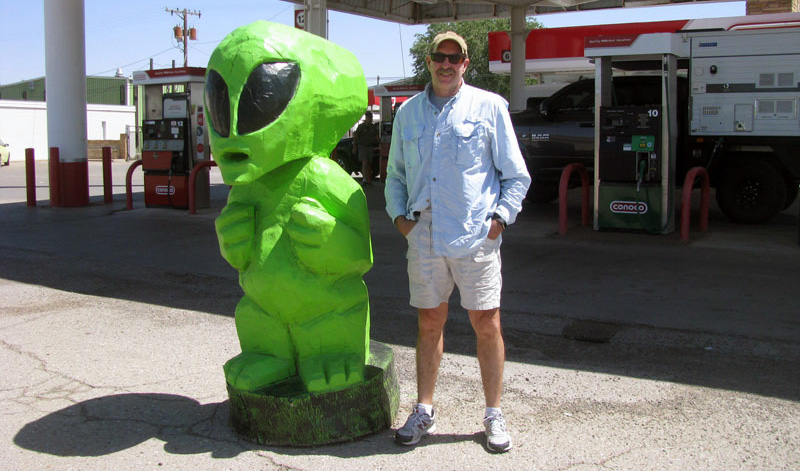 Above: Bill Elwell (right) in Roswell, New Mexico
How did you get into truck camping?
I am a retired structural engineer. I grew up in New England backpacking, self-contained bike touring, and camping. Pam is a retired geophysicist. She also grew up in New England backpacking, leading bike trips with the girl scouts, and camping.
We've both been camping since we were kids, mostly in tents and tent trailers. This continued into backpacking and self-contained bicycle touring as we got into our teens and college years. It moved on to four wheel drive trucks and SUVs. Prior to our truck camper we had a Jeep Wrangler that towed an Adventure trailer with a roof top tent.
Our truck camper is an upgrade for our retirement travels that lets us travel in more comfort for longer distances and durations. We can also travel in climates that are less hospitable to tent camping.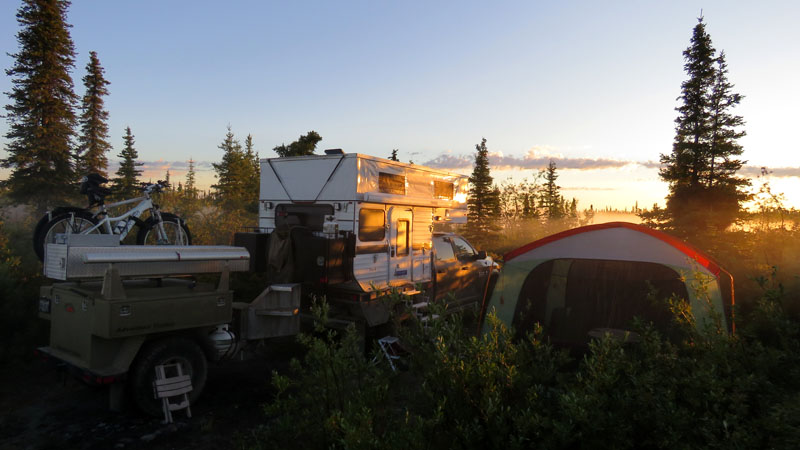 Stepping up from a tent to a pop-up truck camper is a proven path to more comfort. How did you decide on a Four Wheel Camper?
We wanted something small enough to let us continue our off-road exploration and tough enough to hold up to the off-road environment. We wanted it to be equipped with enough amenities to be comfortable, even when the weather is less than ideal for extended periods.
Our requirements included a bed that could stay made, the ability to stand up since I am 6-foot 3-inches tall, and a toilet. We wanted a pop-up because it keeps the traveling height low and allows for ample head room when set up.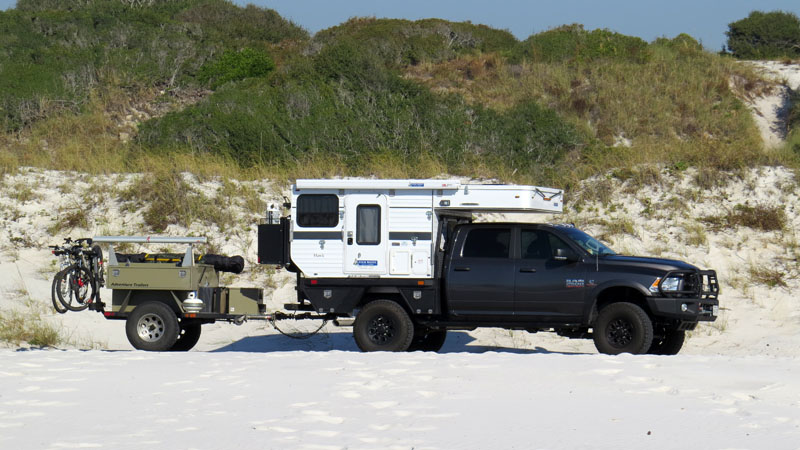 When we saw the flatbed Four Wheel Camper, it pretty much ended our camper search. It only weighs 1,200-pounds and is constructed with a welded aluminum frame. It fits nicely on a three-quarter ton truck with the smoother ride of a coil spring suspension.
The flatbed model with a side entry has a more open floor plan than a slide-in pickup model. It also has under bed storage that holds all of our clothes.