With his flatbed Four Wheel Camper, Adventure Trailer, and heavily-modded RAM 2500, Bill Elwell challenges the limits of his off-road abilities to discover the most spectacular off-grid campsites.  Warning: Stunning photos ahead!

Two years ago, we debuted a line of fun T-shirts celebrating the truck camper lifestyle. The most popular shirt featured a pop-up truck camper and stated, "Campground? We don't need no stinkin' campground." Even though our readership is 70-percent hard-side owners, that shirt was the run-away hit of the series.
We certainly identify with that spirit. Just this year we went from the end of March through mid-July without a single paid campsite. We stayed with friends, family, at Harvest Hosts, Boondockers Welcome, Walmarts, Cracker Barrels, and (our favorite) free public lands. That's our preferred camping style – free-wheeling and no reservations.
Bill Elwell and Pam Standley have taken the no campground lifestyle and kicked it up about ten notches. First, they designed and assembled a unique rig with extreme off-road capabilities to take them far beyond the reaches of civilization. Second, they took overland training classes to enhance their off-roading experience and abilities. As a result, Bill and Pam camp in places most of us can only dream about.
When they're not exploring dirt roads in Big Bend, Four Corners, or Alaska, Bill does volunteer tree work and trail construction from his mobile command center; aka, his truck camper rig. With his chainsaw, towed tractor, and winch, Bill can take down hazardous timber, trim obstructing limbs, and pull pesky stumps.
Bill and Pam's off-road abilities, off-grid ready rig, and tree wrangling skills all came into sharp focus when Hurricane Harvey struck in 2017. During an Alaska truck camping adventure, their Texas home took on four feet of water. What happens next is something you have to read.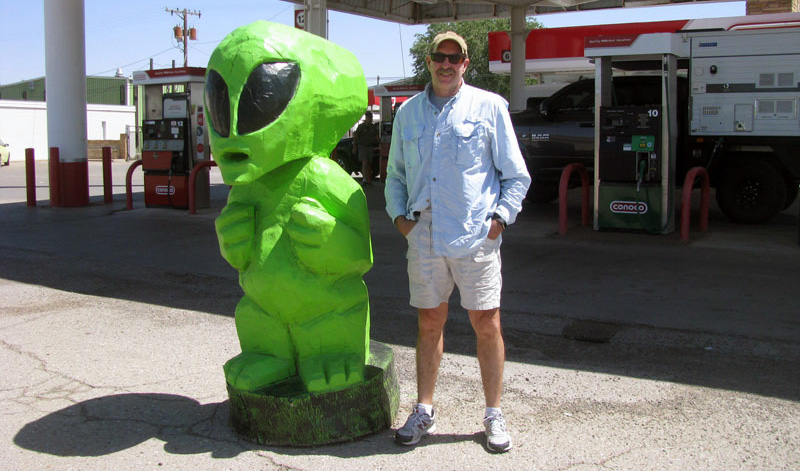 Above: Bill Elwell (right) in Roswell, New Mexico
How did you get into truck camping?
I am a retired structural engineer. I grew up in New England backpacking, self-contained bike touring, and camping. Pam is a retired geophysicist. She also grew up in New England backpacking, leading bike trips with the girl scouts, and camping.
We've both been camping since we were kids, mostly in tents and tent trailers. This continued into backpacking and self-contained bicycle touring as we got into our teens and college years. It moved on to four wheel drive trucks and SUVs. Prior to our truck camper, we had a Jeep Wrangler that towed an Adventure trailer with a rooftop tent.
Our truck camper is an upgrade for our retirement travels that lets us travel in more comfort for longer distances and durations. We can also travel in climates that are less hospitable to tent camping.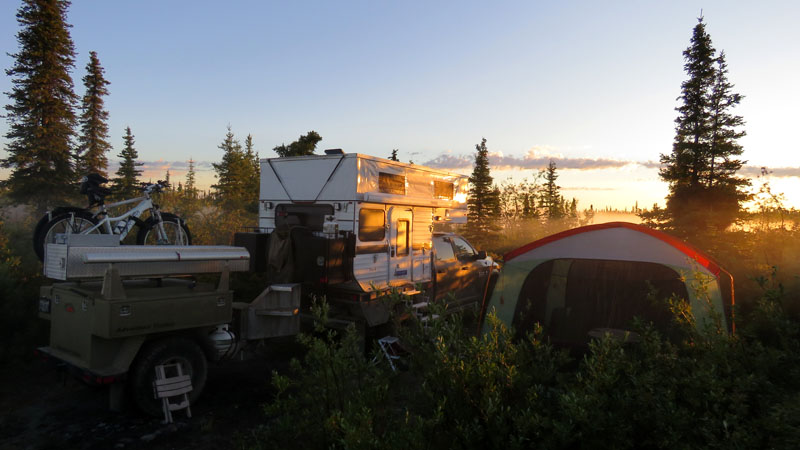 Stepping up from a tent to a pop-up truck camper is a proven path to more comfort. How did you decide on a Four Wheel Camper?
We wanted something small enough to let us continue our off-road exploration and tough enough to hold up to the off-road environment. We wanted it to be equipped with enough amenities to be comfortable, even when the weather is less than ideal for extended periods.
Our requirements included a bed that could stay made, the ability to stand up since I am 6-foot 3-inches tall, and a toilet. We wanted a pop-up because it keeps the traveling height low and allows for ample head room when set up.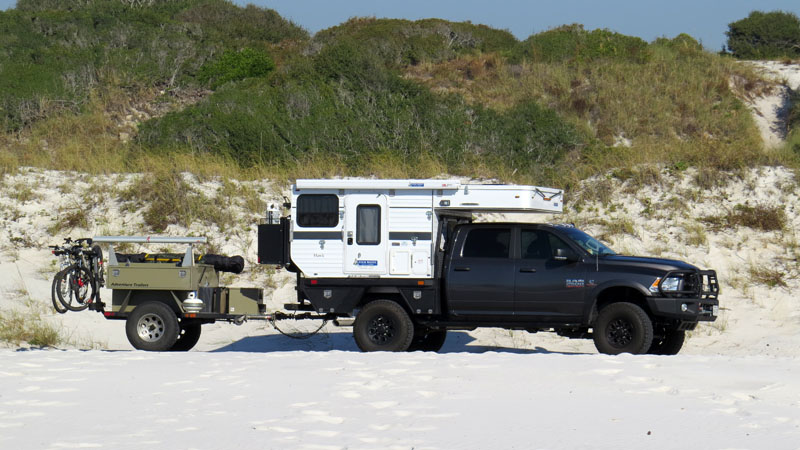 When we saw the flatbed Four Wheel Camper, it pretty much ended our camper search. It only weighs 1,200-pounds and is constructed with a welded aluminum frame. It fits nicely on a three-quarter ton truck with the smoother ride of a coil spring suspension.
The flatbed model with a side entry has a more open floor plan than a slide-in pickup model. It also has under-bed storage that holds all of our clothes.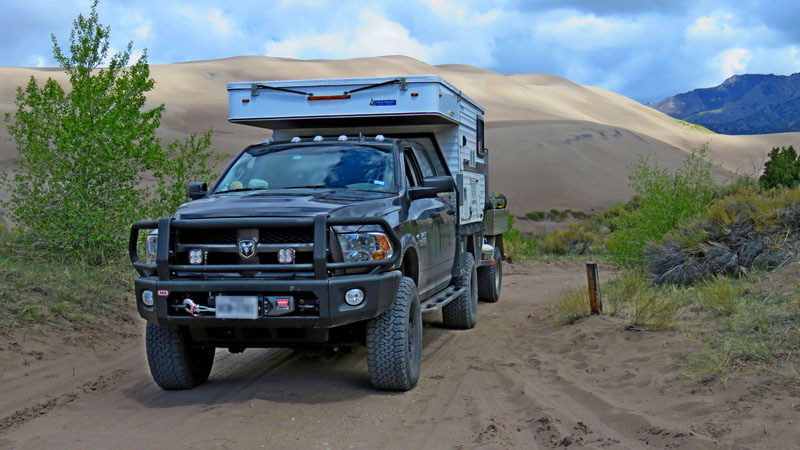 Above: Great Sand Dunes National Park, Colorado
That's impressive. Is there really that much storage space under the bed?
Yes, there is. Under the bed there are four aluminum trusses that divide the storage area into separate cavities. We have our clothes packed in color-coded packing cubes.  Then, we use long handle grippers to get our stuff out.
Another advantage of the under bed storage is insulation. When we camp in colder weather, there's an additional 3-inches of insulation under the bed. It makes a difference.
In addition, we have a propane cook top, propane furnace, propane water heater and a 12-volt-only Danfoss refrigerator. Propane is the primary fuel for the appliances, except for the 12-volt only refrigerator. We also have a kitchen sink and shower.
Our camper does not have an air conditioner, so camping in Texas in the summer is a no go. In general, summer is family vacation time and not when we want to be out anyway.
"If it's further out and we have to cross challenging terrain, so be it. Our rig is set up for challenges."
Your flatbed truck has some nice modifications and upgrades. Tell us what you did to your truck, and why.
We wanted our truck to have a complete camping setup, be off-road capable, have the ability to tow a good-size trailer, and the ability to work in the woods doing tree work. We also needed the camper to be removable.
All of the truck modifications were done to enhance the truck's off-road capability and functionality. It provides a platform that lets us get off the beaten path for an extended time and back out again, often traveling solo.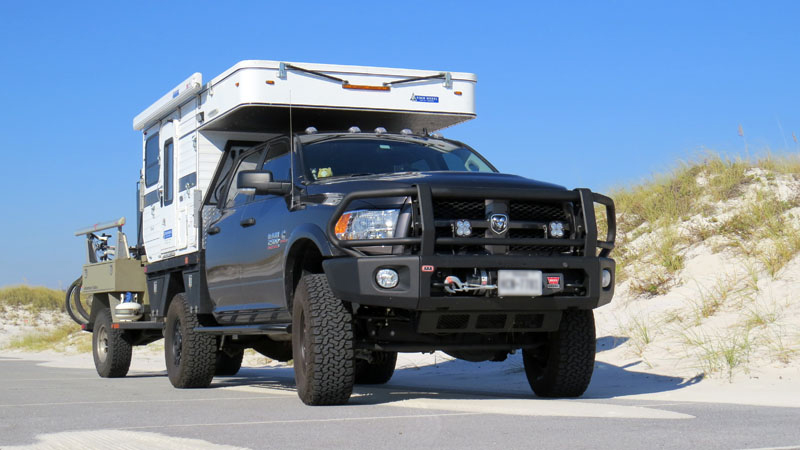 We selected a 2016 Ram 2500, 4×4, single rear wheel, Cummins diesel with a 6-speed manual transmission. I custom ordered the truck with the 6-speed manual and a Class 5 hitch. It has an integrated electric brake controller and selectable diesel exhaust brake which is great for controlling speed on those long downhill runs.
To outfit our truck, I added an aluminum flatbed from Alum-Line, ARB front winch bumper, Warn 16.5ti winch, ARB Lockers front and rear, and ARB twin air compressors with one-gallon receiver plumbed to lockers and air chucks front and rear.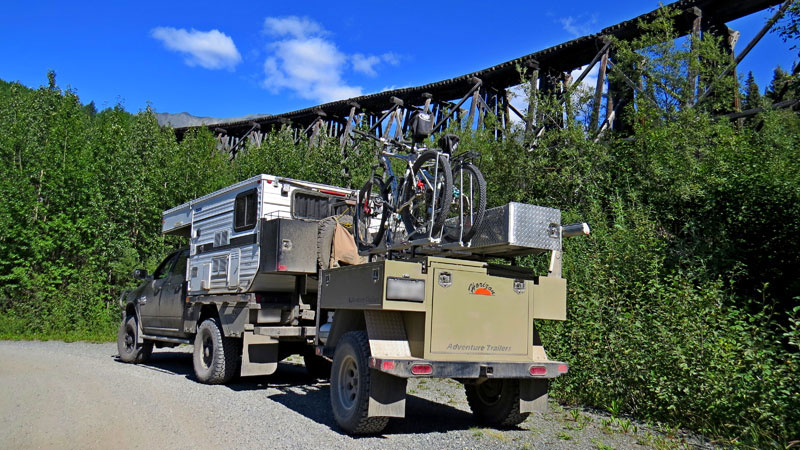 Airlift air suspension is also on the truck to assist the stock springs front and rear and allow for vehicle leveling. There is an AEV suspension lift and wheels outfitted with 37-inch BFG KO2 tires. Diesellogic two-wheel drive low range capability was added for maneuvering trailers utilizing low range in two-wheel drive.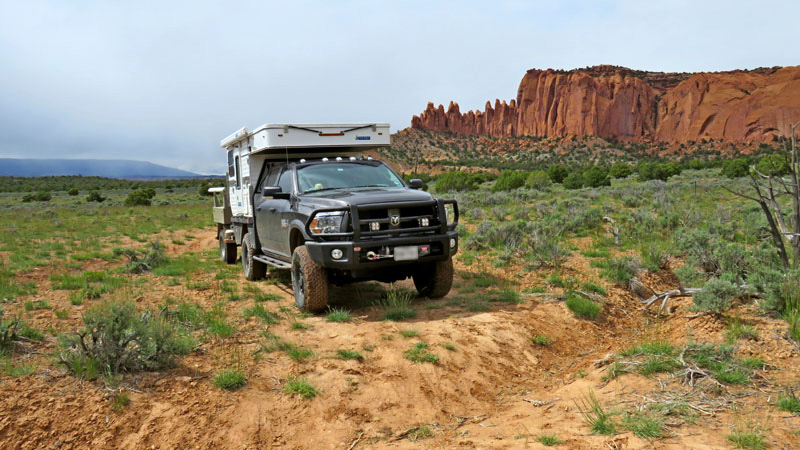 We also have a Lockpick video adapter to allow constant viewing of up to five cameras on the truck's video display screen. The cameras are installed on the front bumper, high above the spare, and on the back of the headache rack. Plus there's the stock backup camera installed in the bumper.
There are Aluminess Sliders, Aluminess galley storage boxes mounted on the custom fabricated rear tire rack and bumper, and under-bed trays to carry a Hi-Lift Jack and Pull-Pal.
A Blue Sea Systems controller allows the coupling of house and truck batteries for charging the house batteries from the truck or starting the truck from the house batteries if necessary. There are a pair of Baja Designs LED combination flood and spot driving lights up front, and a pair of LED floodlights on the camper above the rear storage boxes. It's tricked out for what we want to do.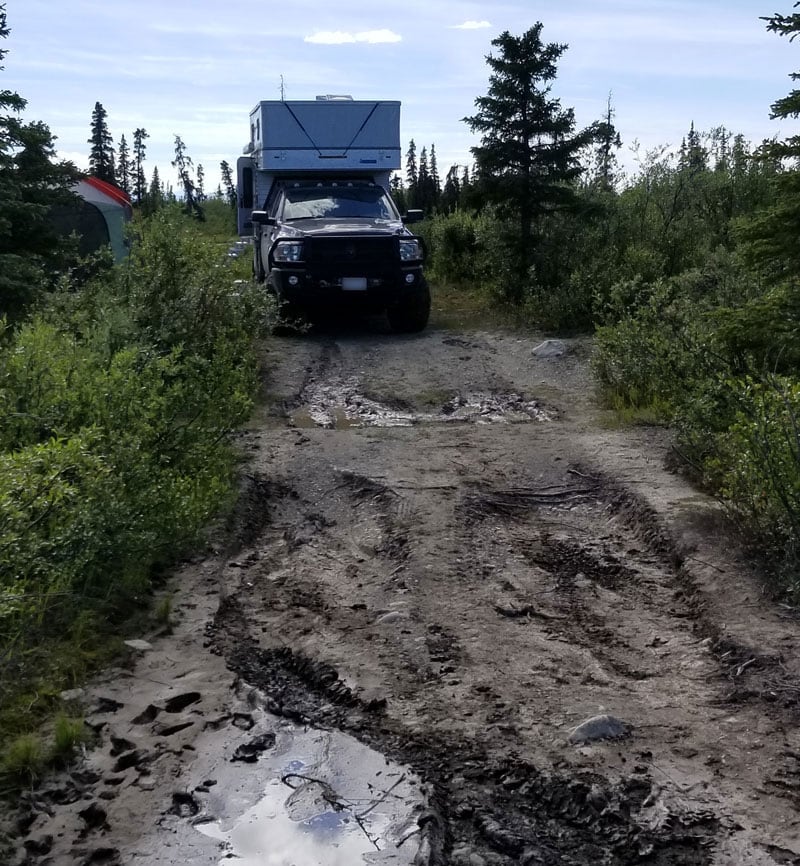 When we see a truck with the type of extensive overland gear you have installed, it's either for rock climbing, or getting as far out as possible. What are you looking to do with your truck and camper set up?
We look for the road less traveled and like to find the perfect campsite. If it's further out and we have to cross challenging terrain, so be it. Our rig is set up for challenges.
When we were in Alaska, we would say, "We'll never find a place as good as this again". It was on a lake with fish and birds. Then we find an even cooler place that had a beaver dam.
We like getting to a spot where we can explore by hiking, biking, kayaking, and fishing. We also like that we can hit the switch for the heater, and be warm and dry.
On our Alaska trip, we tried to find a campsite by 3:00pm and set up camp early. It took the stress out of the process, and we had time to enjoy the place and explore. We were not just driving all day. It was a little more free form and we got to take advantage of areas that were nice.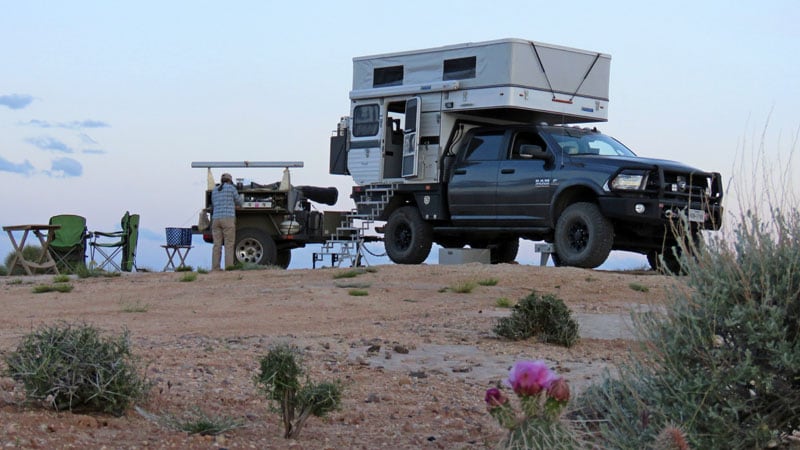 Above: Alstrom Point above Lake Powell, Utah
That sounds like a fantastic way to experience Alaska. How do you go about finding the roads less traveled and perfect campsites?
I look at the trip reports on Expedition Portal. That's where I saw Alstrom Point overlooking Lake Powell in Utah. After one of our Overland Expo West trips, we worked our way there to explore.
Some people write up detailed accounts of their travels, and others give a general idea of where to go. From there, I look at Google Maps and pick out places.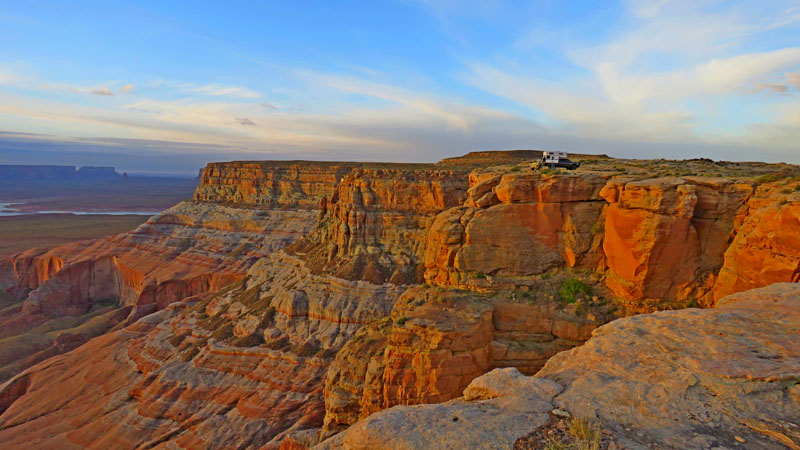 Above: Alstrom Point, Utah
When we're traveling, we don't know where we are going to stay. Then we'll find a place we like and stay up to a week. Our trailer has an extra 20-gallons of fuel and an extra 20-gallons of water so we can do that.
We are not big fans of making reservations. On our Alaska trip, we only made reservations for an Arctic Ocean tour at Prudhoe Bay, since that is the only way you can take the tour. In that case, we had to make reservations, but reservations are not our standard operating procedure.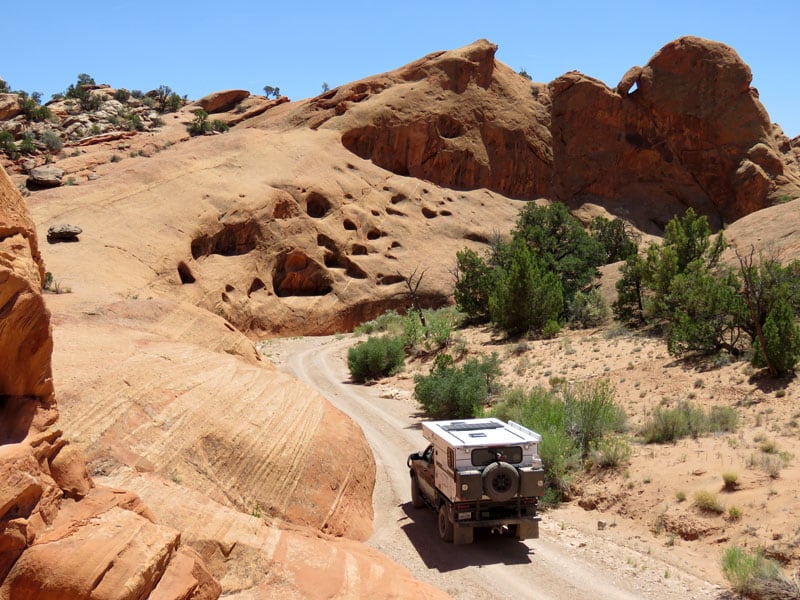 There's always one more dirt road off to the side, or another hike into a canyon. For example, off of the Burr Trail is the four wheel drive Muley Twist Canyon road (above) that we've done towing our trailer. It provides access to hikes with great views out over the Strike Valley.
Further up the road is a network of four wheel drive roads that go out into the Glen Canyon National Recreation Area. This is where we find our campsites when we are in the area.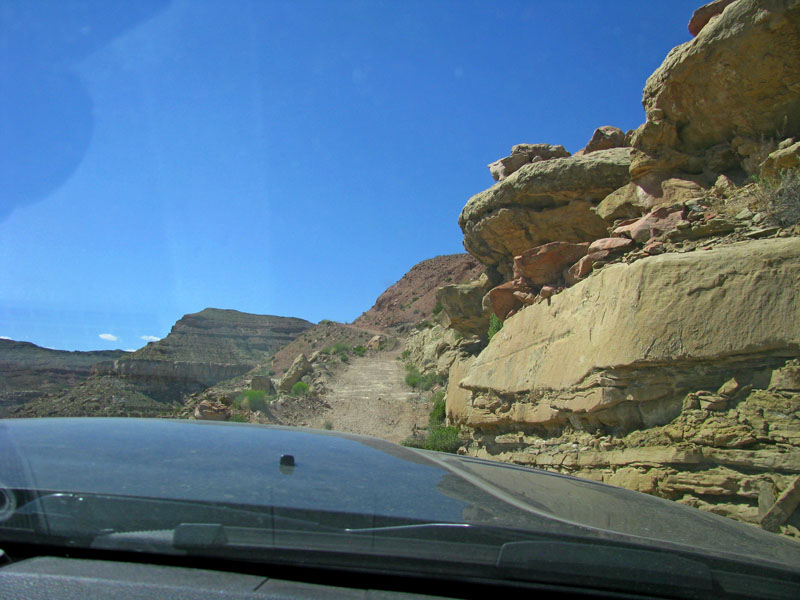 That sounds like fun. How did you learn to navigate and drive in those types of off-road areas and conditions?
We've both taken our share of off-road driving classes and associated vehicle recovery and repair classes at Overland Expo events.
Having experienced instructors work with us in our vehicle on some pretty challenging obstacles has given us the skills and built up our confidence to get into and out of places that we might not have gone otherwise.
With the Overland Experience Package at the event, you can take your vehicle through the off-road course they set up. It's great because the course challenges all vehicles differently.
There are also individual courses that teach aspects of driving and recovery. I've learned where to place my tires over obstacles and things you can hit underneath your vehicle. Those could be two-hour courses with a very specific focus.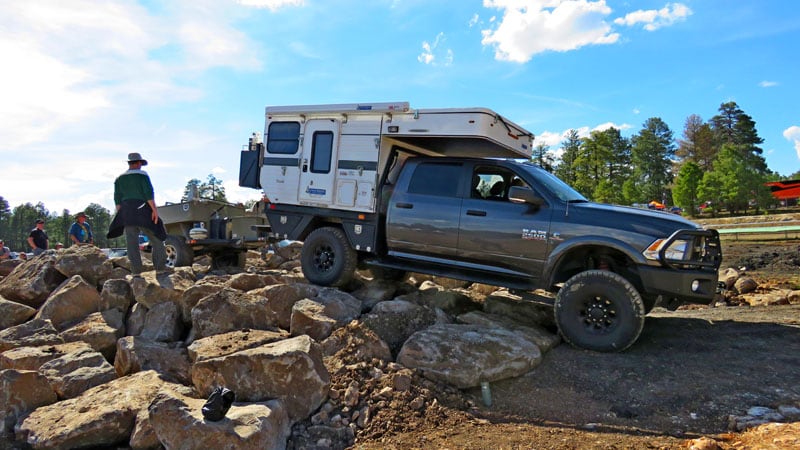 Above: Navigating the course at the Overland Expo
Have you gone through the overland training with your truck camper?
Yes, I have. People bring their own vehicles. With all the different vehicles you can observe how different vehicles handle different terrain. I did the course in my Jeep, which was one experience. Then did it in my truck camper rig, which was another.
We also took a class on Marshaling which is about working with a spotter outside the vehicle. You learn hand signals and ways to clearly communicate instructions. They are helpful skills if you are maneuvering on a challenging trail or just backing into a paved campsite.
On the more advanced level, we also took a failed hill-climbing course. The course showed us what to do during hill climbs that are not completed and you find yourself stopped halfway up. One of the reasons I wanted to get a truck with locking differentials is because I go up trails with ledges and rocks and have found myself in the failed hill climb situation out on the trail. Add a trailer to the mix and it becomes more challenging.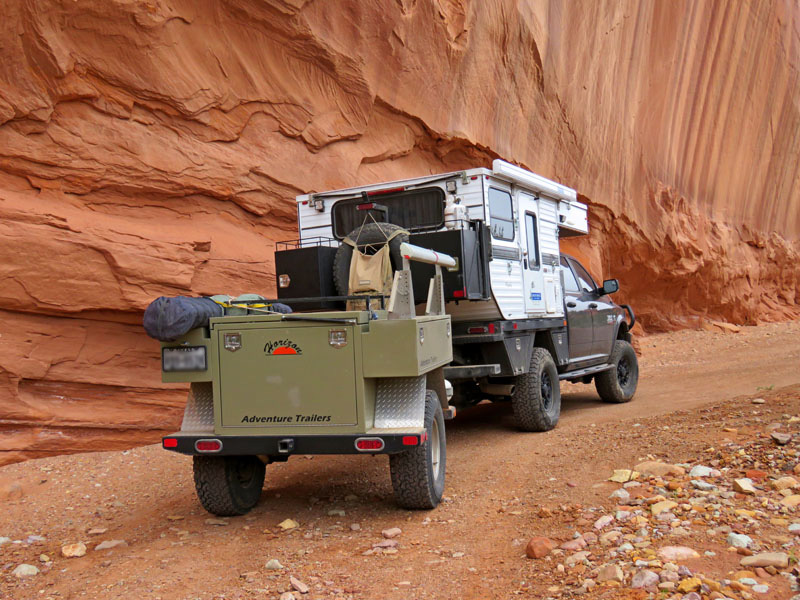 Above: Muley Twist Road off the Burr Trail
The marshaling hand signals is something we need to teach truck campers. What are locking differentials, and how do they help you when off-roading?
Most vehicles come with open differentials. Open differentials allow the wheels of a vehicle to independently go faster or slower as you turn a corner. The downside is that when one wheel is in the air or in a low traction situation, that wheel will spin and no power is transmitted to the wheel on the ground or the wheel that has traction.
In contrast, a locking differential locks the wheels to turn at the same rate no matter what the available traction may be on any single tire. Locking differentials get me up and over tough off-road spots and conditions. They often avoid the need to use the winch.
Lockers eliminate the worry of an open differential. Having the lockers in the front and back guarantees that the wheel in contact with the ground can help propel you forward. It's not uncommon to have one of my wheels off the ground, especially with a truck camper that doesn't have as much suspension travel as a Jeep, and I can still keep going.
With locking differentials, I want four wheels to turn regardless of what happens. Locking differentials are not good for turning if they are engaged, but they are good for traction. You can feel the drive train bind up if you are on a solid surface and try to turn with them engaged.
I can engage the lockers on my truck with the ARB air-actuated switches on my dash. They are independent, so I can turn on the front or rear or both depending on what tires are slipping.
I added the locking differentials to my truck. If you get the Ram Power Wagon, the lockers are included. The Power Wagons also have a softer suspension with more travel for aggressive off-road travel. Because of that, the Power Wagons offer less payload capacity which is a minus if you want to carry a truck camper.
You also can't get a Power Wagon with a diesel engine or a manual transmission. So, I essentially made my own Power Wagon. I have the payload and the features I want, but I paid more for them.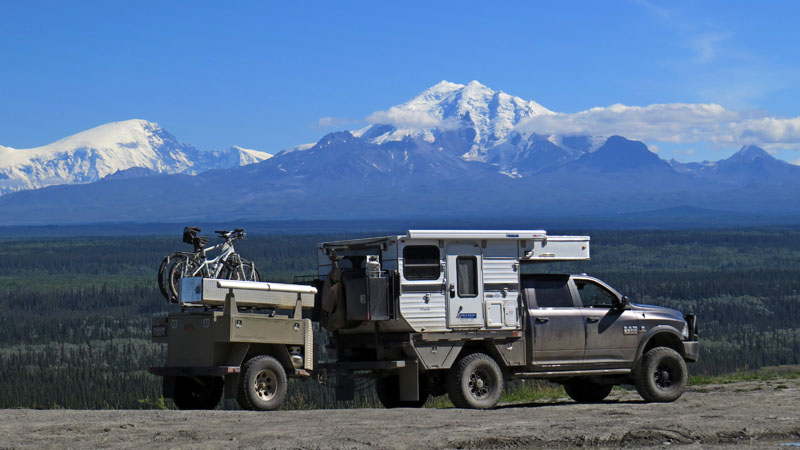 Can you still get stuck if you have locking differentials?
Yes, you can still get stuck if you have locking differentials. The roads less traveled we go on have more obstacles, and we can still get stuck – even with locking differentials. If all four wheels are in mud and the truck sinks to the frame, the winch in the front is the next level of insurance.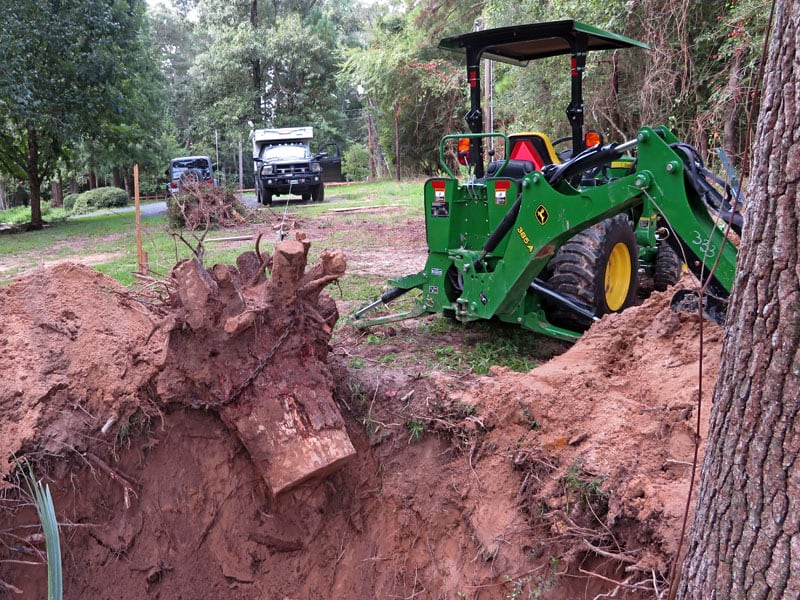 Above: Stump Pulling in Texas
You designed your truck and camper to be extremely versatile and off-road capable. What did you want to do with your rig? What was your vision?
I do a lot of volunteer tree work. After hurricane Harvey, I did tree work in Texas pulling stumps and clearing trees. During that experience, the camper was my mobile command center.
I also volunteer with several trail groups doing mostly chainsaw work clearing dead trees off the trail.  There's also bridge construction on trails which requires dragging the tractor along. Again, the camper is my base.
My brother lives in Pennsylvania and heats with wood. He always has trees dying or falling over. Using the winch on my truck means that the trees come down the way we want them to come down. My winch is rated for 16,500 pounds, so it will pull a lot.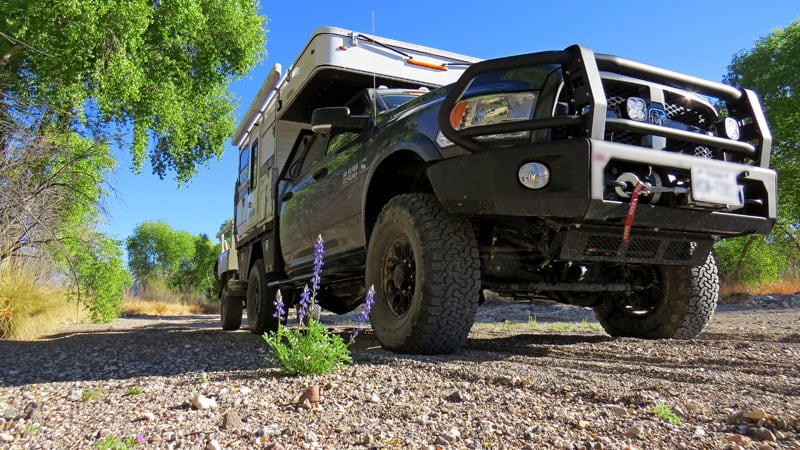 My rig has also gone down some narrow trails in Big Bend National and State Parks in Texas. That's where my rig got its first dose of desert pin stripping. It's one of the bigger vehicles that will go down Big Bend trails, especially in the State Park. Whatever brush is on the side, you get it, and all the brush in the desert has plenty of stickers on it.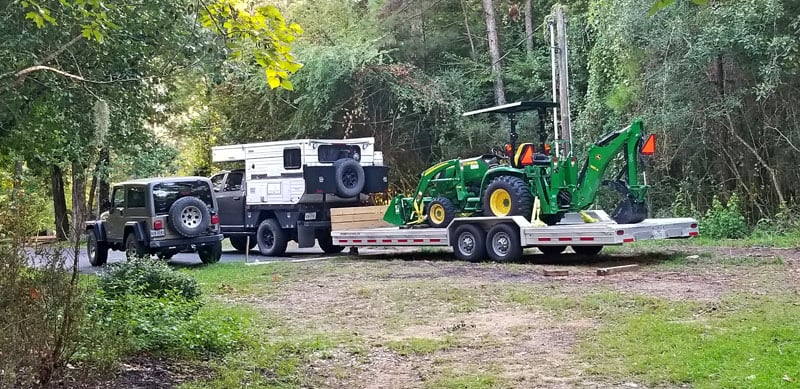 If I am going to have a truck, I want it to be able to tow. That's why we got a diesel. We have family in Pennsylvania and Connecticut and retired friends who live around the country. I want to visit them in my truck and camper and take some toys along. Plus, I get better gas mileage with my Ram towing the Jeep than if I drove the Jeep.
I can still tow my Jeep and go on aggressive smaller trails with it. I always have my camper as my base camp. Four days of rainy weather is livable in a roof top tent, but it's not very comfortable. Our truck camper allows us to do more aggressive stuff, and it gives us a warm, comfortable space at night.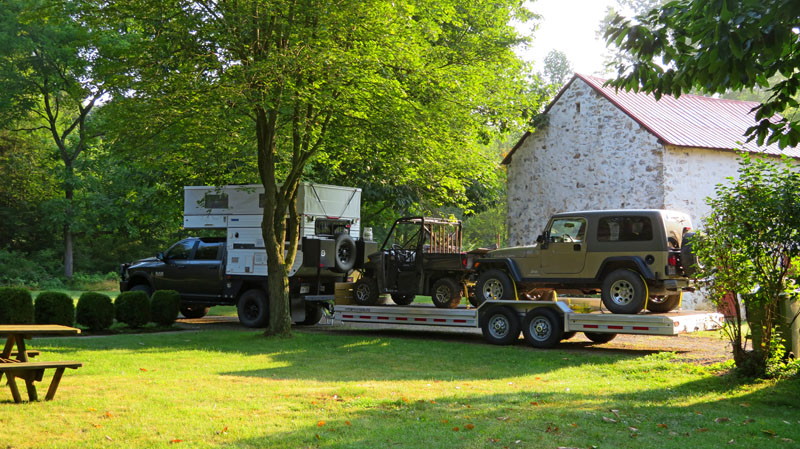 You alluded to your experience with Hurricane Harvey. Tell us about that experience.
We were in Alaska when Hurricane Harvey hit. Our Texas property took on four feet of water. We had to immediately decide whether to drive home or fly.
We decided to drive home, which is six days straight from Fairbanks. In our camper, we have a bed, a refrigerator, an awning, toilet, and water. When we got there, we were able to park the camper in the shade and work out of it.
Harvey wasn't our first flood. When we got our truck in 2016, there was a flood on Memorial Day weekend. We got our house cleaned up and were back in it by Labor Day and then spent the fall exploring the East Coast. .
That's not how things went after Harvey. We had to gut our house. All our possessions were in the yard to be itemized and discarded. With help from friends, we were able to save our photos and computers.
As we were driving back from Alaska, we made arrangements to lease a house. During October and November we were cleaning and looking for a new place. By December we were in our new place. We had flood insurance, so we were better off than many from that flood.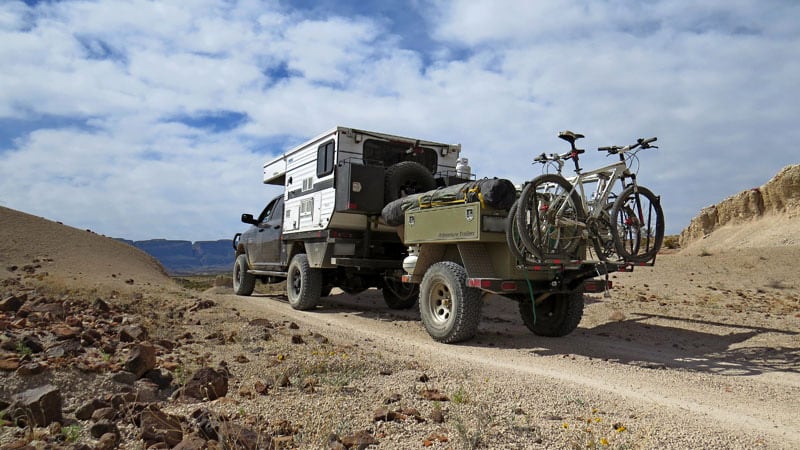 Above: Backroads in Big Bend, Texas
I can't imagine what it must be like to have your home and everything you own destroyed like that. Your perseverance and willingness through that to help others is remarkable. Now that you're back on your feet, how much do you get to use the truck and camper?
We bought our new camper in 2016 and then couldn't go anywhere because of all the flooding. Since then we've taken quite a few trips.
The Big Bend area is a local trip for us. We have gone to Big Bend National Park and Big Bend Ranch State Park. We have also traveled from the southeast coast to the northeast and back home down the heartland via the Blue Ridge Mountains. Finally, we have explored the backcountry through the western United States; Arizona, New Mexico, Colorado, and Utah.
We went to Alaska in 2017 towing the Adventure Trailer with bikes, kayaks, screen shelter, and an extra ground tent. We just recently went from Texas to Pennsylvania and back towing a car hauler trailer. We have also attended eight Overland Expo West events and two Overland Expo East events.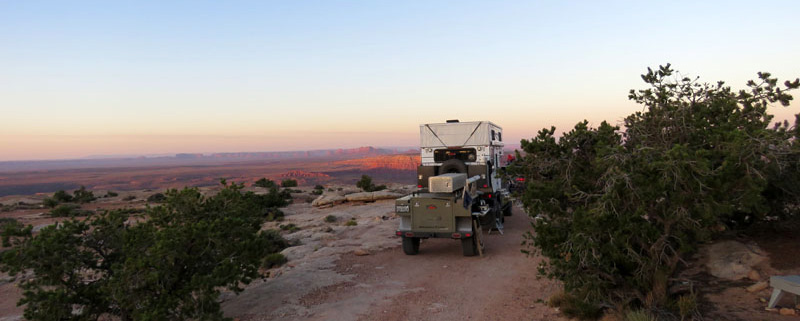 Above: Camping at the top of the Moki Dugway
You are truly fearless! This is further showcased by your backcountry explorations into Arizona, New Mexico, Colorado, and Utah. Where do you recommend other truck campers go in those areas?
In that area, the Moki Dugway is really cool. We had friends who had never been in that area. We went to some spots that involved a little technical driving. There are places where you can drive to the end of the road and camp. At Muley Point, you are overlooking the valley below. There are numerous narrow four wheel drive roads that run off to other points in the area.
Some people think the switchbacks on the Burr Trail are terrifying. To us, it's a dirt road.
At the top of the switchbacks is the Muley Twist; a four-wheel drive road.  It basically follows a creek bed up a canyon. The conditions change after every flood. You cross the creek many times and it is common to lift a wheel while crawling up the bank or over a stray rock in the creek bed. We are probably one of the bigger rigs that can get through there. We mainly see backpackers and Jeeps.
Truck campers, if properly designed and operated, can get into those places. You have to ask yourself if you want to get some scratches and feel comfortable not having all four wheels on the ground all the time.
I have Aluminess sliders off the side that help hold the rocks and brush off the metal of the doors. We are lifted with bigger tires so that helps to get us up and over obstacles. We also air down to make the ride better.
That was another reason for my onboard compressor. By airing down we get more traction on the sand and rocks. It also cushions the ride. It's a heavy rig, so I need to be careful to not get stuck. Airing down is an easy first step to help with floatation in soft conditions.
"I wanted the experience from when I was in my Jeep, and the Ram and Four Wheel Camper gives me that in a bigger package."
Have you ever gotten stuck?
I have not ever gotten stuck in the truck, yet. If I think a mud or water area is a problem, I'll back the trailer in and see how much it sinks. The trailer is sacrificial and I can drag it out. I would rather do that than point my winch toward the lake and not be able to use it to get out. Based on how much the trailer sinks I can figure out the depth of the water or mud hole. Then, I'm pointed the way I want to go when I leave.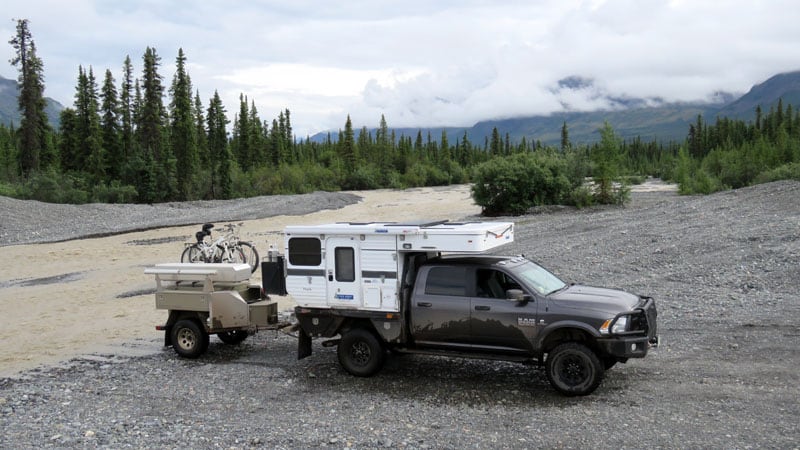 If I can see tracks or the bottom of the river, I can judge the water level. There is a picture from Wrangell-St Elias where we crossed a river. The road was bad and it was muddy. It was also an opportunity to clean off the truck. A lot of the roads in Alaska dead end to a viewpoint, so you have to come back out the way you went in.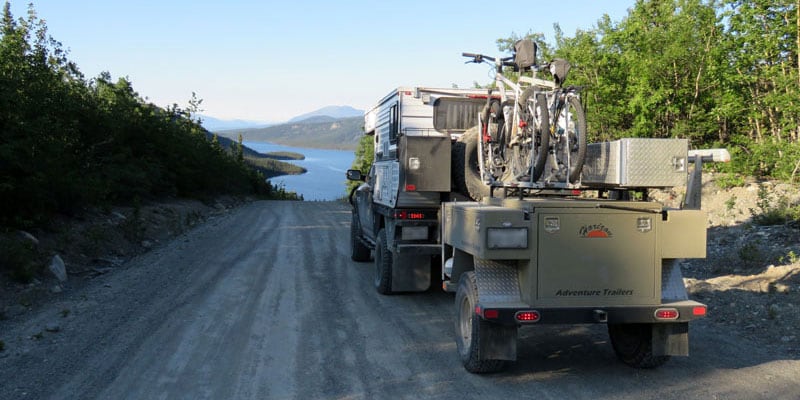 The worse the description of a route into a campsite on iOverlander (an overland destination app), the better chance we'll try it. That's our kind of spot. We will go 30-miles down a dirt road, through a mud hole, and a river to camp on that perfect beach.
There are a lot of interesting places that are at a dead end. If it becomes too muddy or too deep, then that becomes my turn around point. The trick is making the decision to turn around before you become severely stuck.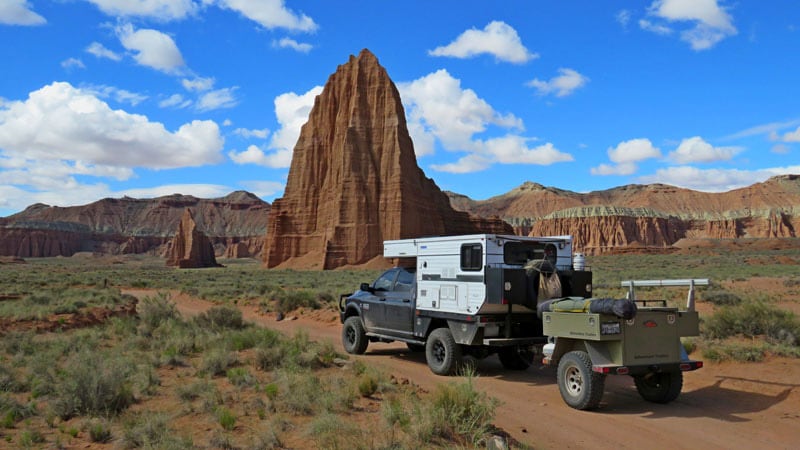 Above: Cathedral Valley Loop, Capitol Reef National Park, Utah
The daunting iOverlander description would be the turnaround point for most folks. Have any of your truck mods been more effective or necessary than others?
I've actually used every mod on the truck. Everything has come together to make the rig nimble and we have the ability to go just about everywhere. I wanted the experience from when I was in my Jeep, and the Ram and Four Wheel Camper gives me that in a bigger package.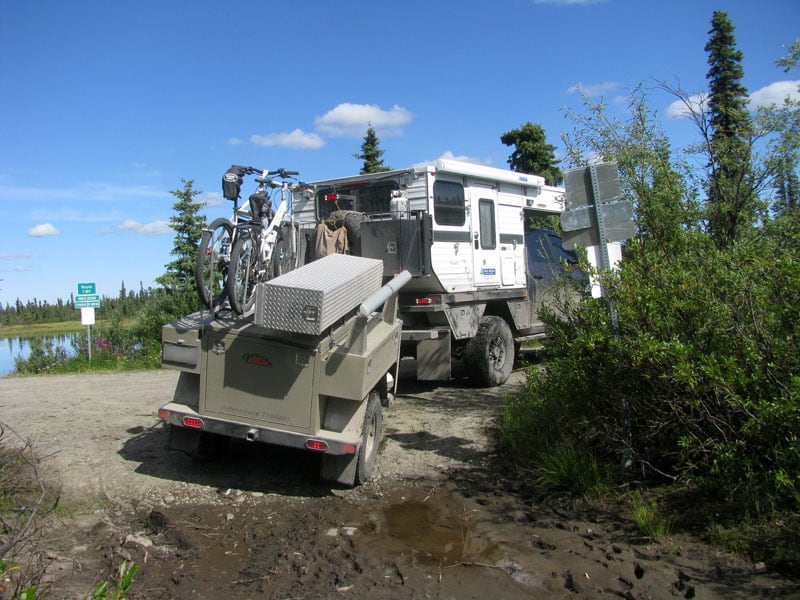 We hardly ever see truck campers towing trailers. What are the advantages and disadvantages of the Adventure Trailer?
We bought our first Jeep in 2006 and went to Big Bend. It was a Jeep Wrangler with two doors and did not have as much space as some of the SUVs that we've used.
On that trip, we saw a family in a Jeep towing a military trailer. With that inspiration, we researched off-road trailers and found the Adventurer Trailer we bought. It has a water tank, fuel storage, stove, propane, and rooftop tent. It was perfect for the Jeep Wrangler. We explored with the Jeep and Adventurer Trailer for ten years. Those trips were mostly two weeks or less and in the dryer climates of the southwest.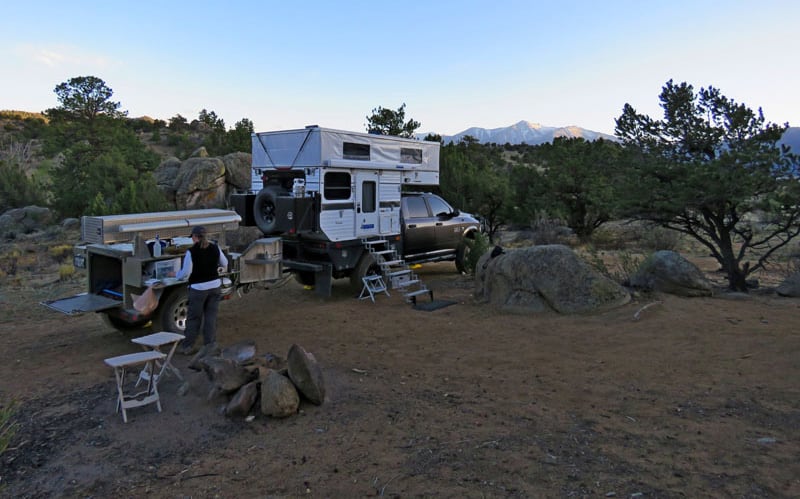 When we retired we decided we wanted more comfort and stepped up to the Four Wheel Camper. The truck camper gives us a place to sleep, but we still like the Adventure Trailer's outside kitchen and awning. It's open and outdoors.
The trailer is 9-feet long. The Ram doesn't even know it's there. Maneuvering wise it's easy to turn around. We have added mountain bikes and a rooftop box for fishing gear to the trailer. The rooftop box is lockable and weatherproof. We also took our inflatable kayaks to Alaska inside the trailer.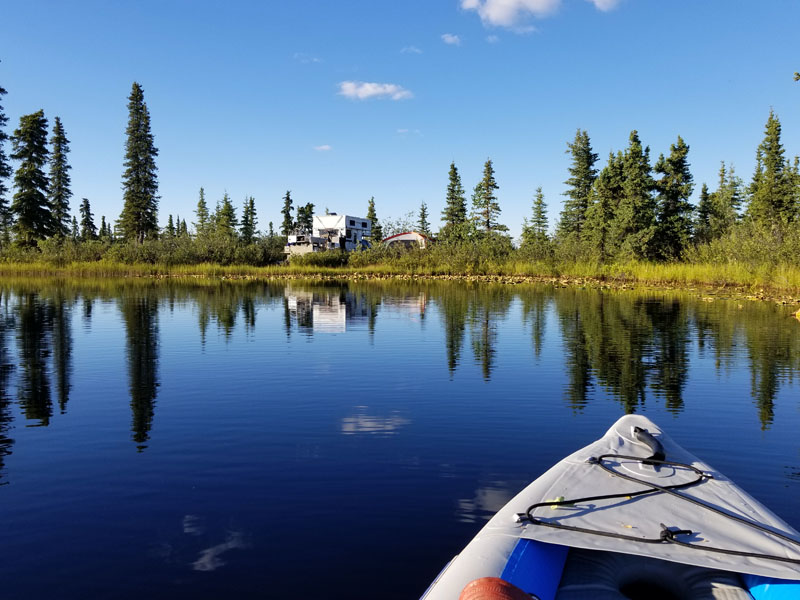 The trailer and truck camper combination is interesting. Obviously you enjoy exploring and off-roading, but what else do you enjoy when you're out truck camping?
We enjoy the outdoors; hiking, biking, kayaking, fishing, photography, and just exploring in general. We're not big fans of crowds. We tend to camp remote whenever possible and usually in the shoulder seasons to avoid the crowds.
We occasionally will do a state park trip to an area, but it usually ends up reminding us why we prefer to camp remotely. Now that we are retired we hope to hit some parks during the weekdays when they are less crowded.
We travel with four GPS units. One is for the highway, we both have a hiking GPS unit, and we have an inReach GPS just in case. We are also armed with a full complement of highway maps, regional maps, and Forest Service maps.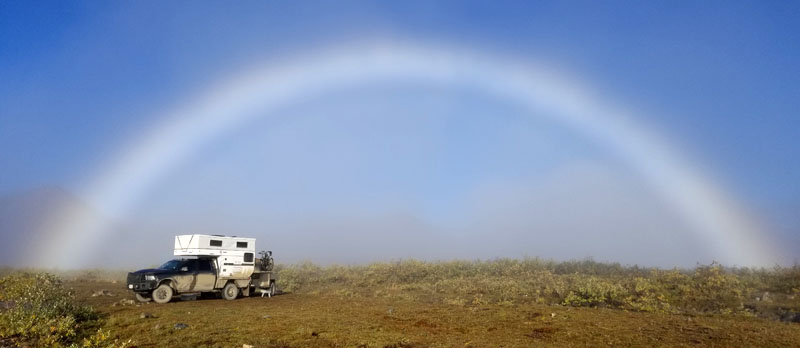 Four GPS units? Why four?
I really don't like to get lost. Everything has a different reason. A good highway GPS assists with navigation and will find gas stations. It works when the cell phone doesn't.
For places like Big Bend and the back approach into Canyonlands National Park, you can't even call the ranger stations because there is no cell service. With the inReach, you can send text messages and summon help if needed. You can also send links to friends and family and they can see where we are located. When we are somewhere remote, friends can follow us via the inReach and its web interface. This is our emergency locator and is in our pocket or pack all the time.
We each have GPS hiking units. If we leave camp and are exploring, we could drop and break one. With two, we are independent and can get back to camp. The hiking GPS has topographic maps. It shows creeks, roads, and mountains. It also tracks how far you've walked. It's pretty easy to get lost in unfamiliar terrain. I've seen my share of news stories of people who get lost when out hiking or driving in the backcountry. That's not going to be me.
We supplement the GPS units with paper maps. We also stop at the ranger stations and talk to them about the current road and weather conditions.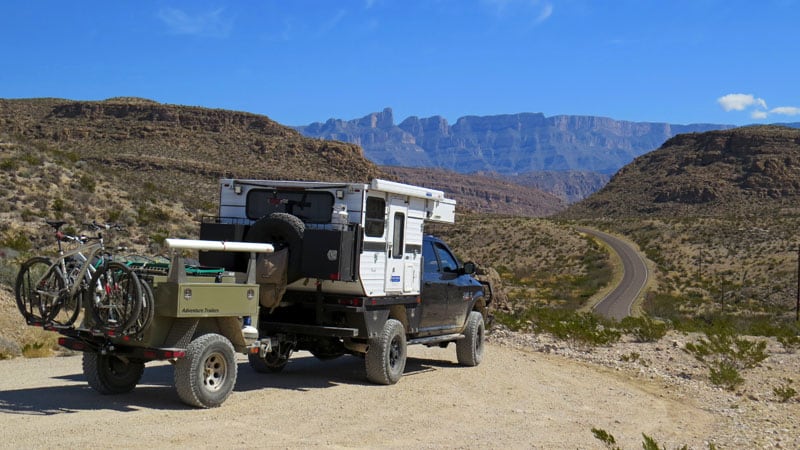 Above: Big Bend National Park, Texas
It's safe to say you're not getting lost any time soon. And you have several thousand people thinking they need another GPS, or two. Is there anything else you'd like folks to know about your truck camping lifestyle?
When I planned my rig I wanted something that I could use as a tool. That could be towing a tractor or using it as an extra vehicle when it wasn't being used as a travel vehicle out exploring. It's accomplished all of that, and then some.
We've gone to Big Bend a lot! I've attended Overland Expo enough that now we've started teaching classes at the event. Our Big Bend class at Overland Expo covers the logistics of getting into the backcountry of Big Bend National and State Parks. We've also given a presentation on this truck at Overland Expo West and East. Come on out to Overland Expo East or West and see us.
Bill and Pam's Rig
Truck: 2016 Ram 2500, 4×4, single rear wheel, Cummins diesel, flatbed
Camper: 2016 Four Wheel Camper Flatbed Hawk
Tie-Down/Turnbuckles: Bolted to the flatbed
Suspension: AEV lift, Airlift air bags
To visit the Four Wheel website, go to fourwheelcampers.com. Click here for a free Four Wheel brochure.