With over 130,000 miles in an Alaskan Camper, Maggie MacPherson points us to some must-see off-road locations around Moab, Utah.  Do not miss Maggie's amazing Moab photographs.

Moab, Utah is well known as an area for four-wheel drive Jeeps, but we have explored it from one side to the other in our Alaskan Camper and four-wheel drive 2003 GMC Sierra 2500.  Within limits, we can go where the Jeeps go.
As always, we go as far as we can on backcountry roads, and then we hike even further.  You have to have an adventurous spirit, and you need lots of time to drive these types of roads.  There are times when we are traveling less than five miles an hour.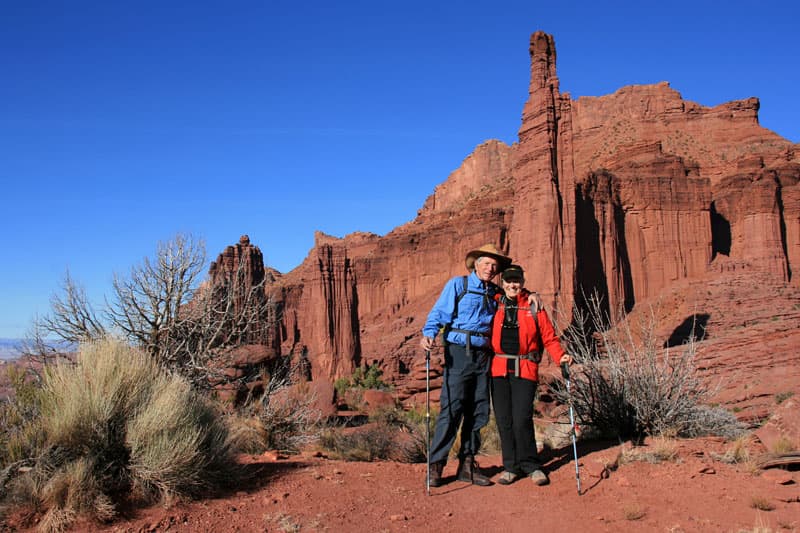 Above: Don and Maggie hiking at Fisher Towers near Moab, Utah
My first bit of advice is to go to the more popular places mid-week.  On the weekends these areas and campsites can become quite crowded.  We have always been able to find a campsite, but we go in when people leave, which is in the late morning.  We try to find a campsite between 10:00am and 3:00pm.
The second tip is to invest in the National Geographic Trails Illustrated maps of Moab North and Moab South.  The third is to check with rangers about the road conditions and the fourth is to be aware of the weather.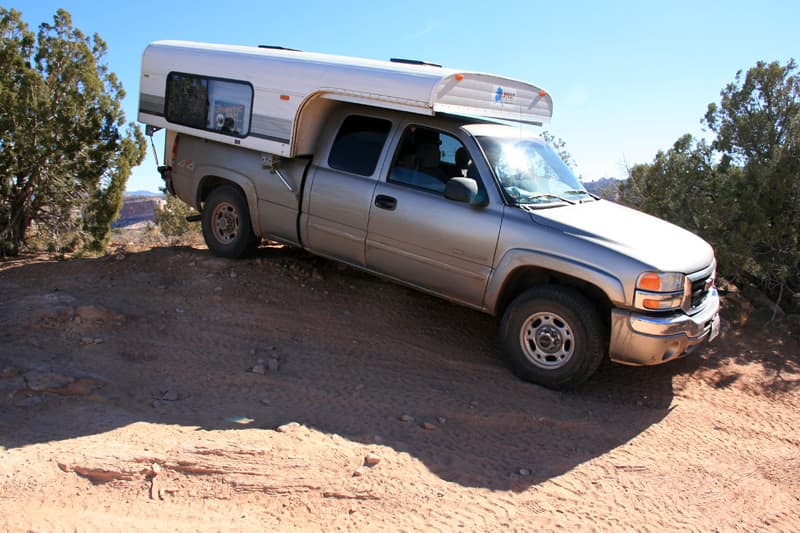 At the south end of the Dewey Bridge on Highway 128, turn east onto Shura Road.  This eventually meets the Top of the World Road and then the Dolores River Outlook Road.   These are all pretty good dirt roads and the scenery is spectacular.  There are also many smaller roads off these, and depending on the weather and the capabilities of your vehicle, you can drive many of them with a four wheel drive truck camper.  The round trip is approximately fifty miles.  With lunch and stops for photography it takes about six hours.  There are places to camp along the way.  As always, try to camp somewhere that has been used as a campsite before.
Above: The Onion Creek Road drive to Hideout Canyon campground
Another great drive is Onion Creek Road to Hideout Canyon campground.  Turn east off Highway 128, south of the Fisher Towers turnoff.  This round trip is approximately thirty miles round trip and takes about seven hours with stops for lunch, photography, and exploration.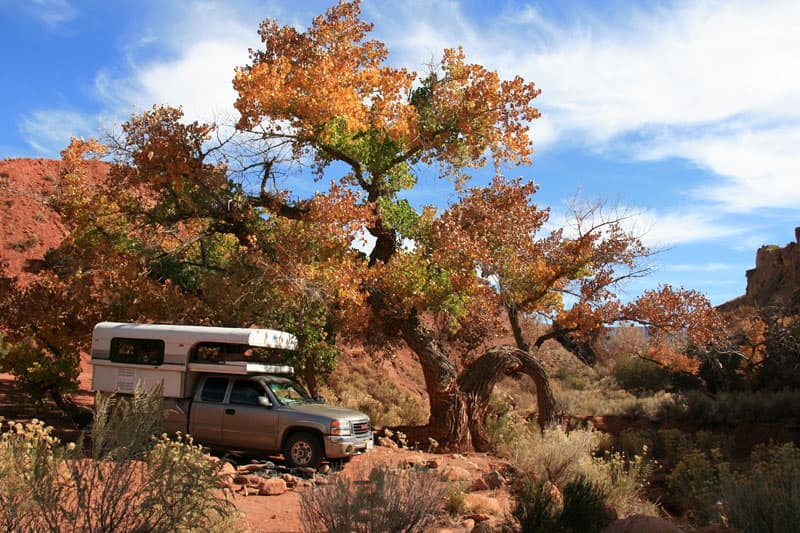 Above: One of the Onion Creek Road campsites
There are a number of designated, first come first serve campsites along the road as well as the Hidden Canyon Campground.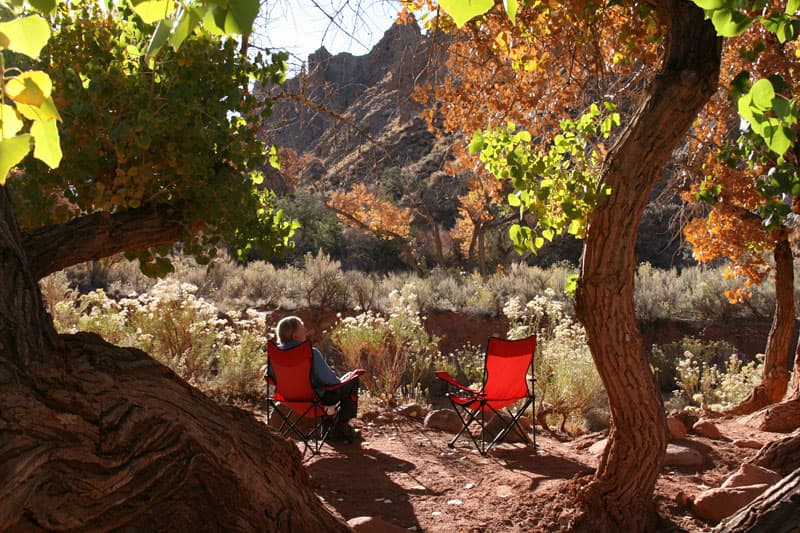 See the description of Castleton Road below for a possible loop.  There are twenty-one creek crossings, beautiful scenery, a narrow canyon, and an outlaw hideout.  Look for climbers on the Totem Pole spire.
Above: View from Castleton Gateway Road
Further south off Highway 128 to the east is Castleton Road.  The Rock Creek Campground is at the junction of Castleton Gateway Road and the La Salle Mountain Loop Road.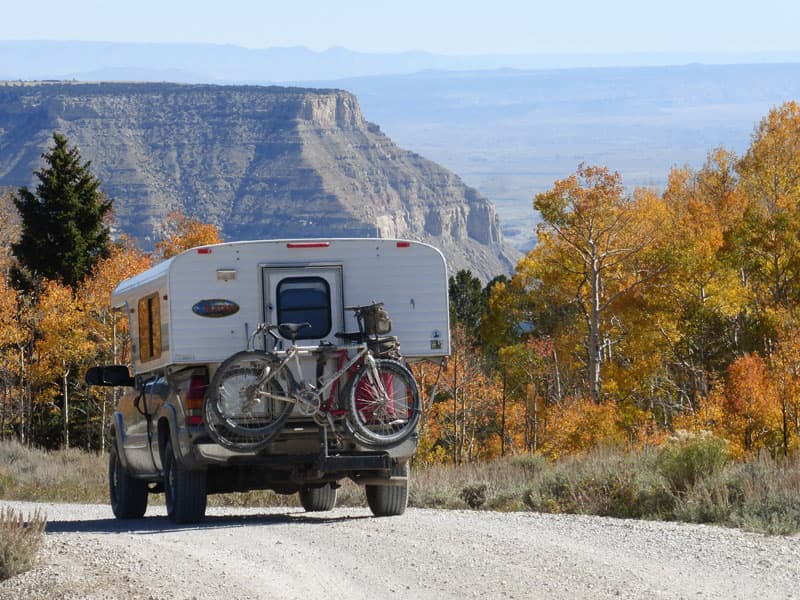 This road takes you up into the La Salle Mountains and returns to Highway 191 south of Moab.  If you are really adventurous you can do a loop on Castleton Gateway Road, pass the Fisher Point Overlook to the Hidden Canyon Road, and to Onion Creek Road.
Above: View from their campsite in Monti La Sal National Forest
When you are in the Monti La Salle National Forest you can camp almost anywhere.   The red rock formations in Castleton Valley are amazing.  In the fall, the cottonwoods on all these roads are spectacular.
On the east side of the town of Moab is Sand Flats Recreation Area.  Take Sand Flats road east toward Juniper Campground.  There are lots of individual campsites along the road, but this is a popular off-road playground.  East of Juniper Campground the scenery gets really interesting.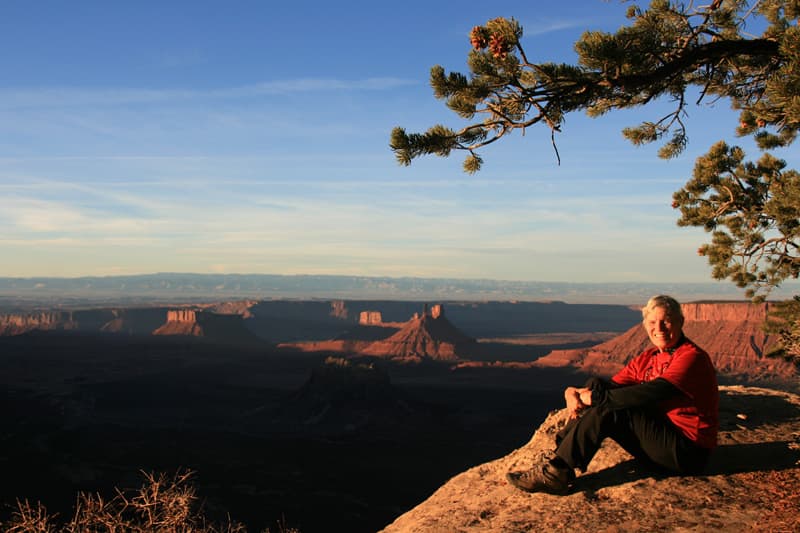 Above: Castle Canyon Overlook with views to Castle Valley
About ten miles in there is a turnoff for the Castle Canyon Overlook.  At the overlook are a few campsites with expansive views down to the Castle Valley.  You can back track or continue on this road which travels southeast to meet a county road that heads back to Moab.
From Moab, take Highway 191 and turn west onto Potash Road.  Follow this along the banks of the Colorado River to Long Canyon Road which climbs about 2,000 feet to the top.  There is no camping in the canyon, but plenty of spots at the top with glorious views to the east of the 12,000' Monti La Salles.  The Long Canyon Road eventually runs into Highway 313 which takes you to Canyonlands Island in the Sky, Dead Horse Point State Park, and back to Highway 191.
Above: The views along Highway 128 near Moab
Fisher Towers is right off Highway 128.  It's easy to get in with any car, but it can be crowded.  It's a first come, first serve campground.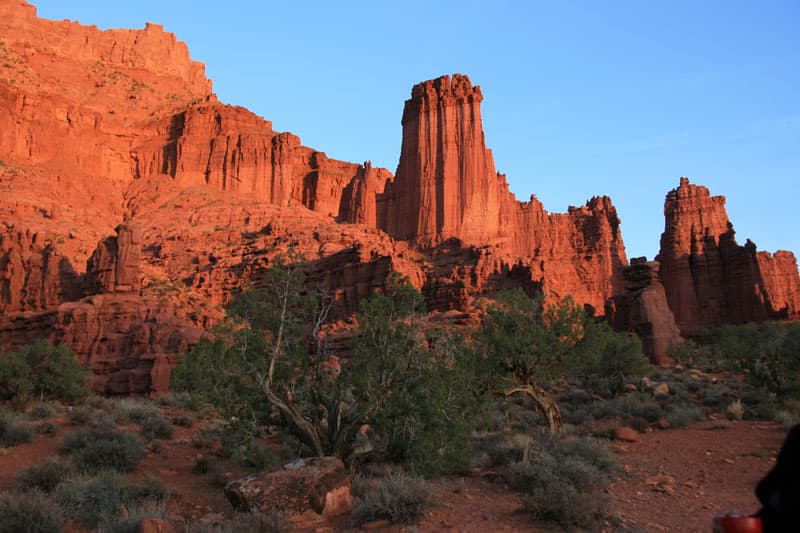 It's one of my favorite campgrounds with spectacular sunsets on the towers.
We might stay a couple of days at the Fisher Towers campground, using it as our base camp, and do hikes around Moab.  The four and a half mile hike into the Fisher Towers is one of my favorites.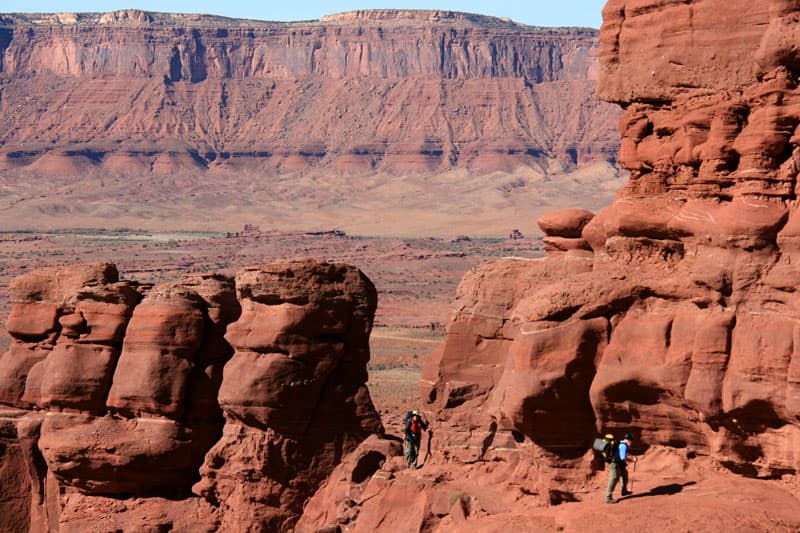 It's an adventure to drive these roads, and you have such a sense of accomplishment after you get through the tough parts.  If your rig can handle it, this area is highly recommended.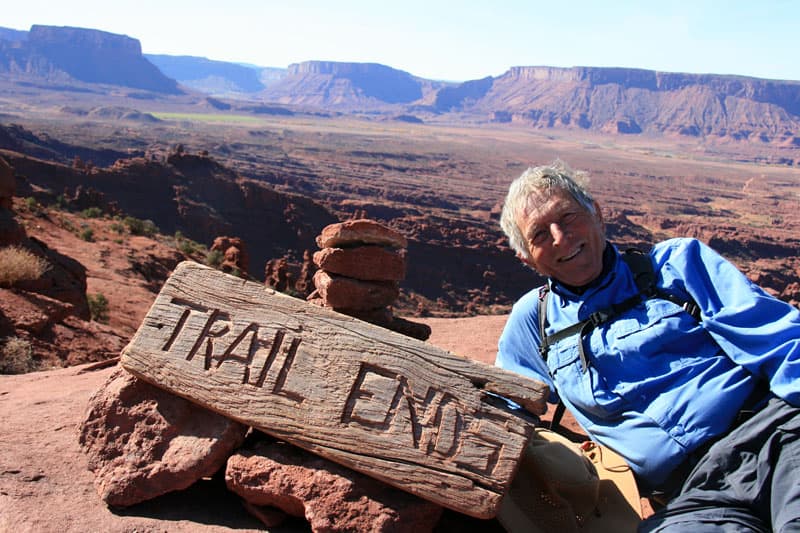 You can read more about Maggie and Don's adventures in their article called, "130,000 Miles In An Alaskan Camper".