The MacPhersons have spent years in search of off-road and off-the-grid locations far from the reaches of civilization.  In 2002 they bought their first truck camper, an Alaskan Camper.  Their pictures alone will completely blow your mind.

Some people say they want to get away from it all, and actually mean it.  They want to escape the daily grind, and journey beyond the strain of civilization.  No room service required.  No tourist traps wanted.  These individuals crave only solitude, and the solace of unspoiled nature.
Unfortunately, it can be quite difficult to find opportunities where you can get beyond the noise, light, and infrastructure of the human race.  This is especially true if you require public access.  Wealthy movie stars and industry tycoons can buy a few thousand acres in Montana, or a private island in the Caribbean, but that doesn't help the rest of us.
Enter the Bureau of Land Management, US Forest Service, National Park Service, Bureau of Reclamation, Fish and Wildlife Service, and state parks.  These government institutions hold in trust public gateways to what America was like before it was settled. These public lands provide the chance to be off-road, off-the-grid, and off-civilization.
Does that idea thrill you, or terrify you?  Speaking for ourselves, it's a little of both.  Thankfully, there are brave and adventurous spirits among us ready to share their experience and advice on how to best approach public lands.
During their twenty-five years together, Maggie and Donald MacPherson have traversed the continent seeking off-civilization locations, carefully journaling and photographing their expeditions.  Their stories and photography are sure to wow and inspire you.  Even better, their public land insights and tips will help you tread lightly in their tire tracks, and get away from it all.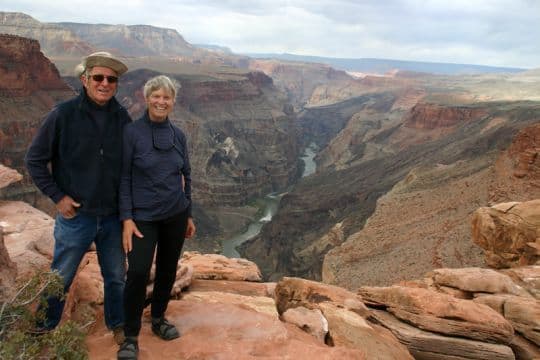 Above: Maggie and Donald at Toroweap on the North Rim of the Grand Canyon, Arizona, Lava Falls is 2000 feet below
TCM: Tell us how you got into truck camping.  Were you tenters first?
Donald: Before going truck camping, I went camping in junior high school with a friend and his father.  That was really it.
Maggie: I grew up in a camping family traveling around the country in small European cars with racks on the top.  We'd camp in Army surplus pup tents with other Army surplus gear.  I think we stayed in a motel once when our car broke down somewhere in South Dakota on the way to the Bighorn Mountains from Washington D.C.
There were two events that led to us to getting a truck camper.  We went on a tenting trip in our Pathfinder to the Bitteroot Mountains in Idaho and encountered a storm that went on for at least six hours.  When we got out of our tent, the cooler, our Coleman stove, and everything we'd taken out of our SUV was covered in mud.  It took us three hours to clean everything up to put back in our Pathfinder.
On the end of that trip, in we were in Yosemite at Tioga Pass, and all of a sudden it rained.  The couple next to us had a truck camper.  They just left the picnic table and went into their camper.  There we were again in the rain.  I said, "That's what I want!".  That's when we started looking for our camper.
My parents had a VW camper in 1973.  When my kids were little we went camping with them, but we always took a second car and tents.  When they retired, they traveled all over the western United States and brought back pictures and stories of wonderful places to camp.
When they passed away in 1997 and 2002, Donald and I used some of the inheritance from the sale of their home to buy our Alaskan Camper.  It's always ready to go.  When the bugs are biting or rain comes, we can go into our own camper.
Above: Snow on Saline Valley Road over South Pass and camping in Saline Valley, California – click to enlarge
TCM: What led you to choose an Alaskan Camper?
Maggie: I was a wilderness guide and a trekking guide, and always went to out of the way places.  I wanted to continue to do that but, as I got older, comfort was of interest.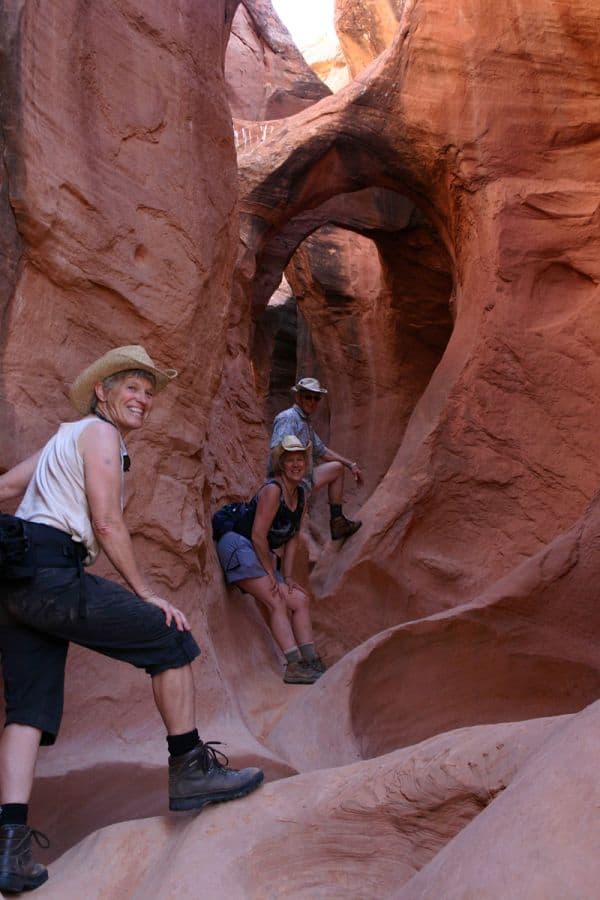 Above: Exploring the slot canyons of Utah
I spent a lot of time leading trips in Utah, Nevada, California, and even into Patagonia, New Zealand, and the Himalayas.  I was close to retirement and wanted to explore the United States.  Because of our specific adventuring of out of the way places, we needed to have a vehicle that could get us to these places.
The total length of our rig is 20'3″, which makes it very maneuverable.  The 2003 GMC 2500 carries the 2,000 pound Alaska Camper load well, and four-wheel drive allows us to get into the back country on most roads.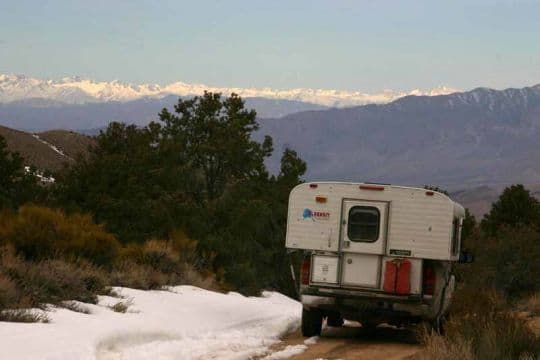 Above: Exploring Mining Roads Near State Line Mine – click to enlarge
The fact that the Alaskan Camper lowered for travel made it much safer for driving old mining roads.  We also have less problems with wind resistance.  When the camper is down, it is only seventeen inches above the truck cab.  The camper rests on the tailgate adding only fourteen inches to the length of the truck.
We were interested in the hard side Alaskan Camper because we intended to spend lots of time in bear country.  For example, we wanted to take a long trip to Alaska and preferred the solid-wall pop-up Alaskan Camper to a soft-wall pop-up.
Above: Their Alaskan in Alaska – click to enlarge
Since December of 2002, we have driven 130,000 miles with our Alaskan truck camper.  Our rig has been on dirt roads eighty percent of the time.  We needed something that was solidly built so that the cabinets didn't fall off the walls as we bounced over rugged backroads.  We've only had three repairs in 130,000 miles, so it was the right choice!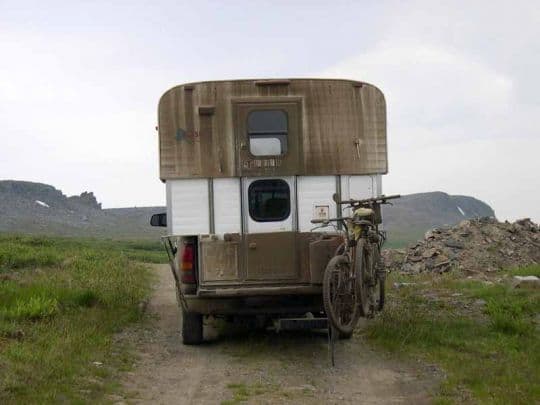 Above: North of Keno from the Silver Trail, Yukon – click to enlarge
TCM: Have you made any modifications to your rig?
Donald: I added an extra battery in the camper.  The two batteries are between the truck wall and the camper wall near the back of the truck bed.  When we just used the truck battery, we had only one night of power.  Now that we have two batteries, we don't drain the truck while we're out backpacking and hiking for a couple of days.  Someday we hope to add a solar panel on top of the camper.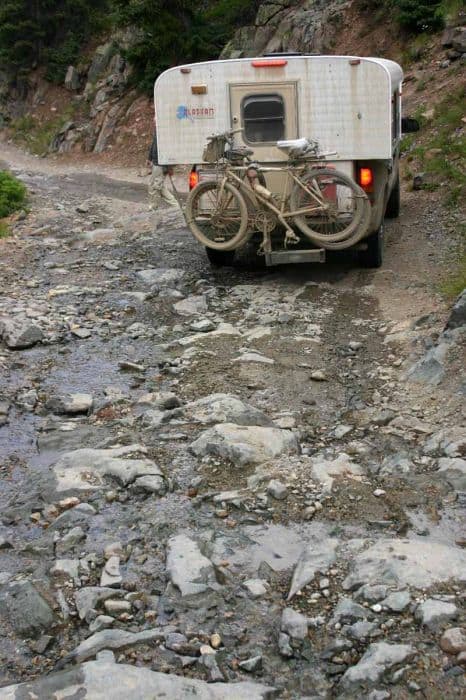 Above: The Alpine Loop on the Way to Ouray, Colorado
TCM: Is hiking the main focus of your adventures?
Maggie: We explore!  I love getting into the backcountry.  Age and a bad back made carrying a pack hard and curtailed our backpacking, but not our love of exploration and adventure.
We have the DeLorme Atlases for most of the western United States and backroad maps of Canada.  We love getting as far away from civilization as possible.  We try to avoid interstates and major roads whenever we can.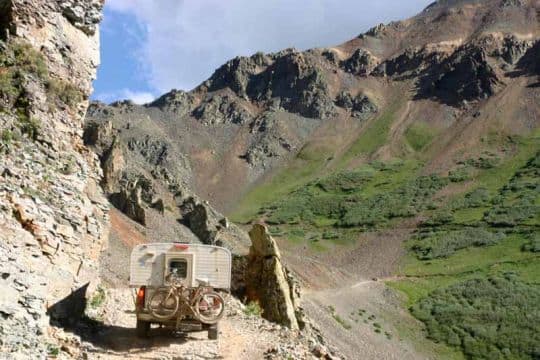 Above: Orphir Pass Road, Colorado – click to enlarge
On our trips we love hiking, exploring national parks, state parks, historical monuments, old mines, old mining towns, and national forests.  We search for wildflowers, rocks and birds, and identify them.  We can sleep wherever it's legal, far from civilization.  We can camp in any kind of weather, any time of the year, in total comfort.
Above: Camping at Toroweap on the North side of the Grand Canyon, Arizona – click to enlarge
TCM: Do you mostly dry camp?
Maggie: We rarely use hook-ups in campgrounds, even if they are available.  The camper holds twenty-seven gallons of water, but we carry both a five and ten gallon plastic container with extra water if we are in the desert.  We fill up with water whenever we can.  We also carry a five gallon gas can and stay off-the-grid until we need more fuel.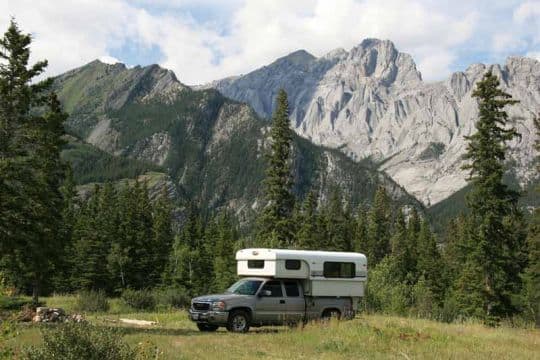 Above: Near Saskatchuwan Crossing, Alberta – click to enlarge
We always enjoy dry camping.  In Big Bend we stayed in primitive camps in the park.  We did the same in Organ Pipe, the Mohave, the Waterpocket Fold, Northern Arizona on the way to Toroweap on the North side of the Grand Canyon, and many Canyonlands sites.
Above: Maggie and her 16 year old grandson, Leo, on the top of the Angel's Landing Trail in Zion National Park, Utah – click to enlarge
TCM: Does anyone travel with you?
Maggie: Donald and I say our best times together are in our "Gypsy Wagon".  We have taken our grandchildren on short trips and have rendezvoused with a few friends that also have rigs that can go into the backcountry.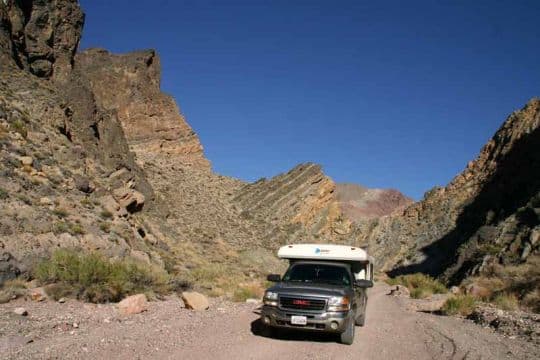 Above: Titus Canyon in Death Valley, California – click to enlarge
TCM: How did your camper get the name, Gypsy Wagon?
Maggie: Gypsies were nomadic people who traveled throughout the old world in living wagons in the early 1800s.   A company in England developed a wagon that became known in gypsy circles and was highly praised for its design, beauty and ability to go off road over rough ground.  Doesn't that describe our Alaskan Camper?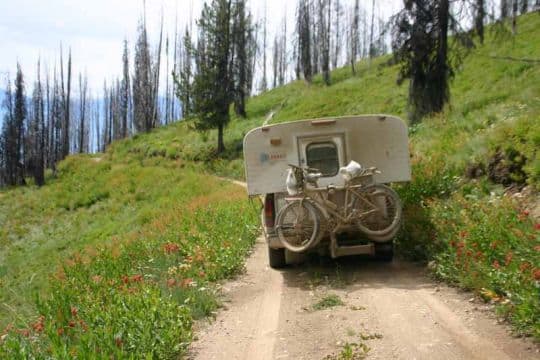 Above: Lolo Motorway in Idaho – click to enlarge
TCM: Your adventures sound amazing!  For readers, including us, who are inspired by your adventurous spirit and photography, where would you recommend going in a truck camper?
Maggie: We love the backroads of Utah, Nevada, Idaho, Oregon, Washington, Wyoming, Montana Alaska, and western Canada.
Above left: Below Bear Creek Summit in Humbolt National Forest and right: Along the Road to Kingston, Nevada – click to enlarge
Right after we bought our Alaskan Camper, we drove the entire lower United States.  Our route went from California south to Florida, up to Maine, and back through the Midwest and Colorado.  We have traveled the White Rim Trail in Canyonlands National Park twice.  We like the camping experiences in The West the best, but we had a great trip around Lake Superior.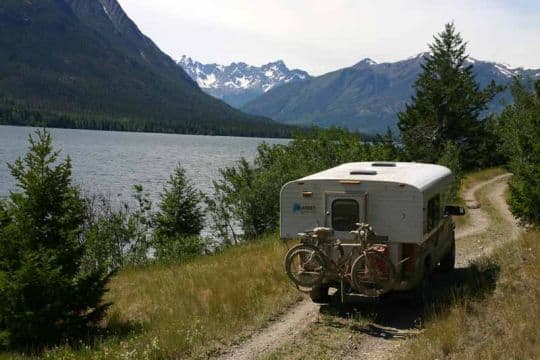 Above: Tshniah Lake, British Columbia – click to enlarge
Above left: Vernon Lake North of Gold River, Vancouver Island and right: San Josef Recreation Site, Vancouver Island – click to enlarge
On our trips we often include a short backpack or a kayaking trip.  We have taken our rig on the Alaska and Canadian ferries to Vancouver Island, Bella Coola, and Haida Gwaii (Queen Charlotte Island) on the ferry.  Our rig has given us access to beautiful, uncrowded, and wild country.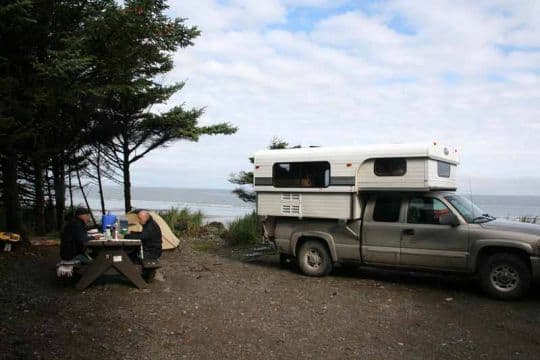 Above: Haida Gwaii, Queen Charlotte Island, British Columbia – click to enlarge
We will continue our backroad adventures as long we can.  We carry a SPOT satellite messenger with us that sends a message each night to our kids and any friends who are interested in our travels. Since we often do not have an itinerary, this lets our kids know where we are.  If they don't hear from us in a few days, they know where to start looking for us.  The SPOT also has a SOS button that goes to the nearest emergency service.  I hope we never have to use it, but it makes our kids and friends more secure.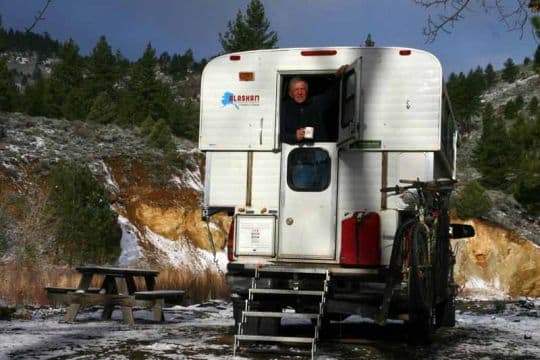 Above: Donald hanging out in the camper, near Markleeville, California – click to enlarge
TCM: We have used a SPOT.  They're a fantastic safety product for folks who travel beyond cell range.  Would you be interested in sharing more off-road and off-the-grid locations with our readers?  After twelve years and 130,000 miles, you must have a treasure trove of wonderful suggestions.
Maggie: I have kept a journal since we began our adventures, so there are many stories.  It's all written down.  I'll send in more stories and pictures to share with your readers.
Rig Information
Truck: 2003 GMC Sierra 2500, Extended Cab, Short Bed, Single Rear Wheel, 4×4, Gasoline
Camper: 2003 Alaskan Camper
Tie-Downs and Turnbuckles: Turnbuckle Brand
Suspension: N/A
Gear: Bike rack sometimes
We will follow up with Maggie and Donald for a new TCM series titled, "Off-Road Tips and Pics".  Look for the MacPherson's articles on Capitol Reef, Glen Canyon Recreational Area, and Moab coming soon.