The MacPhersons have spent years in search of off-road and off-the-grid locations far from the reaches of civilization.  In 2002 they bought their first truck camper, an Alaskan Camper.  Their pictures alone will completely blow your mind.

Some people say they want to get away from it all, and actually mean it.  They want to escape the daily grind, and journey beyond the strain of civilization.  No room service required.  No tourist traps wanted.  These individuals crave only solitude, and the solace of unspoiled nature.
Unfortunately, it can be quite difficult to find opportunities where you can get beyond the noise, light, and infrastructure of the human race.  This is especially true if you require public access.  Wealthy movie stars and industry tycoons can buy a few thousand acres in Montana, or a private island in the Caribbean, but that doesn't help the rest of us.
Enter the Bureau of Land Management, US Forest Service, National Park Service, Bureau of Reclamation, Fish and Wildlife Service, and state parks.  These government institutions hold in trust public gateways to what America was like before it was settled. These public lands provide the chance to be off-road, off-the-grid, and off-civilization.
Does that idea thrill you, or terrify you?  Speaking for ourselves, it's a little of both.  Thankfully, there are brave and adventurous spirits among us ready to share their experience and advice on how to best approach public lands.
During their twenty-five years together, Maggie and Donald MacPherson have traversed the continent seeking off-civilization locations, carefully journaling and photographing their expeditions.  Their stories and photography are sure to wow and inspire you.  Even better, their public land insights and tips will help you tread lightly in their tire tracks, and get away from it all.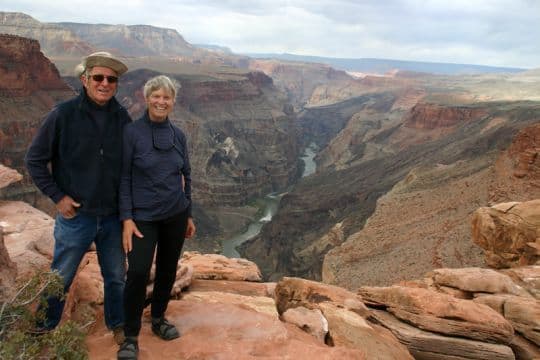 Above: Maggie and Donald at Toroweap on the North Rim of the Grand Canyon, Arizona, Lava Falls is 2000 feet below
TCM: Tell us how you got into truck camping.  Were you tenters first?
Donald: Before going truck camping, I went camping in junior high school with a friend and his father.  That was really it.
Maggie: I grew up in a camping family traveling around the country in small European cars with racks on the top.  We'd camp in Army surplus pup tents with other Army surplus gear.  I think we stayed in a motel once when our car broke down somewhere in South Dakota on the way to the Bighorn Mountains from Washington D.C.
There were two events that led to us to getting a truck camper.  We went on a tenting trip in our Pathfinder to the Bitteroot Mountains in Idaho and encountered a storm that went on for at least six hours.  When we got out of our tent, the cooler, our Coleman stove, and everything we'd taken out of our SUV was covered in mud.  It took us three hours to clean everything up to put back in our Pathfinder.
On the end of that trip, in we were in Yosemite at Tioga Pass, and all of a sudden it rained.  The couple next to us had a truck camper.  They just left the picnic table and went into their camper.  There we were again in the rain.  I said, "That's what I want!".  That's when we started looking for our camper.
My parents had a VW camper in 1973.  When my kids were little we went camping with them, but we always took a second car and tents.  When they retired, they traveled all over the western United States and brought back pictures and stories of wonderful places to camp.
When they passed away in 1997 and 2002, Donald and I used some of the inheritance from the sale of their home to buy our Alaskan Camper.  It's always ready to go.  When the bugs are biting or rain comes, we can go into our own camper.
Above: Snow on Saline Valley Road over South Pass and camping in Saline Valley, California – click to enlarge
TCM: What led you to choose an Alaskan Camper?
Maggie: I was a wilderness guide and a trekking guide, and always went to out of the way places.  I wanted to continue to do that but, as I got older, comfort was of interest.