In his 2003 Ram 2500 and 1990 Hallmark LaVeta, Jim McCoy tackles the remote off-road nooks and crannies of southwest Utah, and darn near eats it on a most gnarly trail!  Bogus dude!

Back in December, we asked TCM readers about their "Most Excellent 2016 Adventure", leaving no doubt about our affinity for Bill, Ted, and Rufus.
For his report, Jim McCoy sent in a story that must be read (and seen) to fully comprehend.  Since his report was a bit longer than others, we decided to save it for a special moment in the future.  That day, my most excellent friends, is today.
Jim McCoy's Most Excellent Adventure
A big reason I love the slide-in camper concept is how it makes my 2003 Ram 2500 modular to set-up the way I need it for a particular trip.  I did two pretty rough trips using just a topper, set up as a camper.
But dudes!  I also had two "most excellent" bodacious slide-in camper trip adventures with my 1990 Hallmark LaVeta, on my 2003 Dodge Ram 2500.  It's so hard to choose which one to write about!
Since you are looking for ideas of places to add to a list of places to visit, maybe I can blur them into one.  Both trips were in the same greater area of southwest Utah.  It's my favorite area to explore.  I love to revisit and get into new corners, nooks, and crannies.
So here it goes!
From my home southwest of Denver in the foothills of the Rocky Mountains, it's a pretty easy trip over to Utah, Lake Powell, the Arizona Strip, Escalante, the Grand Staircase, Canyonlands, and Moab.
I planned two trips to the area to build off each other in further exploring "the back country", and finally making a bucket list item of getting to and finding "The Loneliest Geocache" in America.  This required an intense backpack trip in from a remote off-grid truck camper hide out.
After a bodacious visit and camp in Valley Of The Gods, Utah, I went to Overland Expo West in Arizona.  It was most awesome checking out all the cool rigs, gear, dudes, and dudettes there.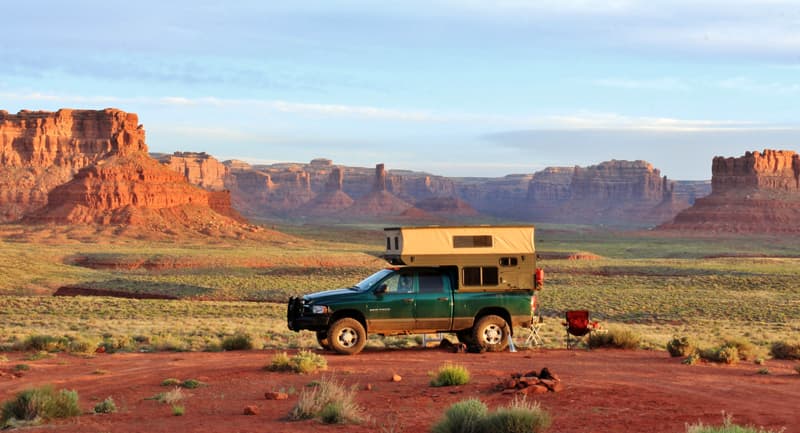 I explored the "Arizona Strip" along the north side of the Grand Canyon.  From the Arizona Strip, I departed the pavement for a 70 mile off-road jaunt to get to Escalante, Utah, crossing the Arizona/Utah state line in the back country.
I used the Vermilion Cliffs National Monument dirt road, and connected with the Cottonwood Canyon dirt road in Big Water, to get to the highway for Escalante.  Part of that route brought me through the beautiful Kodachrome Basin.  I used little spur roads to find most excellent boondock camps at night.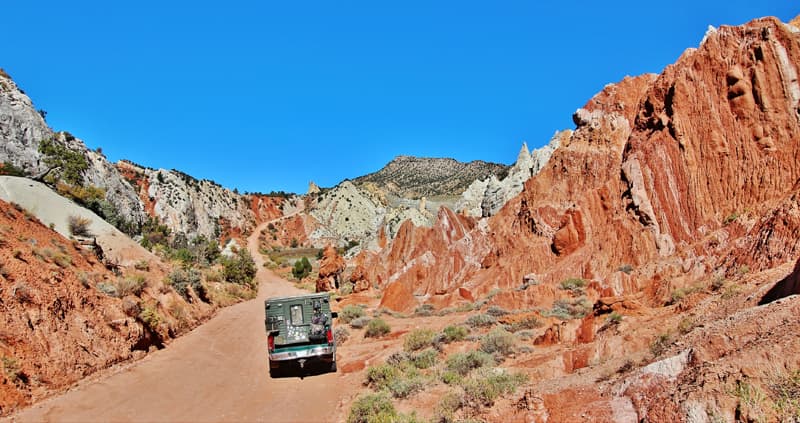 In Escalante, I had the need for some amenities to refresh myself and stayed at The Shooting Star Drive-In campground.  It has showers, internet, RV and tent sites, and a drive-in movie on the weekends.  I was there on a Saturday night and enjoyed a film.
From The Shooting Star, I supplied up in Escalante and headed down the Hole In The Rock Road, and into the Grand Staircase.  I got to a remote off-road spur to get into the foothills of the 50 Mile Bench Mountain so I could make base camp for my backpack trip to "The Loneliest Geocache".