Truck Camper Magazine readers report their best truck camping adventures and experiences from 2016.  Get out your 2017 bucket list and a pen.  You're going to need them.

One of the most important things we learned during our first cross-country truck camping adventure was that there was no way to see everything.  After six months on the road in the United States and Canada, we barely scratched the surface.
This was initially quite disappointing as we thought the trip would be a once in a lifetime experience.  Now, several cross-country trips later, we understand that not being able to see everything is part of the endless allure of truck camping.
Reading through the 2016 "Best Truck Camping" reports, we are reminded that we could go on another six-month cross-country trip and – once again – see new things, experience new adventures, and meet more amazing new people.  In fact, we may just do that.
Plans?  We don't need no stinkin' plans!
Reservations?  We don't need no stinkin' reservations!
Load up the rig.  Check at the bucket list.  And go.
Here are the most excellent truck camping experiences of 2016: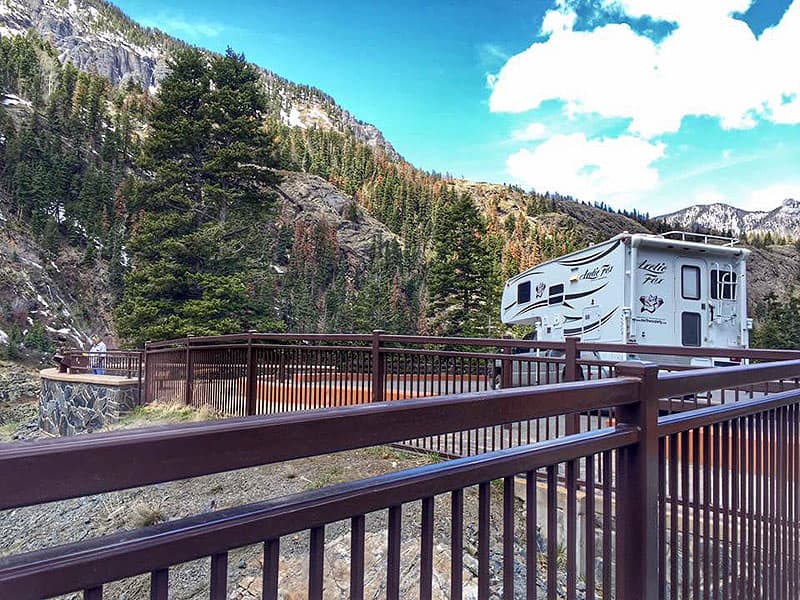 Above: A scenic spot on passes to Ouray, Colorado
"My bestie, Leslie, and I took our 1st annual Thelma and Louise truck camper trip.  We left Arizona on April 22nd and drove to Durango, Colorado.
We had booked a site at the United Campground of Durango.  Here's a quote from our Thelma and Louise event page on Facebook, "Durango, Colorado.  We are here!  Love our campground.  On the Animas River with the historical Durango Silverton train/railroad in front of us.  Love the looks of Durango.  Beautiful all around us."
We saw the sights of Durango and, on April 24th, drove through Engineer Mountain Pass to Silverton.  We had breakfast and moved on through Red Mountain Pass and stopped at Bear Creek Falls for great pictures.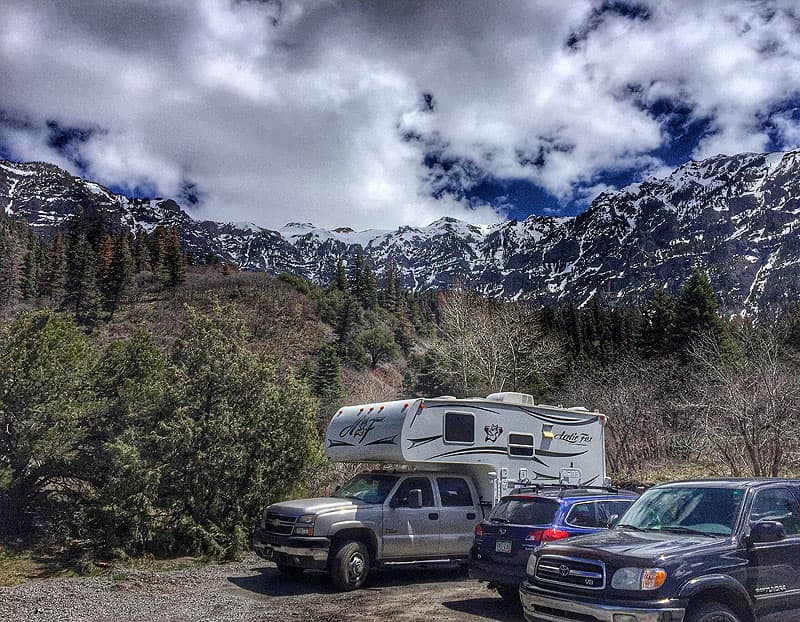 Above: Ouray mountains, Colorado
We arrived in Ouray and parked at the Ouray RV Park and Cabins on the scenic Uncompahgre River.  Taking off the truck camper from the dually was a good challenge for us, and putting it back on was even more challenging – but we did it!  We did the touristy thing in Ouray and its surrounding scenic locations, with a snowstorm arriving the night of the 25th.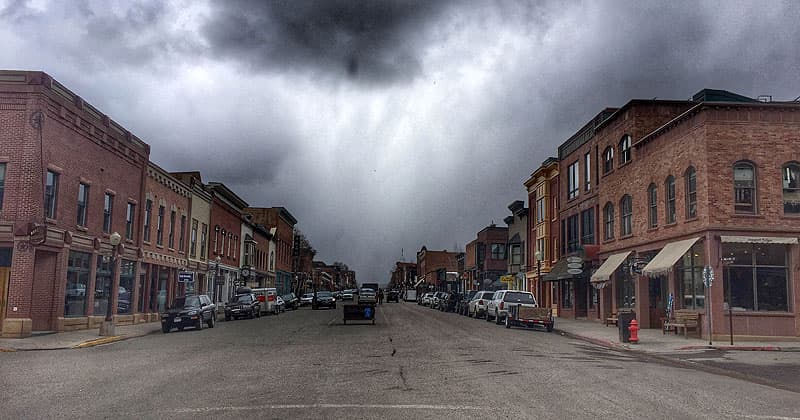 Above: A street in Telluride, Colorado
We left Ouray the 26th and visited Telluride, Colorado with it lightly snowing the entire visit.  We finished the day's driving through Monarch Crest at an elevation of 11,322-feet and Kenosha Pass at an elevation of 10,000-feet to arrive at the KOA campground in Montrose.
Above:  Parker, Colorado, parked at son's home
The next day we finished driving to arrive at our destination in Parker, Colorado (my son's house).  It was still snowing.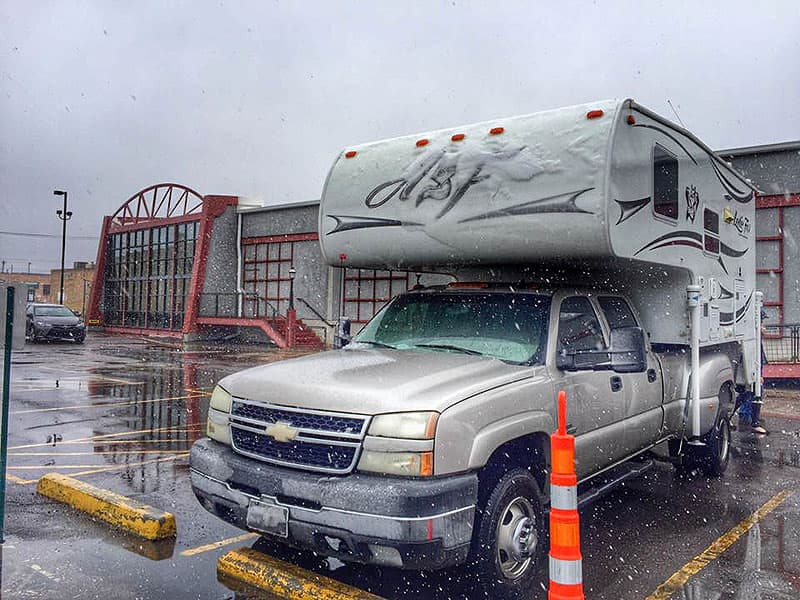 Above: Denver, Colorado, Forney Auto Museum visit
The truck camper configuration handled everything wonderfully through the many twisting passes and elevations.  We are planning our 2017 trip already!" – Janine Gordon, 2006 Chevy Silverado 3500, 2014 Arctic Fox 990
"Our favorite 2016 experience has to be our second trip to Alaska, the Yukon, and British Columbia.  Instead of driving round trip in 2014, we used the Alaska Marine Highway Ferry from Bellingham, Washington to Juneau and Haines.
All of our visits were different than our 2014 trip.  2014 involved some fishing and a few tour boat rides.  The only tour we went on last summer was a 90-minute flight-seeing over St. Elias National Park.
We missed every salmon run by four days, some early, some late, but we didn't miss too many museums.  Dawson City, Yukon had to be the high point." – Philip Tron, 2009 Chevy 3500, 2012 Lance 1050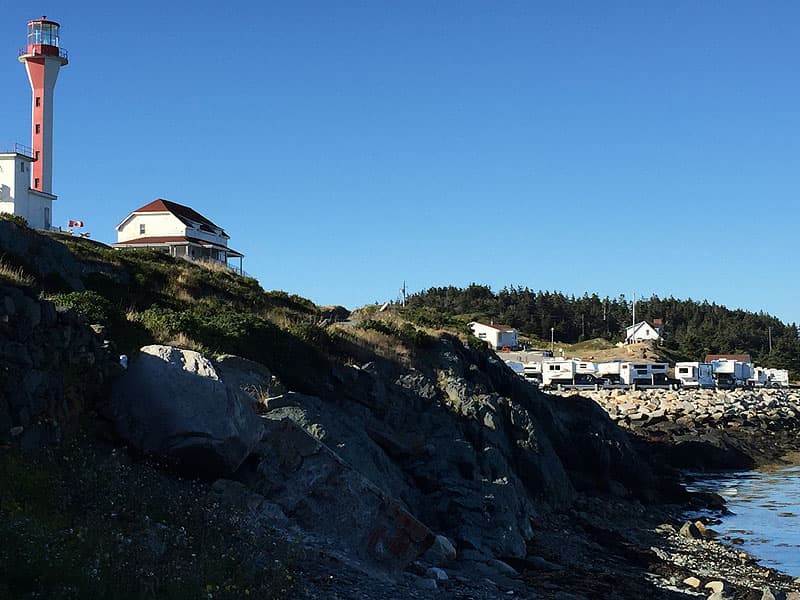 Above: Dry camping at the Cape Forchu Lighthouse
"We went on an awesome two week trip with a dozen truck camper friends through Nova Scotia.  That was the highlight of 2016.  We dry camped at lighthouses, beaches, and a zoo.  We visited Halifax, Lunenburg, and saw beautiful scenery.  We met such friendly people.  If you haven't been to Nova Scotia – go!" – Anne and Joe Brown, 2013 Ford F450, 2013 Chalet TS116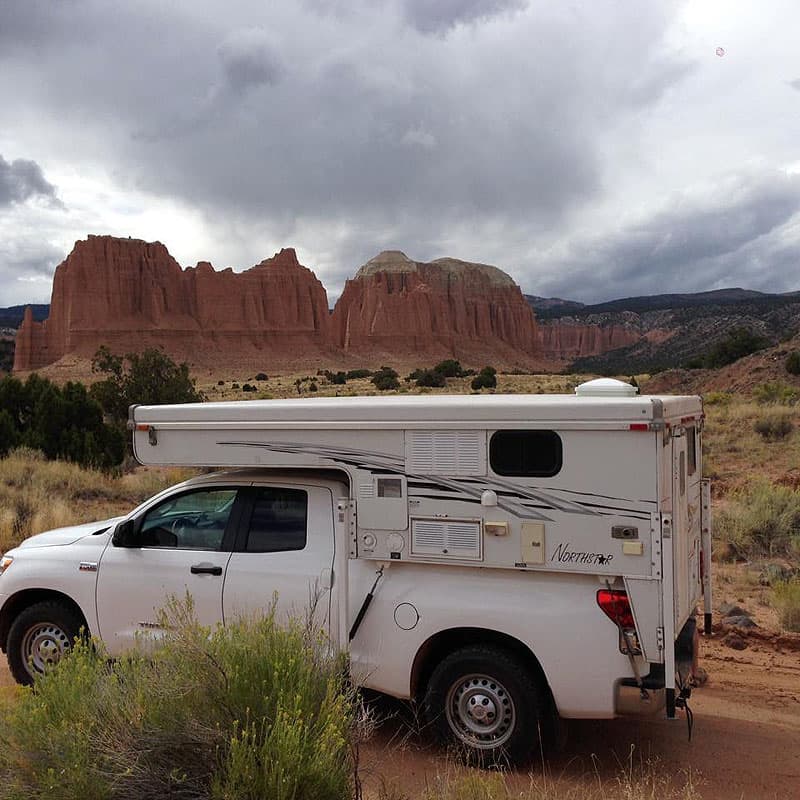 "We traveled to The Albuquerque Ballon Fiesta via the Ruby Mountains of Nevada, the National Parks of Utah, western Colorado, and New Mexico.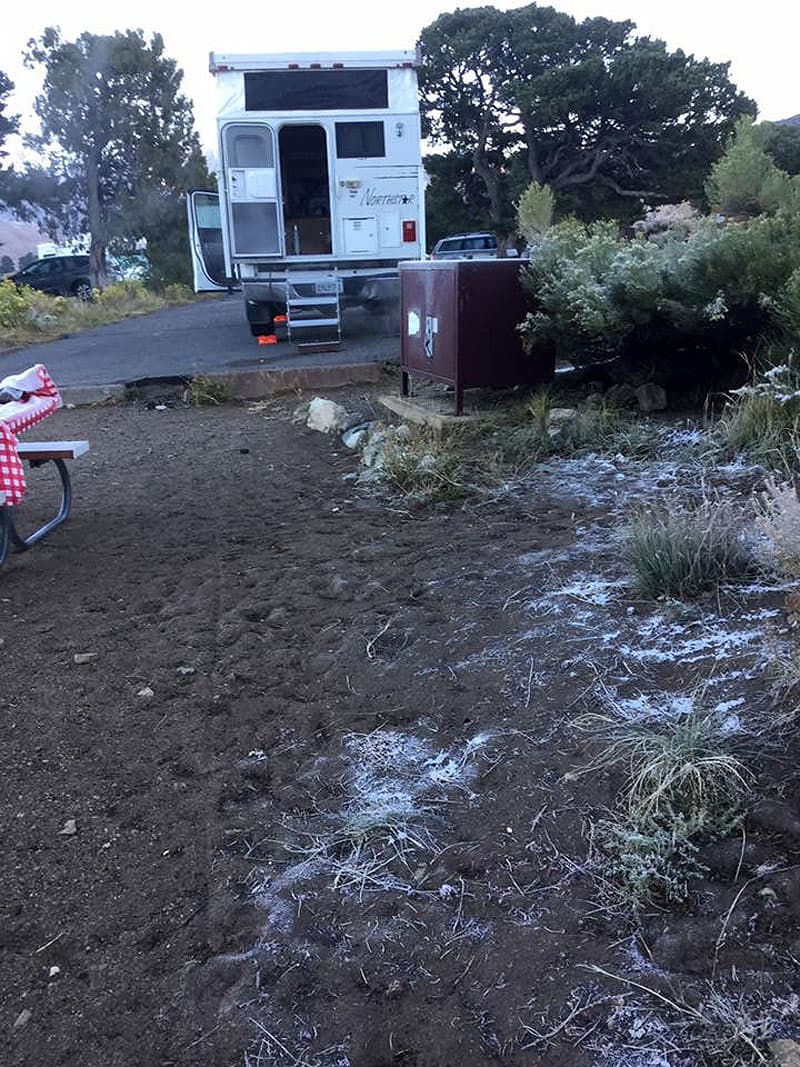 We camped both on and off-the-grid.  Highlights were camping in Capitol Reef National Park at Cathedral Valley during a thunderstorm, experiencing the first snowfall of the season at the Great Sand Dunes National Park, and the experience of camping at the Albuquerque Balloon Fiesta.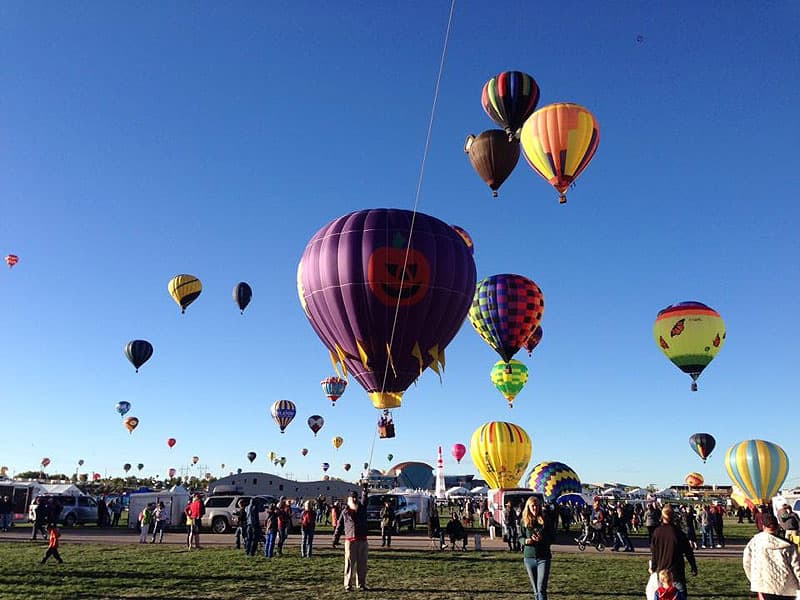 We covered 5,500 miles in thirty days!" – Carol Wegner, 2011 Toyota Tundra, 2010 Northstar TC650
"On our way returning to northeastern Arizona from Colorado, we stopped in New Mexico at Aztec National Monument and then Chaco Canyon Historic Site.
Both were amazing.  It's a trip back in time to see the civilization of the ancient people, and their accomplishments in building a city; 400 plus rooms, four story pueblo houses, and scientific accomplishments in solar science.  Chaco and Aztec are both fantastic places to visit historically and will amaze you!" – Ken and Peggy Reynolds, 2015 Ford F250, 2015 Adventurer 89RB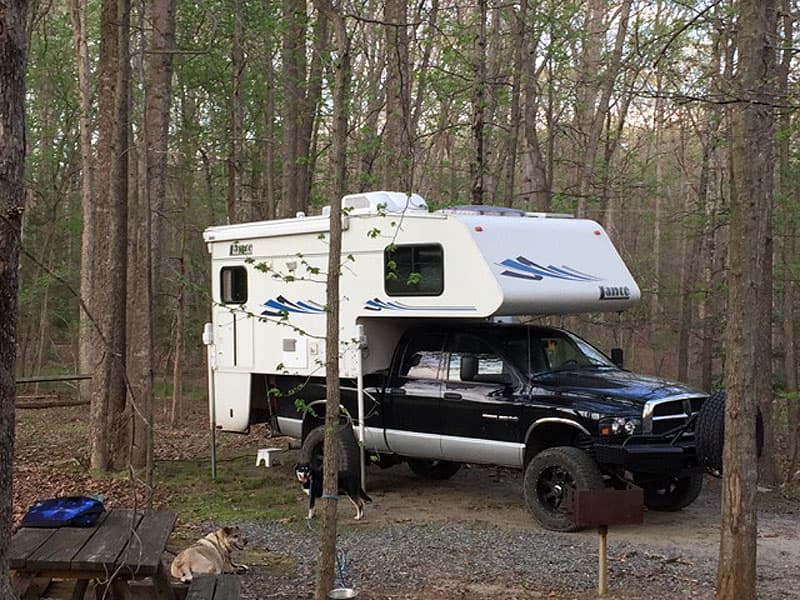 "My three dogs and I left Taos, New Mexico on March 8th, headed east on a bucket list trip to tour the Civil War battlefields.  The trip fulfilled a long dream of wandering the battlefields of the Overland Campaign, learning about our country's history and basically being a total history nerd.
I started in Gettysburg, then headed south to Antietam, Harper's Ferry, Manassas/Bull Run, Spotsylvania Courthouse, The Wilderness, Fredericksburg, Petersburg, Richmond, Appomattox, and the Blue Ridge Parkway south to Asheville, North Carolina, where I turned west again to hit Chickamauga, Chattanooga, and Shiloh.
Like any big camping trip, there were a hundred highlights, but one of my favorites was at Spotsylvania.  I stayed at a privately owned campground about 200 yards from where Stonewall Jackson had been shot.  I had asked for an isolated place so the dogs could run around without bothering anyone, so the woods were right there.  Just before sunset we went for a walk in the woods and found a dirt road and a historical marker that described the nighttime battle – a horror of confused, blind fighting where soldiers shot their own men in the dark and cannons indiscriminately fired, ripping through the forest.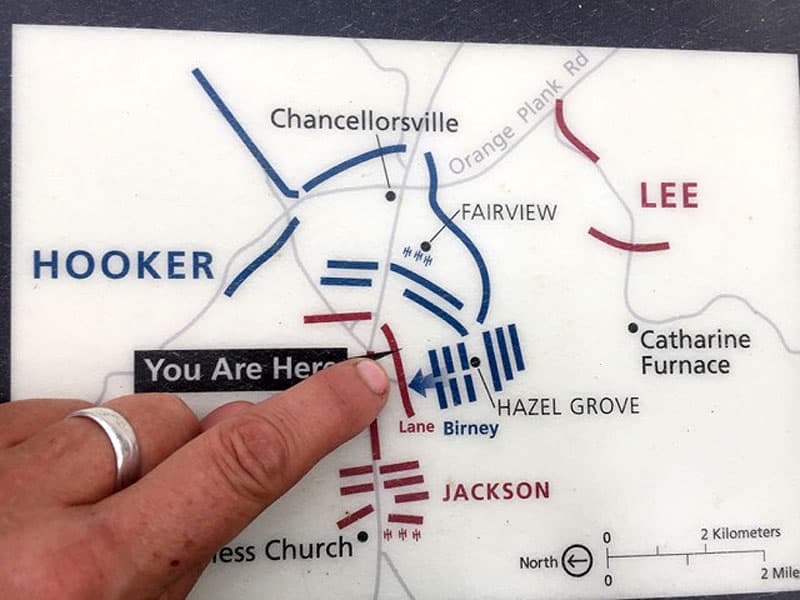 When I examined the map more closely, I realized I was parked right between the two lines of battle, where the fighting was heaviest!  We walked back as darkness fell, and I wondered if the ghosts of Union and Confederate dead were walking with us.  It sure felt like it!" – Karen House, 2005 Ram 2500, 2005 Lance 811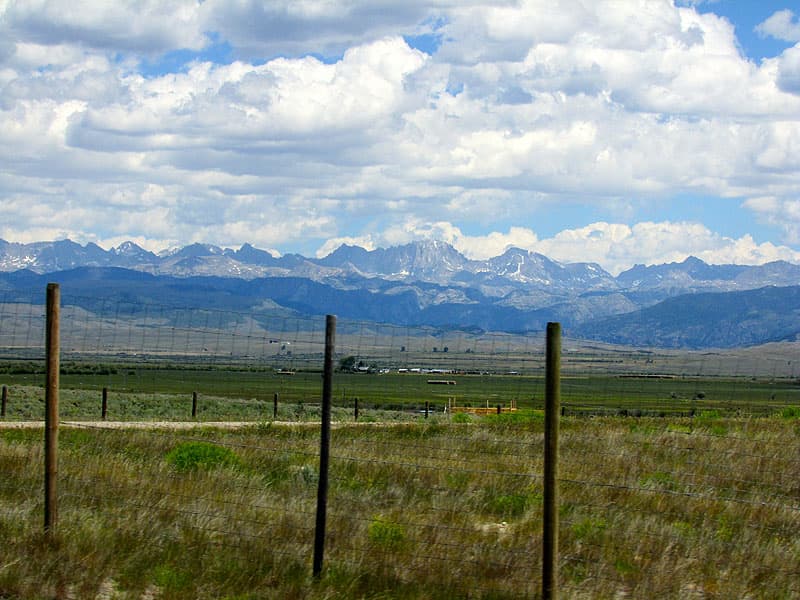 "It took over an hour of mild washboard road driving, but getting to Green River Lakes in the Wind River Range of Wyoming was worth it.
This is the headwater of the mighty Green River.  It's a very nice, spacious national forest campground with water and bathrooms.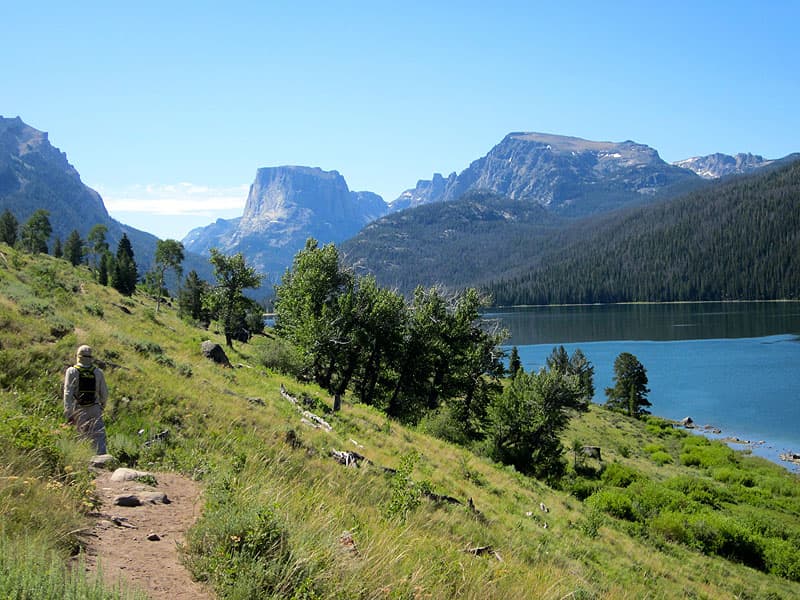 There are great views and hiking trails.  The Continental Divide Trail goes right by the lakes." – Connie Westbrook, 2003 Chevy 3500, 1997 Lance Squire 5000
"Since this was our first year ever having owned a truck camper, any trip for us was amazing.  Our first trip was to Baker Lake in Washington State to fish for Sockeye.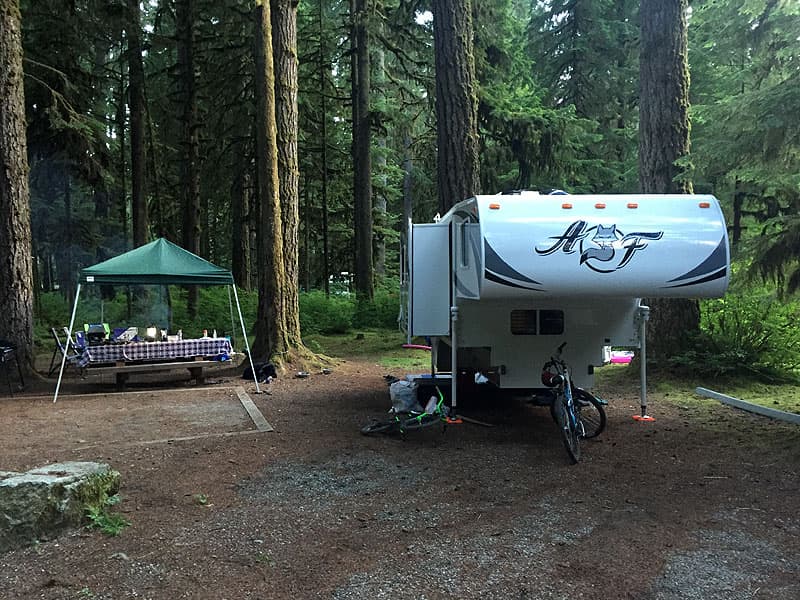 What we loved the most was taking the camper off of the truck at the campsite so we could use the truck.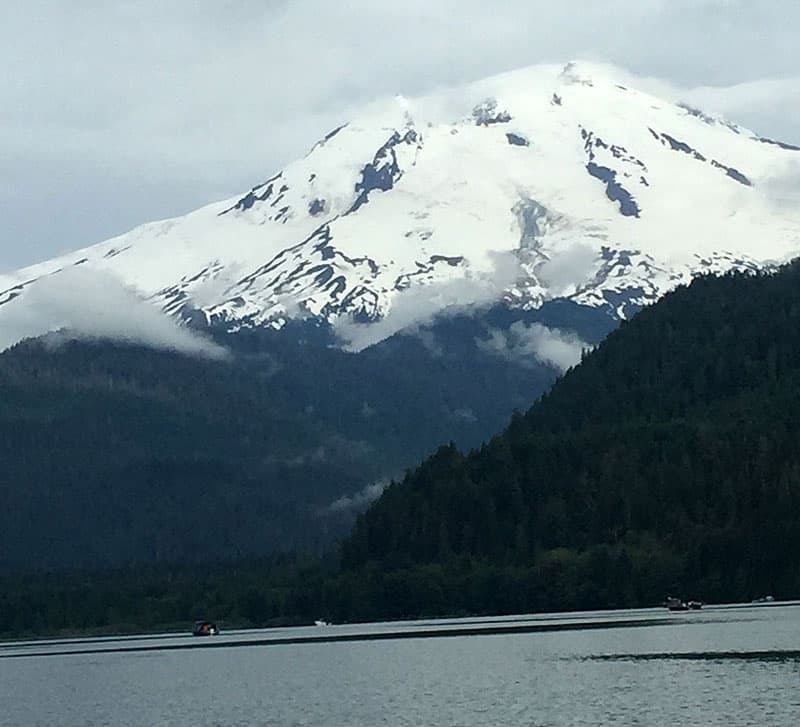 Dry camping at Swift Creek was not a problem.  Our 60-gallon fresh water tank and generator (rarely used) was the ticket.  It always seems to rain during at least one day up there, but there were no water drenched tents this year.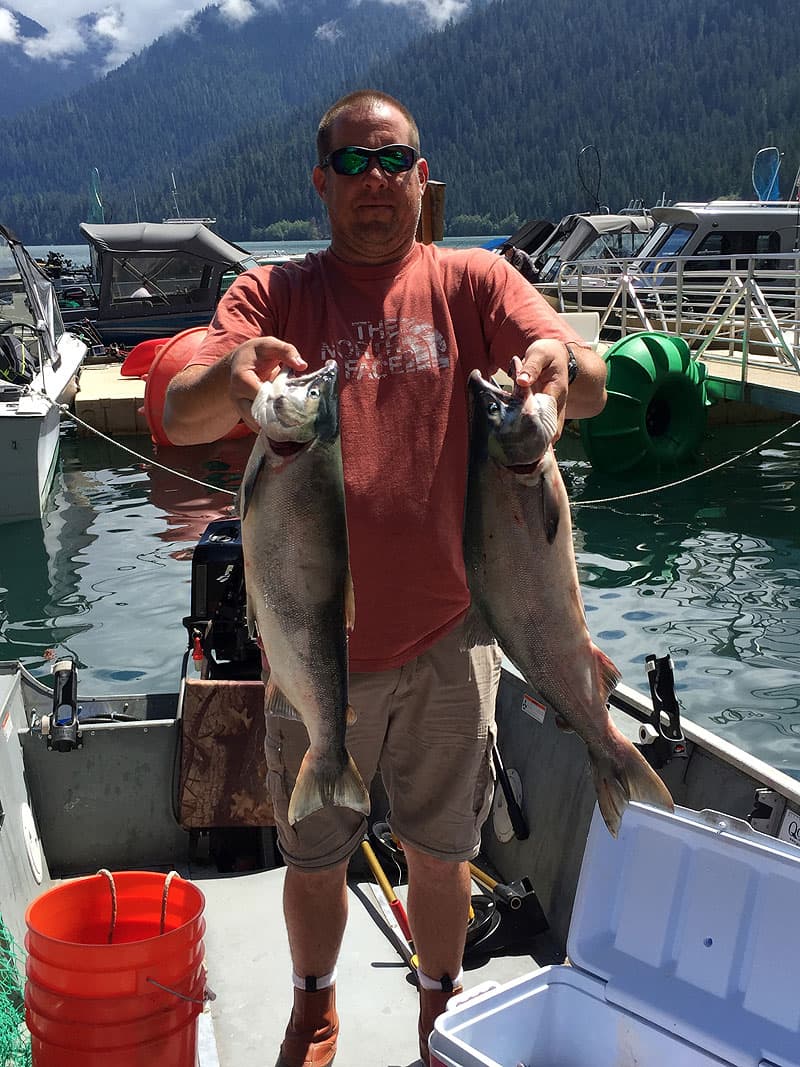 When the rain came we had eight of us hunkered in the Fox.  Having the camper off of the truck allowed for storing items under and around it as well.  Loving this purchase!" – Chris Burt, 1999 Ford F350, 2016 Arctic Fox 990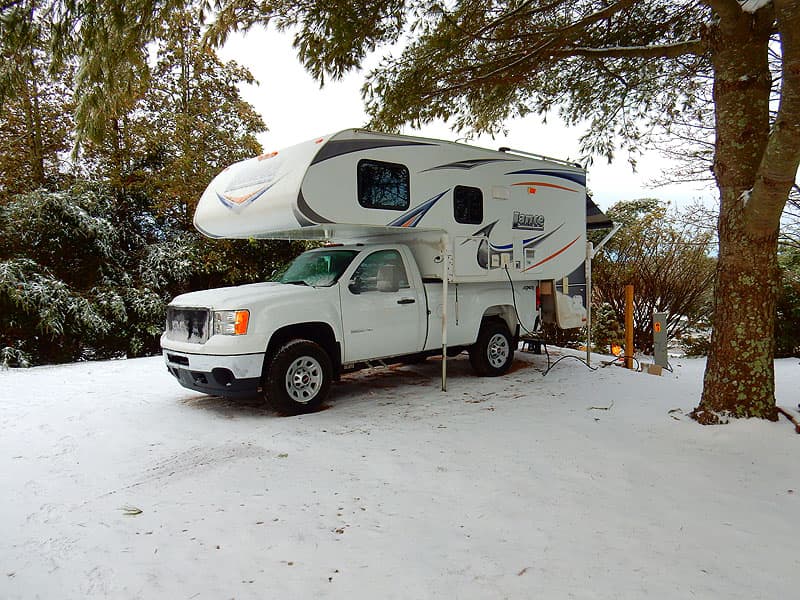 Above: Snow and frozen hose in Connecticut
"We headed south to Kentucky from New Hampshire a little too early in April.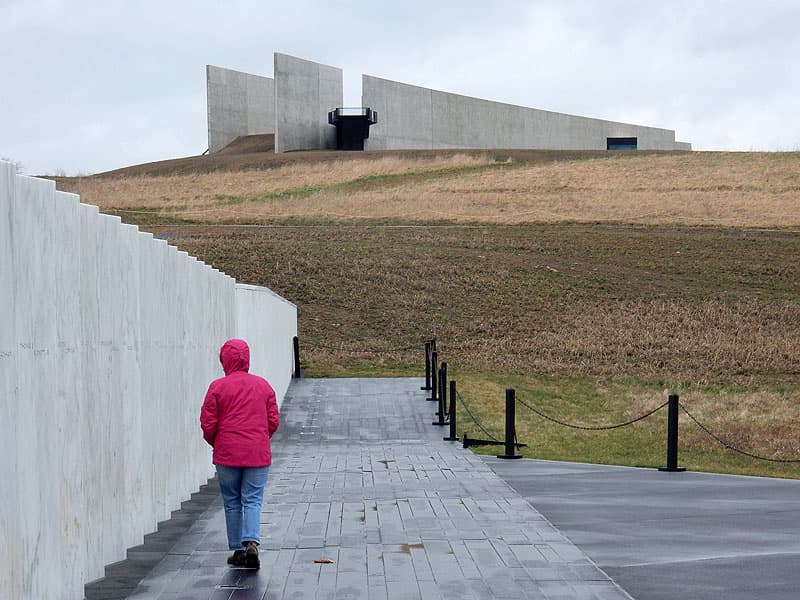 Above: Looking back at the flight path at the Flight 93 Memorial
A frozen water hose and snow didn't stop us from having fun through Pennsylvania to the Flight 93 Memorial.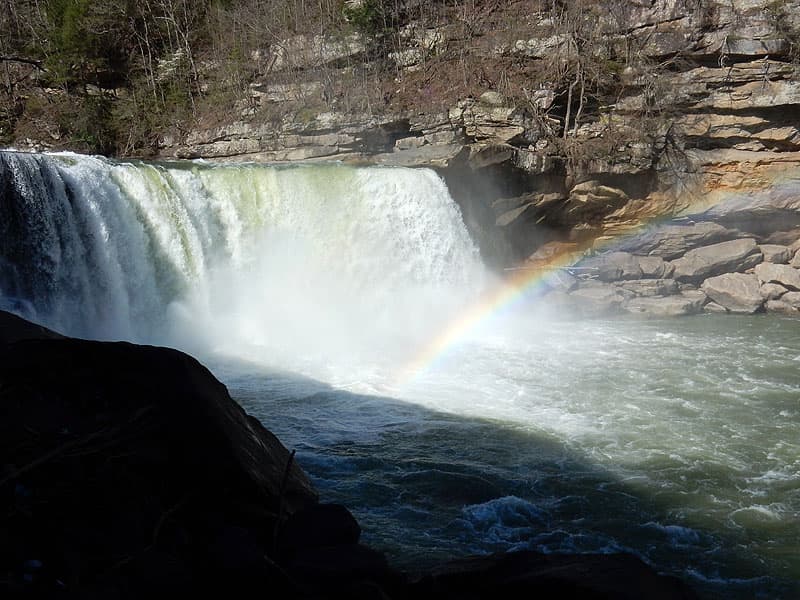 Above: Cumberland Falls
Then we went on to Cumberland Gap and the falls.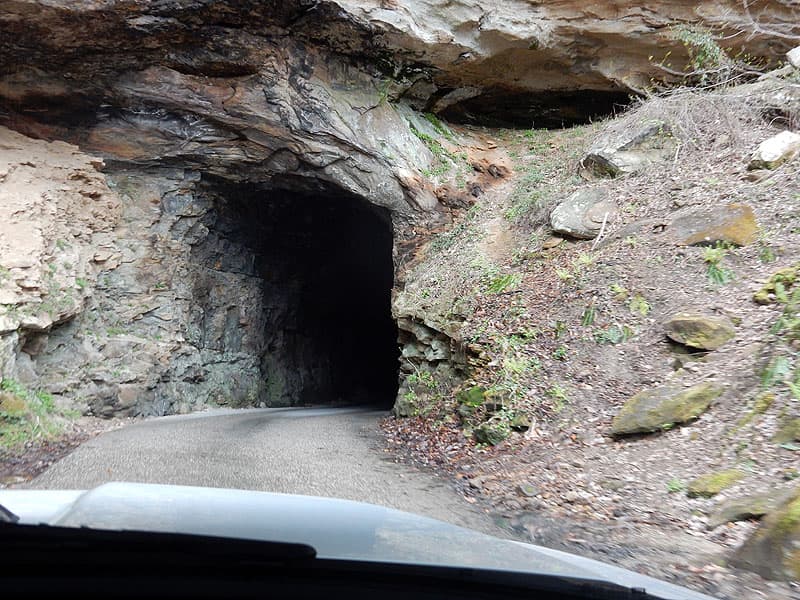 Above: Red River Gorge Tunnel
The biggest scare was in Red River Gorge going into a tunnel that looked a bit too small for the truck and camper.  Then, it was on to Louisville after a stop in Nashville to see the Grand Ole Opry for the first time.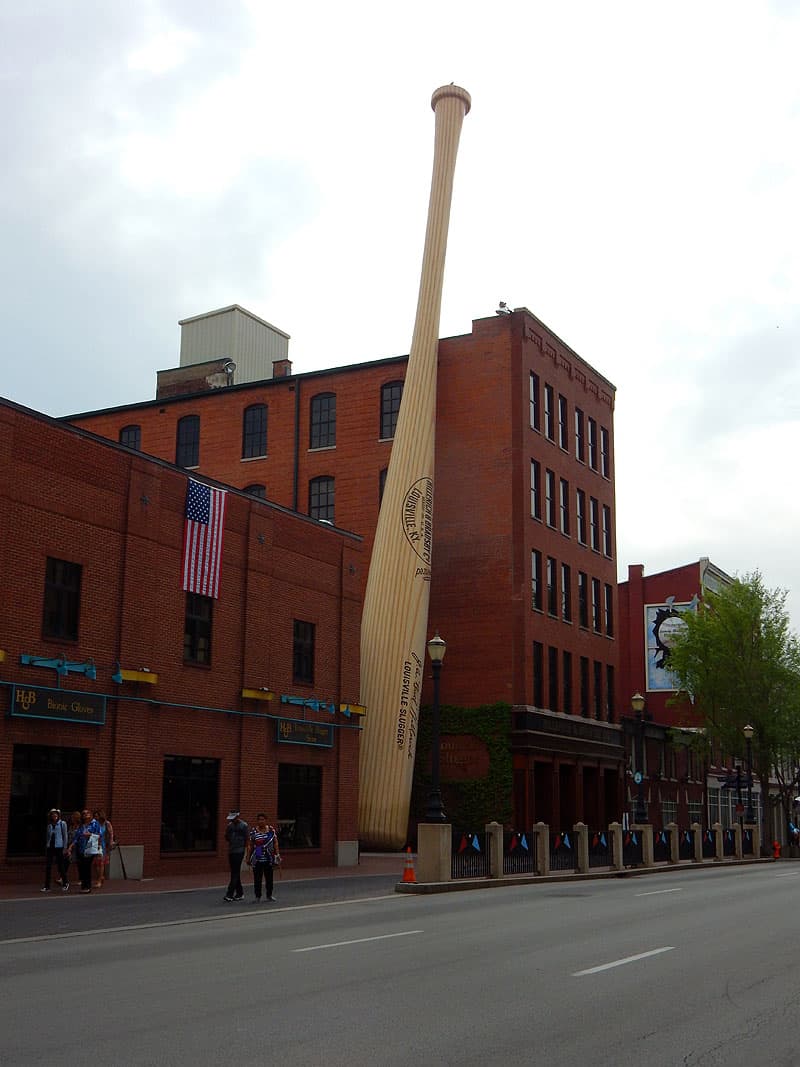 Above: Louisville Slugger Factory Museum
I loved the big bat at the Slugger Museum." – Bob and Nina Devantery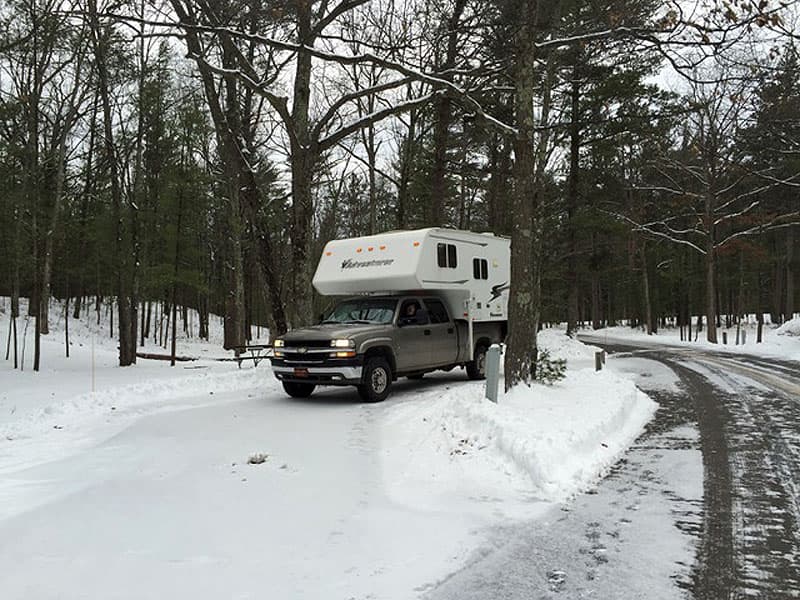 Above: Camped at Platte River New Years
"Our most favorite experience of 2016 was New Years Eve camping at Platte River Campground in Sleeping Bear National Lakeshore in the pinky of Michigan.  Then, we went on to Traverse City for a night at the state park.  On the third night we had all of Ludington State Park to ourselves.  If any readers have been there, you know it is one park that is never empty!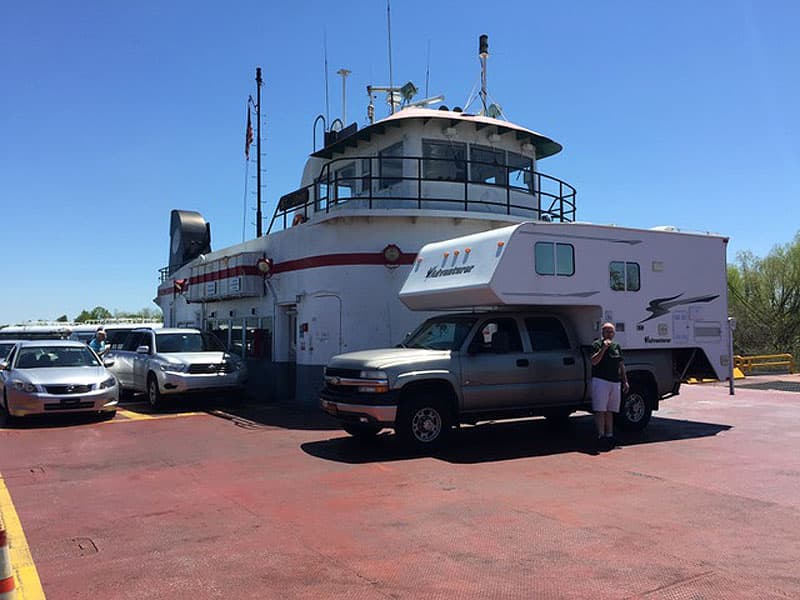 Honorable mention included a trip to NOLA (New Orleans) with our youngest son for his last spring break with us.  He went into the Armed Services after graduation and became a Marine in November – Ohh rah!
Above: Dad and daughter enjoying their Bourbon at Makers Mark
We spent many nights in Michigan, Indiana, and Ohio in the summer and fall.  Over Thanksgiving we did the Bourbon Tour from Bardstown to Lexington, Kentucky with our daughter.
We took the camper off the truck for a couple weeks, which gave time for my husband (a diesel mechanic by trade) to install some new test injectors and a test wheel on the turbo in our Duramax.  Considering the old girl has just shy of 345,000 miles, I guess I shouldn't be too mad on missing a couple weekends of winter camping!  We're hoping to load Addi back on Maxine around Christmas so we can repeat last New Year's Eve!" – Cindi Delo, 2002 Chevy 3500, 2004 Adventurer 90RDS
"On June 7, 2016, I headed for Plattsburgh, New York for a week to go bass fishing on Lake Champlain.  Late spring/early summer has green grass and green trees.  It's a lovely time to be there.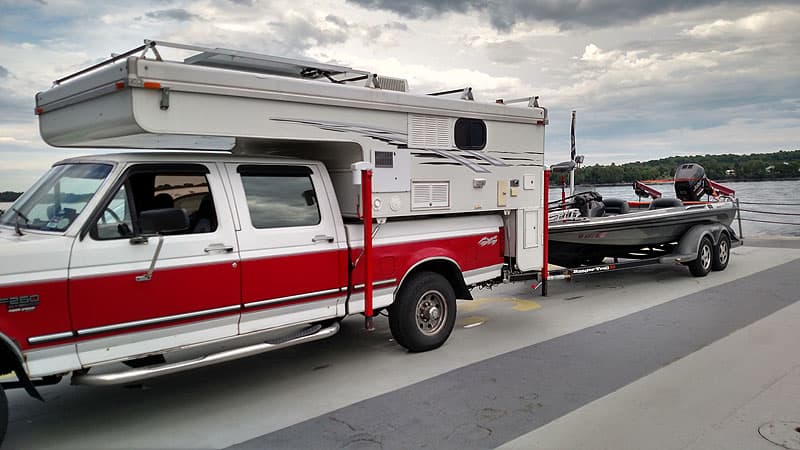 As I got to the ferry at Grand Isle (I always love the whole "My boat on a boat" trip across) I walked to the front to take in the sights and feel of the lake.  This time, off to the west, was a black wall just off the shore.  As I pulled up to the road from the ramp I drove into a white out with minimal visibility.
I drove for about two miles at 20 miles per hour before I came out the other side.  The pictures show the contrast of green trees and what looked like a ground covering of snow.  It was June 7th.
The picture above is my rig on the ferry.  Looking east everything looks fairly innocent.  The next two pictures are after I pulled into Plattsburgh RV Park and got to my site.
This was twenty minutes or so after the storm went through.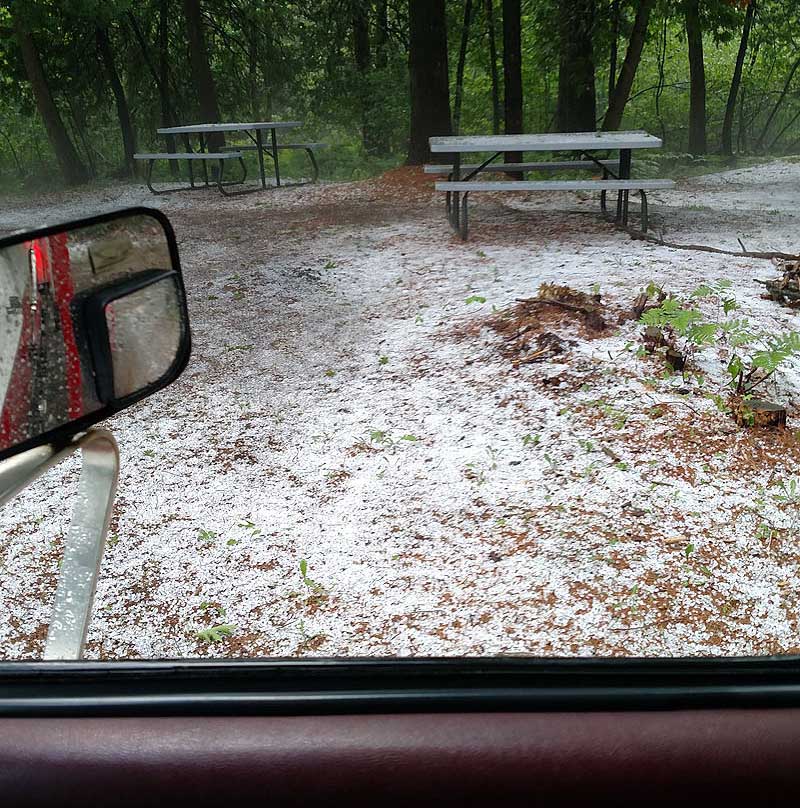 Setting up in shorts and a T-shirt while the hail melted was probably the coolest fifteen minutes of my camping year.  I know this is kind of boring to those who get hail like this all summer." – Kevin Jenckes, 1996 Ford F250, 2006 Northstar 850SC
"Starting in March of 2016, my wife and I did a lap around North America.  We traveled 17,200 miles over 90 days.  We traveled across the country on I-40 and then slowed down to see southern New Mexico, Arizona, the Hoover Dam, and Valley of Fire State Park in Nevada.
From there we went to Death Valley National Park, Sequoia National Park, and Yosemite National Park.  We crossed over to the California coast north of San Francisco, up the coast on Route 1, and up 101 to Vancouver, British Columbia.
In Canada, we went up the Sea-to-Sky (Highway 99), up Route 97 to Prince George, up the Cassiar Highway, to the Alaska Highway, on to Whitehouse, Yukon.  We took a side trip up to Dawson City.  I was unable to do Top of the World Highway because the border wasn't open yet.
We crossed into Alaska and the Kenai.  We stayed in Alaska for over three weeks going on a jet boat ride in Talkeetna up Devils Canyon, Denali National Park, Chena Hot Springs, Fairbanks, and down the Alaska Highway With stops at Liard Hot Springs and Dawson creek.
From there we crossed back into Alberta, Canada and visited Jasper National Park and Icefield Highway to Banff.  Then we crossed the US border into Montana and went to Glacier National Park.  We west to Lewiston, Idaho, and took a jet boat ride down the Snake River in Hells Canyon.  We went back to Montana and drove on I-90 east.  We stopped in Butte, Montana for the night.
Then my wife fell while exiting the camper and broke her arm.  That ended our excellent adventure.  We will continue our trip someday.  We had planned to be on road for several more months.
Our favorite place on this adventure was British Columbia and the Yukon.  There was so much wildlife and scenery.  All the friends we made on this made it even more special.  None of this trip was planned." – Gary Goyette, 2011 GMC 2500HD, 2012 Northern Lite 8-11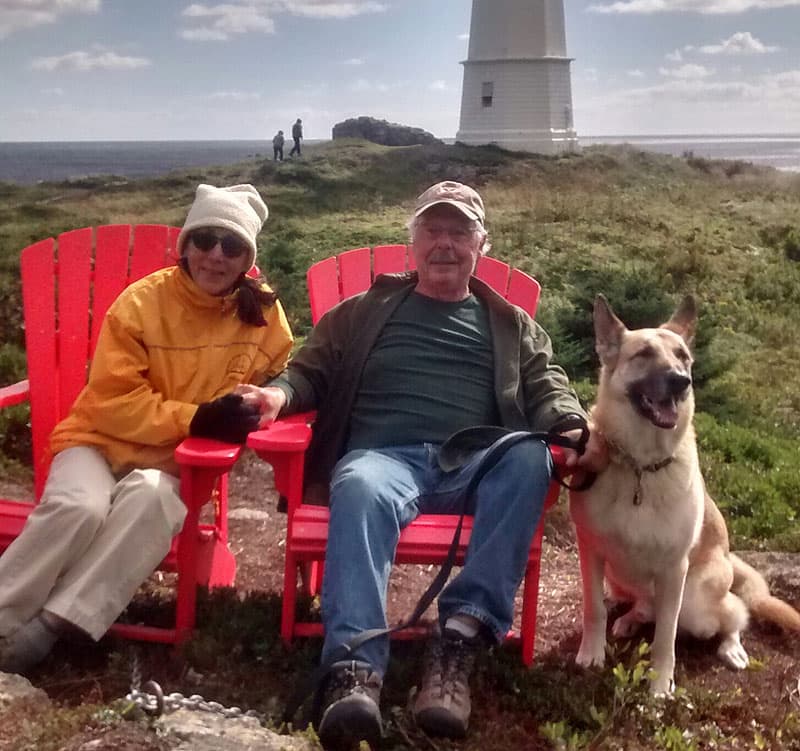 Above: Winkie, Dick and Zac
"We spent two months with our trusted German Shepard, Zac, experiencing the five Canadian Maritime Provinces from August through October.  The seafood, sights, and Canadian hospitality was present in all the provinces, but we especially enjoyed Newfoundland/Labrador.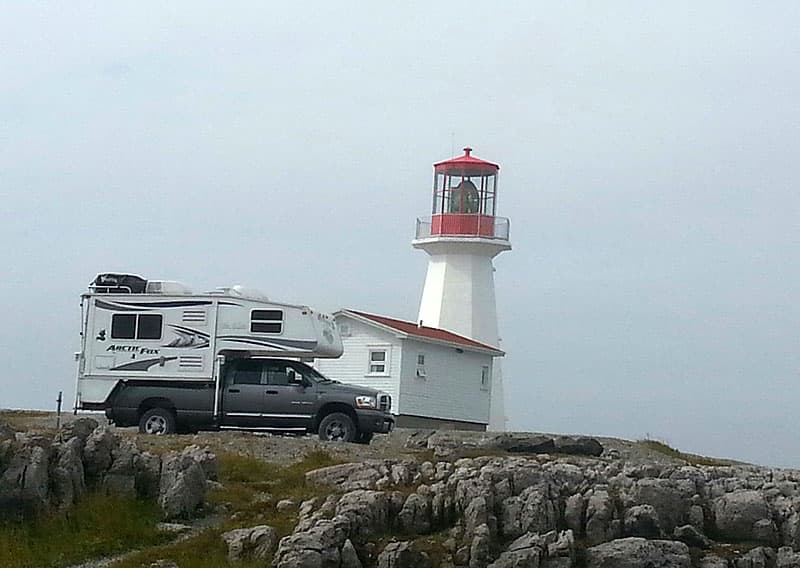 Above: Cape Norman lighthouse
We had allowed two weeks for this part of the trip, but never got off the West Coast.  A few of the highlights include the magnificent granite lighthouse at Rose Blanche, spectacular hiking and scenery in Gros Morne National Park, the UNESCO World Heritage site at L'Anse aux Meadows where the Vikings came ashore 1,000 years ago, the Basque Whaling Center in Red Bay, Labrador, a fascinating conversation with the lighthouse keeper on Cape Norman, and the rugged beauty of the island the locals call The Rock.
Above: Basque Whaling Center
The roads were pretty good (not a lot of gravel) and campgrounds were numerous.  We stayed in provincial parks whenever possible and plan on returning next year for another two to three weeks to see the rest of the province.
For anyone planning this trip, we highly recommend a book entitled, "Scenic Driving Atlantic Canada: Nova Scotia, New Brunswick, Prince Edward Island, Newfoundland and Labrador" by Chloe Ernst.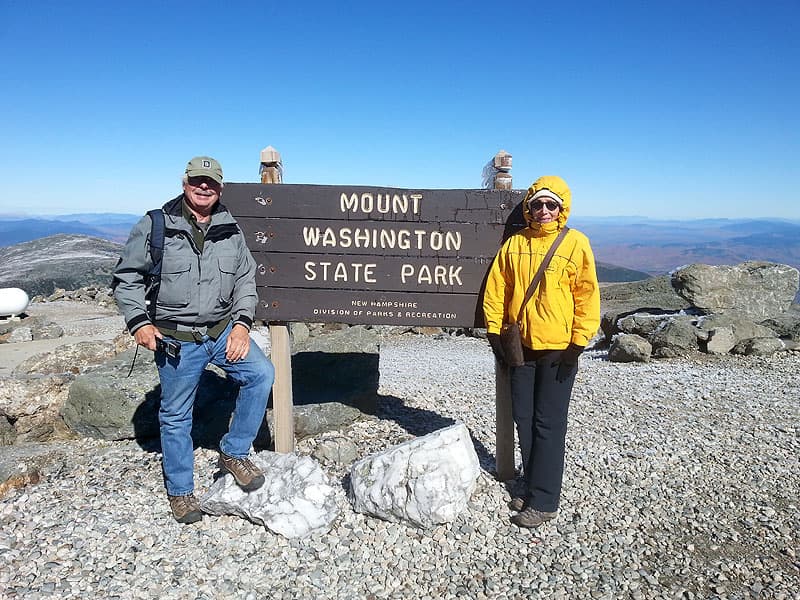 Above: Mt. Washington in the White Mountains of New Hampshire
On your way home be sure to include a stop at Mt. Washington in the White Mountains of New Hampshire.  Enjoy a ride on the Cog Railway to the summit with a view of five states on a clear day.  Best savored in the fall." – Winkie King and Dick Fite, 2006 Ram 3500, 2011 Arctic Fox 990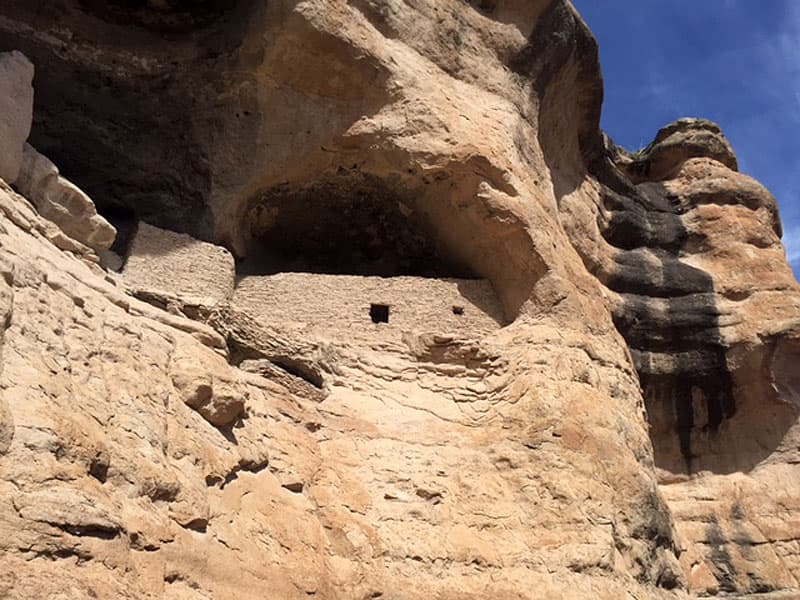 Above: Gila Cliff Dwellings National Monument, New Mexico
"Our favorite side trip happened when we saw a sign to the Gila Cliff Dwellings National Monument at the very end of Highway 15 in New Mexico.
We took Highway 35 following the Mimbres River until the road climbed over the Continental Divide to Highway 15.  The scenery even in early February was breath taking because the highway followed the spine of the mountains.  The views were spectacular.  During this drive we were very glad to be carrying a truck camper rather than driving a motorhome.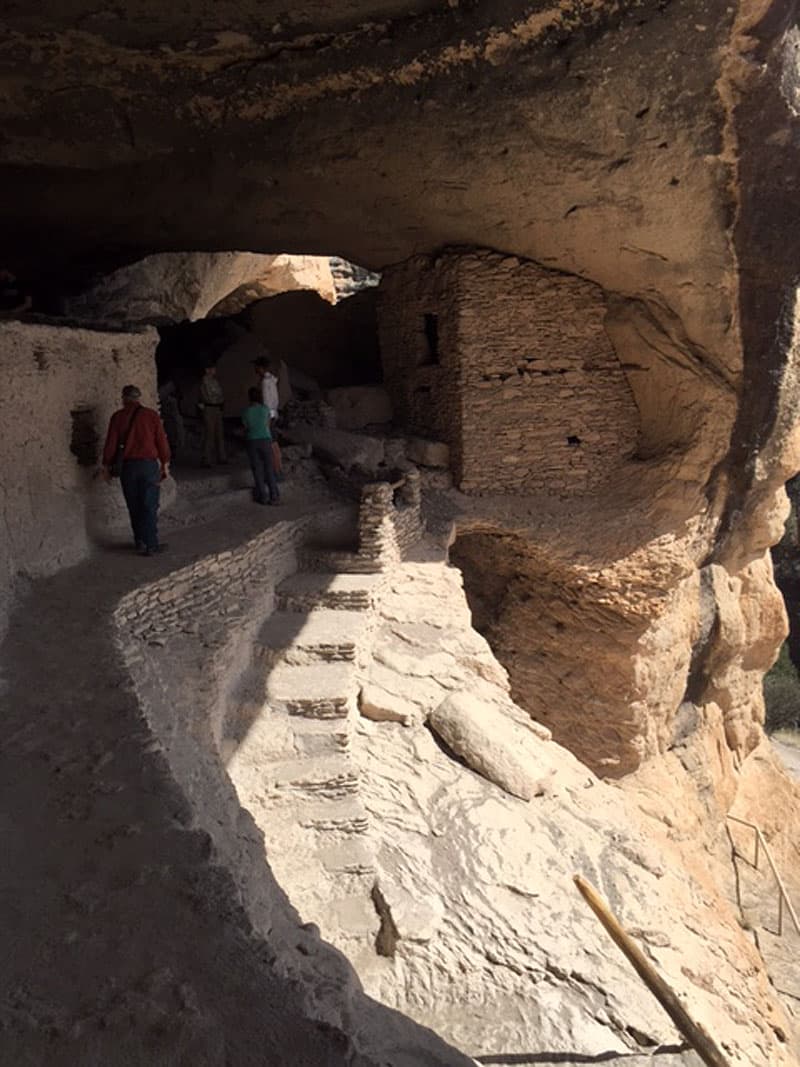 The well preserved cliff dwellings are in a hidden canyon a short drive from the monument headquarters.  Interpreters are ready to show hidden aspects of the site and to point out wildlife when it appears.
One of the interpreters saw a mountain lion on the opposite side of the canyon one day.  All we saw was a garter snake.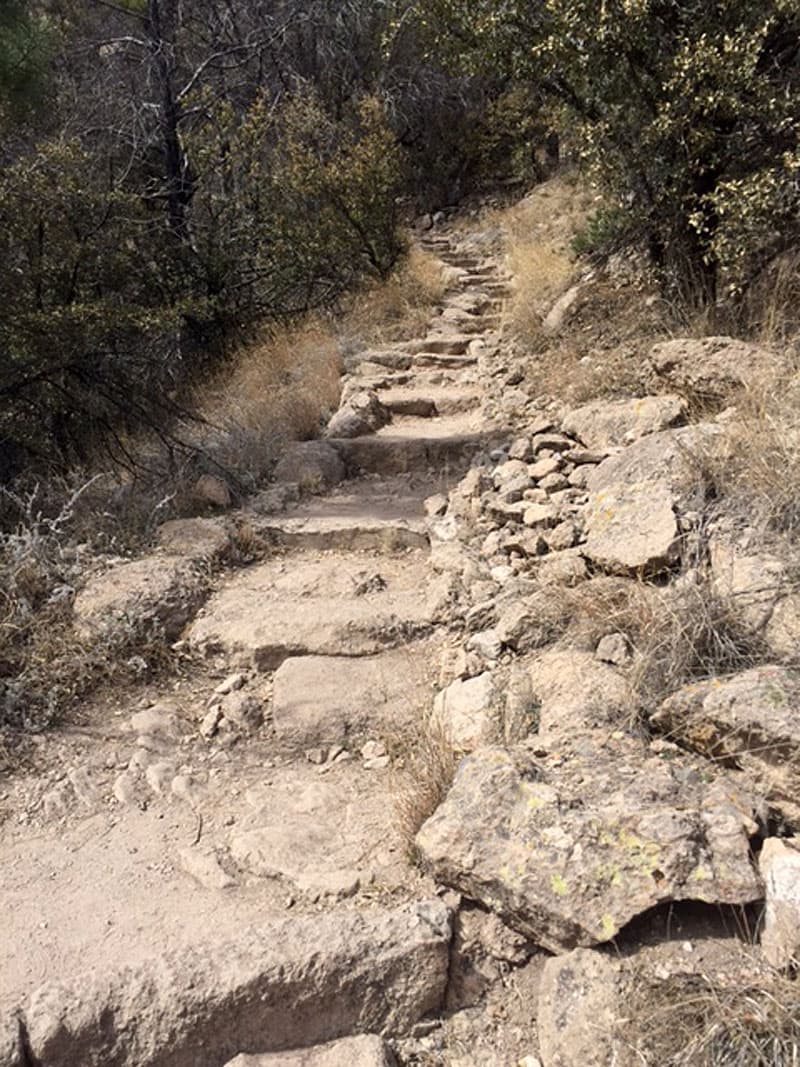 There are many stairs so being able bodied is a requirement to see this special place." – Laurel Wilson, 2013 Ford F350, 2016 Four Wheel Grandby Shell
"We took most of the summer off and took our two boys (5 and 9) from Vermont to Seattle, Washington and back.
We more than paid for our national park pass by visiting as many parks as we could along the way.  The boys liked The Badlands the best as they could run around without restrictions.  I liked Glacier the best and we unloaded the camper and spent a lot of time exploring that area.
We stayed at state parks as much as we could as they always offer so much to do.  The trip was 9,500 completely trouble free miles, and we couldn't have had more fun.  The truck camper make it so easy!
We are planning a trip across Canada for next summer as my older son really wants to see British Columbia.  Go truck camping today and work tomorrow!" – Burt and Vickie Strong, 1997 GMC C3500, 1997 Lance Legend 900
"This year I celebrated my 70th birthday with the Alaska/Canada trip that my wife and I discussed many times.  She decided to slip off to heaven, so my dog, Buddy, and I left Florida on May 23rd and spent four months traveling to Fairbanks and back.
It was the best summer of my life and exceeded all my expectations.  There were too many highlights to document in this forum.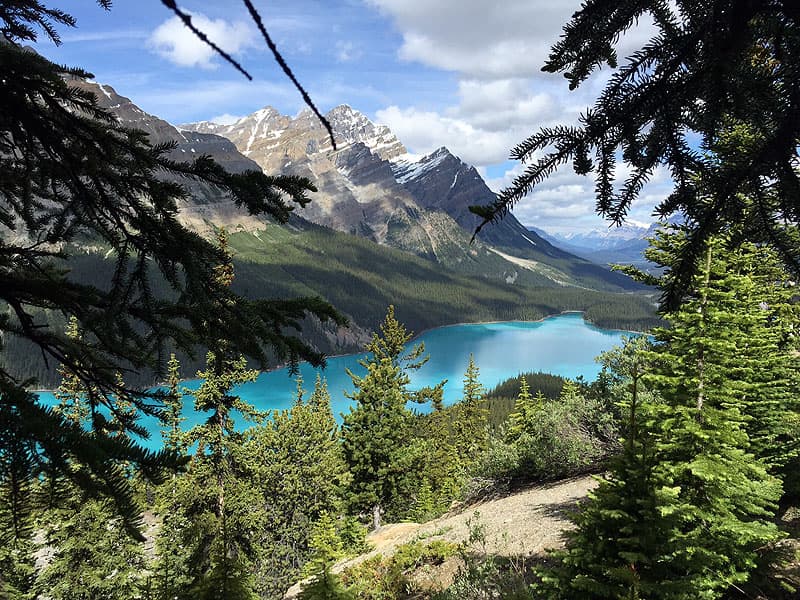 Above: Peyto Lake on the Icefields Parkway. When I downloaded this photo from my camera I thought I was looking at a postcard.
As an amateur photographer who especially loves nature photos, I was in seventh heaven.  I took hundreds of photos and kept a private blog for my family and friends.
I believe the Icefields Parkway and the Cassiar Highway are musts for any trip to Alaska.
I experienced all the normal fun stuff along the way; chipped windshield, frost heaves and potholes, wet muddy roads, dry dusty roads, construction delays, and so on.  It's the wilderness, so I expected all these little extras.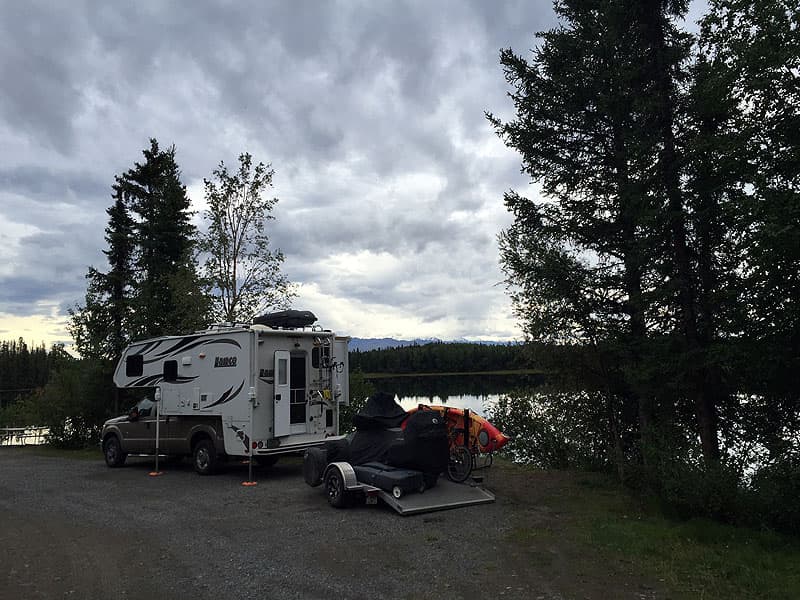 Above: Grizzly Lake Campground near Slana, Alaska
I enjoyed many wonderful days and nights at national, provincial and state parks on the journey.  It's very hard to pick a favorite campground.  If I had to I would probably pick Grizzly Lake near Slana, Alaska.  I will never forget the lone wolf that performed a serenade each night I was there.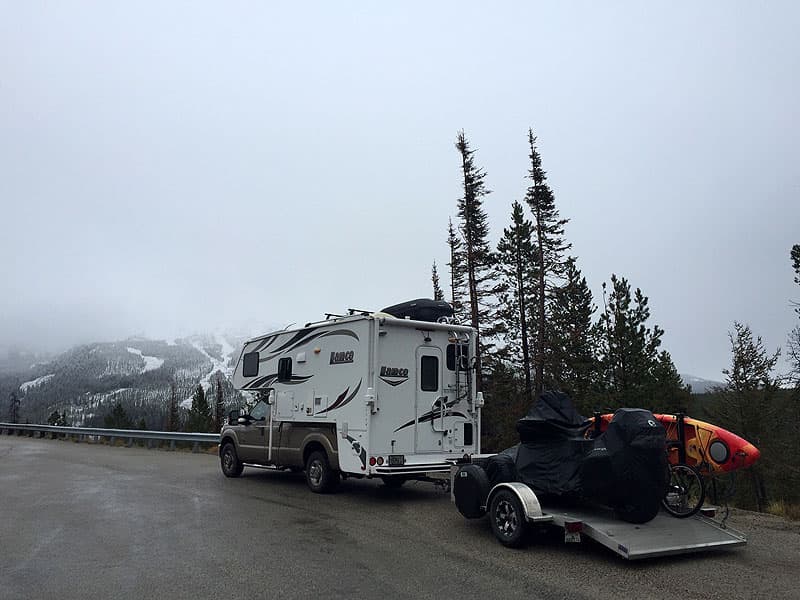 Above: Snowing on Labor Day in Bitterroot National Forest
The biggest surprise happened on Labor Day coming through the Bitterroot National Forest on my way south to Dillon, Montana; 34 degrees and four inches of snow." – Jim Salyerds, 2011 Ford F350, 2015 Lance 1050S
"Easy question!  Nine weeks across Canada and Alaska and back again was a once in a lifetime trip that we have taken twice in three years.  We traveled 12,000 miles with no plans, schedule, or reservations; just fishing tackle, beautiful country, and time.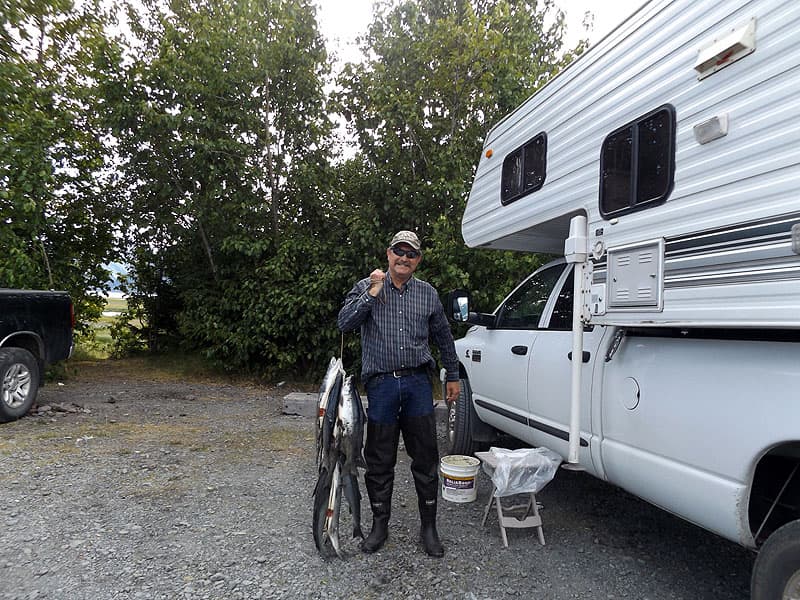 Above: Salmon in Resurrection Bay
The joy of truck camping is freedom from Oklahoma to Colorado, Wyoming to Montana, Idaho and on north.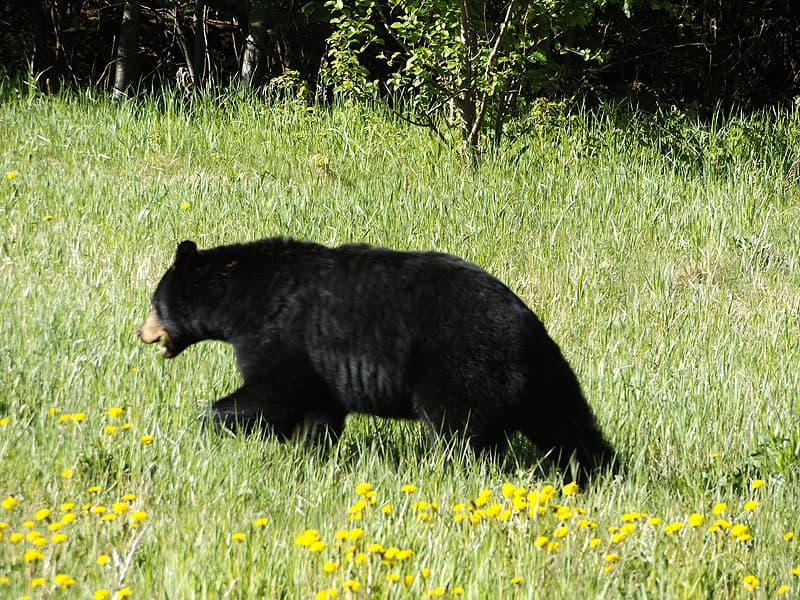 Above: Bear in Alberta
We saw bears and fish.  It doesn't get much better." – Tom Elliott, 2007 Ram 2500, 1999 Lance 835 Lite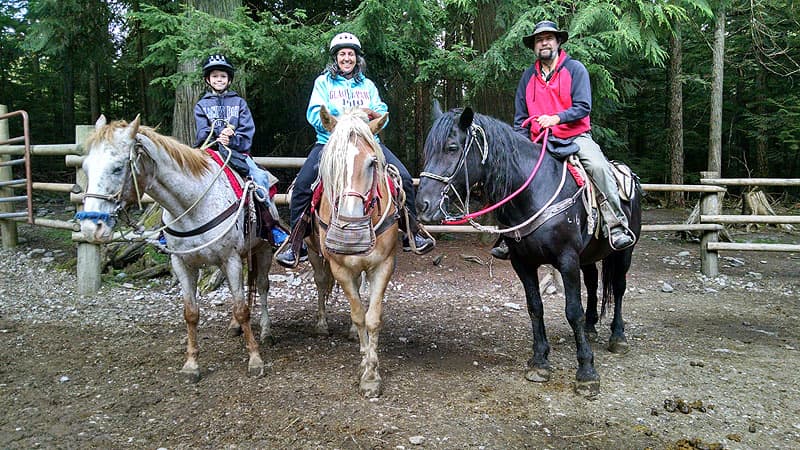 "For 2016, it would have to be our trip to Glacier National Park in Montana along with the Montana Truck Camper Rally.  We had such a great time and really love Glacier.
I have hiked many, many miles in that park and look forward to hiking many more.  We never grow tired of visiting that national park.  Probably the highlight on that trip was our all day horseback ride up to Sperry Chalet.
There still is time left in 2016, and we camp in the winter, too.  However, Montana and Glacier National Park always have me heart." – Rich Bain, 2004 Dodge 3500, 2010 Adventurer 810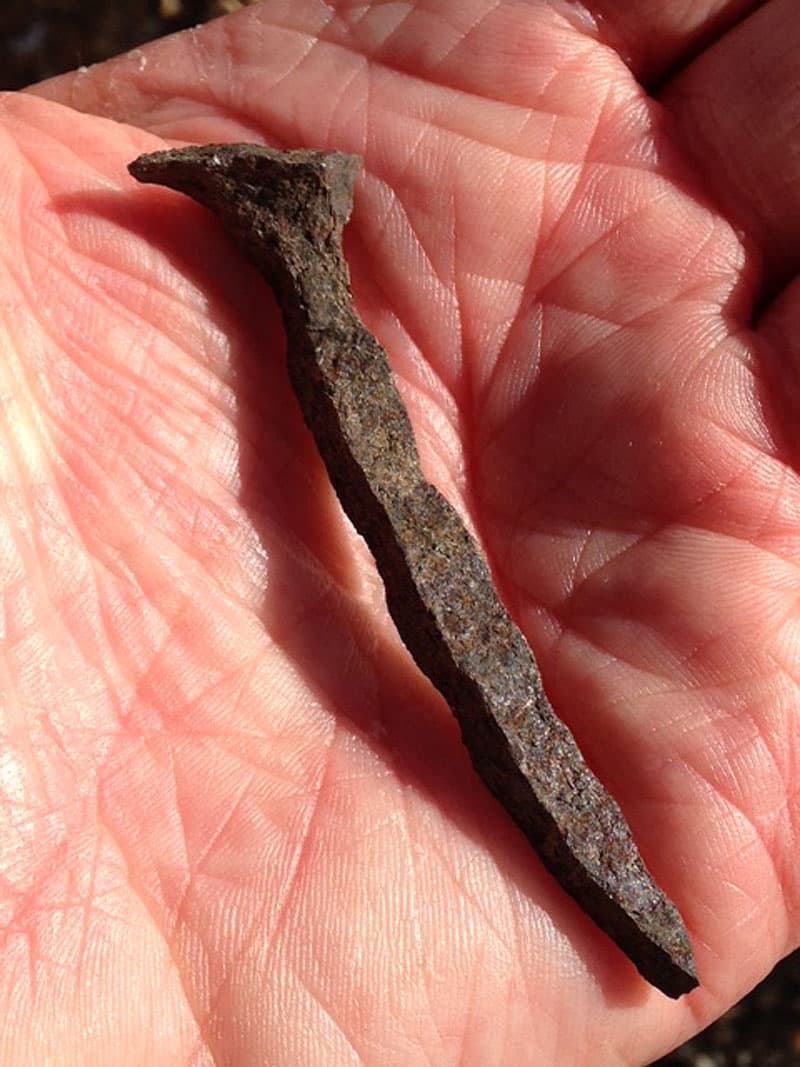 "I was in my camper traveling and hosting for nine months.  I had many excellent adventures!   My two highlights were seeing condors every day of the eight days I was in Pinnacles National Park.  The last time I was there (many years ago) there were only about 25 condors left in the wild and I never saw one.
My second favorite moment came while hiking a wash in Joshua Tree National Park and spotting an old, handmade nail in a crumbling wash edge.  It was like getting zapped by a time machine!  It was in the same wash where the Winona Mill was built in the 1930s.  I felt it possibly pre-dated that.  Look for eucalyptus and pomegranate bushes and you might find the nail yourself; it was still there when I left!" – Denise Gilmer, 2015 GMC 3500, 2014 Lance 1050S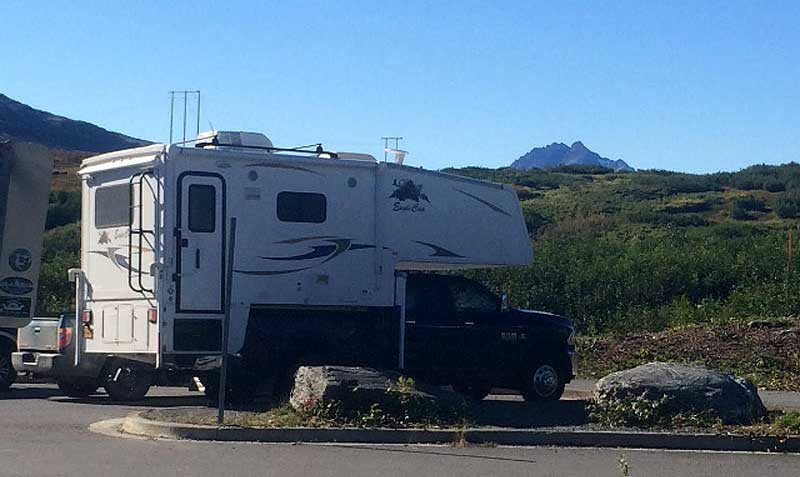 "Our most excellent trip of 2016 was a five day leisurely road trip to Valdez, Alaska over Labor day weekend.  We stayed at two privately owned campgrounds and two Alaska state campgrounds along the Glenn and Richardson highways.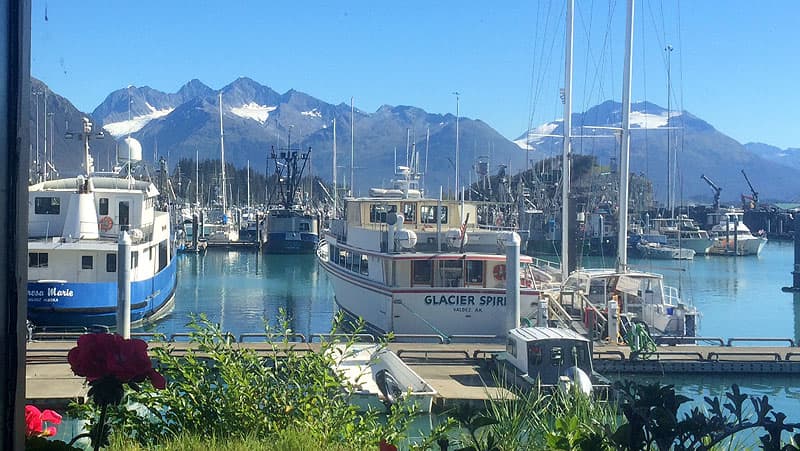 We stopped at several pull-outs along the way and took in some excellent Alaskan scenery.  We spent a day in Valdez exploring, watched locals fishing silver salmon in the boat harbor, saw lots pink salmon making their spawning run out of Prince William Sound, and ate some fantastic food.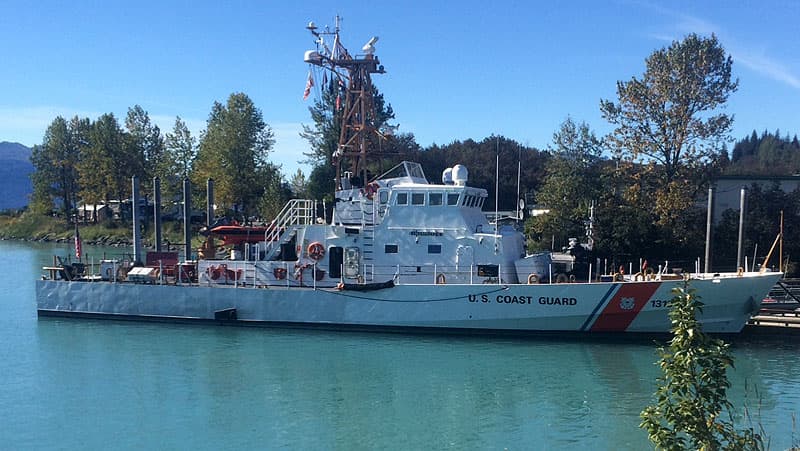 The weather was perfect the entire trip.  The state campgrounds were wild, provided great scenery and good grayling and trout fishing.  Whoa… dude!  This was our most excellent adventure… excellent!" – Tom Warren, 2013 Ram 3500, 2013 Eagle Cap 1160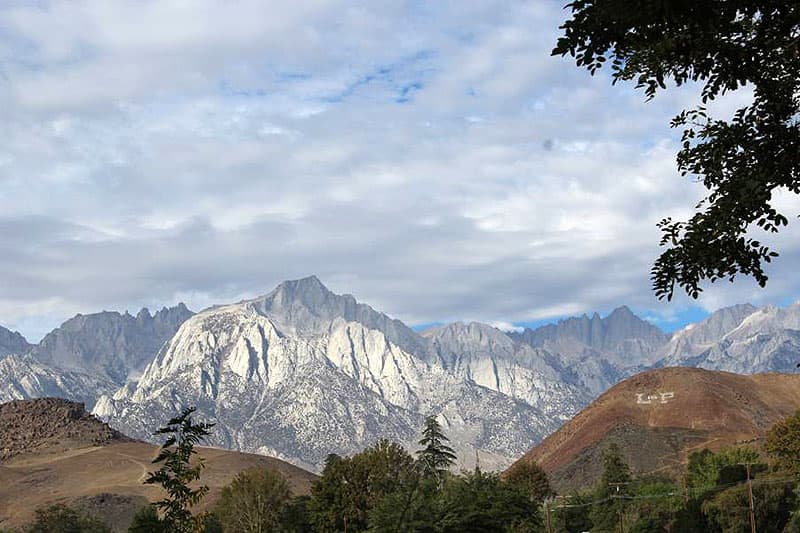 Above: East side of Sierras off of Highway 395 at Lone Pine leading to Alabama Hills where a whole lot of cowboy movies were made.
"Our favorite road trip was in September-October on the east side of the Sierra's heading south on 395.  395 is one of our favorite roads through California on our way to Arizona.  The beauty of these mountains always intrigues me.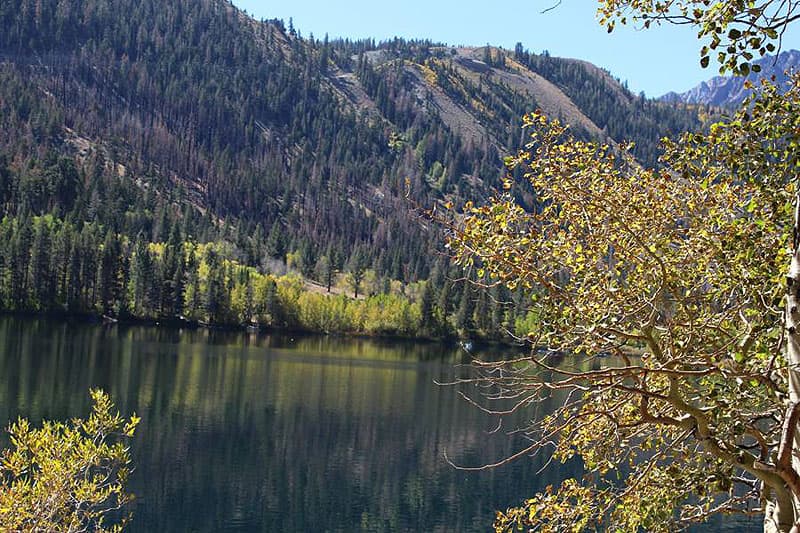 Above: June Lake area along Highway 395, with the leaves just beginning to turn.
We camp out in the small towns of June Lake and Lone Pine and then continue to Alabama Hills for a great experience.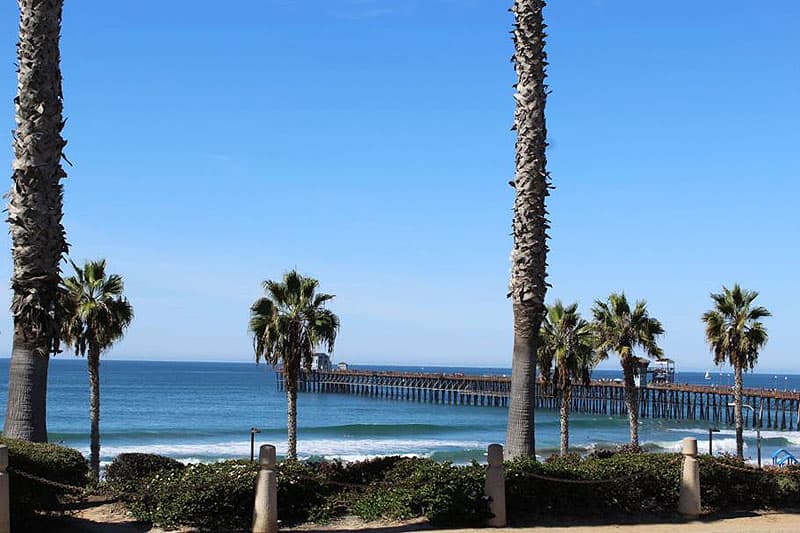 Above: Beach trails in Oceanside, California along the Pacific coast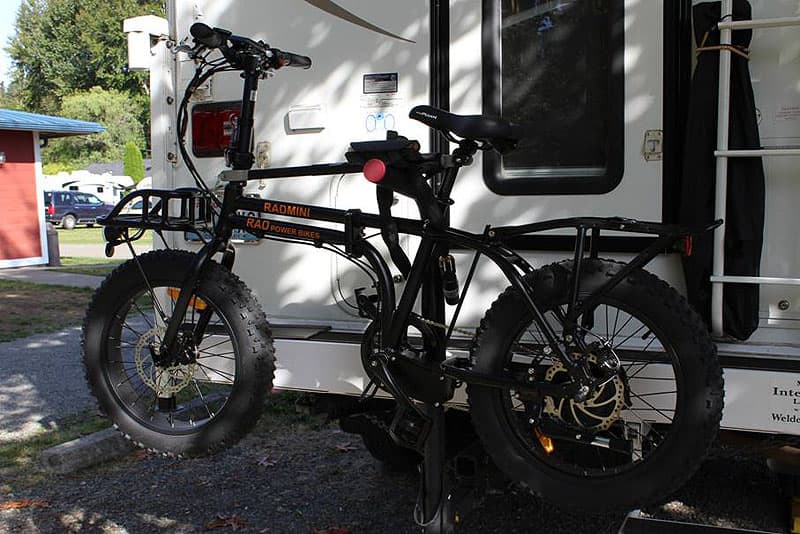 Above: Roger's Radmini electric bike
What was really fun about this trip was taking along my new Radmini electric bike.  Wow!  Do I enjoy biking to the max now.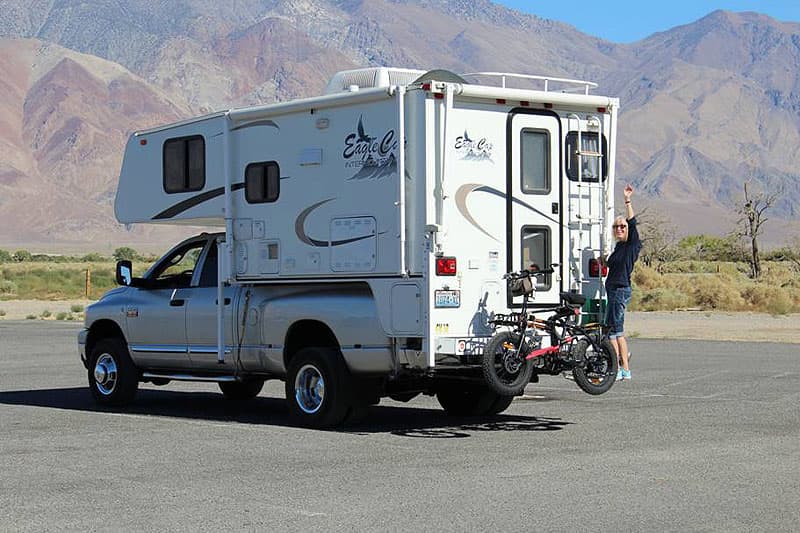 Exploring on numerous bike trails, dusty dirt roads, beach trails in coastal towns along the California coast made for a Most Excellent Adventure in 2016.  I can't wait to see what 2017 brings." – Roger and Elaine Odahl, 2008 Dodge Ram 3500, 2004 Eagle Cap 950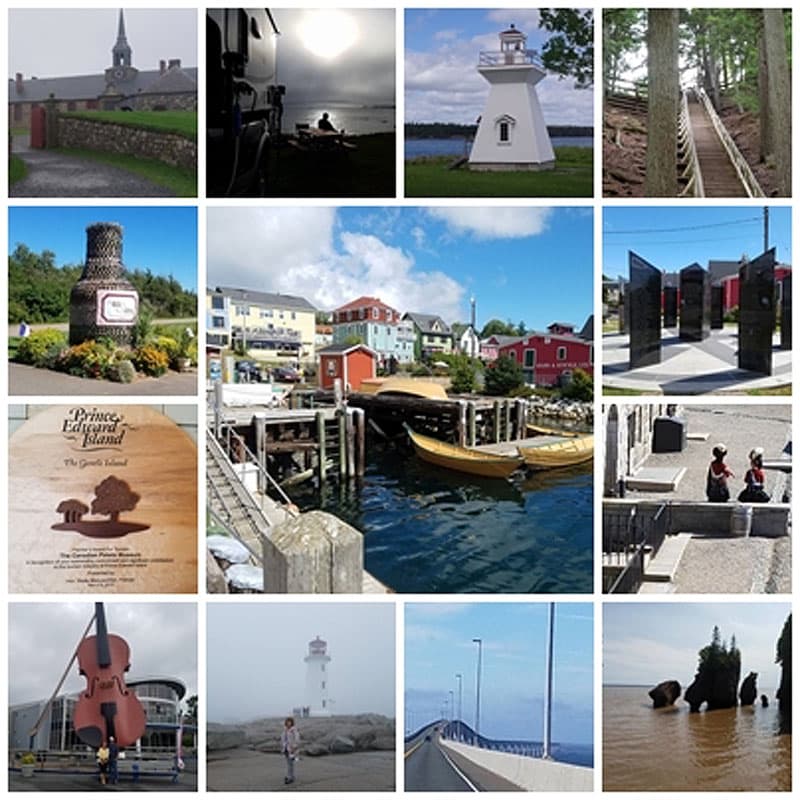 "For three weeks in September 2016 we traveled up the East Coast from Florida.  We stopped at Bar Harbor, Maine and enjoyed our first taste of lobster rolls!  Then, we went off to New Brunswick, Hopewell Rocks, Bay of Fundy, and then off to Nova Scotia.  We stopped in Victoria Park, Turo, the citadel, and the public gardens in Halifax.
We visited Lunenburg, the beautiful Peggy's Cove, and the memorial to Swiss Air 111. We headed to our destination of Isle Madame in Cape Breton to visit our Canadian friends.  We went to the West Arichat seafood market and tried seafood chowder and lobster.  We enjoyed the Alexander Graham Bell museum and traveled the Cabot Trail and saw the Isle Madame light house.  Our friend's grandfather was a light house keeper at one time.
We went to the Fortress of Louisbourg and then traveled by ferry to Prince Edward Island where we went to the Potato Museum.  We enjoyed their restaurant where we had a loaded lobster potato and seafood chowder.
Then we went to the Confederation bridge.  What a view!  Our three weeks were running out so we were headed towards home with a stop in Pennsylvania and a side trip to New Bern, North Carolina to see friends.  We missed a few bucket list sights in Canada, so that means we have to go back.  Loved it!" – Rhonda Nicholas
"The worst truck camper experience for 2016 was when we crawled over ten miles of rutted gravel road to Garnet Ghost Town in Montana.  The top speed was maybe ten.  The rock and roll ride shook and jarred us all the way.  Fortunately, nothing fell out of cupboards or broke – yay!  We made it to the top of the mountain, and then had to do it all over again.
Our most memorable was when we drove through Wyoming, which is our favorite state.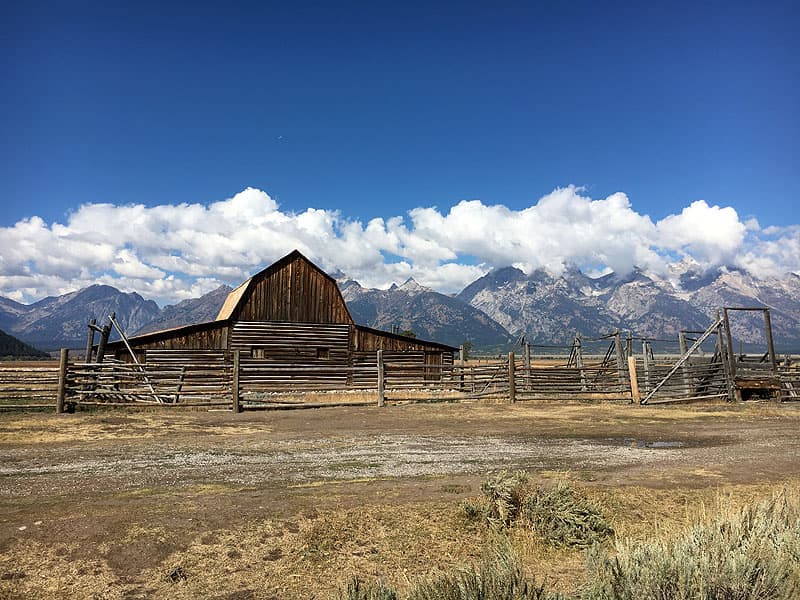 We camped in Gros Ventre Campground in Teton National Park where moose came through early morning and evening.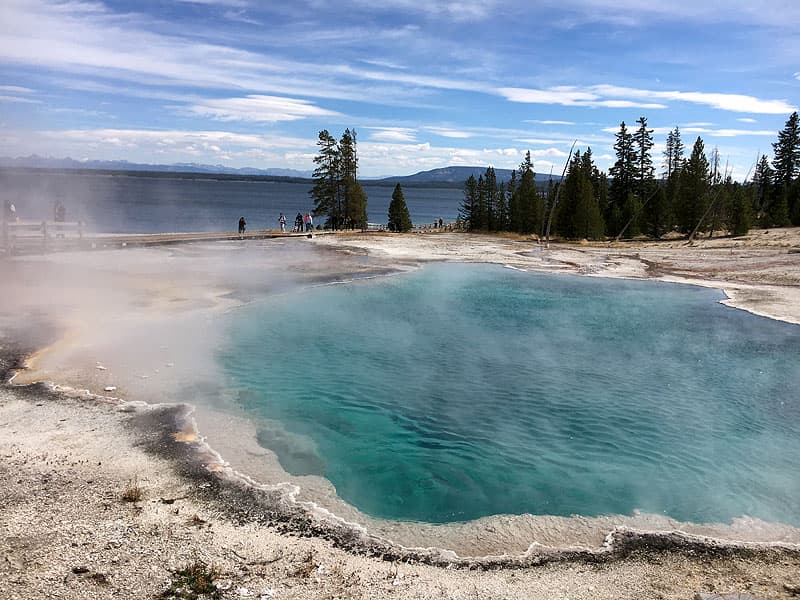 Coming out of Yellowstone National Park we saw two rams lock horns on steep rocky slope.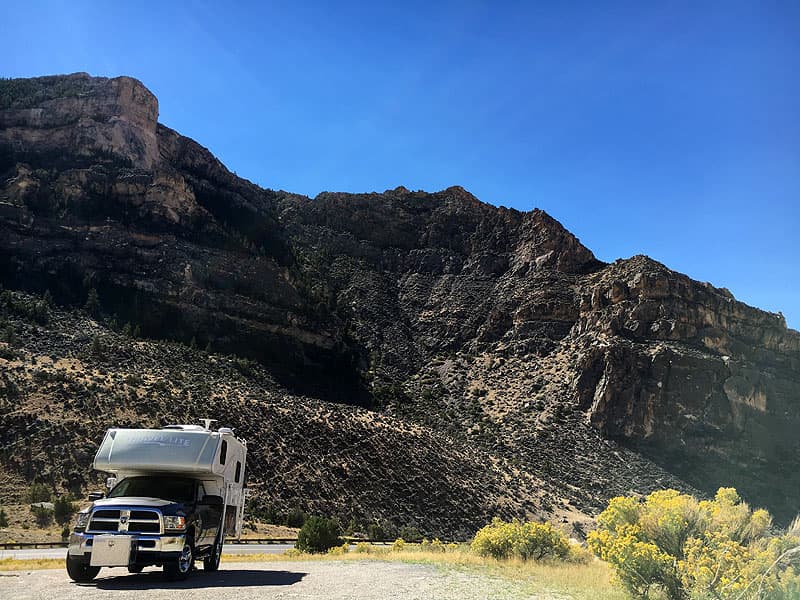 We toured Buffalo Bill Museum in Cody and drove the Bighorn Scenic Byway.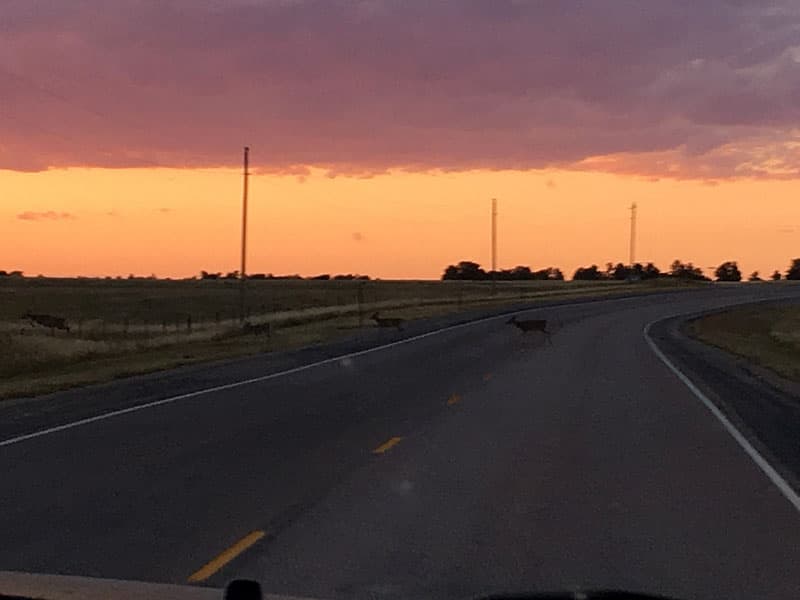 We misjudged our time getting to Devils Tower; it was past sunset and more deer than we could count were out feeding and crossing the road all around us.  Scary dangerous, but memorable!" – Janet and Jim Manis, 2014 Dodge Ram 2500HD, 2016 Travel Lite 960R Illusion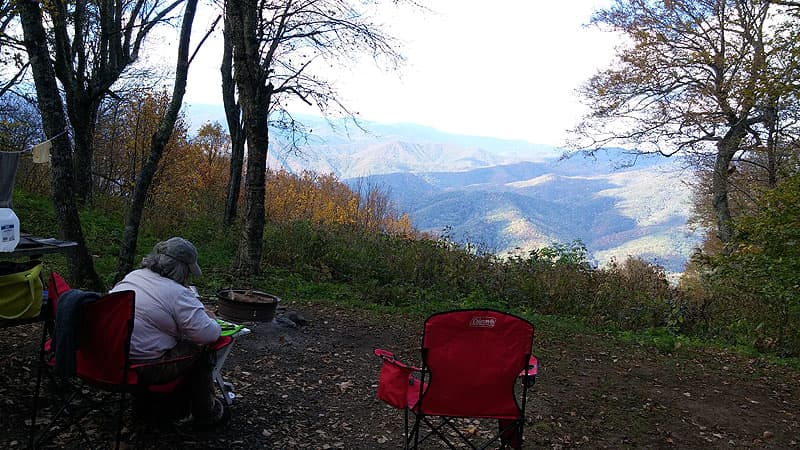 "Well I had only a few trips this year; to much work and not enough play.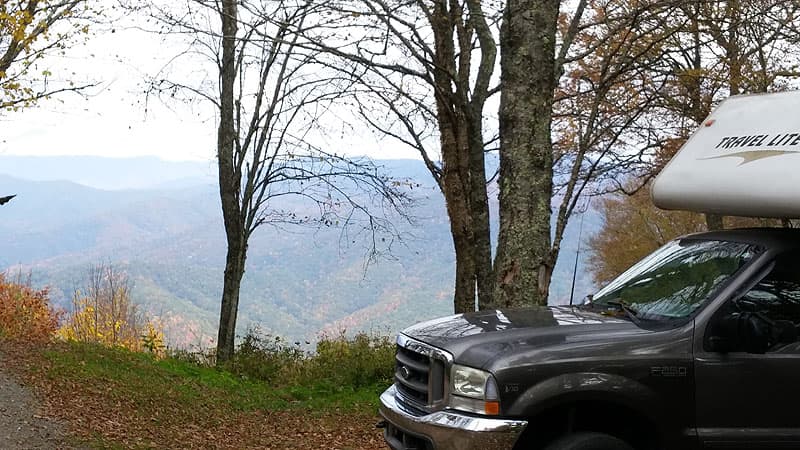 The trip that I really enjoyed was camping at Mile High Campground near Cherokee, North Carolina up in the Smokies." – Jeff Hagberg, 2002 Ford F250, 2006 Travel Lite 800SBX
"The absolute highlight of our various 2016 adventures was undoubtedly the Burr Trail and Burr Canyon Utah.  It was the most memorable highlight because we have wanted to do it for years.
We traveled onto the trail from the Lake Powell end.  We had hoped to take the ferry, but found it closed for the umpteenth time.  From there we had a beautiful washboard drive northbound on the trail proceeding on past the Burr Canyon route.
We spent the night photographing the night sky at the single camp spot on the Burr Trail.  It's a fairly meager campground for being in Capitol Reef National Park.
The most memorable part of this journey was waking in the night to a torrential downpour!  Anyone who has ever been in this part of Utah not only has seen the warning signs, but has probably heard the stories of travelers getting caught in the unrelenting mud.
We headed south back toward Burr Canyon about 9:00am.  Being 40 to 60 miles from anywhere didn't bother us, but the very slimy, greasy mud on the road tested our years of off-road driving skills.
The road had four to six inches of mud on top of a fairly firm base.  We slid all over the road for the twelve or so miles on the way back to the Burr Canyon turn off.  We even slid off the road once.
We were wise enough to sit at the base of Burr Canyon for a couple hours to let the mud dry.  It is a trip we will not forget.  The canyon is awesome dry!" – Gary and Laurii Gadwa, 2012 Ford F350, 2011 Eagle Cap 950
"We finally took the trip we've talked about for 30 years to Alaska.  We left Maine on May 31st and traveled through Canada and back through the states.  We got home on September 19th.
In Canada we really enjoyed Jasper National Park, Icefields Parkway, and getting up close and personal with glaciers.  Countering the ice and snow with several hot springs was delightful.  We traveled up the Dempster Highway to Inuvik, Northwest Territories for a week in the midnight sun.
In Alaska, we drove up to Prudhoe Bay on the Dalton Highway, and jumped in the Arctic Ocean.  We traveled as much of Alaska as we could by road.  We only took one ferry, from Haines to Skagway.
We sadly turned east and headed back through British Columbia, and Alberta into Montana.  Then, we went east to our favorite national park, which is Theodore Roosevelt in North Dakota.
Heading back we made family visits in Minnesota, Indiana, and Pennsylvania.  The trip of a lifetime did not disappoint!" – Keith and Nancy Rivers, 2004 Ford F250, 2012 Northern Lite 9-6 Q SE