Truck Camper Magazine readers report their best truck camping adventures and experiences from 2016.  Get out your 2017 bucket list and a pen.  You're going to need them.

One of the most important things we learned during our first cross-country truck camping adventure was that there was no way to see everything.  After six months on the road in the United States and Canada, we barely scratched the surface.
This was initially quite disappointing as we thought the trip would be a once in a lifetime experience.  Now, several cross-country trips later, we understand that not being able to see everything is part of the endless allure of truck camping.
Reading through the 2016 "Best Truck Camping" reports, we are reminded that we could go on another six-month cross-country trip and – once again – see new things, experience new adventures, and meet more amazing new people.  In fact, we may just do that.
Plans?  We don't need no stinkin' plans!
Reservations?  We don't need no stinkin' reservations!
Load up the rig.  Check at the bucket list.  And go.
Here are the most excellent truck camping experiences of 2016: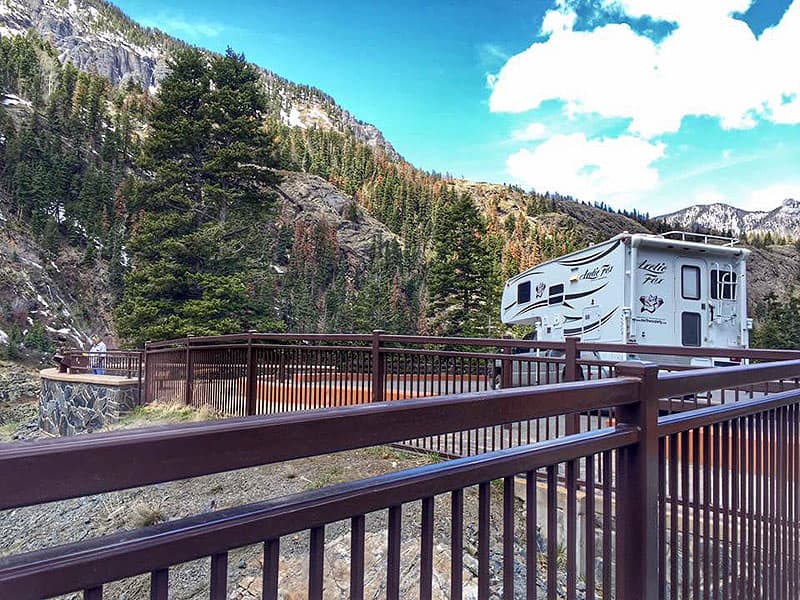 Above: A scenic spot on passes to Ouray, Colorado
"My bestie, Leslie, and I took our 1st annual Thelma and Louise truck camper trip.  We left Arizona on April 22nd and drove to Durango, Colorado.
We had booked a site at the United Campground of Durango.  Here's a quote from our Thelma and Louise event page on Facebook, "Durango, Colorado.  We are here!  Love our campground.  On the Animas River with the historical Durango Silverton train/railroad in front of us.  Love the looks of Durango.  Beautiful all around us."
We saw the sights of Durango and, on April 24th, drove through Engineer Mountain Pass to Silverton.  We had breakfast and moved on through Red Mountain Pass and stopped at Bear Creek Falls for great pictures.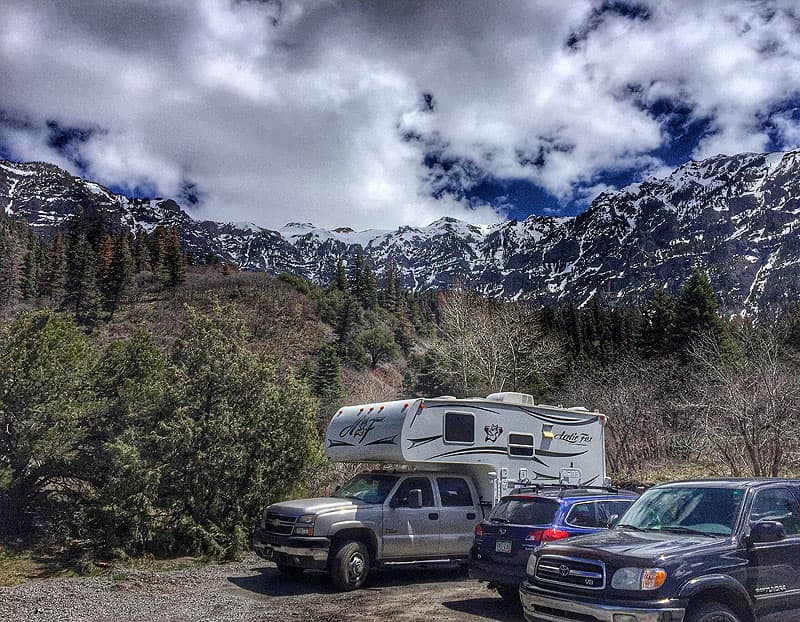 Above: Ouray mountains, Colorado
We arrived in Ouray and parked at the Ouray RV Park and Cabins on the scenic Uncompahgre River.  Taking off the truck camper from the dually was a good challenge for us, and putting it back on was even more challenging – but we did it!  We did the touristy thing in Ouray and its surrounding scenic locations, with a snowstorm arriving the night of the 25th.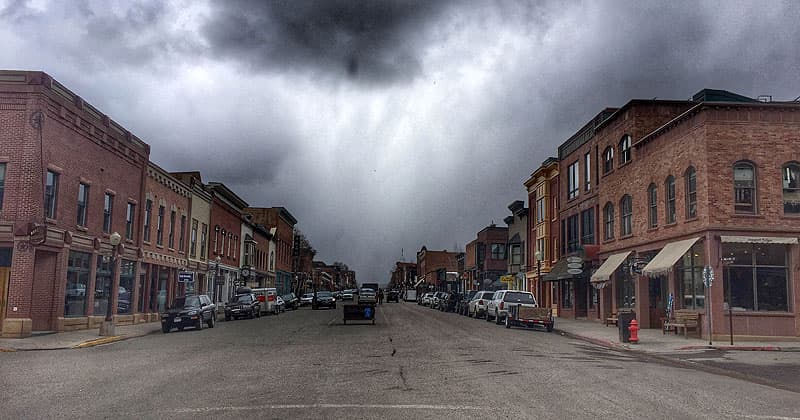 Above: A street in Telluride, Colorado
We left Ouray the 26th and visited Telluride, Colorado with it lightly snowing the entire visit.  We finished the day's driving through Monarch Crest at an elevation of 11,322-feet and Kenosha Pass at an elevation of 10,000-feet to arrive at the KOA campground in Montrose.