This is the story of Roseann and Jonathan Hanson, two overland visionaries who saw an opportunity to bring their community together, and had the grit to make it happen.

In the 1990s, Roseann and Jonathan Hanson called it, "do-it-yourself adventure travel".  Almost as a matter of principle, the Hansons avoided paid tour companies and reveled in charting their own course across the Southwest, Mexico, and Africa.  They enjoyed working on their four wheel drive vehicles and preparing recovery and expedition equipment.
Along the way, both Roseann and Jonathan wrote articles for travel publications, worked throughout the Americas and East Africa as guides and conservationists, and co-wrote over a dozen books.  During this time Jonathan co-founded the Overland Journal, though he sold his interest in the magazine in 2011.  In 2009, Roseann and Jonathan Hanson also founded the Overland Expo, the premier overland community event in North America.
In short, Roseann and Jonathan Hanson are two of the most visionary and entrepreneurial risk-takers we've ever met.  We are deeply inspired by their courage and conviction to dream big, and make big dreams happen, not to mention the fact that they've been places and done things we hardly dare to think about.
Of course it doesn't hurt that they're also passionate truck camper owners.  As the founders of the Overland Expo, they literally have access to just about anything you can imagine.  Their choice?  A simple Toyota Tacoma and a Four Wheel Camper rig.
What follows is how these champions of the overland community got started, where they've been, and where they're going next.  Here's a hint; in a truck camper, via container ship, to another continent.  Go Hansons, go.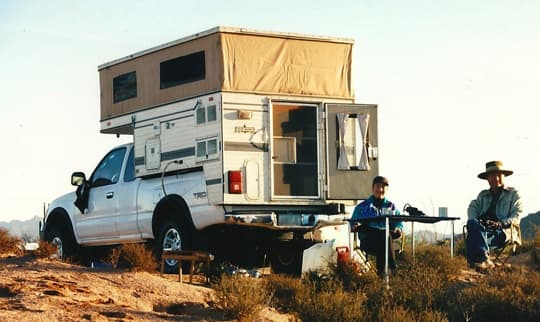 Above: Roseann and Jonathan's first Four Wheel Camper, Sea of Cortez, Mexico
TCM: What are your earliest memories of becoming interested in the outdoors and adventure travel?
Roseann: My parents had five kids and they always had eight to ten kids running around our house and going on trips.  They would pile us all in a Travelall, hook-up a trailer, and take us camping in remote areas.
As a family, we spent about three to four weeks a year parked on the beach in Mexico.  Those are great memories: being completely independent, free, and enjoying the adventure.  That's been part of my life since I was a baby.
Backpacking and hiking were natural extensions when I met Jonathan.  We married when I was nineteen.  Next year we will celebrate 30 years of adventure travel and exploration.
Jonathan: I had a stepdad I didn't get along with.  When my family moved to a house close to the desert, I would go hiking into the desert to get away from my home life.  For me it was all about escape.
Another escape for me was reading adventure books, like Tarzan.  I put myself in the books to get away.  Once I could drive, I starting expanding my travels including backpacking, bicycling, and kayaking.  The adventure lifestyle is engrained in me.
TCM: We know the JATAC is your second truck camper, but we don't know how you got into truck camping.  Tell us what brought you to the truck camper lifestyle.
Jonathan: We started out when we were married.  We went traveling and camping in a  Toyota Land Cruiser FJ40.  It was a basic rig.  We took early trips kayaking and used the Land Cruiser as a base camp.  I led sea kayaking tours in Mexico.
Roseann later got a Toyota Land Cruiser FJ55.  The FJ55 is a larger vehicle that allowed us to bring more gear.
Soon thereafter we started looking at trucks.  We got a Toyota truck with a Wildernest; a flip-over tent camper.  We went to the Arctic in that rig.  That's when we first became  aware of Four Wheel Campers.
Roseann: On that trip to the Arctic, we started to rethink what we wanted to do with our truck because every night when camping, we had to off-load the two sea kayaks and all our gear before setting up the flip-over camper.  While in the Arctic, we met another traveling couple and introduced ourselves; it was Gary and Monika Wescott.  We had been following them in Four Wheeler Magazine and talked to them about their new rig, profiled in the magazine: a Four Wheel Camper.  After that we bought our first Four Wheel Camper.