This is the story of Roseann and Jonathan Hanson, two overland visionaries who saw an opportunity to bring their community together, and had the grit to make it happen.

In the 1990s, Roseann and Jonathan Hanson called it, "do-it-yourself adventure travel".  Almost as a matter of principle, the Hansons avoided paid tour companies and reveled in charting their own course across the Southwest, Mexico, and Africa.  They enjoyed working on their four wheel drive vehicles and preparing recovery and expedition equipment.
Along the way, both Roseann and Jonathan wrote articles for travel publications, worked throughout the Americas and East Africa as guides and conservationists, and co-wrote over a dozen books.  During this time Jonathan co-founded the Overland Journal, though he sold his interest in the magazine in 2011.  In 2009, Roseann and Jonathan Hanson also founded the Overland Expo, the premier overland community event in North America.
In short, Roseann and Jonathan Hanson are two of the most visionary and entrepreneurial risk-takers we've ever met.  We are deeply inspired by their courage and conviction to dream big, and make big dreams happen, not to mention the fact that they've been places and done things we hardly dare to think about.
Of course, it doesn't hurt that they're also passionate truck camper owners.  As the founders of the Overland Expo, they literally have access to just about anything you can imagine.  Their choice?  A simple Toyota Tacoma and a Four Wheel Camper rig.
What follows is how these champions of the overland community got started, where they've been, and where they're going next.  Here's a hint; in a truck camper, via container ship, to another continent.  Go Hansons, go.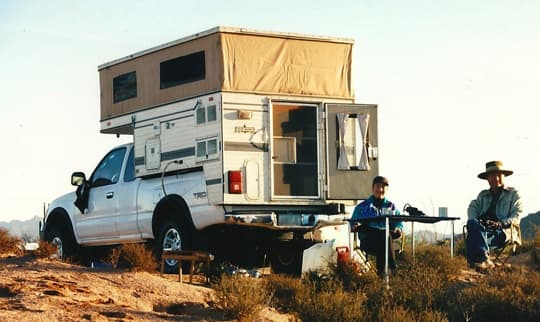 Above: Roseann and Jonathan's first Four Wheel Camper, Sea of Cortez, Mexico
TCM: What are your earliest memories of becoming interested in the outdoors and adventure travel?
Roseann: My parents had five kids and they always had eight to ten kids running around our house and going on trips.  They would pile us all in a Travelall, hook-up a trailer, and take us camping in remote areas.
As a family, we spent about three to four weeks a year parked on the beach in Mexico.  Those are great memories: being completely independent, free, and enjoying the adventure.  That's been part of my life since I was a baby.
Backpacking and hiking were natural extensions when I met Jonathan.  We married when I was nineteen.  Next year we will celebrate 30 years of adventure travel and exploration.
Jonathan: I had a stepdad I didn't get along with.  When my family moved to a house close to the desert, I would go hiking in the desert to get away from my home life.  For me, it was all about escape.
Another escape for me was reading adventure books, like Tarzan.  I put myself in the books to getaway.  Once I could drive, I starting expanding my travels including backpacking, bicycling, and kayaking.  The adventure lifestyle is engrained in me.
TCM: We know the JATAC is your second truck camper, but we don't know how you got into truck camping.  Tell us what brought you to the truck camper lifestyle.
Jonathan: We started out when we were married.  We went traveling and camping in a  Toyota Land Cruiser FJ40.  It was a basic rig.  We took early trips kayaking and used the Land Cruiser as a base camp.  I led sea kayaking tours in Mexico.
Roseann later got a Toyota Land Cruiser FJ55.  The FJ55 is a larger vehicle that allowed us to bring more gear.
Soon thereafter we started looking at trucks.  We got a Toyota truck with a Wildernest; a flip-over tent camper.  We went to the Arctic in that rig.  That's when we first became aware of Four Wheel Campers.
Roseann: On that trip to the Arctic, we started to rethink what we wanted to do with our truck because every night when camping, we had to off-load the two sea kayaks and all our gear before setting up the flip-over camper.  While in the Arctic, we met another traveling couple and introduced ourselves; it was Gary and Monika Wescott.  We had been following them in Four Wheeler Magazine and talked to them about their new rig, profiled in the magazine: a Four Wheel Camper.  After that we bought our first Four Wheel Camper.
Jonathan: That was 1993.  We had that camper for several years and put over 150,000 miles on it.  We actually had two trucks with that camper, a four-cylinder 1990 Toyota four-wheel-drive pick-up, which worked hard to carry that camper, and a 2000 Tacoma with a V6.  The V6 Tacoma worked much better with the Four Wheel Camper.
We sold that camper in 2005 and regretted it ever since.  We were so glad to finally get back into one last year.
TCM: As the founders of the Overland Expo, you are exposed to a wide variety of expedition rigs.  What does a truck and camper solution offer that makes it most suitable for your particular overland lifestyle?
Roseann: I was lured into it sideways.  After our first Four Wheel Camper rig, I bought a 1984 FJ60 Land Cruiser, had it converted to diesel, and tent camped.
We have been working as outdoor writers and naturalists for several decades.  Traveling around and working can be quite hard.  During that time period, we often talked about how great it was to sit in the Four Wheel Camper dinette, work, and be comfortable.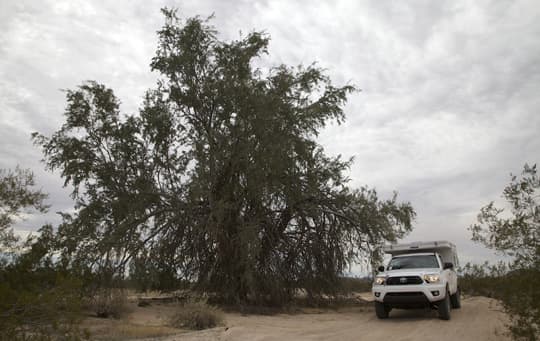 Above: Mohawk Valley, Arizona
Jonathan: Truck campers, Four Wheel Campers, in particular, are the perfect compromise.  They are comfortable and have the ability to get to where we want to go.
We're not rock crawlers, but we want to get into areas most RVs can't reach.  The Toyota Tacoma can reach those places, and reliably get us back.  With a truck camper, we can also camp outside of a town, and drive into town to work as journalists without looking like we're camping.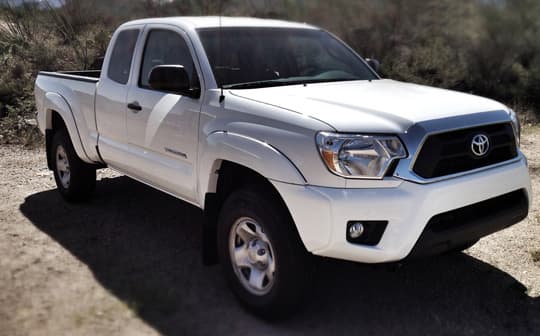 Above: Roseann and Jonathan's Toyota Tacoma
TCM: Tell us about the original concept of the JATAC.  What was the vision?
Roseann: That's a fun story.  We decided to go back to a Four Wheel Camper, but we hadn't yet decided which truck to buy.  Our first choice was to import a Toyota Land Cruiser pick-up truck and have Tom Hanagan, president of Four Wheel Campers, make us a custom bed insert for it.
Jonathan: We had a line from a guy in Florida who was importing later model Land Cruisers from the Middle East.  He was apparently getting them in with a clear title, even though they were fewer than 25 years old.
Upon further reflection, we realized this was not a good approach.  For one, we would be essentially circumventing the law.  Being well-known in the overland community, this would not set a good precedent.  It also seemed elitist since most people can't import a Land Cruiser.
We wanted to build a vehicle out using a truck that's readily available.  The Toyota Tacoma is the most popular light truck in the country.
While we were ordering our Tacoma, we asked people on the overland forum to guess what our next truck would be.  We got lots of wild, exotic guesses.  After we shared that we got a Tacoma, one of the first responses on the forum was, "Oh, just a Tacoma."  From that we made our own acronym, JATAC, "Just A Tacoma and Camper", and it stuck.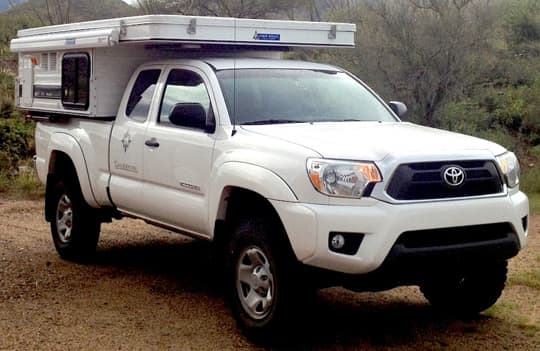 Above: The JATAC
Roseann: And we ran with it.  You don't need to spend $100,000 on a vehicle to go on a major adventure.  The JATAC cost under $50,000 and we are putting it in a container headed to southern Africa.  The JATAC is ready for the world.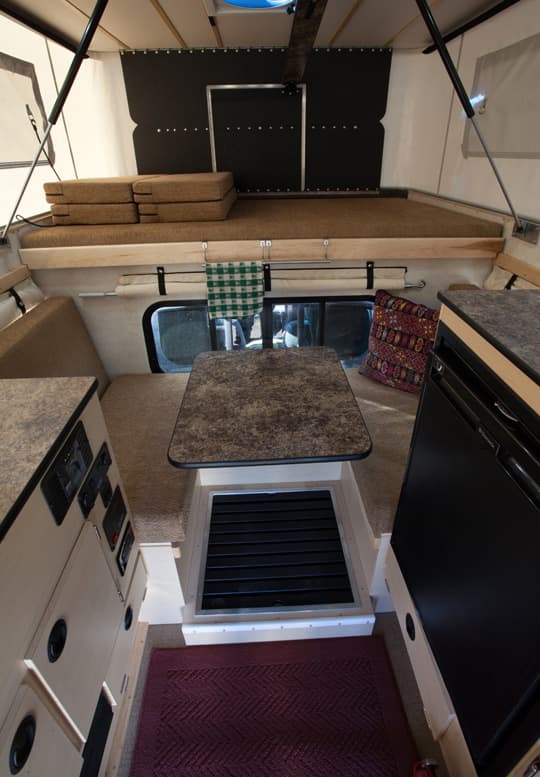 Above: In the Fleet, the shower is in the middle of the dinette.  The curtain is from a marine supply company and is round and hangs from hooks in the ceiling and then has an elastic bottom that slips over the removable grate.  The drain goes under the floor and out the back.
TCM: How did you determine that the Fleet self-contained model was the right Four Wheel Camper for the JATAC concept?
Roseann: The forward dinette layout and the amazing hot shower!  It is so easy.  My understanding is that they brought in a great designer and it was his idea.  After you're done, you'd never know you took a shower in the dinette.  It's quite amazing.  The shower is really why we wanted a Fleet instead of an Eagle.
There's a sailboat-like feeling inside the Four Wheel Camper Fleet self-contained model — I really like the face-to-face dinette along the front wall.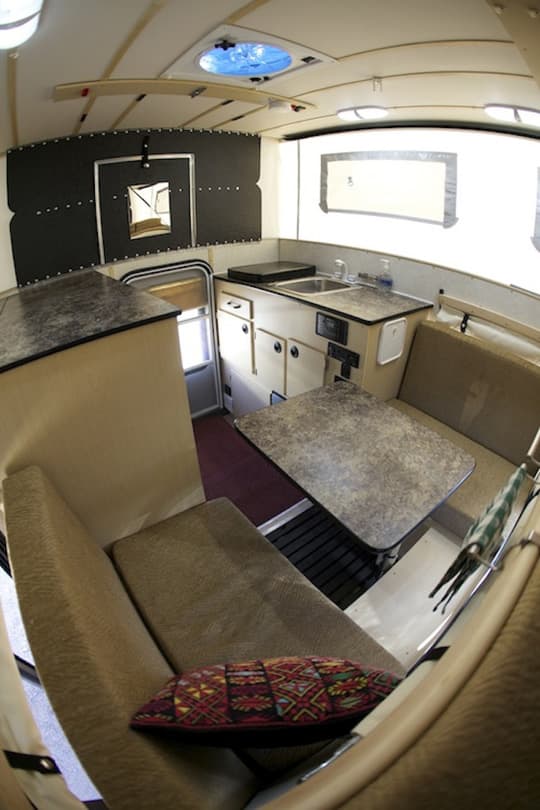 Jonathan: We use the shower frequently while traveling.  The camper also includes an external hook-up for an outside shower.  The front dinette allows us to work opposite each other easily.  And, if one of us is in the kitchen cooking, the person sitting in the dinette is out of the way.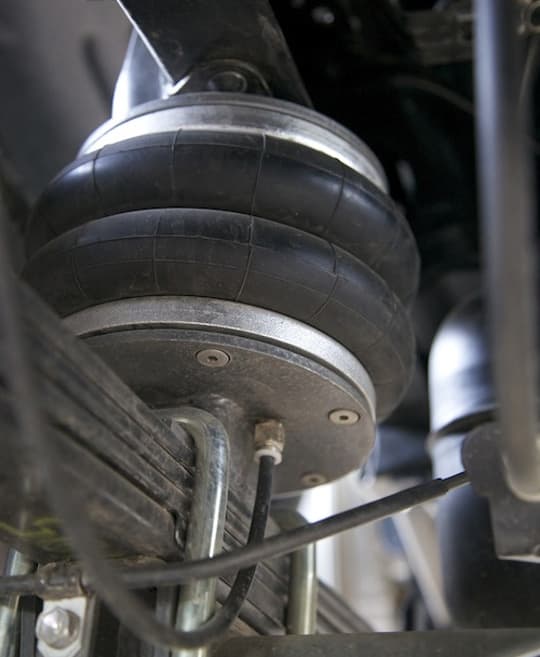 Above: BOSS airbags
TCM: We've always wondered if the shower in the Fleet self-contained was truly practical.  Tell us about any modifications you've done to your Toyota Tacoma to make it more expedition-capable.
Jonathan: A lot of modifications are still in process.  The only thing we needed for suspension was a set of BOSS airbags.  We installed a remote control pump, switch, and gauge set-up.  With our rig, the weight can vary by several hundred pounds when we're carrying water and gear.  The airbags help level the changing loads.
We have ICON shock absorbers as well.  We will be adding an ARB locker for the rear differential, and also a Pronghorn Overland Gear aluminum front winch bumper, which we should have in a month or two.  We are also adding a Pronghorn aluminum rear bumper and skid plates.  That will probably be the extent of it.
TCM: Have you upgraded your tires?
Jonathan: When we got the Tacoma, we upgraded to BF Goodrich All-Terrain T/A tires.  We bought steel wheels in preference to aluminum wheels because we were working out the plans to ship our rig to Africa.  If we need the wheels worked on in Africa, steel is easier.  We're doing things to the truck, like adding a winch, because of our Africa trip.
We're not going to put sliders on the sides.  We're not that radical.  The skid plates will help and the rear bumper will be nice.
Roseann: Part of JATAC mission statement is that we want to keep it simple and affordable.  I would take our rig to Africa right now.  We don't absolutely have to have all those products for extended travel.  But, it will be easier and we can be more independent and go deeper if we have them.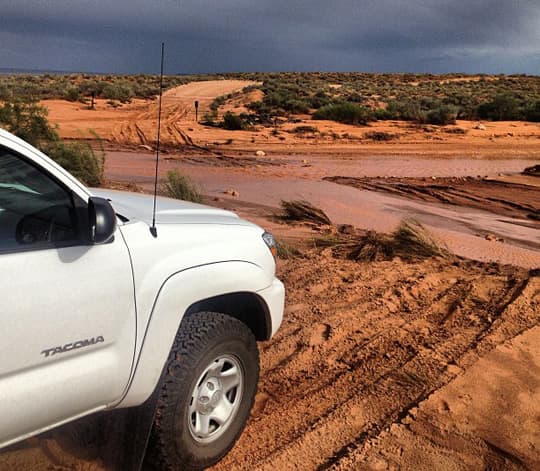 Above: North Rim of the Grand Canyon, Arizona
An example is when we were about to travel through a remote four-wheel track on the North Rim of the Grand Canyon.  It was raining and the creeks had flooded.  We turned around because we had not yet installed a winch and did not have front and rear recovery bumpers.  We had no way to undertake a self-recovery if the vehicle became stuck in a wash.  It could have been a disaster.
TCM: Since assembling the JATAC, has anyone else followed in your footsteps and assembled their own JATAC?
Roseann: Yes, we know at least half a dozen people who bought the same set-up we have; two of them are single women.  It's a great rig for solo travelers.
The entry into a rig like ours is not super-expensive.  It's approachable.  It's great to see people taking our inspiration and running with it.
Above: Solar, deep-cycle batteries, and LED lights make this an off-the-grid capable camper
TCM: Tell us about any modifications you've done to your Four Wheel Camper to extend its off-the-grid capabilities.
Jonathan: We added 200 watts of semi-rigid flexible solar panels from Global Solar to the camper roof giving us complete electrical freedom.  They are very thin panels with a strong adhesive backing.  The wind profile is about an inch, and the overhead clearance is none.  They're also hard for people to see from below, which is nice.  We also have two deep-cycle batteries and all-LED lighting.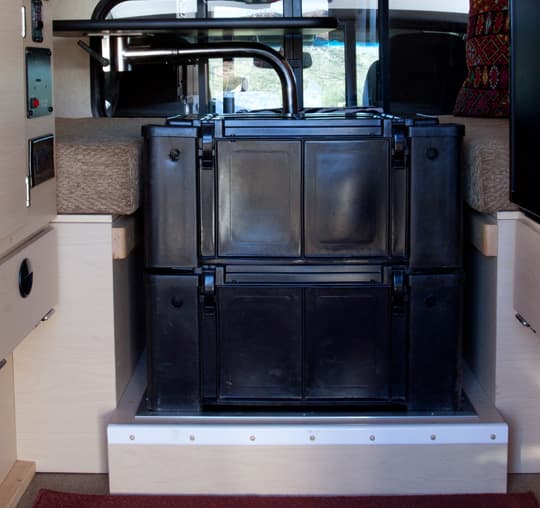 Above: Wolf Pack hard plastic gear boxes that fit under the dinette during travel
Roseann: One of our goals was to set up the camper so that we didn't have a lot of junk bouncing around during a trip.  Everything has to have a place.  There's a temptation to open the door, shove stuff in, close the door, and hope it stays in place.  I don't want to be confronted by duffle bags and recovery gear when I open the camper door.  Plus it's unsafe to have unsecured equipment in your camper should you have a rollover.
I discovered that two ex-military Wolf Pack hard plastic gear boxes from South Africa fit in the recessed area of the dinette of our Four Wheel Camper.  They are extremely secure in that position with a ratchet strap.  One additional box fits in front of the door and is secured with straps.  These boxes hold recovery gear like shackles, straps, a compressor, water hose, and leveling blocks.  The Wolf Pack boxes come out when we're camping and stack up to form a step system to get in and out of the camper (Jonathan riveted aluminum diamond plate to the tops of two of the boxes).
Above: There is lots of storage in the Four Wheel Fleet
TCM: That's clever.
Roseann: We also have really nice aluminum table, also from South Africa, that glides on runners under the exterior overcab.  It sits above the cab of the truck.  We also have a Fiamma awning.  That was a painful splurge at the time, but it's been one of the best investments.  Along with the aluminum table, the awing provides us with an outdoor room.
Tom Hanagan and his crew did an excellent job designing and implementing the cabinetry and storage.  We can fit a month's worth of food and gear into the camper storage areas with no problem at all.
The camper has twenty gallons of fresh water, which is good for about six days, less if we shower more than once!  We added additional water storage with two seven-gallon water bladders.  They are rugged and fit behind the front seats of our access cab.  Water is always a limiting factor.
The next project for Jonathan is to install a high-grade water purification and filtration system.  We will be able to take a hose out to a water source, like a water hole or a community source, and run it through the filtration system into our clean water tank.
TCM: Wow, that seems brave considering some of the locations you're considering.
Roseann: Graham Jackson, who is the director of training for Overland Expo, is an expert in water purification.  He set up a similar system for his Land Rover when he and his wife drove across Africa.  We are going to steal Graham's knowledge.
TCM: Let us know when that comes together.  We would be very interested in how that system works.  What do you like to do while your traveling in the JATAC?
Roseann: We have always been photographers, for fun and for work.  We always have our camera and video gear.
I also enjoy sitting out by the campfire with a drink and my personal journal.  I'm constantly writing, sketching, and drawing.  Both of us also enjoy bird watching and natural history.  We are always wandering off to discover plants and flowers.
We "accidentally" bought two fly fishing rods, so that's going to be our next thing.  Since we grew up in the desert, we are looking forward to figuring that out this summer.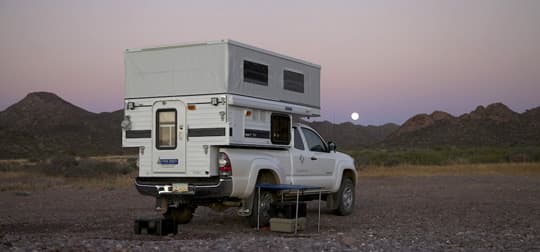 Above: Playa Himalaya, Sea of Cortez, Mexico
TCM: What are some of your favorite camping spots?
Roseann: Our favorite place on the planet is the Sea of Cortez in Mexico.
Jonathan: A close second is the north rim of the Grand Canyon.  We go to the Marble Canyon area to explore the backroads.  You can camp within feet of the Grand Canyon there.   It's surprisingly easy to get away if you know where to go.
TCM: Where did you get the idea to found the Overland Expo?
Roseann: In the early-2000s, we met a lot of people who also enjoyed adventure travel.  At the time, there was no venue or event for us to gather.  There were four-wheel drive gatherings to conquer obstacles or mud, but those events were all about conquering rather than exploring.
The more we thought about it, the more we believed there was an opportunity.  I had organized non-profit events before, but nothing as large as the Overland Expo.  I finally decided to launch the event to gather the community together and to promote the industry.
In 2009 we held the first Overland Expo.  Nearly a thousand people showed up.  In the three years that followed, the Overland Expo doubled every year.  For the past two years, the event has grown twenty to twenty-five percent each year.  We expect over 7,000 people in 2014.  It's been a wonderful experience.
TCM: How did you make sure the Overland Expo wasn't just about the vehicles and equipment?
Roseann: That was very important to us.  We wanted to bring together the most experienced and qualified overland explorers in the world to share their knowledge with the community.  It makes this event unique because it's a learning experience.  It's about getting equipped, getting inspired, getting trained, and getting going.
TCM: We really enjoyed our experience at Overland Expo 2013 and learned a tremendous amount.  Thank you for starting and running such a wonderful annual event.  What's in-store for Overland Expo 2014?
Roseann: Once again, we are introducing new classes and challenges.  Our biggest growth areas are truck campers and adventure motorcycles.  We will be introducing special classes for truck campers this year.  A lot of the classes will have special truck camper interests.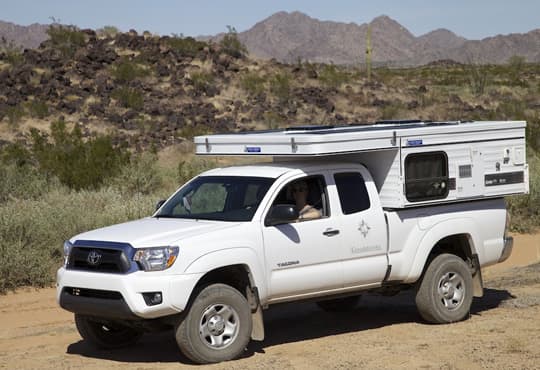 Above: The JATAC on El Camino del Diablo Road, Arizona
TCM: Our readers will love to hear that.  What are your next plans for the JATAC?
Roseann: We are going to Africa in 2014, but not until after the rainy season, probably during our summer; we'll be shipping the JATAC by container to southern Africa and driving to Mombasa, from coast-to-coast.  We have several trips to Mexico planned over the holidays.  And we are developing a 2014 adventure with a partner, driving the Continental Divide.  We'll announce more information about that trip soon.
We hope to see more truck campers at the Overland Expo this year.  I'm about 90% sure the JATAC will be there, unless it's on a container on its way to Africa.  Transit time from Africa is three to four weeks.  Either way, come on out.
To visit the Four Wheel website, go to fourwheelcampers.com. Click here for a free Four Wheel brochure.
Above: Roseann and Jonathan Hanson with their JATAC, Just A Tacoma and Camper