A lot has happened since we launched the, "Petition to Keep RV Campgrounds Open" last week.  Most importantly, the RVIA has taken up the cause and is actively pushing it forward with state policy makers.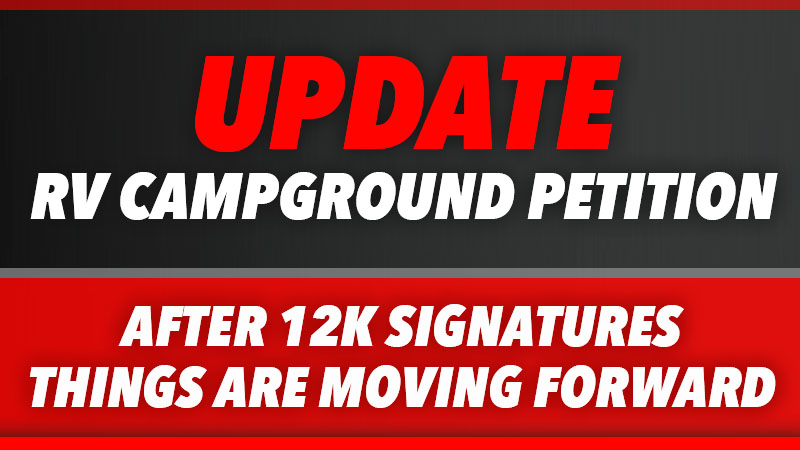 On Tuesday, Truck Camper Magazine published a petition demanding federal, state/provincial and local authorities to allow RVers to shelter-in-place and self-quarantine in national, state/provincial, local and commercial campgrounds during the coronavirus situation.
As it stands, thousands of campgrounds across the United States and Canada have closed, forcing RVers out of their campgrounds to find other accommodations.  If they are unable to drive home, drive to a friend or family's home, or secure an alternate campsite, they are potentially stranded.
Good News: The Cause Is Moving Forward
Multiple inside sources informed us that the petition has been utilized at the highest levels within the RVIA, RVDA and ARVC.  These organizations have direct access to local, state and federal officials that are making these decisions.
We have had our differences with the RVIA over the years, but they appear to be pushing hard to keep campgrounds open.  With this goal, the RVIA has issued the following statement for local, state and federal authorities:
"The RV industry is working closely with federal, state and private campground providers and strongly urges that campgrounds continue to remain open and accessible to RVers as long as the providers are following all appropriate guidelines and there's no threat to the health and safety of visitors, employees, and natural resources.
Federal agencies and private campgrounds are interested in helping to redirect camping demand from limited-capacity or closed parks to local private campgrounds, so RV families aren't trapped without overnight accommodations.  These agencies should also provide increased access to dispersed or boondocking campsites, where appropriate, to alleviate campground overcrowding at many of the popular national park locations and to help with social distancing.
The RV industry is fully dependent upon these iconic federal lands and accessible state and private campgrounds for recreation, conservation, enjoyment and overnight camping.  Members of the Traveling Nurses program often stay in campgrounds and can be deployed in hard hit areas related to the crisis.
Traveling families and Americans in between homes commonly utilize campgrounds as their only source of temporary accommodations."
We applaud the RVIA for their actions and implore them to re-download the updated Truck Camper Magazine petition periodically for the additional industry leader and RV community signatures that are added.
Good News: Industry Leaders and Community Are Behind It
Response to the, "Petition to Keep RV Campgrounds Open" was astounding.  In less than a week, the petition has been viewed over 110,000 times and gained over 12,000 signatures from truck campers and RVers across the United States and Canada.
The truck camper and greater RV industry leaders are also getting behind this effort. Petition signers include the leadership of AC Nelsen RV, Alaskan Campers, Bigfoot Industries, Capri Camper, Crossroads RV, D&H RV Center, Four Wheel Campers, Fraserway RV, Hallmark RV, Hellwig Suspension Products, Lance Campers, Northern Lite, Northstar Campers, Princess Craft RV, Thunder RV, U-Neek RV Center, and nuCamp RV.
We have also fielded emails, phone calls and support from RV industry leaders including Shawn Loring, CEO of Escapees Club and Curtis Coleman, Founder and CEO of RVillage.  The entire RV industry has a stake in keeping the campgrounds open and is working to support the efforts to make that happen.
Bad News: Many Campgrounds Have Already Closed
Campendium has done a spectacular job keeping up with all campground closure information.  Click here for the most up to date list of campgrounds that are closed in the USA and Canada.
While the United States National Park system has suspended day use entry fees (until further notice) they have also closed the campgrounds at numerous national parks.
This includes all campgrounds at Bandelier, Big Bend, Death Valley, Great Smoky Mountains, Joshua Tree, Red Woods, Sequoia, White Sands, and Yosemite.  For a complete list of closed state park and national forest campgrounds, check the Campendium links above.
All Army Corp of Engineers (COE) campgrounds are closed or are currently shutting down. This includes every division and district across the United States.  Nearly 60 military campgrounds are also closed according to militarycampgrounds.us.
All state campgrounds in California, Florida, Hawaii, Illinois, Maryland, Massachusetts, Nevada, New Jersey, New Mexico, New York, North Carolina, North Dakota, Oregon and Washington and Wisconsin State are closed.
Within the states, the county campgrounds are mixed.  For example, some county campgrounds in Florida are open, but many are not.  We have already been notified that several county parks in Florida have closed and canceled our upcoming reservations.
Thank You For Supporting The Petition
There can be no doubt that our community helped get the ball rolling with the RV organizations that affect policy maker decisions.  Thank you.
While we still welcome additional petition signatures, the RVIA, RVDA and ARVC are now the tip of the spear.  As a magazine, we want to thank and support these organizations for their efforts.  Make it happen.
We are returning our focus to what we need to do to help and support our truck camping community at this challenging time.
Hang in there everyone.  And stay safe.