Truck Camper Magazine urges federal, state and local authorities to allow RVers to shelter in place in national, state, local and commercial campgrounds.  The alternative could be disastrous.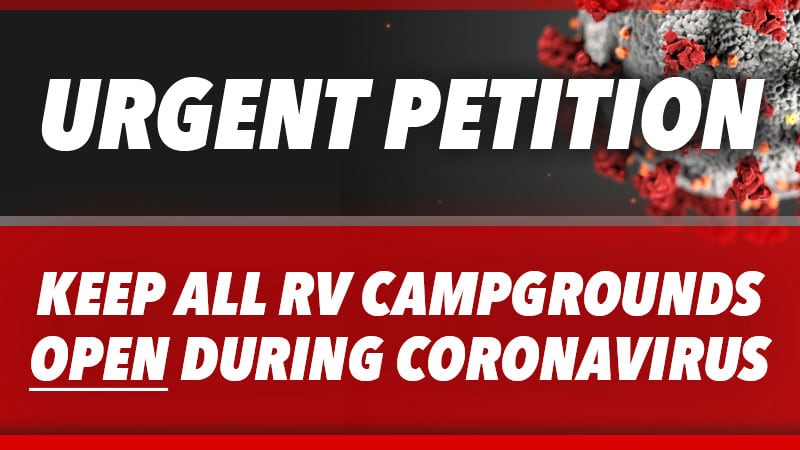 State Campgrounds Are Closing Rapidly
Moments after publishing, "3 Ways To Use An RV During Coronavirus" yesterday afternoon, we learned that all Florida state campgrounds are closing at 1:00pm this Friday, March 20th.
From the Florida State Park's website:
"Existing overnight camping and cabin reservations that begin Wednesday, March 18, will be honored.  Visitors must arrive prior to 5 p.m. on March 18, to secure their reservation.  After Wednesday, all reservations moving forward will be cancelled and refunded.  Beginning Friday, March 20, campgrounds and all overnight accommodations will be fully closed."
Florida is joining Illinois, New Mexico, Pennsylvania, New Jersey and North Carolina in closing all state campgrounds.  It's not a great leap to foresee the remaining states following suit in the coming days.
It's also not a great leap to foresee local and national lockdowns closing even the commercial campgrounds.  This would put hundreds of thousands of citizens in the United States and Canada in limbo.  Many of these people are the exact demographic (age 60-plus) most vulnerable to the coronavirus.
The Immediate Consequences of Campground Closures
State campground closures are forcing thousands of RVers out of their campgrounds to find other accommodations.  Exasperating the issue, we are in the middle of Spring Break (now through early April depending on the school) and the busy snowbird season.  It could be extremely difficult to find alternate campsites at local, federal and private campgrounds.
This sets up a situation where RVers will have some difficult choices – right now.  If they are unable to drive home, drive to a friend or family's home, or secure an alternate campsite, they could be stranded.
This doesn't take into account the 1-million RVers who live full-time in an RV.  The concept of living full-time in an RV (living in an RV and not owning or renting a house or apartment) may be unfamiliar to the very authorities making the decision to close campgrounds.
In the event of mass campground closures, full-time RVers are the most likely to be stranded.  These citizens cannot go "home" to self-quarantine if you kick them out of campgrounds.
Stranded RVers need to park somewhere overnight.  Without campground reservations, many will park at commercial establishments that welcome RVers including Walmart, Cabela's, Cracker Barrel and casinos.  For overnight RV parking options, check out our article, "Free and Safe Places to Park Overnight In An RV".
While parking at these establishments may solve the challenge in the short term, these businesses (a) do not want people staying long term, (b) cannot provide power to RVs for air conditioning (temperatures across Florida will be in the 80s and 90s this weekend into next week – and not all RVs have generators), and (c) do not provide fresh water and dump stations.
This last point is critical.  Without access to dump stations, some RVers – without options – could dump their tanks in inappropriate locations.  At a very minimum, state parks should offer free access to their dump stations and keep them open to help prevent this health hazard.
We also don't want stressed RVers wandering our roadways.  We need our emergency responders focused on the coronavirus situation, not RVers crowding Walmarts.
The Petition: What We Propose
Please join us in petitioning all local, state, and federal authorities to keep the local, state, national and commercial campgrounds open under the following conditions.
1. Allow all RVers currently in place at national, state, local or commercial campgrounds to self-quarantine in place.
2. To keep park employees safe and comply with any existing or potential lockdowns, park staff should be allowed to go home and self-quarantine.
3. All park bathhouses and other public areas at the parks should be closed.  These facilities require cleaning and maintenance that is not possible in a quarantine or lockdown situation.
Please also post this article and petition on your Facebook, Twitter, Instagram, and other social media feeds and email it to friends and family.  We need a lot of people to sign this right now.
We also urge RV industry leaders to sign and support this petition.  If mass campground closures take place, the RV marketplace could lose the entire 2020 spring and summer season.
Thank you.  And stay safe.
Our Petition For Campgrounds To Stay Open
If you believe that the campgrounds should stay open to people who need them during coronavirus, please join us by signing the petition by sharing your name and state/province below.
Petition signing is now closed.
Petition Signatures
RV Industry Leaders
Bryan Wheat, President of Alaskan Campers, Chehalis, Washington
Dorrie Bonahoom, General Manager of Alaskan Campers, Chehalis, Washington
Grant Bilodeau, President of Bigfoot Industries, Vernon, British Columbia
Randy Hunter, Engineering at Lance Campers, Lancaster, California
David Hofert, President of D&H RV Center, Apex, North Carolina
Ruth Goodall, Fraserway RV, Chilliwack, British Columbia
Stanley Kennedy, National Sales Manager of Four Wheel Campers, Davis, California
Bob Rogers, Director of Marketing for Lance Campers, Lancaster, California
Keith Donkin, General Manager of Northern Lite, Kelowna, British Columbia
Rex Willett, President of Northstar Campers, Cedar Falls, Iowa
Mark Hellwig, CEO of Hellwig Suspension Products, Visalia, California
Caleb Sampson, Thunder RV, LaGrande, Oregon
Larry Sanderson, Sales Manager of U-Neek RV Center, Longview, Washington
Elizabeth Wagner, Marketing Director for D&H RV Center, Jacksonville, Florida
PJ Buerger, President of Princess Craft RV, Round Rock, Texas
Jim Davies, President of Crossroads RV, Chubbuck, Idaho
Bob Fielder, General Manager of AC Nelsen RV, Omaha, Nebraska
Tanner Guy, IT Director of nuCamp RV, Dover, Ohio
Pete D'Acosta, President of Capri Camper, Bluff Dale, Texas
Shawn Loring CEO and Attorney of Escapees RV Club, Livingston, Texas
RV Community
Click here to see a PDF of all the signatures.