Dustin Johns, President of Travel Lite, has long promised us an all-out assault on a state-of-the-art luxury truck camper.  Introducing the Travel Lite Illusion series.

A few weeks ago, we got a phone call from Dustin Johns, President of Travel Lite, that went a little something like this:
"Gordon, I'm working on a new high-end truck camper line.  I can't tell you too much about it yet, but you're going to love it.  The counter tops are… well, you're just going to have to see it at Louisville.  I can't wait for you to see it.  I'm really excited about these new campers."
Dustin had about as much subtlety as a kid who just discovered the candy isle at the supermarket.  Evidently, Dustin was pretty excited.
When we arrived at Louisville, there were two Travel Lite Illusion series truck campers, and a big smile and enthusiastic hand shake from Dustin Johns.  A few moments later, Dustin was showing us exactly what makes the new Travel Lite Illusion series special.  As you're about to read in his interview, it's a long list.
To create their new Illusion series, Travel Lite took two existing floor plans from their hard side line and upgraded everything inside and out to Dustin's high-end standards.  Travel Lite's time-tested design and wood frame remain the same, but everything else was challenged until Dustin felt the Illusion series was worthy of taking on the luxury truck camper marketplace.
In many ways, Dustin's new line is going to push the boundaries of the luxury truck camper marketplace.  For starters, the Illusion series appears to offer both a stunning value, and an implementation of technology rarely if ever seen in the truck camper category.
Nice work, Dustin.  We're excited too.
Above: The front nose of the 2014 Travel Lite Illusion
TCM: Tell us about the concept of the Illusion series.
Dustin: I wanted to create a truck camper package that offered our customers a fully-loaded, high-end, luxury truck camper at a lower price.  With the Illusion, the only feature or option that's not included is a propane generator.  Everything else, and I mean everything else, is included.  For the truck camper customer looking for the best bang for the buck, they just found it.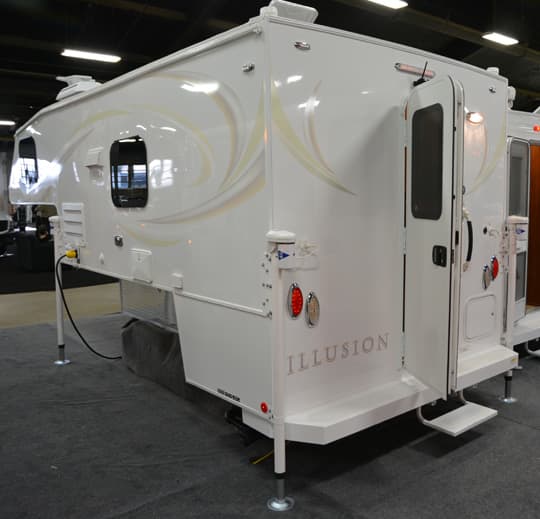 Above: The back and driver's side of the 2014 Travel Lite Illusion
We also took a fresh approach to the exterior and interior design for the Illusion series.  Other manufacturers have been making their truck camper exteriors very dark with over-the-top bold exterior graphics.
For the Illusion we made the exterior graphics subtle and added a hint of depth and sparkle with a high-gloss molded front nose cap.  The dark-tinted frameless windows give the Illusion campers a look that is uniquely modern yet sophisticated.  We were aiming for an understated, classic exterior, and I believe we nailed it.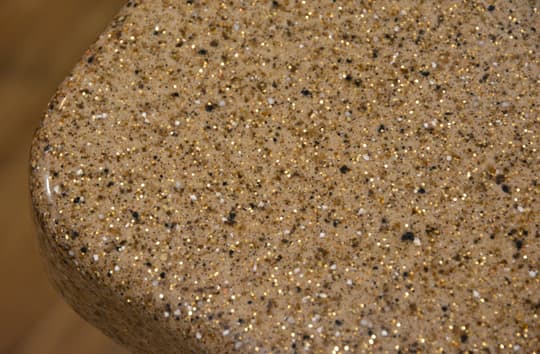 Above: Gold-flake Granicote tables and countertops are featured in the Illusion series
We didn't stop there.  On the inside, the Illusion series features raised panel cherry cabinet doors and gold-flake custom-molded Granicote countertops and dinette tables.