In our first-ever interview with a robot, Torklift International reveals their Royal City, Washington manufacturing campus, several new products in development, and more. Meet Jackbot.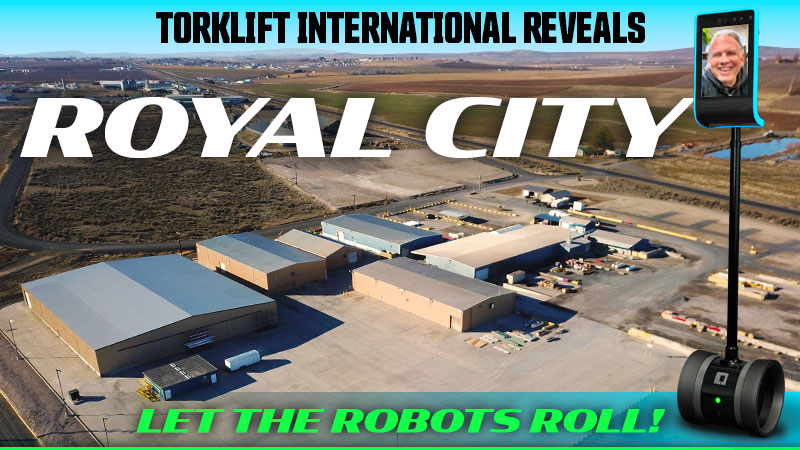 Three weeks ago, Angela and I wrapped up our magazine work day and went for a walk around our neighborhood. About a half-mile from our door, my phone pinged. It was Candice from Torklift International. The next day we were scheduled to interview Jack Kay, President of Torklift International, about their new Royal City manufacturing campus.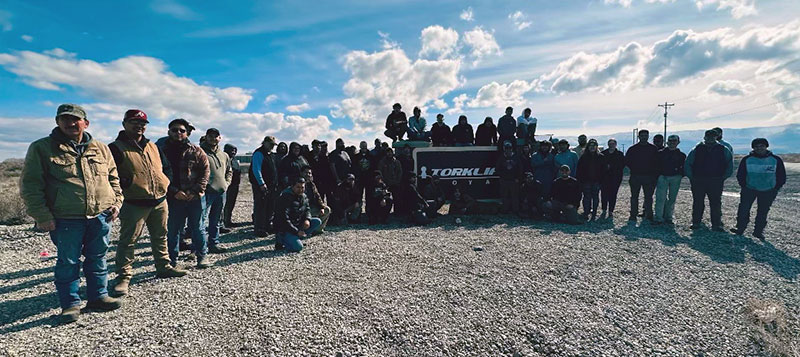 Above: The Torklift International Royal City team.  All factory photos provided by Torklift International.
"So we are sitting around talking about the interview set for tomorrow and Jack had an idea. It's weird but stay with me. He wants to know if you want to delay the interview so that we can ship you a robot that we use at our new campus so he can project himself into the robot and join you in person. Why? Because we think TCM hasn't done that before. If not – no problem we are on for tomorrow – lol."
As I read this text I (a) almost walked into a tree, and (b) thought with absolute certainty that Candice was pulling my leg. LOL, indeed. I've been known to drop some fun and funny around this here magazine so it's not exactly unusual to have industry and reader friends return fire. Heck, half my incoming texts from people are something between an episode of Punked and April Fools Day. I guess I have it coming.
"Yes! Send the robot. Thank you!" I quipped, dodging the next tree with a grin.
"You know they're serious, right?" said my more astute half. Somehow Angela was certain the masterminds behind Torklift International were about to drop a silicon and servo cyborg upon us.
"No way," I said. "They're not a sending is a robot for goodness sake."
Seven days later, I got another text from Candice.
"Hey Gordon. It looks like the robot is out for delivery…."
I knew this would happen. Forget AI. Forget the singularity. I was literally picking up a robot from my local UPS Store and bringing it home. What was inside this rather large box? Torklift's R2-Glow-2? Super-Hal? Talon T-1000? Was I about to meet the unrelenting fate Ah-nold warned us about? This could be it. The end of yours truly and TCM. Hasta la vista, baby.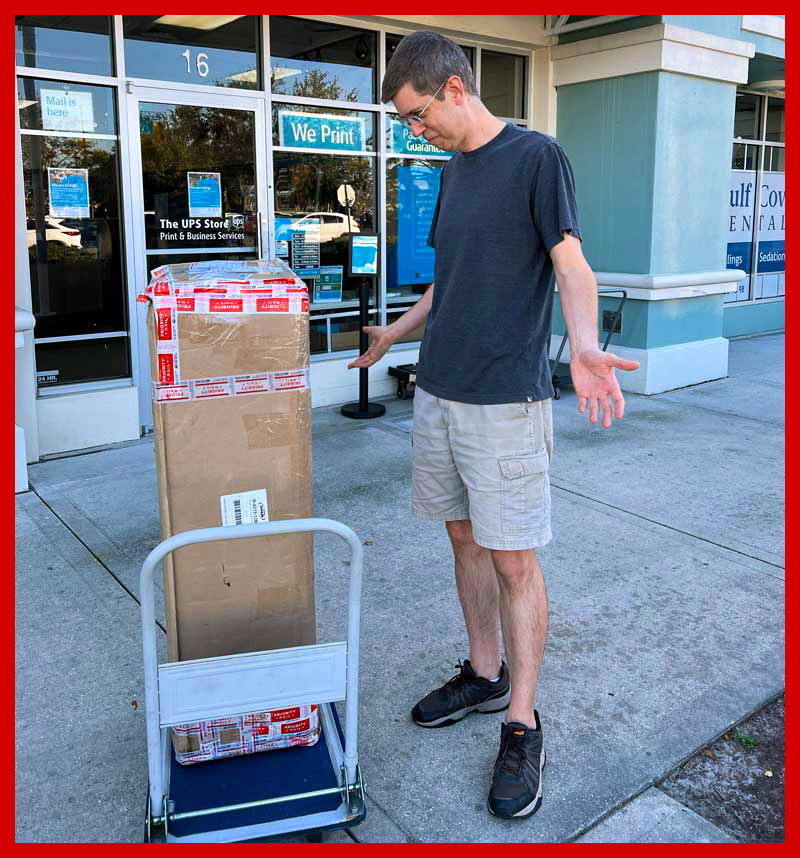 Above: I added the red border to simulate my mental status in this moment. It was something along the lines of, "Danger, Gordon! Step away from the robot."
Resigned to my fate, the next morning I brought the box into our office, cut it open, pulled out a large black travel case, and popped the latches. Inside was a Double 3 robot. After some simple set-up, we turned on the robot and our ever-curious CEO nearly lost his kitty cat mind.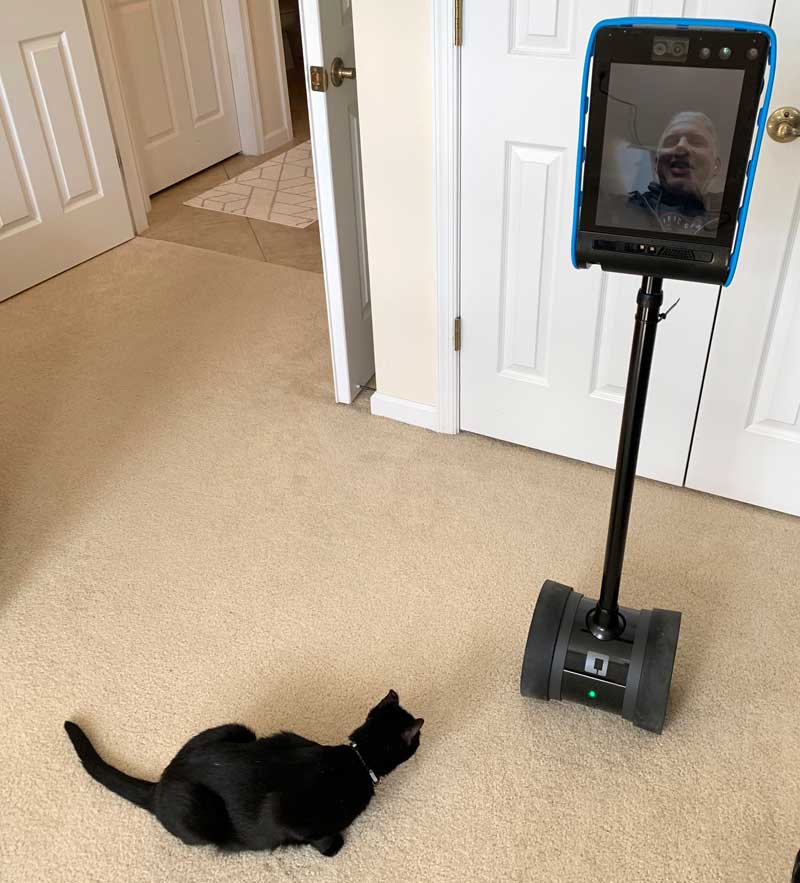 All it did was stand up a bit straighter and put down its parking break, but that was enough to put Cosmo on full puffy tail alert. When Jack dialed into the robot, his face appeared on the screen and the robot began to roll. This was nearly Cosmo's undoing as he chased and ducked Jackbot at every turn. Angela and I didn't know whether to laugh or run, but we kept on our brave faces for our feline friend. "It's okay, Cosmo. It's only a robot." It is only a robot, right Angela?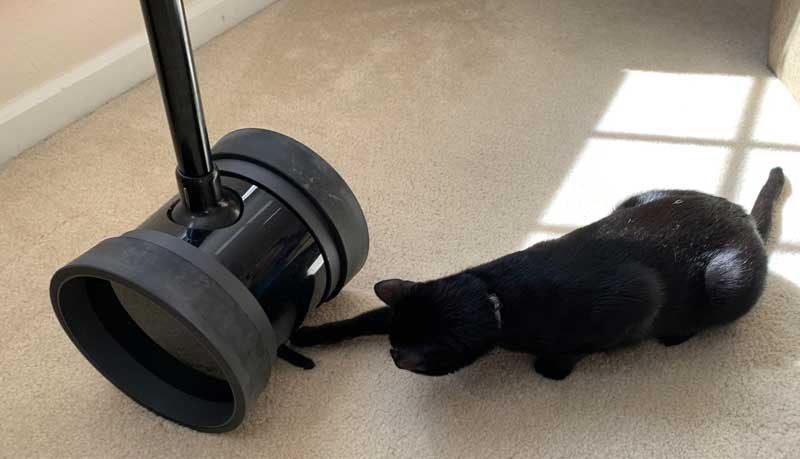 Above: Cosmo did not know what to make of this rolling robot
There is a very good reason why Jack sent us a robot. Robots are about to play a vital role in how Torklift International is operated and managed. No, they're not handing the operation to Robby and Rosie, but remote mobile communication robots are going to allow humans to better communicate and participate in daily operations, no matter where they might physically be.
To get the full story on Torklift International's new Royal City plant, and some other exciting product developments, we talked to Jack Kay, President of Torklift International, via a Double 3 robot in my home. Note to self: Listen to Angela more.
Above: Gordon in Florida and Jack in Washington
Never thought I'd have to ask anyone this question, but why did you send us a robot?
It was important for me to send this robot to you so that you can see where we are going as a company. With Torklift International's two facilities now being 120 miles apart, we need to find ways to stay in full communication. Remote mobile communication robots, like the Double 3 we're using today, are an important part of our Royal City and Kent, Washington plans.
We have tested the Double 3 robot and its ability to traverse and negotiate not just office areas, but also concrete factory floors and other industrial surfaces. It's two-wheeled, self-driving, and provides sitting or standing-height video conferencing anywhere it can go. When it's done, it even docks itself for charging.
Remember, we're not talking about one move, but two. In addition to our manufacturing move to Royal City, our Retail Product Development Center (or RPDC as we call it) is now in Kent, Washington. Bringing the product development team all under one roof has also been a dramatic expansion for Torklift International. Never in our 47 year history have we had the level of innovation and product development that we have now at our Kent campus. And we now have our entire manufacturing facility in Royal City with plenty of space for innovation and production flow.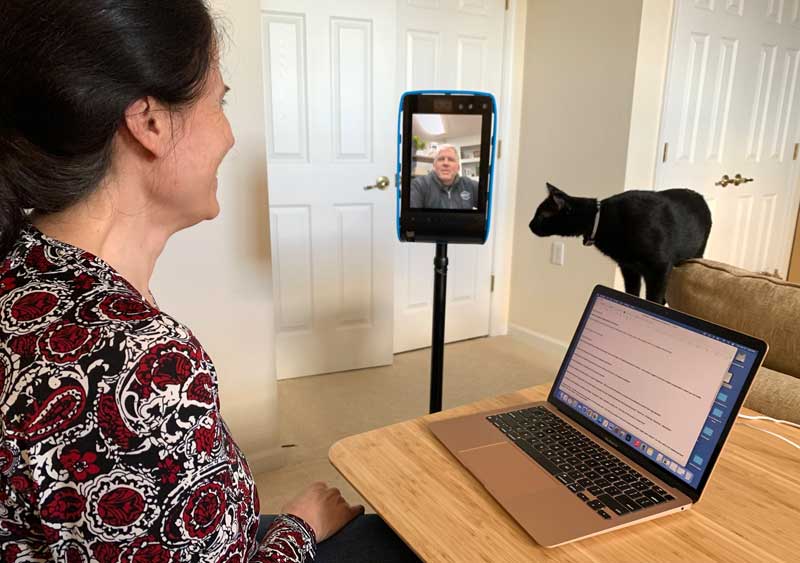 Above: During the interview, Cosmo curiously observed Jackbot
Who will be using the robots?
The robots can have multiple users who can sign up to use the robots at specific dates and times on a calendar. Ultimately, I can see multiple robots at each campus being used for a wide range of purposes.
Today I'm at the Royal City campus talking to you. If I needed to be in a sales or product development meeting in Kent, I would log into the Double 3 robot in Kent, be visually present, see everyone at the meeting, and communicate. Or, I could be at home, log into the Double 3 robot and instantaneously roll into the Royal City plant.
We're also testing another robot from a different manufacturer to see which accomplishes the tasks better.
This is so much more than Zoom. Minus stairs, it's fully functional in an office environment and autonomous. I can see everything here in Royal City and a majority of the Kent location.

How did you end up moving Torklift International's manufacturing to Royal City?
In 2019, we were going through pains with our logistics. We needed to expand. We were close to purchasing a place near Enumclaw, but it was not set up for what we needed it for. In August 2019, we found Royal City. The name of the previous business was El Dorado, which means City of Gold. So, we're in the City of Gold in the Royal City. I don't know how much bigger of a road sign you need. It was a definite sign.
We originally picked up the property and moved third-party logistics to that campus; handling all of our shipping, finished goods, and warehousing. That was December 2019. Then Covid struck in 2020. The pre-pandemic effect on the economy was scary and then it blew up the industry. Thank God at that point we had a facility we could expand in. We went from what was just logistics to keeping up with demand of epic proportions. And it expanded from there.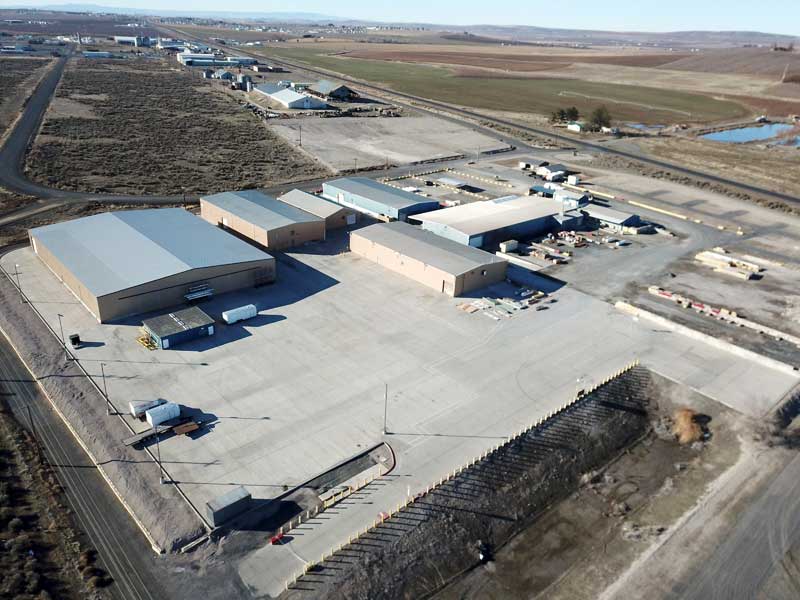 Is the move to Royal City 100-percent completed at this time?
I wouldn't say it's done. I don't think we are ever done. But, as far as two semi-trucks a day moving equipment and materials, we're done. In total, we've had fifty-seven 53-foot semi-truck loads delivered to Royal City and Kent. Are we 100-percent done with the move? Everything is over the mountain, and step system, turnbuckle, and hitch production is going at 100-percent, but there are still things left to unpack and move forward.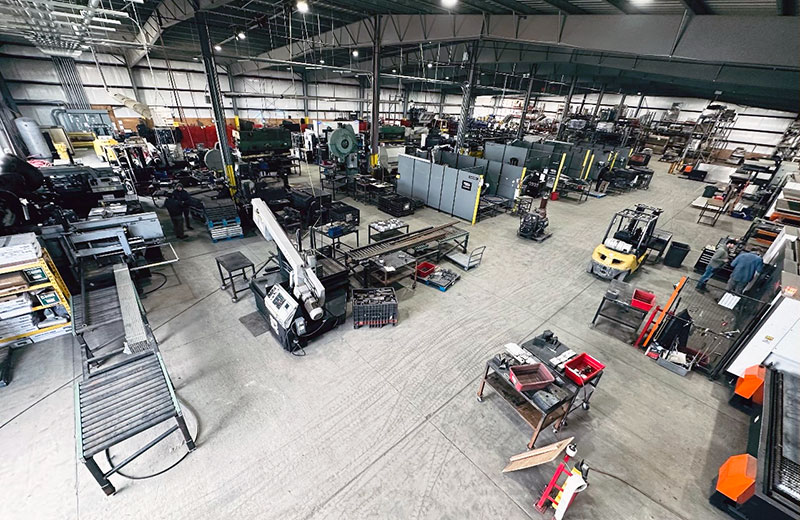 Is there anything from Torklift still at the Sumner location?
The only thing still in the old Sumner building is Torklift goodwill. In Royal City, we now have over 15 acres and 100,000 square feet with a ton of room to expand. As a bonus, Grant County, where Royal City is located, has some of the least expensive electricity on the entire planet; all from hydroelectric dams on the Columbia River.
That would be perfect for Bitcoin mining.
Bitcoin mining has been huge here due to the low electricity costs. The low cost of electricity wasn't something we were initially looking for, but it does take a lot of power to run Torklift International. In Sumner, we were paying $17,000 a month for electricity. At the Royal City plant, under current operations, it's closer to $5,000.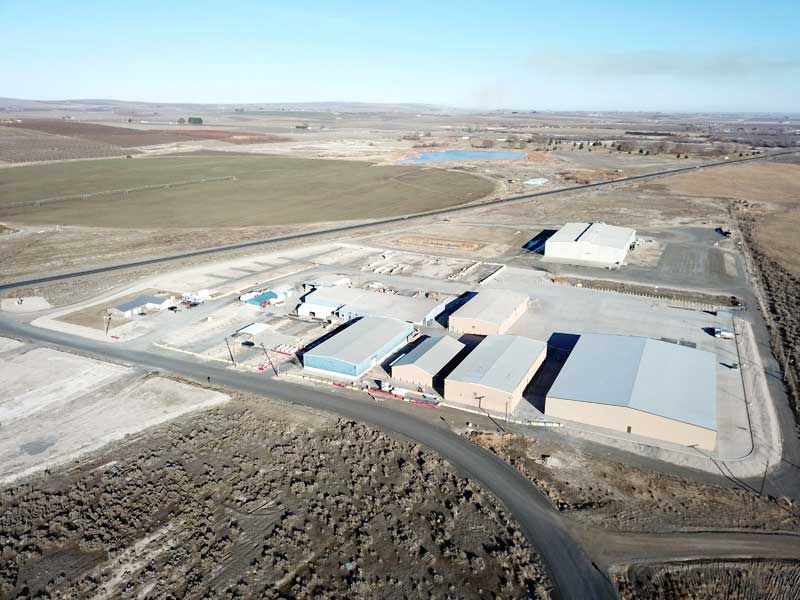 What was involved in getting the Royal City location ready to become the new Torklift International manufacturing factory?
We initially bought the building for logistics in 2019. The building needed some additional power but was essentially ready for the logistics task we were using it for. That allowed us to take the place out for a test drive and study what the capabilities could be.
One of the initial things I wanted was to update the color of the buildings. They were originally blue and very industrial in appearance.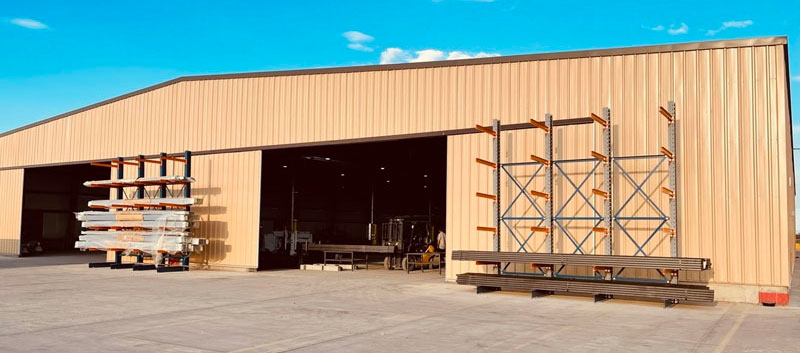 We had a central Washington company remove all the siding from the buildings and replace them. That took almost a year. Now the buildings are a more inviting stone color.
There's a house on site from the original folks who set up the plant. I'm actually staying in the house while I'm here in Royal City. When I'm working from Kent, it takes me 45 to 50 minutes to commute depending on traffic. Here, it takes me under five minutes.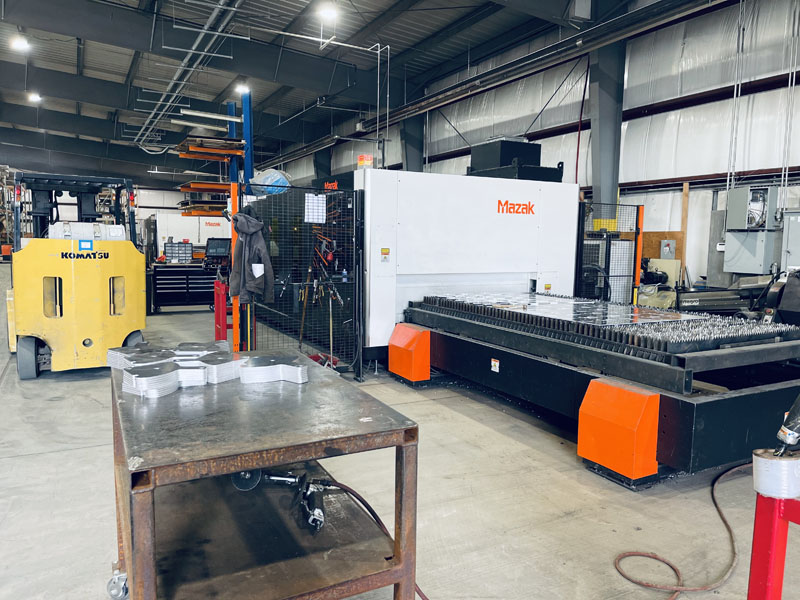 In October 2017, Torklift announced the acquisition of a $1M laser cutter. How did you go about moving the large presumably fragile equipment?
There are heavy-duty industrial movers. That's all they do. What do you do with a 40,000-pound machine 3.5 feet above grade that needs to be removed, and transported 120 miles, and then carefully placed into its new home? That is something we hire out to do.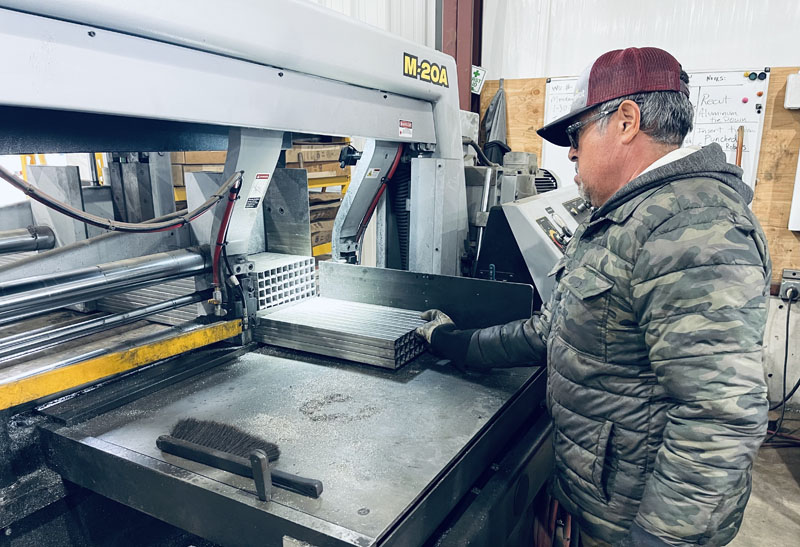 Back in the original Torklift international location in Kent, Washington nearly everything was done on classic machine equipment and tools. There were two CNC plasma cutters, but nearly everything else was hand controlled. How much has Torklift International progressed toward robotics and automation today?
We have incorporated a tremendous amount of technology at Torklift International over the past 15 years including CNC robotic welders to CNC saw cutters. Technology has enhanced our quality and consistency without shrinking our team.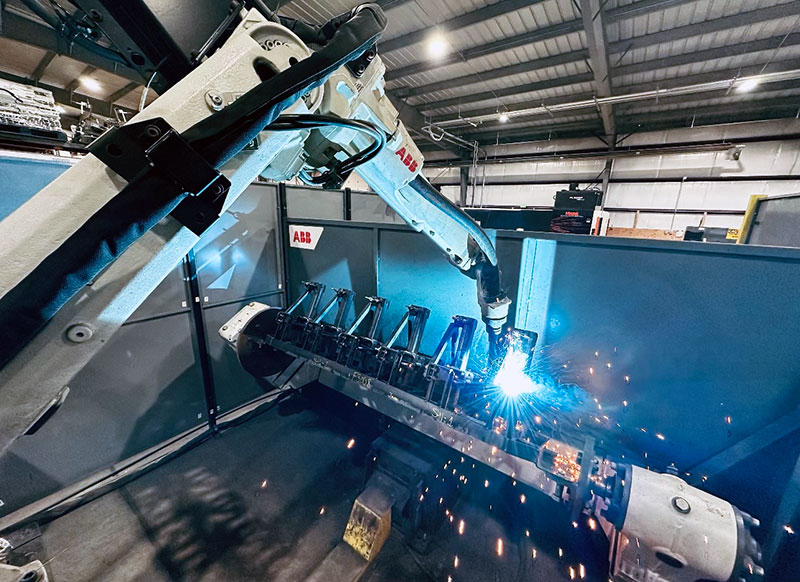 When the first robot welder was introduced, some of our human welders said, "Here come the robots. We're going to lose our jobs". That wasn't the case then, and it's not now. We still need people to run the robot and maintain it. Using robots does not equate to less staff, but actually a greater amount of staff.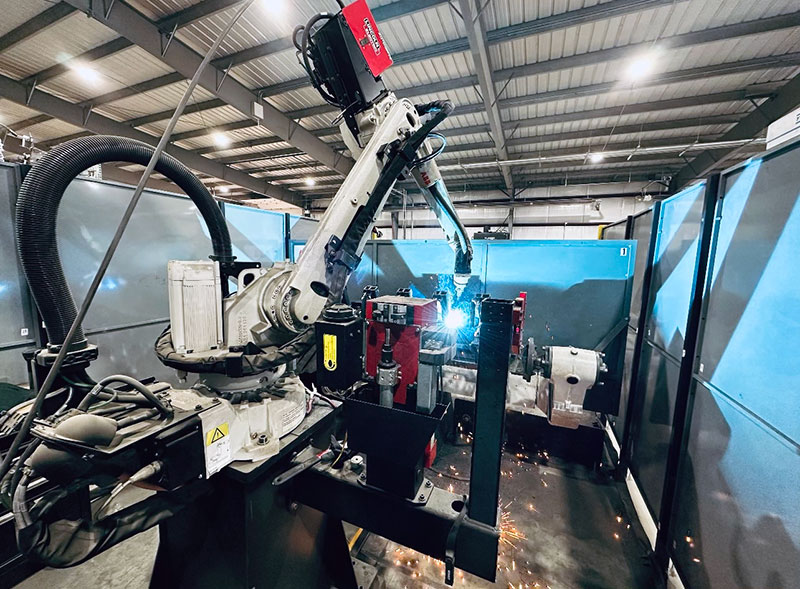 Technology gives us the ability to expand. We now have 62 people working at the Kent campus in product development. Their goal is new product development. If you don't have the capability to go from idea to production and to record different processes and duplicate them, the ability to go to production takes much longer. You are reliant on experience and skill. Technology frees us to dramatically increase our new product development.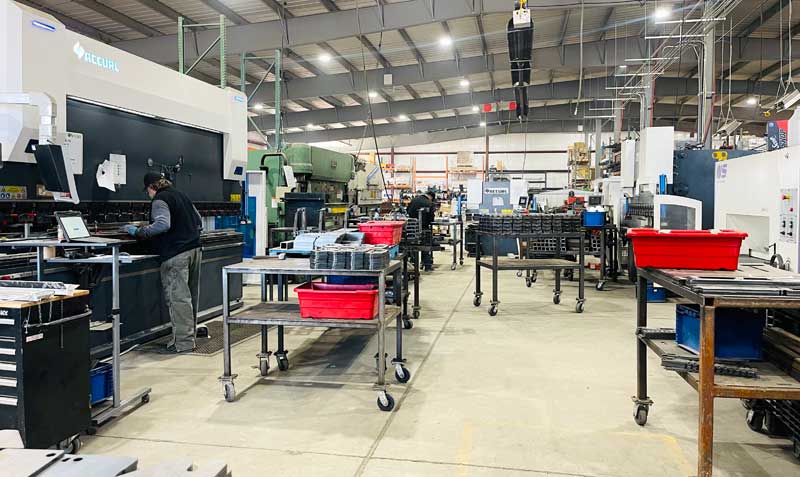 With our tie-downs, we have not been able to focus on lighter-duty vehicles like the Ford Maverick, Jeep Gladiator, and other smaller trucks. We have a lot of truck camper manufacturers with smaller units who need tie-downs. And there are new EV trucks coming out. Never has there been a time that I have existed that we have had as much disruption. If you are not innovating and creating new things at a high rate of speed, while simultaneously putting together new fitments, you are going to get passed up. We are now pursuing building tie-downs for all small truck applications to better serve truck camper manufacturers.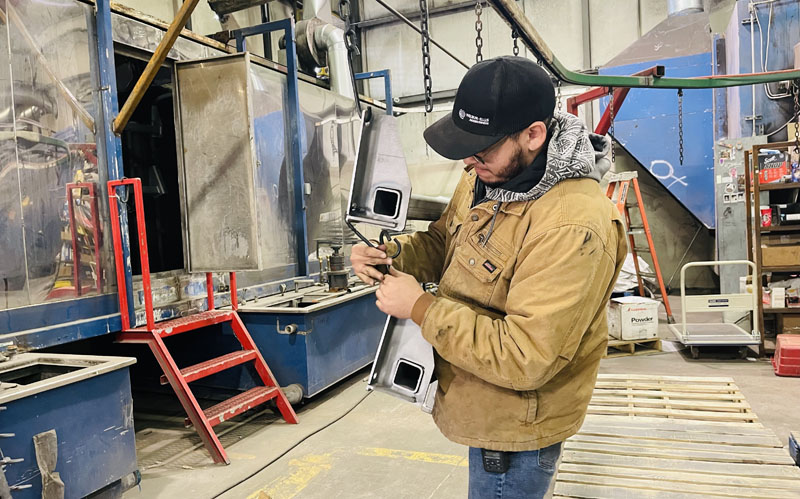 When the 25-percent steel and 10-percent aluminum tariffs struck in mid-2018, you were a leading voice about the impact the prices had on your company. Has that impact fully subsided at this time?
How is the price of anything now? Steel and aluminum haven't come down. We are glad there aren't any metal shortages right now. We are able to get all the metal, but as far as price reductions, no. Prices shot up and plateaued.
That means we need a constant effort to increase our efficiency and reduce our expenses. I can walk out at any point and talk to any person and ask if he/she wants a promotion and raise. What do you think his/her answer is? If we are going to provide that, we need to be more efficient, especially with the high price of metals.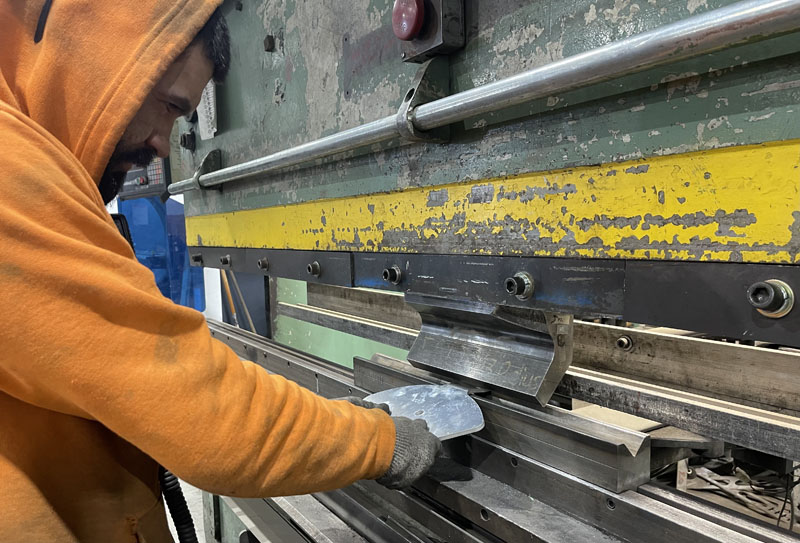 Tell us something positive from Torklift International that came out of the tariffs, supply chain shortages, and pandemic situation of the past three years.
The pandemic expanded demand for our products. Because of our attention to quality and our CNC equipment, we are able to work with OEMs on step systems. Some smaller truck camper manufacturers, in size and footprint, have also come to us. That demand has required continued expansion, and we're always focusing on quality and efficiency.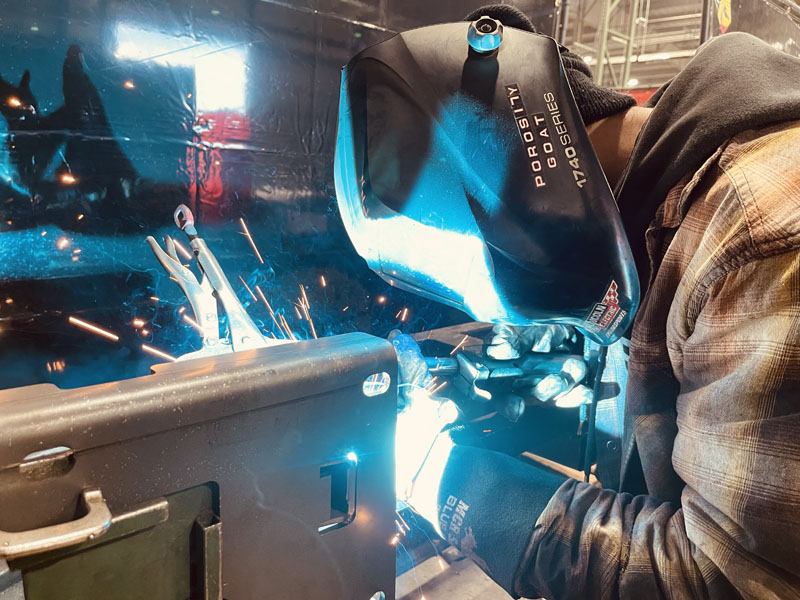 Trucks have not been plentiful in the past couple of years. We've had to find innovative ways to get vehicles in for measurements and product development. One solution has been asking customers to help us locate the trucks they need products for in western Washington. We just need the vehicle for design work. Then we can design that part at no cost to them, they receive the part for free. Using that approach, our customers have been hugely successful in helping to get our hands on vehicles. We would love TCM readership to have that option as well.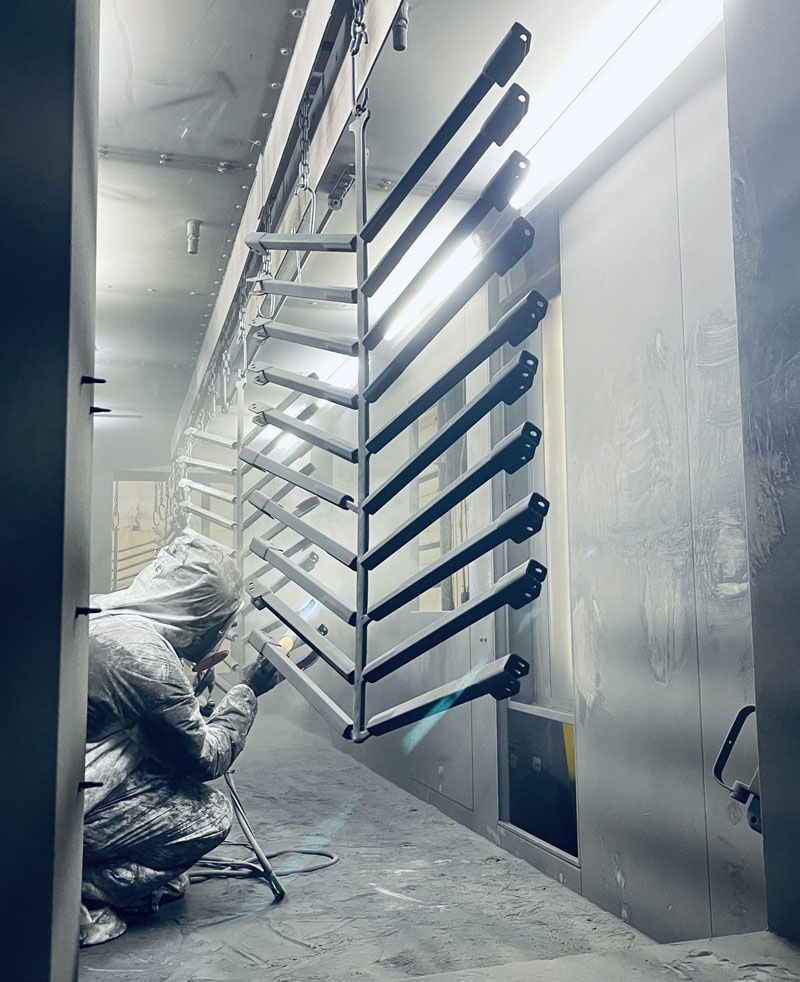 Do you have any new truck camper-focused products in the pipeline for 2023?
We're working on a new version of the StableLoad for the newer Ford Super Duty trucks, and a few things I can't talk about for the OEMs. Ford Super Duty trucks have really thick lower overloads and they have removed the holes. We designed and developed a completely different StableLoad that doesn't require you to drill through the spring. Customers love it.
Another product line that should interest every full-size truck owner is our new line of catalytic guard protectors. We've found that thieves are not only going after catalytic converters but also diesel particulate filters. They are taking both gas and diesel exhaust systems. The unfortunate thing is that you sometimes can't get a replacement from the factory. For some dealerships to put the factory exhaust system back is 90 days.
A local dealer contacted us and said, "We heard you guys are developing catalytic guards. We've had a terrible time here". We sent our design team over to take some truck measurements. The first truck we looked at had a missing catalytic converter. Then the second. It's a huge problem. We have a lot of people reaching out to us for help. We started with the Ford F-series truck and we just finalized catalytic converter guard designs for 2017-2023.
We're also working on product videos. We have had a lot of people over a lot of years who requested detailed videos about how products are installed. We acquired a building recently near our existing Kent campus specifically for this effort. We have a team working on videos for detailed instructions as opposed to booklets and pictures. Product videos are a primary focus for 2023.
It's amazing how far Torklift International has come since we first met the company in the original location in Kent.
In 1976 Torklift started in Kent, Washington. It was just my immediate family. Basically, I started working for my father when I was ten years old. The Kent campus was one bay and a small office. We began to acquire property adjacent and it slowly expanded. We went from innovations to basic service to manufacturing and designs. Torklift doubled in size every five years. Then we decided to patent our designs. There was a market for our products in Washington and then nationally and internationally. We set up distribution and dealer networks and the company has continued to grow.
Dad would have been so proud. What we've accomplished has been phenomenal, especially since 1976. We continue to nurture, cultivate and grow our people. We train and raise them up and teach them how to problem solve and innovate. Our team is our fuel.
For more information about Torklift International, visit their website at torklift.com.  Click here to request more information about Torklift products.