Truck Camper Magazine discovers hot pink tape, top secret attendee testing, and 113 off-road and off-the-grid truck campers at Overland Expo 2013.  But first, we got pulled over.

About two miles before the entrance of the Overland Expo, we got pulled over.  The officer was off to the side of the road and forcefully signaling us to stop.
"How fast were you going?" I anxiously asked Angela, already anticipating an expensive ticket, increased car insurance, and possibly bail money for my lovely bride.
"I don't know," Angela replied.  "Is that even a cop?"
As she brought the rig to a full stop, it was clear something wasn't exactly right.  First, the officer's motorcycle was a BMW.  And second, the guy had a big happy smile on his face.
"Are you Angela White?" he asked.
"You must be Bryan Appleby!" exclaimed Angela.  My wallet exhaled.
"Can you tell I was once a police officer?"
Well, Bryan, you scared the living heck out of us.  So, yes, we could tell you were once a police officer.  And by the look on Bryan's face, you could see he was quite pleased that he still had the touch.
Then Bryan explained how to find the Overland Expo.
"Make a right on Mormon Lake Road, go past the fire house, past the general store, take a right into the campground entrance, go through the campground, follow the dirt road until the fence ends, then make a right and go through the field until you see my rig.  Park there."
Honestly, all I could remember was something about a fire house, but Angela seemed to understand and off we went.  When we arrived, the group wasn't too impressive; just Bryan's rig, and ours.
As a volunteer for the Overland Expo, and a lead organizer for the RV.net truck camper group, Bryan had been busy marking off a large area in the camping field with hot pink tape, and rocks with more hot pink tape tied around them.
In a wide open field, with nary another truck camper in sight, Bryan knew exactly where he wanted us.  Posted on his Lance Camper was a carefully drawn chart designating where each and every truck camper was to stay.  From his chart, Bryan pointed to an area in the field and Angela maneuvered our rig precisely to that point.  There, next to a rock with hot pink tape, we dry camped for the following five days.  Our first Overland Expo experience had begun.
The next morning we published, "The Survivor Truck Bug Out Vehicle" from our truck camper dinette, blasted out the email alerts, and posted the story to our Facebook page and Twitter feed.  It's always a kick to publish a story from our truck camper, but it's particularly fun publishing while off-road and off-the-grid.  Publish anywhere!
We spent the rest of the day walking the still forming Overland Expo and getting to know the lay of the land.  The crews from Four Wheel Campers and Northstar Campers had arrived and were busy setting up their displays.  As the hours progressed, one truck camper, and then another, and another, arrived in the camping field.  For not being a truck camper rally, it sure started to feel like a truck camper rally.
By late afternoon, there were at least a dozen of us starting to fill in Bryan's chart.  We were meeting truck campers from all over the United States and Canada, putting names to faces, and checking out rigs we had only seen in pictures.  Other truck campers came unannounced and were added to the mix in fanned out layers.
The conversations and laughter went on long into the night.  It's so exciting to meet other truck campers and learn about their truck camping lifestyle.  For Angela and I, this is what it's all about.
EXPO DAY 1: Friday, May 17th
I was up and out of the camper door before dawn on Friday to capture the assortment of gathered truck campers at sunrise.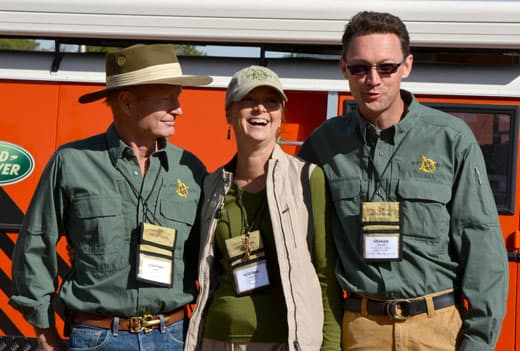 Above: Jonathan Hanson and Roseann Hanson, Overland Expo Co-Directors, and Graham Jackson, Overland Expo Training Team Coordinator
The opening ceremonies were at 8:00am in the rodeo arena.  Several hundred people filled the stands as Overland Expo Co-Directors, Roseann Hanson and Jonathan Hanson, and Graham Jackson, Overland Expo Training Team Coordinator, launched the fifth annual Overland Expo.  Everyone clapped and cheered, and then ran down the bleachers like kids on Christmas morning to experience the expo.
Our mission for the rest of the day was to photograph and take notes on the truck campers at the event, and whatever else caught our attention.  This second task was a little bit like attempting to photograph anything that lights up or makes noise at a Vegas casino.  Everywhere I looked there were over-the-top campers, vehicles, and products that demanded my interest.  If you have even the slightest interest in off-road and off-the-grid travel, the Overland Expo is a Mecca.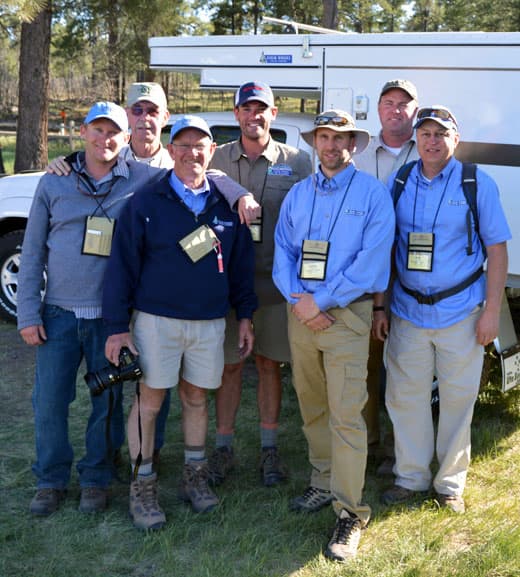 Above: The Four Wheel Camper team; Denny Saunders, Wyoming Dealer, Terry Bud, Service Manager, Tom Hanagan, President, Chris Janeway, Denver Dealer, Jason Bahr, Design and Engineering, Stan Kennedy, Sales Manager, and Mike Olds, Factory Sales Representative
Four Wheel Campers had five 2013 models on display; a Fleet on a Toyota Tacoma, a Hawk with a new swivel table, a standard Eagle, a self-contained Grandby Silver Spur Edition (silver exterior/grey interior), and an all-new Fleet flatbed self-contained model tricked out by 3 Spur Sport Custom RV, Four Wheel Camper's Wyoming dealer.
The Toyota Tacoma and Four Wheel Camper Fleet made for a very sweet looking combination.  The truck happens to belong to Tom Hanagan, President of Four Wheel Campers, and features Hellwig Products Helper Springs, Aluminess front and rear aluminum bumpers, Aluminess expedition shovel and axe kit, Warn winch, Icon shocks, and more.  In short, Tom's rig just screams, "Overland!"
The Fleet flatbed was impressive in an entirely different way.  The flatbed floor plan allowed for a rear face-to-face booth dinette and more interior room and storage than possible in a traditional Fleet.  We photographed this camper nose to tail for an upcoming article.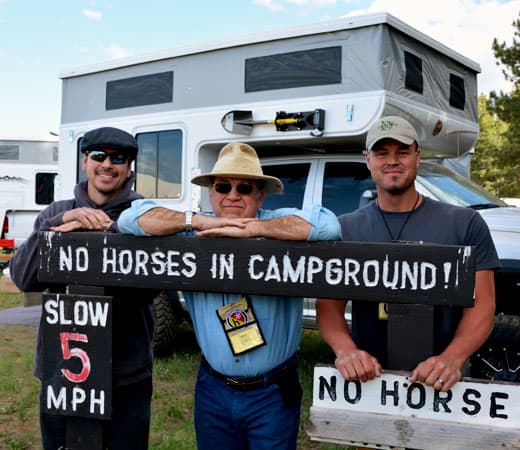 Above: Matt Ward, Bill Ward, and Andy Ward of Hallmark RV
Hallmark RV had three 2013 models on display; a Cuchara (similar to the Cuchara we reviewed in Rocky Mountain National Park), an Everest, and a Milner EXT featuring Hallmark's new north-south overcab option.  All three campers featured different fabrics and wood cabinetry choices.
We published an announcement for the north-south option back in March, but this was the first time we had seen an example in person.  It's the kind of feature that makes immediate sense when you see it.  Yes, the north-south overcab adds some weight to the camper, but Hallmark also reports that it moves the center of gravity forward.  You also gain more overcab storage, and avoid waking up your spouse to drain that fifth beer she told you not to drink.
On hand to answer questions were Bill Ward, Owner of Hallmark, and his sons Matt and Andy.  Between the three of them, there's absolutely nothing that you could ask about a Hallmark truck camper that they couldn't answer.  That's the kind of access to expertise folks enjoy at the Overland Expo.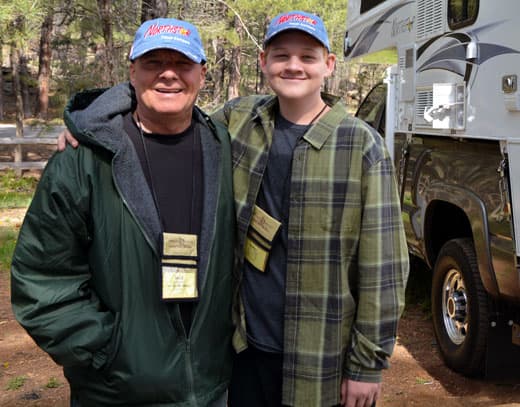 Above: Billy MacKaill of Northstar Campers and his grandson, Brandon.  Brandon was there to help out, and to keep his grandpop in line.
Northstar Campers had three 2013 models on display; a Laredo SC hard side, an 850SC pop-up, and a TC650 pop-up.  All three models were fresh from the Northstar factory and on their way to Lazydays in Tucson, Arizona.
Billy MacKaill of Northstar Campers surprised me once again with the depth of his product knowledge.  While talking to a customer, he was able to rattle off from memory the exact length in inches, tank sizes in gallons, and weights in pounds of each and every Northstar model.  He probably knows the exact cotton to polyester blend ratio in the Northstar hats too, but we were afraid to ask.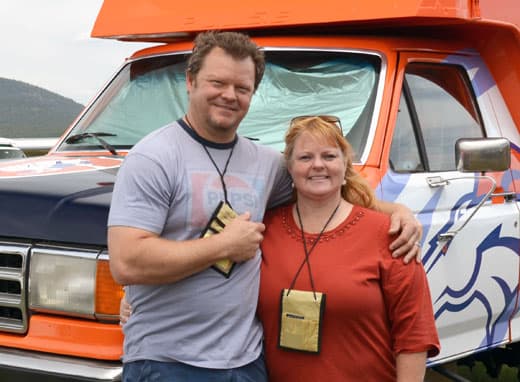 Above: Robby and Cari Rowe, Co-Owners of Phoenix Custom Campers
At long last, we got to see the famous Bronco Bronco in the Phoenix Custom Camper display.  Robby and Cari Rowe, Co-Owners of Phoenix Custom Campers, were swarmed by folks admiring the vibrant color, intricate detail, and sheer audacity of their ultimate tailgating creation.  It really is something to see the Bronco Bronco live, even if you're not a Bronco's fan.
Across from the Bronco Bronco, professional bass fisherman, Mitch Kistner, had his Phoenix Custom Camper on display complete with an impossible to miss truck and camper wrap (top center photograph).  Phoenix Custom Campers sponsors Mitch and built the camper to his requirements for the upcoming tournament season.  Good luck Mitch.  We'll follow up with you down stream.
Upping the ante another notch was Chris Cole's Phoenix Custom Camper on a Unimog (top right photograph).  Chris told us the interior height of the camper is six-feet tall, with the top down!  When it comes to building custom truck campers, clearly nothing scares the Rowes anymore.

Secret Overland Expo Testing
Walking on the gnarly terrain of the Overland Expo camping field was like walking on a giant head of broccoli, or at least that's what I imagined as I rocked, stumbled, and practically crawled in four-limb-low to and from our rig in a line about as straight as a bent slinky.
This had to be some kind of social experiment on the part of the Overland Expo organizers, eager to see how off-road and expedition ready the attendees were without their fancy motorcycles, Jeeps, Land Rovers, and four-wheel drive trucks.
After a couple days of weeble-wobbling up and around this feisty field, Angela and I got it down.  That's right Overland folks, truck campers can go anywhere, even by foot.  We're tough like that.
Perhaps our bipedal field conquering bravado was showing a bit too much for the OX13 crew on Friday afternoon.  That's when an unnamed vendor offered us a curiously delicious home made brew.  The slinky line back to the camper that evening was both moving, and hysterical.  I hope you gathered whatever data you were after Overland people.  That was fun.
As Friday came to a close, I had 427 photographs on my camera and there were still parts of the Overland Expo to explore.  We were exhausted, and having a blast.
Editors Note: Next week we are publishing a gallery with more photos from OX13.
EXPO DAY 2: Saturday, May 18th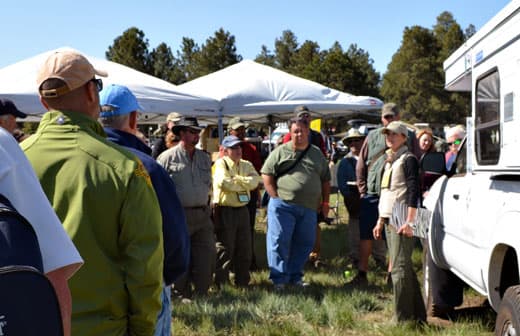 Above: Roseann Hanson presents the JATAC, Just A Tacoma And Camper
Once again Angela and I had our separate missions on Saturday.  Angela headed to the JATAC (Just A Tacoma And Camper) seminar and I set out to complete the event photography.
The JATAC seminar was held by Roseann Hanson and Tom Hanagan.  The rig is Roseann and Jonathan Hanson's personal Overland Vehicle and features a 2012 Toyota Tacoma and 2012 Four Wheel Camper Fleet.
Roseann explained that the cost of the JATAC, including the truck, camper, and suspension enhancements (BH Goodrich All-Terrain tires, ICON shocks, and Boss air bags) totaled about $50,000.  The rig also fits into a standard shipping container, which she plans to put to the test when she travels to Namibia, Tanzania, and Kenya.  Now that sounds like a true overland expedition!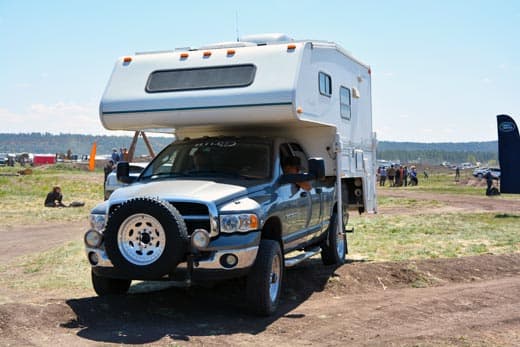 Above: Mike Siminoff completes the Land Rover Overland Driving Course
While Angela was at the JATAC seminar, I completed my event photography.  On my way back to our camper for lunch, I came across Mike Siminoff's run on the Land Rover Overland Driving Course.  What struck me was that fact that Mike's rig was a full size, slide-out, hard side truck camper and one-ton truck.  Until that point, almost everything I had seen on the course was a Land Rover, Jeep, or empty pickup.
"How was it taking your truck camper over the course?" I asked Mike.
He answered with the kind of unbridled enthusiasm that's usually inspired by a Red Bull, Starbucks Venti double shot, and a fist full of Vivarin.
"It was awesome!"
Then Mike introduced me to his Land Rover driving instructor, Fred Monsees.  In stark contrast to Mike's understandably excited state, Fred was the epitome of cool, calm, and collected.  From our brief conversation, I got the distinct impression that Fred could take a rowdy school bus full of kids driven by a distracted monkey around this course – if he had to.
Instantly, I had an idea.
"Could we take some truck campers out on the Land Rover course?"
Fred didn't hesitate, "Absolutely.  Come early tomorrow and our team will make it happen."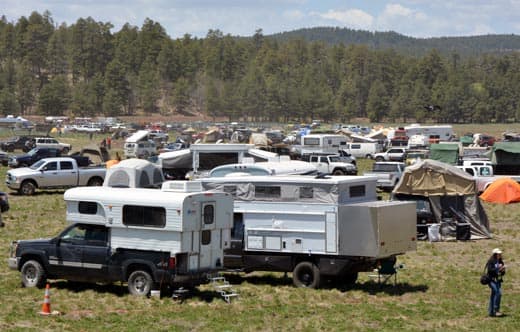 Above: Angela (bottom right) counting every truck camper at the Overland Expo 2013
I couldn't wait to tell Angela the news, but she was busy walking the entire Overland Expo counting every truck camper she found; from the parking area, to the exhibits, to the sprawling camping field.  Attendance had peaked at mid-day on Saturday, and there were truck campers everywhere.
In total, there were 113 truck campers.  There was twenty-seven different brands of truck campers from eighteen US states and four Canadian Provinces.  Angela counted everything from modern hard-sides and pop-ups to forty plus year old Avions.
To put that number into perspective, that's just shy of the 120 truck campers we saw at the 2013 Mid-Atlantic Truck Camper rally about a month earlier.  By no small margin, the Mid-Atlantic Truck Camper Rally is the biggest annual truck camper event on Earth.  That title may soon be awarded to the Overland Expo.
Of course the Overland Expo isn't a true truck camper rally and the tight truck camping community vibe of the MATCR has yet to fully materialize at the Expo.  Never fear Mid-Atlantic, you're still the best.
When I finally caught up with Angela, I shared my news and we immediately set out to ask permission to borrow truck camper rigs from the attending manufacturers.  This was going to be epic.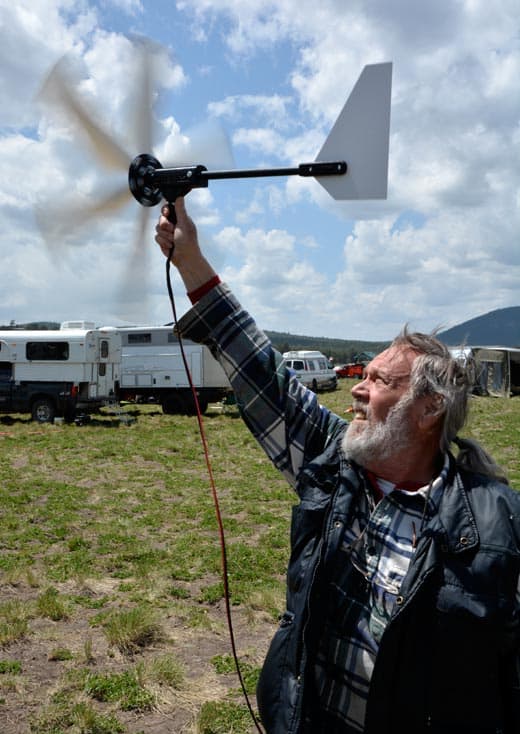 Above: Jack Wright of Free Spirit Energy demonstrates a wind generator turbine
Later that afternoon we caught up with Jack and Crystal Wright of Free Spirit Energy.  Jack and Crystal camped with us in the truck camper field and had no trouble finding enough wind for their camper-mounted wind generators.  Jack's weather station even reported a few gusts in excess of thirty miles per hour.
Jack and Crystal gave us a full in-person demonstration of their products that we will feature in an upcoming TCM article.  We were impressed, as were many who observed the wind generators in action from the camping field.
EXPO DAY 3: Sunday, May 19th
For any of you who have traveled long distance in a truck camper, perhaps you can relate to this.  Each morning that I wake up in a truck camper, my mind goes through a rapid and somewhat comical question and answer routine.
It goes a little something like this:
"Where am I?"
In a truck camper.
"Where is the truck camper?"
In Arizona at the Overland Expo.
"What are we doing today?"
Angela is driving the Land Rover Overland Driving Course.
"What?!"
Angela and I are almost complete novices at off-road driving, and she was about to take the wheel of not one, but two practically brand new truck and camper rigs – that didn't belong to us – on the Land Rover Overland Driving Course.
What could possibly go wrong?
Angela would have none of that.  She was excited beyond belief and ready to take on whatever the day would throw at her.  With camera gear in hand, we headed to pickup the Four Wheel Camper and Hallmark rigs.  Angela practically skipped.
One last time I asked Tom Hanagan if he was okay that we were taking his personal truck and a brand new 2013 Four Wheel Camper Fleet on the course.
"Absolutely," he replied.
Then I went to Andy Ward at Hallmark and asked him if he was okay that we were about to take his personal Dodge Power Wagon and a brand new 2013 Hallmark Milner on the course.
"You bet," he answered.
The rest, as they say, is Overland Expo history.  Angela has written up the experience including what the Land Rover instructors told her to do, and how the rigs performed on the course.  Look for that story, and a few outrageous surprises, in an upcoming feature and video series.  It's well worth the wait.
Full and Empty.  Over and Out.
After five days of dry camping at the Overland Expo, everything was either full or darn near empty.  We needed to dump our tanks, fill with fresh water, and find a propane station.  There was a story to publish the following morning, and we were both smelling ripe for an honest to goodness shower.  Time to find a campground in Flagstaff where we could plug-in, recharge, and get some work done for TCM.
As we drove through the remnants of the camping field, most everyone had already packed up and gone.  A hand full truck campers still lingered, and most of those were busy pulling up jacks and checking turnbuckles.  With a chorus of starting and idling engines filling the air, we said goodbye to our new truck camping friends and added our Chevy's Vortex to the music.  This joint was about to be out.
Approaching the entrance to the Expo grounds, an imposing yet familiar figure stopped us.  This time Bryan's raised hand didn't raise our pulse, or scare my wallet.  It was fitting that Bryan was the last person we saw on the Expo grounds, a welcome bookend to a wonderful experience.  We'll see you down the road Bryan.  Thanks for everything, even my hot pink parting gift.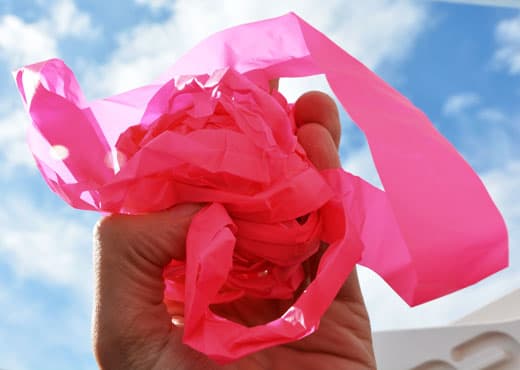 Above: Yes, I got to keep some of the hot pink tape!  Thanks Bryan.
We want to thank Roseann and Jonathan Hanson for inviting us to the Overland Expo 2013 and making us feel so welcome.  We also want to thank the Land Rover crew and the extended team of Overland Expo volunteers for making the event a big success.
Thank you!  You guys rock.