Just five weeks since making their Arctic Fox truck camper announcements in TCM, Northwood announces an all-new tall contour profile front cabover nose.  We smell a story!

Donald Cochran, Director of Sales for Northwood Manufacturing, kept alluding to a big exterior change during our Arctic Fox Announcement interview, but he wasn't telling.  At the end of the interview, Donald said, "We have a couple things that are coming right around the corner that we'll let you and your readers know about."  When we asked him off the record what all the hub-bub was about, he still wasn't telling.
Donald had twisted the classic pitch, "But wait, there's more" into, "There's more, but wait."  It's like that old joke, "Do you know how to keep a turkey in suspense?  Tell you later."  After that interview, we were definitely in suspense.
Then we received an email from Northwood late last week announcing the "Tall Contour Profile Cabover".  This must be the big news we were waiting for.  Our turkey in suspense days were over, but what's this Tall Contour Profile Cabover all about?
Why that shape?  How's it made?  What does it look like inside?  Does it cost more?  What's does it weigh?  And when will it be available?  We could smell a story, but details were scant.
As professional journalists, it's our job to get nosy.  To get the total bill, the uncut muzzle, and the complete beak and sneezer on this new schnoz, we picked up the horn and contacted Donald.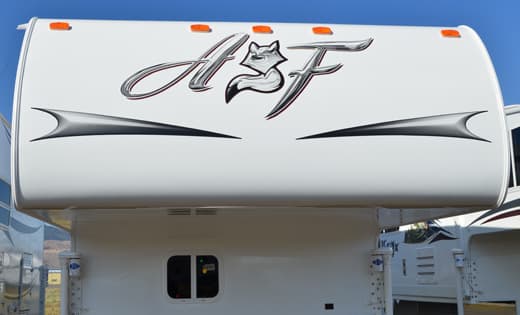 Above: The Tall Contour Profile front cabover nose for 2014 Arctic Fox campers
TCM: Why did Northwood develop the Tall Contour Profile front cabover nose?
Donald: We are always looking for ways to improve the product for the end user.  Here we had an opportunity to add more headroom and storage in the nose of the cabover for the customer while simultaneously addressing the aesthetic appeal by softening the front profile contour.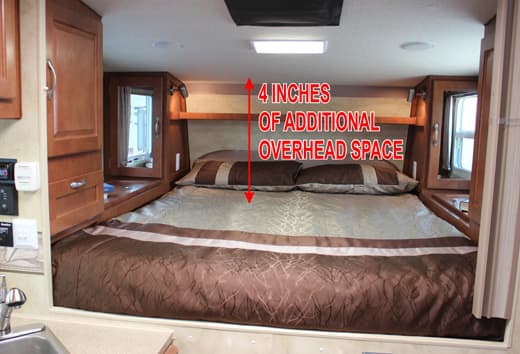 Above: The new nose has raised the headroom in the cabover by four inches
The initial goal was to increase the headroom, which we have by a significant four inches.  The front wardrobes are also raised four-inches to match the new profile creating more dimensional storage along with the increase in headroom.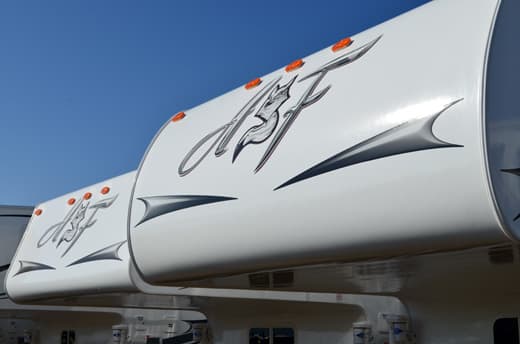 Above: The previous generation cabover nose next to the newly updated nose
TCM: What was the process to develop this new nose profile?
Donald: Our in-house Product Development Team conceptualized several different versions for review.  From there it became a process of elimination by weighing out several factors including proven construction techniques, potential dimensional gain, and overall eye-appeal.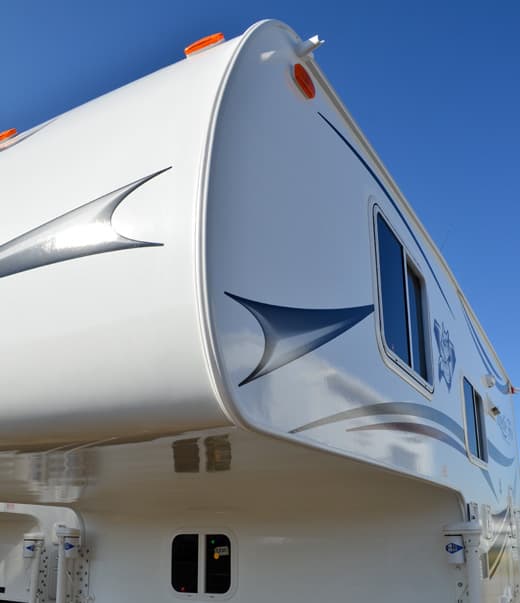 Above: Continuous, one-piece fiberglass construction
TCM: Are there any changes to materials and construction for the new front nose?
Donald: We maintained the stout structural integrity of our camper cabover with our continuous, one-piece, fiberglass construction that runs from the top of the cabover to the bulkhead versus going to a two or three piece front that allows for potential leaks.
We still employ our same proven construction techniques used on the old profile but achieve the different shape utilizing different shaped contour-ribs and foam.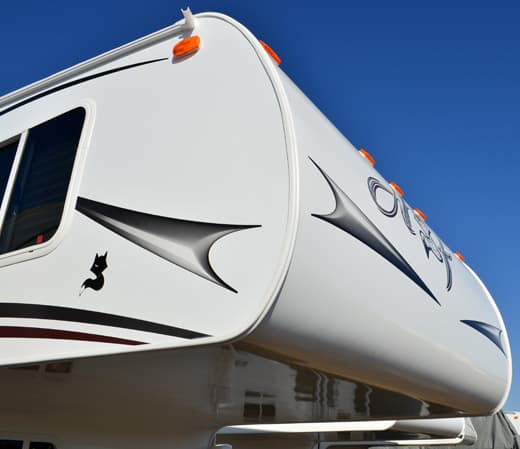 Above: The new profile close up
TCM: Did the new front nose effect the center of gravity or weight of your campers?
Donald: Our campers have always been balance-tested to determine each model's specific center of gravity (COG) given make and options.  The new profile, on average, has not made a significant change in the COG.  The new profile has also not affected the weight of our campers in a significant way.
Above: A new 2014 Arctic Fox right off the production line
TCM: Does the new front nose come with a higher MSRP for Arctic Fox truck campers?
Donald: While there is obviously an increased cost in making this change, there is no price increase at this time.  Northwood always strives to make our products better to best benefit our customers.  To that end, if we innovate something that we know will enhance the end-user's RV experience, we are going to make that change as soon as we can even if it means absorbing some cost.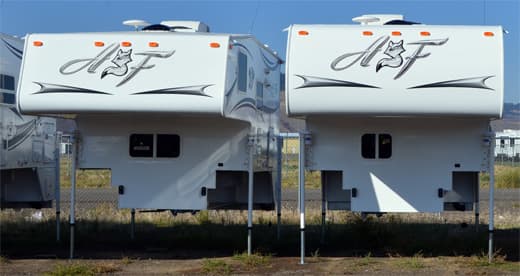 Above Left to Right: 2013 Arctic Fox and new 2014 Arctic Fox cabover nose
TCM: When will Arctic Fox truck campers featuring this new nose be available?
Donald: The first 2014 Arctic Fox truck campers featuring the new front nose started rolling off our Production Line at the end of September.
For more information on Arctic Fox campers, please visit their website at northwoodmfg.com/truck-campers/arctic-fox-camper.  Click here to request an Arctic Fox brochure.