For 2022, nuCamp is announcing some significant changes to the Cirrus 820 and a number of updates to the 620.  We also get updates on the Cirrus 920 and 720 and discover two extremely critical 620 shelves.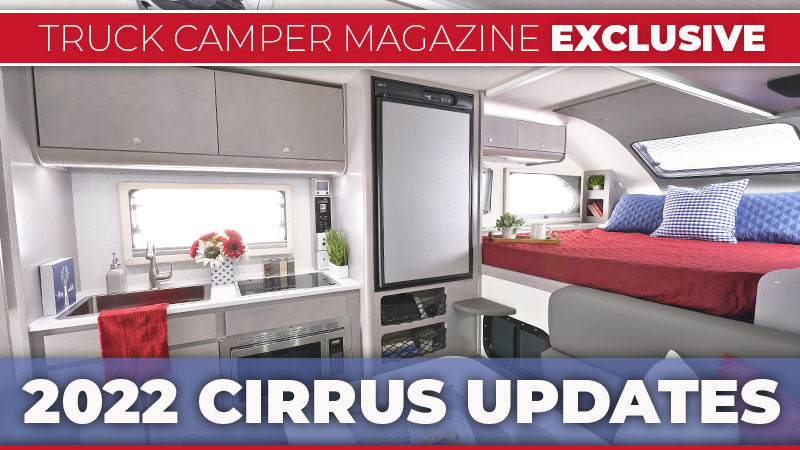 It's incredible to think that nuCamp's Cirrus truck camper line debuted just six-years ago.  In mid-2015, we had the privilege of launching the nascent brand introducing the first Cirrus model and the forward-thinking team behind it.
That initial design had a few design bugs, but it was bristling with innovation including the Alde hydronic heating system, a fold-down wet bath sink, an opening front window, a seamless aluminum roof, a Froli bed system, and a modern European interior aesthetic.  From the start, there was no doubt that nuCamp was serious about pushing the truck camper market forward.
Perhaps the most impressive aspect of nuCamp was their eagerness to listen to feedback and improve the Cirrus product.  Within months, nuCamp had made requested updates including a redesigned aluminum rear bumper.  A year later they launched what amounted to a complete overhaul incorporating nearly everything their customers and dealers had been asking for.
That list included a major cabinetry redesign, a new face-to-face dinette, a hugely improved cabover layout, dramatic tank size increases, space for two propane tanks, dual batteries, and more storage across the board.  It was essentially the same floor plan and concept, but more realized and competitive.  The renamed Cirrus 820 went on to become their number one truck camper seller.
In their 2021 update, Cirrus continued their push with a taller and reinforced basement, Seaflo doors, a bulkhead battery compartment, and a deeper list of standard features.  They also had a new model up their proverbial sleeve; a hard side camper that they promised would be under 1,500-pounds for half-ton trucks.  The all-new Cirrus 620 achieved that goal and was built on everything nuCamp had learned.
This brings us to late-2021.  Fueled by unprecedented demand for RVs, nuCamp's Cirrus line set an all-time high record sales year moving 375 truck campers for the year.  With the 820 and 620, and numerous efficiency improvements on the production line, nuCamp is poised to hit another record sales number in 2022.  What started as an impressive but rough-around-the-edges debut has become a well-oiled machine.
So what is this well-oiled machine doing for 2022?  In short, a few updates for the 620, and some more significant changes to the 820.  To find out more about the 2022 Cirrus model year updates, we talked to Scott Hubble, CEO of nuCamp RV.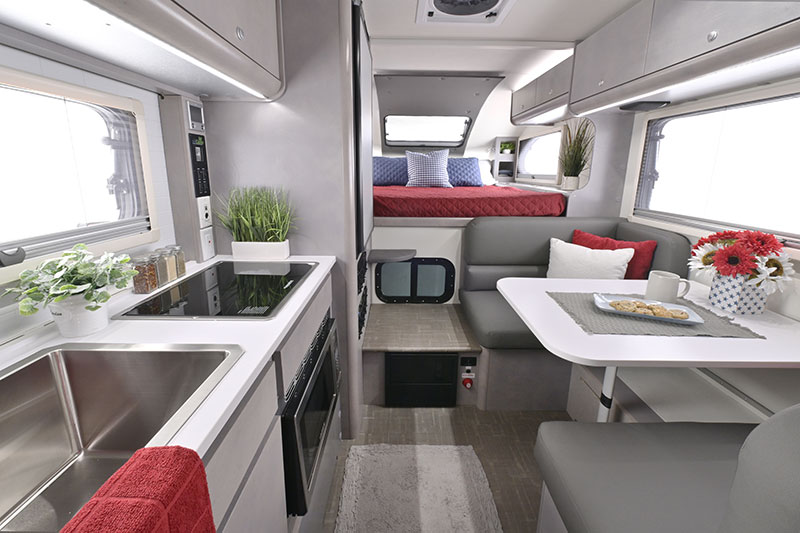 Above: The 2022 Cirrus 820, photos courtesy of nuCamp RV
Are there any Cirrus truck camper models being deleted for 2022?
There are no Cirrus truck camper models that are being discontinued for 2022.  We are still building and shipping our two models; the Cirrus 620 and 820.  In fact, we are slated to build and ship a staggering 375 Cirrus truck campers this year.  That's a record for us, and by a considerable margin.  Our camper orders for 2022 are even higher with nearly 450 units scheduled for production.  Demand for Cirrus truck campers is off the charts.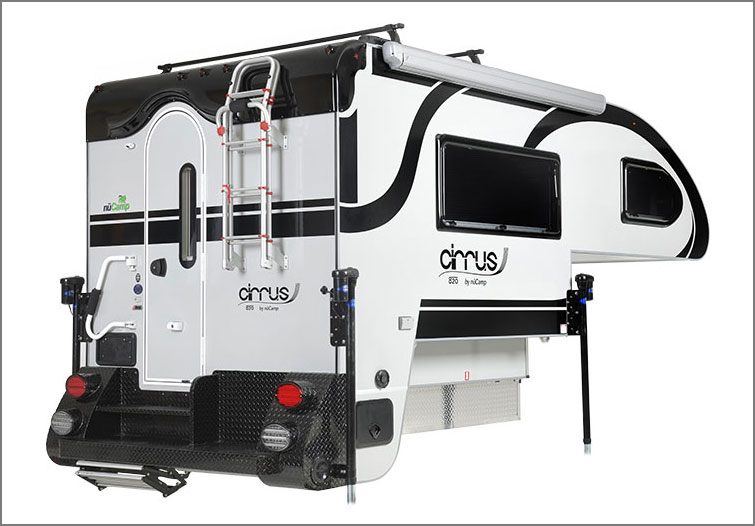 Above: The 2022 Cirrus 820
That's incredible.  That's 450 units that have been ordered by your dealer network for retail sale, correct?
Yes, those 450 units have been ordered by our dealers for next year.  I don't know the exact percentage of what is pre-sold to retail consumers, but it isn't minuscule.  We're also working on a considerable backlog of customer orders for 2021.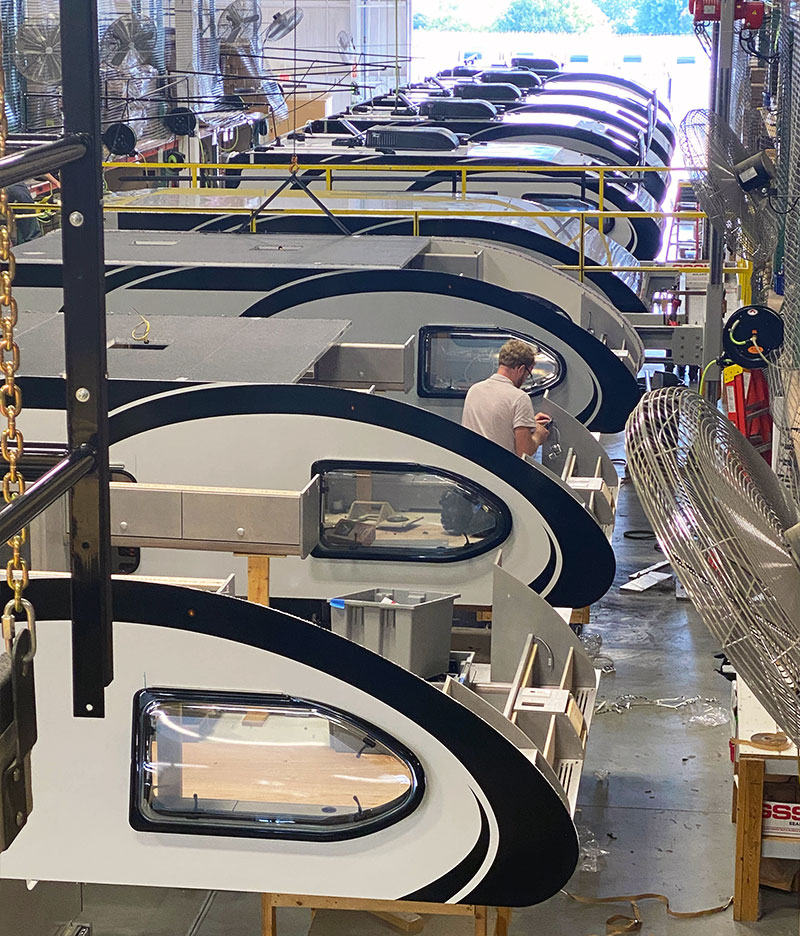 Is a redesigned Cirrus 920 still in the works for 2022?
We are 100-percent planning to redesign the Cirrus 920, but that plan needs to wait until we catch up with current demand.  When production does catch up, the new Cirrus 920 is the first model we'll be working on.  Right now it's in what I call the "Parking Lot".
We are investing heavily to increase our production and improve quality control.  That translates into reworking our internal infrastructure, processes, roles and responsibilities.  We're also hiring aggressively.  The result is a firmer foundation as we navigate the supply chain challenges and unprecedented demand for nuCamp products.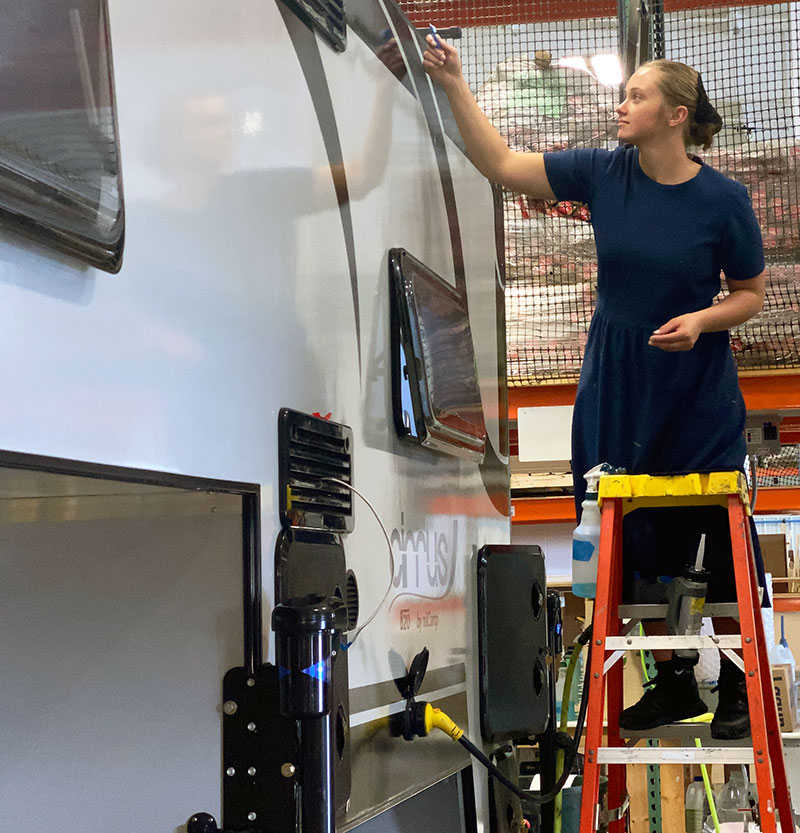 We are hearing a lot about supply chain pressures and runway demand for truck campers.  Can you give us any specifics about what you're doing to meet these challenges?
Research and Development is the starting point for everything.  To gain even tighter control of the manufacturing and quality control process we have taken a very different approach.  Previously a nuCamp foreman would be responsible for production and quality on their line.  How they achieved the production numbers and quality was their call.  As long as they hit the numbers with both in production and in quality, they were on target.
That worked well, but we needed to take the process further to achieve higher levels of production and quality.  After an extensive internal audit, we established a Quality Standards Team that has developed specific processes for every facet of production and quality control.  We now can ensure that every product built at nuCamp achieves the same level of quality.  That has the added benefit of helping our production lines be more efficient, turn out more units and drive down our warranty rates.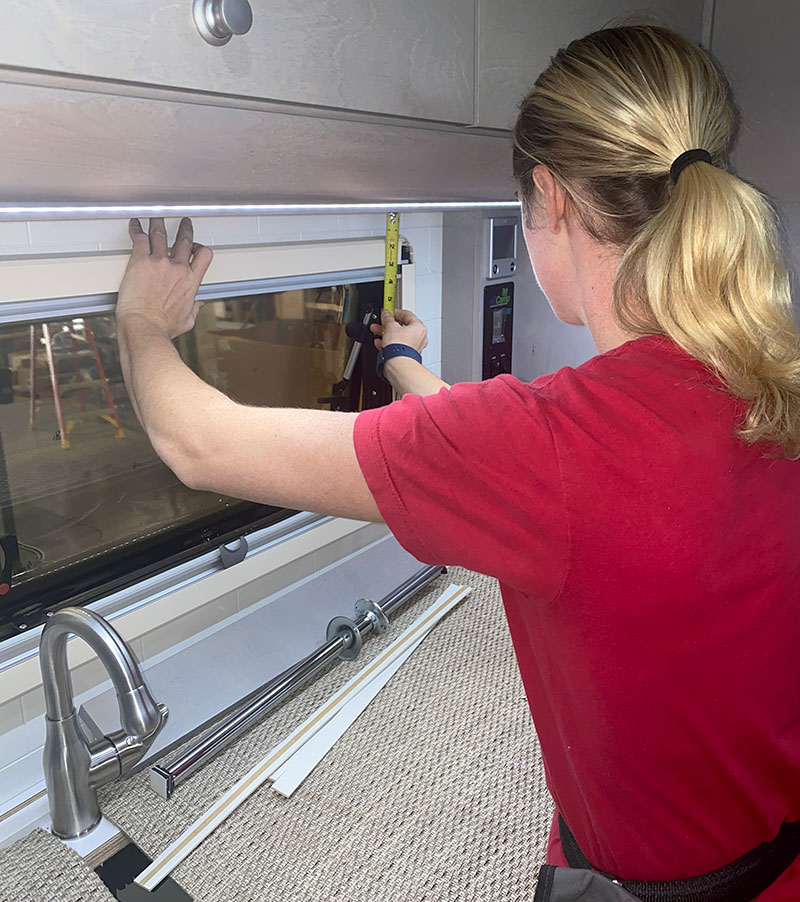 How did you train your production team on these new manufacturing processes?
We began producing a series of detailed training videos for each production line.  Our team members are trained with them and can reference these videos at any time.  These videos are essentially standard operating procedures.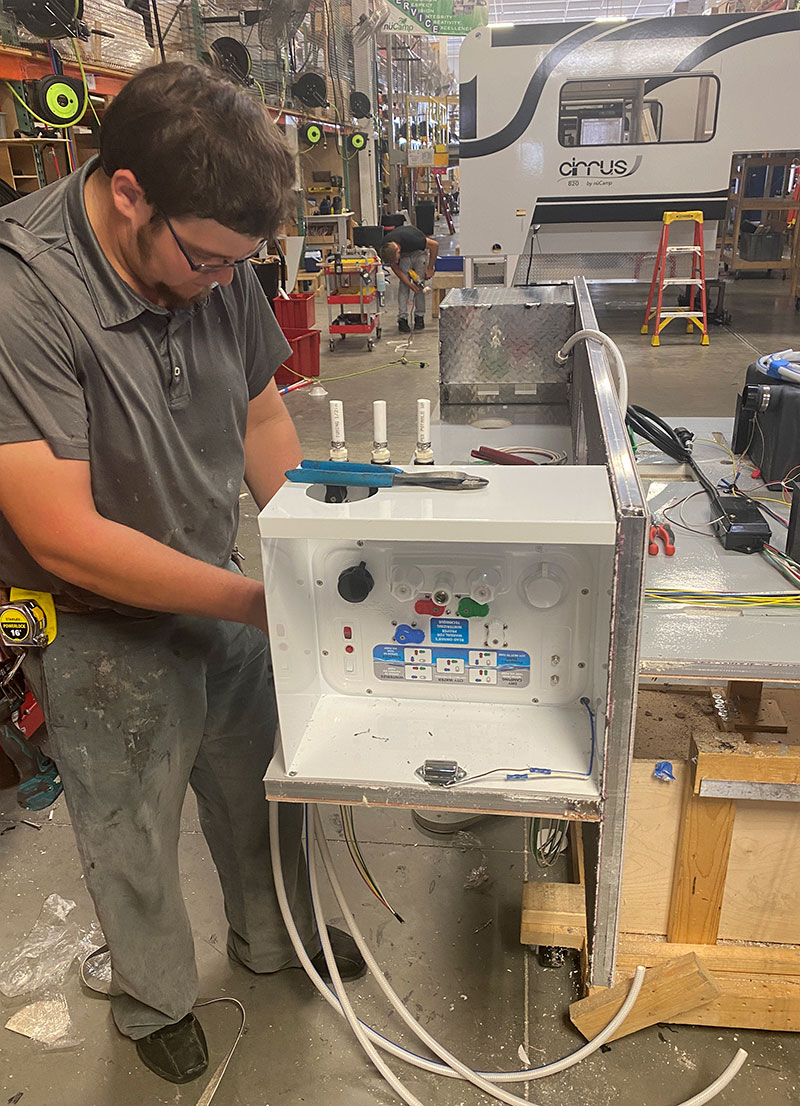 If you walked our production line you might not see anything different, but the way we are building campers is more consistent, more efficient, and better for quality.  It's a wholesale change.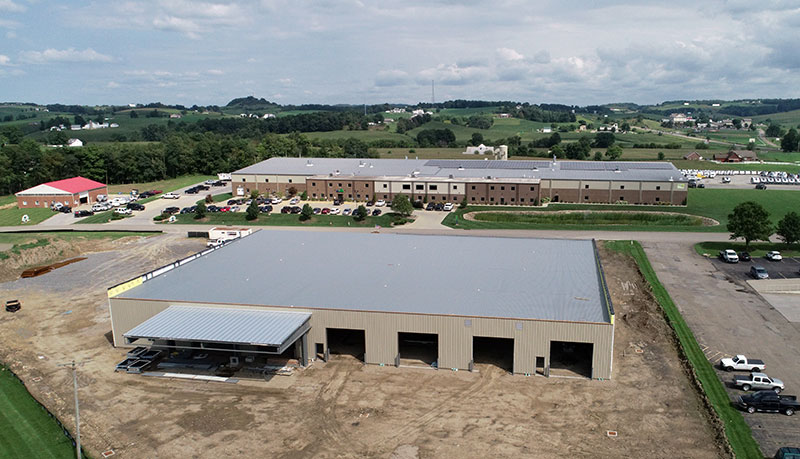 Above: The nuCamp's Service Center and Trailing Academy under construction
Another major investment we're making in our team, production, and quality is our new Service Center and Training Academy.  We're putting up a new 50,000-foot, two-story, climate-controlled building with 20-service bays and technical training facilities.  There will be no production in this new building. It's exclusively dedicated to customer service, customer service work, and training.
In a few months, we're launching nuCamp University to better train our dealers on how we build and service our products.  Later next year, we'll be launching the Training Academy to train young people from our local community on production skills; how to use drills, proper plumbing, electrical work, and meeting manufacturing standards.  The idea is to create an incubator for our own workforce as well as other manufacturers in the Sugarcreek area. That's the vision.
That's an incredible idea.  When the Training Academy comes to fruition, let's showcase it in Truck Camper Magazine.  It's something other manufacturers – within the RV industry and out – could emulate.
Absolutely.  We're all very excited about the Training Academy.
Have there been any developments surrounding the now-discontinued 720?
The Cirrus 720 is also in the "Parking Lot".  Joe Mullet, our Founder, has personally taken that camper under his wing and is working to overhaul the entire unit.  We had some challenges with how the bathroom design and plumbing performed in the field.  Joe is a plumber so he's on that task.  We don't have an established timeline for the redesigned 720, but we're working on it.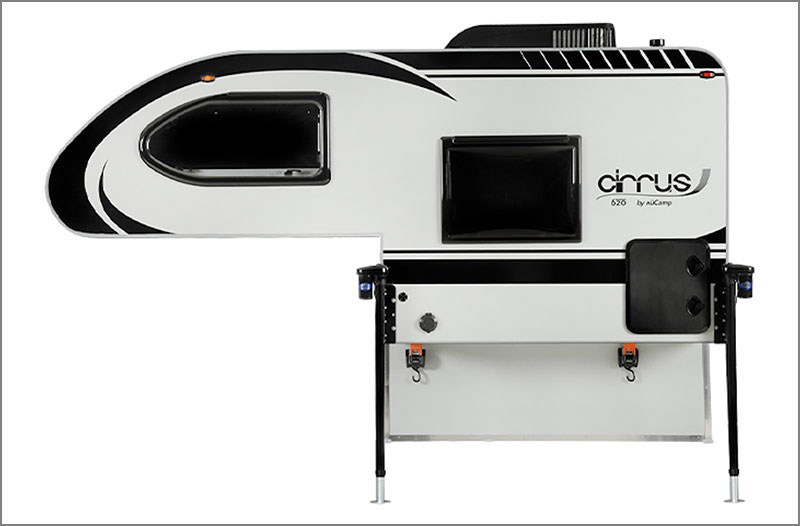 Above: The 2022 Cirrus 620
Let's move to the Cirrus 620.  How has that camper performed since its introduction in December of 2020?
The Cirrus 620 has been our most successful truck camper launch.  We are thrilled with the feedback we have received and the sales numbers are exceptional.  Overall we couldn't be happier.  There has been a handful of component-related issues, but they've all been addressed.  It's similar to our TAG trailer; simple and not chock full of components that can potentially cause issues.  Cirrus 620 warranty claims are almost non-existent.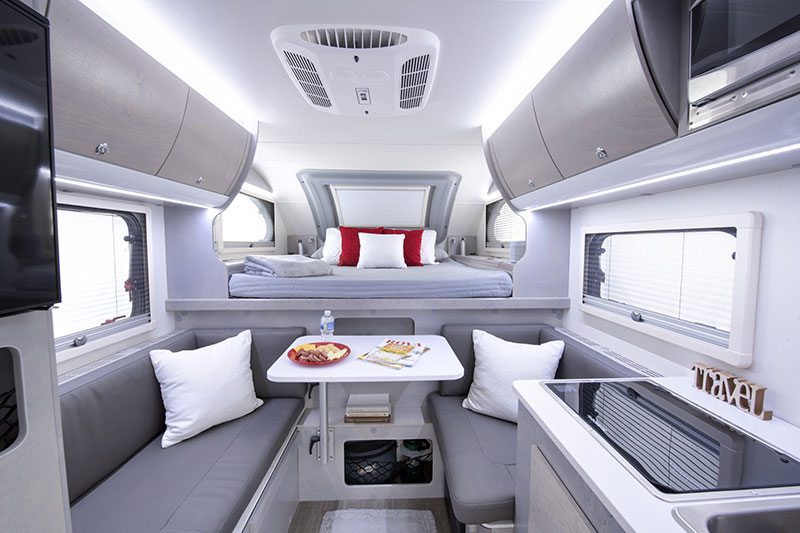 Outside of the 2022 updates, were there any adjustments or changes made to the 620 since its launch?
We made a few 2022 model year updates to the 620.  First, we added locks to the external Seaflo baggage doors.  Seaflo are superior quality marine-grade doors made with anti-aging, ultraviolet-resistant ABS thermoplastic, 180-degree opening latches, corrosion-free fittings, and rubber seals.  They're stronger and provide a better seal.  Now they're also lockable.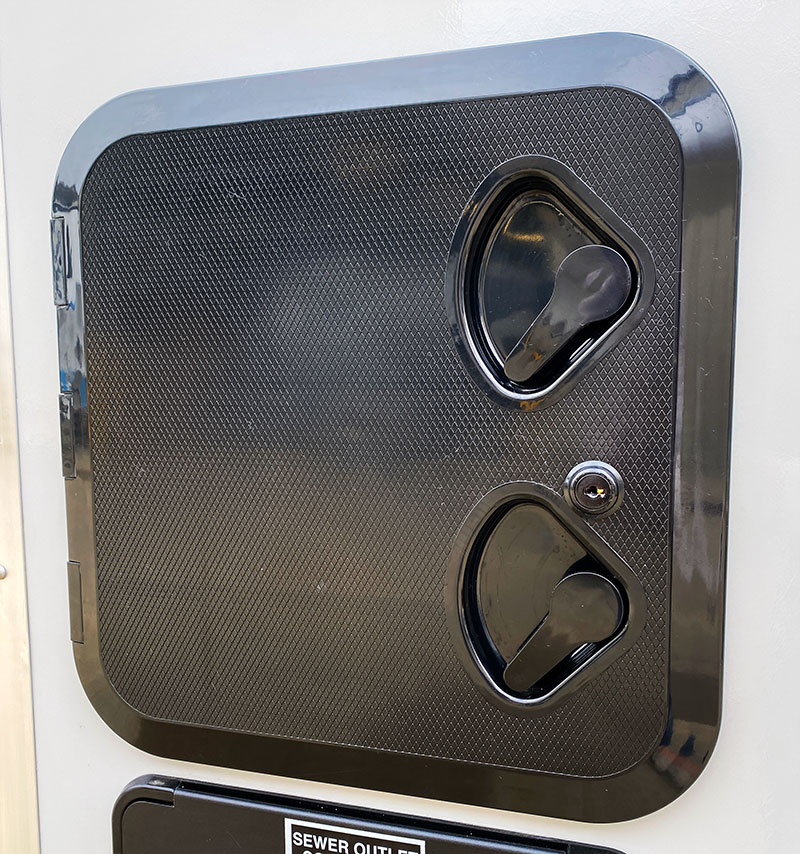 Above: The external Seaflo baggage doors on the 620 and 920 now feature locks
Do they utilize a 751 key?
While it isn't a 751, it's similar.
Another update is the use of black trim and accessories.  Is this a purely cosmetic change, or is there more to it?
It's both.  We wanted to give our teardrop trailers and truck campers a fresh look for 2022.  Previously there were two trim colors for our products, so the change also simplifies purchasing and production.  Now every nuCamp product – including the 2022 Cirrus 620 and 820 – has black trim.
The air conditioner has been moved forward on the 2022 Cirrus 620.  Was that change made to improve the center of gravity?
Yes, but it also looks better on the unit.  The visual profile of the 620 was improved by bringing the air conditioner forward.  Moving the air conditioner forward also makes it easier to install the solar panel and gives the panel more space.
On the Cirrus 620, nuCamp is adding a fan-style radiator to complement the Alde hydronic heating system.  Explain this change and why it was necessary.
The fan-style radiator helped to better circulate the heat inside the unit and made a small amount of Alde plumbing redundant.  The fan is essentially a booster to pump the heat and improve air flow.  We also use a fan booster in the 820's sub-floor to better heat the basement and keep the holding tanks warm.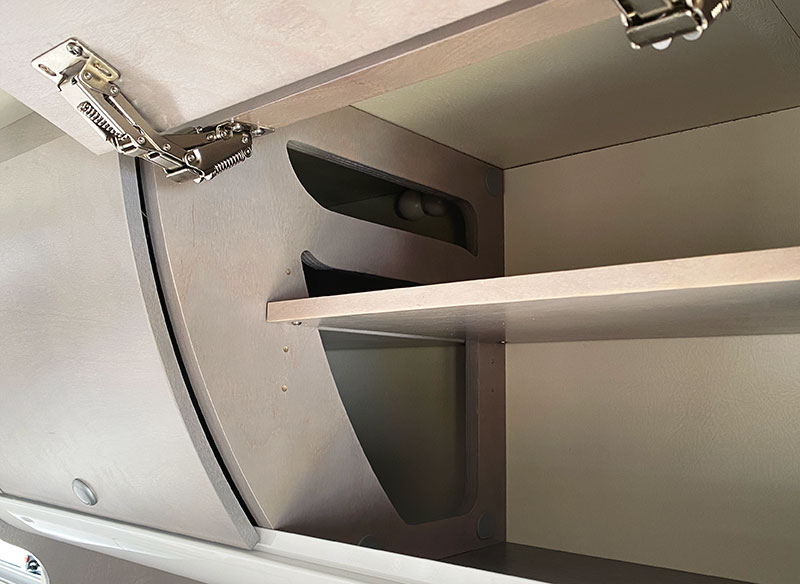 On the interior of the 620, nuCamp has added an adjustable shelving kit above the kitchen.  Is this kit inside the cabinets?
Yes.  To be clear, the shelving kit is not a factory option.  It's something that you can purchase from your dealer after you own the camper.  It's a part sale.
Why not make the shelving kit standard?
When we launched, we made a firm commitment – to Truck Camper Magazine readers no less – that the Cirrus 620 would not go over 1,500-pounds dry.  That's why an air conditioner is an option while the electric jacks and solar panels are standard.  Hitting that weight target was a very careful balancing act and we're right there with the 620.  As it sits, the Cirrus 620 is 1,494-pounds dry.  The two cabinet shelves would put us over the promised goal.
Holy smokes!  Now that's a promise kept.
That's what we do.  You can get two shelves from your dealer.
So many manufacturers over the years have failed to resist the temptation to add features to their half-ton targeted campers.  As a result, most of them have gone over half-ton range.  The fact that you're holding the line – with two cabinet shelves – is to be commended.  Of course, Cirrus 620 owners might toss that careful balance out the window, but at least you've given them the choice.
We believe it's the right approach.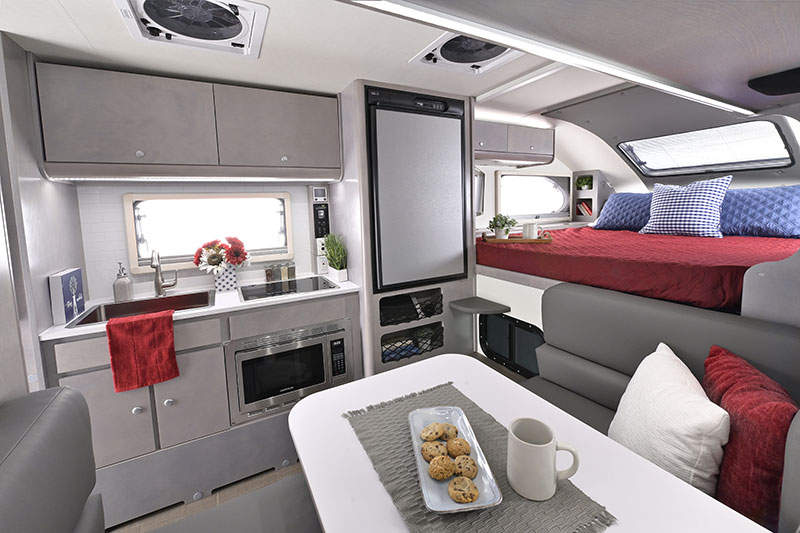 Above: The 2022 Cirrus 820 showing the new microwave location
The most immediately noticeable change to the 820's interior is the relocated microwave.  The new location replaces a set of three drawers from the 2021 model.  Why did you decide to move the microwave to under the counter?
Moving the microwave under the kitchen counter allowed us to move up to a convection microwave in the 820.  Our 920 employed a convection microwave and was very well received.  We also polled our dealers and they concurred that a convection microwave outweighed the need for the three drawers.
Since pictures of the new 820's kitchen and microwave have hit social media, we have received a fair bit of criticism for this change.  For customers who would prefer to regain lower storage instead of the convection microwave, we can furnish Cirrus dealers with a door kit.
While we will not make this change on the production line, we can accommodate customers who want this change.  A door kit provides more storage, be we know it doesn't absolve the loss of the drawers.  We are presently exploring the feasibility of a drawer kit.
Editor's Note: nuCamp requested the edit from "drawer kit" to "door kit" in context with the microwave change.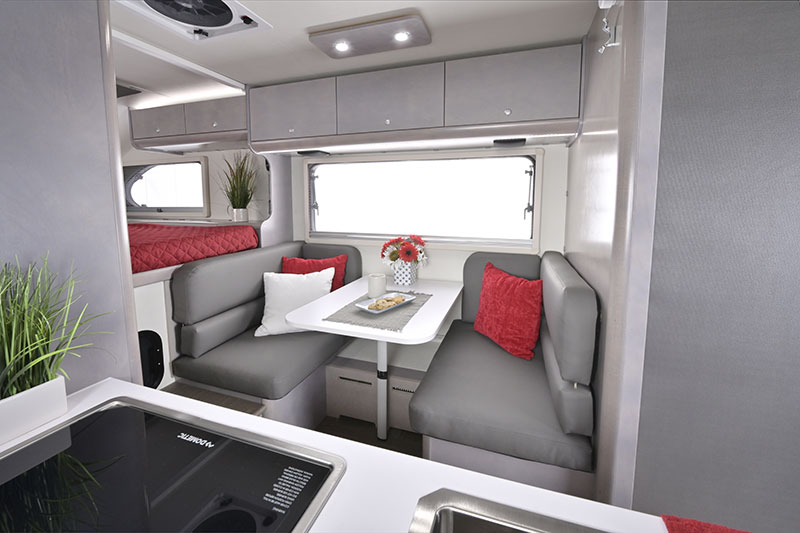 Above: The convertible dinette area in the 2022 Cirrus 820
We don't have a microwave in our personal truck camper and would prefer the drawers, but many truck camper owners wouldn't leave home without a microwave.  Will the drawer kit require much installation?
Once the convection oven is removed, the drawers are fairly easy to install. It will be a part sale.
Can the nuCamp service center do it?
Yes, that would be a possibility.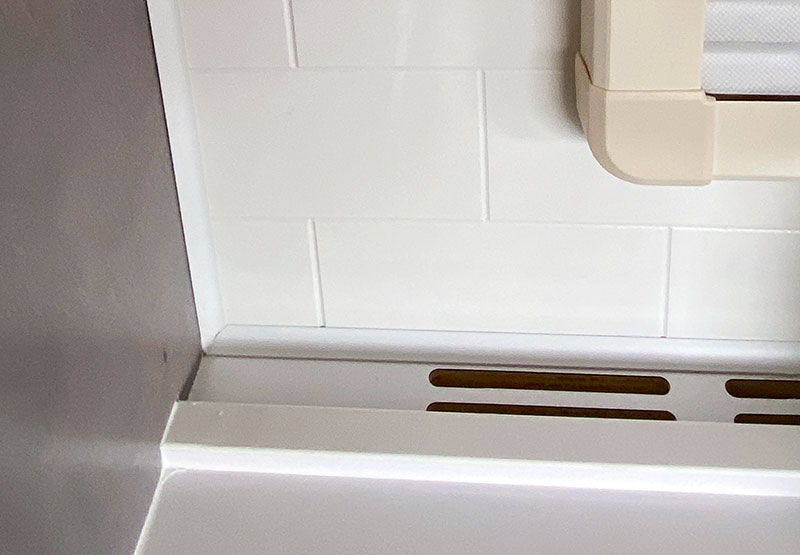 Above: A close-up of the new kitchen backsplash
The kitchen sidewall has a distinctly different look with a subway tile backsplash.  What was the inspiration behind this update?
We were looking for an aesthetic change to freshen up the interior.  The previous backsplash had backlighting to it, but there were concerns about servicing and maintenance.  The new backsplash is faster to install on the production line and gives the kitchen area a new look.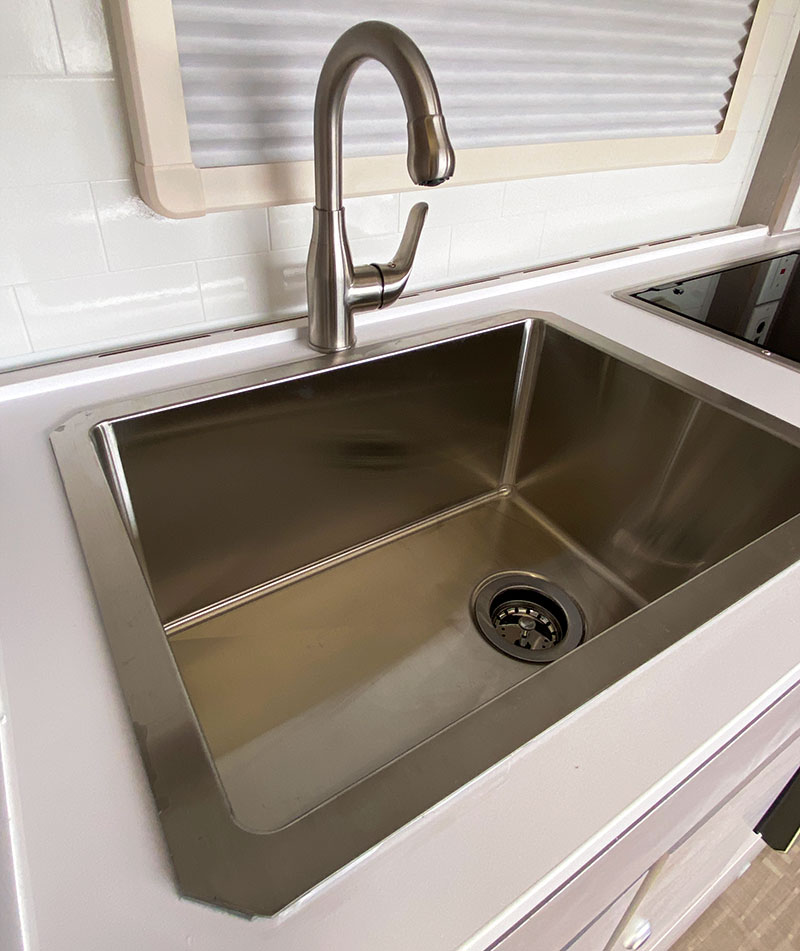 The new farmhouse-style sink appears considerably wider and deeper than the previous sink.  Why did you go with a larger sink?
Functionally, the previous sink was too small.  When we read your reviews and the feedback we have received from customers, there were numerous complaints about the sink needing to be bigger.
We see a lot of farmhouse sinks here in Ohio's Amish Country.  They're very popular with new home builders and are a popular trend with consumers.  The new sink also compliments the new backsplash to give the 2022 Cirrus 820 kitchen a new feel.
The larger farmhouse sink does consume some kitchen counter space as well as storage space that was previously behind that wall.  Ideally, we would have gone with a slightly smaller sink, but we're limited in what we can source right now.  Overall, we're very happy with it.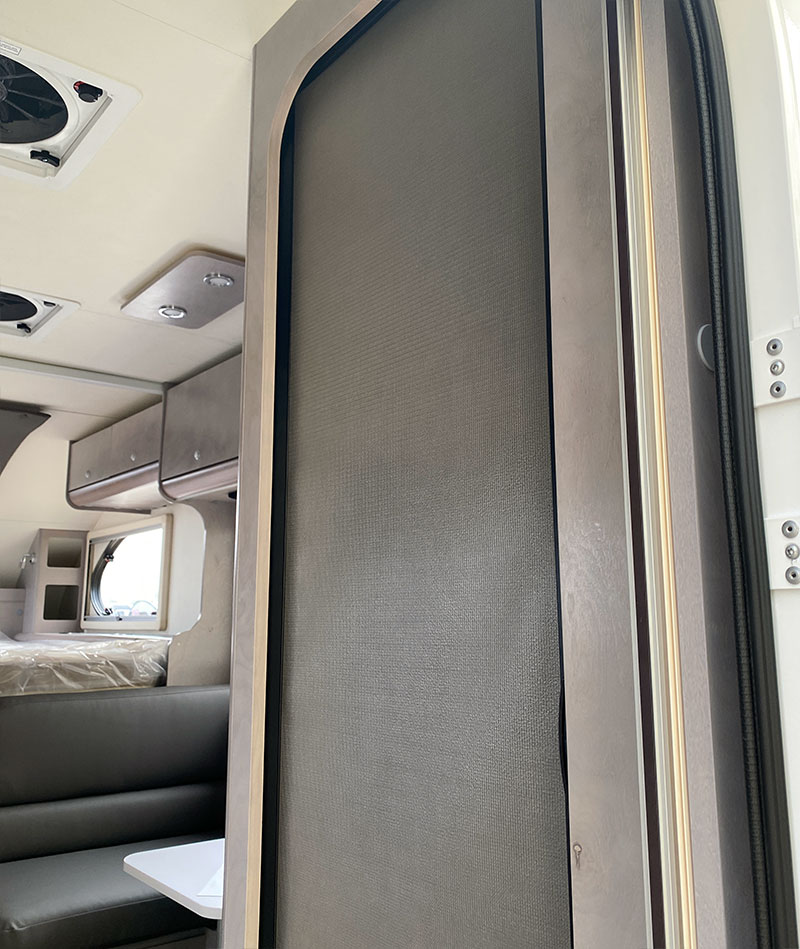 The wet bath hardwood door has been removed in favor of a retractable bathroom/shower door.  What are the advantages of this door over the previous hardwood door?
We really liked the hardwood bathroom door on the 820 and 920, but it was heavy, expensive, and had quality control issues.  Specifically, we had some doors warp.  In addition, some commented that the shower curtain in the previous 820 and 920 made the bathroom feel cramped.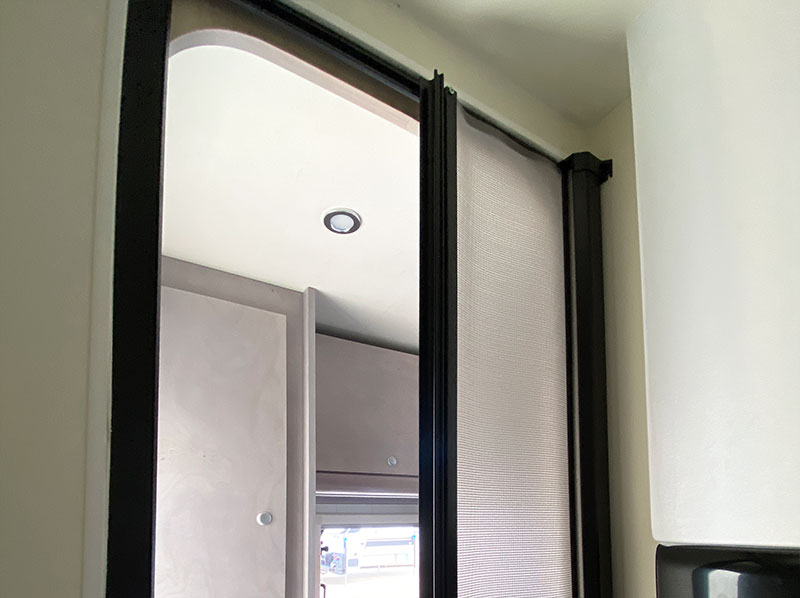 Then we saw a Cirrus customer remove their bathroom door and use a sliding door.  The modification looked awesome and started our own team searching for a production-ready solution.  The result is a sliding door that replaces the hardwood door and the shower curtain.  We're very pleased with both the function and the aesthetic of the new door.  It will also eliminate the warranty issues of the old door.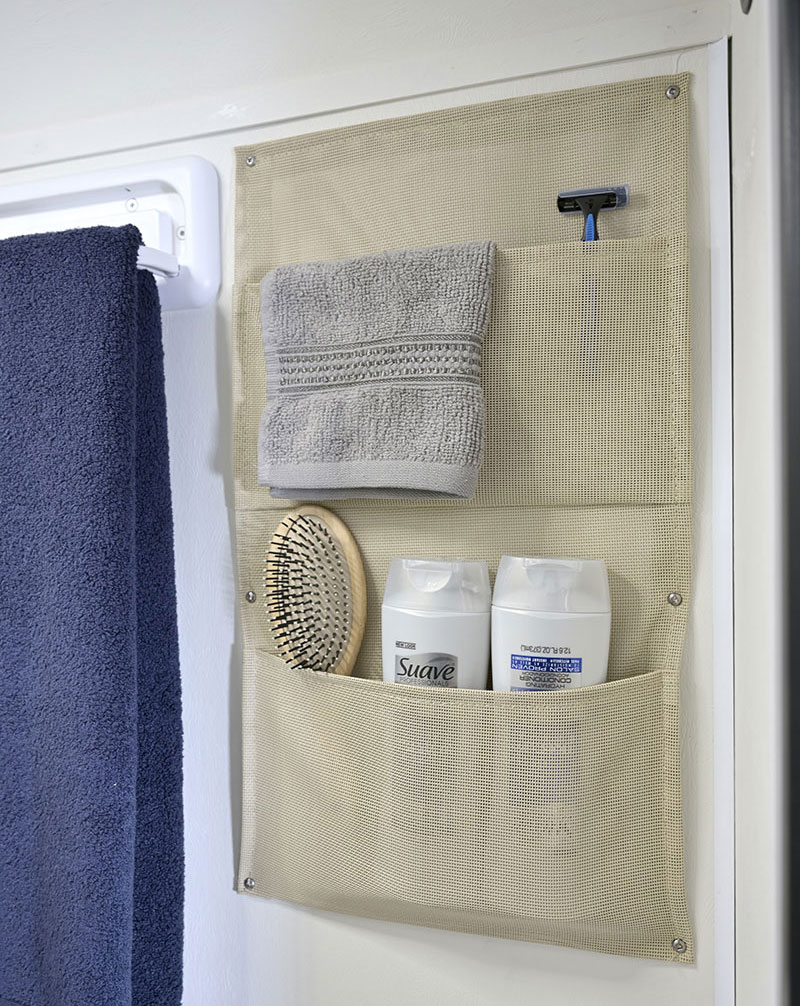 That's awesome that Cirrus was inspired by a customer to make that change.  For those of us who might be modest, is the new door opaque?
Yes, it's opaque.  It's also textured for further privacy.
For 2022, the 820's wet bath also gains a medicine cabinet above the fold-down sink.  Was this change also made in response to consumer feedback?
Yes, it was.  We've known for a while that we needed to add a medicine cabinet in the 820 and 920 but were limited by what was available.  The new cabinet is perfect for items like shampoo and razors.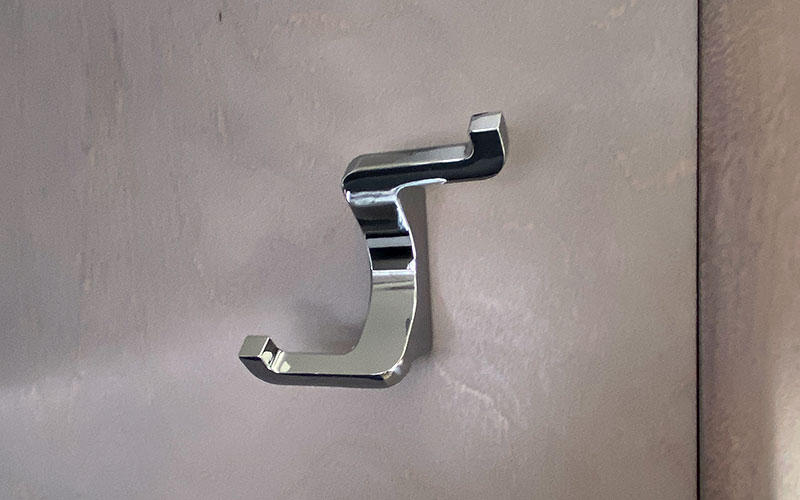 We also installed a coat or towel hook just outside of the bathroom door.  Both are useful bathroom updates for 2022.
Far too many truck campers lack a place to hang a wet towel after you get out of the shower.  Are Cirrus truck campers increasing in price for 2022?
For 2022, nuCamp products are increasing in price.  We had an increase earlier this summer and another one in the pipeline.  Combined, the price will have increased in the neighborhood of 10%.  We did our best to hold prices given the material and component price increases we're seeing.  Container shipping alone has doubled in cost and there's now talk about it quadrupling.  We've also had to absorb rising prices in steel and aluminum, which we employ a decent amount of.  Our window shade and screen systems have jumped in price.  It's been a tough battle.
We are hearing the same feedback from every manufacturer we work with.  The container ship situation is national news, as is the inflationary pressures all businesses are facing.  Is there anything else you want our readers to know about nuCamp and Cirrus truck campers for 2022?
I would love to have a new truck camper to announce, but we need to stay focused on improving production efficiency, quality control, and customer service.  That's why I'm most excited about our new Service Center, Training Facility, and nuCamp University.  If we stay the course, we'll work through the product demand, push quality forward and return to a new 920 and 720.  I can't wait.
For more information on Cirrus Campers, visit their website at cirrus.nucamprv.com.  Click here to request a free Cirrus brochure.