As a Canadian manufacturer, has Northern Lite been impacted by the United States steel and aluminum tariffs?
Not really. We had some slight increases in our aluminum prices. Our campers are fiberglass, so the metal tariffs do not really impact us. We have been more affected by the price of doors, which is related to a Canadian retaliatory tariff.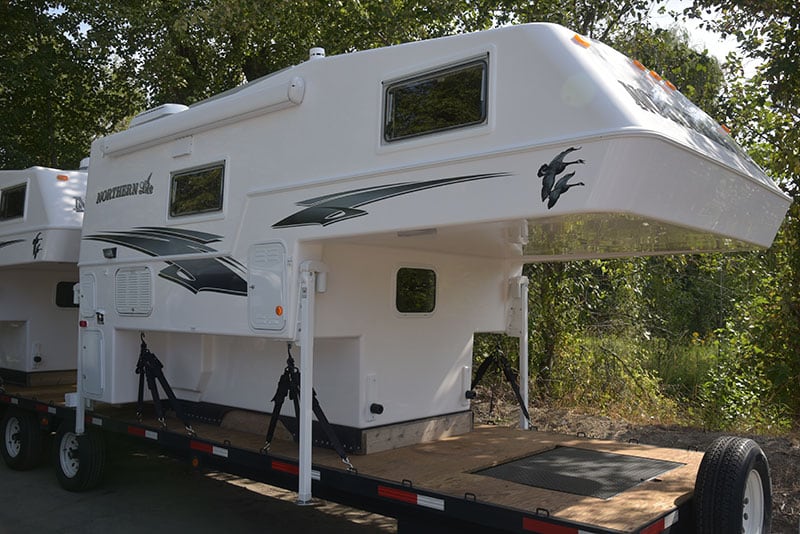 Above: The Northern Lite 8-11 EX ready to be shipped
Is there anything else about the 8-11 EX Wet Bath or Northern Lite in general you would like to add?
To keep up with current and future demand, we are looking at substantial additions to our current factory. For starters, we are adding another fiberglass spray booth, which will be larger than our current one. We already have one of the largest in the Okanagan Valley.
In the very near future we will be adding an additional truck camper production line. That line will be dedicated to Northern Lite 10-2 EX campers. We are nearing completion of an additional 10-2 EX mold. That will allow us to double capacity for 10-2 truck campers.
Our cabinet shop will be vastly expanded allowing for new technologies like CNC and panel saws. That will help to maintain quality and further increase production. Finally, we are hiring team members and giving them substantial training to ensure they meet the quality standards we expect.
For more information on Northern Lite, visit their website at northern-lite.com.  Click here for a free Northern Lite brochure.