Other than the dry versus wet bath and the minor differences in the black tank sizes, is there anything else different between these two models?
The bathroom is a wet bath and the same size as the old 8-11 bath. The closet, dinette and kitchen counters are longer and the black tank sizes are one gallon different. Everything else is the same.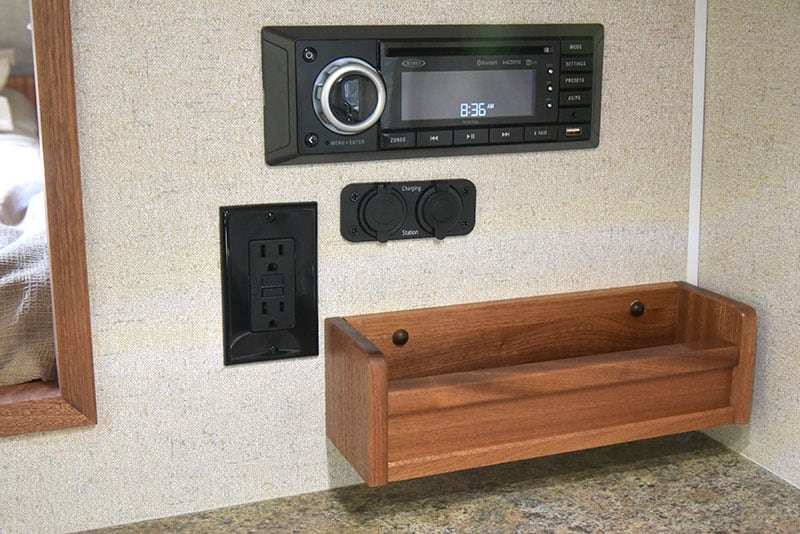 Let's talk about any other 2019 Northern Lite changes and updates. Are there any changes to the Northern Lite interiors for 2019?
We have done some mid-model year changes. We upgraded the television shelf recently to a solid Sapele shelf with a lip. The lip keeps things from rolling off the surface. Previously the shelf was a countertop. We also changed over to the new Jensen 12-volt 24" televisions.
Our Midi Heki now has an exterior white shroud. Aesthetically it looks better.
We added two 12-volt and two USB ports to the camper. They are in the kitchen and behind the television on the passenger's side of the overcab.
The additional standard 12-volt and USB ports are very welcome additions. Any changes to the exterior?
The solar panels have changed from 95-watt to 100-watt panels. We also changed the brackets for the basement step that's connected to the bumper.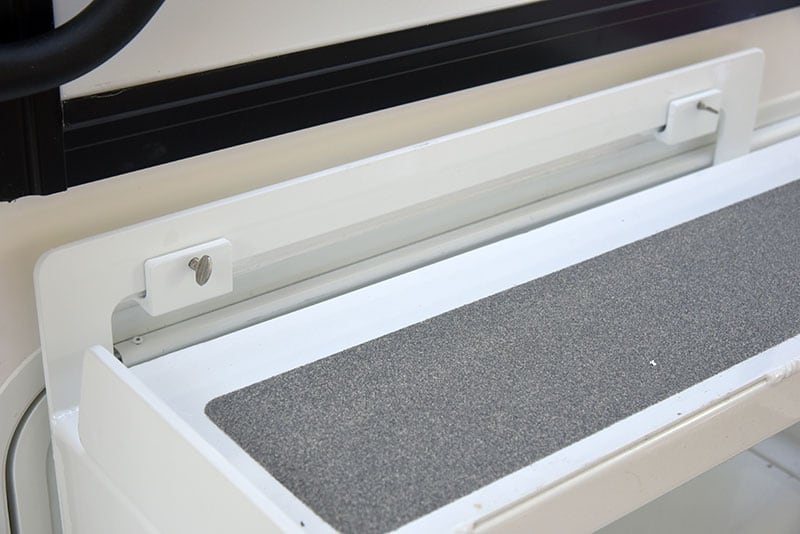 Why did you change the brackets for the basement step?
It was the last piece of steel on our campers. And we wanted something with a cleaner look. To do the same bracket design in aluminum would cost three to four times the price as the steel bracket. The new aluminum bracket design is the same price as the old steel bracket.
Lorne Nakonechny, our CEO, prototyped a new bracket in Fusion 360 and 3D printed a prototype. The 3D printed prototype (small bracket on the left below) was proof of concept and a clear way to communicate the design to our team.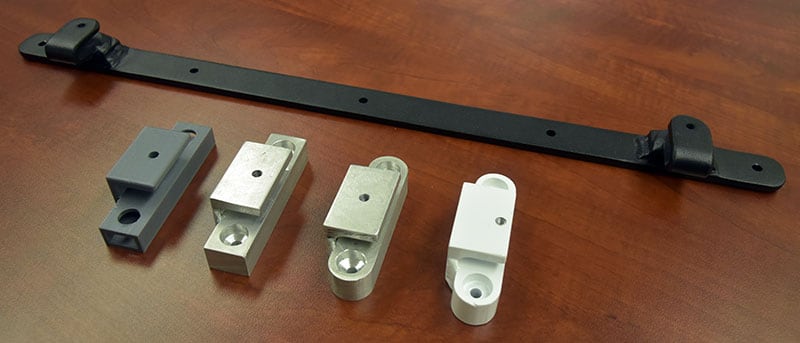 Above: The black bracket is what was used before; bottom left to right are the prototypes with the final bracket all the way to the right.
The new brackets are lighter and more efficient to produce. We have them made by the same local fabricator that makes our aluminum bumpers.
The fabricator took Lorne's design and further improved it with rounded corners and powder coating. There are no compromises with the new brackets.
It's amazing to be able to design and prototype parts using 3D printing.  Is Northern Lite increasing prices for 2019?
There was a 3-percent increase in prices for 2019. That price increase went into effect on May 1, 2018.