Since debuting in 2017, Rugged Mountain RV has made some important changes to their Polar 860 and 990 slide-out truck camper line.  And that's not all that's going on in Idaho.

If there's one quality about a truck camper manufacturer that gets us excited, it's the ability to listen to constructive criticism and then act upon that feedback.  Nobody should expect a truck camper manufacturer to be perfect or to build perfect truck campers.  We should expect manufacturers to listen to their customers and dealers and make changes to address both problems and opportunities.
When Rugged Mountain RV launched in 2017, we were delighted in their open and receptive approach to the marketplace.  They were excited about their new company and product line, but they also actively sought our feedback and feedback from consumers and dealers.
After the remarkable story, "Introducing Rugged Mountain Truck Campers" ran in June of 2017, the reaction to Rugged Mountain rolled in from coast-to-coast.  Say what you will about Truck Camper Magazine readers, but we're not shy.  Nor are we particularly lacking in the opinion department.
Anyway, the Rugged Mountain team devoured all the comments and suggestions and made critical changes to their existing Polar 860 and Polar 990 slide-out truck campers.  Then they asked us for a copy of the 2018 Ultimate Truck Camper Survey and got to work on something really big.  We can't talk about that just yet, but we have arranged to have the exclusive on their new project in the coming weeks.
To find our what Rugged Mountain is updating for 2018, we talked to Jesse Collinsworth, President of Rugged Mountain RV.
TCM: Tell us about your first year of truck camper production.  How have things gone?
Jesse: Our first year of truck camper production has been an amazing learning experience.  After debuting Rugged Mountain on Truck Camper Magazine last June, we received a lot of feedback about our models.  From that response, we knew we needed to make some changes.
The most important change was the separation and expansion of the grey and black holding tanks, and the elimination of the exterior-mounted galley grey tank.  In the old design, the shower drained into the black tank.  Understandably, that was something from the old Northland design that people didn't like.
For 2018, we have caught up with the times and separated the holding tanks.  The kitchen sink, bathroom sink, and shower now all go into the grey tank.  There is no cross contamination between tanks.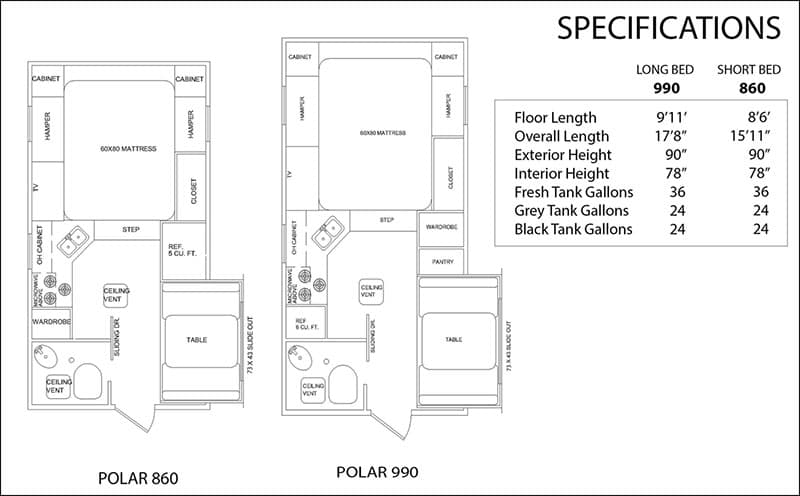 TCM: What are the new holding tank sizes for the Polar 860 and Polar 990?
Jesse: The Polar 860 and Polar 990 now have 30 gallon fresh tanks, 24 gallon grey tanks, and 24 gallon black tanks.  The 30 gallons of fresh is in addition to the 6 gallons in the water heater.
TCM: Now we're talking.  That's a much better holding tank balance, and some respectable capacities.  Did you have to adjust the structure or size of the basement to accommodate the larger tanks?
Jesse: Yes, we did.  To make room for the new tanks, we raised the camper floor by one inch.  That extra inch also allowed us to install the correct plumbing in the basement for the shower to drain into the grey tank.  As a result of this change, both the 860 and 990 are now one inch taller.
We also had to extend the rear of the campers by one inch.  The rear wall needed to be out an inch to allow the bathroom sink plumbing to be routed to the grey tank.  As a result of this change, the 860 and 990 are now one inch longer.
Another change we made to accomodate the new holding tanks is a larger rear compartment opening and door.  RVIA code requires that the holding tanks be removable for service.  By enlarging the rear compartment and door opening by a half-inch, the tanks can be physically removed through the compartment door.
It would have been much easier to make the new holding tanks smaller, but I wanted to give Rugged Mountain owners the holding tank capacity needed for extended boondocking.  With 30 fresh, 24 grey, and 24 black, Rugged Mountain owners are ready to camp off-grid for up to a week.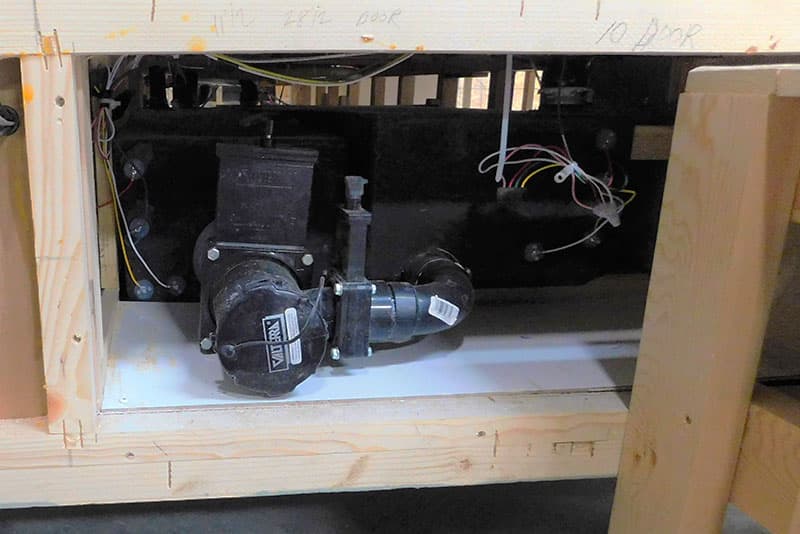 TCM: It sounds like plumbing for the new holding tanks was quite a challenge.
Jesse: Plumbing is one of the toughest feats to accomplish correctly in a truck camper.  The Polar models previously had a 1.5-inch pipe.  Now that the bathroom sink and shower drain together, we needed to increase the pipe size to 2-inches.
We also needed the increased pipe size to accommodate the required P-trap that leads to the new grey tank.  The diameter of the new pipe required the additional inch of rear wall extension.  It was a challenge, but the results are worth it.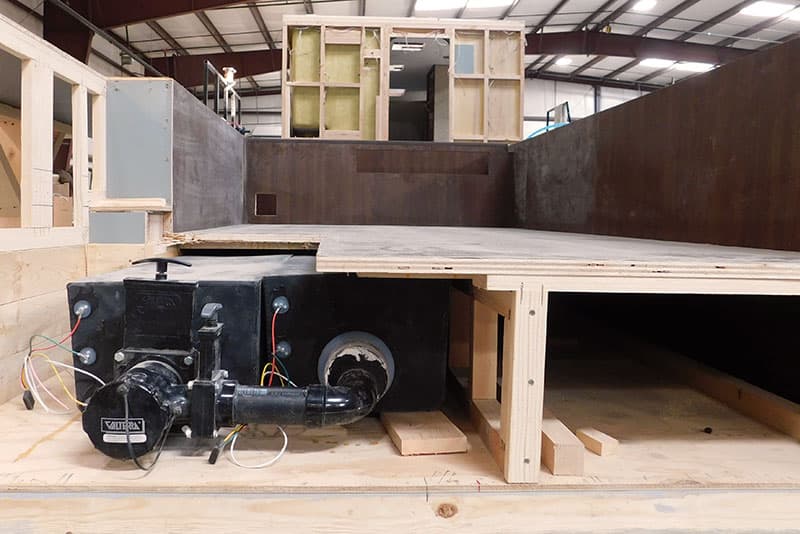 TCM: From the pictures showing the holding tanks during production (above), it appears that the top knife valve would be blocked by the floor above it.
Jesse: Our one-piece fiberglass shower stall is installed over that knife valve and creates a large space for the valve to be accessed and pulled.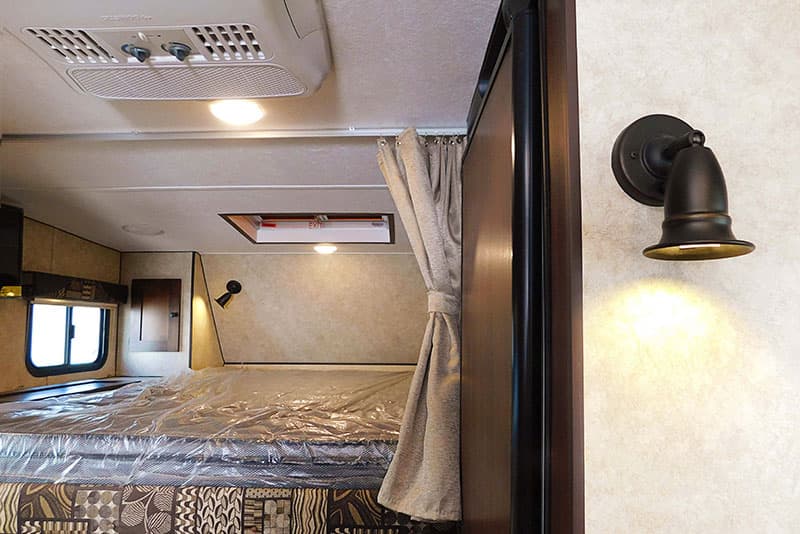 TCM: That makes sense.  For 2018, Rugged Mountain is going to all-LED interior lighting.  Tell us about this change.
Jesse: The old incandescent lighting was another holdover from Northland and needed to be updated.  Our new lights are touch activated LED lights.  When you touch the surface of the light, it turns on, and off.  There is no switch.
Our new LED reading lights look more like a residential cam light than a typical RV fixture.  The old reading lights were white plastic.  We went to an LED light with a bronze colored metal.  It's a much better reading light, and offers the incredible efficiency of LED technology.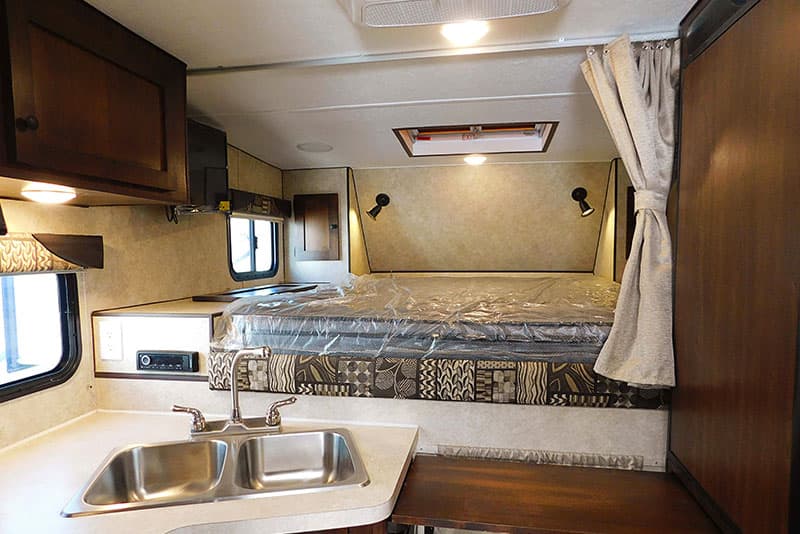 TCM: Have you made any other changes to the Polar 860 or Polar 990?
Jesse: The separated and expanded holding tanks and new LED lights are the changes for 2018.  Along with the changes we made last year (higher quality build materials, upgraded exterior fiberglass, updated interiors), we have now taken a product that has been successful for decades and updated it to modern times.
Northland sold the Polar series all the way back to the mid-70s.  The Polar 860 and 990 date back well over 15 years in continuous production.  The current Rugged Mountain versions retain what made these floor plans unique and successful, and updates the material quality, build quality, systems quality, and overall aesthetic to 2018 standards.
For the money, nothing can beat our Rugged Mountain Polar campers.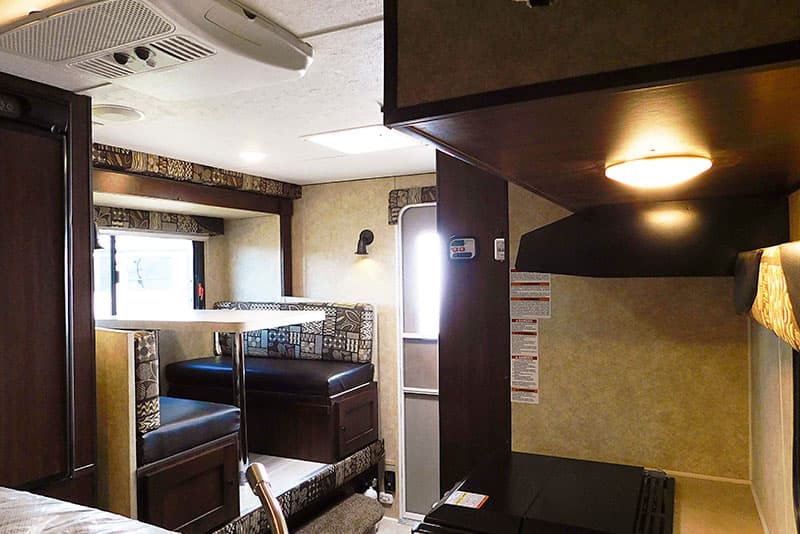 TCM: Are you looking to make any further changes to the Polar 860 and 990 models?
Jesse: Not at this time.  The Polar 860 and 990 will remain Rugged Mountain's budget models.  We are keeping the Polar price point much lower than our competition.
Fully loaded with options, the Polar 860 and 990 cost what the competition costs as base models with no options.  It's starting to get out there that Rugged Mountain offers a better value.
TCM: How did the extra inch in height, length, and the larger holding tanks change the weight and center of gravity of the Polar 860 and 990?
Jesse: The weights and center of gravity numbers are different, but not nearly as much as you might expect.  Having the new holding tanks run the length of the floor inside the basement is a big part of that.
The new dry weight of the Polar 860 is 3,120 pounds.  The new center of gravity for the Polar 860 is 30.25″.  The new dry weight of the Polar 990 is 3,440 pounds.  The new center of gravity for the Polar 990 is 44″.
TCM: For 2018, Rugged Mountain is discontinuing the Yukon 820.  Why are you dropping this camper from your truck camper line?
Jesse: The Yukon 820 was designed as a no-frills budget unit.  We built a couple and they didn't sell as planned.  People want amenities in their campers.  They want electric jacks, not manual.  They want an air conditioner.  We are putting our production focus into our strong sellers, the 860 short bed and 990 long bed models.
TCM: You have hinted at a big project under development at Rugged Mountain right now.  I realize you're not yet ready to debut anything yet, but what can you tell us at this time?
Jesse: Our primary focus for 2019 are two brand new truck camper models; one long bed, and one short bed.  What I can tell you now is that both models are full-size, non-slide truck campers that feel more roomy than most slide-out models.  The floor plans are wide-open and incredible.
In addition, the new campers feature a truly residential feel.  With our extensive tiny-house design experience, we are bringing something really special to the truck camper marketplace.  Get ready for two new and exciting Rugged Mountain truck campers later this spring.  There are no other campers out there like these.  Of course we will debut both models right here, in Truck Camper Magazine.
TCM: Now that's a serious tease!  Is there anything else going on at Rugged Mountain RV that you would like people to know?
Jesse: We have added Rugged Mountain truck camper dealers in Boise, Reno, Carson City, and Sacramento.  We are steadily growing our dealer network.
We are also looking to grow production, but it's been a challenge to find quality skilled workers.  We have decided to stay extremely picky about who we hire, and not grow too fast.  Quality campers are our focus, not production quantity.  I would rather do it right than do it fast.  With Rugged Mountain, you get a lot of camper for your money.
Finally, we will be adding to our team in the near future.  Anca and I are expecting another baby in October.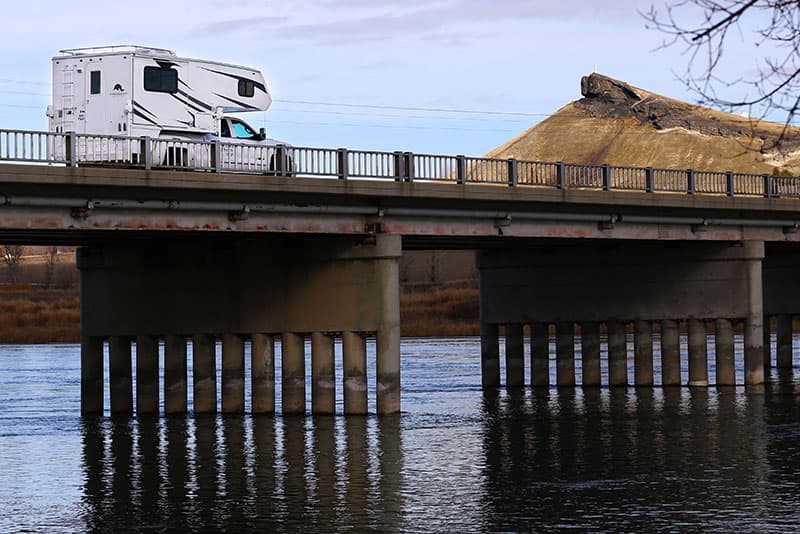 TCM: Congratulations!  That's great news.  And let us know when the stork brings those new campers.  We can't wait to see what you've been up to.
For more information on Rugged Mountain RV, visit their website at ruggedmountaincustomrv.com.  Click here to see the Rugged Mountain Buyers Guide and to request a Rugged Mountain RV brochure.