Since debuting in 2017, Rugged Mountain RV has made some important changes to their Polar 860 and 990 slide-out truck camper line.  And that's not all that's going on in Idaho.

If there's one quality about a truck camper manufacturer that gets us excited, it's the ability to listen to constructive criticism and then act upon that feedback.  Nobody should expect a truck camper manufacturer to be perfect or to build perfect truck campers.  We should expect manufacturers to listen to their customers and dealers and make changes to address both problems and opportunities.
When Rugged Mountain RV launched in 2017, we were delighted in their open and receptive approach to the marketplace.  They were excited about their new company and product line, but they also actively sought our feedback and feedback from consumers and dealers.
After the remarkable story, "Introducing Rugged Mountain Truck Campers" ran in June of 2017, the reaction to Rugged Mountain rolled in from coast-to-coast.  Say what you will about Truck Camper Magazine readers, but we're not shy.  Nor are we particularly lacking in the opinion department.
Anyway, the Rugged Mountain team devoured all the comments and suggestions and made critical changes to their existing Polar 860 and Polar 990 slide-out truck campers.  Then they asked us for a copy of the 2018 Ultimate Truck Camper Survey and got to work on something really big.  We can't talk about that just yet, but we have arranged to have the exclusive on their new project in the coming weeks.
To find our what Rugged Mountain is updating for 2018, we talked to Jesse Collinsworth, President of Rugged Mountain RV.
TCM: Tell us about your first year of truck camper production.  How have things gone?
Jesse: Our first year of truck camper production has been an amazing learning experience.  After debuting Rugged Mountain on Truck Camper Magazine last June, we received a lot of feedback about our models.  From that response, we knew we needed to make some changes.
The most important change was the separation and expansion of the grey and black holding tanks, and the elimination of the exterior-mounted galley grey tank.  In the old design, the shower drained into the black tank.  Understandably, that was something from the old Northland design that people didn't like.
For 2018, we have caught up with the times and separated the holding tanks.  The kitchen sink, bathroom sink, and shower now all go into the grey tank.  There is no cross contamination between tanks.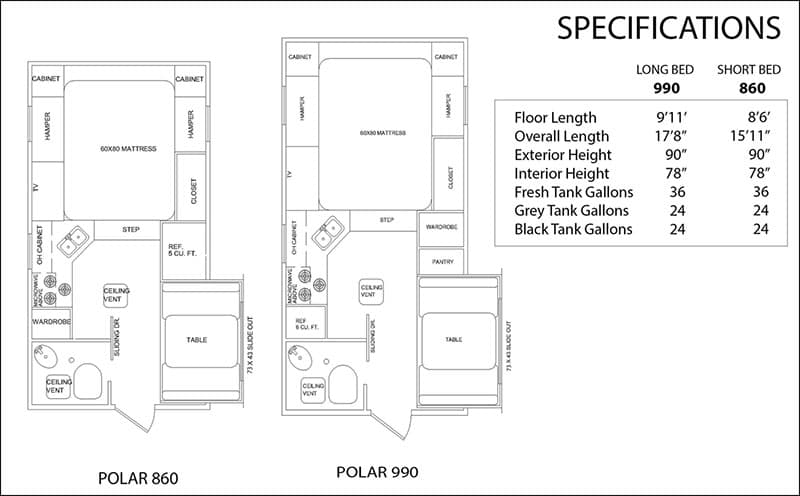 TCM: What are the new holding tank sizes for the Polar 860 and Polar 990?
Jesse: The Polar 860 and Polar 990 now have 30 gallon fresh tanks, 24 gallon grey tanks, and 24 gallon black tanks.  The 30 gallons of fresh is in addition to the 6 gallons in the water heater.
TCM: Now we're talking.  That's a much better holding tank balance, and some respectable capacities.  Did you have to adjust the structure or size of the basement to accommodate the larger tanks?
Jesse: Yes, we did.  To make room for the new tanks, we raised the camper floor by one inch.  That extra inch also allowed us to install the correct plumbing in the basement for the shower to drain into the grey tank.  As a result of this change, both the 860 and 990 are now one inch taller.
We also had to extend the rear of the campers by one inch.  The rear wall needed to be out an inch to allow the bathroom sink plumbing to be routed to the grey tank.  As a result of this change, the 860 and 990 are now one inch longer.
Another change we made to accomodate the new holding tanks is a larger rear compartment opening and door.  RVIA code requires that the holding tanks be removable for service.  By enlarging the rear compartment and door opening by a half-inch, the tanks can be physically removed through the compartment door.