Phoenix Campers debuts a cabover-less pop-up tent truck camper with an innovative flip-open bed and expanding canopy system.  Introducing the Phoenix Geo-Den Flip, the most aerodynamic truck camper on Earth.

If there's one thing we have learned from a decade of covering Phoenix Campers it's to expect the unexpected.  When our phone rings from Commerce City, Colorado, we practically shout, "Stop the press! Robby's got another one!"
After wowing us last October with the 2018 Phoenix Mini Max, Robby Rowe, Co-Owner and Chief Design Awesomizer at Phoenix Custom Campers, contacted us with something we honestly didn't even understand at first.
Phoenix Camper's all-new Geo-Den Flip is a cabover-less design, yet it has a cabover.  It's a pop-up truck camper, and yet there's no roof that pops-up.  And how in the heck is that flip-over bedroom area suspended like that?  Magic Robby dust?
It's not everyday that our first two questions about a new camper are, "What exactly is that?" and, "How does it work?"  Robby's answers are sure to set the pop-up marketplace on its ear.  Let there be absolutely no doubt that we are looking at the first nominee for Best Truck Camper Innovation of 2018.
Looking past the flip-open bed and expanding canopy, the real story here is size, weight, aerodynamics, and price.  The size and weight of the Geo-Den Flip targets not just half-tons, but also mid-size trucks.  Try 700 pounds for the Flip Equipped and a mere 525 pounds for the Flip Shell.
Howdy Tacoma!  Hey there Raptor!  Waz up Chevy Colorado?
With the Geo-Den Flip, Phoenix has also launched a camper that's more aerodynamic than any other truck camper on the market.  Oh, and did we mention the Flip is Phoenix's most affordable model?  Make sure there's nothing immediately behind you.  You might just flip over the Flip.
To find out exactly what the Phoenix Geo-Den Flip is, and how it works, we talked to Robby and Cari Rowe, Co-Owners of Phoenix Custom Campers.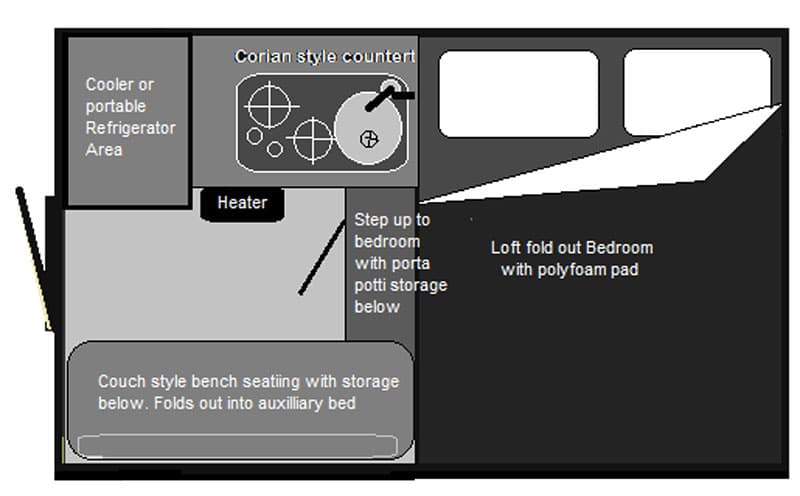 Phoenix Geo-Den Flip Specifications:
The 2018 Phoenix Geo-Den Flip is a pop-up camper made for any truck.  The interior floor length of the 2018 Phoenix Geo-Den Flip is 71″ and the interior height is 84″ when it is popped up.  The Phoenix Geo-Den Flip has a 12 gallon fresh tank, optional 6 gallon water heater, no grey tank, and a porta-potti.  It can accommodate one Group 24 battery and has one twenty pound propane tank.  Phoenix is reporting the base weight of the Geo-Den Flip to be 700 pounds.  The base MSRP for the 2018 Phoenix Geo-Den Flip Equipped is $16,595.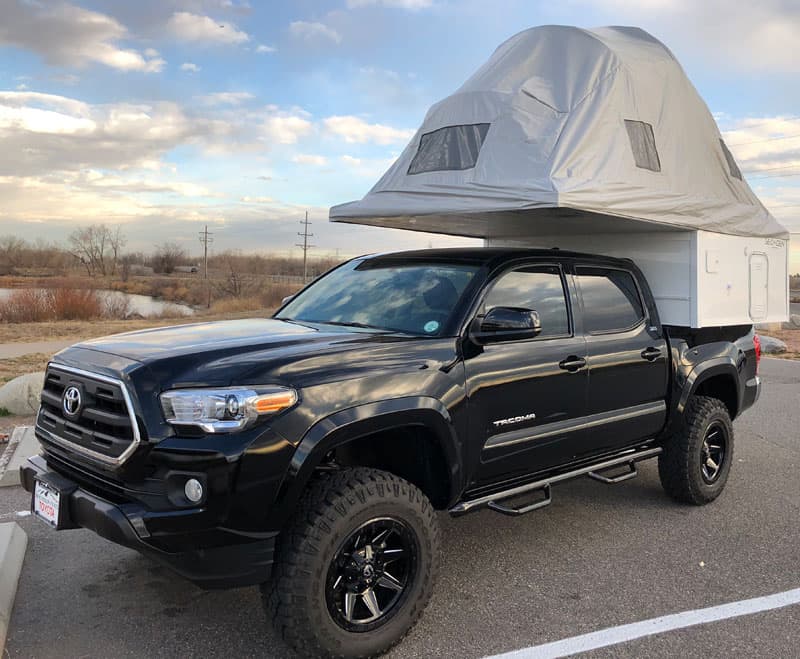 TCM: Phoenix Custom Campers debuted the original cabover-less Geo-Den in Truck Camper Magazine back in June of 2011.  Before we talk about the new cabover-less Geo-Den Flip, what happened with the original Geo-Den?
Robby: The original  Geo-Den flopped, big time.  We sold a few, but basically the camper felt too tight inside.  I tried to make it way too sparse.  People would see the original Geo-Den, say it was nice, and order a regular cabover camper.  We can still build the original Geo-Den, but the Flip is much better.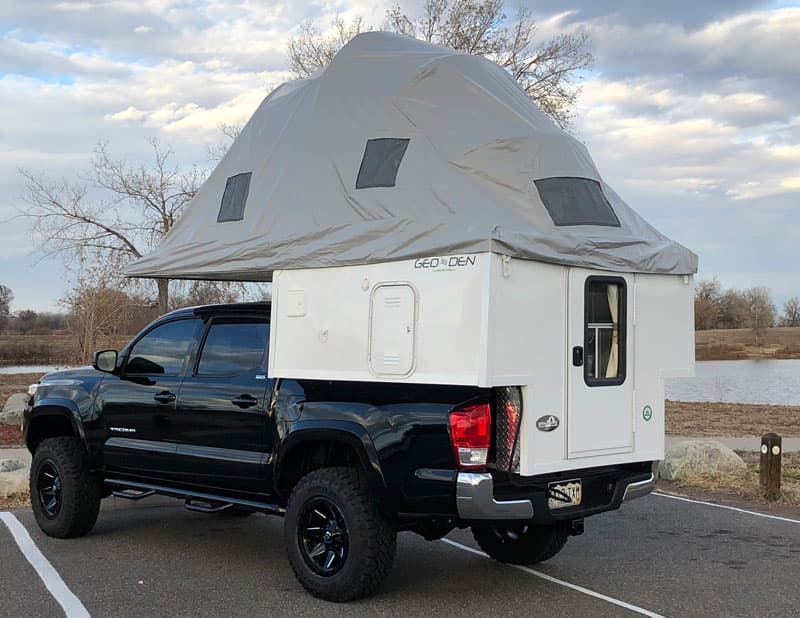 TCM: So what is it about the cabover-less pop-up truck camper concept that you believe in so strongly?
Robby: Our customers keep getting asked to do something lighter.  They want a camper that their light duty Nissan Frontier or Ford Ranger can handle without modifications.  Others want a camper that will not put their truck over GVWR.
Learning from the original Geo-Den experience, these customers also want a cabover sleeping area in a camper that feels big inside with basic living essentials.  The Geo-Den Flip answers all of these needs and wants.