Eagle Cap drops a long-running model, debuts the biggest interior change in over a decade, installs Digi-Level tank monitors, and teases an all-new floor plan.

For 2017, the Eagle Cap team at Adventurer Manufacturing has made the bold decision of changing just about every interior color, fabric, and material to pursue the latest trend in high-end RV interior design; grey tones.
This was not an easy decision after having fully adopted the successful high-end natural-wood interior aesthetic first launched by Eagle Cap over a decade ago.  As the saying goes, why fix what's not broken?
Trends change.  What was once fresh and exciting, becomes stale and boring.  With the high-end motorhome and fifth wheel market moving to grey-tone interiors, the time has arrived for Eagle Cap interiors to fly in a new direction.
In addition to the all-new grey-tone interiors, Eagle Cap has a short list of new standard features, a few model specific changes, and a tantalizing tease for an Eagle Cap to launch later this year.
If nothing else, nearly every truck camper owner is going to want to know more about the new Digi-Level tank monitors.  Could this be the beginning of the end of standard holding tank sensors and their infamous inaccuracies?  Let's hope so!
To get the low down on what's up with Eagle Cap for 2017, we talked to Greg Tucknies, National Sales Manager for Adventurer Manufacturing.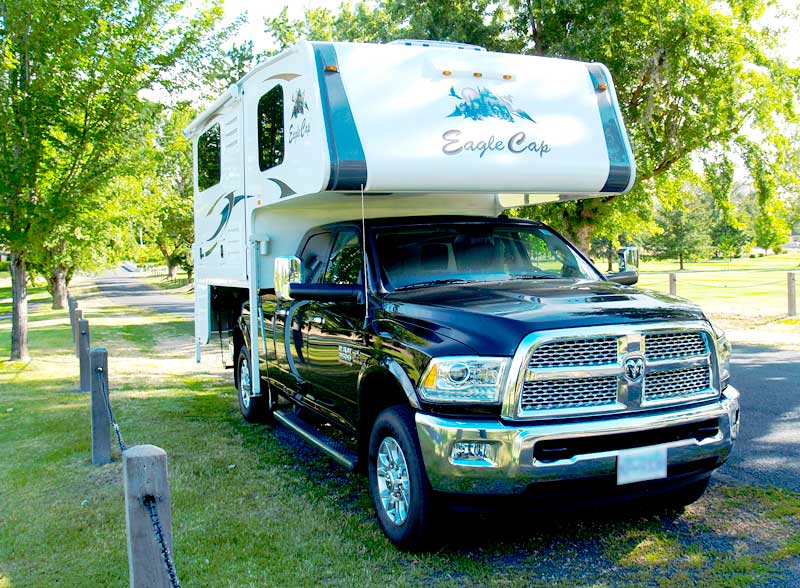 Above: The 2017 Eagle Cap 850 on a Ram 3500.  All photography provided by Adventurer Manufacturing.
TCM: Are there any Eagle Cap models being discontinued for 2017?
Greg: We are discontinuing the Eagle Cap 995 for 2017.  We were on the fence with the 995, but the newer Eagle Cap 960 significantly overtook the 995 in sales.  The final decision was market driven.
TCM: What is it about the 960 that helped it sell better than the 995?
Greg: The outgoing 995 was a 10'2" model.  Most customers who are looking at 10-foot truck campers go right to the 11-foot multi-slide models like the Eagle Cap 1160 double-side, 1165 triple-slide, and the 1200 triple-slide.  That trend continues.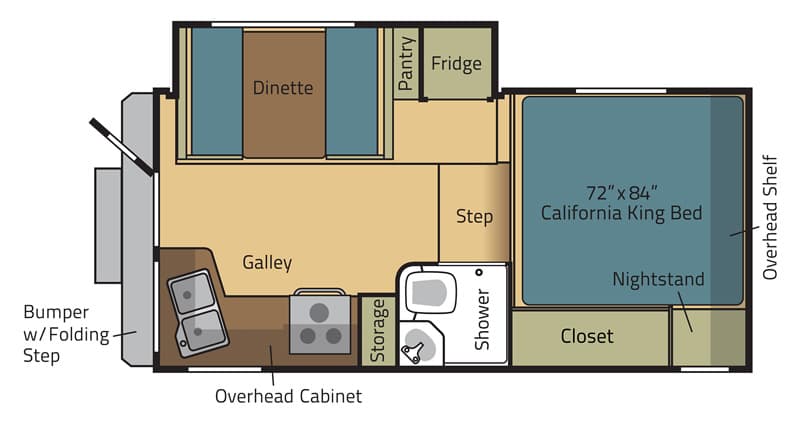 Above: With a California King bed, 9'10" floor plan, and full-wall slide, the Eagle Cap 960 (floor plan shown above) has replaced the 995 for 2016
At 9'10", the Eagle Cap 960 attracts the 9-foot truck camper buyer.  The Eagle Cap 960 also features a King bed, a feature that many customers want.
While people liked the dry bath in the 995, we found they prefer a large wet bath because of more shower room.  When we launched the 960, production of the 995 dropped nearly 40-percent.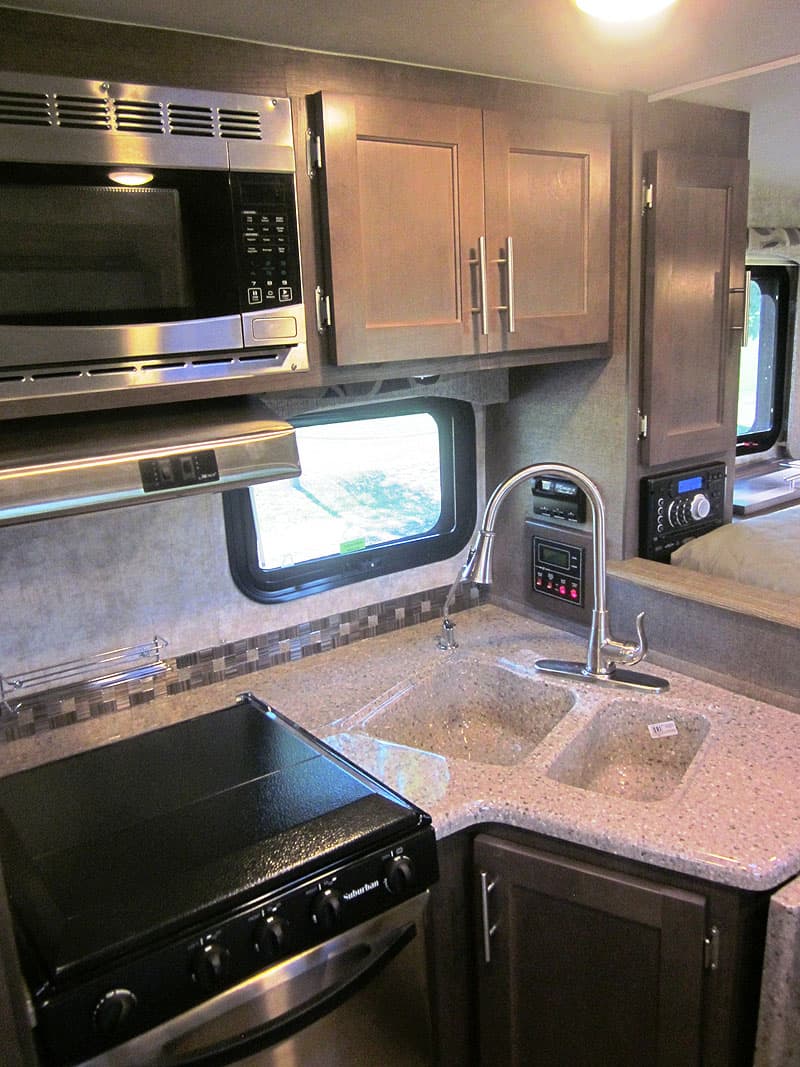 Above: The new interior look of 2017 Eagle Cap Campers
TCM: That's not a subtle difference.  Tell us about the new 2017 Eagle Cap interiors.
Greg: If Adventurer is our Toyota line, Eagle Cap is our Lexus line.  In the truck camper marketplace, Eagle Cap has always been the premier high-end choice.
Since taking over Eagle Cap in February of 2011, we had made minimal changes to the highly regarded interior of Eagle Cap campers.  The only upgrade we did make was to Cherry cabinetry, a change that regularly received rave reviews from dealers and customers.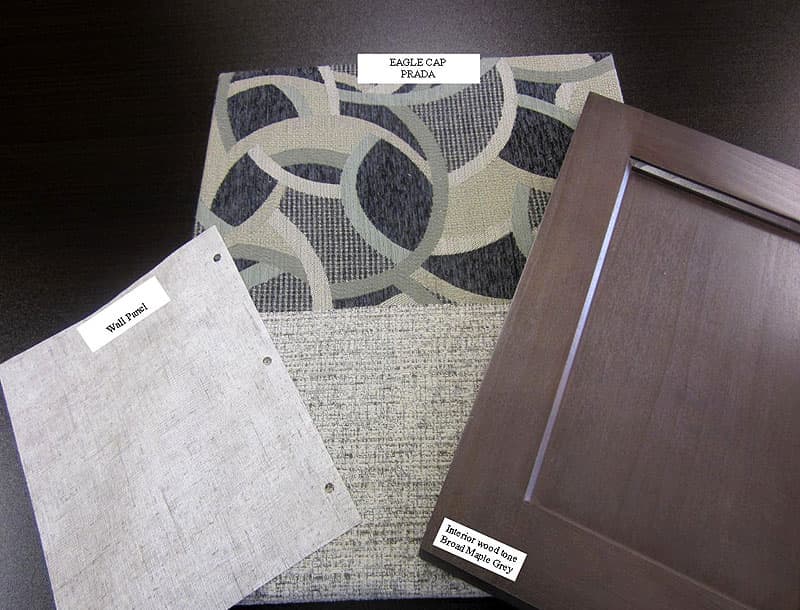 Above: Prada interior decor for 2017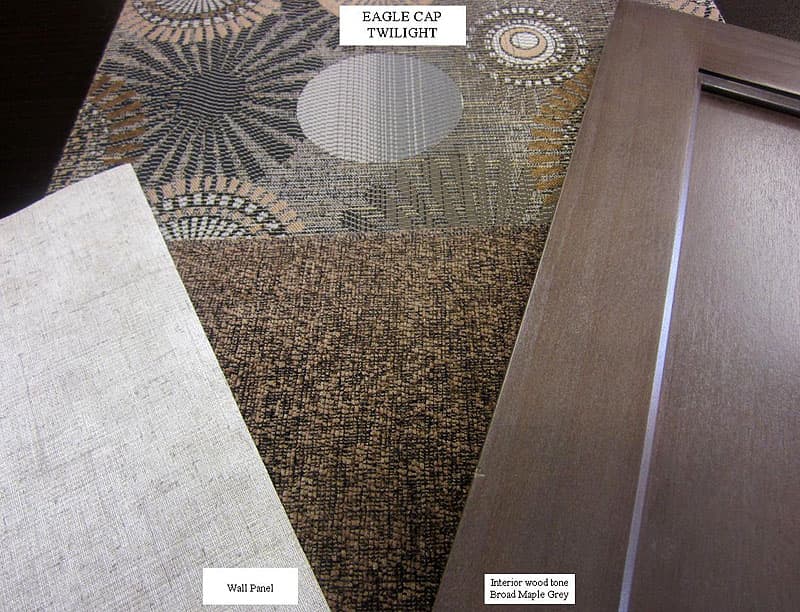 Above: Twilight decor for 2017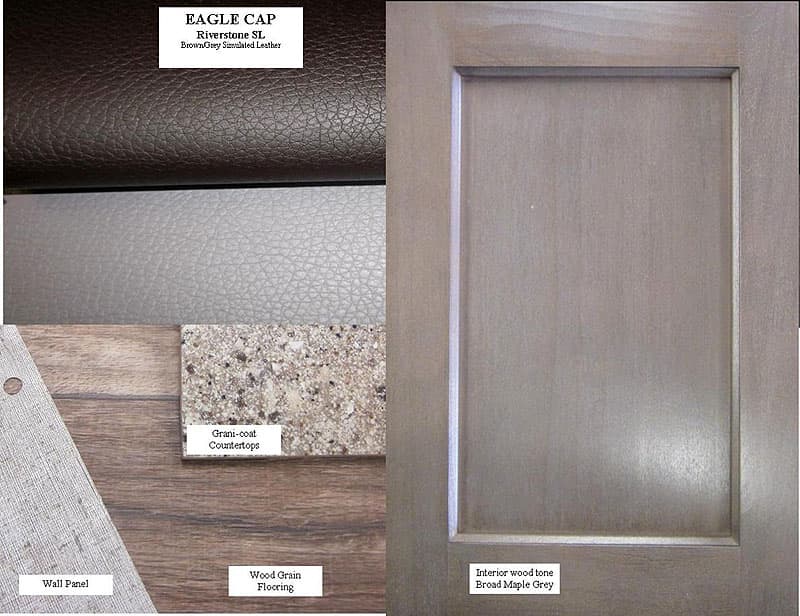 Above: Riverstone decor for 2017
For 2017, the marketplace trend in interior decor is changing.  Many Eagle Cap customers are coming out of fifth wheels and asking for the grey tones that are popular in high-end RVs now.  That's where our focus on grey-tones came from.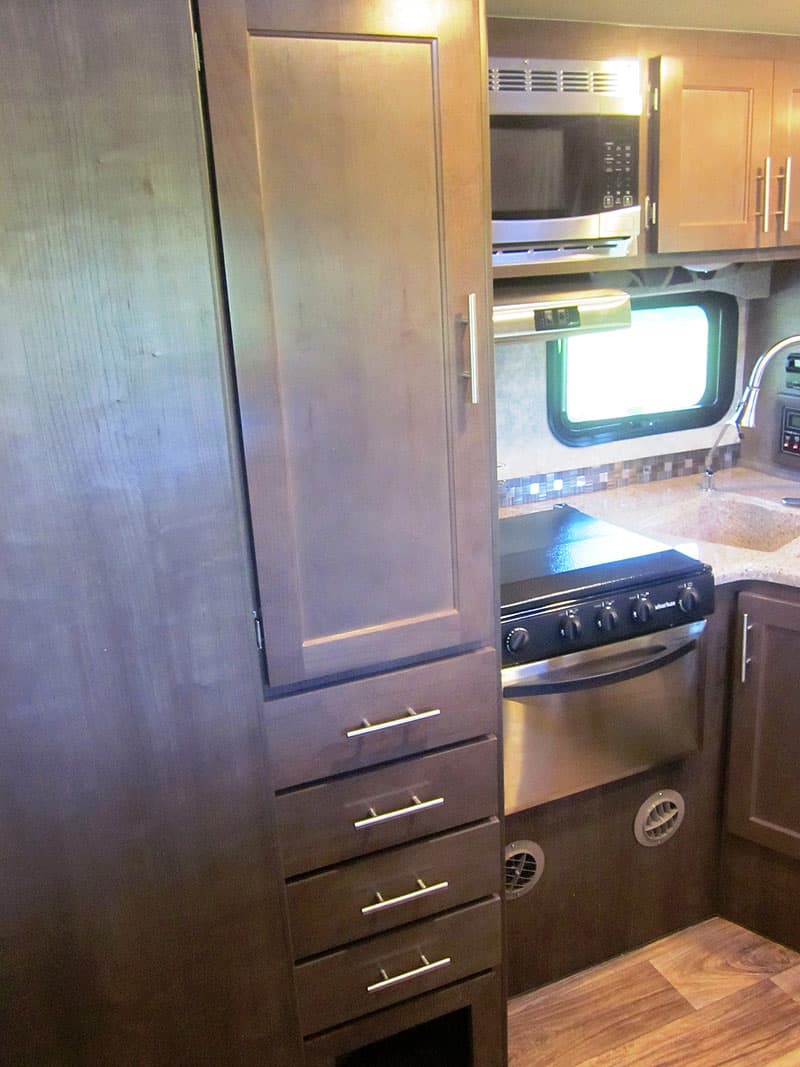 Above and Below: Grey tones are popular in high-end RVs, and are now featured in 2017 Eagle Cap Campers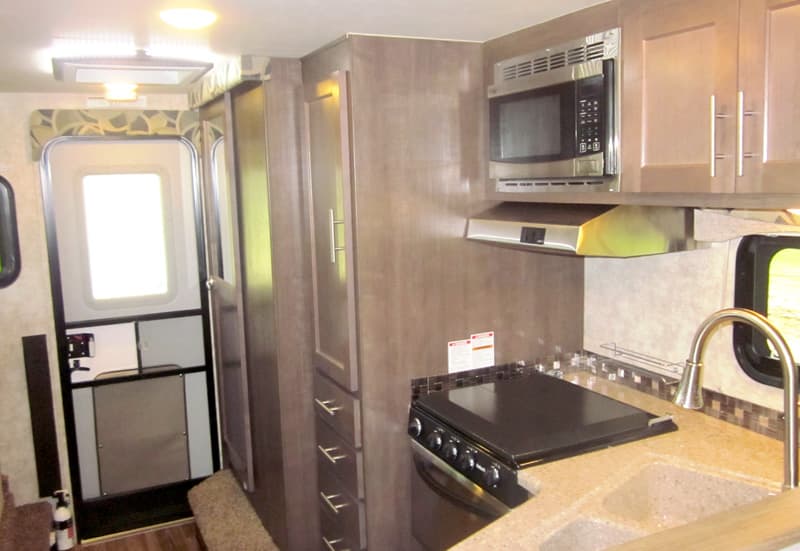 We researched it more and came to the conclusion that grey was the way to go.  We were nervous about it since the Eagle Cap colors have been so successful, but sometimes you just have to make a change.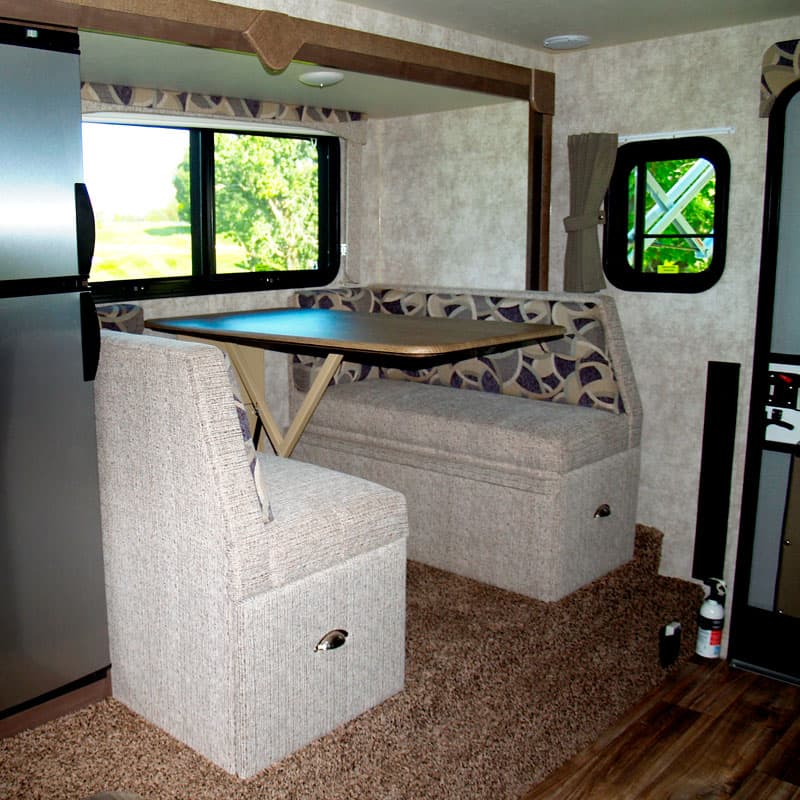 Above: Prada interior decor in an Eagle Cap Camper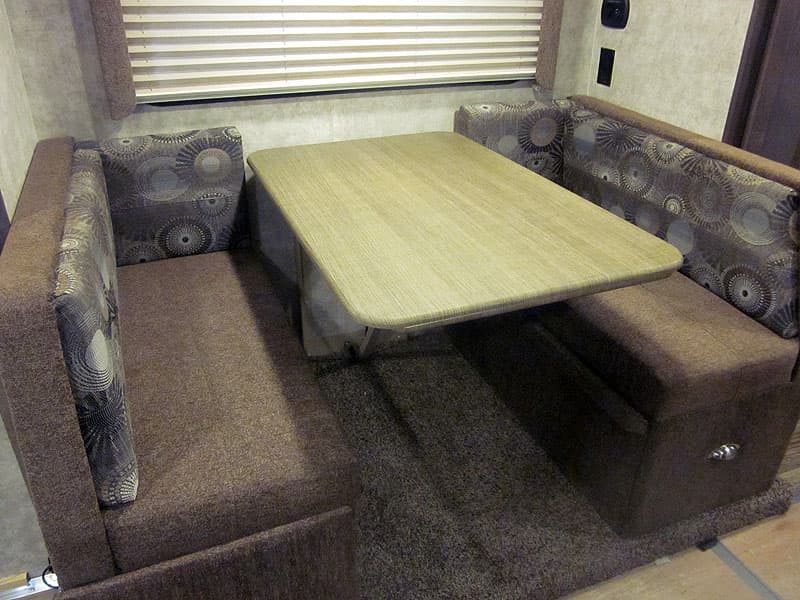 Above: Twilight interior decor in an Eagle Cap camper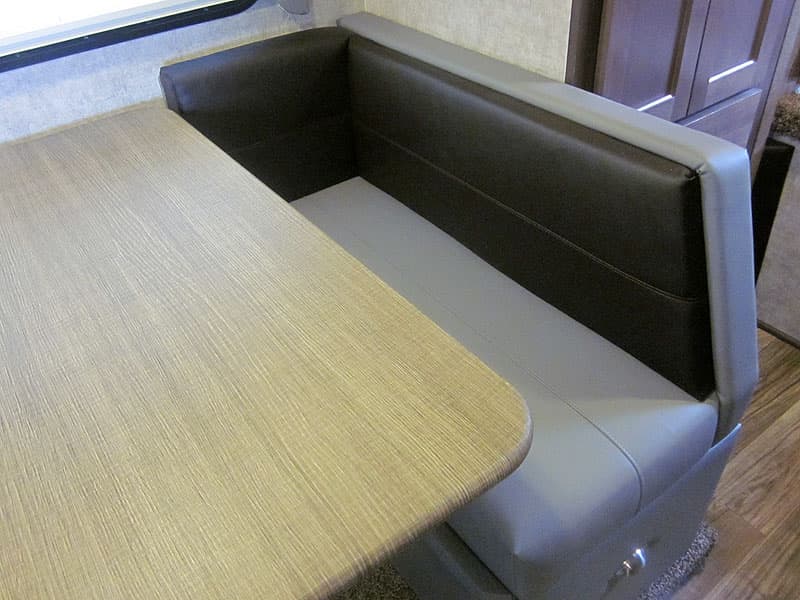 Above: Riverstone interior decor in an Eagle Cap Camper
TCM: It's certainly a bold change for Eagle Cap.  How did you select the final interior materials and colors?
Greg: Once we had all the materials and pieces together, we gathered feedback from our engineering team, office team, sales team, furniture companies, and interior designers.  We also made sure to carefully listen to the ladies in the office to get their perspective.
Fraserway recently asked us to work on a special high-end motorhome project and we used the in-development Eagle Cap grey-tones for that project.  When that project came together, we knew we had an exciting new look for Eagle Cap.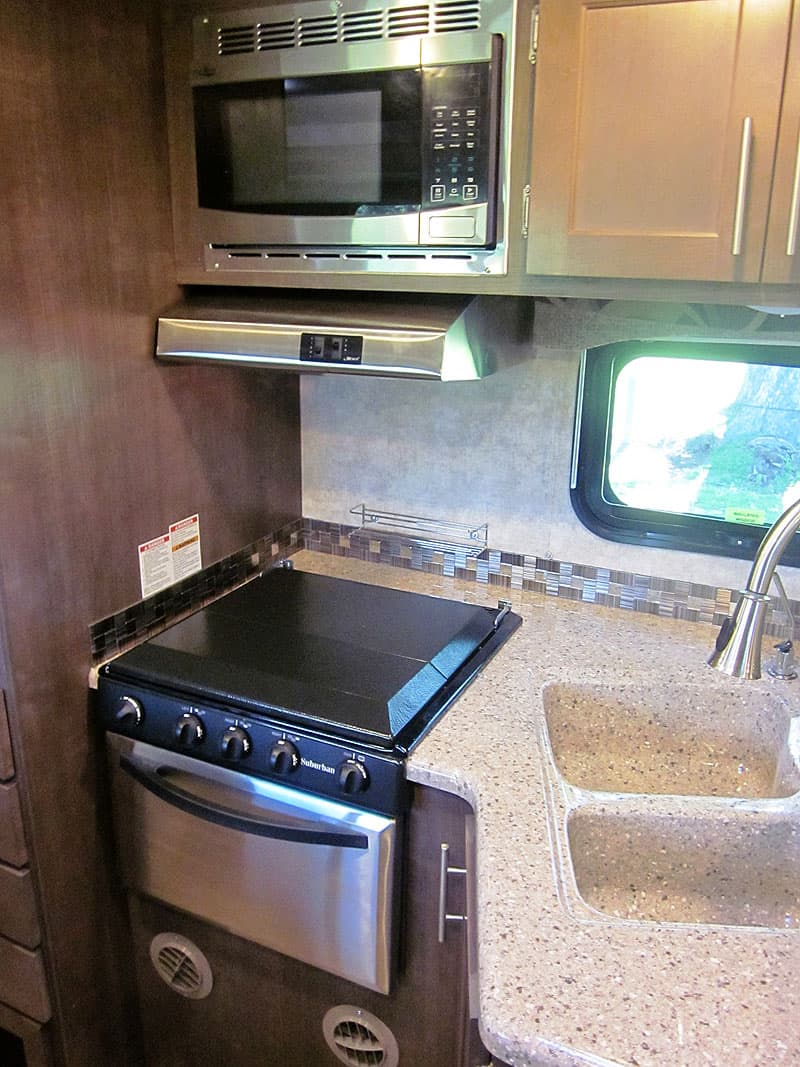 Above: Stainless steel appliances will be standard in 2017 Eagle Cap Campers
TCM: And you didn't stop with the new fabrics, cabinets, and wall board.  Tell us about the new look for the appliances.
Greg: For 2017, all Eagle Cap campers will feature stainless steel appliances including the range hoods, ovens, microwaves, and refrigerator.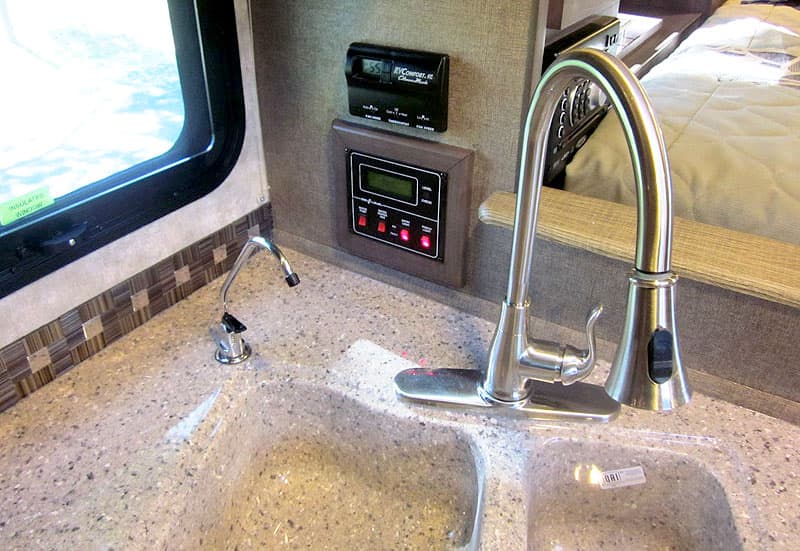 There will also be a new high rise pull out faucet.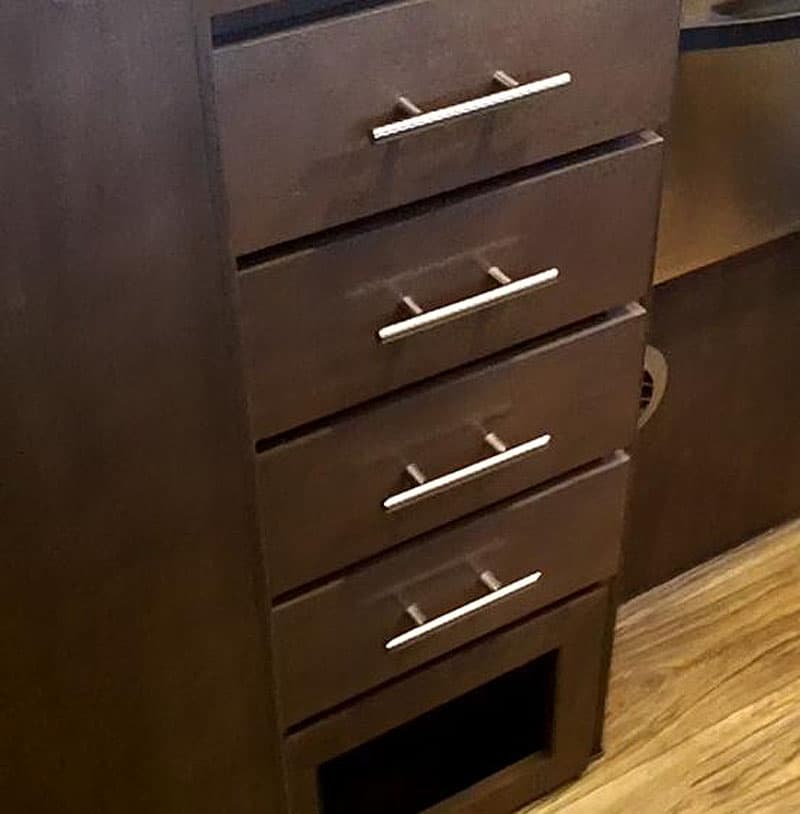 Additionally, we are going to satin brushed nickel interior hardware on the cabinetry.  The new Eagle Cap interiors are completely new, and a total knockout.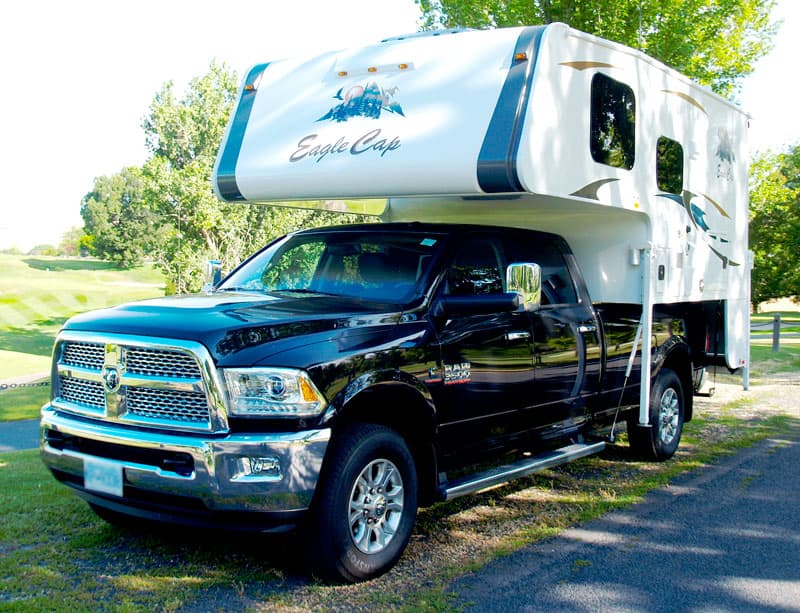 TCM: Following the interior design change, the fiberglass front nose cap accents are grey for 2017.  Is this a simple gel coat color change, or was there more to this?
Greg: It's a gel coat color change.  The medium grey nose cap accents will match truck colors better, and give the 2017 Eagle Caps a fresh exterior look.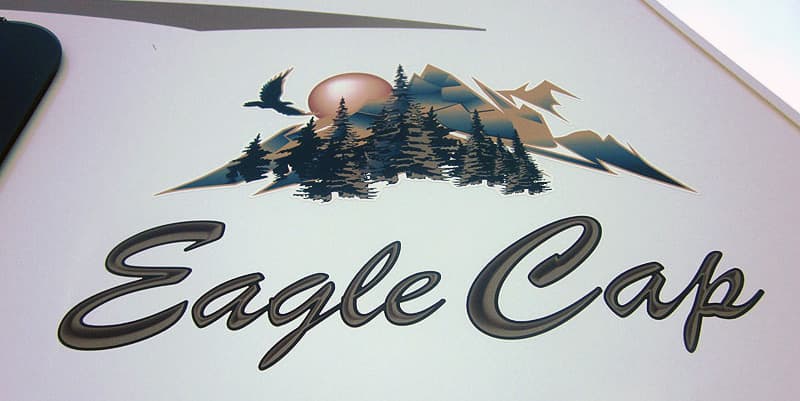 The exterior graphics are otherwise unchanged.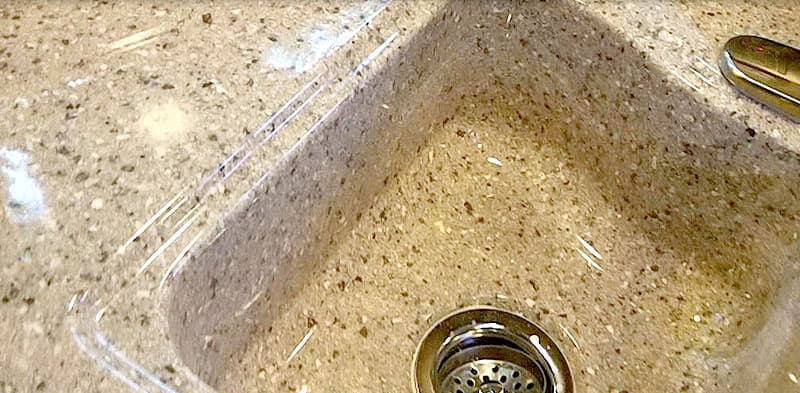 The interior one-piece granite coat fiberglass will also be grey tone.  The grey granite coat countertops really tie the new interiors together for a luxurious look.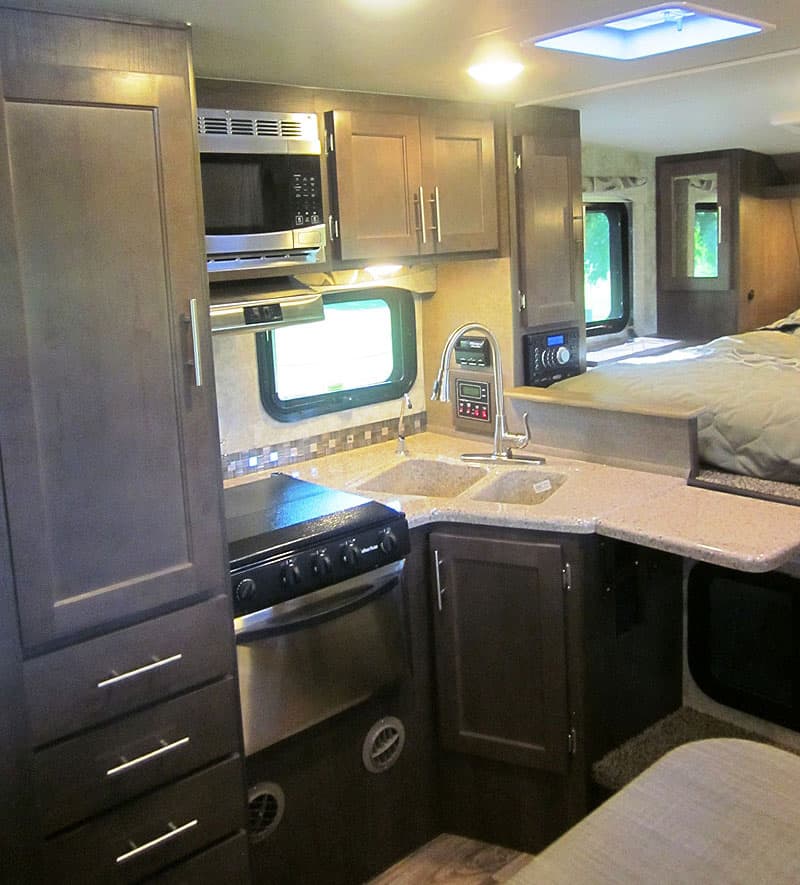 TCM: The sofa seating depth for the Eagle Cap 1200 is changing for 2017.  Why are you making this change?
Greg: When we introduced the Eagle Cap 1200 last year, the rear slide was available as a table and chairs as the only option.  Customers asked us to put a rear sofa into the 1200 for more comfortable television watching.
For 2017, we wanted to also offer a sofa for the 1200 rear slide, but we needed to narrow the depth of the sofa by 2-inches to fit the floor plan.  Had we used our standard sofa, the rear slide would not fully close.
TCM: From your emails, we understand that Eagle Cap is getting the same upgraded 300-watt GoPower solar controller and "Solar Panel – 2nd Additional" option as Adventurer for 2017.  Is that correct?
Greg: Yes, that's correct.  The new 300-watt controller and multiple panel option of the upgraded GoPower solar panel system will save our customers a significant amount of money.  Customers can order up to three 100-watt panels on any 2017 Eagle Cap.
Above: Eagle Cap 1160 and 1165 pantry and drawer closed and open
TCM: That's a lot of solar power.  Are there any other model specific changes for 2017?
Greg: There are few more.  The Eagle Cap 1160 and 1165 now have a hanging wardrobe and small door cubby storage on the rear slide.
Customers were not only requesting more storage near the galley, but already making this space into a pantry.  There is still a rod for hanging items in the top of the closet, but now there are also three adjustable shelves to use this space as a pantry.  The bottom door cubby storage is now an 18-inch drawer, which is easier to access.
Also in the 1200, we added a cabinet behind the toilet for an additional storage area.  People wanted more storage in the bathroom.  We listened and made the change.  It makes sense.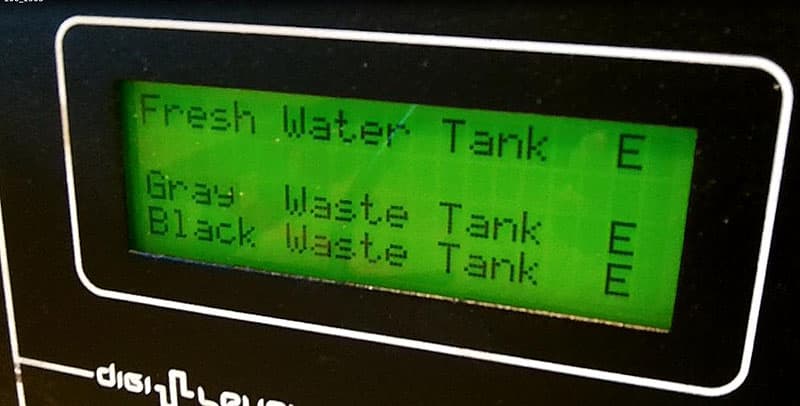 Above: Digi-Level tank monitors have probe-less tank sensors
TCM: Another interesting change for the 2017 Eagle Cap line are the Digi-Level tank monitors.  We all know how unreliable the standard tank monitors can be.
Greg: With our special motorhome project with Fraserway, they had probe-less tank sensors on their wish list.  We looked at several brands of tank monitors and Digi-Level won hands down for accuracy.  There are no probes inside the tank.  It senses water levels through the tanks.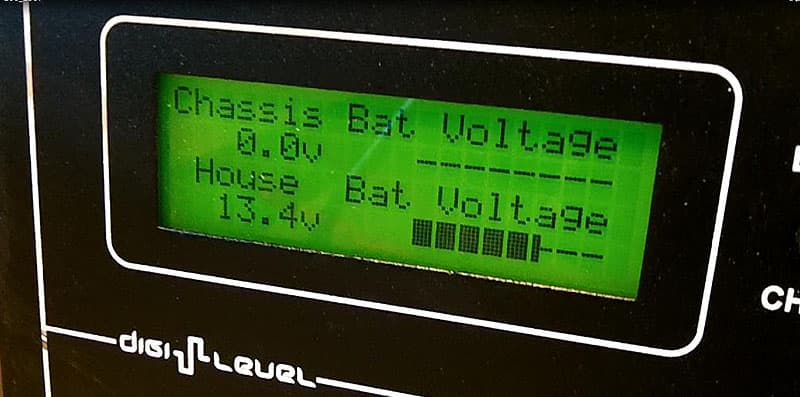 Above: Digi-Level monitors display battery levels
We did testing on our two final systems and conducted various experiments.  By far, the Digi-Level system worked the best.  Features like this get driven from high-end motorhomes and customer requests.  Eagle Cap is a high-end truck camper with high-end features.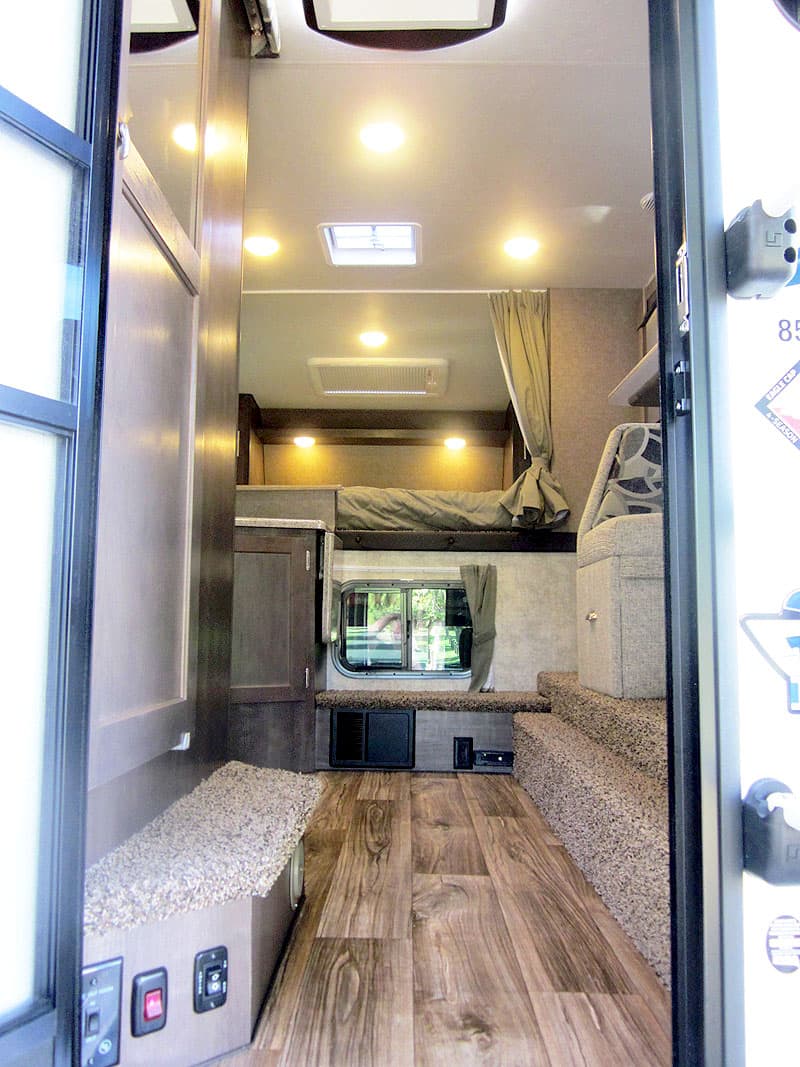 Above: Walking into the Eagle Cap 850; the new interior of the 2017 Eagle Cap campers
TCM: Will we see any new Eagle Cap models in 2017?
Greg: We are working on a new Eagle Cap floor plan.  It will be a single-slide model designed for late model three-quarter ton trucks.  We will announce the new Eagle Cap model in Truck Camper Magazine this summer or fall.
We haven't yet nailed down the exact size or weight of the new unit, but it's going to be within the 8-foot to 8.5-foot range and fit both short and long bed trucks.  That's all the clues I'm going to give you right now.
TCM: Hitting that weight mark with a new luxury-appointed Eagle Cap will be quite the challenge.  Anything else to share about the 2017 Eagle Cap updates?
Greg: We're excited about the new interior look.  In addition to the new camper later this year, there will be a possible new innovation for Eagle Cap Campers in October.  It could be the 2016 Readers' Choice winner for Innovation of the Year.
TCM: Now that's ambitious!  And quite the tease.  We can't wait to see what you've got cooking, and break the news right here in TCM.
For more information about Eagle Cap Campers, visit their website at eaglecapcampers.com.
Click here to request a 2017 Eagle Cap brochure.