The ultra-light hard side market heats up even hotter with the 2016 Palomino HS-650, a hard side non-slide truck camper targeting half-ton short bed trucks.  What's this solar port?

Over the past year, the greater truck camper industry got serious about payload matching half-ton trucks.  In the past, "half-ton compatible" often meant, "Technically this camper could match a half-ton truck, if you special ordered the highest capacity half-ton truck currently available, and didn't load the unit with water, batteries, propane, food, or stuff".  In other words, these units were half-ton compatible on paper, but not in reality.
Thankfully, this shell game is ending as manufacturers retire these older units and introduce all-new truck camper models designed to hit the weight and center of gravity numbers of real world half-ton trucks.
This doesn't mean you can run out and match one of these new lighter-weight campers with any old half ton.  That's not how matching a truck and camper of any size and weight works.  While the new ultra-light hard sides are significantly lighter than their predecessors, you still need to run the numbers outlined in our Newbie Corner article, "How To Match A Truck and Camper".  Always do the math.
The latest example of the ultra-light hard side trend is the all-new 2016 Palomino HS-650, a compelling option for half-ton trucks that's literally hundreds of pounds lighter than the model it replaces.  Even better, Palomino has included an impressive list of standard features including what we believe is a truck camper industry first; a solar port for portable solar panels.  The Palomino HS-650 may be a light weight, but it clearly has some heavy weight thinking behind it.
To find out more about the 2016 Palomino HS-650 we talked to Pat Hines, Truck Camper Product Manager for Palomino RV.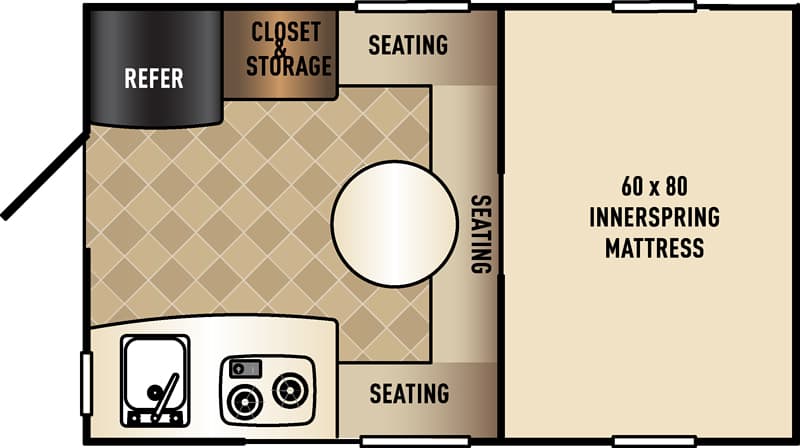 Palomino HS-650 Specifications
The 2016 Palomino HS-650 is a hard-side, non-slide truck camper for short bed trucks.  The interior floor length of the Palomino HS-650 is 6'5" and the interior height is 6'6".  Palomino RV is reporting the standard build dry weight of the HS-650 at 1,547 pounds.
The 2016 Palomino HS-650 has a 15 gallon fresh tank, porta-potti storage, and no grey tank.  The camper accommodates one battery and one vertical twenty-pound propane tank.  The MSRP for a standard build Palomino HS-650 is $16,300.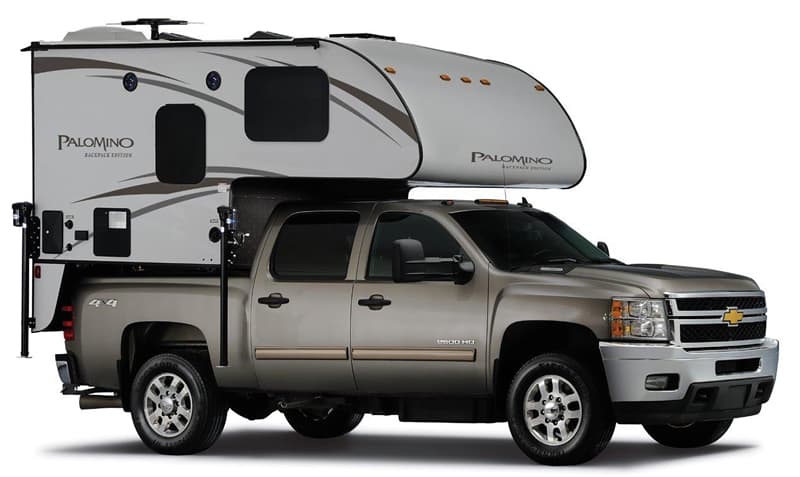 Above: A computer rendering of the 2016 Palomino HS-650 on a short bed Chevy truck

All renderings and photography were supplied by Palomino RV.

TCM: Does the new 2016 Palomino HS-650 replace any older models in the Palomino truck camper line?
Pat: The HS-650 replaces the HS-800.  The outgoing HS-800 was our half-ton targeted camper, but it was really not half-ton compatible.  At about 2,000 pounds dry, the HS-800 was only acceptable for a few late-model half-tons.
We wanted a camper to be truly half-ton compatible.  Our truck target was 5 to 6.5-foot short bed trucks.  The target weight of the camper was in the 1,500 to 1,600 pound range.  The final unit is compatible with 5-foot beds, and weighs 1,540 pounds dry.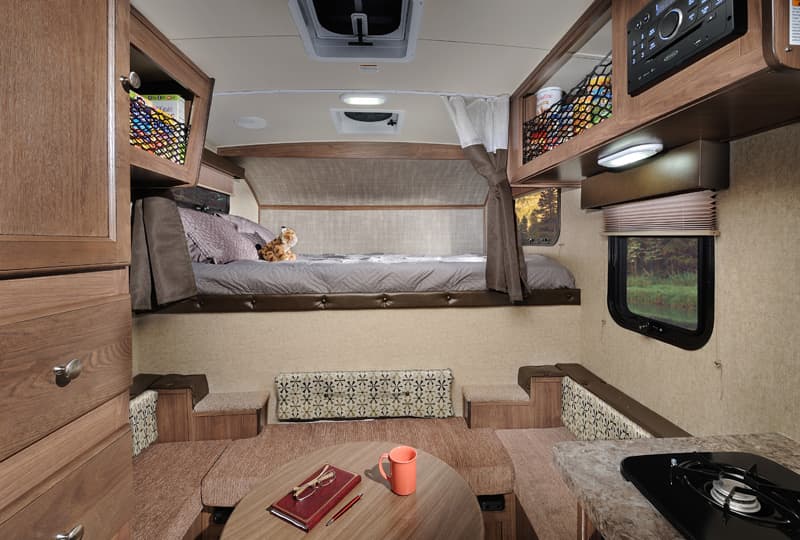 Above: A computer rendering of the 2016 Palomino HS-650 interior
TCM: That's an impressive weight.  Is that a base model stripped of features?