Adventurer Manufacturing debuts an industry-first power bunk and a long list of new standard features for 2016 Adventurer truck campers.  They also tease a new model.

During the course of the following interview, Adventurer Manufacturing surprised us with a truck camper industry first; a powered bunk.  Powered bunks are an extremely popular feature in the toy hauler market where they put a bed on the ceiling while a quad, motorcycle, or portable pumpkin launcher is stowed in the rear garage area.
At first blush, we were a bit, "Yeah, well, whatever" about the powered bunk, but then we starting noodling it through.  Like the slide-out innovation before it, powered bunks could usher in a new wave of possibilities in truck campers.  For now, Adventurer is excited about the adult-size and 300-pound capacity of their powered bunk (as are we), but there may be more potential in this mechanism and technology.
Off the top of my head, I can picture a full-booth dinette that converts into an honest to goodness sofa by removing the table and lowering the sofa elements onto the dinette area.  It may also be possible to create a truck camper with a full-size bed in the main area.  During the day, the bed is on the ceiling (which may need to be taller).  At night it gets lowered down into the main camper area.
I know, crazy talk.  What I'm really trying to suggest is an open and creative look at what this technology (essentially internal slide-out mechanisms) could do for the truck camper product category.  Maybe a powered bunk is the end of this vision, but I think there may be more there.
For 2016, Adventurer is continuing their value-focused march to offer as much camper for the money as they can.  Value, and unique floor plans, have always been the missions of the Adventurer truck camper brand.  Based on their 2016 announcement list, that is not going to change any time soon.
To get more information about the powered bunk, and the rest of Adventurer's 2016 changes, we talked to Greg Tucknies, National Sales Manager for Adventurer Manufacturing.
TCM: Following the strategy set with your Eagle Cap line, Adventurer Manufacturing is making more previously optional features standard for 2016.  Tell us about these new standard features.
Greg: This year we have streamlined our Adventurer models by making many 2015 options standard for 2016.  These options were ordered 98-percent of the time by dealers and customers, so it made sense to make them standard for 2016.
For example, in the Adventurer 80GS and 80RB, we now have the rear ladder, pre-wire for electric jacks, and exterior shower as standard features.  Almost every 80GS and 80RB was ordered with these options, so now they're standard.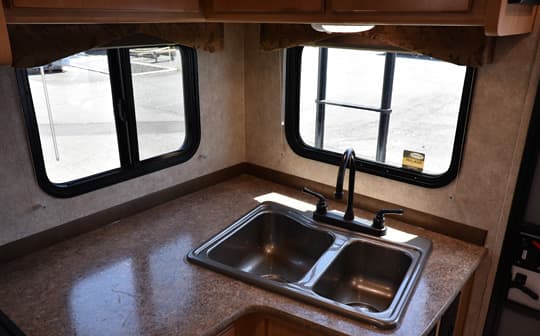 Above: Thermal pane windows are available in all models except for the 80GS and 80SK
In the Adventurer 86FB, 89RB, 86SBS, 910DB, 910FBS, and 116DS we have made the black tank flush, new stove top cover, interior mounted TV antenna, Fantastic Fan, and thermal pane windows standard.  Again, those options were almost always ordered.
In addition, we have made a Phat ladder standard on the 116DS, 89RB, and 86FB.  A skylight in the bathroom is now standard in the 86SBS, and bedspreads are now standard in the 89RB and 86FB.  In the 86FB and 89RB, dual propane tanks with an auto switch over regulator is now standard.  Based on the way these campers were ordered last year, it made sense to make these options standard.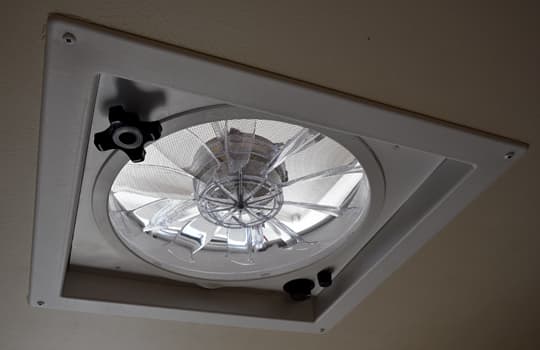 Above: Now customers can order a Heki skylight, air conditioner, and Fantastic Vent together in most models
TCM: Have any standards or options been discontinued for 2016?
Greg: The skylight in the 86FB, 89RB, 86SBS, 910DB, 910FBS and blind in the living area has been discontinued.  We made this change to accommodate the ability to order a Heki skylight, air conditioner, and Fantastic Vent all together.  Last year customers had to choose a Heki or Fantastic fan and most of them wanted both, so we accommodated for that and made the Fantastic vent standard on all models this year.
We also now have an optional power bunk in the 2016 Adventurer 910DB that is 26-inches by 76-inches and is rated to 300 pounds.