Adventurer Manufacturing debuts an industry-first power bunk and a long list of new standard features for 2016 Adventurer truck campers.  They also tease a new model.

During the course of the following interview, Adventurer Manufacturing surprised us with a truck camper industry first; a powered bunk.  Powered bunks are an extremely popular feature in the toy hauler market where they put a bed on the ceiling while a quad, motorcycle, or portable pumpkin launcher is stowed in the rear garage area.
At first blush, we were a bit, "Yeah, well, whatever" about the powered bunk, but then we starting noodling it through.  Like the slide-out innovation before it, powered bunks could usher in a new wave of possibilities in truck campers.  For now, Adventurer is excited about the adult-size and 300-pound capacity of their powered bunk (as are we), but there may be more potential in this mechanism and technology.
Off the top of my head, I can picture a full-booth dinette that converts into an honest to goodness sofa by removing the table and lowering the sofa elements onto the dinette area.  It may also be possible to create a truck camper with a full-size bed in the main area.  During the day, the bed is on the ceiling (which may need to be taller).  At night it gets lowered down into the main camper area.
I know, crazy talk.  What I'm really trying to suggest is an open and creative look at what this technology (essentially internal slide-out mechanisms) could do for the truck camper product category.  Maybe a powered bunk is the end of this vision, but I think there may be more there.
For 2016, Adventurer is continuing their value-focused march to offer as much camper for the money as they can.  Value, and unique floor plans, have always been the missions of the Adventurer truck camper brand.  Based on their 2016 announcement list, that is not going to change any time soon.
To get more information about the powered bunk, and the rest of Adventurer's 2016 changes, we talked to Greg Tucknies, National Sales Manager for Adventurer Manufacturing.
TCM: Following the strategy set with your Eagle Cap line, Adventurer Manufacturing is making more previously optional features standard for 2016.  Tell us about these new standard features.
Greg: This year we have streamlined our Adventurer models by making many 2015 options standard for 2016.  These options were ordered 98-percent of the time by dealers and customers, so it made sense to make them standard for 2016.
For example, in the Adventurer 80GS and 80RB, we now have the rear ladder, pre-wire for electric jacks, and exterior shower as standard features.  Almost every 80GS and 80RB was ordered with these options, so now they're standard.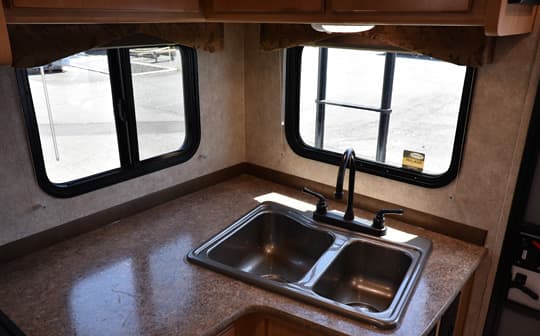 Above: Thermal pane windows are available in all models except for the 80GS and 80SK
In the Adventurer 86FB, 89RB, 86SBS, 910DB, 910FBS, and 116DS we have made the black tank flush, new stove top cover, interior mounted TV antenna, Fantastic Fan, and thermal pane windows standard.  Again, those options were almost always ordered.
In addition, we have made a Phat ladder standard on the 116DS, 89RB, and 86FB.  A skylight in the bathroom is now standard in the 86SBS, and bedspreads are now standard in the 89RB and 86FB.  In the 86FB and 89RB, dual propane tanks with an auto switch over regulator is now standard.  Based on the way these campers were ordered last year, it made sense to make these options standard.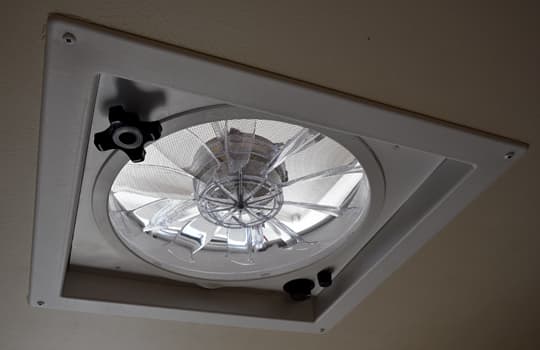 Above: Now customers can order a Heki skylight, air conditioner, and Fantastic Vent together in most models
TCM: Have any standards or options been discontinued for 2016?
Greg: The skylight in the 86FB, 89RB, 86SBS, 910DB, 910FBS and blind in the living area has been discontinued.  We made this change to accommodate the ability to order a Heki skylight, air conditioner, and Fantastic Vent all together.  Last year customers had to choose a Heki or Fantastic fan and most of them wanted both, so we accommodated for that and made the Fantastic vent standard on all models this year.
We also now have an optional power bunk in the 2016 Adventurer 910DB that is 26-inches by 76-inches and is rated to 300 pounds.
Above: The power bunk in the down position – click to enlarge
TCM: What is a power bunk?
Greg: It's an adult-sized electric powered bunk we designed using the power mechanism by Happijac.  It's operated with the push of a button and has a 300 pound rating.  This technology is used in some of the toy haulers out there.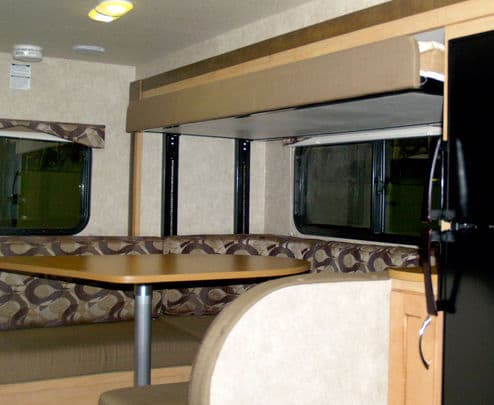 Above: The power bunk in the up position – click to enlarge
TCM: That's neat.  Will this power bunk be used in any other model than the 910DB in the future?
Greg: For now, it's just going to be a feature of the 910DB.   The power bunk is expensive.  Retail, it's $1,785.  Given the cost, we have actually been surprised that many dealers have brought in 910DB models with the power bunk.
TCM: Will Adventurer continue to offer normal kid-ready bunks in its other models?
Greg: Yes.  We offer normal dinette-sized bunks in other Adventurer slide-out floor plans.  These bunks have a capacity of 150 pounds.  We may do something like the power bunk in the other models, but not at this time.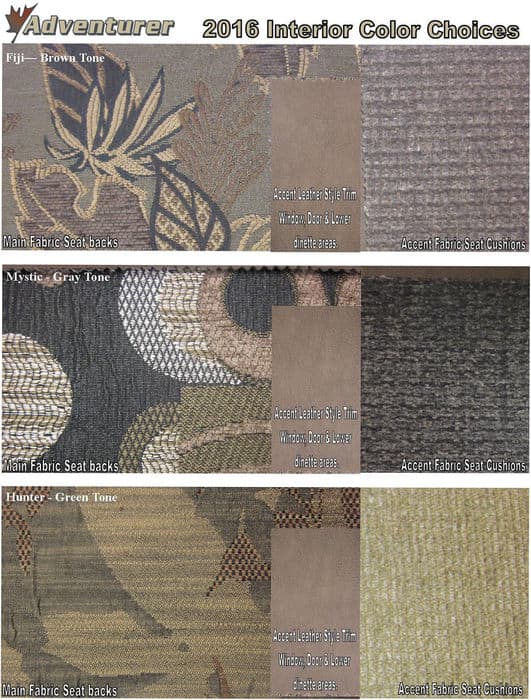 Above: Adventurer changed all color groups for 2016 models
TCM: What are the 2016 Adventurer interior color choices?
Greg: We changed all three color groups this year.   The Fiji is a brown tone leaf design.  Last year we had two leaf designs, so this year we just have one.
Above: Fiji, Hunter, and Mystic interiors – click to enlarge
We also added Mystic, which was the most popular fabric we had for Eagle Cap in 2015.  We did change the look a little with the accent fabric.  That's a grey tone.  We also have Hunter, which is a green tone.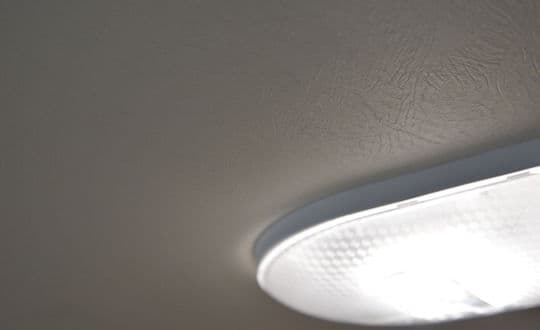 Above: The simulated padded ceiling – click to enlarge
TCM: Let's move to the interior.  For 2016, it appears that you're using the same ceiling and flooring material in both Eagle Cap and Adventurer.
Greg: We are.  The simulated padded ceiling material impressed us so much that we decided to use it across the board.  That change also simplifies production, and helps us drive down cost.  Rather than have two different ceiling types, we have one.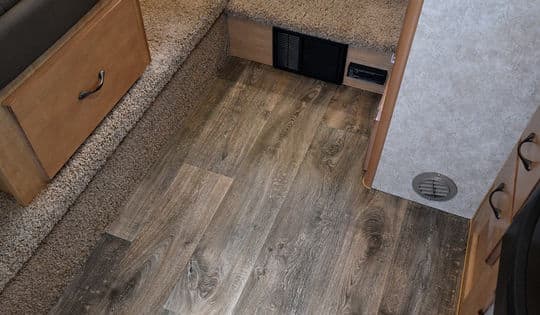 Above: The wood grain flooring in Adventurer campers – click to enlarge
As for the flooring, there's been a strong trend towards the wood grain look.  The wood grain is a different tone for Adventurer.  There's more of a grey tone, which works better for the interior Adventurer look.
TCM: From your update information, the 2016 Adventurer 80GS and 80RB do not get these material changes.  What ceiling and roof materials do they feature?
Greg: The 80GS and 80RB get marine grade vinyl on the floor, like boats get.  It's waterproof and lighter weight, which keeps the weight down on our smaller, lighter units.
The ceiling is a vinyl wrap, which is also a lighter and thinner panel to save weight.  We want to keep the 80GS and 80RB in the half-ton market.  We've had the same materials in these models since day one and we've had no complaints.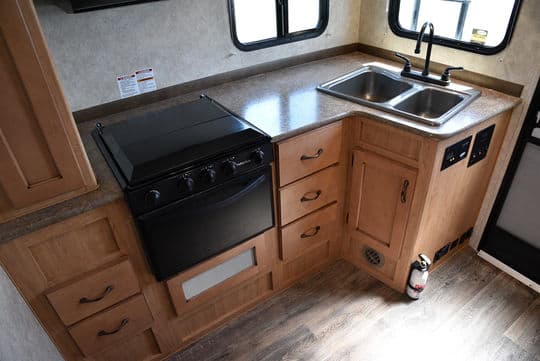 Above: The kitchen of the 910FBS – click to enlarge
TCM: What has been changed in the kitchen area?
Greg: As we did in our Eagle Cap line, we have discontinued the trash can, silverware tray, and iPod shelf by the stereo.  We find that people buy their own trash cans and silverware trays, and don't use the ones that we provided.  So we took them out.
We have also discontinued the knife rack because many customers didn't know what it was for, or didn't use it.  It makes the counter top easier to install and gives the customer more counter space.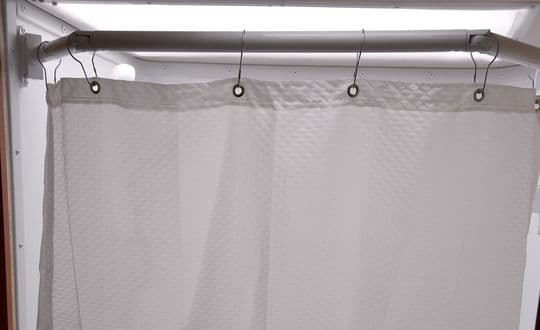 Above: The expandable shower curtain rod – click to enlarge
TCM: Are there any changes in the bathrooms?
Greg: In our dry bath model, the 910DB, we now have an expandable shower curtain rod that provides more shower room.  No other bathroom changes were made.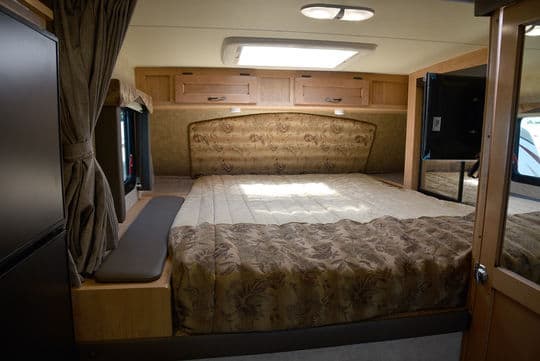 Above: Cabover in the 910FBS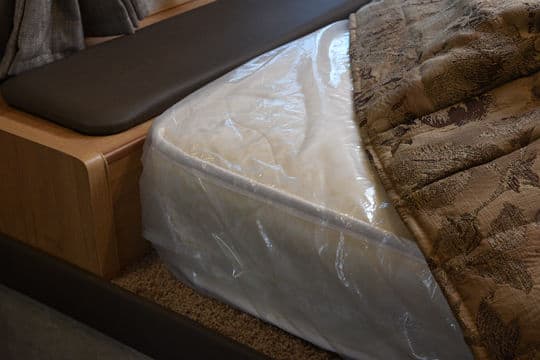 Above: Inner coil spring pillow top mattresses are now standard in Adventurer campers
TCM: How about the cabover area?
Greg: There is now an inner coil spring pillow top mattress.  That is replacing the micro-fiber mattress.  It is more comfortable and should last much longer than before.  We made the same mattress upgrade in our Eagle Cap line.
Above: The Go Power brand solar panel and controller – click to enlarge
TCM: For 2016, you changed your solar power system to Go Power on the Eagle Cap line.  Did you make the same change for Adventurer?
Greg: Yes, we did.  Solar pre-wire from Go Power is now also standard on both Eagle Cap and Adventurer for 2016.  The end result is a $60 reduction in price to the consumer, and an easier plug-and-play installation for the dealer.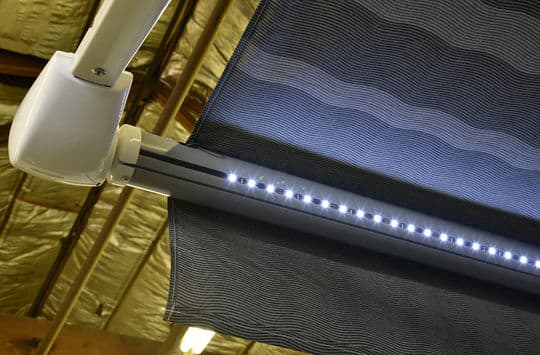 Above: The power awning with LED lighting is available in Adventurer campers – click to enlarge
TCM: Are the power awning with LED lighting you announced for Eagle Cap this year also available for Adventurer?
Greg: They are.  With their push-button simplicity, the power awnings are a very popular option for Eagle Cap and Adventurer.  Now they feature built-in LED lighting and offer eight feet of shade for camping.  When customers put out these new awnings and see the built-in LED lighting, it's always a big hit.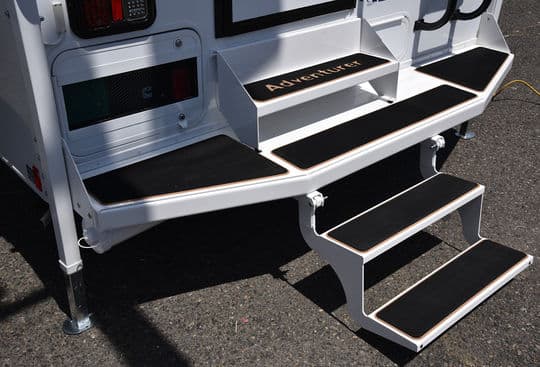 Above: Black Seadeck on the Comfort Step bumper – click to enlarge
TCM: Why are you changing the Seadeck on the bumpers to black?
Greg: The brown Seadeck was staining from foot traffic on blacktop.  This isn't a problem for most customers who camp in the woods or at campgrounds, but dealerships with blacktop were having problems.  To resolve that issue, we changed to black Seadeck for 2016.  It's a good solution, and looks great.
We have also added a bonus step to the 86FB and 89RB Comfort Step bumper.  The bonus step improves the comfort of getting into and out of these models.
TCM: Is there anything else that you'd like to add about 2016 Adventurer campers?
Greg: If you're interested in either an Adventurer or Eagle Cap truck camper, I invite you to select your favorite model and option it out on the "Build Your Own" feature on our website.  At the end, the system will tell you the exact dry weight, wet weight, and MSRP of your chosen camper, with the options you selected.  It's really neat.
TCM: Will we see any new Adventurer models in 2015?
Greg: There may be a new truck camper model for Adventurer by the end of the year.  We're working on some new floor plan ideas now.  You should see an exclusive announcement here in Truck Camper Magazine later this year or early next year.
For more information on the Adventurer updates, visit their website at adventurercampers.com.