TCM: What is the warranty for the 2014 Lance 1052?
Gary: We have a two year structural warranty on all Lance Campers.  The independent components in the camper have two year or longer warranties depending on the manufacturer.
TCM: When will the 2014 Lance 1052 be available?
Gary: You will see the 1052 at the Austin RV Expo this weekend, starting February 20th, the Colorado RV, Sports, Boat, and Travel Show starting February 27, and the Portland Metro RV Dealers Show starting March 5th.  The 1052 will be available for retail customers at the end of February.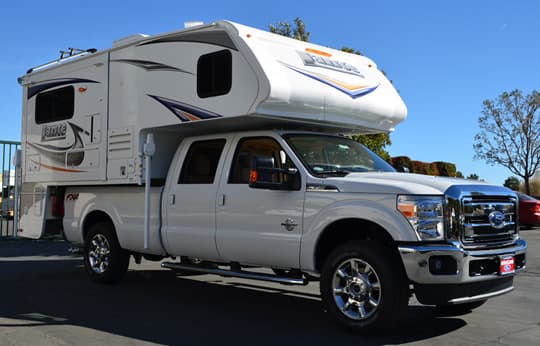 Above: The passenger side of the 2014 Lance 1052
TCM: Is there anything else about the 2014 Lance 1052 that you would like to add?
Gary: This unit has a lot of storage.  You can also customize it to your specifications by adding any Lance option to the standard build.  That is unique about Lance.  We want to build the camper to your specifications.  We call this, "Lance-sizing".  Other than the base floor plan, every camper that goes out the door is different.
People see us as high volume, cookie cutter company, but we can build campers with the options you are looking for to get you the specific weight and functionality you want.  Quality is our number one goal.  We have been doing this for fifty years.  We understand our buyer and give them what they desire.
TCM: Are there any other new model announcements coming from Lance Campers in 2014?
Gary: Hold on to your hat.  We are excited about some new truck camper models that we will be debuting in Truck Camper Magazine later this year.  We have an eight footer and a nine footer in the works.  There is also the potential for another eleven foot camper.  If you include the 1052, you will see four new campers from us this year.
For more on the Lance 1052, visit Lance's website at www.lancecamper.com.