The 2014 Adventurer announcements include big changes to their camper line-up, upgrades to the Lamilux 4000 exterior fiberglass, Heki skylights, a seven-cubic foot refrigerator, and more.

When Greg Tucknies, National Sales Manager for Adventurer Manufacturing, told us that they were discontinuing five models for 2014, we were shocked.  Never in the nearly seven year history and tradition of Truck Camper Magazine have we heard of a manufacturer discontinuing almost half of their existing camper line-up.  What could possibly explain such a radical change?
History explains that change.  Back in April of 2008, Adventurer Manufacturing announced that it was moving from Vancouver, Canada to Yakima, Washington.  That move brought not only a major location and facility change, but also a new leadership and production team.
Five years later, Adventurer Manufacturing has been transformed into a modern retail-focused truck camper manufacturer.  The new leadership team has successfully launched a fresh vision for Adventurer Manufacturing including over a half-dozen new models and camper material and design upgrades from stem to stern.
With new models already in production, and several more ready to be announced in the coming months, the moment to discontinue old models has finally arrived.  As the saying goes, out with the old, and in with the new.  In the following interview, Greg announces exactly what models are getting cut, teases two new models to come, and details the changes and updates in store for Adventurer's 2014 line-up.
TCM: Before we talk about new Adventurer models and features, are there any Adventurer models being discontinued for 2014?
Greg: For 2014, we are discontinuing five models that have been slow sellers; the 80W, 810WS. 950B, 980RDS, and the 106DBS.  We replaced the 810WS earlier this year with the Adventurer 89RB and will be replacing most of the other discontinued models with updated floor plans before the end of the year.
TCM: It's very unusual for a manufacturer to discontinue more than one or two models in a given year.  What's the strategy behind discontinuing five Adventurer models?
Greg: Most of the discontinued models were old floor plans designed with a focus on the Canadian rental market.  While we continue to be successful with the rental truck camper market in Canada, our focus today is on the retail buyer in the United States and Canada and the design and quality those retail buyers demand.  We're very excited about the models we're debuting later this year.
TCM: What can you tell us about these new 2014 Adventurer models?
Greg: Truck Camper Magazine readers already know about the 2014 Adventurer 116DS double slide we announced earlier this year.  In addition, we will debut an eight-foot floor plan for the half-ton market and a nine-foot dry bath model.  Of course we will give Truck Camper Magazine the exclusive when we are ready to announce these new models this Fall.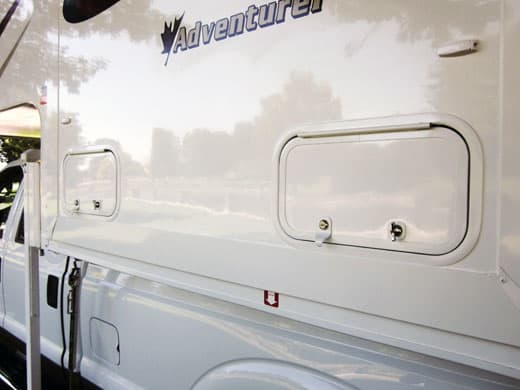 Above: 2014 Adventurers now feature Lamilux 4000 exterior fiberglass
TCM: For 2014, Adventurer truck campers are upgrading to Lamilux 4000 exterior fiberglass.  Isn't that the same exterior material used on the Eagle Cap line?
Greg: Yes, it is.  Lamilux 4000 is a thicker and more durable exterior fiberglass material that gives the campers a brighter, whiter, and more high-end aesthetic.  By using the same exterior fiberglass for both the Adventurer and Eagle Cap production lines, we can take full advantage of buying in volume and drive our costs down.  The customer benefits by getting the best quality exterior  in our value driven Adventurer line.
Above: Heki skylights are now available on 2014 Adventurer models
TCM: Heki skylights have been a popular feature on truck campers for about six or seven years.  Why is Adventurer only now offering Heki skylights as an available option?
Greg: The reasons Adventurer did not offer a Heki skylight option previously were design and cost.  Until the 2014 line, Adventurer roofs were not designed with the blocking necessary for Heki skylights.  The high cost of Heki skylights also conflicted with Adventurer's value leader focus.  Now Heki skylights have significantly come down in price and are in line with Adventurer's goal to lead the industry with price and value.
TCM: How much will the Heki skylight option cost?  Can it be dealer installed, or is it a factory only option?
Greg: The retail price for the Heki skylight is $679.  Our Adventurer dealers can install a Heki skylight in any of our 2014 models, where the option is offered, due to weight sensitivity it is not offered on our 80 models. You can also order a camper from the factory with the Heki skylight already installed.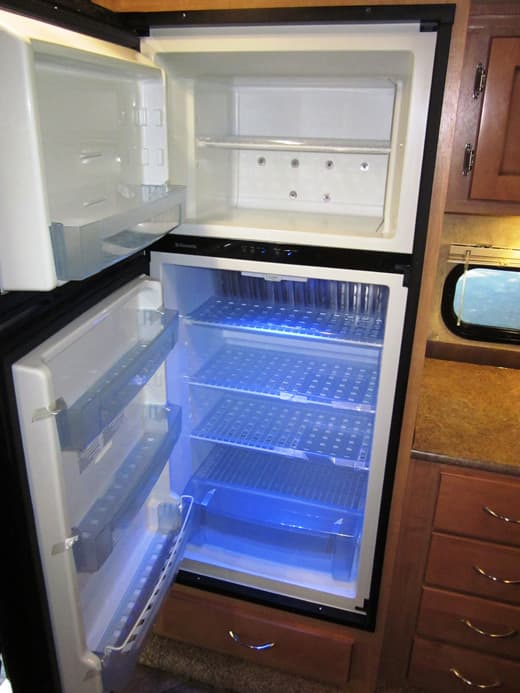 Above: Seven-cubic foot Dometic Renaissance refrigerator with blue interior lighting
TCM: Adventurer is replacing six-cubic foot refrigerators with seven-cubic foot models.  Other than the extra foot of storage, what are the advantages of this new refrigerator?
Greg: This new refrigerator is a Dometic Renaissance model.  The additional foot translates into a bigger refrigerator and freezer.  The Dometic Renaissance also offers hidden front adjustable controls, a residential-style side handle, and a nice blue LED ambient light inside.  It's a really nice two-way refrigerator.
TCM: Obviously, it's nice to have more room in the refrigerator, but what about the energy requirements and weight of the new unit?
Greg: The new model ended up being just eighteen pounds heavier than the six-cubic foot refrigerator.  Most of that weight is from the improved and increased insulation around the refrigerator.  It fits in essentially the same size compartment as the six-cubic foot model and draws two percent less power mostly due to the LED interior lighting.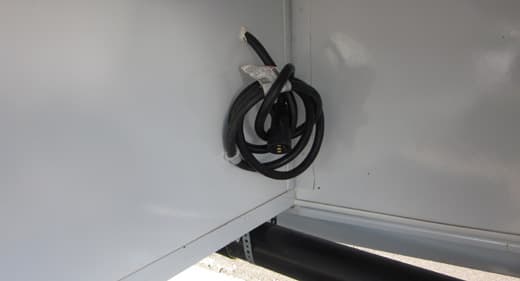 Above: The seven-way umbilical located on the rear of 2014 Adventurers
TCM: Adventurer has moved the seven-way umbilical plugs on all 2014 models to the rear of the camper.  What are the advantages of having the umbilical plug located at the rear?
Greg: Having the umbilical plug located at the rear provides several benefits.  Customers don't have to pay to have a second seven-way plug installed.  You can just load the camper and plug it into the factory seven-way connection at the rear receiver.  You don't even have to alter the factory wiring.  It's ready to go.  If you're towing, you can use a two-way splitter.
Dealers are very excited about this feature.  In fact, Bill Penney of Truck Camper Warehouse was a driving force behind this change.  It's going to help our dealers and customers save a lot of time and money.  It's also more convenient to connect and disconnect during loading and unloading.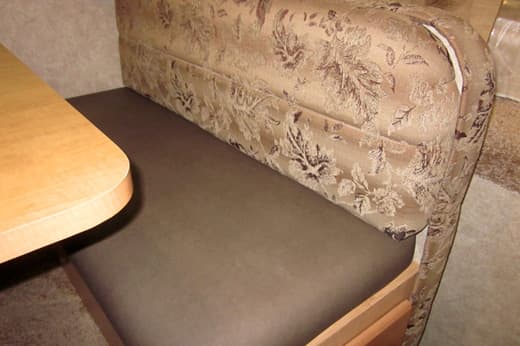 Above: 2014 Adventurer dinette seating in Maple
TCM: Are there any updates to the interior fabric choices for 2014?
Greg: Every year we evaluate our interior fabrics and how well they were received by the public.  Based on this information, it was time to retire Camel after three years.  To replace Camel, we are offering a two-tone combination called Maple.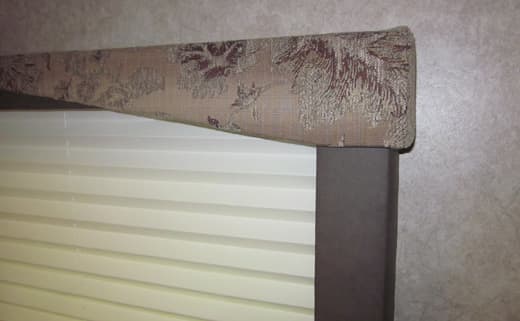 Above: 2014 Adventurer window valance in Maple
The accent fabric is a leatherette giving the campers with Maple a richer look.  The ladies in the office were unanimously in favor of it.  I think they picked it right again.  Now we're all very interested to see how the customers react to the new Maple interior.
Above: The 2014 Adventurer LED reading lights
TCM: In a recent TCM review of the Adventurer 89RB, we said that you should replace the incandescent reading lights in the cabover bedroom with cooler running and more efficient LED lights.  It sounds like Adventurer is making this exact change for all 2014 models.
Greg: Yes, all 2014 Adventurers are getting new LED reading lights.  We've been sourcing our LED lights from Kaper II, Incorporated located in nearby Kelso, Washington.  They offered LED reading lights in the past, but they were just too expensive so we kept with the incandescents.
This year we found a cost effective, easy to operate LED light with bright white light.  We had tried quite a few with dull and yellow-green LED light.  This LED reading light has the right color tones.
TCM: If someone bought an Adventurer in 2012, could they upgrade to these new LED reading lights at an Adventurer dealer?
Greg: Yes, they could.  They are large enough to fit over where the old incandescent lights went.  That would be a nice upgrade.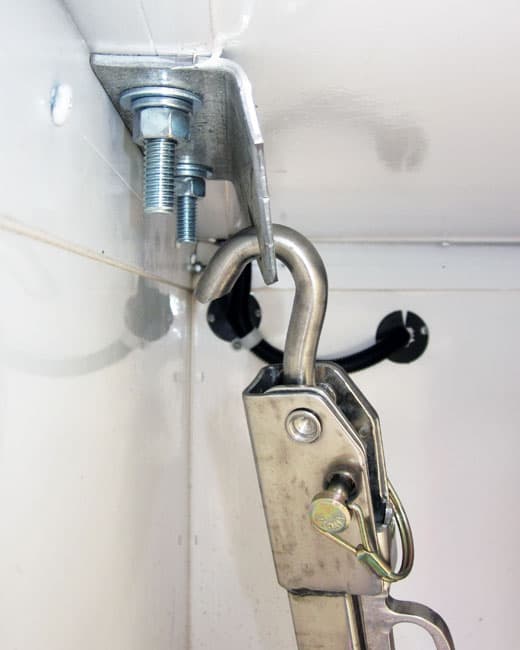 Above: 2014 Adventurer redesigned tie-down brackets
TCM: For 2014, Adventurer has changed tie-down brackets.  What did you change about the brackets, and why?
Greg: The majority of changes we make at Adventurer are based on customer and dealer feedback.  Customers have been telling us that our tie-down points were too tight to the edge of our sidewalls in some cases.  I suggested to our design and engineering team that we simply move the tie-down points away from the sidewall.
Engineering took that idea further and redesigned the tie-down brackets at a 45-degree inward angle.  Now it's super easy to hook and unhook turnbuckles.  It's also pulling straighter as the tie-down is at the same angle of the turnbuckle.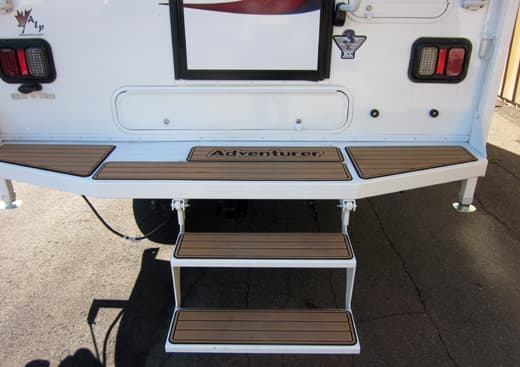 Above: The 2014 Adventurer Comfort Step with SeaDeck Teak safety tread
TCM: Tell us about the new SeaDeck Teak safety tread now standard on Adventurer's Comfort Step bumpers.
Greg: That was introduced last year on the Eagle Cap Comfort Step bumper.  It was so well received that customers asked for it on the Adventurers.  The SeaDeck Teak raises the quality and appearance level of Adventurers.  SeaDeck Teak was originally made for ski boat decking and traction.  Now it's standard on the Adventurer Comfort Step bumper option.
TCM: Can an owner of an older Adventurer or Eagle Cap Comfort Step upgrade to SeaDeck Teak?
Greg: Yes, you can order the SeaDeck treads at a dealer, peel off the existing treads, wipe the bumper with alcohol, and install the SeaDeck treads.
TCM: Is there anything else you would like to announce about the 2014 Adventurer line up?
Greg: The Adventurer Build Your Own system has been a big success.  Just this past weekend we had 115 campers built using the Build Your Own system.  That has been a very strong addition.
Adventurer is moving forward with more innovative floor plans, like our 116DS double slide, and striving to bring more exciting features, like the new recliners.  Adventurer will also remain the value and price leader in the industry.
For more information on Adventurer truck campers, visit their website at adventurercampers.com.