The 2014 Adventurer announcements include big changes to their camper line-up, upgrades to the Lamilux 4000 exterior fiberglass, Heki skylights, a seven-cubic foot refrigerator, and more.

When Greg Tucknies, National Sales Manager for Adventurer Manufacturing, told us that they were discontinuing five models for 2014, we were shocked.  Never in the nearly seven year history and tradition of Truck Camper Magazine have we heard of a manufacturer discontinuing almost half of their existing camper line-up.  What could possibly explain such a radical change?
History explains that change.  Back in April of 2008, Adventurer Manufacturing announced that it was moving from Vancouver, Canada to Yakima, Washington.  That move brought not only a major location and facility change, but also a new leadership and production team.
Five years later, Adventurer Manufacturing has been transformed into a modern retail-focused truck camper manufacturer.  The new leadership team has successfully launched a fresh vision for Adventurer Manufacturing including over a half-dozen new models and camper material and design upgrades from stem to stern.
With new models already in production, and several more ready to be announced in the coming months, the moment to discontinue old models has finally arrived.  As the saying goes, out with the old, and in with the new.  In the following interview, Greg announces exactly what models are getting cut, teases two new models to come, and details the changes and updates in store for Adventurer's 2014 line-up.
TCM: Before we talk about new Adventurer models and features, are there any Adventurer models being discontinued for 2014?
Greg: For 2014, we are discontinuing five models that have been slow sellers; the 80W, 810WS. 950B, 980RDS, and the 106DBS.  We replaced the 810WS earlier this year with the Adventurer 89RB and will be replacing most of the other discontinued models with updated floor plans before the end of the year.
TCM: It's very unusual for a manufacturer to discontinue more than one or two models in a given year.  What's the strategy behind discontinuing five Adventurer models?
Greg: Most of the discontinued models were old floor plans designed with a focus on the Canadian rental market.  While we continue to be successful with the rental truck camper market in Canada, our focus today is on the retail buyer in the United States and Canada and the design and quality those retail buyers demand.  We're very excited about the models we're debuting later this year.
TCM: What can you tell us about these new 2014 Adventurer models?
Greg: Truck Camper Magazine readers already know about the 2014 Adventurer 116DS double slide we announced earlier this year.  In addition, we will debut an eight-foot floor plan for the half-ton market and a nine-foot dry bath model.  Of course we will give Truck Camper Magazine the exclusive when we are ready to announce these new models this Fall.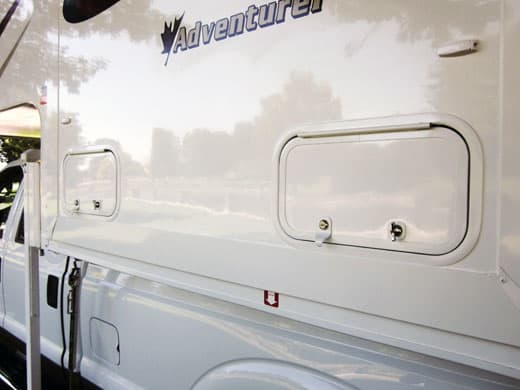 Above: 2014 Adventurers now feature Lamilux 4000 exterior fiberglass
TCM: For 2014, Adventurer truck campers are upgrading to Lamilux 4000 exterior fiberglass.  Isn't that the same exterior material used on the Eagle Cap line?
Greg: Yes, it is.  Lamilux 4000 is a thicker and more durable exterior fiberglass material that gives the campers a brighter, whiter, and more high-end aesthetic.  By using the same exterior fiberglass for both the Adventurer and Eagle Cap production lines, we can take full advantage of buying in volume and drive our costs down.  The customer benefits by getting the best quality exterior  in our value driven Adventurer line.
Above: Heki skylights are now available on 2014 Adventurer models
TCM: Heki skylights have been a popular feature on truck campers for about six or seven years.  Why is Adventurer only now offering Heki skylights as an available option?
Greg: The reasons Adventurer did not offer a Heki skylight option previously were design and cost.  Until the 2014 line, Adventurer roofs were not designed with the blocking necessary for Heki skylights.  The high cost of Heki skylights also conflicted with Adventurer's value leader focus.  Now Heki skylights have significantly come down in price and are in line with Adventurer's goal to lead the industry with price and value.
TCM: How much will the Heki skylight option cost?  Can it be dealer installed, or is it a factory only option?