At Princess Craft Campers, we checked out the all-new 2013 Adventurer 89RB from nose to tail, jacks to ladder, and dinette to overcab.  Here's the Adventurer 89RB Review!

We hate to admit it, but we have recently grown to appreciate slide-outs.  That's what happens when you use slide-out campers for a couple of years.  You get spoiled by that open floor space.  It's also fun to show slide-outs to newbies and hear them say, "No way!" as that slide room goes out.
That said, there's no doubt that Angela and I are still non-slide camper people.  Yes, our adversity to all things slide has faded, but we still hold firm that the simplicity of non-slide truck campers is all we personally need, or want.  Slide-outs are seductive, but give us the lighter weight, immediate access, and fewer moving parts of a non-slide and we're happy campers, literally.  We're old-school, non-slide, wet bath truck camper people.
Which brings us to the subject of this review; a 2013 Adventurer 89RB we checked out at Princess Craft Campers in Round Rock, Texas.  It's an old-school non-slide, wet-bath truck camper, but with some state-of-the-art design and material surprises to make the camper look and feel modern and fresh.  As you might expect, this camper had us at, "hello", but we need to put aside our own personal bias and give this camper a thorough review.  Let's dig in.
After the review was published, Dave Frampton, General Manager for Adventurer Manufacturing, sent in a response to our review: 2013 Adventurer 89RB response.  Click here to contact Adventurer about the 89RB.
From the front and sides, there's nothing about the 2013 Adventurer 89RB that shouts, "New and exciting!"  From these perspectives, the 89RB is a straight forward looking hard side, non-slide truck camper.  Yes, the black trim tinted windows give the side walls some needed contrast, and the front and side graphics and clear LED marker lights are modern, but we're not excited, yet.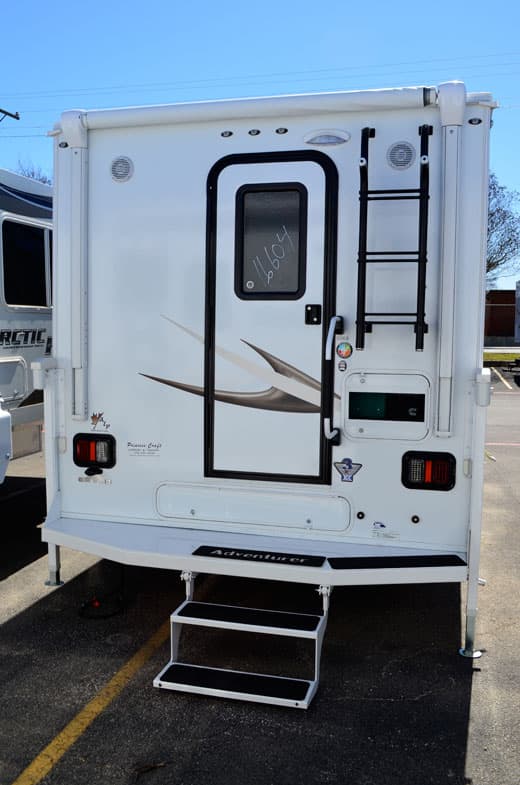 On the backside, the bold black on white aesthetic really kicks in with the black trimmed door, black ladder, and black framed LED tail lights.  The optional full-width electric rear awning, built-in Cummins Onan 2500 propane generator, and Comfort Step system add even more more eye pleasing detail.
Even as competitors have made recent advances with their step systems, Adventurer's optional Comfort Step system is still easily one the best, if not the best, in the business.  When we had our 2010 Adventurer 90FWS, it was the Comfort Step system that got all the attention wherever we went.  Our cat, Harley, would even step out onto the porch area of the Comfort Step and sun himself.  Evidently, it's cat approved.
The Cummins Onan RV QG 2500 LP is a relatively new generator for Cummins Onan.  The online specifications state that the new generator is microprocessor controlled, runs on gasoline or propane, and is quieter and more efficient than both its predecessors and competing units.  All of that sounds interesting and we look forward to the opportunity to try a QG 2500 in the field.
For 2013, almost everything on Adventurer products went LED, inside and out.  In fact, there are fifty-four LED lights on every Adventurer tail light.  If you have an LED fetish, these tail lights are sure to please.
The optional electric awning is simply awesome.  As someone who never uses awnings, I have to admit that I would use this electric awning because it's push-button easy.  I also like how it sits flush against the camper when retracted minimizing any potential aerodynamic interference.  If I were to fall in love with a truck camper awning, this would be the one.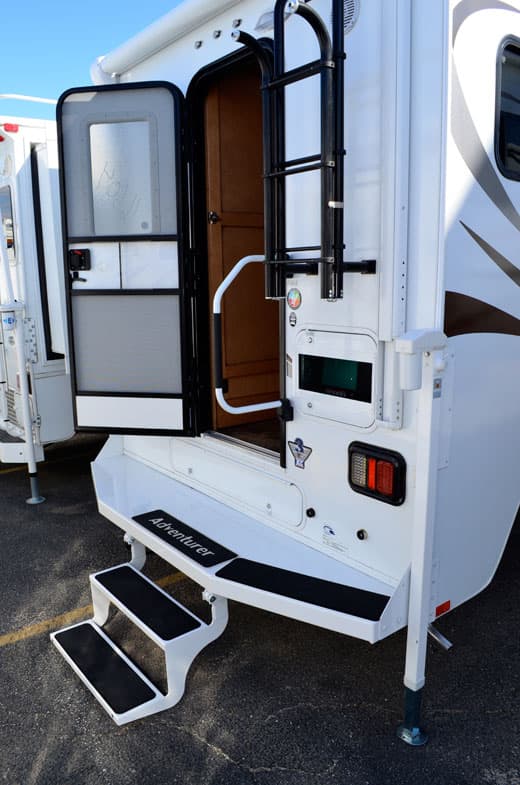 It took me a few moments to figure out why there was a black non-slip mat on the passenger's side of the Comfort Step, and not the driver's side.  Then I figured it out.  It's for the ladder!
Speaking of the ladder, I liked the sturdy and thick feel, but wished for ladder grab handle on the roof to help getting safely over the awning, and back down again.  I know manufacturers are trying to reduce the number of roof penetrations to prevent potential leaks, but roof grab handles are one item that should be mandatory for ladders that don't completely extend to the roof.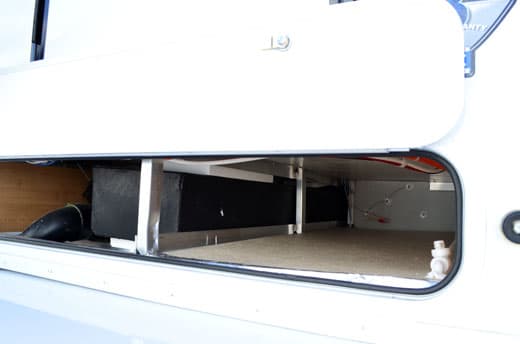 Access to the dump valves and basement tanks is provided with a long and narrow compartment door immediately under the main back door.  With the dump compartment door open, you can see the black and grey tanks.
The 2013 Adventurer 89RB features two 20-pound propane tanks.  For a forward center of gravity and ease of access, these tanks are located low and forward on the driver's side and held in place with two steel straps.  These straps need to be held out of the way when loading and unloading the propane tanks, but they're otherwise easy to use.