At Princess Craft Campers, we checked out the all-new 2013 Adventurer 89RB from nose to tail, jacks to ladder, and dinette to overcab.  Here's the Adventurer 89RB Review!

We hate to admit it, but we have recently grown to appreciate slide-outs.  That's what happens when you use slide-out campers for a couple of years.  You get spoiled by that open floor space.  It's also fun to show slide-outs to newbies and hear them say, "No way!" as that slide room goes out.
That said, there's no doubt that Angela and I are still non-slide camper people.  Yes, our adversity to all things slide has faded, but we still hold firm that the simplicity of non-slide truck campers is all we personally need, or want.  Slide-outs are seductive, but give us the lighter weight, immediate access, and fewer moving parts of a non-slide and we're happy campers, literally.  We're old-school, non-slide, wet bath truck camper people.
Which brings us to the subject of this review; a 2013 Adventurer 89RB we checked out at Princess Craft Campers in Round Rock, Texas.  It's an old-school non-slide, wet-bath truck camper, but with some state-of-the-art design and material surprises to make the camper look and feel modern and fresh.  As you might expect, this camper had us at, "hello", but we need to put aside our own personal bias and give this camper a thorough review.  Let's dig in.
After the review was published, Dave Frampton, General Manager for Adventurer Manufacturing, sent in a response to our review: 2013 Adventurer 89RB response.  Click here to contact Adventurer about the 89RB.
From the front and sides, there's nothing about the 2013 Adventurer 89RB that shouts, "New and exciting!"  From these perspectives, the 89RB is a straight forward looking hard side, non-slide truck camper.  Yes, the black trim tinted windows give the side walls some needed contrast, and the front and side graphics and clear LED marker lights are modern, but we're not excited, yet.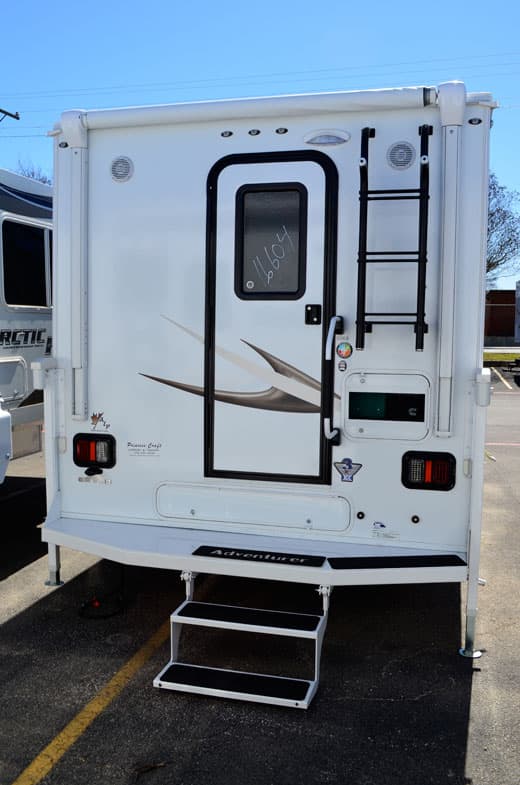 On the backside, the bold black on white aesthetic really kicks in with the black trimmed door, black ladder, and black framed LED tail lights.  The optional full-width electric rear awning, built-in Cummins Onan 2500 propane generator, and Comfort Step system add even more more eye pleasing detail.
Even as competitors have made recent advances with their step systems, Adventurer's optional Comfort Step system is still easily one the best, if not the best, in the business.  When we had our 2010 Adventurer 90FWS, it was the Comfort Step system that got all the attention wherever we went.  Our cat, Harley, would even step out onto the porch area of the Comfort Step and sun himself.  Evidently, it's cat approved.
The Cummins Onan RV QG 2500 LP is a relatively new generator for Cummins Onan.  The online specifications state that the new generator is microprocessor controlled, runs on gasoline or propane, and is quieter and more efficient than both its predecessors and competing units.  All of that sounds interesting and we look forward to the opportunity to try a QG 2500 in the field.
For 2013, almost everything on Adventurer products went LED, inside and out.  In fact, there are fifty-four LED lights on every Adventurer tail light.  If you have an LED fetish, these tail lights are sure to please.
The optional electric awning is simply awesome.  As someone who never uses awnings, I have to admit that I would use this electric awning because it's push-button easy.  I also like how it sits flush against the camper when retracted minimizing any potential aerodynamic interference.  If I were to fall in love with a truck camper awning, this would be the one.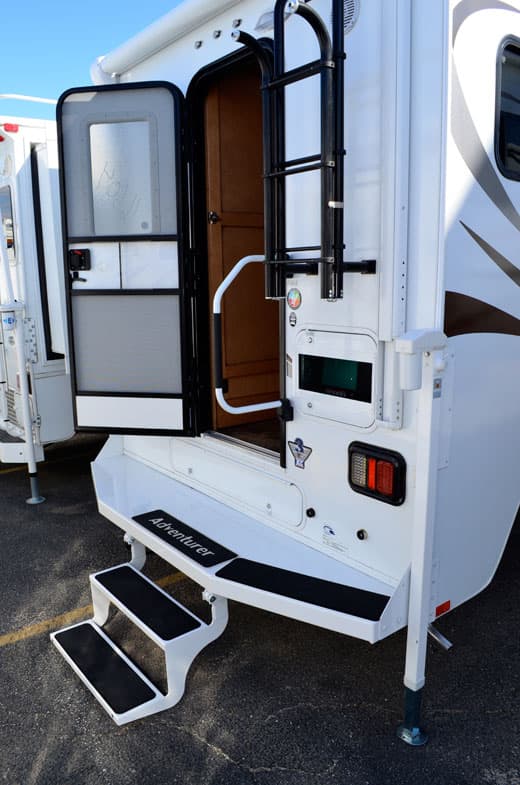 It took me a few moments to figure out why there was a black non-slip mat on the passenger's side of the Comfort Step, and not the driver's side.  Then I figured it out.  It's for the ladder!
Speaking of the ladder, I liked the sturdy and thick feel, but wished for ladder grab handle on the roof to help getting safely over the awning, and back down again.  I know manufacturers are trying to reduce the number of roof penetrations to prevent potential leaks, but roof grab handles are one item that should be mandatory for ladders that don't completely extend to the roof.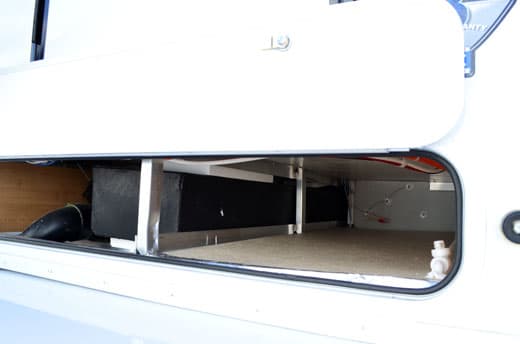 Access to the dump valves and basement tanks is provided with a long and narrow compartment door immediately under the main back door.  With the dump compartment door open, you can see the black and grey tanks.
The 2013 Adventurer 89RB features two 20-pound propane tanks.  For a forward center of gravity and ease of access, these tanks are located low and forward on the driver's side and held in place with two steel straps.  These straps need to be held out of the way when loading and unloading the propane tanks, but they're otherwise easy to use.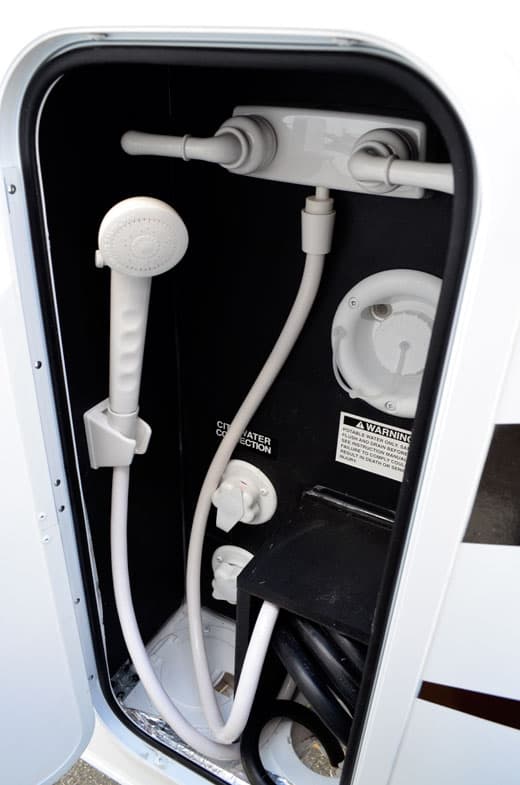 Adventurer Manufacturing has been incorporating service centers into their new floor plans ever since the debut of the Adventurer 980RDS in 2011.  The concept is simple; put as many exterior features as possible into one neat and convenient compartment.
For example, rather than having separate compartment doors for an exterior shower, water fill, city water connection, and power cord, the 2013 Adventurer 89RB has one service center compartment.  Bravo Adventurer.  We even like the white on black contrast to help low light visibility.  Well done.
Directly underneath of the service center is where the power cord feeds through the side wing of the camper and connects with shore power.  The concept of having the power cord emerge from under the side wing makes sense keeping the presentation of a plugged-in camper clean and uncluttered.  Unfortunately, some of the plastic teeth on the cord cradle were damaged on the unit we were reviewing.  This is not something that affects the functionality of the camper, nor is it something you would see unless you were to look up the rear skirt.
Under the passenger side wing wall is a PVC sewer hose container.  We used this exact sewer hose container on our 2010 Adventurer 90FWS.  While the container works, the front cap can be tricky to thread and it's a little annoying that the sewer hose is on one side of the camper, the dump connection is on the opposite side, and the actual dump valves are on the back.  If possible, it would make sense to put these items closer together.
On the front wall of all Adventurer products are two camper guides designed to help guide the camper during loading.  These guides also minimize any potential damage from hitting the wheel wells and act as bump stops when the camper reaches the front wall of the pickup bed.
There are four important stickers on the exterior of the 89RB; two center of gravity stickers (one on either side of the camper), the weight sticker on rear, and the three year transferrable limited structural warranty sticker.  And, there's actually one more; the North American Truck Camper Owners Association (NATCOA) sticker.  If you haven't looked into NATCOA, check them out at natcoa.com.
Adventurer Manufacturing is to be commended for clearly marking the center of gravity on their campers.  According to Adventurer, the center of gravity is marked while the camper is weighed on their in-house scale system.  Every truck camper from every manufacturer should leave the factory with center of gravity stickers like this.
Adventurer Manufacturing also posts the actual dry weight with options for each truck camper that leaves their facility on a sticker inside an interior cabinet door.  We found the dry weight with options sticker inside a cabinet door above the sink.
The 2013 Adventurer 89RB we reviewed had a reported dry with options of 2,858 pounds.  For all Adventurer Manufacturing truck campers, we favor of the interior weight sticker that shows the specific dry with options weight for the camper you're looking at.
Again, Adventurer is to be commended for posting the dry weight with options for each camper as this is a much more accurate weight to use for your truck and camper matching calculations.  Excellent work, Adventurer.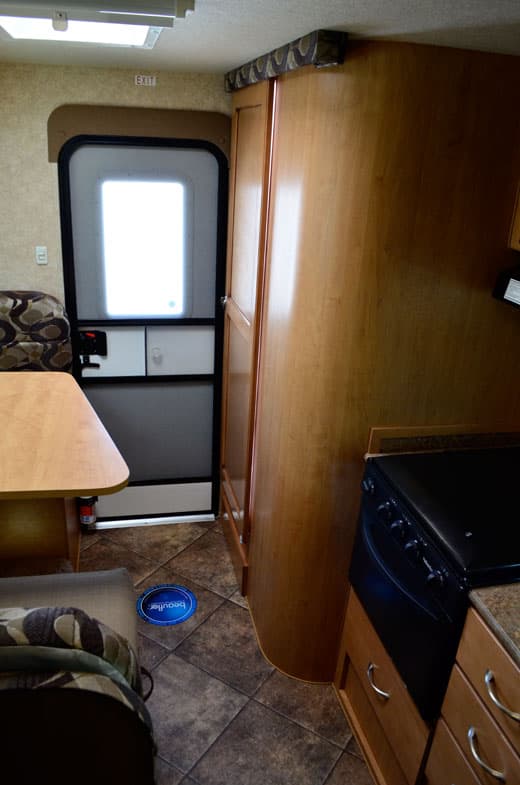 At the Austin RV Expo this past February, the 2013 Adventurer 89RB was a big hit.  People were very impressed with the curved bathroom wall, booth-style dinette, LED interior lighting, plentiful storage opportunities, and the overall floor plan.  Everyday at the show we heard people say, "That's a lot of room for a non-slide truck camper".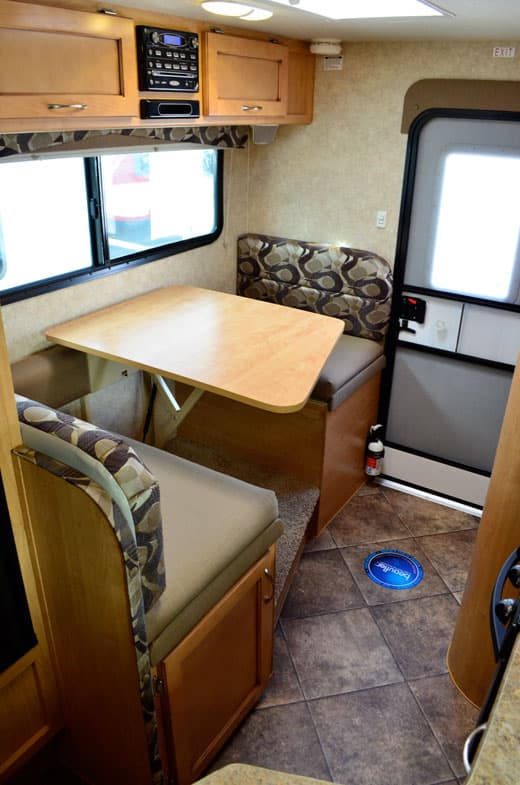 We have seen this floor plan in truck campers for decades, but Adventurer has applied state-of-the-art design techniques and 2013 materials to maximize this classic layout and make it look and feel fresh.  They essentially took the best elements of an already proven floor plan and brought those elements to 2013 standards.  It really works.
It's great to see Adventurer put a booth-style dinette in the 89RB.  Here we have real face-to-face seating and a real table that extends to the wall.  No silly single-post round table or awkward, "How do we sit together?" seating here.  This is how a dinette should be in a 2013 basement model non-slide truck camper.  Love it.
The booth-style dinette has room for three adults, two on one side, one on the other.  Since most of the potential buyers of this camper will be couples, room for two is all that's really needed.
Under the wider dinette seat is a generous storage compartment.  There's also another storage nook under where your feet go.  This is a perfect place to tuck shoes.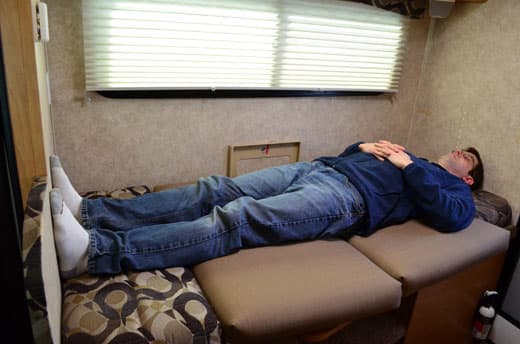 When made into a bed, the dinette is about 6' 3".  I know this because I could lay down in the dinette with my feet flat against the wall, and I'm 6' 3".
The wet bath in the 89RB is quite roomy with generous floorspace, elbow room, knee room for sitting on the toilet, and just enough height for me to stand up straight in the dome of the skylight.  This is a first class truck camper wet bath.
For 2013, Adventurer Manufacturing introduced Dometic's foot flush porcelain-style toilet in all of their campers.  As toilets go, the new Dometic is sleek and modern with a tapered pedestal that gives the bathroom floor a little more space.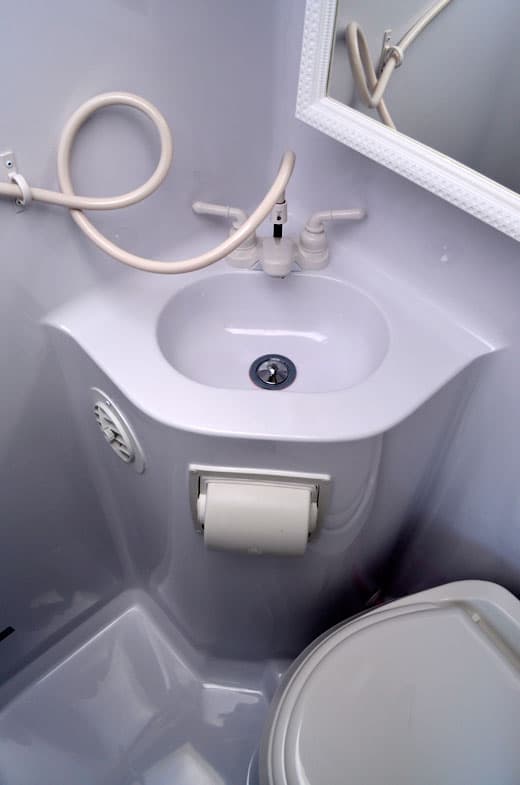 The bathroom sink design is as elegant as it is functional.  I especially like the sculpted lines of the sink and pedestal blending to meet the side walls of the bathroom.  It's also important to point out that the bathroom in the 89RB is a seamless one-piece molded fiberglass unit and features ducted heat on the left side of the sink.  Like I said, this is a first class truck camper wet bath.
The fan in the 89RB bathroom is mounted on the side wall.  The handle across the front of the fan pushes to open the fan and pulls to close the fan.  The red button turns the fan on and off.
We have used these bathroom fan units and like their form and function.  They might not pull quite as much air as a Fantastc Fan, but they get the job done well and avoid a potential leak point on your roof.
The door latch on the 89RB bathroom works well, but was quite stiff when locking and unlocking the bathroom for transport.  Naturally this latch was fresh from the factory and may have needed a little more use, its alignment adjusted, or a dab of lubricant to work more efficiently.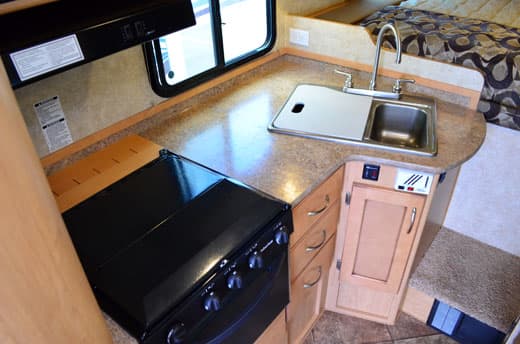 Moving forward from the wet bath on the driver's side is the kitchen.  The design, aesthetics, and functionality of this kitchen are very well thought out.  In particular, we really like the angled double sink, the curved counter top, the generous storage opportunities, and general flow of the kitchen.
The double kitchen sink is exactly what our readership asked for in our last ultimate truck camper survey.  Adventurer opted for a composite sink rather than stainless steel, but this will ensure against potential rust and should be very durable.  The counter top is a laminate with neutral coloring and a touch of attractive depth.
Behind the standard propane oven is a knife block.  Above the range is an optional microwave.  Keeping with the bold exterior look, notice that the interior appliances are black.  This works well against the glazed Melrose Maple cabinetry giving the the 89RB a warm and inviting interior.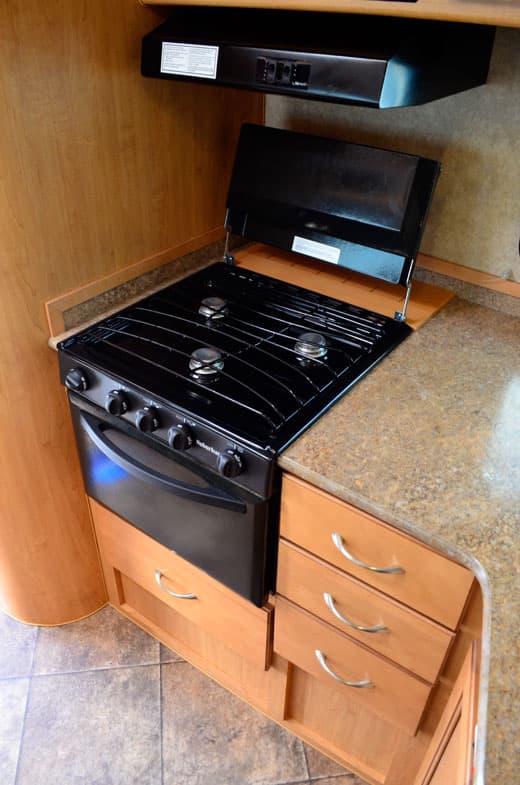 A three-burner propane range-oven with matching hood is standard in the 89RB.  In this photograph you can also see four drawers adding residential style storage for cutlery and other kitchen essentials.
The drawer boxes in the Adventurer 89RB are made from Lite Ply plywood to save weight.  The full-extension steel drawer roller guides give the drawers a solid and confident feel when opening and closing.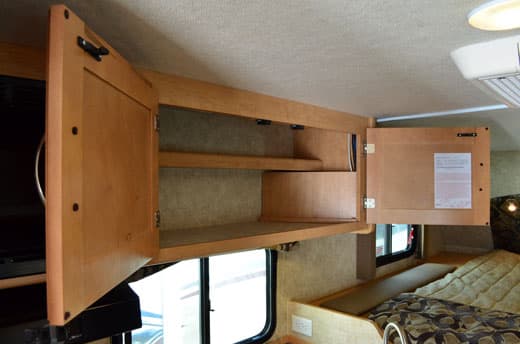 When you open the upper kitchen cabinetry you are greeted with a wide-open space and a back-set upper shelf.  To keep food items and dishes from spilling out after travel, we would recommend adding a rubber drawer liner and/or a taller lip to the front of the cabinet.  This would be an easy modification.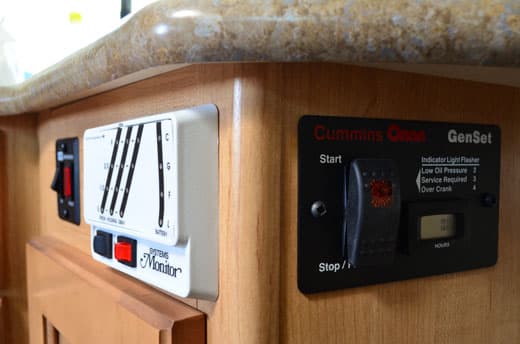 Under the kitchen counter in the sink area is the propane and electric hot water heater switch, battery monitor, tank monitor for the 42 gallon fresh, 25 gallon grey, and 22 gallon black tanks, and optional built-in propane generator switch.  Did we say 42 gallon fresh water tank?  Yes, we did.  That's a lot of fresh water in a non-slide camper.
Having these switches and and monitors mid-camper is great for convenience, but owners will need to take care that water from the sink does not reach these controls.  In all fairness, we have had controls and monitors in similar positions and we have never had an issue.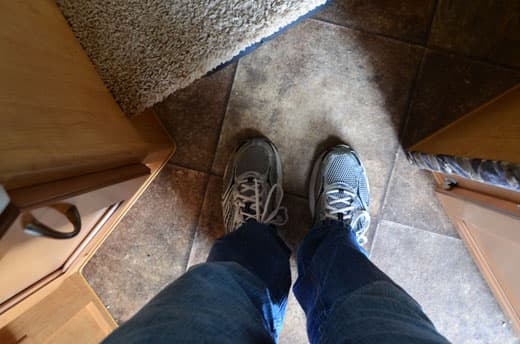 The place where it's most apparent that the 89RB is a non-slide truck camper is the path between the dinette and kitchen counter leading to the overcab.  It's a little tight.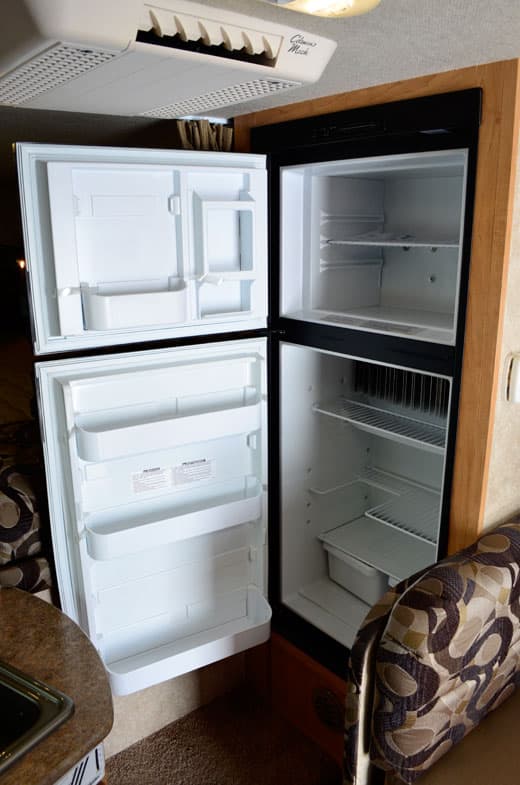 The Adventurer 89RB features a six-cubic foot two-way refrigerator.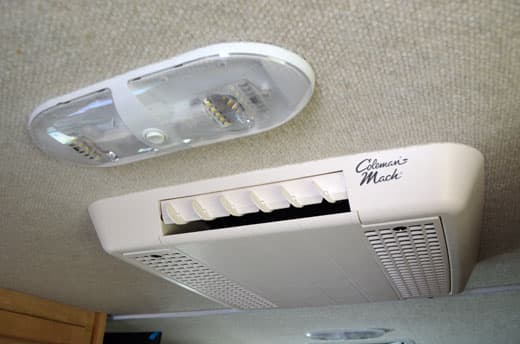 The air conditioner in the 89RB is a Coleman Mach.  The Coleman Mach is becoming a favored air conditioner for truck camper manufacturers because of its ability to run off a portable 2,000-watt generator like the popular Honda EU2000i.  For these reasons, it's our favorite air conditioner, too.
While we're looking up, we need to mention the LED light fixtures.  We really like the LED fixtures in the 89RB.  The light color is a bright day-light white color with good light diffusion.  The dual-sided LED light fixtures allow one side or both sides to be turned on with a central rocker switch depending on your light needs.  As LED lights go, these are excellent.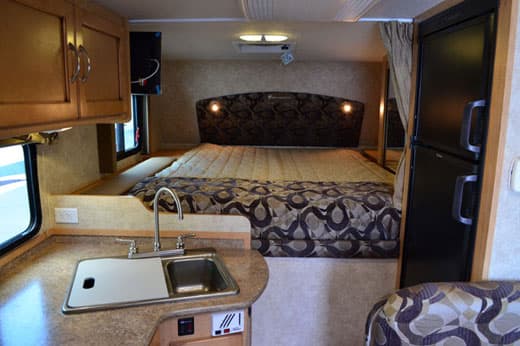 The overcab in the 2013 Adventurer 89RB is wide-open on the driver's side with a long hamper for storage.  On the passenger's side, the 89RB has a mirrored wardrobe and surface that works as a nightstand with a storage nook underneath.
The inside of the hamper is carpeted (as is the entire overcab floor) and the hamper storage area actually continues forward into the front nose of the camper.  This is a very large storage area that needs to be seen to be fully appreciated.
The reading lights in the overcab are built into the headboard.  They are designed to rotate in their socket to put light where you need it.  We really liked the design, aesthetics, and convenience of the reading lights, but they were difficult to move and get fairly hot once they've been on for a few minutes.  If we were to purchase this camper, we would work the fixture until the lights were easier to move and look to replace the incandescent bulbs with more efficient and cooler running LED bulbs.
On the unit we reviewed, the driver's side featured an optional 12-volt Jensen flat panel HDTV on a swing-out arm.  We really enjoy watching movies at night while we're traveling and love having a HDTV in the cabover.  This will certainly fit the bill.
A Canadian truck camper manufacturer once told me that Canadian truck camper customers preferred to not have cabover windows because windows, even if thermal pane, compromised the insulation value of the cabover sleeping area.  Personally, I like having windows on both sides of the cabover because it opens up the feel of the cabover, brings in light, and allows for cross ventilation in hot weather.  Clearly this is a preference, but I would prefer a window.
Wrap It Up
For anyone out there who has convinced themselves that they need a slide-out truck camper to be happy, please do yourself a favor and take a look at the 2013 Adventurer 89RB.  It's bound to be lighter than any slide-out model you're considering and, most likely, less expensive.  Yes, you will give up some floor space, but you may not care as much as you think.  The floor plan is proven, the aesthetics are modern and fresh, and this camper just screams open road adventure.
For the consumer who already shares our non-slide wet bath preferences, the 2013 Adventurer 89RB should be on your short list.  This camper is a winner.
Quality, Customer Service, and Long-Term Reliability
Truck Camper Magazine inspects all reviewed truck campers for design, material, and quality issues and reports what we find. However, since Truck Camper Magazine reviews only brand new truck campers, our reviews do not address long-term quality, customer service, or reliability.
To learn about a brand's long-term quality, customer service, and reliability, Truck Camper Magazine recommends talking directly with truck camper owners at truck camper rallies and online via truck camper forums and truck camper owners groups.
Please be sure to balance your gathered feedback across multiple sources including direct correspondence with the truck camper manufacturers and your closest truck camper dealers.
If you are new to truck campers, start here.
Contact Adventurer about the 89RB.  For more information about Adventurer, please visit their website at adventurercampers.com.