Greg: The base price of the 116DS is $35,455 and the price with standard build options is $39,507.
TCM: When will the 116DS be available?
Greg: It is starting to ship now.  Fraserway in Abbotsford, British Columbia, SCATT Recreation in Roseville, California, Princess Craft in Round Rock, Texas, U-Neek RV in Kelso, Washington and Truck Camper Warehouse in West Chesterfield, New Hampshire have all ordered the 116DS and will have them soon.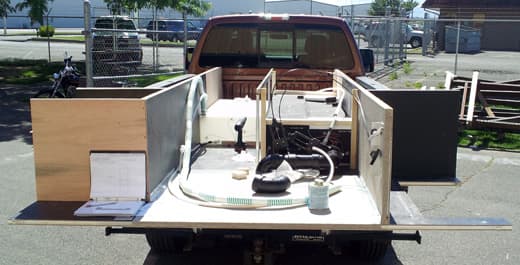 Above: Checking the design and fit of Adventurer 116DS basement
TCM: We found the picture of the basement on the truck interesting.  What were you doing there?
Greg: We did that to make sure the computer design and specifications were on target.  It's amazing to me how the computer renderings have been so accurate.  But we want to make certain the camper is going to clear tail lights and bed rails.  The computer renderings are impressive, but we still test things in the real world.
TCM: Now that you've conquered the double slide, are you planning to build an Adventurer triple slide?
Greg: There are no plans for an Adventurer triple-slide at this point.  In 2014 we looking to debut more innovative single-slide units.  With the double-slide, we want the price point to be the low.  To my knowledge it will be the lowest priced double slide on the market.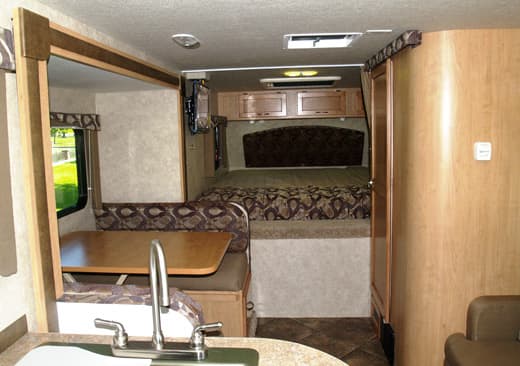 Above: Rear to front interior photograph of the 116DS
TCM: What are some features that the 116DS has that will also be included in your 2014 Adventurer truck campers?
Greg: Adventurer campers will have Lamilux 4000 exteriors and our new exterior graphics.  We have also dropped the Camel interior and added maple with leather style accents.  As I stated earlier, we now have seven cubic foot refrigerators in our models that had six cubic foot refrigerators.  We have also added a Heki skylight and an upgraded stereo as options.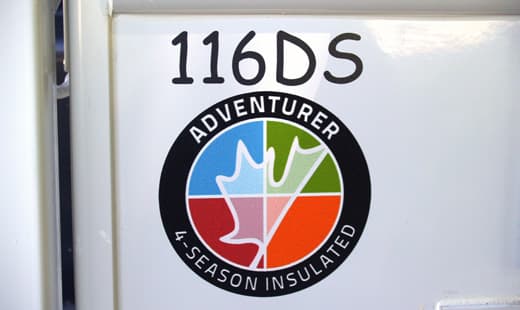 Above: The 2013 Adventurer 116DS 4-Season Certified sticker
TCM: Is there anything about Adventurer the 116DS that you would like to add to your interview?
Greg: Adventurer is always striving to be the weight and value leader.  We continue to have our three year structural warranty on all Adventurer products.  We are growing the market and meeting the demands of our consumers.  Many dealers have contacted us to take on the product.
We are excited and have a lot more to share for 2014.  In a few weeks we will announce in Truck Camper Magazine a new nine-foot dry bath model.  Stay tuned!
To view a walkthrough video of the 116DS, visit Adventurer's YouTube channel at http://www.youtube.com/user/AMLRV.
For more information on the Adventurer 116DS, please visit their website at adventurercampers.com.