Greg: Yes, the 116DS is built above the rails.  To maximize the available floor space, we are building above the rails.  It gives the camper a more open feeling and offers more space in a double slide.
The camper would lose a lot of space if we didn't build the floor above the rails.  The sofa is a prime example.  If the camper floor was above the wheel wells, we wouldn't be able to have the sofa or recliner theater seating.  For this floor plan to work, building above the rails was a necessity.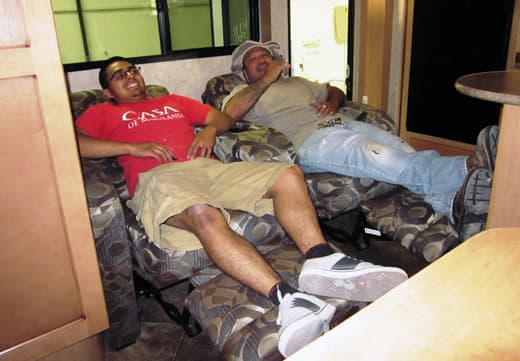 Above: The new optional theater seating put to the test
TCM: Tell us about the optional theater seating.
Greg: Theater Seating is a new option for Adventurer and Eagle Cap for 2014.  It consists of two home theater style recliners and a drink/remote tray between them.
Above: An Adventurer Manufacturing video presenting theater seating
I saw the theater seating a year and a half ago in a travel trailer.  I brought the idea back to our design team and said that we needed to implement it into a truck camper.
Above: The standard sofa (left and center) and optional theater seating (right)
In the 116DS, you lose the extra sleeping area of the sofa, but the recliners are what people are asking for.  The theater seating is really nice.  I think our customers are going to love it.
TCM: From the floor plan, the television is located just inside the cabover on the driver's side.  Can you see the television from the sofa or theater Seating?
Greg: Yes, you can.  The television has a triple swivel arm so you can see it from both positions in the sofa and from both recliners.  I was sitting next to the bathroom on the sofa and could see it easily in fact I could see it easily from the full reclined position in the recliner by the bath wall.  For 2014, we also went to a twenty-four inch HDTV television.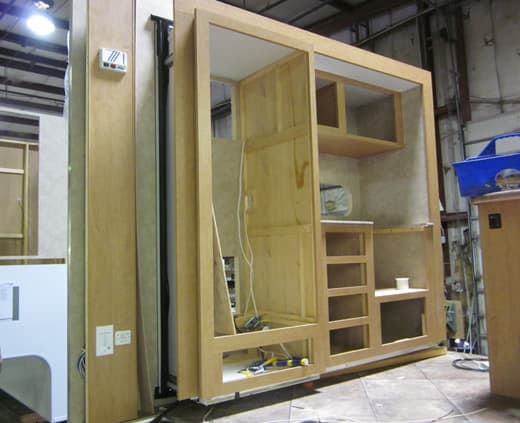 Above: The rear kitchen slide on the Adventurer assembly line
TCM: What slide mechanisms are you using on the 2014 Adventurer 116DS?
Greg: We believe in using the best technology, products, materials in the right area for the right purposes.  We're using the Schwintek mechanism for the lighter rear kitchen slide and a more traditional Happijac mechanism for the heavier dinette slide.
We are still not comfortable with the Schwintek for the heavier dinette slides.  The dinette slide is heavy, especially when theoretically there could be four to five adults in the dinette.  We need a heavy duty slide mechanism in that area.
Above: Measuring the center of gravity point on the 116DS