I also suggest you look at our website to see what size camper fits on what size truck.  Then review the campers on our website, give us a call, and we'll go from there.  Our website will answer many of your questions.  After reading our website, we will have more tools to work with to make the right choices.
TCM: Are Four Wheel Camper flatbed models demountable?
Tom: Yes, our flatbed models are truly demountable truck campers.  You can take them on and off the truck with camper jacks.  The one we showed you at the Overland Expo was bolted on the truck, which is an option if you're going to do more extreme off-road travel.
TCM: Are the Four Wheel Camper flatbed models available now?
Tom: Yes, we already have a number of them on order.
TCM: What is the MSRP of the base Four Wheel Camper Fleet flatbed?
Tom: The base model is $19,995.  The price of the camper shown at the Overland Expo is $28,910.  That particular camper had almost every option available on it.  It had solar, it was self contained, had an upscale compressor refrigerator, jacks, and an awning.  It had the whole nine yards.
TCM: The one concern we had about the Fleet flatbed at the Expo was that it was mounted far back from the cab of the truck.
Tom: That's true.  When the flatbed was installed on the truck, they installed it back too far.  Once it's back in Wyoming, they are going to relocate the bed and move it forward to close that gap.
TCM: What is the weight of the base Four Wheel Camper Fleet flatbed model?
Tom: The base weight of the Fleet flatbed is 998 pounds.  The Fleet flatbed at the Overland Expo was 1,475 pounds with an optional furnace, water heater, refrigerator, solar, jacks, awning, and two six volt batteries.
TCM: How are things going at Four Wheel Campers?  Anything exciting on the horizon?
Tom: Well, we are building a flat bed for a Mitsubushi Fuso right now.  It's probably the biggest Four Wheel Camper that we have ever built.
Things are going great at Four Wheel Campers.  We implemented SolidWorks two or three years ago.  It has been great tool for design and efficiency.  We have progressed on sales and production is up.  Our markets are increasing.
This year we have new dealers in South America, and Australia looks like it will finally come to fruition.  The new flatbed models will address these markets as well.  Growth is good, and our staff is evolving and getting better at what they do.
With increased production, Six-Pac is finally closer to returning.  I'm not going to give you a date, but Six-Pac is coming back.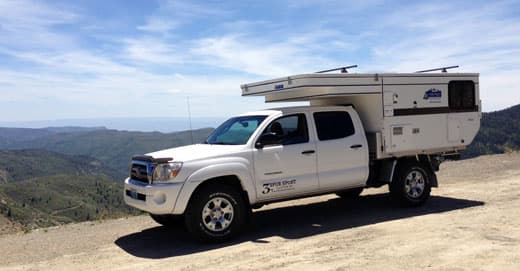 For more information on Four Wheel Campers, visit their website at fourwheelcampers.com.
First ← Previous ... 2 3 4 Last Read Entire Article