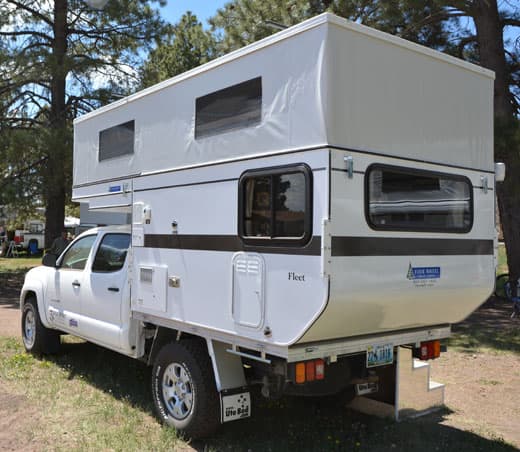 Above: The cutaway back wall for better departure angle
Finally, we have the cutaway back wall for departure angle.  During off-road travel, there can be steep departures.
Having the cutaway increases the flexibility of the camper on all terrains.  It also has a slight aerodynamic advantage.
TCM: Are there any custom options available for the Four Wheel Camper Fleet flatbed, or is it a fixed product?
Tom: There are a plethora of options available for the Four Wheel Camper Fleet flatbed.  We offer camper options to our customers on an "a la carte" method to ensure they get exactly the camper and options they want.  We strive to make designing your camper as flexible as possible.  You can get everything from awnings to solar.
Above: Some of the exterior features of a Fleet flatbed – cassette toilet, exterior shower, and storage for up to two batteries
TCM: We noticed at the Overland Expo that Jonathan and Roseann Hanson didn't even have a furnace on their Four Wheel Camper.  That surprised us.
Tom: I was initially surprised they didn't want a furnace as well, but they optioned their camper for their truck camping lifestyle.  They mostly camp in moderate climates and don't need a furnace.  That's why we offer things like furnace as an option.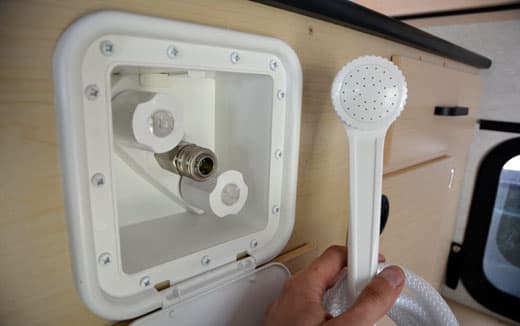 Above: The shower is an option on the Four Wheel Fleet flatbed
TCM: What size holding tanks does the FWC Fleet flatbed have?
Tom: Twenty gallons of fresh water, an optional 4.5 gallon cassette toilet, an optional shower, and no grey tank.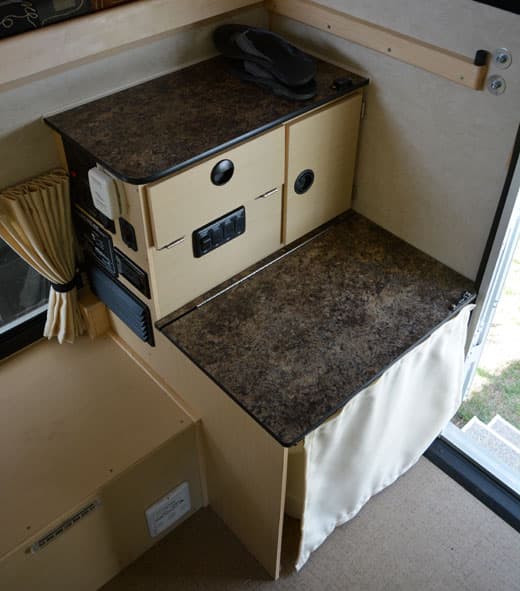 Above: The cassette toilet is hidden when it's not in use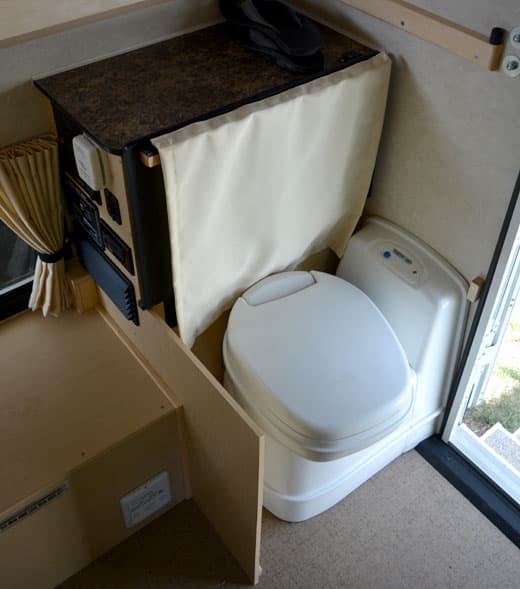 Above: The cassette toilet in position for use
TCM: If a reader is interested in a Four Wheel Camper flatbed model, how should they go about sourcing a flatbed, and matching a truck and camper?
Tom: Ute (pronounced "yoot") aluminum flatbeds from Australia are imported into the United States by a company in Washington state and are widely available.  Local jobs shops fabricate flatbeds for many folks on a custom basis, and it appears other manufacturers will be offering flatbed conversions as well.
As far as choosing a truck and camper, and properly matching a rig, we suggest thinking about what size truck you want first.  Once that's decided, the choice of truck will dictate the model of Four Wheel Camper to make a proper match.  Of course we will consult with you at any point to help.
First ← Previous ... 2 3 4 Next → Last Read Entire Article