Truck camper Jim McCoy reports from the Overland Expo 2012 and takes every possible off-road path to get there.  It's OX12, overland truck camping style!

Like many truck campers, I have varied and diverse interest when it comes to hitting the road in my truck camper.  Some of us hit the pavement and stay on the pavement.  Some of us take other paths including dirt roads and four wheel drive Jeep trails.  Some of us even tow a trailer, tow a secondary 4×4, or even have a motorcycle or dirt bike on a rack.  No matter what your style is, the Overland Expo has something for everyone.
For my adventure to the Overland Expo 2012 (OX12), my adventure was three fold; the road trip there, three days at the OX12 camping and reporting for TCM, and the road trip home.  For the trip home I had no plans and would let the "road magic" happen.  That's my usual modus operandi, "Don't take the trip, let the trip take you".
Road Trip to OX12
My voyage began in Pine, Colorado.  The destination was the Overland Expo in Flagstaff, Arizona with one night camping south of Bluff, Utah on "Muley Point".  I was traveling solo in my rig with plans to meet up with an "overlanding" buddy Tim Bono, also making his way there from his vacation house in Buffalo Creek, Colorado.
Tim had originally started his journey from Long Island, New York.  We had both traveled diagonally south west across Colorado meeting in Cortez, Colorado late in the afternoon on May 17th, as planned. I had my truck camper, an off-road set-up Dodge three-quarter ton with a Hallmark pop-up.  Tim had a Jeep Rubicon with a Chaser Adventure Trailer.
From Cortez, Colorado, we took a lesser used route to Bluff, Utah via McElmo Canyon.  This route cut straight west to Bluff through some beautiful country on the south edge of Canyons of the Ancients National Park.  As luck would have it, we hit rush hour in McElmo Canyon!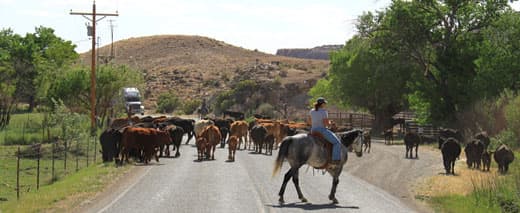 Above: Rush Hour in McElmo Canyon
In Bluff, we had planned for a quick fuel, ice, and minor supply top off.  As we all know, plans don't always go the way you want.  The combination fuel station and quick mart was out of service!  The computer world had gone amuck and the station computer was down.  No fuel could be dispensed and the registers and credit card machines were in the same state, stranding some until the fix.
Tim and I were in great shape.  We each had at least a five gallons of extra fuel.  Continuing south of Bluff, up the Moki Dugway, and out to Muley Point for camp would be a piece of cake.  We had plenty of fuel to do that and make Kayenta, Arizona or even further if needed the next day.
The Moki Dugway is a portion of road that is cut into the side of a thousand foot cliff.  The narrow dirt road features tight switchbacks, 10% grades, and no guard rails.  It can be intimidating to some drivers, but it's the only way to get up on Cedar Mesa and out to Muley Point from the south end.  I had driven the Dugway before but this was Tim's first time.  He was excited about it!  There are lot's of photo ops along the drive up.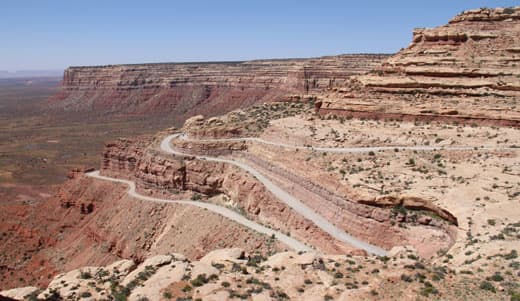 Above: The Moki Dugway.  Once at the top, the views south, east, and into Valley of the Gods are awesome
Immediately after topping out there's a dirt road on the left.  This road runs three miles out to Muley Point, a cliff side area on the south east end of Cedar Mesa.  Muley Point  sits 1,000 feet over the terrain below.  Within that terrain runs the goose necks of the San Juan River, which has cut yet another 1,000 foot deep river canyon.  From the cliff edges, it's a two thousand foot drop into the river!
You can see as far as the Four Corners region and into Monument Valley, Arizona some thirty miles away.  Tim was blown away by the vast views, deep canyons, and the remote area to camp along the cliff sides.  He wouldn't be the first one this trip to be treated to this outstanding location for their first time.  We'd be back in a few days with a whole group of new friends from the Expo.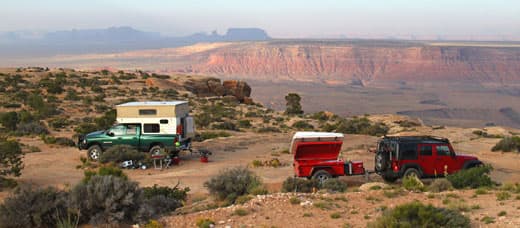 Above: Camp on Muley Point, looking southwest into Monument Valley
We broke camp Friday morning and headed for Mormon Lake and the Expo.  Friday's drive was a quick four to five hours across the Navajo Nation Lands in northeast Arizona and into Flagstaff.  Mormon Lake was just southeast of Flagstaff.
OX12 Report
We arrived at Mormon Lake and OX12 about mid-day on Friday.  The Expo staff made check in a breeze.  They were highly organized and prepared.  We set up camp in a section reserved for attendees to camp in, an "Overlander's Rally" if you will.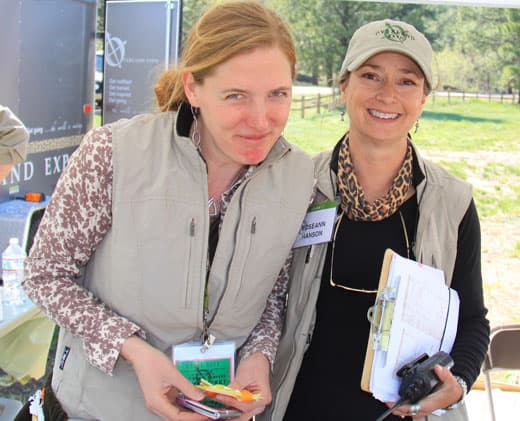 Above: OX staffer Lara, and OX founder Roseann Hanson, making everyone's life easy for the entire event.
So, what is, "overlanding" and how does it related to truck campers and truck camping?  Didn't we used to call this camping?  I'll share a definition of overlanding from the folks at Overland Journal.  You can find this definition at overlandjournal.com.
"Overlanding: describes self-reliant adventure travel to remote destinations where the journey is the primary goal.  Typically, but not exclusively, accommodated by mechanized off-highway capable transport (from bicycles to trucks) where the principal form of lodging is camping; often lasting for extended lengths of time (months to years) and often spanning international boundaries.  While expedition is defined as a journey with a purpose, overlanding sees the journey as the purpose".
Overland Journal goes on to state, "The critical point to the term overland travel is that the purpose is to include at least two or more of the following: 1. Remote locations, 2. Cultures other than your own, 3. Under-explored or under-documented regions, 4. Self-reliance in unfamiliar territories for multiple days, weeks, or months.  That is to say, an overnight trip to the local mountains on a well-documented route, staying in an established campground with full-hookups, is not an overland adventure, it is a backcountry trip or at the very least, car camping".
A lot of the equipment you'll want and need for extended stays in your truck camper, whether overlanding internationally, or traveling the USA on paved roads or 4×4 trails, is the same.  Certain specifics in your travels will dictate certain gear, training, and knowledge.  It's not all hard core off-roading.
The Expo has something for everyone including over fifty different classes, talks, and films, 125 exhibits for vehicles equipment and gear, and resources for all levels.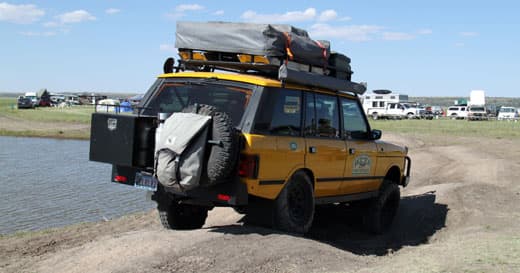 There was a four acre driving course complete with a pond they floated a Land Rover across.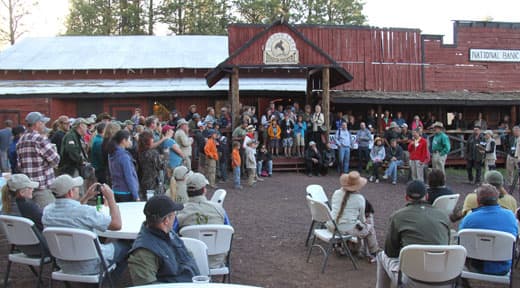 In the evenings they had happy hours, a Sunday barbeque, and all kinds of parties.  On location, the Mormon Lake Lodge boasted a great restaurant, convenience store, and fuel station.  OX13 will be here next year too!
And if the Expo wasn't enough, just bringing your own rig and camping en-mass with the other attendees, your peers, holds its own pack of benefits; trading stories, making friends and contacts, checking out everyone's gear, learning from others just like you, and awesome socializing!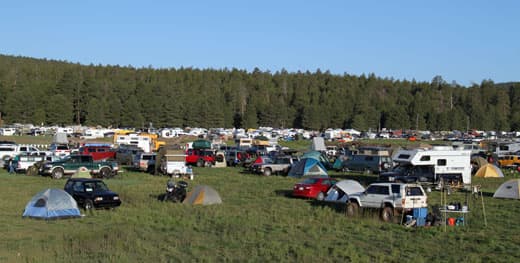 I made some amazing friends and contacts this year, including some other TCM feature article celebrities!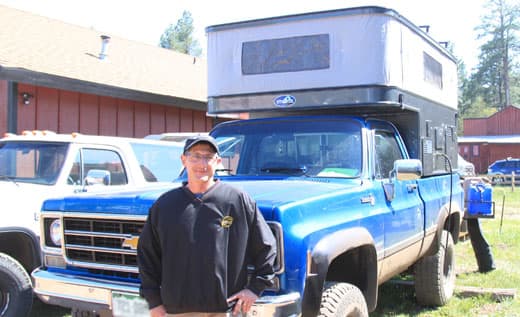 While I was there I ran into Larry Wittman with his custom Phoenix camper.  Larry was featured in a TCM off-road article like I was.  Yet another great contact for me!  Larry showed me around his set-up and we traded tips and info.  Meeting people like Larry is one of the huge benefits to the OX.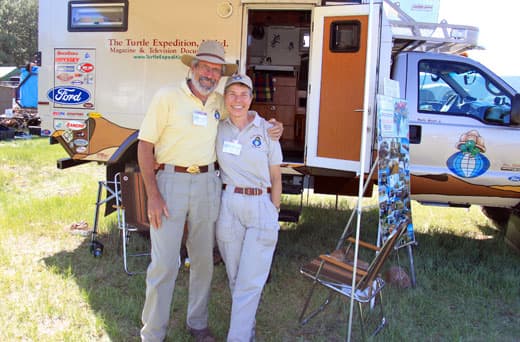 Speaking of celebrities in the overlanding crowd, I was fortunate to meet many!  One of my biggest thrills at this year's OX was to meet, talk to, and get a camper tour from Gary and Monika Wescott of the famous "Turtle Expedition".
In my mind, Gary and Monika are some of the pioneers in "truck camping" and using truck campers for overlanding.  I followed them in four wheel drive magazines when I was as a teenager, drooling over their adventures.  I can actually say Gary and Monika had a big influence on me and my interest in truck camping from way back then.
Although their current rig is huge and not quite a slide-in camper, their earlier rigs were slide-ins and pop-ups on standard four-wheel drive trucks they modified.  They ran a Four Wheel Camper pop-up for many years.  Their rigs have evolved to the current day "Turtle V".  The Westcott's were gracious enough to give me a tour of their camper and pass on some great advice.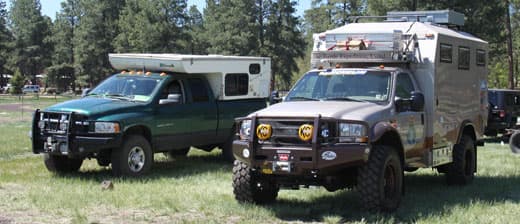 Above: Some people like to get a picture of themselves with a celebrity; I had to get a shot of my truck next to the Turtle V.  Even with 37 inch tires and a lift, my truck was dwarfed.
Among the events and classes at the Expo were some panel discussions.  One such panel discussion I attended was "Ask Jeep", a consumer feedback panel.  This panels line up were also celebrities in their own right, including Scott Brady of Overland Journal, Dave Harriton of American Expedition Vehicles, and Scott Brown from Chrysler.  It was aimed at Jeeps, but evolved into full sized half-ton and three-quarter ton Dodge pickups.  A few truck camper folks were there and got feedback input directly to the Chrysler people.  That's the beauty of OX.  Things like that are flexible, and you can get your input into the industry on many things.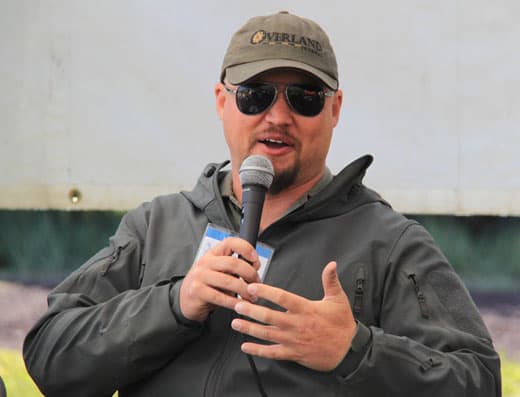 Above: Scott Brady of Overland Journal, leading the "Ask Jeep" consumer feedback panel
There was a great showing from the truck camper industry.  I visited with Hallmark RV, Four Wheel Campers, Phoenix Campers, Northstar Campers, XP Campers, and Hellwig suspension products.  Hellwig brought their 2012 Lance camper.  All the camper reps as well as Hellwig were awesome at showing me around their products.  Everyone was super informative, very helpful, and had a passion for what their products offered.

Northstar Campers
I really enjoyed my visits with Northstar Campers rep Billy MacKaill.  He cracked me up!  What a sense of humor.  This was his first visit to Overland Expo.  He said, "It's a good niche.  I really like the crowd".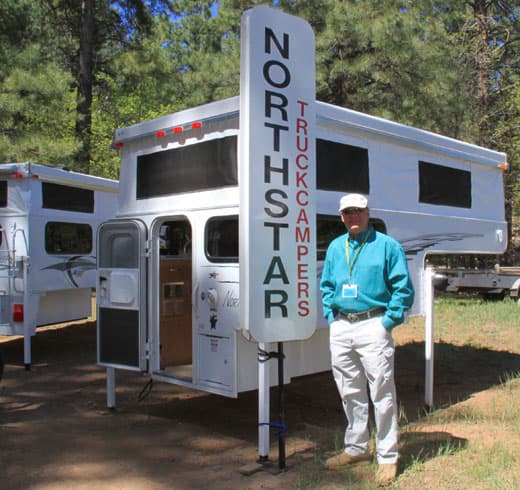 Above: Billy MacKail of Northstar Campers
Billy brought a few Northstar models with him including pop-ups and hard side units.  He had a lot amount of information on the advantages to each type of truck camper and explained the many ways Northstar can customize the campers to meet the individual needs of customers.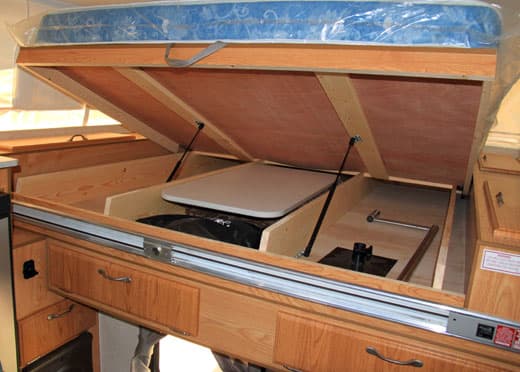 Space and storage is a big concern for truck campers.  I really liked the under the bed space in the pop-up Northstar models.  Billy and I laughed about what items I would hide in there.
Billy's turn at the truck camper review group was met with the same enthusiasm and helpfulness as the other truck camper reps.  He always seems to generate a good laugh too!
Four Wheel Campers
What a blast it was meeting Tom and Celeste Hanagan (left) from Four Wheel Campers.  I had talked with Tom before from the consumer side at a previous Overland Expo.  It was even more fun visiting them as a representative of Truck Camper Magazine.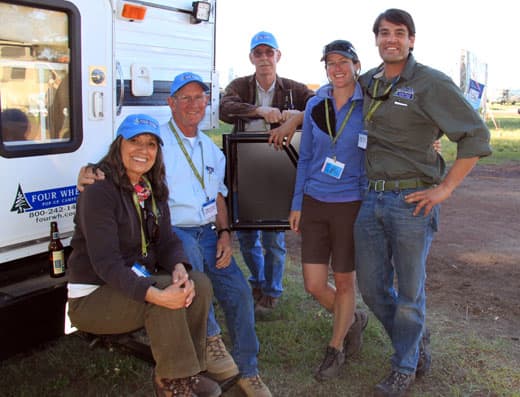 Along with Tom was his service manager Terry Bud (center) and neighbors of mine from Arvada, Colorado; Chris Janeway and Lisa Cashel (right).  Chris and Lisa run the official Colorado dealership for Four Wheel Campers in Arvada, a suburb of Denver.  Four Wheel Campers certainly had an of qualified folks to tend to all those inquiring.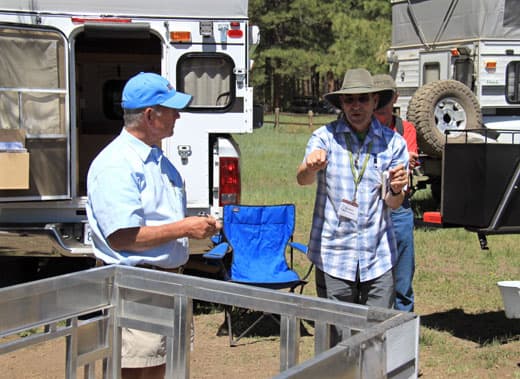 Tom brought four Four Wheel Camper models with him.  He had a Fleet, Grandby, Hawk, and a unit I have been interested in, the Shell Model.  The other models are more traditional with amenities in them, but the Shell Model is a unit of your choosing that is stripped out.  You can leave it that way or customize it to your needs.  I would love to see a Shell Model with barn doors.  Dreaming now.
I also enjoyed the bare Four Wheel Camper frame example Tom had on display.  You got to see the care and detail that goes into the construction of Four Wheel Campers.  Tom gave a great talk to the, "Slide-in for Overlanding" review group and answered lots of questions.
Hellwig Products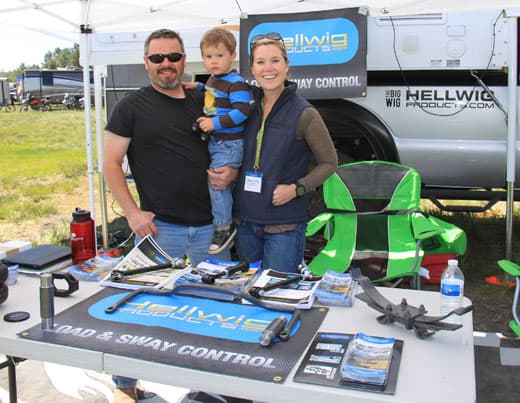 I visited with Melanie White, her husband Justin, and son Jensen.  Melanie is the Marketing Director at Hellwig Products.  What amazing folks to visit and they didn't beat me up for taking so long to find them.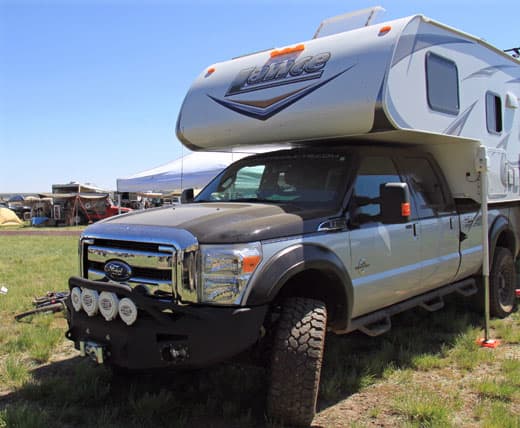 They traveled to the Expo in their Lance Camper.  It was a pretty large slide-in on their 2012 Ford pick-up, which boasts Hellwig enhancements; a traveling testament to Hellwig Products.
Melanie was a great source of information for the product line.  Hellwig Products cover a variety of vehicles, not just trucks.  At OX12, trucks were the focus.  There were lots of brochures for the many suspension products they carry, and some product examples for people to handle including anti-sway bars and links, air bags, and overload springs. Many years ago I had a pair of Hellwig overload springs on a truck that carried my camper and they worked great.
Phoenix Campers
This was not my first rodeo with Robby and Cari Rowe.  It was, however, my first visit with them representing TCM.  I found three truck camper makers at the Expo that  turned out to be neighbors back in Colorado, the Rowes included.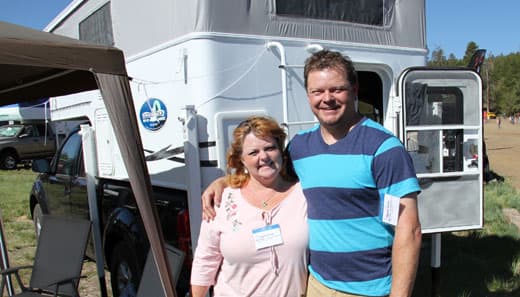 Above: Robby and Cari Rowe of Phoenix Campers
I really like Robby's approach to camper building.  From what I have seen, nothing seems to be off limits in the customizing or customer service department.  See that camper behind them?  They built that with customer input as something the customer might be interested in.  The Rowes drove that model to the Expo to use in the show, and for that potential customer to come the completed camper.  The customer loved it and purchased it right off Robby's truck!  Robby and Cari drove home empty.
I have followed some of Phoenix Campers other custom units.  From a unit specially designed for a Ford Raptor, to the "Phoenix P.U.L.S.E.", to the pop-up on a Jeep CJ-5 that I saw in January at the Denver International Sportsman's Expo.  Man did that thing draw attention!
Hallmark RV
It was fun to finally meet the Wards of Hallmark Campers in person!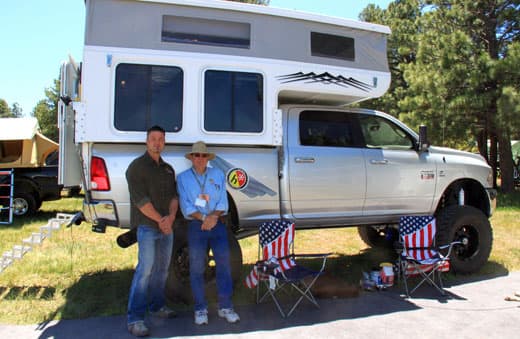 Andy Ward (left), and Bill (right) made it out to the Expo.  They had a fun run in with an Earthroamer along the way (link to the blog here).  I was hoping to meet Matt Ward as well, but he couldn't make it out.  Matt did send me a note to give Bill and Andy a hard time.  They were too nice, and I just couldn't do it.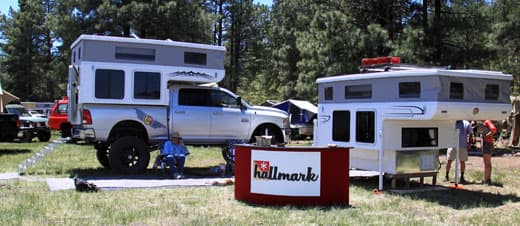 The Wards brought a couple of their units including Andy's monster Dodge.  Their brand new all composite unit wasn't available for showing yet.  Nor was a unit I know of and am drooling for, that's probably still under secret wraps.  I know the Wards were developing something, inspired by the way I use and beat up my 1991 Hallmark LaVeta.  Hallmark makes a tough unit, and they are touted to be able to take off-road abuse.  I can attest to how my old LaVeta has handled such abuse.
Bill Ward handled the, "Slide-Ins for Overlanding" review group when they visited Hallmark.  The group gained valuable information about truck campers.  Hallmark has a lot of great features to offer the Overlanding crowd.  The new composite units should prove to be advantageous.  I can't wait to see one myself.
Overland Campers: A Survey of Slide-Ins
As I mentioned above, there was an awesome truck camper related class titled, "Overland Campers: A Survey of Slide-Ins".  The class was taught by Robert Blackwell from the, "White Acorn" expedition and had good attendance of new and experienced people to truck camping.
Mr. Blackwell had a lot of great information to consider regarding truck campers, and how they fit into domestic travel, international travel, and overlanding.  He showed no prejudice to any particular brand citing that each brand had attributes that would appeal to different consumers.  As he explained, it comes down to what suits your needs best for the type of traveling you'll be be doing.
After the group talk about truck campers, the group visited the manufacturers.  At each stop, the camper representative gave a review of what their camper had to offer.  Questions from the group were met with knowledgeable answers.  People were taking notes, photographs, and looking in and around the units.
It was unfortunate the group didn't visit Phoenix Campers due to the time constraints.  I think the group missed out on seeing another type of design that may have met someone's needs.  Phoenix was still seen by many of the attendees and "sold the shirt right off their back" at the show.  They left the Expo with an empty truck, selling their camper right out of the back of it!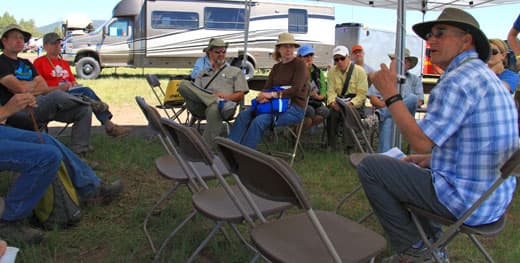 Above: Robert Blackwell, speaking about truck campers for overlanding.
Above: Getting input from the many truck camper manufacturers at OX12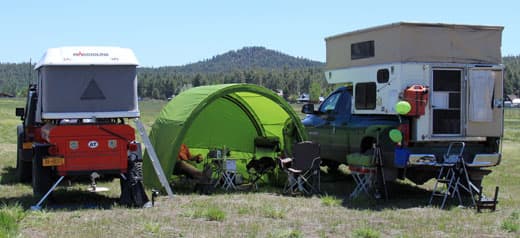 Above: My camp area at the Overland Expo with my overlanding buddy, Tim Bono
Going Home; The Long Way
Tim and I made some amazing contacts and friends at the Expo.  We had the great fortune of making friends with Marc Wassman of XP Campers and Ron and Viv Moon of Australia.  The Moons were on a journey from South America to Alaska with their 4×4 Adventure Trailer.  Another Aussie couple joined us with a right hand drive Ford pickup.  They are well known Australian guides.
This group, plus one other Dodge and Four Wheel Camper rig, mentioned to us they were headed for Valley Of The Gods, south of Bluff, Utah.  "No way!  We just came from there prior to the Expo," we said.
Then we asked if they'd heard of the Moki Dugway and Muley Point.  They had not.  We told the group about it and said we would be glad to guide them up the Dugway and out to Muley point.  They accepted the offer and we made plans to all meet at a location close to the Moki Dugway on Monday afternoon.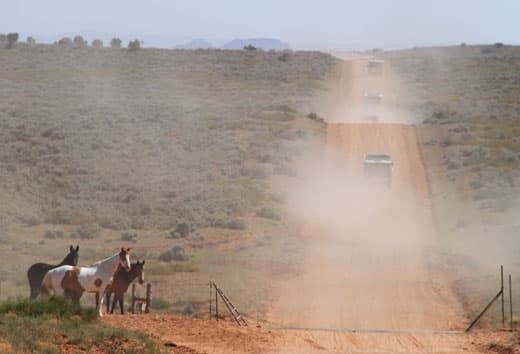 Wagons ho!  We all made it up the Moki Dugway in a off-road vehicle parade.  Then we made our way to Miley Point.  In total we were eight rigs and fifteen people; a whole new group of friends on an impromptu post Expo adventure.
They were blown away by the views, quiet, and serenity.  I felt honored to pass this location to the group, especially our new Aussie friends who were so inspired by it.
Above Middle: Great "campfire tales" after dinner and what seemed to be a very large quantity of high octane desert, Right: Ron and Viv depart Muley Point, continuing their journey towards Alaska.
We all gathered around the Moons camp for dinner. Wassman cooked up a big meal for everyone.  As the night went on, tales and laughs around the campfire got thicker, and time seemed endless.
Three campers along with Tim's Jeep and trailer departed the next morning.  The Moons and I spent another day and night on the cliffs of Muley Point.  On Wednesday morning the Moons and the remaining Australian couple left in the direction of Lake Powell.  Safe Travels Mates!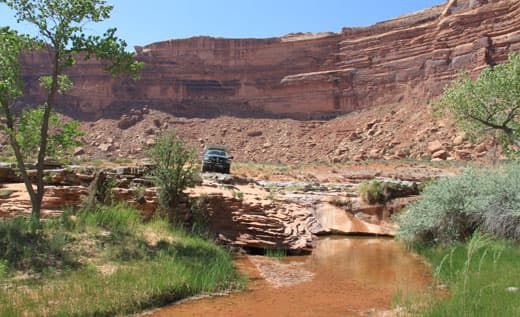 I spent the next five days wandering on and off the grid, exploring Johns Canyon, Comb Wash, and the back country between Moab and Green river Utah.
I stayed off grid and on Jeep roads from UT-313, traveling northwest towards Green River to get to Crystal Geyser.  I had some roughly planned stops along the way.
Don't take the trip, let the trip take you!  Not all who wander are lost!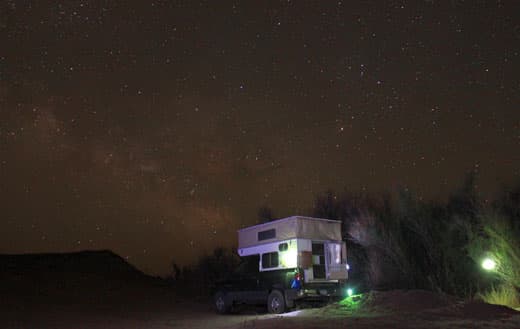 These are a few of my favorite things!  This is the stuff I live for!