Truck camper Jim McCoy reports from the Overland Expo 2012 and takes every possible off-road path to get there.  It's OX12, overland truck camping style!

Like many truck campers, I have varied and diverse interest when it comes to hitting the road in my truck camper.  Some of us hit the pavement and stay on the pavement.  Some of us take other paths including dirt roads and four wheel drive Jeep trails.  Some of us even tow a trailer, tow a secondary 4×4, or even have a motorcycle or dirt bike on a rack.  No matter what your style is, the Overland Expo has something for everyone.
For my adventure to the Overland Expo 2012 (OX12), my adventure was three fold; the road trip there, three days at the OX12 camping and reporting for TCM, and the road trip home.  For the trip home I had no plans and would let the "road magic" happen.  That's my usual modus operandi, "Don't take the trip, let the trip take you".
Road Trip to OX12
My voyage began in Pine, Colorado.  The destination was the Overland Expo in Flagstaff, Arizona with one night camping south of Bluff, Utah on "Muley Point".  I was traveling solo in my rig with plans to meet up with an "overlanding" buddy Tim Bono, also making his way there from his vacation house in Buffalo Creek, Colorado.
Tim had originally started his journey from Long Island, New York.  We had both traveled diagonally south west across Colorado meeting in Cortez, Colorado late in the afternoon on May 17th, as planned. I had my truck camper, an off-road set-up Dodge three-quarter ton with a Hallmark pop-up.  Tim had a Jeep Rubicon with a Chaser Adventure Trailer.
From Cortez, Colorado, we took a lesser used route to Bluff, Utah via McElmo Canyon.  This route cut straight west to Bluff through some beautiful country on the south edge of Canyons of the Ancients National Park.  As luck would have it, we hit rush hour in McElmo Canyon!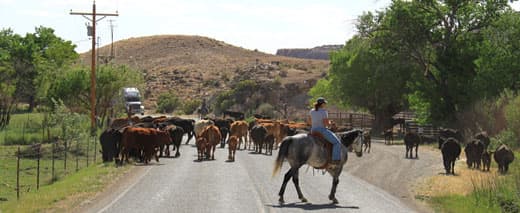 Above: Rush Hour in McElmo Canyon
In Bluff, we had planned for a quick fuel, ice, and minor supply top off.  As we all know, plans don't always go the way you want.  The combination fuel station and quick mart was out of service!  The computer world had gone amuck and the station computer was down.  No fuel could be dispensed and the registers and credit card machines were in the same state, stranding some until the fix.
Tim and I were in great shape.  We each had at least a five gallons of extra fuel.  Continuing south of Bluff, up the Moki Dugway, and out to Muley Point for camp would be a piece of cake.  We had plenty of fuel to do that and make Kayenta, Arizona or even further if needed the next day.
The Moki Dugway is a portion of road that is cut into the side of a thousand foot cliff.  The narrow dirt road features tight switchbacks, 10% grades, and no guard rails.  It can be intimidating to some drivers, but it's the only way to get up on Cedar Mesa and out to Muley Point from the south end.  I had driven the Dugway before but this was Tim's first time.  He was excited about it!  There are lot's of photo ops along the drive up.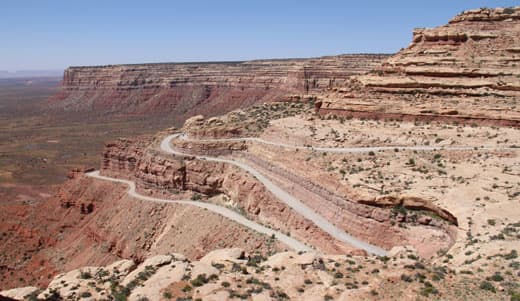 Above: The Moki Dugway.  Once at the top, the views south, east, and into Valley of the Gods are awesome
Immediately after topping out there's a dirt road on the left.  This road runs three miles out to Muley Point, a cliff side area on the south east end of Cedar Mesa.  Muley Point  sits 1,000 feet over the terrain below.  Within that terrain runs the goose necks of the San Juan River, which has cut yet another 1,000 foot deep river canyon.  From the cliff edges, it's a two thousand foot drop into the river!
You can see as far as the Four Corners region and into Monument Valley, Arizona some thirty miles away.  Tim was blown away by the vast views, deep canyons, and the remote area to camp along the cliff sides.  He wouldn't be the first one this trip to be treated to this outstanding location for their first time.  We'd be back in a few days with a whole group of new friends from the Expo.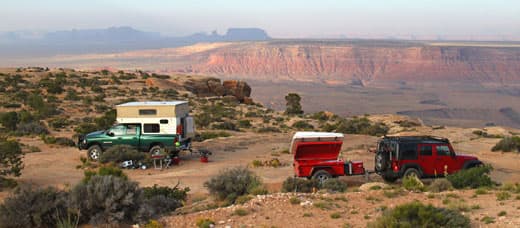 Above: Camp on Muley Point, looking southwest into Monument Valley
We broke camp Friday morning and headed for Mormon Lake and the Expo.  Friday's drive was a quick four to five hours across the Navajo Nation Lands in northeast Arizona and into Flagstaff.  Mormon Lake was just southeast of Flagstaff.