The new Northern Lite factory is complete and Northern Lite truck campers are on the production line and shipping.  After eleven months of rebuilding, Northern Lite is back!

After a devastating fire destroyed the Northern Lite factory last February, Northern Lite has completely redesigned and rebuilt their Kelowna, British Columbia factory and resumed production of their two-piece molded fiberglass truck camper line.  Without a doubt, this is the single most impressive feat in modern truck camper industry history.
If that doesn't rock your socks, Northern Lite has also redesigned two of their most popular truck campers from the ground up.  All-new for this year, Northern Lite is introducing the 10-2EX and a reworked 9-6.  That's a brand new factory and two new  Northern Lite campers in eleven months.  Truly incredible.
Please join us in congratulating Mac Donkin, President, Keith Donkin, General Manager, and the dedicated men and women of the Northern Lite office and production teams for coming back from the brink, and doing so quickly, efficiently, and with a new facility and refreshed camper designs that promise to be better than ever.
To get a complete update on the current production and shipping status of Northern Lite, we contacted Keith Donkin, General Manager for Northern Lite.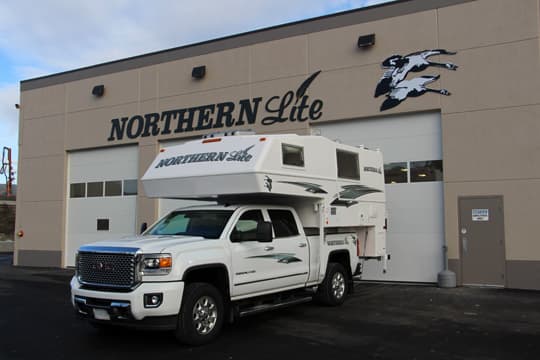 Above: The first camper out the door, a Northern Lite 8-11 on a GMC truck
TCM: When was production completed for the new Northern Lite manufacturing facility?
Keith: The building was completed about the middle of November.  We moved the offices over from our temporary location on November 28th.  About three weeks before that the production team was building work benches, racking, and tools.
In December, we started official production in the glass shop with the Northern Lite 8-11 model.  As that first camper progressed through each station, our team tested and verified every jig and process.  The first Northern Lite camper from our new factory was completed and shipped the first week in January.  It's as good or better as any camper we've ever built.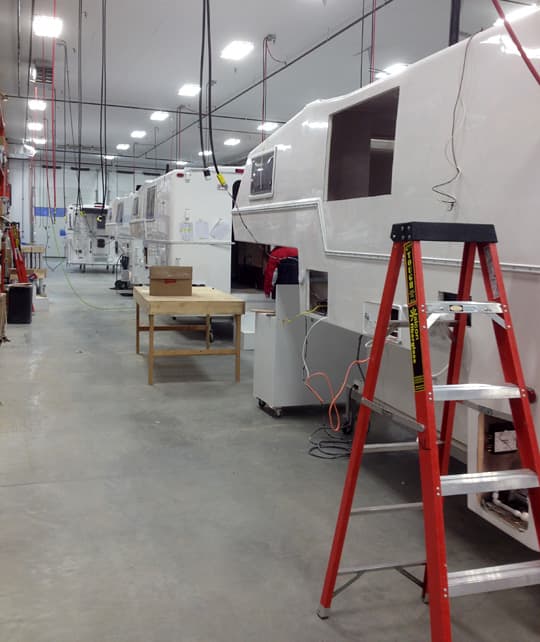 Above: The new Northern Lite assembly line
TCM: Have most of your original office and manufacturing team returned?
Keith: We have gotten every employee back, except for one.  That was huge.
This past summer we talked to our factory workers about everything they did at their station.  That paid off as they recalled, from memory, specific measurements and information.  It's amazing the knowledge and measurements our team retained.  Their help made the rebuilding process much smoother, considering we lost every jig and tool in the fire.
We've currently hired four more people and I have more interviews this morning.  The plan is to increase our work force by forty percent to meet our production demands.  We started adding people in the glass shop and now we're starting to add people on the line.
The new building is also significantly more efficient than the old building.  That is going to help with production along with having the extra team members.  We are ramping up.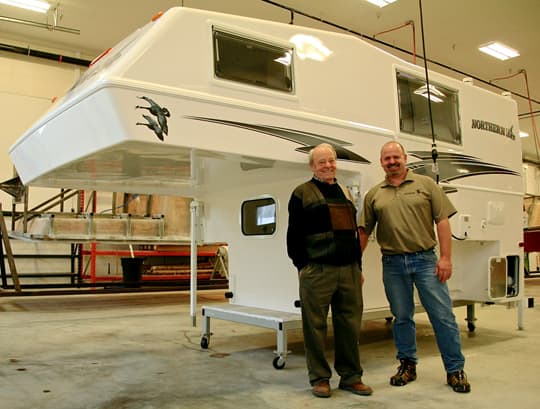 Above: Mac and Keith Donkin with the first completed Northern Lite 8-11