News and coverage from the 2013 National RV Trade Show including Palomino RV, Torklift International, Rieco-Titan Products, and the 2013 TCM Mini-Golf Putting Tournament.  Don't hit the camper!

A few days before we were to set out for the 2013 National RV Trade Show in Louisville, Kentucky, an unexpected box arrived.  Long time Truck Camper Magazine reader Kevin Pinassi had just sent us the perfect Christmas present.  His timing was impeccable.
Emerging from the box was a premium die-cast demountable truck and camper rig, at 1:24 scale.  The truck is a blue 1966 Chevy C10 featuring a regular cab, single rear wheels, and two-wheel drive.  For those who know, this is the truck that brought independent front suspension, drop center ladder frame, 4-speed synchromesh manual transmission, and a 327 inch gas V8 to the industry.  She's a real beauty.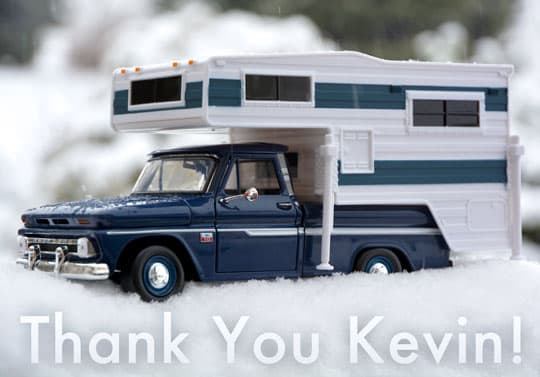 The no-name camper is a hard side, non-slide, most likely with a wet bath.  Although we're concerned that this camper is probably overloading the half-ton C10, we're impressed with its detail, and 100% wood-free, 100% plastic assembly.  Whatever the make or model may be, the camper was clearly way ahead of its time.
With evil grins, we packed our new truck camper rig and drove to Louisville.  The industry had no idea what we were up to.  They would soon find out.
Palomino RV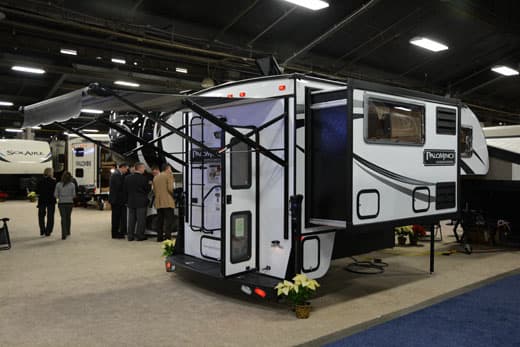 This year the Palomino RV team finally had their priorities straight.  Set-up right at the front entrance to their sprawling booth was their new 2014 Palomino HS-2911.  That's right, put the fifth wheel and travel trailer stuff somewhere in the back.  Truck campers come first.  Everything else can go somewhere else, if there's room.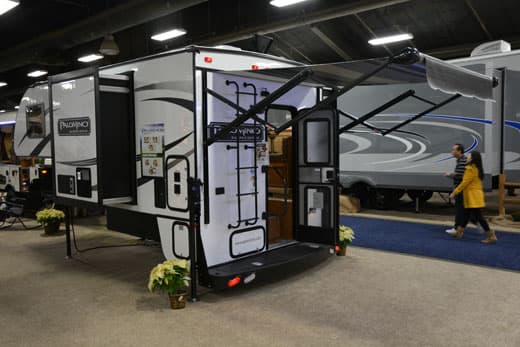 Walking around the HS-2911, it's impossible to ignore how far Palomino has pushed into the luxury truck camper market over the past few years.  Just three years ago Palomino didn't even have a slide-out model.  Now they have three; the HS-2902, HS-2910, and the new double slide HS-2911.
Perhaps what's more impressive is the growing list of standard features and options Palomino offers, and their extremely competitive pricing.  For example, the HS-2911 on display at Louisville featured the Elite Package (solid surface counter tops in the kitchen and bath, stainless steel double sink, thermal pane acrylic windows, barrel roof, electric awning with LED lighting, Line-X underbody coating, and wireless backup camera) all for under $30,000 retail MSRP.  That's aggressive.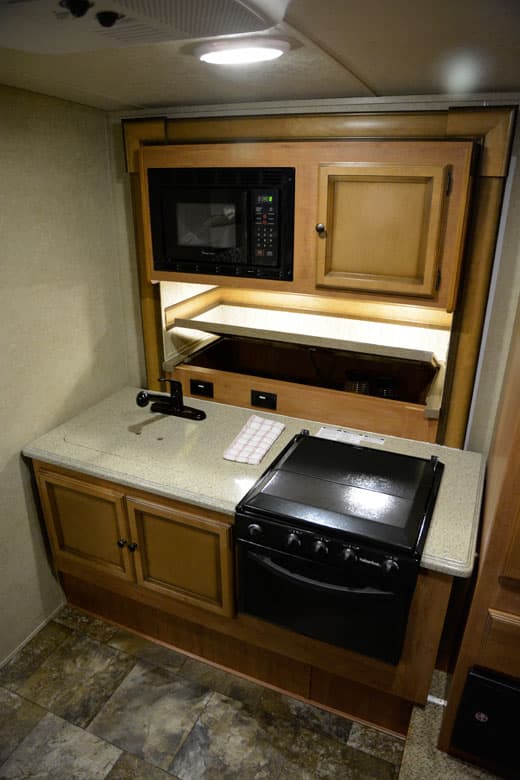 The kitchen slide in the HS-2911with under counter lift-up storage.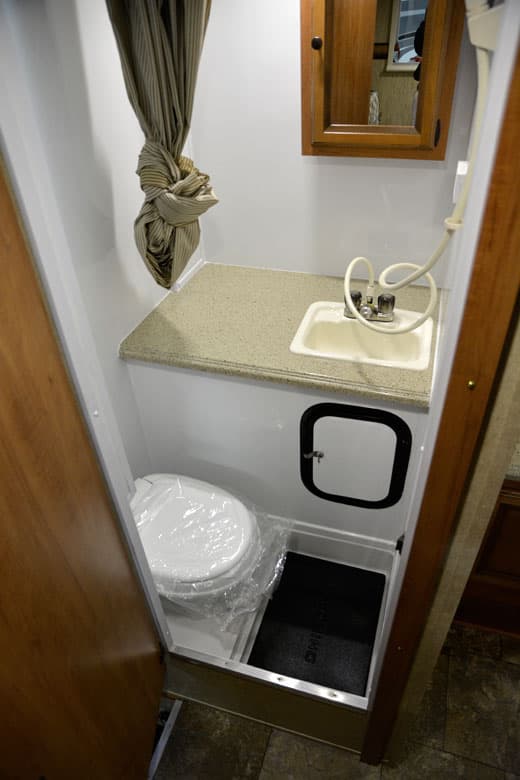 The wet bath in the HS-2911 Elite Package features solid surface counter material.
Not quite as front and center as the HS-2911, we found an example of Palomino's new line of pop-up truck campers; the 2014 Palomino SS-550.  We are working on a formal new announcement for the SS-550 now and will publish more photography, complete specifications, and a floor plan for the new camper in January.
In the mean time, we have a sneak peek at some of the features Palomino has announced across the board for its 2014 pop-up camper line including the new Rieco-Titan roof lift system and key fob remote control, lower profile roof, one-piece sidewalls, 55" one-piece entry doors, upgraded heavy duty soft wall, power port, detachable power cord, and standard battery disconnect.