Our continued coverage from the 2013 National RV Trade Show features Travel Lite, Lance Campers, CampLite by LivinLite, Roadmaster, and the 2013 Truck Camper Magazine Mini-Golf Tournament Winner.

By mid-day on the third and final day of Louisville 2013, our Mini-Golf Tournament was in full swing and everyone was talking about the weather.  Smart phones, laptops, and display monitors were all trained on Winter Storm Cleon as it approached Kentucky promising ice, snow, and long delays home.
Did we pack up and head home to avoid this wicked weather?  No sir.  We're Truck Camper Magazine, a four-season ready publication that can go anywhere, publish anywhere, and host mini-golf tournaments where other media outlets wouldn't dare.  Bring it on Cleon.  The 2013 TCM Mini-Golf Tournament must go on.
Travel Lite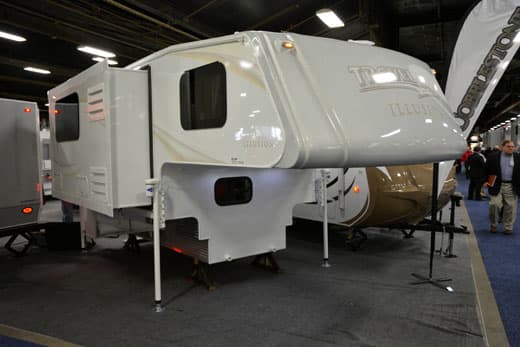 Travel Lite debuted two campers as part of their new Illusion series; the 2014 Travel Lite 1000-SLRX Illusion (shown above), and the 2014 Travel Lite 1100-RX Illusion.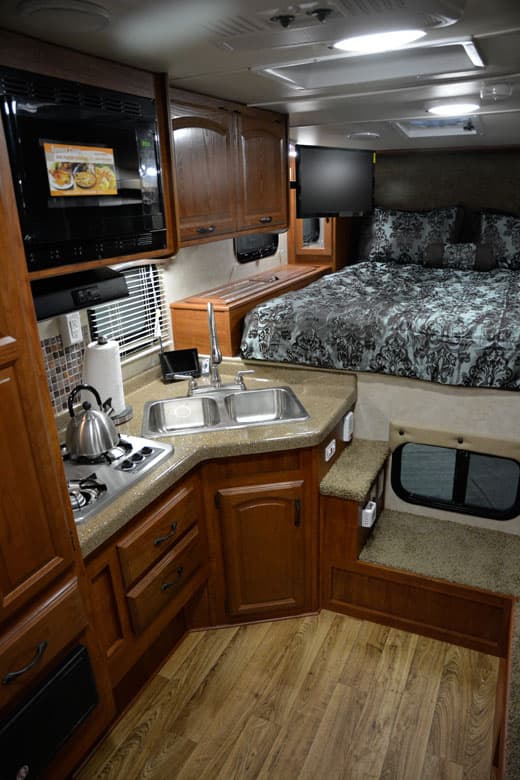 Above and below: The interior of a 2014 Travel Lite 1000-SLRX Illusion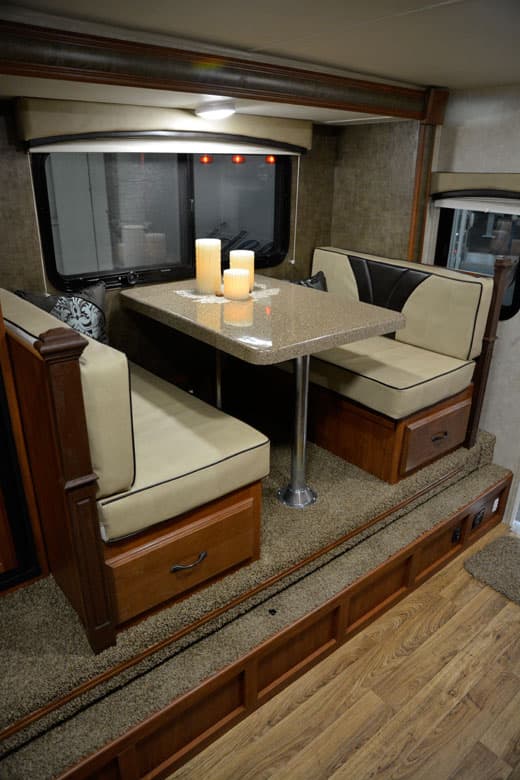 The concept of the Illusion series is simple; to offer a high-end luxury truck camper that comes fully-loaded, at a very competitive price.  Dustin Johns, President of Travel Lite, gave us a long list of standard features stating, "The only thing that's not standard on the Illusion series is a propane generator.  Everything else is included."
So what's on this standard list?  Take a deep mental breath; molded silver-flake front nose cap, wireless infrared back up camera with 7" color monitor, full-length boxed side awning, Group 31 AGM battery, 24" HDTV with DVD player, raised panel cherry cabinet doors, ball bearing drawer guides, LED interior lighting. 15" high-rise kitchen faucet with pulldown spray nozzle (featured in today's story graphic), upgraded innerspring mattress with pillow-top, and molded gold-flake Granicote kitchen counters, dinette table top, and bathroom counter.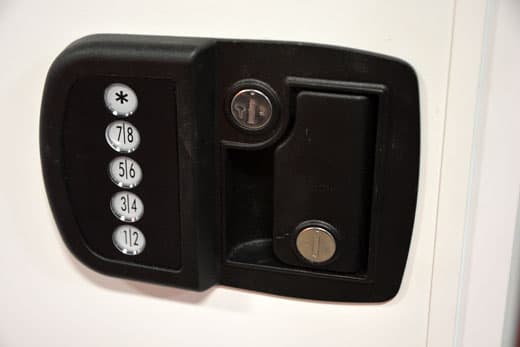 There's more.  To the best of our knowledge, some of the standard features of the Illusion series are truck camper industry firsts including the thermal-foil wrap to improve insulation, electric keyless entry door (see above), and LED loading assist strip lighting under the cabover nose.
We're particularly interested in the foil wrap, a product Dustin likened to the insulation wrap used on residential home construction.  Dustin explained that the foil is used in the roof, floor and sidewalls to create a 360-degree insulating wrap in the Illusion series.  Since we couldn't see the material, we asked Dustin for pictures, but so far we've been foiled.  It's a joke – "foiled", get it?  Geez, tough crowd.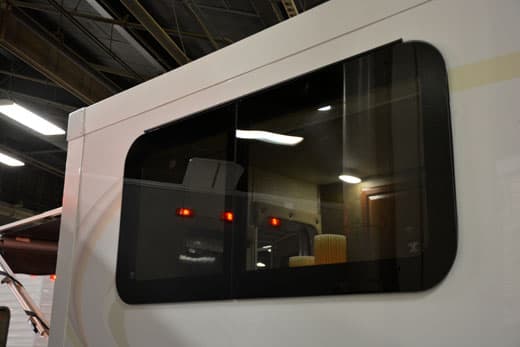 If Travel Lite stopped there we'd have ourselves some exciting new campers, but there's even more.  We were very excited to see thermal pane frameless windows on the Illusion models giving the exteriors a modern aesthetic.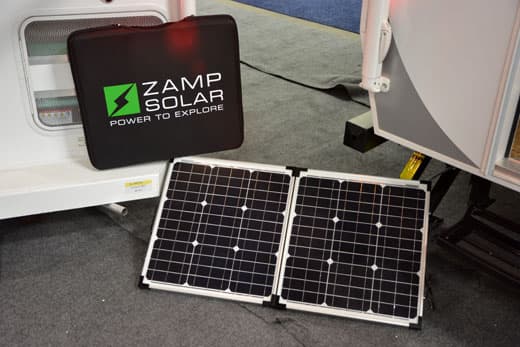 And then there was another surprise; a standard 80-watt portable solar panel.
Dustin and his team have gone all-out with every technology and feature they could think of, and then they priced these camper to move.  The 2014 Travel Lite 1000-SLRX Illusion is $29,995 MSRP.  The 2014 Travel Lite 1100-RX Illusion (formal new camper announcement in the works) is $26,995 MSRP.  The luxury truck camper market just got a lot more interesting.