LOKI Basecamp has released renderings of the Icarus 6 and Icarus 8 reinforced fiberglass hard side truck campers.  The Icarus line is designed for long or short-bed half-ton trucks, off-road use and extreme weather conditions.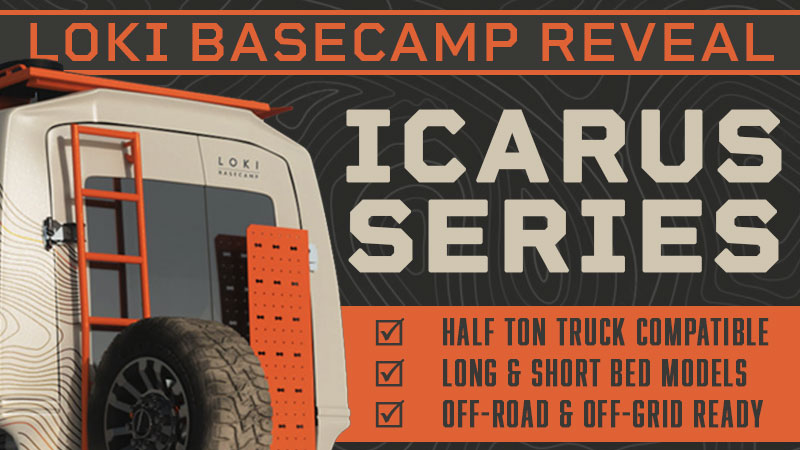 LOKI Basecamp is setting its sights on the half-ton, hard side, extreme overland and four-season capable truck camper market with their forthcoming Icarus series.
The Icarus camper line is based on fiberglass truck bodies up-fitted with extensive upgrades including structural hull reinforcements, R-16 double-density synthetic composite insulation and thermal pane acrylic windows.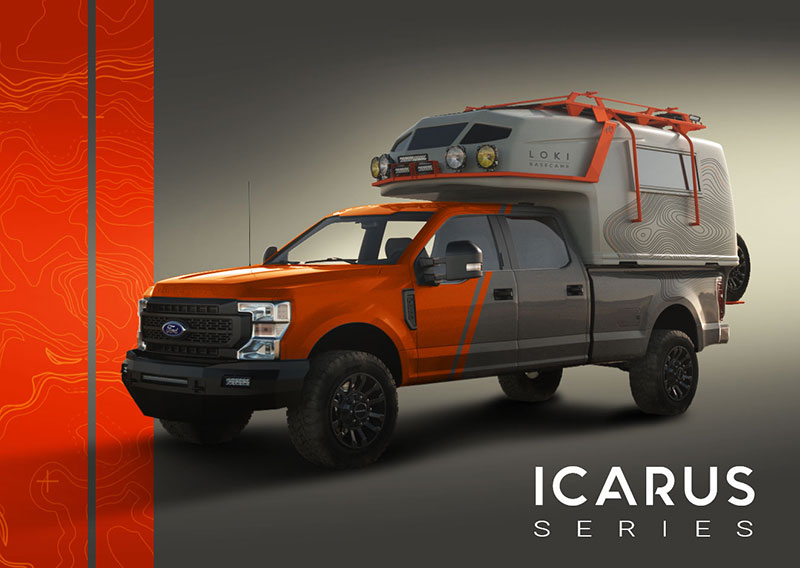 The selection of a fiberglass shell should mean minimal seals to maintain, excellent durability, and (without the need of a frame) lower weight.  We will dive deeper into each of these points when the physical campers debut.
For exterior options, LOKI has indicated that a secondary rear door, spare tire rack, utility rood rack, retractable canopy, and a front LED bar up to 28,000-lumens will be available.  That's about the light-output equivalent of 17.5 100-watt household light bulbs.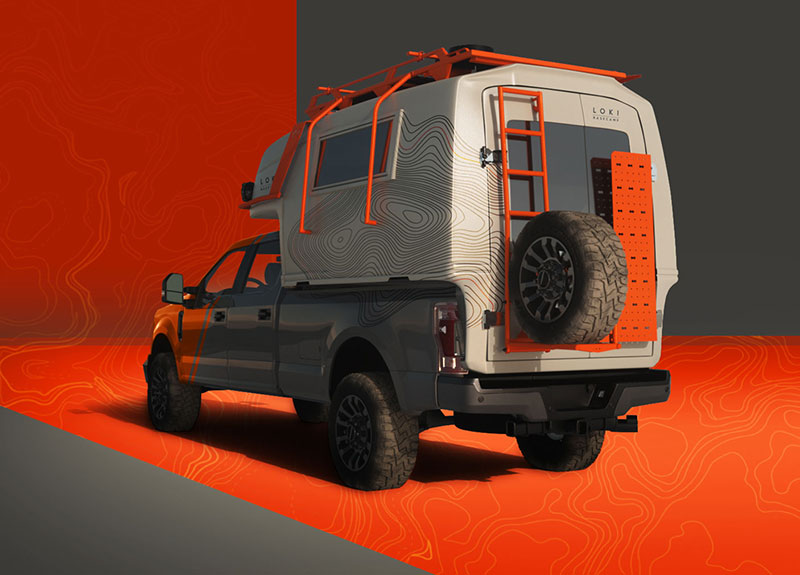 As with the previously launched LOKI Falcon Series, customers will be able to select their exterior color and finish, as well as the interior materials, components and accessories.  Both the Falcon and the Icarus are custom-ordered.
With a solid-nod to off-grid capability, the Icarus will have high-efficiency 12-volt air conditioning system designed to run off a battery bank and solar.  The preliminary data also describes a Webasto system for heat and hot water.  We believe these systems will be similar to what is employed for the Falcon, but the specific systems and their implementation has not been indicated.
What electrical or plumbing systems or components will be built-in versus portable remains to be seen.  It's likely that many features and options will be modular and removable as that has been the emerging trend.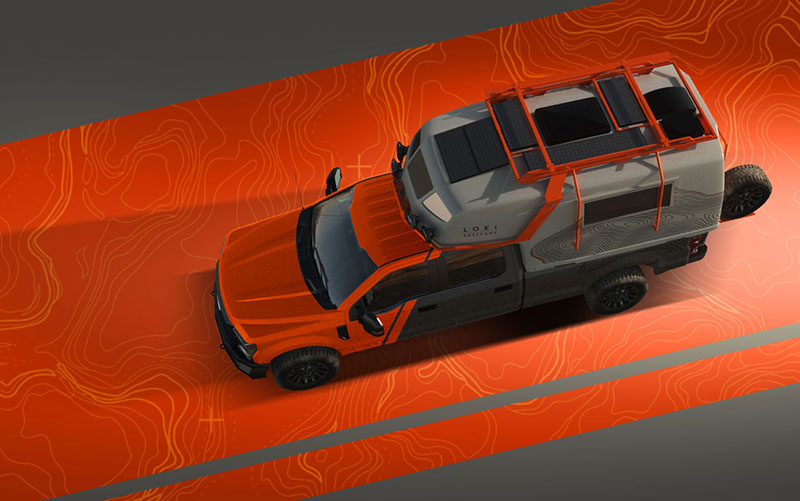 LOKI Basecamp's data for the Icarus line presents up to 300-watts of solar, up 600-Ah lithium battery bank, and a 2,000-watt inverter/charger.  While the solar panels are shown to be permanently mounted, it's possible the battery and inverter will be supplied in the form of a portable lithium power station, or it could be 100-percent built-in, or a hybrid.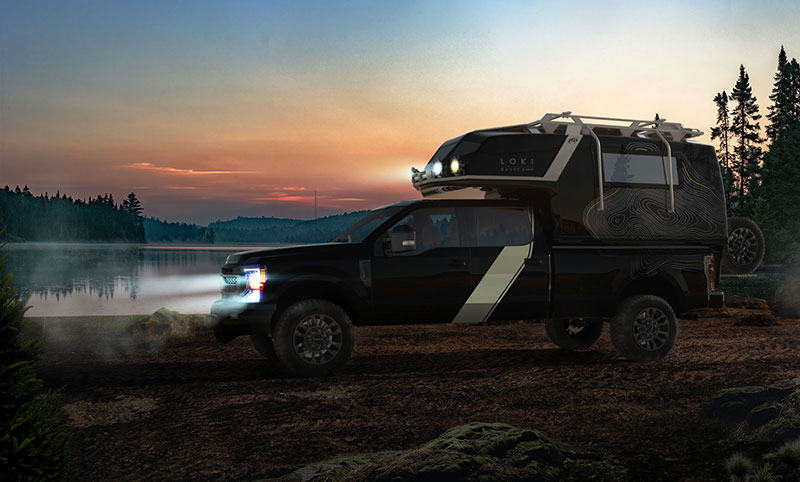 LOKI has not released interior renderings, but they have given us a few details about what's in store.  Inside the main doors will be a mud room with a removable shower, rail system to dry equipment, and a bracket for a removable table.
The kitchen area will feature on-demand water pump, a fresh and grey tank, stainless steel sink with fold-down faucet with cover, mobile induction cooktop, and an as-yet-unspecified refrigerator.
Rounding out the interior will be a multi-functional seating area and removable table, capacity for a queen-sized bed (60-inches by 77-inches), space for a portable toilet, multi-purpose rail system, a rooftop hatch, and a MaxxAir Deluxe roof fan for airflow.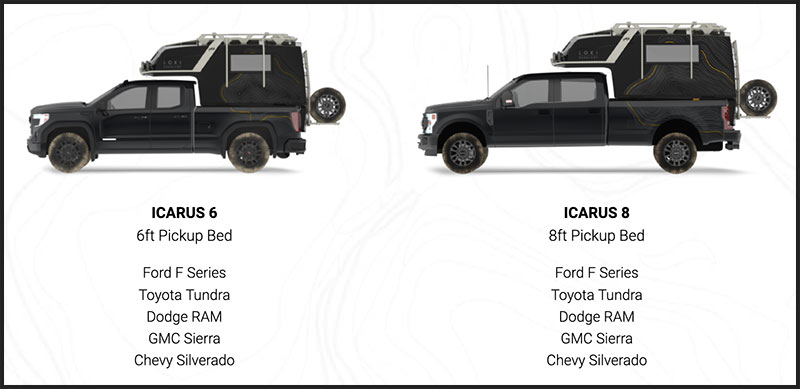 Pricing for the Icarus 6 and Icarus 8 has been announced at $69,000 USD and $89,000 CAD for either model.  That price does not include options, and the official standard feature list has not been released.
For the moment, all we have are these renderings and preliminary data.  When the first Icarus models are completed, we will bring you the full model details, photography and an in-depth interview with the LOKI design team here in Truck Camper Magazine.
For more information on the LOKI Basecamp, visit their website at lokibasecamp.com.  Click here to request a free LOKI Basecamp brochure.