LOKI Basecamp has released interior renderings and the very first photographs of their forthcoming Icarus molded fiberglass truck camper.  They're already preparing a Velocity Blue 2021 Ford F-350 demo truck.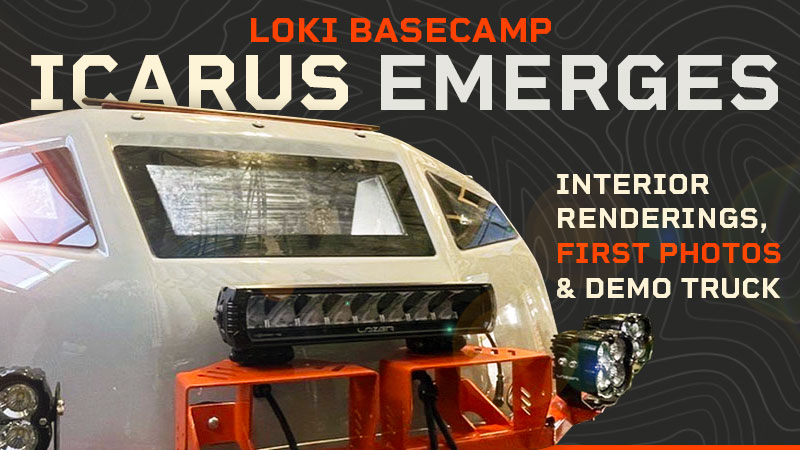 In early August, LOKI Basecamp presented exterior renderings of their forthcoming Icarus hard side truck camper.  From the available information, we can confirm that the new molded fiberglass camper will be half-ton compatible, available in short or long bed models, and is leaning heavily towards the off-road overland market.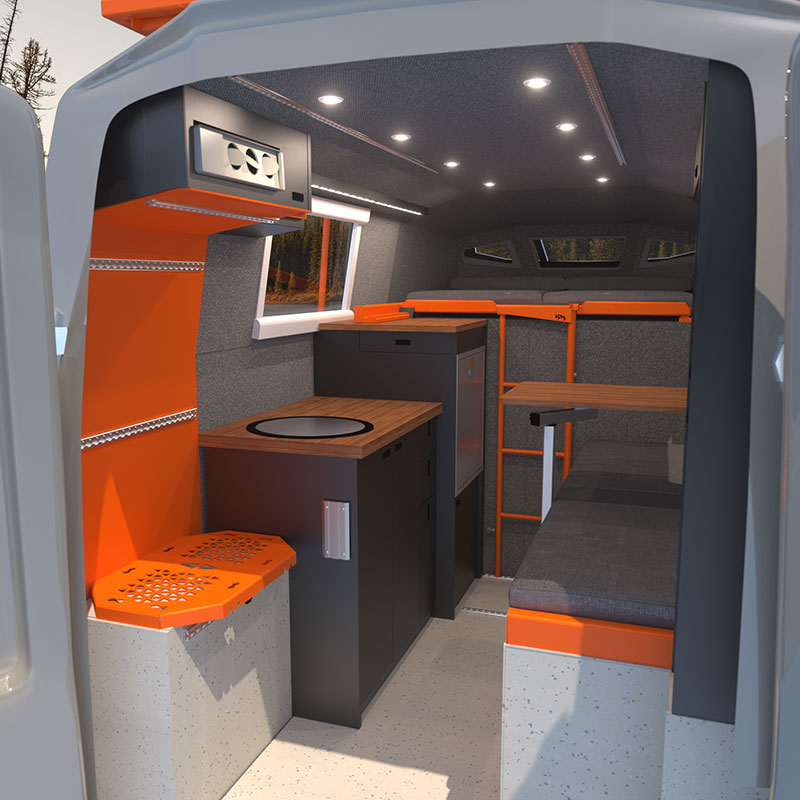 The new interior renderings are our first glimpse into what the interior of the Icarus 8 will look like.  At first blush, the modern grey and orange color scheme carries into the unit accented by the natural wood counter and tabletops.  We can also see a kitchen sink, refrigerator, front cabover, and a side sofa sitting area with a Lagun table system.
Immediately inside the rear double doors on the driver's side is a version of the mudroom-seat-storage area we saw in the Loki Falcon 8.  In fact, the Icarus floor plan feels a bit like a smaller version of the Falcon 8 floor plan.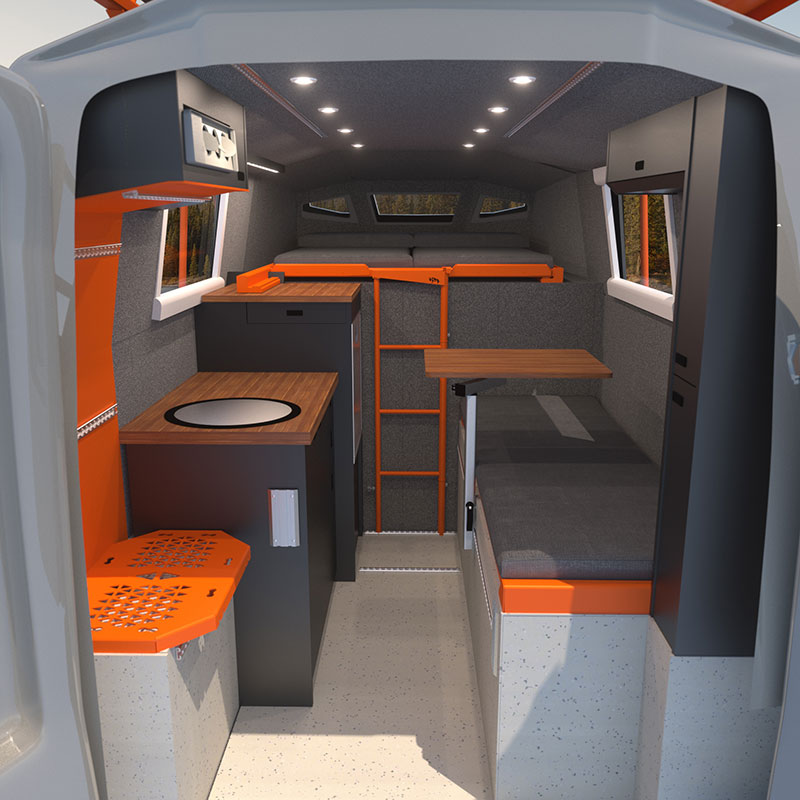 Mid-ship on both sides of the camper are what appear to be Tern Overland windows – presumably acrylic.  LOKI Basecamp offers glass Arctic Tern for its Falcon series, but they have not yet released which windows are being offered standard or optional for the Icarus.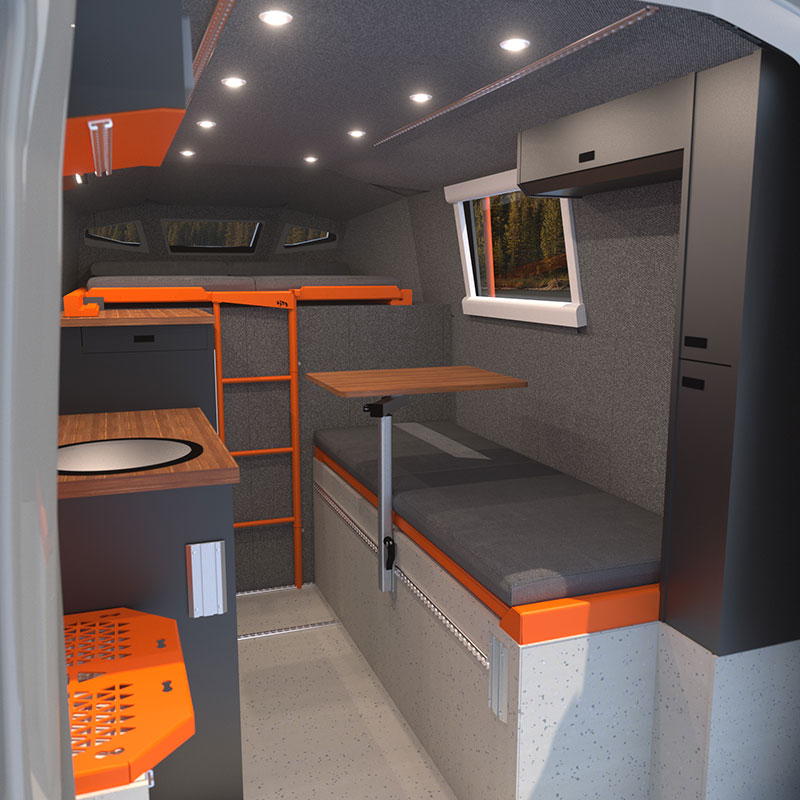 Keen eyes will discover what appears to be a piano-hinge under the sofa seat, presumably for storage and/or access to plumbing and electrical systems.
Additional storage is difficult to make out without seeing open compartments, but we can see vertical cabinetry at the rear passenger's wall and horizontal cabinetry along the rear passenger's ceiling.  Presumably, the driver's side sink, mid-cabinet, and cabover areas contain additional storage opportunities, but we won't have confirmation until the production unit is revealed.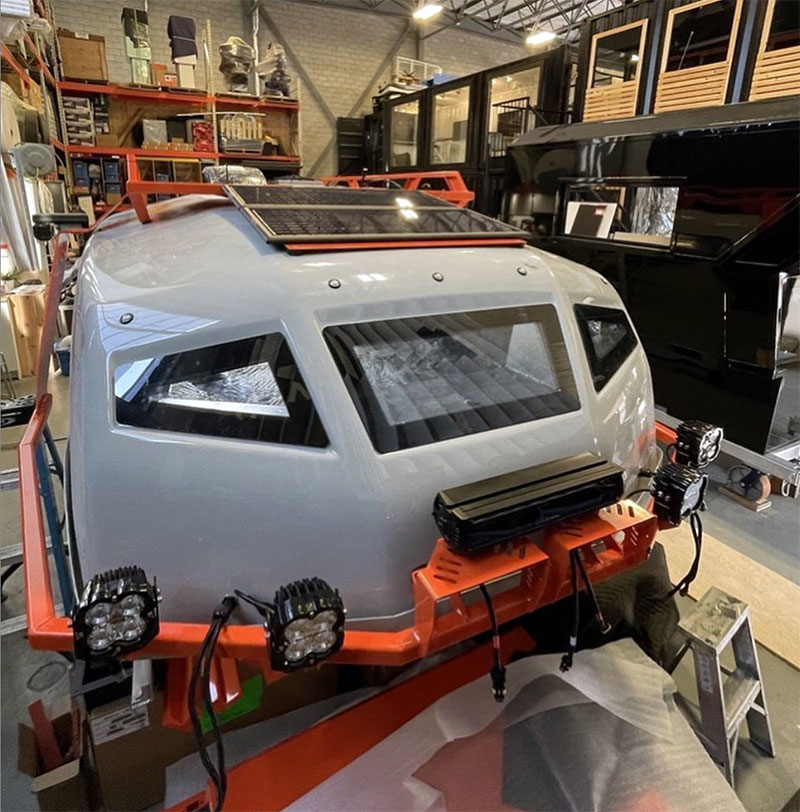 LOKI Basecamp has also released the very first actual photographs of the Icarus on the LOKI production line.  The photos reveal an integrated roof and side rack around the molded fiberglass body.  This cage provides ample mounting opportunities for off-road LED lights, surfboards, skis, kayaks, and other toys and overland accessories.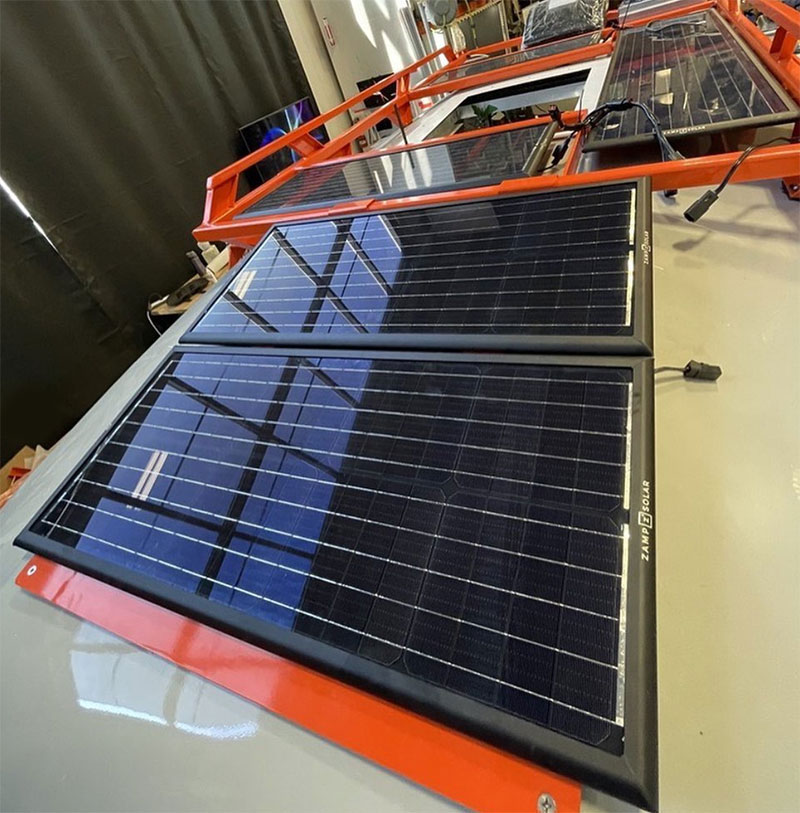 The roof is adorned with at least four Zamp Obsidian solar panels contained in the orange rack system.  Zamp Obsidian panels are ultra-low profile for less weight and improved aerodynamics.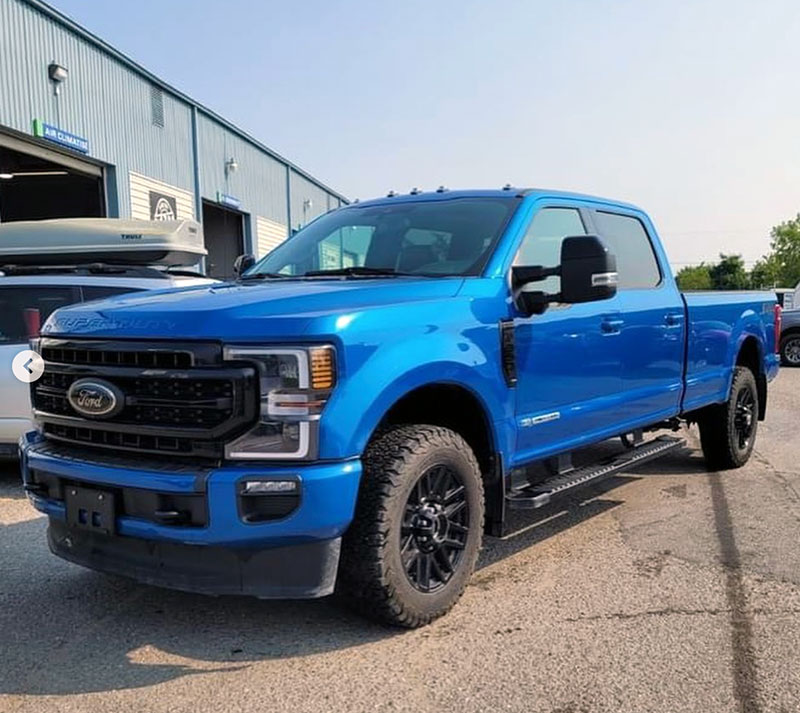 Loki Basecamp is also preparing a demo truck – a Velocity Blue 2021 Ford F-350 – with a Warn Ascent HD front bumper and winch and Fox Shocks.  The Velocity Blue is sure to complement the deep bright orange of the Icarus exterior and interior metalwork.  Nothing subtle here.