We get our first look at a custom LOKI Basecamp Falcon truck camper and truck.   That's right; LOKI also customized the customer's Ram 3500 Cummins Diesel with features to match their impressive new camper.  You may never look at back seats the same way again.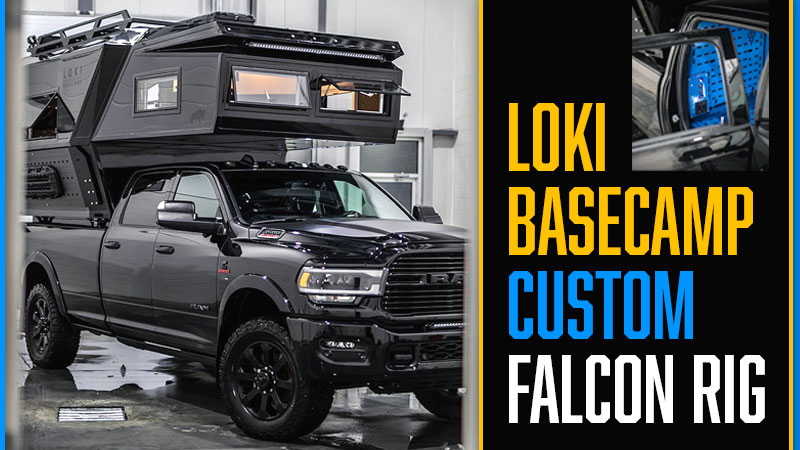 Last summer, LOKI Basecamp debuted their overland-focused Falcon series of truck campers in Truck Camper Magazine.  The full-size, hard side, non-slide camper presented a daunting list of forward-leaning features, materials, and technology.
For starters, the multi-faceted aluminum shell and C-channel aluminum frame were designed to offer R-16 insulation for Canadian winters.  The back of the unit opens wide with a huge rear hatch.  The windows are European expedition-rated glass.  The roof is a custom multi-function aluminum roof rack system incorporating Zamp Obsidian solar panels.
A rear multi-function swing-arm and tire rack also offered a number of customizable features and options.  And if that's not enough, the LOKI Falcon featured removable camper jacks, interior rail system, 12-volt Autoclima air conditioner, 12-volt compressor refrigerator, Webasto diesel heater system, and a state-of-the-art lithium battery bank and electrical system.
LOKI Basecamp truck campers are custom ordered and sold factory direct.  As such, they offer an extensive options list.  As LOKI President and Creative Director, Pierre-Mathieu Roy explained to TCM, every LOKI Basecamp is custom built to what the customer needs and wants for their truck camping lifestyle.  Within the Falcon's existing aluminum shell, the possibilities are wide-open.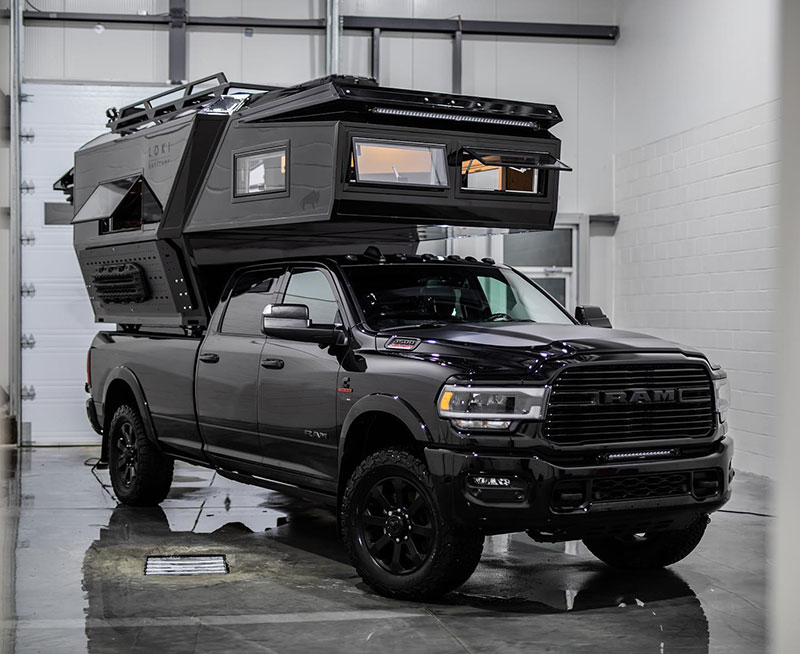 Above: 2022 LOKI Basecamp Falcon 8 and LOKI-customized truck
A Very Custom Falcon Rig
This past week, LOKI showcased a Falcon rig that was not only heavily customized but a broad interior decor departure from the first Falcon.  Where the first Falcon had a mostly grey and LOKI Buffalo-logo yellow aesthetic, this customer's unit brightens up with white cabinetry, warm wood walls, and more subtle blue accents.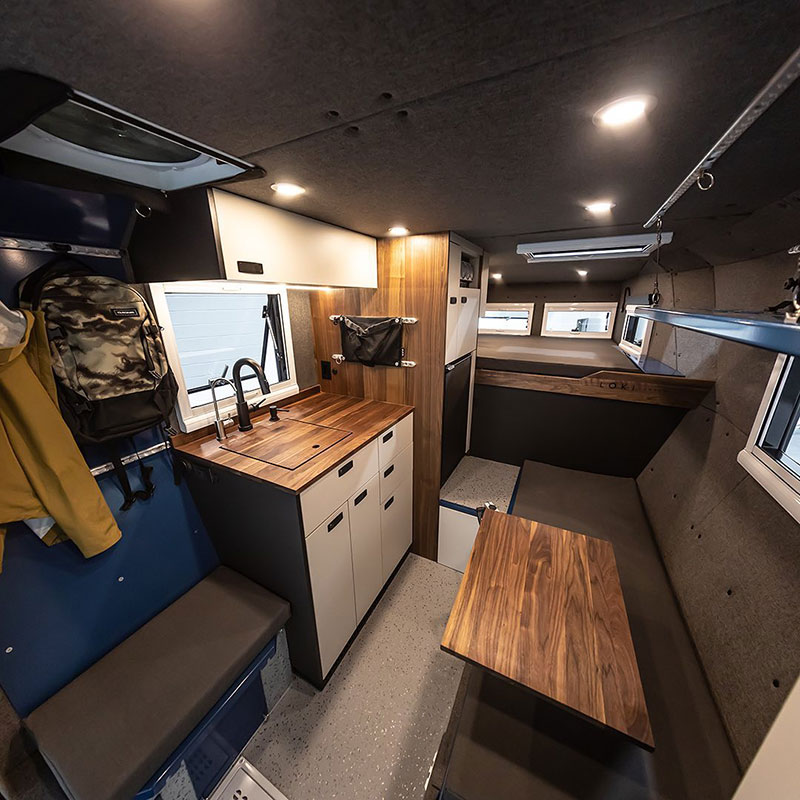 Above: The view from the rear hatch/door.  Note the custom wood and blue metal accents.  The floor access panel has been eliminated, likely to facilitate 12-volt heated floors.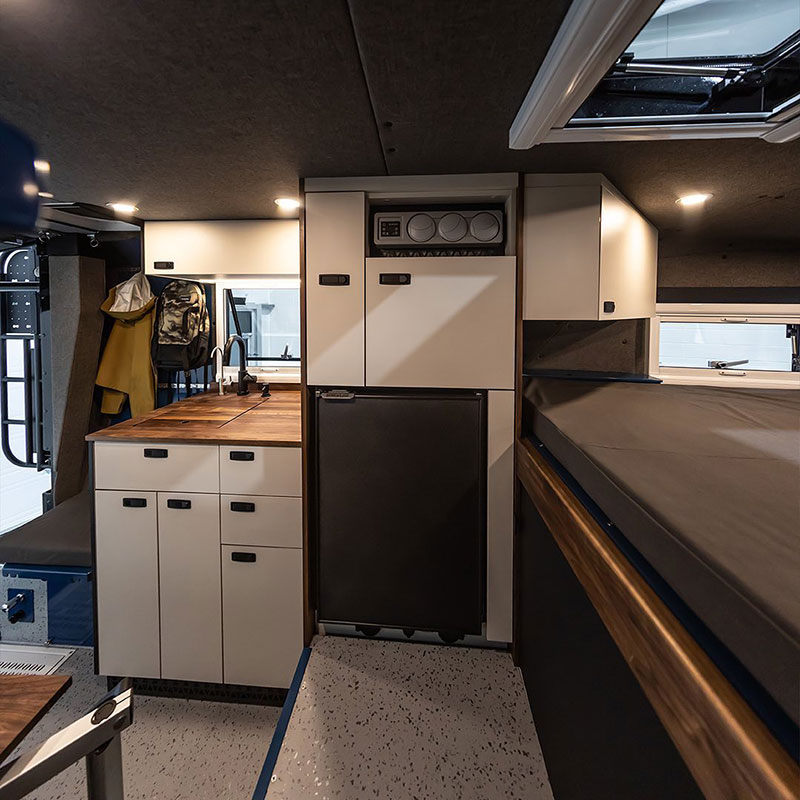 Above: Custom white cabinetry brightens up the interior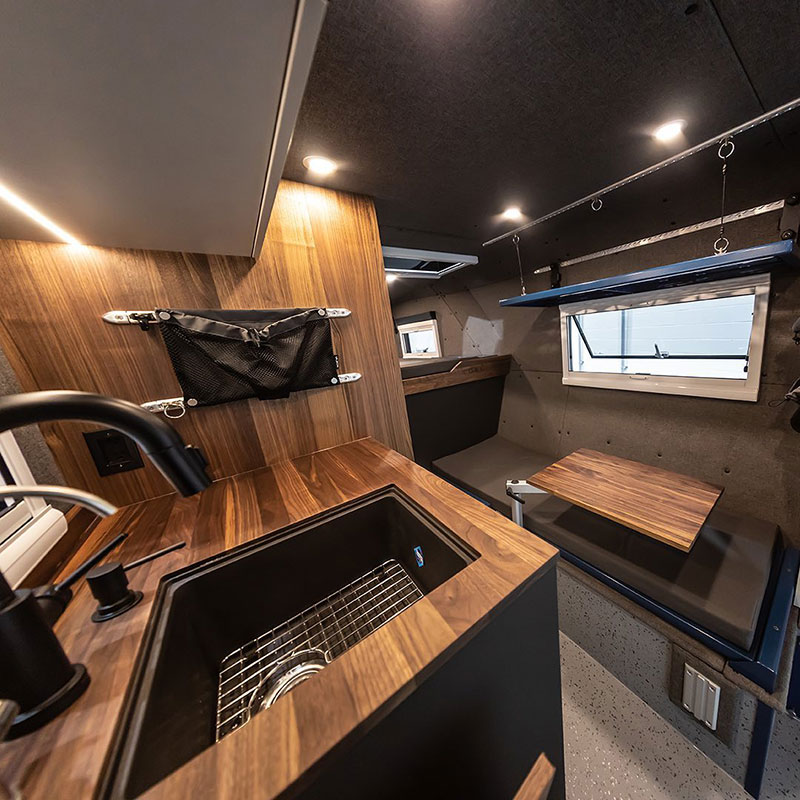 Above: Other details that depart from the first Falcon include the square sink and counter faucet, water filtration faucet, and soap dispenser.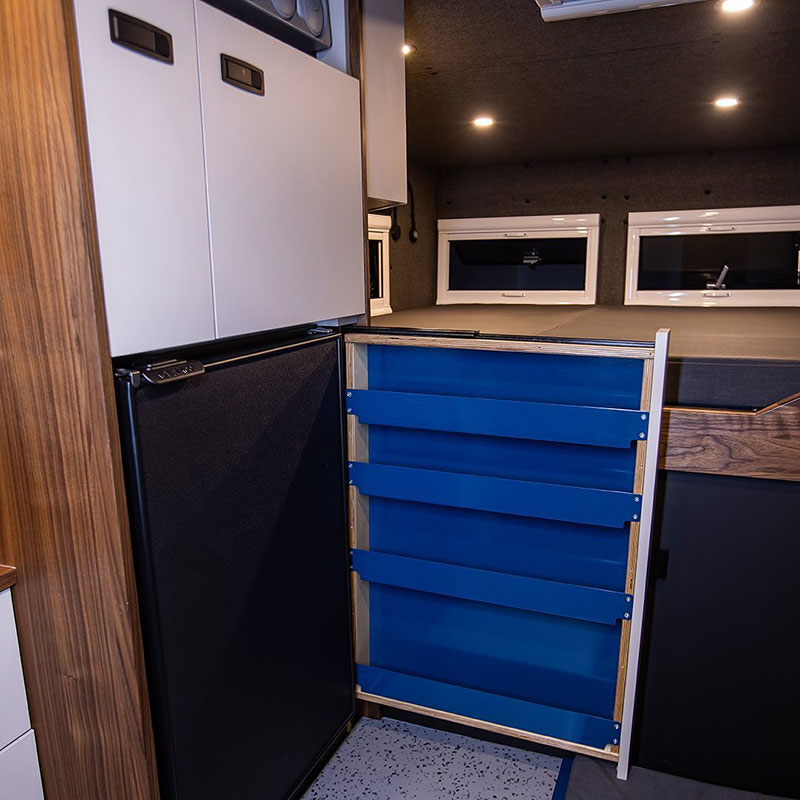 Above: Blue metal accents are found throughout the custom unit.  Here a pull-out pantry adds color.
The exterior of the Falcon 8 and matching truck are entirely blacked-out; right down to the wheels, MaxTrax, LOKI logo and buffalo.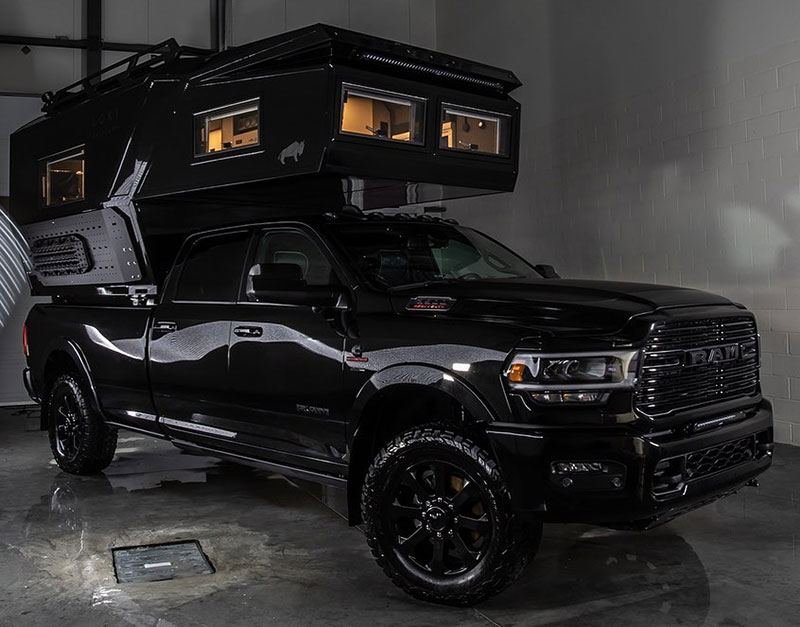 Above: Turn the lights out at night and this rig would disappear.  Note how the lower exterior sides feature a custom aluminum rack system that holds the Maxtrax, and likely a wide range of other overland tools and toys.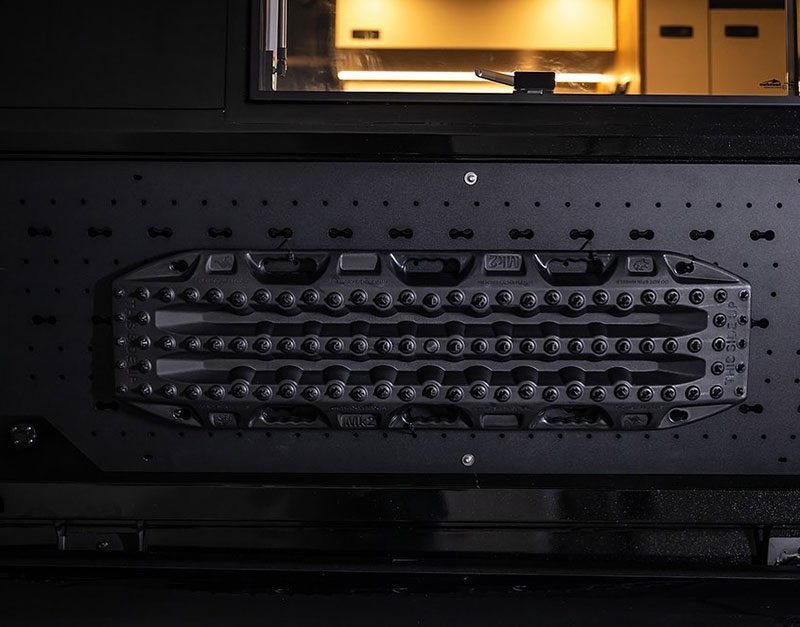 Above: Even the Maxtrax were painted black.  Don't lose these at night folks!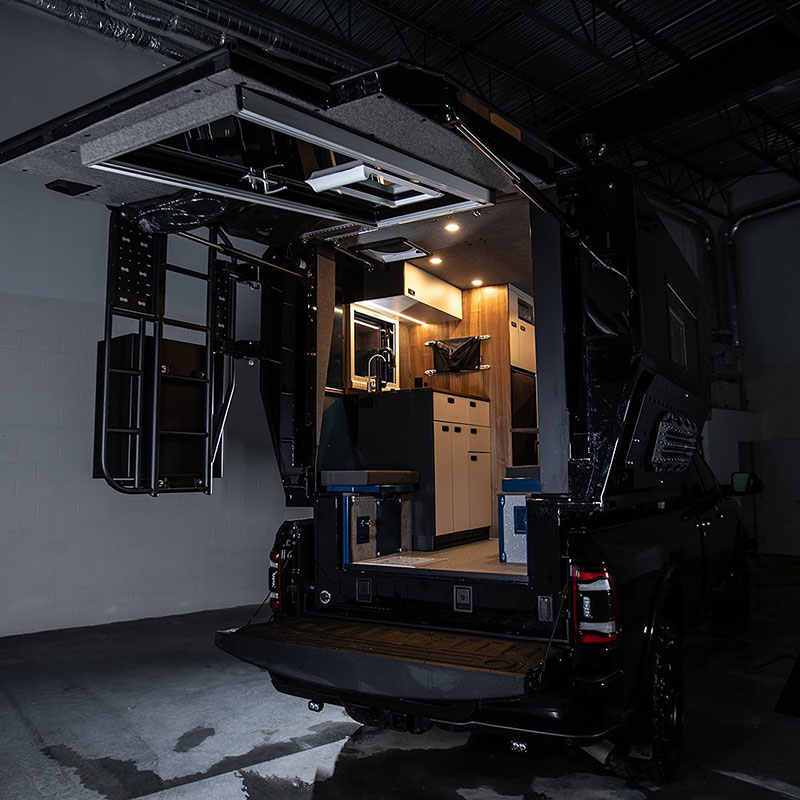 Above: This image shows the rear hatch open, and the inset man door
LOKI is all about giving its customers multi-function and multi-storage features.  This rig is literally covered in them, inside and out, and they didn't stop with the truck camper.  On to the Ram 3500.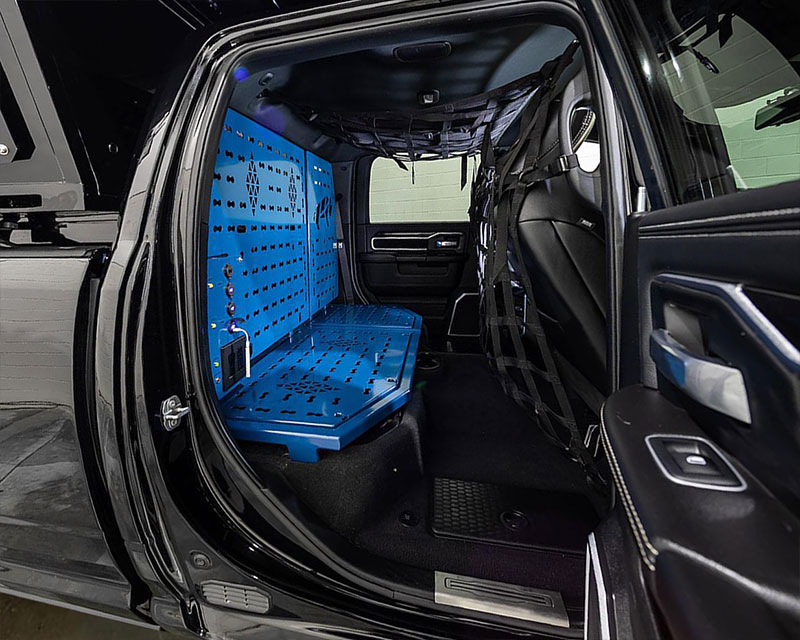 The Ram truck's rear seats were removed and replaced with – you guessed it – a multi-function storage rack and electrical system.  Behind the passenger's seat are multiple electrical ports including 12-volt and 110-volt power.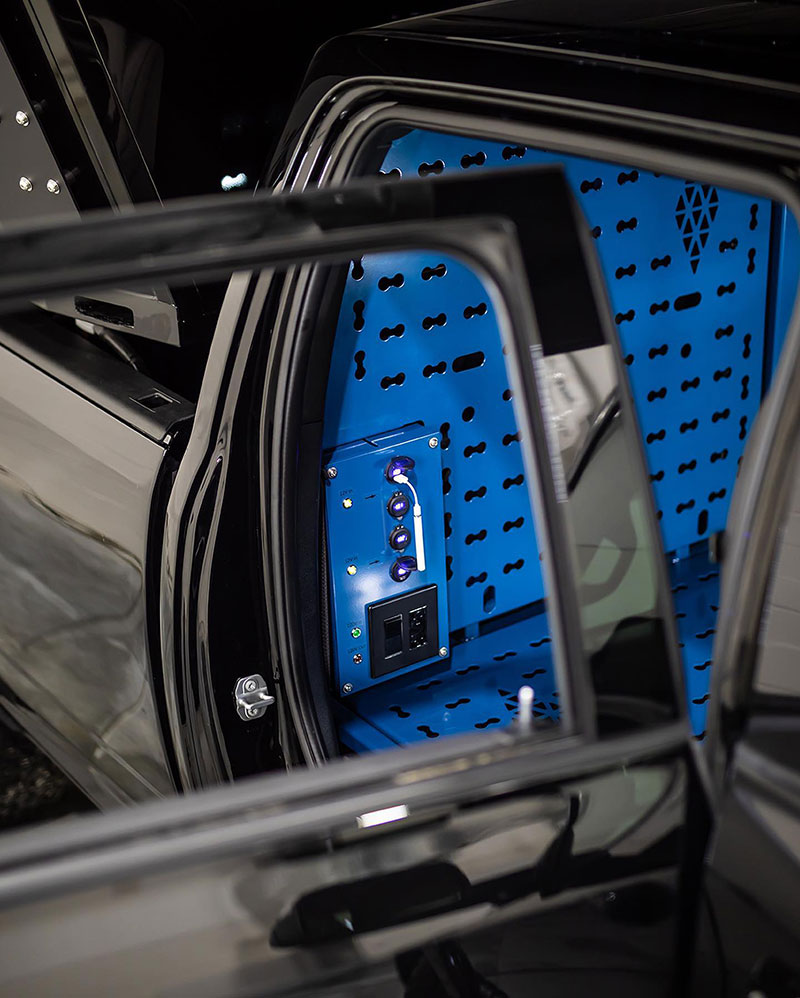 If this isn't one of the most functional back seat areas we've ever seen, we don't know what is.  And it's blue to match the camper's interior!
No word on the specific options this particular customer requested, but it's fair to say this is the most impressive LOKI Falcon rig we've seen yet.  If this rig landed at SEMA or an Overland Expo, it certainly wouldn't be out of place.  And when the clouds shrouded the moon, or the lights went out, it would practically vanish.