Lance Campers and Cruise America announce the Cruise Truck Camper model T17 in the United States and Canada.  Renting truck camper rigs in the United States just got real.

Before we purchased our first truck camper in 2005, we looked everywhere for an opportunity to rent a truck camper rig.  After all, we wouldn't buy a pair of shoes before trying them on.  Why on Earth would we buy a truck camper before we took one out for a spin?
That idea went right out the window when we discovered that no one in the United States (outside of Alaska) was renting truck campers.  If we wanted to try out a truck camper, we would have to buy one.  I distinctly remember driving home after purchasing our first camper thinking, "I sure hope we like this thing!"
We didn't like our new truck camper, we loved it!  In fact we loved it so much that we ended up starting this magazine about them.  And ever since stepping into the shoes of Publisher and Editor nine years ago, we have heard from frustrated readers looking to rent a truck and camper in the United States before purchasing one for themselves.
Upon reporting this demand to the truck camper industry, we learned about the considerable costs and logistics of setting up a rental truck camper service.  A dealer needs rental truck and camper rigs, proper insurance, scheduling, cleaning, maintenance, repairs, roadside assistance, and trained staff to handle customers who are often completely new to RVs.  Renting truck campers is not a side-business, but rather a whole new business in and of itself.
You Can Now Rent A Truck Camper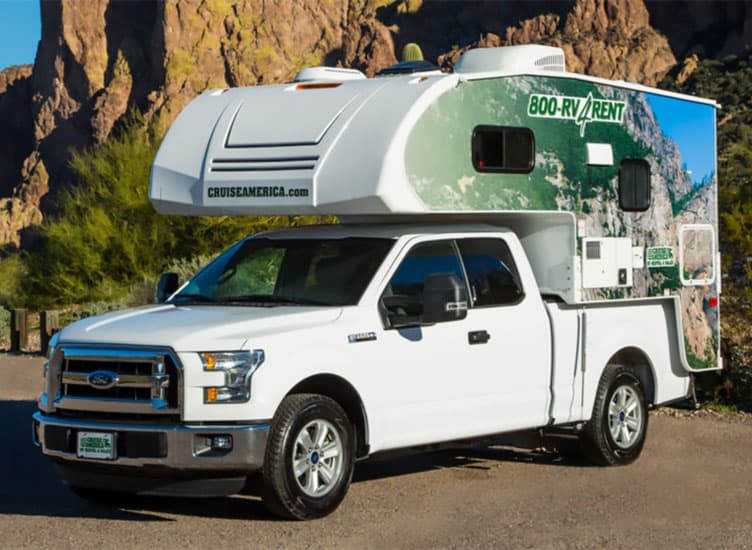 Bob Rogers, Director of Marketing, contacted us last week to announce Lance Camper's new rental partnership with Cruise America.  Starting this Spring, Cruise America will rent Lance truck campers in four locations; Los Angeles (Carson), San Francisco, Vancouver (Delta), and Calgary.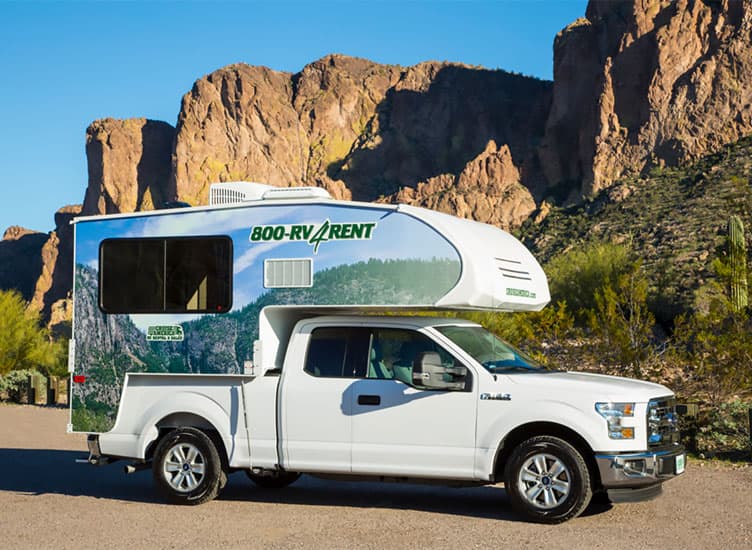 Yes, the last two locations are in Canada, but that's not the big news here.  The big news is that truck camper newbies can now pick up a complete truck and camper rig in Los Angeles or San Francisco and get the experience of driving, parking, operating, and living in an honest-to-goodness truck camper.  "Try it before you buy it" is finally available for truck campers in the United States.
Even better, there's a ton of amazing destinations within striking distance of Los Angeles and San Francisco including Sequoia National Park, Kings Canyon National Park, Joshua Tree National Park, vineyards in Napa and Sonoma, and the incredible Pacific Coast Highway.  If that list doesn't get your fun and adventure blood pumping, it should.
Rent A Lance 650 Camper
The price point, fuel economy, and capacity of the new aluminum-body Ford F150, along with Lance's new 650 model, were the catalysts for Cruise America's new truck camper initiative.  Cruise America is exclusively focusing on the half-ton compatible 650-based model, and does not plan on offering larger Lance truck campers, or slide-out truck campers at this time.
The trucks are Ford F150 XLT Super Cabs with 5.0L V8 engines, automatic transmissions, and 2-wheel drive.
The campers are based on the Lance 650 and are re-badged as Cruise America T17 models.
Cruise America describes the T17 as sleeping up to three people.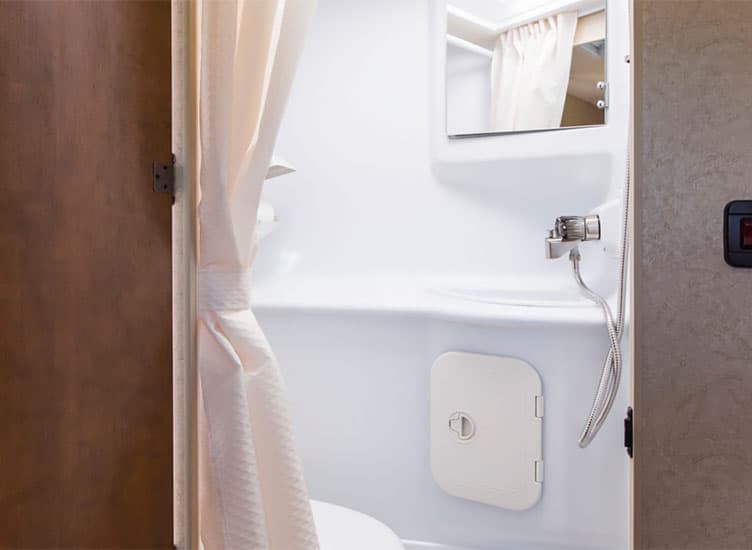 There is a wet bath with shower and toilet in the Lance 650/Cruise America T17
It also has a 5-gallon propane gas tank, 22-gallon fresh water tank, 16-gallon black tank, and 15-gallon grey water tank.  There is a 3-cubic foot propane AC/DC refrigerator and a 6-gallon propane water heater.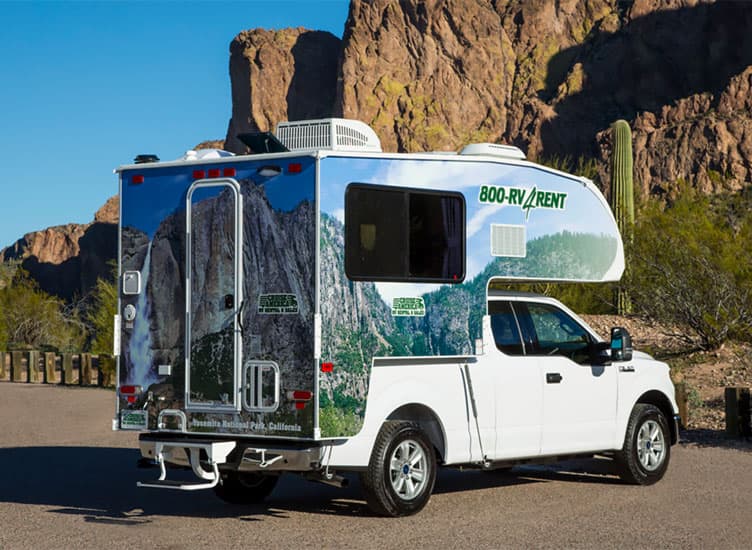 Changes to the Lance 650 are primarily cosmetic, but do include some appliances.  The exterior of the Lance has been wrapped with Cruise America's branding and imagery.
The interior fabrics were changed to Cruise America's heavy-duty and wear-resistant materials.  For maintenance efficiency, some appliances were changed to match the rest of Cruise America's fleet.
Truck Camper Rental Fees
Cruise America is pricing the truck camper rentals inline with their compact motorhomes.  Off-season base price will be around $100 a day.  In peak season, the per-day base price could be as high as $200 a day, depending on demand.
Expect to pay approximately $238 for 700 miles, a damage deposit, and state tax.  Supplemental liability insurance and vehicle prep is included in the base price.
In addition, you might need a Cruise America Kitchen Kit ($100) with broom, pots, pans, dishes, cups, flashlight, and silverware.  Cruise America also offers Personal Kits ($55/each).  The kits include bath towels, dish towel, pillow, pillowcase, sheet, sleeping bag/comforter, and wash cloths.
Cruise America is not reporting how many rental truck campers will be available.  There will be sufficient capacity in Los Angeles, San Francisco, Calgary, and Vancouver for the rental season.
Pickup, Drop-Off, and Border Crossings
To comply with registration, insurance, and Cruise America inventory logistics, rented truck campers are required to return to their country of origin.
For example, if you rent a truck camper in Los Angeles, you can visit Canada, but you must return the unit to either Los Angeles or San Francisco.
Obversely, truck campers rented in Vancouver and Calgary can visit the United States, but must be returned to Vancouver or Calgary.
Renting Campers in the USA is Finally Here
We're hoping that Lance Campers and Cruise America are successful in their new partnership.  It would be great if they expand the rental truck camper fleet to the 100+ Cruise America centers across the United States.
Having rental truck camper rigs available would be a major game-changer introducing hundreds and then thousands of new and younger buyers to the product and lifestyle.  Having all those rental truck campers criss-crossing the country certainly won't hurt either.
Would you rent a truck camper?