Soaring Eagle launches a new hard side, non-slide, truck camper targeting mid-size trucks. This all-aluminum and composite design features built-in components, a face-to-face dinette, and a pull-out North-South bed. And if that doesn't grab you, shut the tailgate!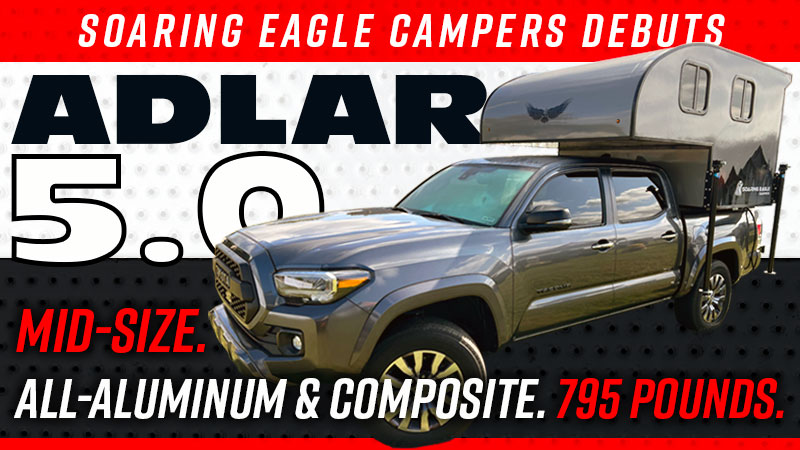 Ten years ago, the truck camper industry was routinely targeting the half-ton marketplace with hard side campers and missing the mark. Time after time, we would announce new 'half-ton' models that weighed in well over 1,700 pounds with even a hint of options. Loaded and wet, these models almost always crossed the 2,000-pound threshold leaving all but the most stout half-tons behind.
Fast forward to the future we live in and camper companies have not only found the formula to meet the half-ton weight target, but the payload anemic mid-size truck market too. How? With extreme design simplicity and bolder material choices. Design teams of yore were largely unsuccessful in simplifying their campers to the necessary extreme, and shied from breaking their traditional camper material and build approaches. As Yoda said, "That is why you fail."
On this path, breakthrough inspirations came from an unexpected source; the overland community. Free of the expectations of the traditional truck camper marketplace, overland approaches everything from a practical perspective. This approach demands everything be designed and built for the ultimate strength-to-weight ratio and skews towards function and versatility over form and comfort.
This 'overland' mindset would have been literally unthinkable in the traditional board room design meetings a decade ago. Back then, if a traditional camper designer had said, "Forget the enclosed bathroom and put a porta-potty in the main living area," they probably would have been laughed at, then fired, then chased out of the building. You laugh, but I'm serious. We're talking about a literal sea change here.
This brings us to Soaring Eagle and their new Adlar 5.0. Here we have a hard side, non-slide truck camper targeting mid-size trucks. We also have the perfect example of what's possible when you take traditional truck camper design acumen and experience and blend it with the innovations showcased by the overland market.
We saw the Soaring Eagle Adlar 5.0 in person this past September at the Elkhart Open House. What is likely to surprise everyone is how open and functional it felt inside. The Adlar 5.0 truly blends the function and comfort of traditional campers, with the extreme simplicity of overland. The fun will be seeing which of these two very different markets takes to this model. My bet is on both.
To learn about the Adlar 5.0, we talked to Scott Tuttle and Scott Bradshaw, Partners at Soaring Eagle Campers.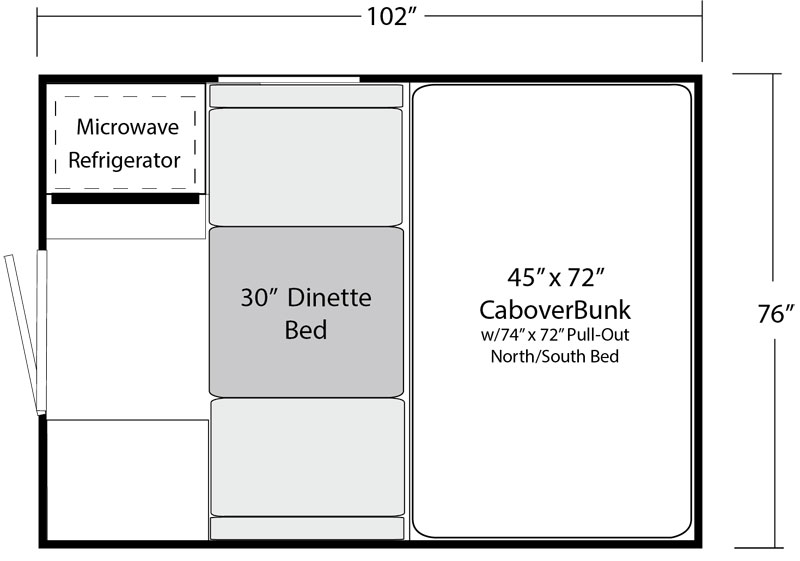 Above: The 2024 Soaring Eagle Adlar 5.0 floor plan
2024 Soaring Eagle Adlar 5.0 Specifications
The 2023 Soaring Eagle Adlar 5.0 is a hard side, non-slide truck camper made for mid-size trucks. The interior floor length is 4'9", the width is 3'5", and the interior height is 6'0". The center of gravity is 20". The Adlar 5.0 does not have holding tanks. It can accommodate two Group 27 batteries.
Soaring Eagle is reporting the base weight of the Adlar 5.0 at 795 pounds. The base MSRP of the 2024 Soaring Eagle Adlar 5.0 is $17,400. Click here for a Soaring Eagle 5.0 brochure.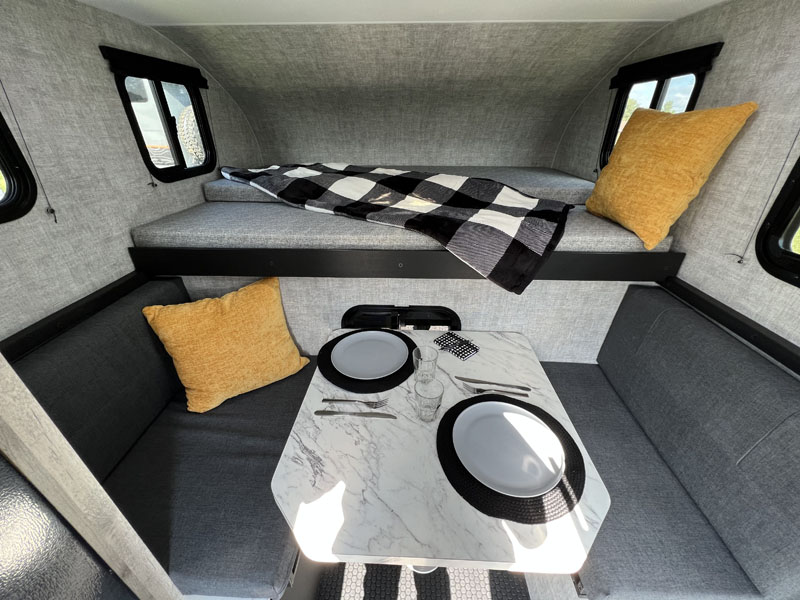 Above: Inside the Soaring Eagle Adlar 5.0
Before we get into the new Adlar 5.0, talk to us about the first year of Soaring Eagle Campers. How are you guys doing?
Tuttle: We've had a positive first year and we've been learning a lot. As we expected, how RV dealers perceive our campers has been the main challenge. Fortunately, this isn't our first rodeo and we've been enlightening the dealer body about the need for a basic production truck camper.
The North American camping report says that there are 64 million people who are tent camping. We are directly targeting that market. They are not looking for traditional RV bathrooms, fake fireplaces, and flatscreen televisions. They want basic amenities. They like to sit, eat, and play games. When those customers discover Soaring Eagle Campers, they like what they see and are buying our campers.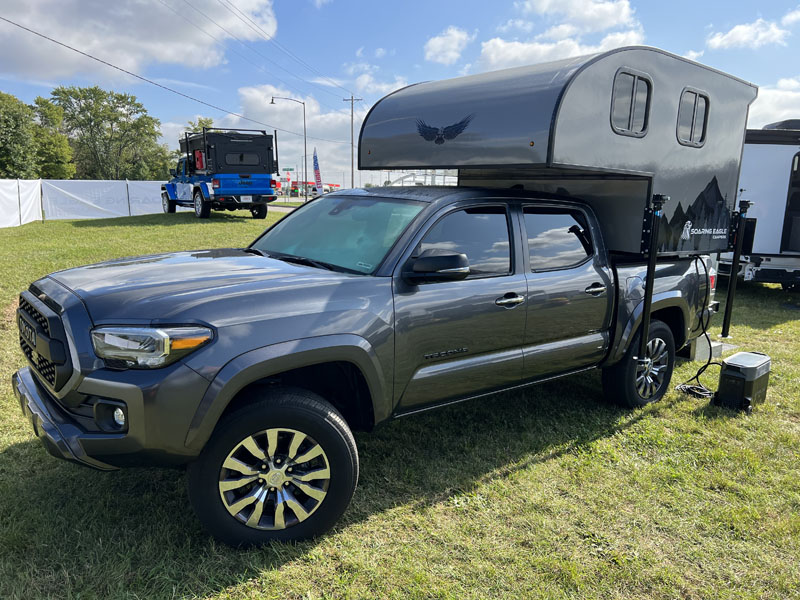 How many dealers are now carrying Soaring Eagle Campers?
Bradshaw: At this point, we have about 30 dealers. There's a map on our website where you can put in your address and it will locate the closest Soaring Eagle Campers dealer to you.
What Soaring Eagle model has been the most popular so far?
Tuttle: Our best-selling camper has been the Adlar 6.5XL, but I'd have to guess next year it might be the Adlar 5.0. The Adlar 5.0 is getting a lot of traction with retail customer inquiries. We believe the mid-size truck market is significantly underserved. There are 10 million mid-size trucks on the road, and there are very few hard side truck camper options for mid-size trucks. We see that as a great opportunity to bring a hard sided slide-in model to the market.
Bradshaw: Production of the Adlar 5.0 started last week and they're shipping out to dealers now. We want the 5.0 to be on display at the January shows.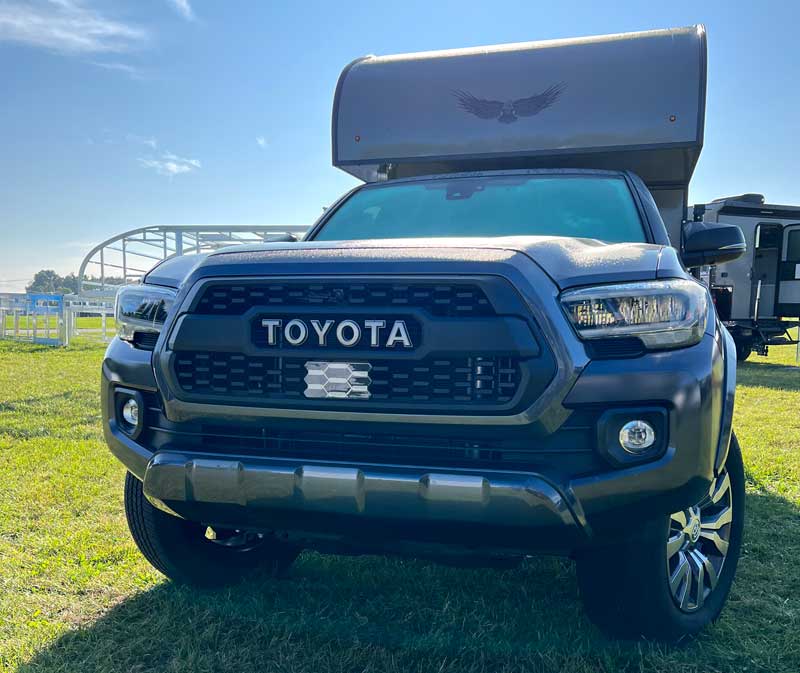 The Toyota Tacoma is a tough weight target to hit for a hard side truck camper. The majority of Tacomas have just over 1,000 pounds of payload. What is the dry weight of the Soaring Eagle Adlar 5.0?
Tuttle: It's 795 pounds dry.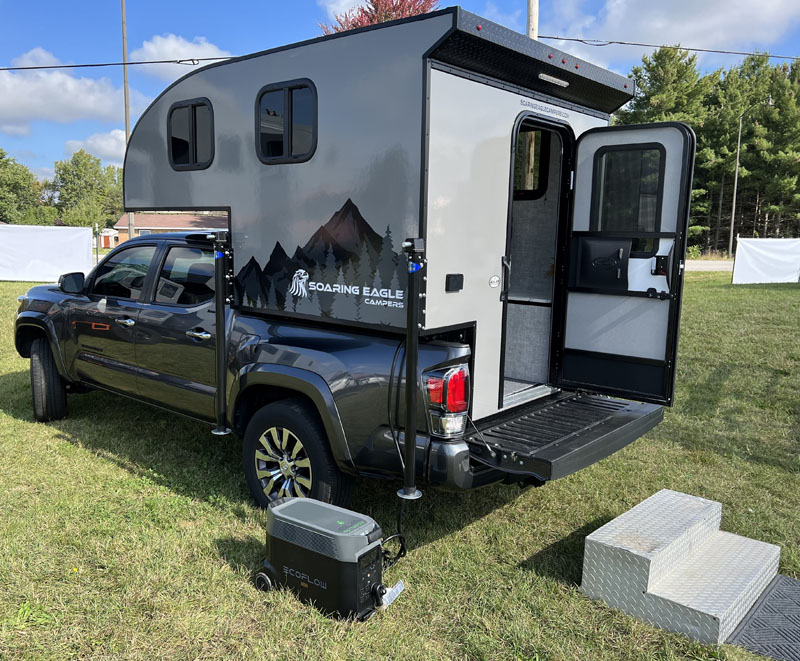 Did you need to change the Adlar design, material, or overall build formula to hit the size and weight target of mid-size trucks?
Bradshaw: No. We use the same tubular aluminum, Azdel composite, and fiberglass that we build our Adlar and OV-X models from. Then, we sized the Adlar 5.0 correctly for the Tacoma and other mid-size trucks. The Adlar 5.0 also has less cabinetry and the refrigerator and microwave are options. We kept it simple.
Tuttle: If you get the microwave and refrigerator, the Adlar 5.0 comes in just under 900 pounds. The Toyota Tacomas offer between 900 and 1,500 pounds of payload. We're right there in those specs.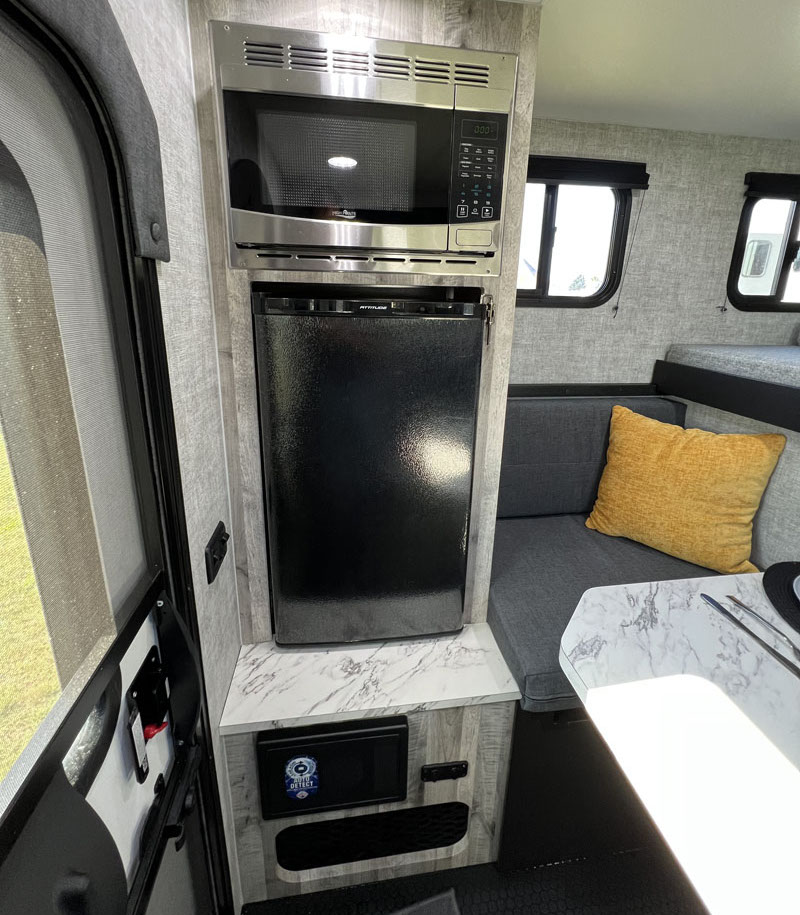 Does the Adlar 5.0 also fit full-size trucks?
Bradshaw: Technically, you can put the Adlar 5.0 on a half-ton. To fit the Adlar 5.0 on a half-ton truck, you will need to lift your camper 3 inches on your truck. The Adlar 5.0 has a lowered cab to fit on mid-size trucks, so without a 3-inch riser, there would be a larger gap between the truck and the camper. You might also need extension brackets and possibly extension plates for your jacks.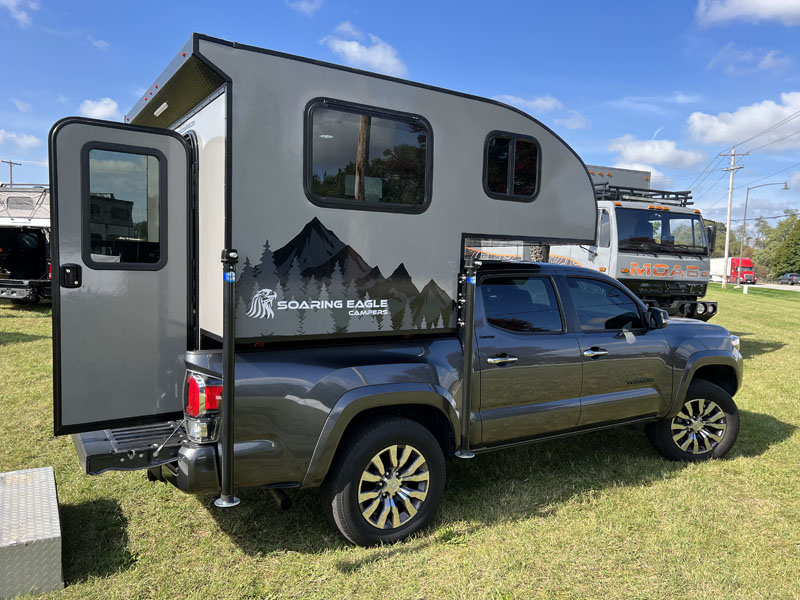 Once you targeted the mid-size truck market, how did you go about determining the exact length, width, height, and overall exterior dimensions of the Soaring Eagle 5.0?
Bradshaw: When we designed the Adlar 5.0, we brought in a Tacoma and Gladiator to our factory. For the other trucks, we verified our design by measuring trucks at dealerships in the field.
Tuttle: Mid-size trucks have similar dimensions between the wheel wells; around 42 inches. Finding out the Adlar 5.0 fits on the Ford Maverick was a bonus. We did not attempt to build something that would fit in Maverick, but there are 41.34-inches in between wheel wells of the Maverick. It's tight, but it will fit.
We also looked at how tall the bed rails are on each of the mid-size trucks. The full-size trucks have 22-inch bed rails. On a mid-size, it's about 19-inches tall. For bed length, the Adlar 5.0 will fit in 5 foot and 6 foot beds.
Did you make any changes to the Adlar 5.0 after building the first prototype?
Tuttle: Scott and I are laughing. We had many debates about what design was better. That's an important part of the process here.
We have design engineers who work with us. The engineers will do the floor, roof, and side drawings. Once the CAD design is done, we make a prototype out of plywood and see how we like it. That's how the 5.0 came together. We had the refrigerator and microwave on different sides and then decided to move them. At one point, there was a side dinette. We like being able to get in a prototype, sit in it, try to use it, and then have the ability to move things around.
When we were at the Elkhart Open House this past September, we made a short video showing how it was possible to shut the tailgate on a Toyota Tacoma loaded with an Adlar 5.0. Was that an important design target for the Adlar 5.0?
Tuttle: That was a Tacoma with a five foot bed. I wouldn't call closing the tailgate important, but we did it on purpose.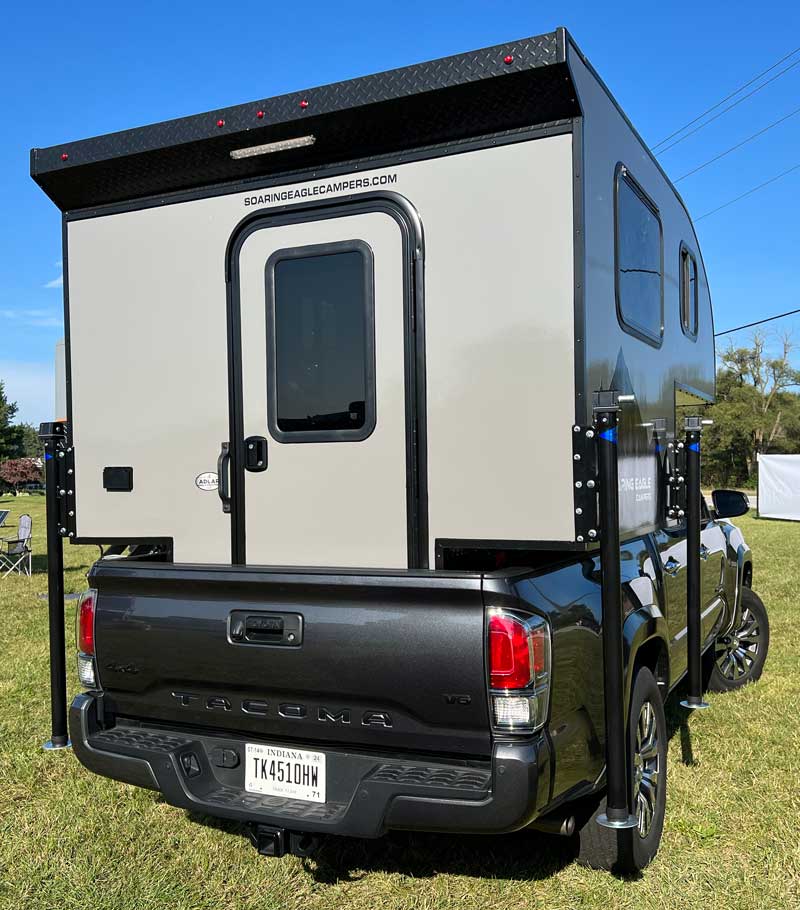 Some people want to use the tailgate backup cameras. For safety, the Adlar 5.0 can be fully enclosed while traveling. Once you get to your destination, you can have the tailgate down and use it as a deck.
The mid-size truck market consists of the Toyota Tacoma, Chevy Colorado, GMC Canyon, Ford Ranger, Jeep Gladiator, and Nissan Frontier. Is the Adlar 5.0 size and payload compatible with all of these makes and models? How about older versions of these trucks?
Tuttle: We have not tested every possible truck configuration but, for the great majority of mid-size trucks, yes absolutely.
Competitors building hard side campers for the mid-size market are trending towards modular solutions to save weight and maximize versatility for the end consumer. Why did you stay the course with built-in components with the Adlar 5.0?
Tuttle: We watch and read Truck Camper Magazine and there are some amazing truck campers out there, but most of them are incredibly expensive in comparison to ours. We are seeing campers similar in size to ours for $40,000 and even $50,000. Remember, we are selling to tenters. It's a stretch for them at $20,000. We want to build a product for the masses.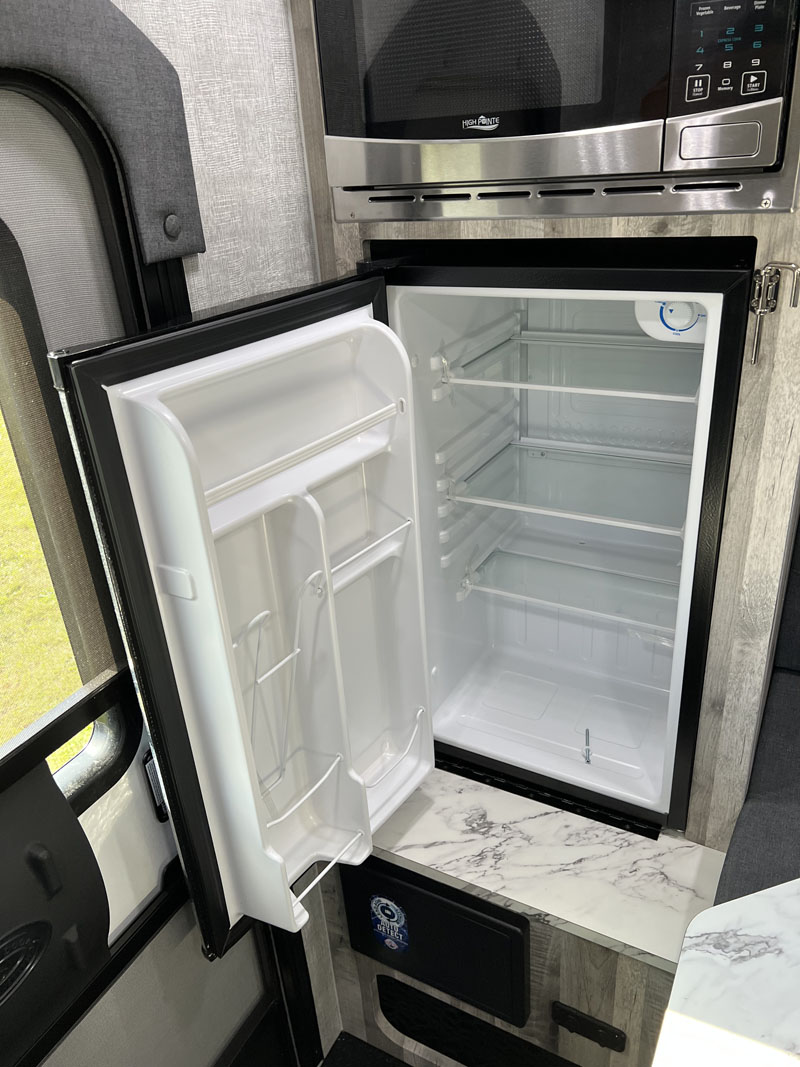 What size and style of refrigerator does the Adlar 5.0 have?
Bradshaw: It's an Everchill 3.3 cubic foot, 12-volt compressor refrigerator. There's even a little freezer in it.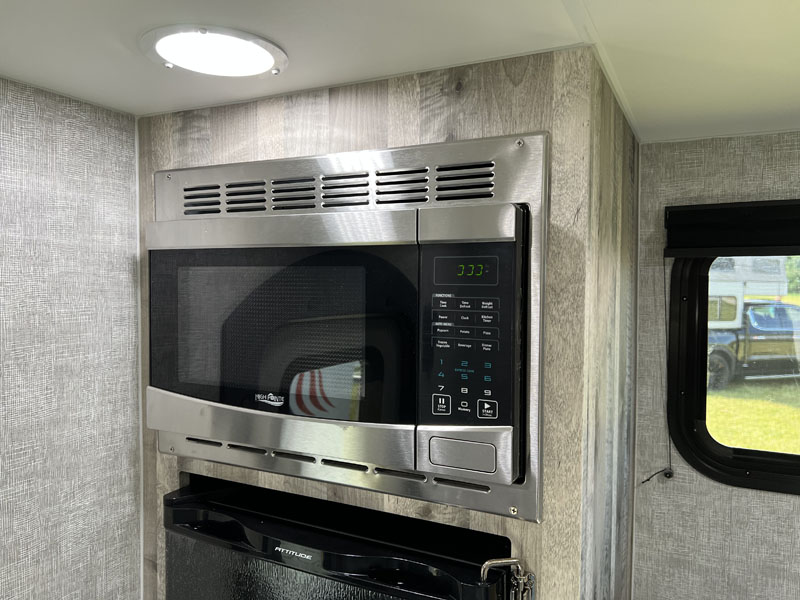 Is the built-in microwave a standard or optional item?
Tuttle: Both the refrigerator and the microwave are optional. If you don't want one or both, we will install cabinet doors.
If someone wants a bare-bones Adlar 5.0, is that on the menu?
Tuttle: Yes, you can get the Adlar 5.0 with just a bed and dinette. You can get it stripped down and then option it with a refrigerator and/or microwave if you want. We actually sometimes get customers who want our campers with nothing.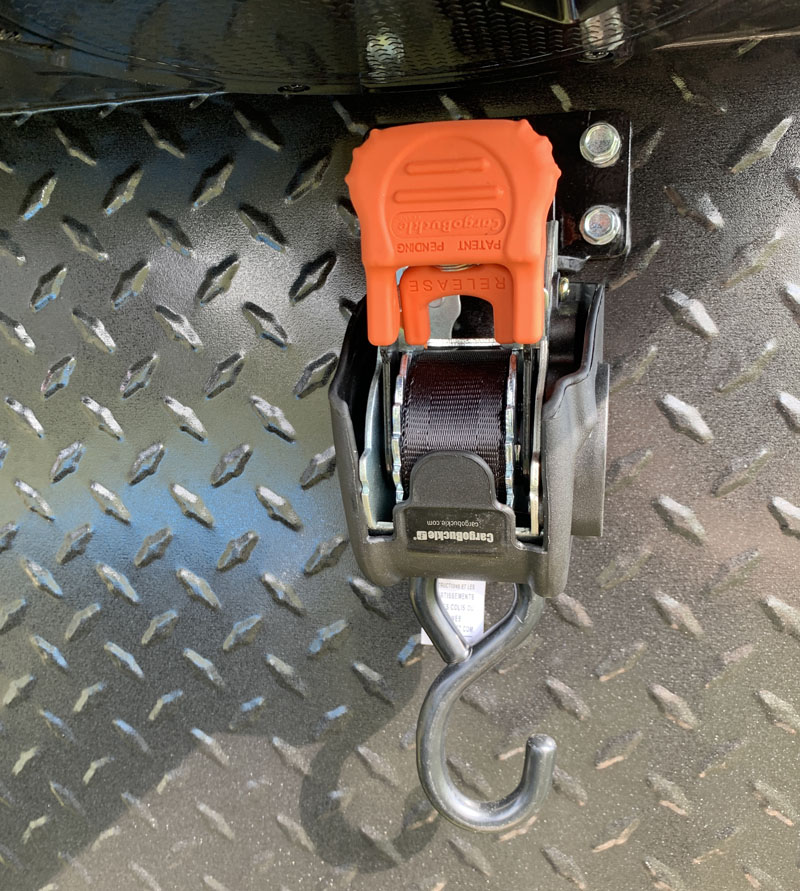 How does the Adlar 5.0 tie down to a truck?
Bradshaw: There are onboard ratchet straps, which are the same as our other Alder models.
Tuttle: For some mid-size trucks, you have to add D-rings to the bed because they don't have them as standard. They get attached to the sides and floor of the truck.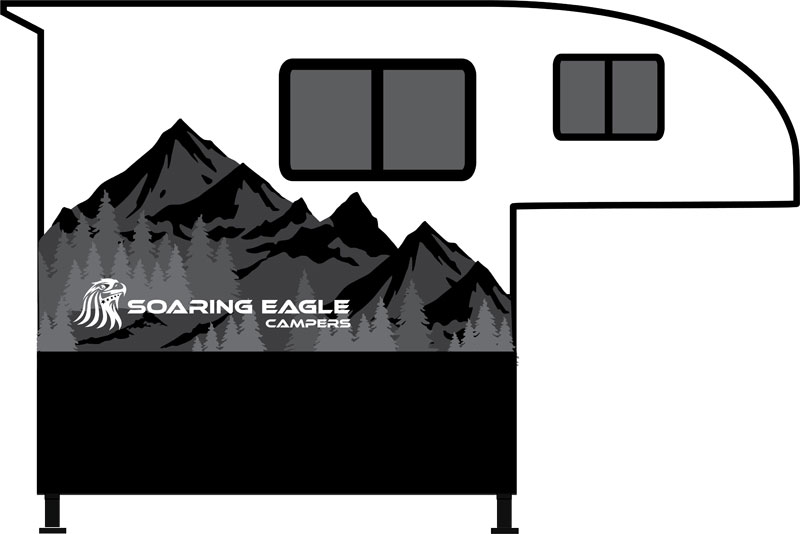 Are the mountain graphics now the standard for Soaring Eagle Campers?
Tuttle: Yes, the mountain graphics are now standard and you can get our optional gray fiberglass. You can still get the white fiberglass with the red and blue decals and eagle logo if you order it that way. We are discovering that outdoorsmen, mountain bikers, and hikers are attracted to our camper, so the mountains bring the outdoor feel to our units.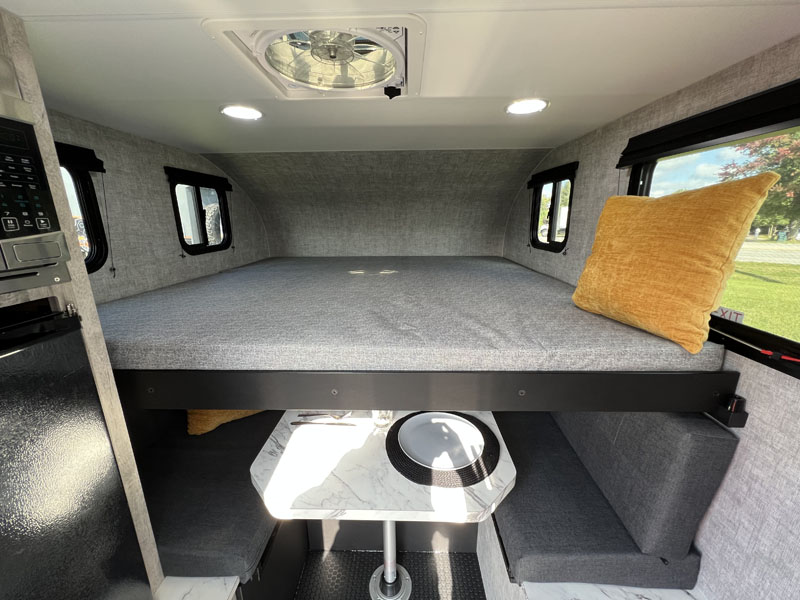 Is the pull-out north-south cabover bed extension standard on the Adlar 5.0?
Tuttle: Actually, the north-south pull-out (pictured above) cabover is always an option. It's like removable jacks. We suggest that dealers order it, and most do.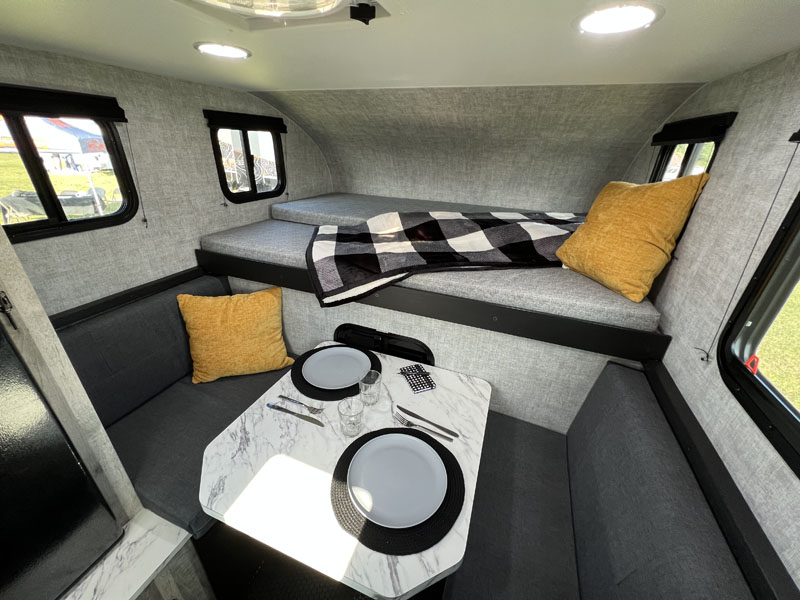 What is the bed size east-west (standard) versus the north-south pull-out option?
Bradshaw: The east-west mattress is 45 x 72 inches. The pull-out north-south mattress is 72 x 72 inches.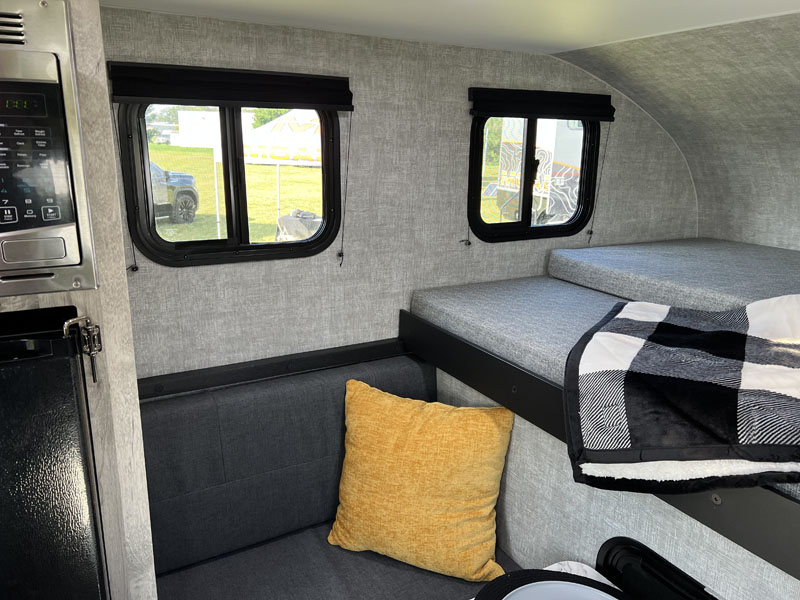 The Adlar 5.0 comes with single-pane glass windows. Why not choose thermal pane acrylic windows?
Tuttle: Honestly, that was not an extra expense that we thought was necessary for these entry-level campers. Our customers are not living in these things, they are outside enjoying the camping experience and they are in the camper only at night or when waiting out the rain.
Adding in fancy windows and other pricy amenities is going to make the camper too expensive. We want to keep all our campers priced between $16,000 to $25,000. That's why we chose single-pane glass windows.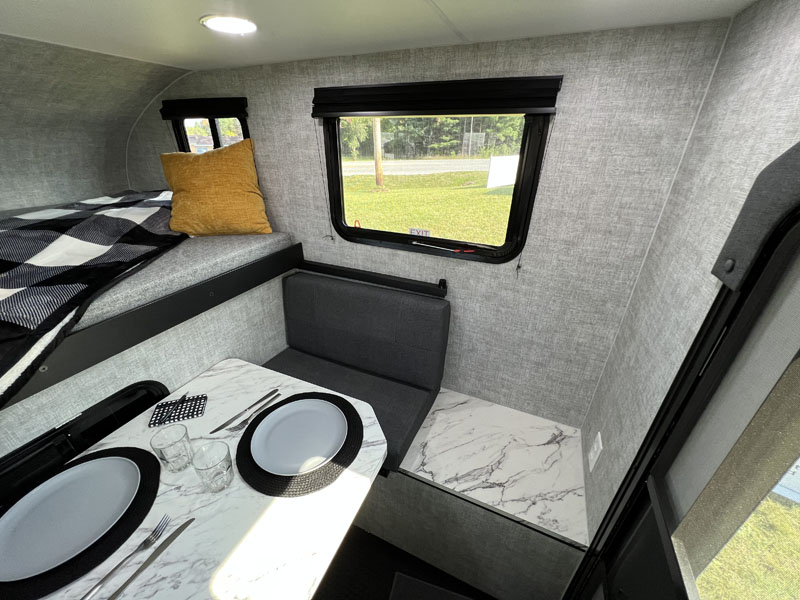 All of this feels like déjà vu. When we debuted the simple and all-aluminum CampLite products back during the last RV recession (2010), RV dealers looked at me like I had a third eye. They said, "Tenting customers aren't coming to my lot." And I'd say, "Exactly! I want to bring them to your lot." Then dealers tried CampLite and we sold them like crazy. For three years Livin Lite / CampLite was on Inc. Magazine's list for the Top 500 fastest-growing privately held companies in America.
I am hoping that this time around, they are more open to going fishing in a much bigger pond than their typical traditional RV buyer.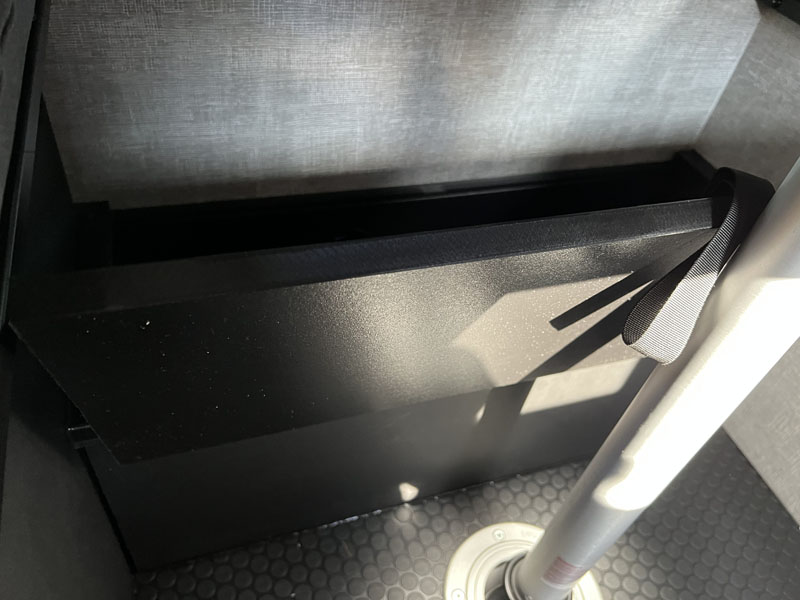 Where is the interior storage in the Adlar 5.0?
Tuttle: In the rear of the camper are countertops where you can store things. There's storage inside the dinette base. You can load stuff in the cabover area and in the dinette area. You can always put stuff on the floor. If you get the optional 12V refrigerator and don't get the optional microwave, you can turn that area into enclosed storage with a door.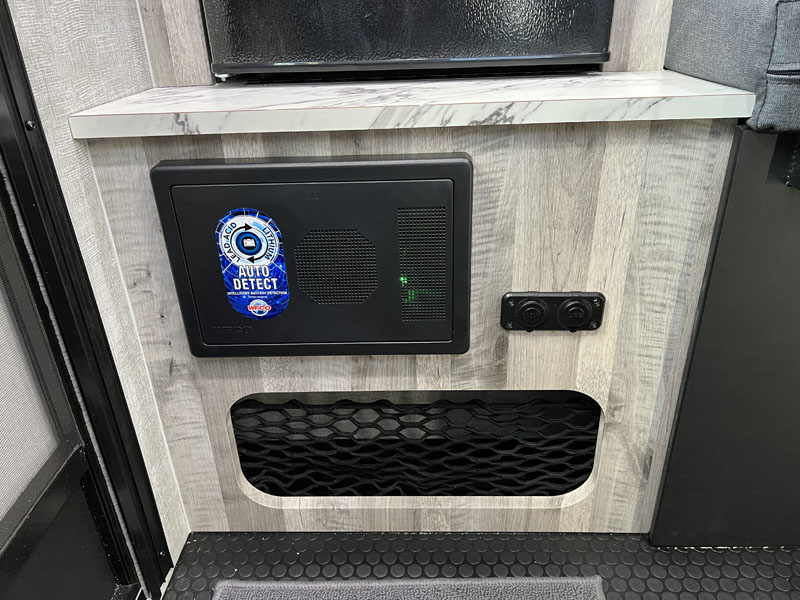 Tell us about the electrical system in the Adlar 5.0.
Bradshaw: 12V is standard like the Adlar 6.5. If you are only going to run the LED lighting, a 12-volt USB charger for your phone, and a small Dometic cooler, that will all run off your solar panels or battery. For those customers, the standard 12V electrical system is fine.
However, if you require 110V outlets inside the camper, or want to plug into shore power, we offer a 110V-package. The WFCO power center we use auto-recognizes lead acid and lithium batteries. You can also go with a Goal Zero or Ecoflow portable power station and no charge controller.
Where are the batteries in the Adlar 5.0?
Bradshaw: There's a vented spot for batteries that fits two Group 27 batteries. Two 100 Ah lithium batteries will also fit. The battery space is located under the dinette. Batteries are optional.
Are solar panels standard?
Tuttle: Solar is optional. However, a lot of dealers order units with solar from us. We can install 160-watts or 320-watts of solar on the Adlar 5.0.
Bradshaw: People think they need tons of solar. During our weekend at Overland Expo East, we never had to use more than 110-watts of input and we were fine running all our stuff. Others may need more, like if you are running a heating source.
Are there any holding tanks in the Adlar 5.0?
Bradshaw: No. You can get a portable toilet.
How about propane tanks?
Tuttle: Not at this time. Most of our customers will use a Buddy Heater, so they don't need a tank. We are talking to dealers in the northern states and Canada about possibly adding built-in heat and propane tanks.
Bradshaw: We are working on an exterior rear wall-mounted 10-pound portable tank. It could go on any of the Alders.
Does the Adlar 5.0 come standard with a roof-mounted fan or vent?
Tuttle: Yes. Our campers come with a standard roof-mounted 12V fan and an optional Maxxair fan with a remote control and rain sensor is available.
Is there an optional air conditioner for the Adlar 5.0?
Tuttle: Yes. The Rec Pro Houghton 9,500 BTU air conditioner is optional. It's the smallest air conditioner on the market in physical size. The 110V-package is required because you will need shore power or a generator for the air conditioner.
Bradshaw: It's possible to run the Rec Pro Houghton 9,500 BTU unit via a portable lithium power station from EcoFlow, Goal Zero, or Jackery. The larger portable power stations can power the air conditioner for three to four hours.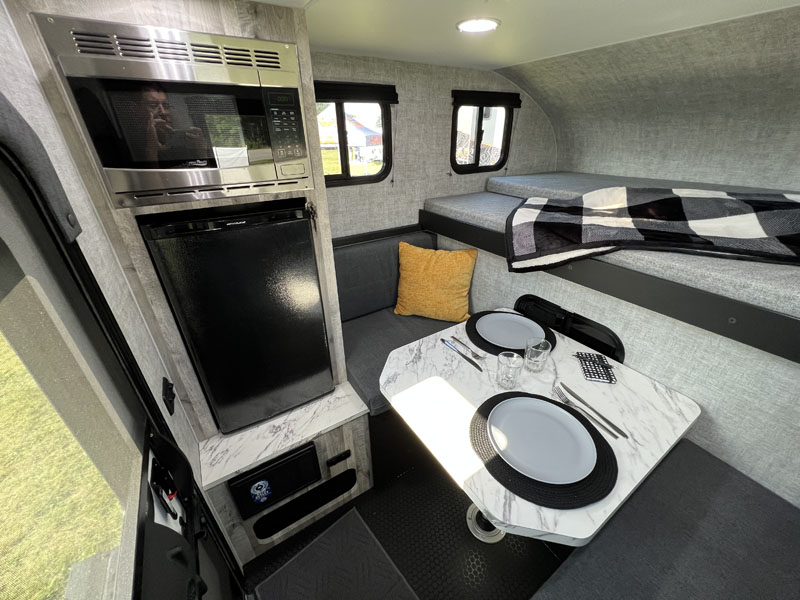 What options are available for the Soaring Eagle Adlar 5.0?
Tuttle: There are quite a few options on the Adlar 5.0. There's the pull-out north-south bed, microwave oven, 12V refrigerator, Rec Pro air conditioner, Maxxair fan, electric jacks, solar panels that go from 160 to 320-watts, 100 Ah lithium batteries, Dometic CFF45 cooler, exterior platinum grey fiberglass, quick detach jack brackets, two bar roof rack system, portable toilet, portable Blackstone griddle, batwing awning, and 110-package. The 110-package includes the power converter, interior outlets, breaker outlets, exterior plug, and outlets.
What does the 2024 Soaring Eagle Adlar 5.0 weigh with standard build features?
Tuttle: It's 795 pounds without the options above.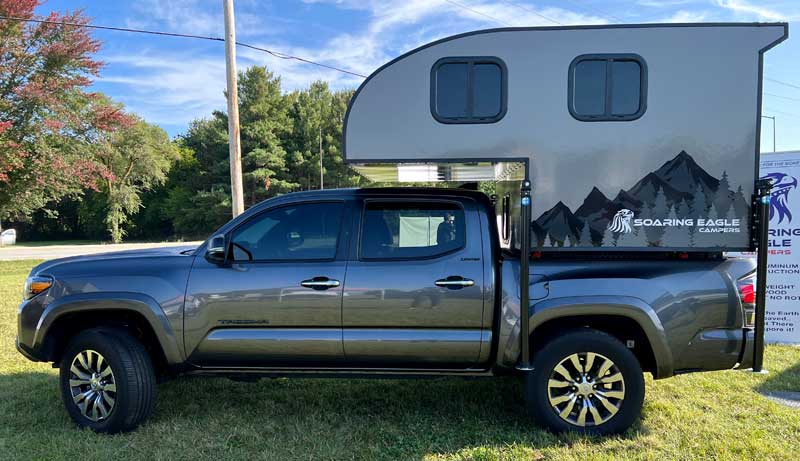 Where is the center of gravity on the 2024 Soaring Eagle Adlar 5.0?
Bradshaw: It's 20-inches from the front of the lower portion of camper.
What is the MSRP for the 2024 Soaring Eagle Adlar 5.0 with standard build features?
Tuttle: The MSRP is $17,400 with no options. With the 110V-package, north-south bed, refrigerator, microwave, and Maxxair vent, it's $20,800. Loaded with an air conditioner and solar it comes to $23,000.
What is the warranty for the 2024 Soaring Eagle Adlar 5.0?
Tuttle: Our warranty is one year bumper-to-bumper. In addition, we have a three year structural warranty. Components have their own warranties.
Have you had any warranty claims?
Bradshaw: The great thing about taking the time to build a quality product is that we don't have a lot of warranty issues. The ones we have seen have been limited to little things like a 12V power vent that went bad or a jack that malfunctioned; things like that.
When will the 2024 Soaring Eagle Adlar 5.0 be available?
Tuttle: The Adlar 5.0 will be available at the end of November. It will be showing up on our dealer's lots throughout December and January. During the next three months, the units will be shipped out.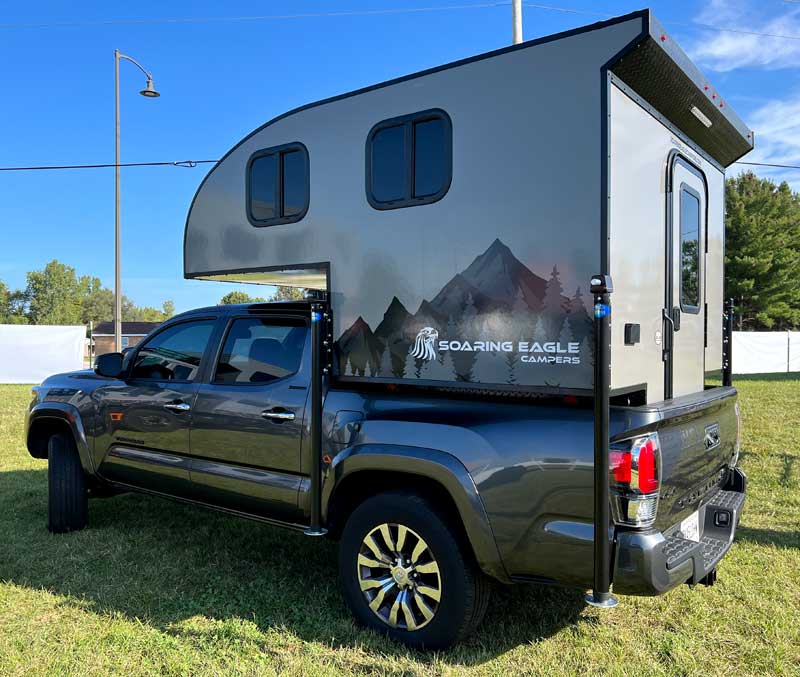 Is there anything about the 2024 Soaring Eagle Adlar 5.0 that you would like to add?
Tuttle: Regarding any weight concerns on these small trucks, you realize that four adult guys (averaging 200 pounds each) in the back of a Toyota Tacoma weigh more than the Soaring Eagle Adlar 5.0. No one would question four guys in the back of a Tacoma, and our Adlar 5.0 weighs less.
We recently met a proud Camp Lite 5.7 owner at the 2023 North Carolina Truck Camper Rally who asked us if Soaring Eagle was coming out with some of the more popular CampLite models including the 5.7, 6.8, 8.5. Are these floor plans in the cards?
Tuttle: Do we plan on building some larger units with more amenities and systems in the future, similar to the old CampLites we used to build? The answer is yes and in order I'd say we'll be looking to build floor plans like the CampLite 6.8, 8.5, and 5.7.
The 6.8 is the sweet spot. I'd venture to say that in 2024, you might be announcing a new Soaring Eagle model in Truck Camper Magazine. It will have a wet bath and full systems. Stay tuned!
For more information on Soaring Eagle Campers, visit their website at soaringeaglecampers.com. Click here to request a free Soaring Eagle brochure.