The North American Truck Camper Owners Association (NATCOA) has some very big news.  First, it's now free to join.  Second, the club has restructured to offer its membership more rallies, gatherings, caravans and even more truck camping fun.

NATCOA was launched in 2005 by Co-Founders Bill Matthews and Paul Beddows.  Bill came up with the idea and posted it on RV.net.  As Paul explained in a 2007 interview in Truck Camper Magazine, "I would like to take all the credit for the idea (laughs), but I think it was Bill."
NATCOA originally started as an internet forum for truck camper owners and manufacturers to communicate.  Soon after, the fledgling club organized a truck camper caravan with member-funded prizes, potluck meals, and the opportunity to make new truck camping friends.
"We thought it wouldn't go anywhere because the first caravan flubbed," explained Paul.  "Then Rex Willett of Northstar stepped in and gave us the credibility we needed.  Shortly thereafter Rex, Bob Mehrer of Snowriver, and Robin Harper of Torklift gave us the financial assistance we needed.  They made NATCOA possible."
The majority of the truck camper industry quickly followed.  By the end of 2007, truck camper manufacturers were putting NATCOA stickers on their units and promoting the club in their printed brochures.  As Rex Willett, President of Northstar Campers, stated at the time, "With NATCOA, manufacturers can promote, defend, teach, and solve problems.  That's the real beauty and spirit of NATCOA."
Arguably the crowning achievements of NATCOA were two National Truck Camper Shows in 2006 and 2007.  Angela and I attended the 2007 event in Ogallala, Nebraska and counted over 50 brand new truck campers on display from 19 brands.  We celebrated the 10 year anniversary of the NATCOA event with the must-see article, "The 2007 National Truck Camper Show: Ten Years Later".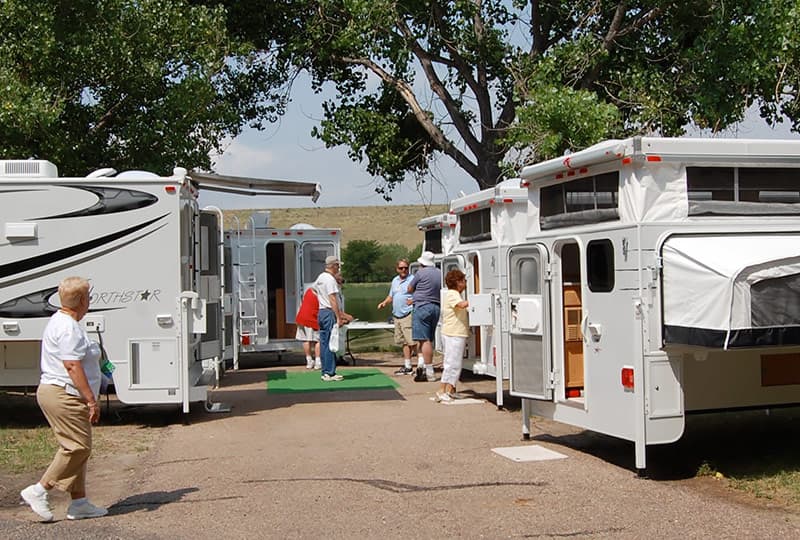 Above: Northstar was one of 19 truck camper brands on display at the 2007 National Truck Camper Show in Ogallala, Nebraska
The National Truck Camper Shows were developed to become the cornerstone of NATCOA and give truck campers the opportunity to have their own national show.  After two successful years, the event was well on its way.
Then the Great Recession struck.  The severe economic downturn took down a number of NATCOA's key manufacturers and extinguished industry interest in a third national truck camper event.
In the years that followed, Paul and the original NATCOA leadership took a step back.  The NATCOA membership, forums and rallies continued with enthusiasm, but the organization strained under the increasing weight of its lost support.
Through the sheer determination of NATCOA's Presidents, Boards, and dedicated rally organizers, the club continued – but the sign was on the wall.  If NATCOA was to regain its status in the truck camper industry and community, change was needed.
Introducing NATCOA 2.0
In mid-October we received an email from Rich Bain, the current President of NATCOA.  At the top of the announcement Rich stated, "We have some pretty big changes coming our way for the club".  He wasn't kidding.
First and foremost, NATCOA is now a free organization.  There are no longer annual membership dues.  NATCOA is now free to join.
Second, the aging NATCOA forums and various social media channels are being shut down by the end of 2018.  The conversation will continue on NATCOA's Facebook page.
And third, NATCOA's Board of Directors has been dissolved.  NATCOA will still be run by volunteers, but a board is no longer necessary under the vastly simplified reorganization.
To get the story on the changes being made to NATCOA, and where the organization is going into the future, we contacted Rich Bain for an interview.

Above: Rich and Joanne Bain at a NATCOA Wine Tour gathering
How did you get involved with NATCOA?
My wife, Joanne, and I got our first truck camper in 2000. We started with a small limited frills camper and loved camping in it. A few years later we upgraded to a used camper that had a bathroom. It also had a few other features that made things easy on us.
In 2010, we bought a new Adventurer truck camper and have been using it ever since. We still average around 70 to 80-nights a year in our camper. That's a lot for two full-time working stiffs.
When we bought our new Adventurer in 2010, I noticed a NATCOA sticker on the back of the camper. I found out quickly that the NATCOA members we chatted with online were very friendly and welcoming. We joined NATCOA that fall.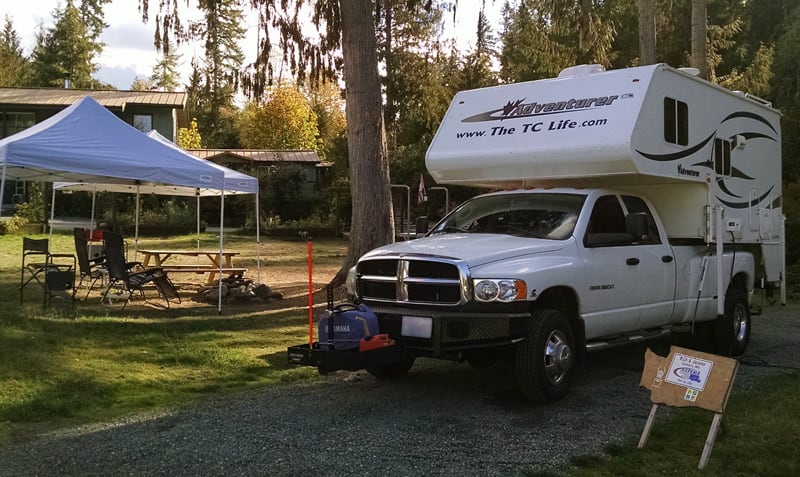 Above: Rich and Joanne Bain's truck camper at a NATCOA event
When did you become NATCOA's President?
When the previous NATCOA President decided to step down, I was moved to President mid-2017. For about a year before that I filled the Vice President role.
As President, my responsibilities were to periodically set up Board of Directors meetings, insure that our volunteer positions were able to perform and complete the necessary duties, and communicate with fellow NATCOA members.
What led you to decide that NATCOA needed to change?
This was a hard decision and one that was talked about for well over a year. Most of us knew that there needed to be updates to the website and forum.  It was difficult getting those updates done due to volunteers traveling and costs of hiring a professional.
There was also less desire from new volunteers to step up and join NATCOA's Board of Directors. This was understandable; we all are busy and want to be out camping.
Traffic on the forum had also slowed down a lot.  More and more people wanted to use social media – like Facebook – where it's easier to share pictures and exchange thoughts. While not everyone likes social media, most of our members do. It simply comes down to what the majority wants to do.
By the time more in-depth conversations came about on what direction NATCOA needed to go, there were only a couple of us who were still active on the Board of Directors. Others had moved on for many reasons.
Something needed to be done if NATCOA was to carry on. The changes needed to be fairly major. Without major changes, NATCOA would have to end.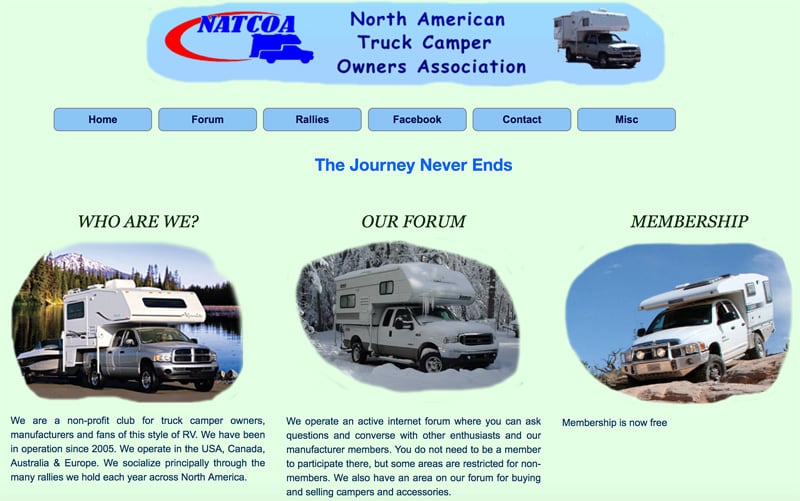 Above: NATCOA still maintains NATCOA.com.
We decided to eliminate the NATCOA forum and go to a NATCOA Facebook page. We have maintained our NATCOA.com website and domain name. That webpage states our mission. There will be a link directing people to the Facebook page as well.
We have one page that is open to all on Facebook and another for topic discussion that is in a closed group. It is simple to join and makes it much better for controlling spam.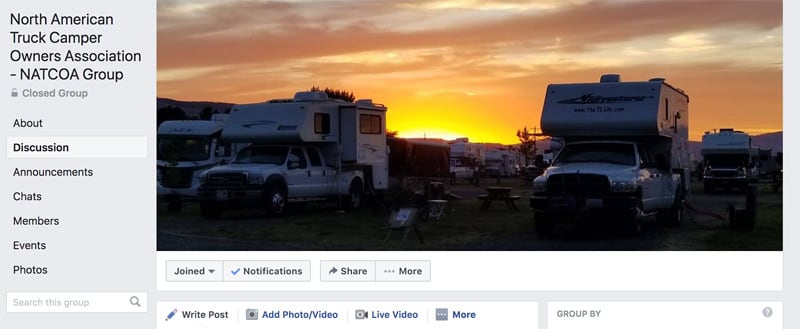 A major bonus of using social media instead of our own forum is that we have no costs to update the site and control spam intrusions. Facebook is a free service. Most importantly, it's easy to use for sharing thoughts and pictures.  This change was the best fit for our situation.
NATCOA has been a paid organization since its founding in 2005. Why did you decide to make membership free from this point forward?
We decided that we would stop collecting dues because our costs are nearly eliminated under the new changes. With the previous website and forum there were many costs. Even with volunteers doing their best to keep things running, dollars needed to be spent to simply to keep those sites up and running.
By switching to social media, our costs are now dramatically lower. There simply is no longer a need to have members pay membership fees.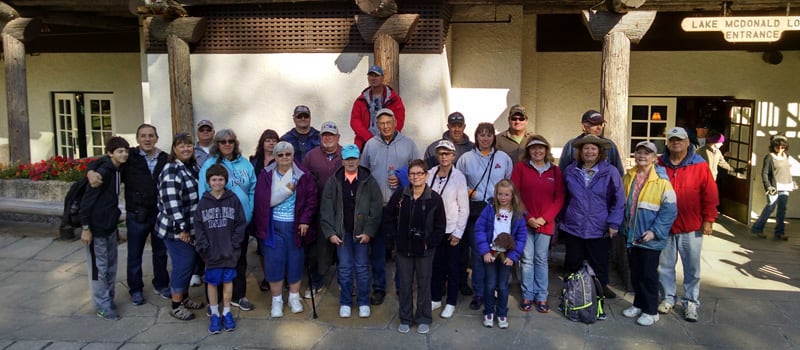 Above: Lake McDonald, Glacier National Park NATCOA rally group
How will NATCOA fund its rallies and other activities without the membership fees?
Rally funding for the next few years will continue utilizing funds that were already set aside for that purpose.  With lower costs from using social media, more funds can be extended to rallies in the future.  Another way to help with funding is to start utilizing more funding opportunities, such as 50/50 drawings at the rallies.
Moving forward, are you looking to grow the membership? How does someone join NATCOA?
We would like to grow NATCOA into the future. There are many truck camper owners throughout the United States and Canada and truck camper sales are going strong.
Joining NATCOA is very easy. Simply log onto our new Facebook page and ask to join. There are two simple questions that need to be answered to try to block out spam requests, but that's it.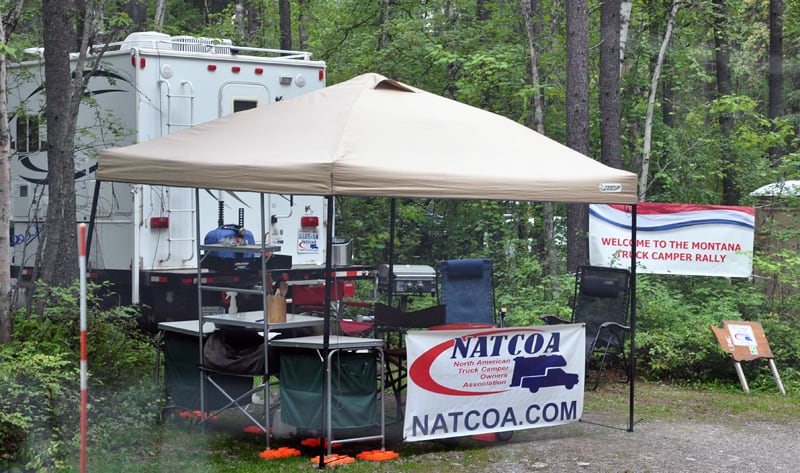 What are the benefits of NATCOA membership?
The primary benefits of NATCOA are direct communication with manufacturers, and the camaraderie of fellow truck campers. We also provide a place to ask questions and share stories with others who are doing some of the same things as you are doing.
We believe that there still is a need for a place for truck camper owners to communicate with manufacturers and for manufacturers to communicate back with their customers. Keeping that available is very important to us.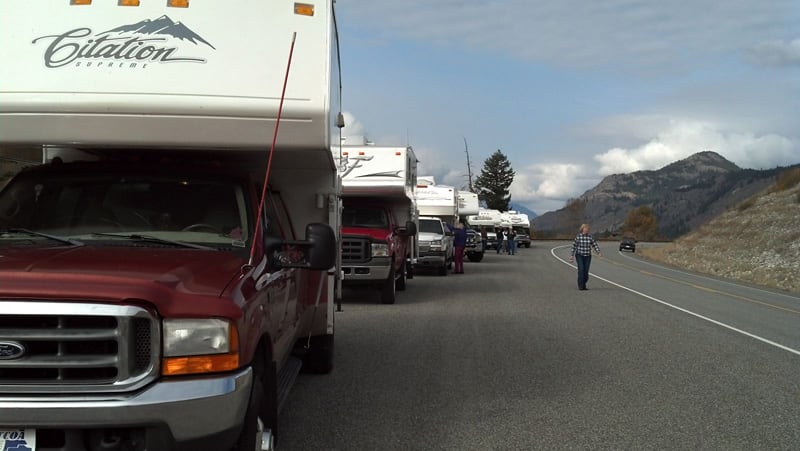 Are there NATCOA rallies, gatherings, caravans or other events already scheduled for 2019?
There will be a rally in central Washington at Sun Lakes Resort from June 27-30, 2019. This is for NATCOA members past and present.
There will be more NATCOA rallies or gatherings in the future. I know – I keep getting requests for them. There still is a strong desire for truck camper rallies. People want to get together and have some truck camping fun.
On our Facebook page, NATCOA events will be listed in the events section. I also publish them in the events sections on other Facebook groups pages. Of course they will be listed right here on Truck Camper Magazine as well.
Are you looking for volunteers to organize rallies, gatherings, caravans and other truck camper events?
We always are looking for volunteers to host rallies or gatherings. Having more people host is very helpful, especially for those who do a lot of them. It also allows the event location to be in areas that some hosts may not be able to attend.
Anyone thinking of hosting an event can always reach out to me directly with questions. Asking on our Facebook page also works out well.
There is a perception that NATCOA is predominantly a West Coast organization. What's your position on that topic?
Many think NATCOA is simply a Pacific Northwest group, but the fact is we have members and participation from across the United States and Canada.
We have been much more active in the Northwest for the last few years. That is simply because that is where most of the volunteers live. For example, the rallies and gatherings I host are in the Northwest because that's where I live.
We encourage members to be more active in other areas. We can help if people decide to host a NATCOA rally or gathering anywhere in the United States or Canada.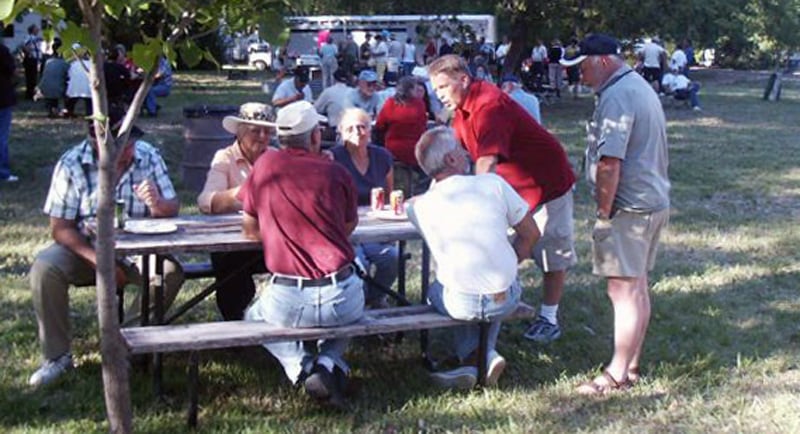 Above: Rex Willett of Northstar, and Bob Mehrer of Interior RV (Snowriver) talking with NATCOA members at the National Truck Camper Show in Ogallala, Nebraska
If a truck camper manufacturer, gear company, or dealership is reading this interview, how can they get involved with NATCOA?
We would love for manufacturers and dealers to contact the Administrators on the Facebook page with a direct message. After that we can arrange for them to post directly to the NATCOA Facebook page for the members to see.  A second option for them is to reach out directly to me.
In the past, NATCOA was active (on some level) in Australia. Are you looking to have active NATCOA participation in Australia?
At this time we are refocusing our efforts in North America.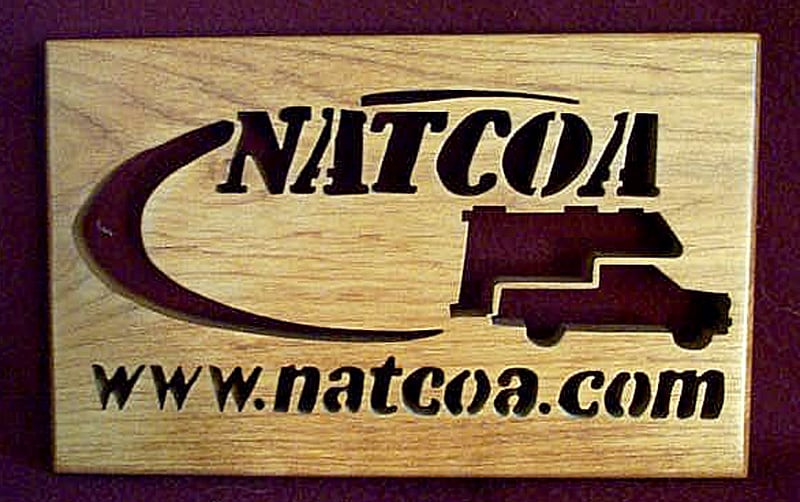 What's the vision for NATCOA? Where is the club going into the future?
Our vision is to have NATCOA rebuild some lost connections and reestablish the strong industry and community bonds we enjoyed for years. We are continuing on with member interaction and making memories at our rallies and gatherings.
NATCOA is not going away. We are just restructuring to be better matched with the changing times of how most people interact online. Times change and we must do the same.
Join NATCOA! Become a member of NATCOA by joining their Facebook page.