Ten years ago this week, the second annual National Truck Camper Show kicked off with 19 truck camper manufacturers, 10 gear companies, and over 200 attendees.  If there ever was a Woodstock for truck campers, this was it.
Imagine going to a state park where nearly every truck camper manufacturer and gear company is showcasing their latest truck campers and equipment in a beautiful lakeside campground setting.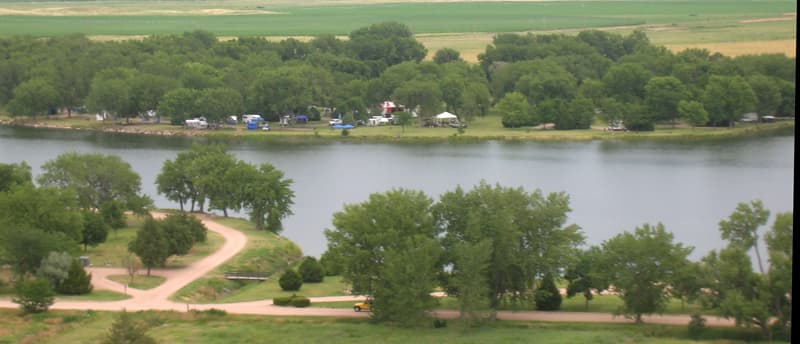 Above: The 2007 National Truck Camper Show viewed from across the lake
Nearly all of the company presidents and their senior sales teams are on hand to personally answer your truck camper and gear questions or walk you through their products.
On top of that add two barbecue feasts, two nights of live music, and a North American Truck Camper Owners Association (NATCOA) rally with over 200 fellow truck campers gathered together.  Does that sound impossibly amazing?  It was.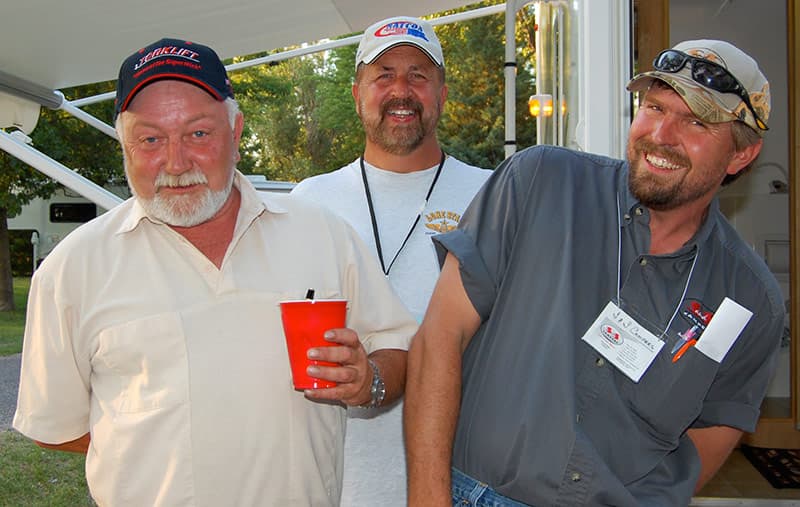 Above: Bob Mehrer, Snowriver, Larry Christianson, NATCOA, and Doug Sieler, S&S Campers
Ten years ago this week the second annual National Truck Camper Show and Rally kicked off at the Lake Ogallala State Park in Ogallala, Nebraska.  Ogallala was selected as the most central place in the United States being just 238 miles from that actual point.
The NATCOA truck camper rally launched on July 7th and ran through the 10th.  The Truck Camper Show started on Friday, July 12th through Sunday July 14th.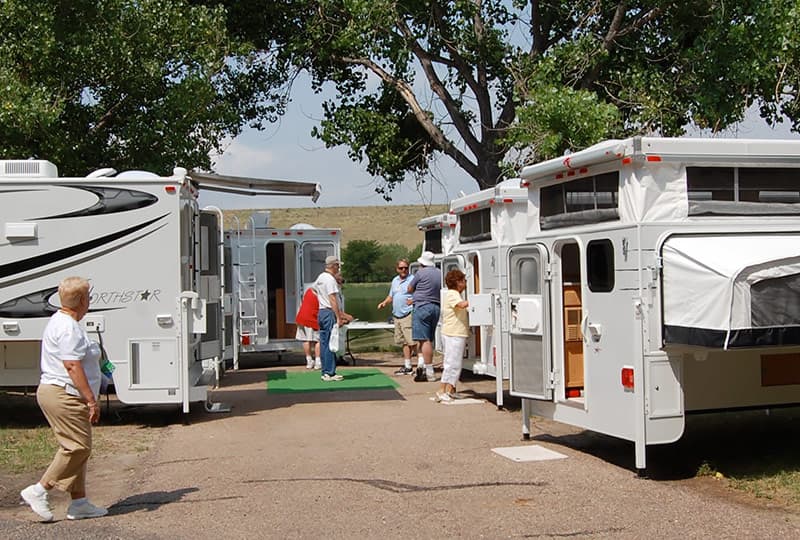 Above: Hard side and pop-up Northstar truck campers on display
On display at the show were 50 brand new truck campers from Travel Lite, Alaskan Campers, WRV Alpenlite, Outfitter, Northern Lite, Host Campers, S&S Campers, Six-Pac, Four Wheel Campers, Lance Campers, Northstar Campers, Snowriver, Eagle Cap, Arctic Fox, Bigfoot RV, Palomino RV, Oregon Camper, Hallmark RV, and Okanagan.

The manufacturers were arranged on an extended loop in the campground with each campsite hosting a truck camper or gear brand.  For example, Alaskan was on site 29 and Arctic Fox was on site 41.
The gear companies on tap included Stable Lift, Torklift International, Carefree of Colorado, Rickson Truck Wheels, Rieco-Titan, Dometic, Happijac, Covercraft, SuperSprings, and SMEV.
Truck Camper Magazine was not yet six months old when we pulled into the campground with a 2008 Lance 1055.  Rex Willett, President of Northstar Campers, had invited us to the event days after launching the magazine.  He also asked me to make a big presentation at the event, an experience I vividly recalled for our 10 year anniversary story.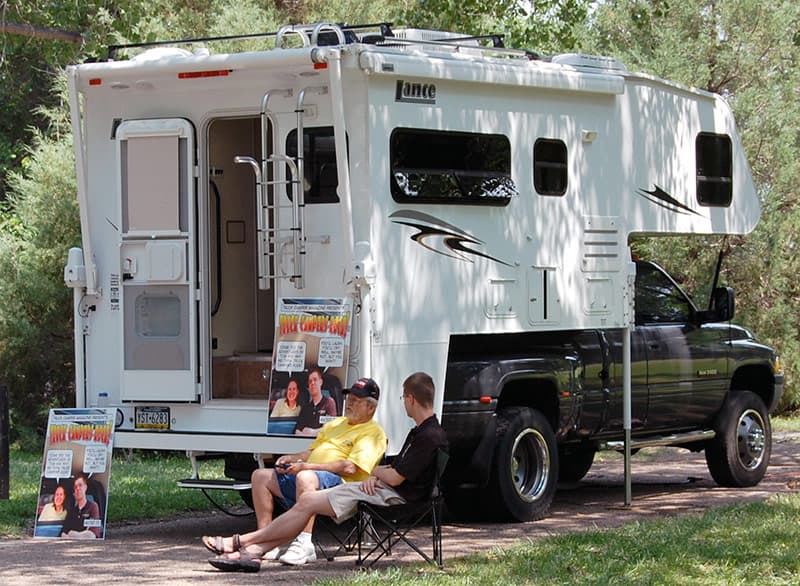 Above: Our first Truck Camper Magazine rig; 1998 Ram 3500 and 2008 Lance 1055
For our part, we designed the show maps illustrating what companies were in attendance and where their sites were.  On the back of the map we had an invitation to meet us and watch a short video about our truck camping adventures.  We even had movie posters at our site to entice walkers by to watch the DVD.

Above: Jack Kay, President of Torklift International, under our Ram 3500 truck.  Per our request, he was checking our Torklift SuperHitch and tie-down installation.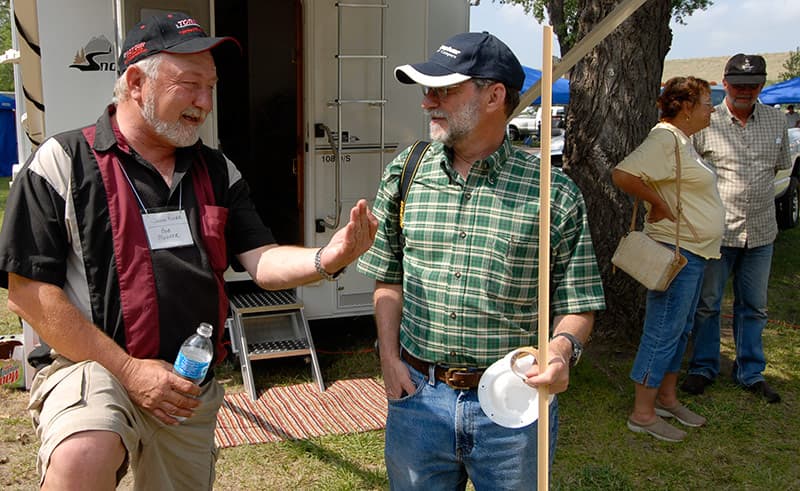 Above: Bob Mehrer of Snowriver talking to an attendee
The show itself was very well organized and run by Rex and the NATCOA team.  NATCOA had a sign-in tent and a security detail patrolling in yellow shirts.  The security detail made sure only truck campers were allowed into the campground area.  No pesky motorhomes or towables allowed.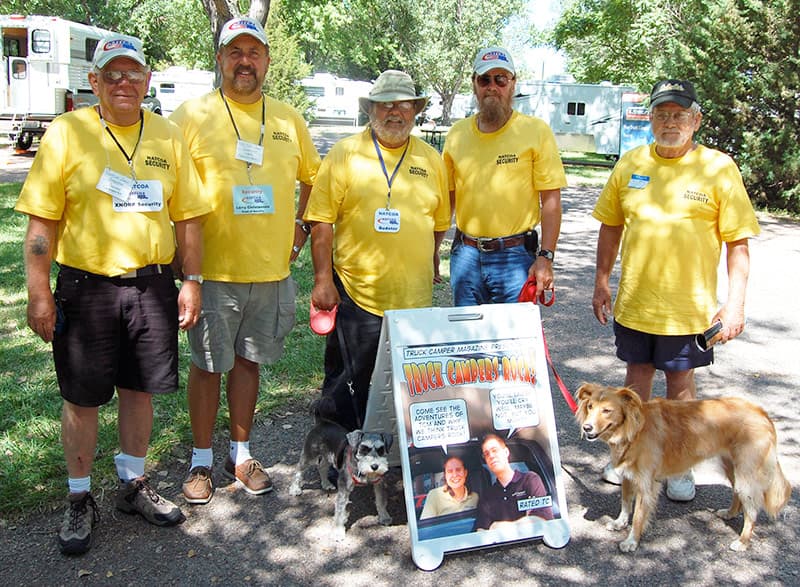 The NATCOA security team included (left to right) George Chambers, Larry Christensen, Jerry Galang and his dog Gidget, John Straight and his dog Kola, Watt Doolin.  Not pictured are Rick Law, Dale Johnson, Tim Conroy, Paul Beddows, Tom Emerick, Peter Thomas, John Kenyon, and Bill Osborn.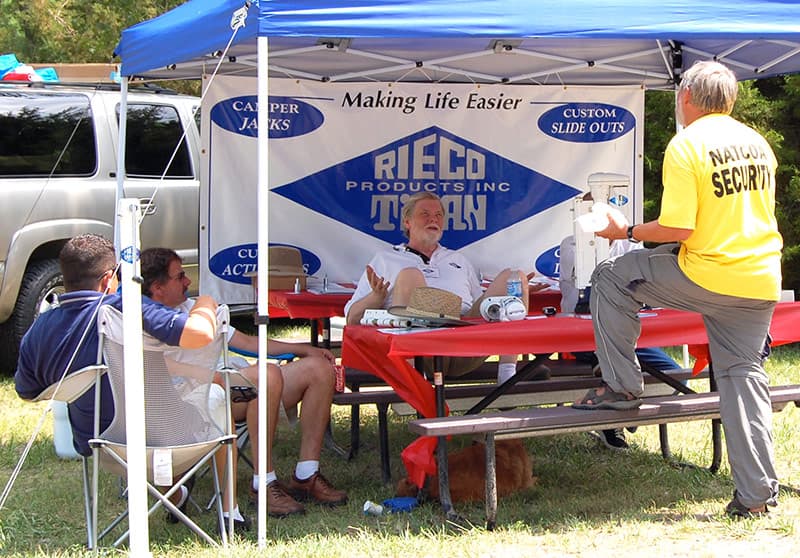 Above (left to right): Doug Bakker, Rieco-Titan, Doug Karr, Arctic Fox, Bob McCarthy, Rieco-Titan, and Paul Beddows, NATCOA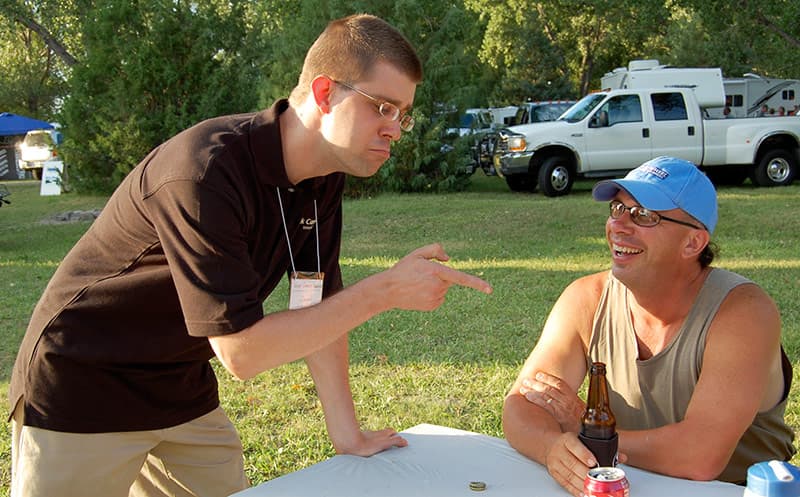 Above: Gordon White, Publisher of Truck Camper Magazine, giving Sean Dempsey of Go Anywhere a hard time.  What's in that bottle mister?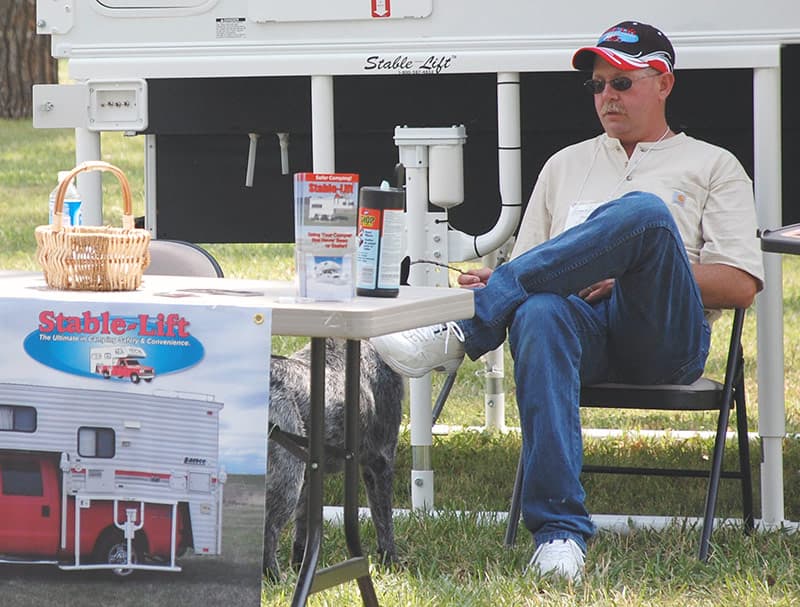 Above: Mont Peters of Stable Lift
The atmosphere at the show was more like an outdoor festival than a typical RV show or rally.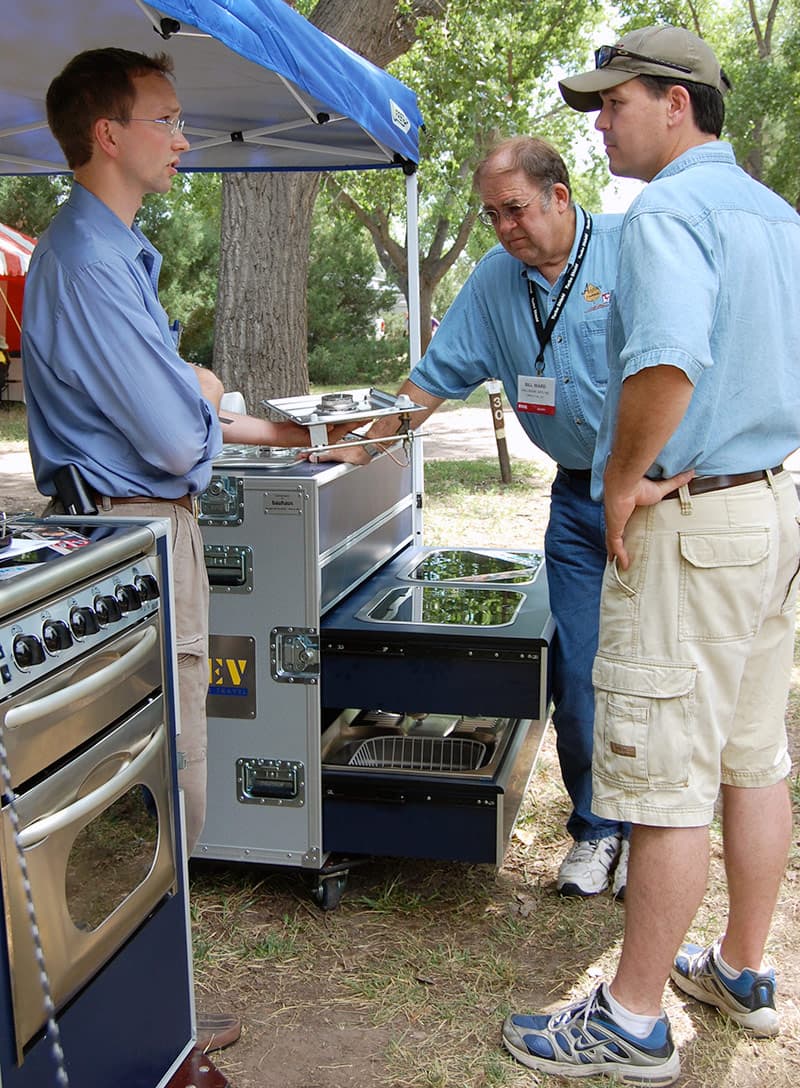 Left to right: Elden Wood representing SMEV, and Matt and Bill Ward of Hallmark RV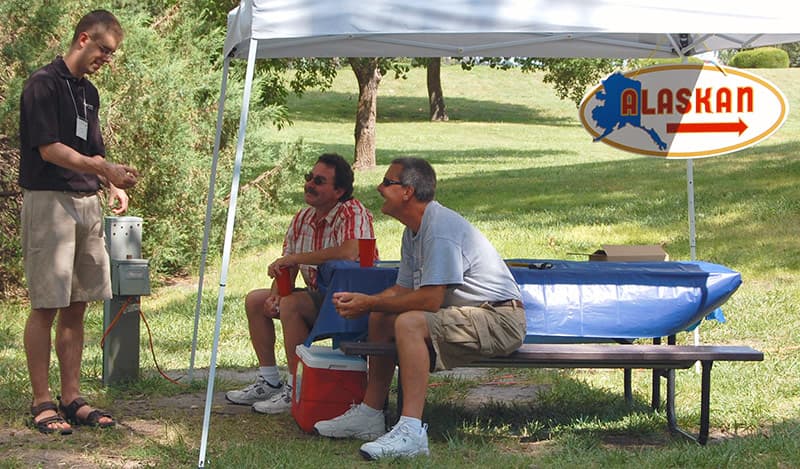 Above: Gordon talking to Rick Bremgartner and Bryan Wheat of Alaskan Campers
In our first report from the show I wrote, "You get the feeling that the heart of the truck camper industry and community is right here, right now, in Ogallala, Nebraska."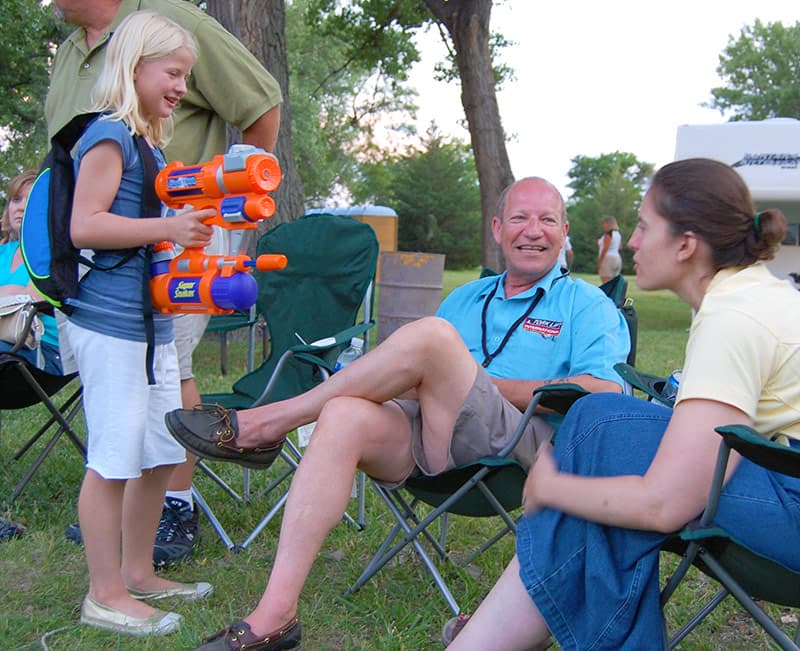 Above: A well armed attendee talks to Jay Taylor of Torklift International and Angela White of Truck Camper Magazine
As we walked around on Saturday, we saw Crystal Sieler of S&S Campers riding around on her green polka dot bicycle, Torklift's team walking around heavily armed with SuperSoaker water guns, Terry Mitchell of Okanagan RV leaning on a tree to get cell phone reception, Mark Jutson under yet another rig installing SuperSprings, and five year old Harper Ward of Hallmark RV fishing on Lake Ogallala.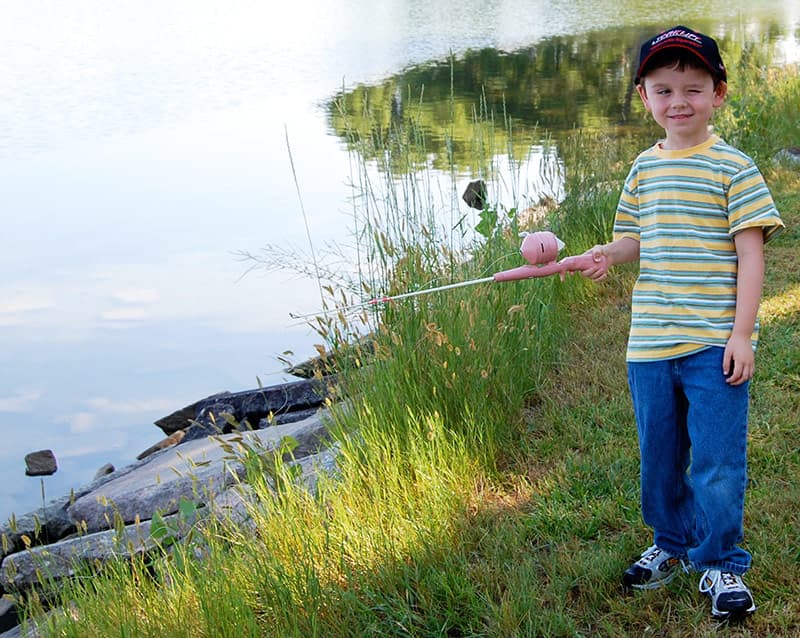 Above: Harper Ward of Hallmark fishing in Lake Ogallala.  Harper now has his driving learner's permit in Colorado.  Look out!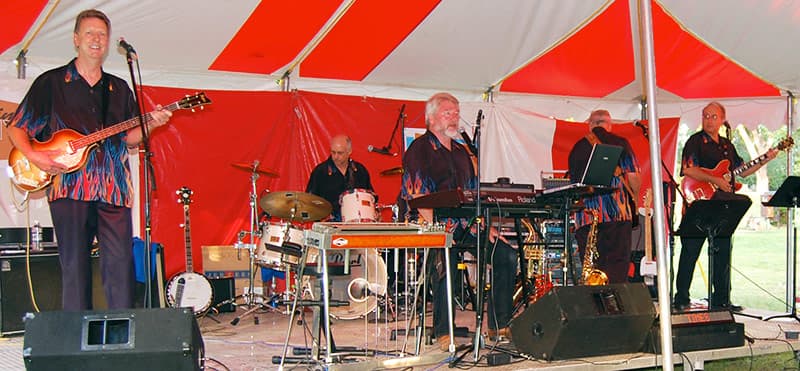 Each night there was an industry feast or a rally-wide barbecue.  On Friday and Saturday night the Jim Hyatt Band (seen above) played 50s, 60s, and 70s music.  As the sun went down, the campfires fired up and the conversations went deep into the night.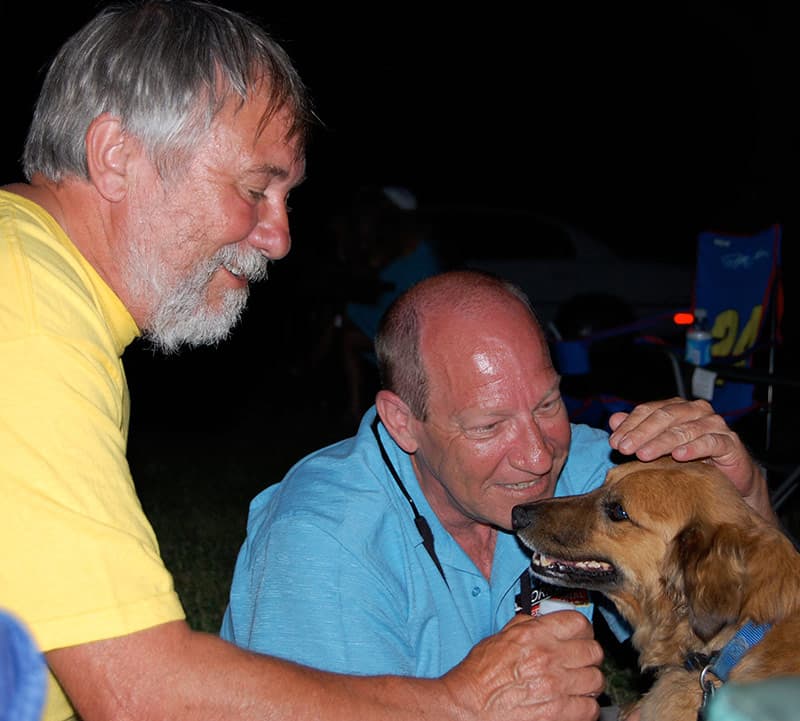 Above: Paul Beddows of NATCOA, Tomas his dog, and Jay Taylor of Torklift International
On Saturday evening Dan Quinn of NATCOA awarded Torklift International for their involvement and impact on NATCOA and the overall truck camper industry.  Then NATCOA held a raffle and awarded several sets of Torklift International Fastguns and an HDTV.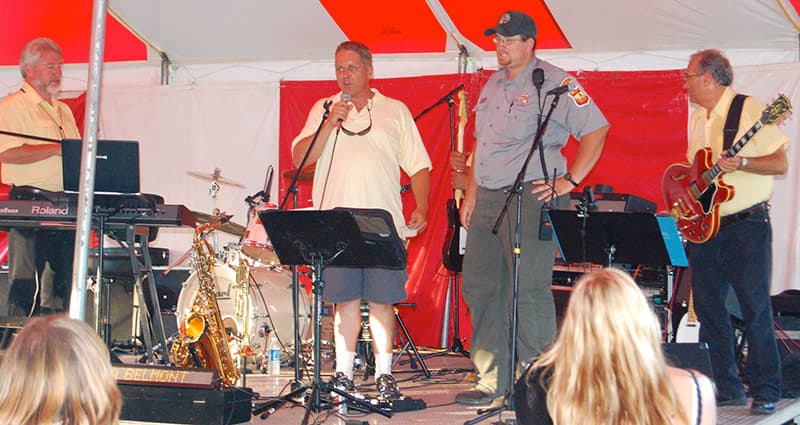 Above: Rex Willett, President of Northstar Campers, addresses the crowd
With temperatures in the 90s, we left the show on Sunday afternoon and drove to Greeley RV Park in Greeley, Colorado campground to plug-in and ride out the hot weather.  From there we started our first factory tour at Hallmark RV.  That trip would last 175 days, cross 22 states and one Canadian province, and reach 22 truck camper manufacturers, 35 truck camper dealers, and 6 gear companies.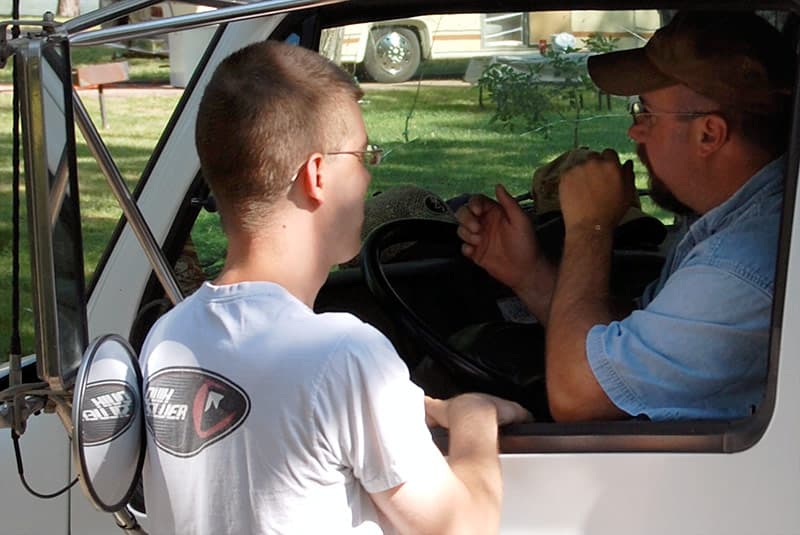 Looking back, there was a palpable sense of excitement about the truck camper industry and where it was going.  The economy was seemingly invincible and I remember several industry leaders stating their enthusiasm for the following year.
What none of us could have known is that the Great Recession was well on its way.  Seven of the truck camper manufacturers in attendance either closed permanently or temporarily during that dark time.  We have since gained new truck camper manufacturers including CampLite, Cirrus, Capri, and Rugged Mountain RV as the proverbial fire gives way to new growth.
Will we ever see another National Truck Camper Show?  Not likely.  The truck camper industry has moved away from RV shows in general favoring the efficiency of the internet.  Only the most proven and cost effective RV shows remain as annual must-attends.
So, like many things in life, Ogallala will remain a cherished moment in time for those who were fortunate to attend.  Thank you, Rex Willett, of Northstar Campers, and the team at NATCOA for putting on such a fantastic event.  It was one for the books.