Ten years ago this week, the second annual National Truck Camper Show kicked off with 19 truck camper manufacturers, 10 gear companies, and over 200 attendees.  If there ever was a Woodstock for truck campers, this was it.
Imagine going to a state park where nearly every truck camper manufacturer and gear company is showcasing their latest truck campers and equipment in a beautiful lakeside campground setting.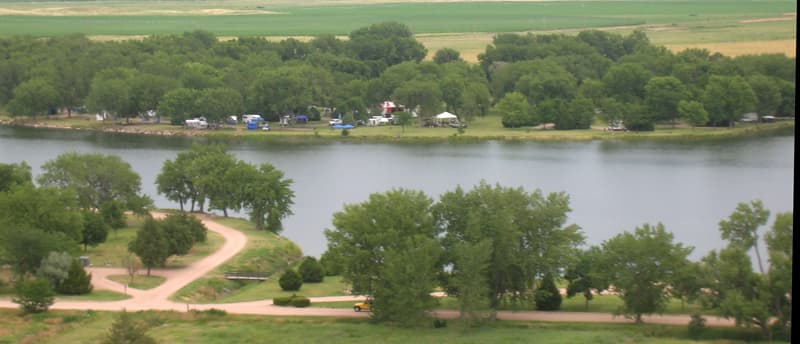 Above: The 2007 National Truck Camper Show viewed from across the lake
Nearly all of the company presidents and their senior sales teams are on hand to personally answer your truck camper and gear questions or walk you through their products.
On top of that add two barbecue feasts, two nights of live music, and a North American Truck Camper Owners Association (NATCOA) rally with over 200 fellow truck campers gathered together.  Does that sound impossibly amazing?  It was.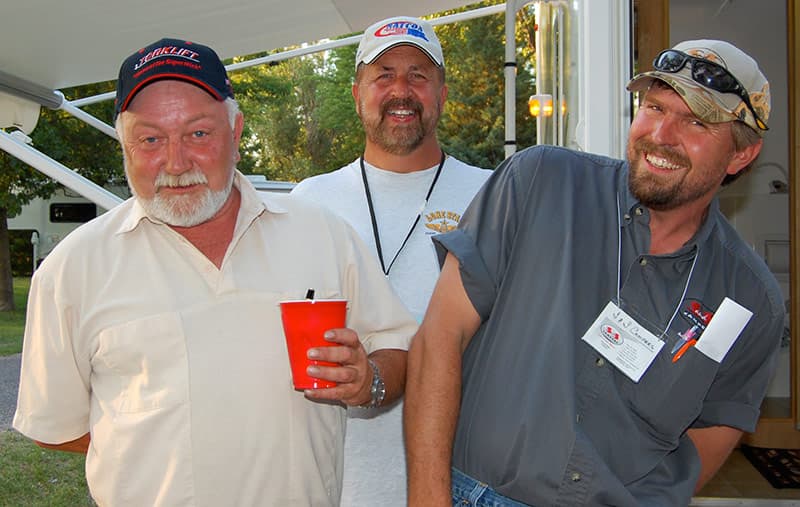 Above: Bob Mehrer, Snowriver, Larry Christianson, NATCOA, and Doug Sieler, S&S Campers
Ten years ago this week the second annual National Truck Camper Show and Rally kicked off at the Lake Ogallala State Park in Ogallala, Nebraska.  Ogallala was selected as the most central place in the United States being just 238 miles from that actual point.
The NATCOA truck camper rally launched on July 7th and ran through the 10th.  The Truck Camper Show started on Friday, July 12th through Sunday July 14th.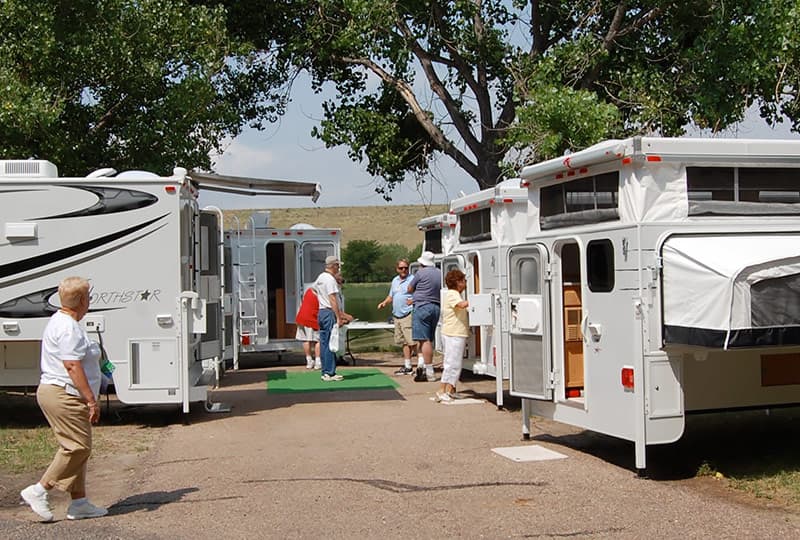 Above: Hard side and pop-up Northstar truck campers on display
On display at the show were 50 brand new truck campers from Travel Lite, Alaskan Campers, WRV Alpenlite, Outfitter, Northern Lite, Host Campers, S&S Campers, Six-Pac, Four Wheel Campers, Lance Campers, Northstar Campers, Snowriver, Eagle Cap, Arctic Fox, Bigfoot RV, Palomino RV, Oregon Camper, Hallmark RV, and Okanagan.

The manufacturers were arranged on an extended loop in the campground with each campsite hosting a truck camper or gear brand.  For example, Alaskan was on site 29 and Arctic Fox was on site 41.
The gear companies on tap included Stable Lift, Torklift International, Carefree of Colorado, Rickson Truck Wheels, Rieco-Titan, Dometic, Happijac, Covercraft, SuperSprings, and SMEV.
Truck Camper Magazine was not yet six months old when we pulled into the campground with a 2008 Lance 1055.  Rex Willett, President of Northstar Campers, had invited us to the event days after launching the magazine.  He also asked me to make a big presentation at the event, an experience I vividly recalled for our 10 year anniversary story.