Mick: We stepped on it and walked on it.  Then we asked Torklift to make some improvements.  The first prototypes didn't hold the weight I wanted them to, so Torklift added strength to the design.  Specifically, the hinges had to be heavier duty.
After two or three design changes, Jack Kay, Vice President of Torklift International, Jay Taylor, General Manager for Torklift International, and Casey Cotter, Engineer for Torklift International, visited Northwood.  They brought a revised prototype which we installed on an Arctic Fox truck camper for evaluation.  Ward King, Chief Operating Officer of Northwood, and the whole Northwood design team looked at it.  Once again we made some changes but we were getting close by that point in time.  Torklift worked well with us to make it right.
TCM: Do you think there will be more co-development projects with Torklift in the future?
Mick: That is certainly a good possibility.  I will work with whomever I need to make our product the best for our consumers out there.
TCM: Northwood had an open house for dealers to come see and review new and existing product.  How was the dealer response to the Fox Landing?
Mick: Everyone has absolutely loved it. Most of our dealers had not seen it before our dealer open house.  A lot of them at the open house were not truck camper dealers and said it made a world of difference.  Some didn't understand why the landing came out so far.  Then they'd look at it more and say, "This is amazing, and cool".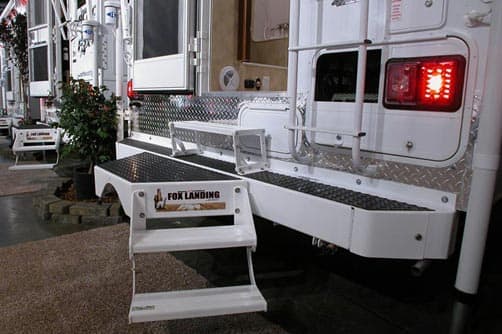 The following is an interview with Lance Rinker, Director of Materials and Marketing for Northwood Manufacturing.
TCM: Where did the name, "Fox Landing" come from?
Lance: Rich Zinzer, in Northwood's marketing department, and I were kicking around names looking for something catchy.  It's a back porch, but there's so much more to it.  After much back and forth, we "landed" on the name Fox Landing.  The name is a tip of the hat to our Arctic Fox line for which the product will be an industry-wide exclusive.
TCM: Is the Fox Landing an option or standard for Arctic Fox truck campers?
Lance: It's an option.  As of October, 2011 we have been manufacturing Arctic Fox truck campers with a Fox Landing ready bumper.  The holes where the Fox Landing mount are ready to go in the new bumpers.
TCM: How does an Arctic Fox owner know if they have a Fox Landing ready bumper?
Lance: Look for mounting holes facing outwards on the center back of the bumper.  These mounting holes will have plastic inserts.
TCM: Can someone with an older Arctic Fox upgrade to the Fox Landing or do they need the Fox Landing ready bumper?
Lance: You can add the Fox Landing to most older Arctic Fox campers, but you will also need to purchase and install the Fox Landing ready bumper.  The existing Arctic Fox bumper is removed and replaced with the new Fox Landing ready bumper.  The new bumper uses the existing bumper mount.  No additional holes need to be drilled to upgrade to the Fox Landing.
TCM: How does a customer who is going to purchase an Arctic Fox get the Fox Landing option?
Lance: Customers can either special order a new Arctic Fox from the factory with the Fox Landing, or upgrade at their dealership.
TCM: What does the Fox Landing cost?
Lance: The MSRP for the Fox Landing is $862.50.  If a customer with an older, non-Fox Landing Ready bumper would like to upgrade to a new bumper and Fox Landing, some slight modifications will be necessary.  Arctic Fox owners should talk to their local dealers and negotiate a price.