Four Wheel Campers unleashes a bold red statement to showcase their new exterior color capabilities and challenge white camper conventions.

Imagine if you were challenged to design the next iPhone. There you are Apple Park in Jony Ive's design studio sitting across from the man himself. Immediately in front of you is the iPhone X; a 5.65-inches tall, 2.7-inches wide, and 0.30-inch rectangle.
Nearly the entire face of the device is consumed by a 5.8-inch Super Retina OLED screen. The edge band is made from surgical-grade stainless steel. The front and back are glass. The rear sports a dual camera. The sides host a ring/silent switch, volume up/down buttons, and a multi-function side button. That's it.
"We need to design the iPhone 11," Jony states. "The software and apps are not our focus. We need to make the phone physically more functional, and look cooler. That's your mission." Then he leaves the room.
How do you make a glass and steel rectangle physically more functional, and look cooler? It's already the right size in the hand. It's already 0.30-inches thin. Any bigger and it would be harder to handle. Any thinner and it would begin to be sharp in the edges. Any other form factor would be inferior to the proven rectangle that's bewitched humanity. So what do you do?
Imagine if you were challenged to design the next Four Wheel Camper. There you are at Four Wheel Campers in Woodland, California sitting across from Four Wheel Camper's Dan Welty, Vice President, and Stan Kennedy, Sales and Marketing. Immediately in front of you is a 2018 Four Wheel Camper.
Four Wheel Campers sells a product that predates the iPhone by 35 years. Since 1972, the layout, materials, systems, appliances have evolved immeasurably, but the core product design is essentially the same. Any significant design changes would likely be inferior to the aluminum-framed pop-up camper that's bewitched thousands of truck camper customers. So what do you do?
Then you look down at your iPhone and it hits you. Color! You recently saw a television commercial for the iPhone 8 in sumptuous red. It's the same iPhone 8, but the red color makes it look incredible. That's it! Keep the same evolved and refined Four Wheel Camper, and make it red.
Okay, that's not exactly how the red Four Wheel Camper happened. The constraints of a decades-old product design are real, but the path to this result diverge from my imagined scenario. At least I think they do.
To learn the reality behind this audacious debut, we called Dan Welty, Vice President, and Stan Kennedy, Sales and Marketing of Four Wheel Campers.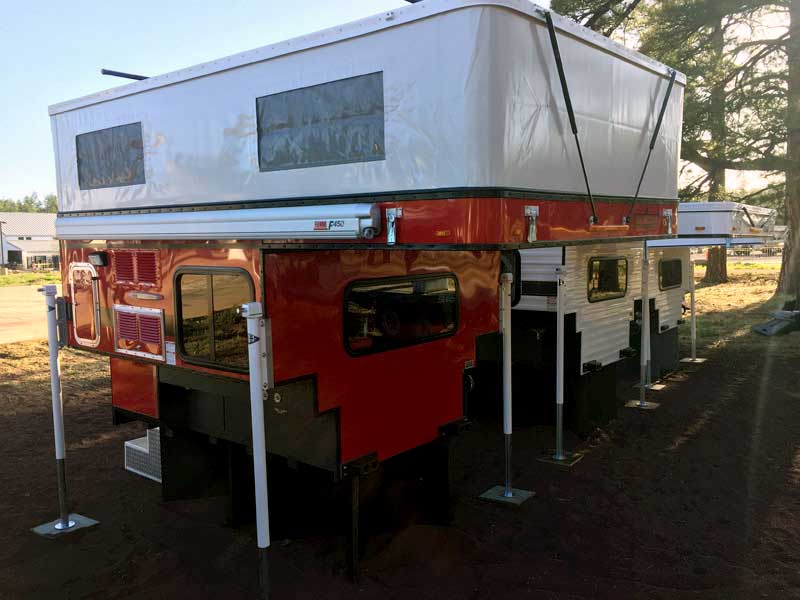 TCM: How did you get the idea to make a red Four Wheel Camper? What's the back story?
Stan: Customers have been asking us to build Four Wheel Campers in different colors for years. We offer the Silver Spur Editions with silver siding, and silver-themed interior fabrics and materials. We also have the Four Wheel Camper Woolrich with its unique exterior and interior color scheme. The popularity of those models encouraged us to push forward with even more color options. That is what the red Four Wheel Camper is all about; demonstrating this capability.
When the red Four Wheel Camper was completed, I put some photos of it up on Instagram and Facebook. The reaction was very strong. About 40-percent of the responses were very positive. Many of the responses expressed an interest in more exterior and interior color options. Overall the response was mixed but positive enough to push forward with color choices. We are excited about it.
Back in the 1970s, the Four Wheel Campers order form offered five color choices for the exterior stripe. Our supplier can get us many different colors of siding. So, it's just like changing a different fabric color. From a manufacturing point of view, it's easy.
Dan: Trucks come in different colors, so why not Four Wheel Campers? People can always order our standard white or grey, but we will be unveiling new colors in the coming months. This first camper is a demonstration but, if someone wants a red Four Wheel Camper, we are ready to build them.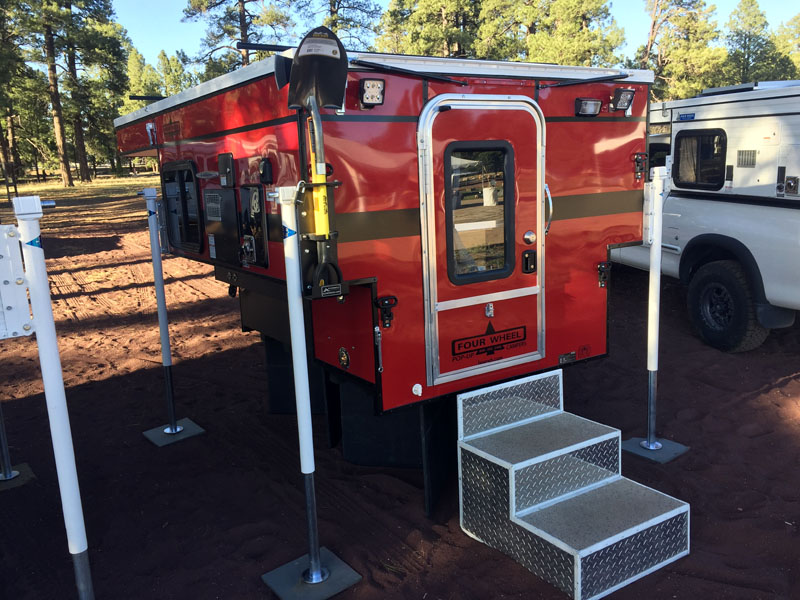 TCM: Did someone order this red truck camper, or was it built purely as a demo?
Dan: The red truck camper was designed and built to test the market's response. It is available for sale.
TCM: Is the red exterior aluminum exactly the same exterior aluminum that all Four Wheel Campers use?
Stan: Yes and no. The red camper siding now offered is smooth aluminum, but still has the same quality of paint applied to it from our supplier. Our standard base model campers come with corrugated white aluminum siding.  That's our most popular exterior.
The corrugated white siding is lightweight, durable, easy to repair, and has a baked-on enamel finish. It also doesn't show the scratches as much as flat aluminum. When you move to smooth aluminum siding, it shows scratches easier, and it's harder to replace because it's one piece. On the other hand, the flat aluminum siding looks a lot more modern.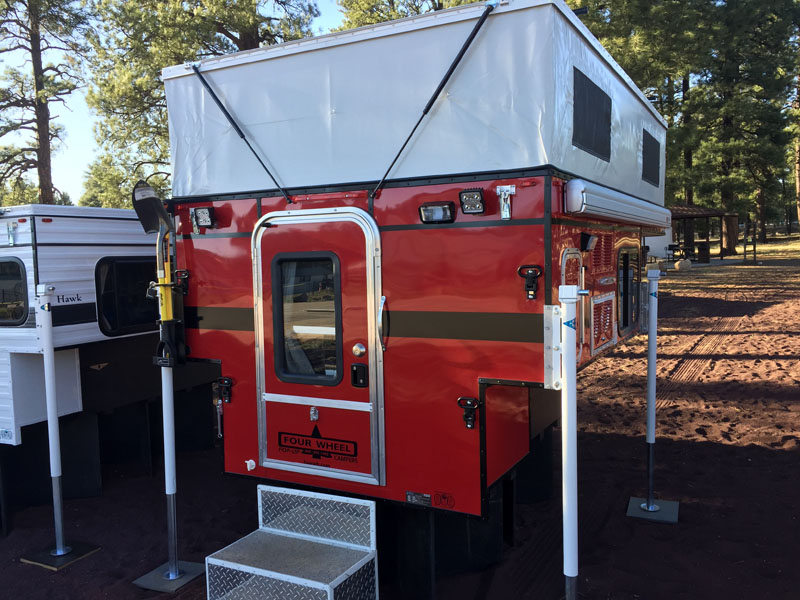 TCM: How do you attach the one-piece flat aluminum sides?
Stan: We use 3M VHB tape on our one-piece roof skin and our one-piece siding. The installed trim, windows, and doors also hold the skin in place. With 3M VHB tape, the side walls are not coming off – ever. I've seen what the people in the shop have to go through to get a roof off. They are literally using air tools and a chisel.
3M VHB tape is used for smooth siding on trucks and to hold windows in skyscrapers. Once it's bonded with 3M VHB tape, it's on there pretty much for life. We've been using 3M VHB tape for five years on our roofs.
Above: The 3M corporate video above shows how VHB tape is used to hold aluminum walls to aluminum framing in a RV application.
TCM: 3M VHB tape is incredible. What exterior colors are currently available for Four Wheel Campers?
Dan: Red, white, and silver are currently available. We just put an order in for black and a cream, which is like a military tan. Those two colors will be ready in August. We'll be following up throughout the next year with more colors.
Stan: All the little pieces attached to the camper are painted to same color as siding. The water heater vents, furnace vents, and water fill doors will be color matched. The new camper colors will look really nice once we get the new designs dialed in.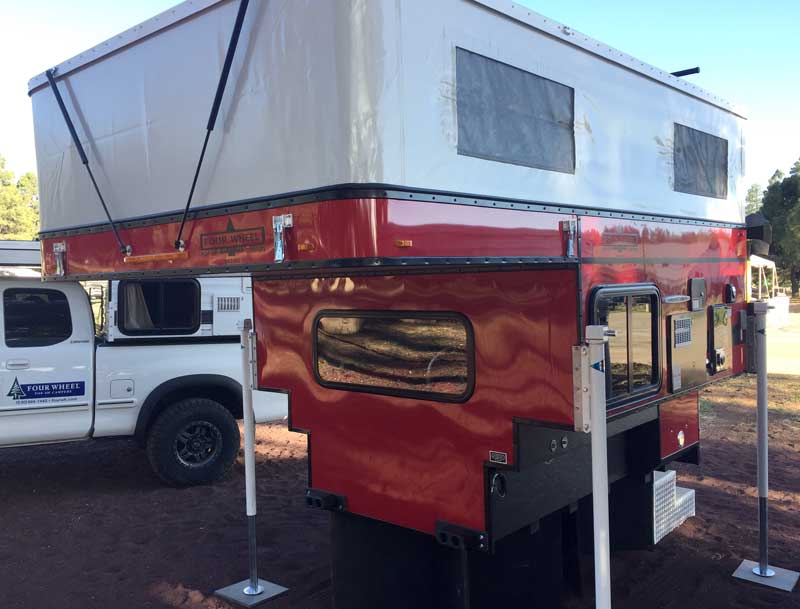 TCM: Is color something Four Wheel Camper is making available? Or is this just a concept camper built for feedback?
Stan: The Silver Spur edition is 40% of our orders. We are now offering different colors because it gives the customers more variety. The Silver Spur is an option on our order forms. Coming soon there will be a red, black, and cream option listed on our website and order forms.
Dan: If someone wants to order a red, black, or cream camper, they can order it now. We will release new colors as they are available.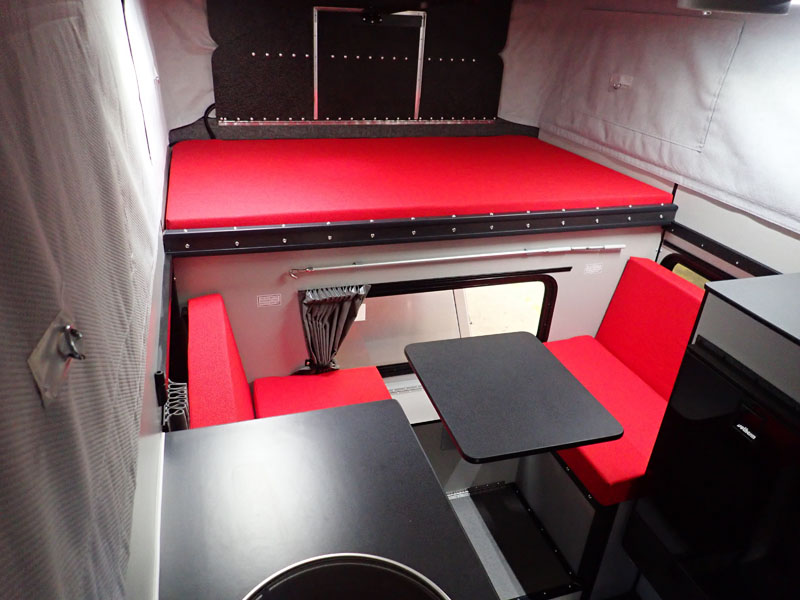 In addition to the new exterior colors, we will be introducing new interior fabrics that will color coordinate with the new exterior colors. We have also upgraded the quality of the fabric.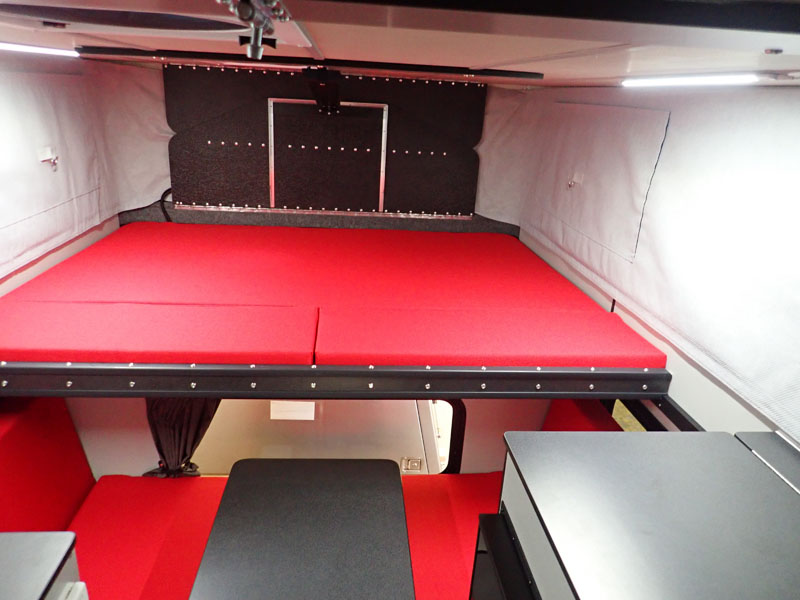 The new fabrics and colors will be introduced with the new exterior colors. You're also not locked into a specific interior color. You can order any interior color fabric with any colored exterior camper.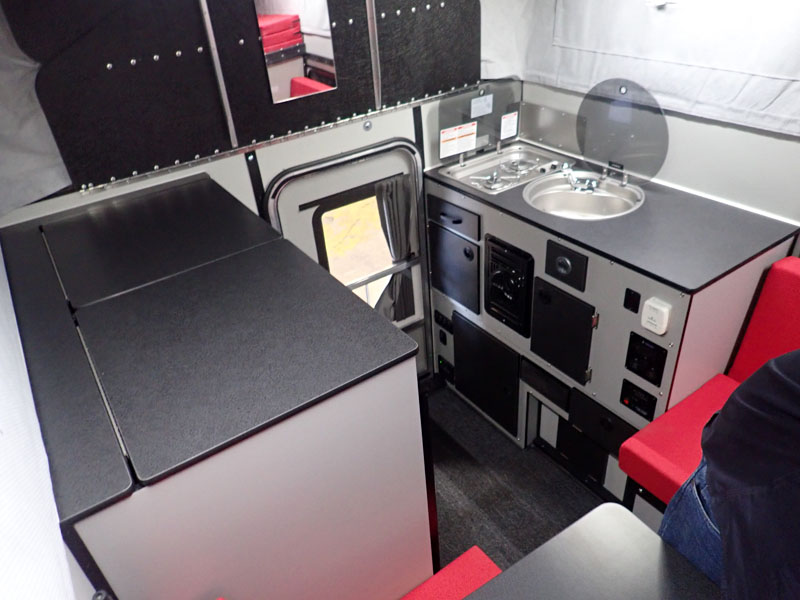 TCM: Is there an additional cost for the color aluminum?
Stan: A color exterior adds approximately $700, depending on the model.
We are modernizing our campers and offering more choices. We're updating interiors with upgraded fabrics. The classic Four Wheel Camper look is here to stay, but some people want something different. That's where the new colors come into play. Let 'er rip, potato chip!
Dan: Once you see the red truck camper in person, you're going to love it. Most of us are not wild about red cars or trucks, but everyone is amazed at how good the red Four Wheel Camper looks. It's a stunner.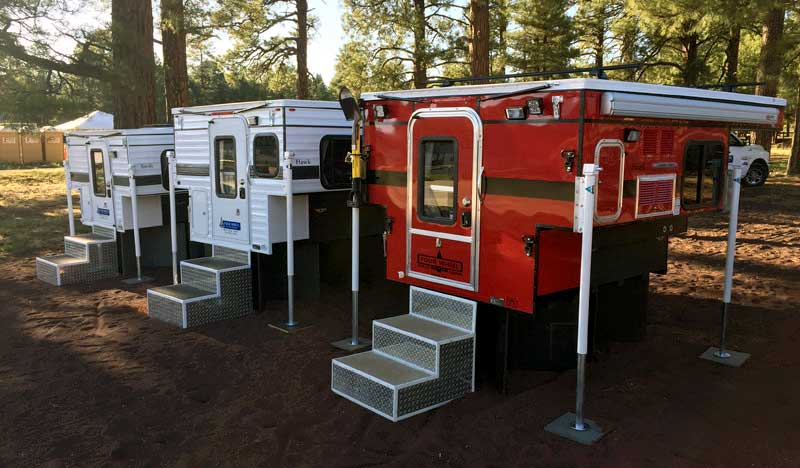 Above: The red Four Wheel Camper is being displayed at Overland Expo this weekend.
To visit the Four Wheel website, go to fourwheelcampers.com. Click here for a free Four Wheel brochure.