It's purely hypothetical, but FORM presents one of the most innovative challenges to traditional truck camper design ever proposed.  By definition, the FORM concept would be a truck camper.  And yet, it's unlike nothing we've ever seen before.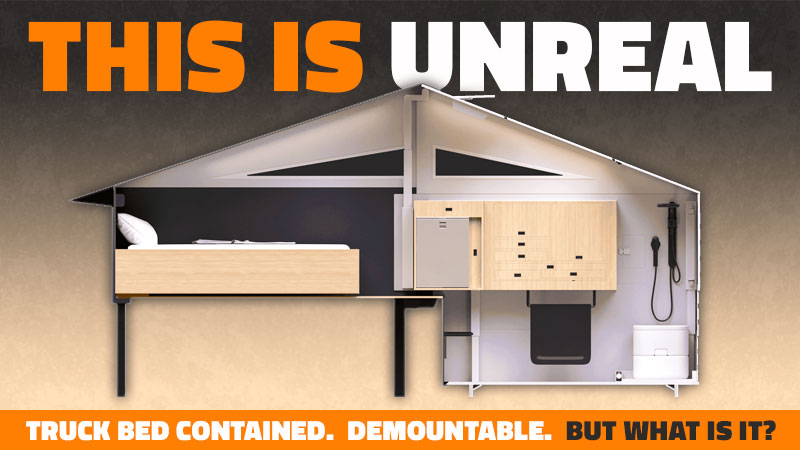 What follows is a direct transcript from my brain upon encountering FORM.  Edits were made to maintain our family-friendly reputation; "Fully contained in the truck bed?  De-mountable?  Detachable?  Self-standing!  It has jacks!  Could this FORM thing be a truck camper?"
While that synaptic sequence echoed in increasing cerebral volume, additional thoughts emerged; "It has to be another stunt rendering like the CyberLandr; more vaporware than anything approaching a physical product any human will ever be able to purchase – much less camp in.  Right?"
Then I watched the above video and read through the FORM website.  FORM may be a hoax, but the concept deserves our attention.  It could be the spark that lights a new direction in truck camper design.  Or it could just be a fun bit of whimsy.  Proceed with that caution, and FORM your own opinion.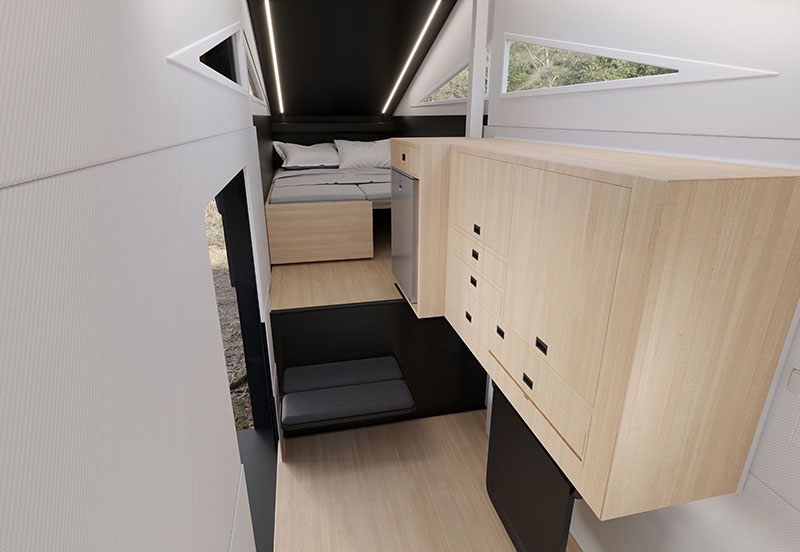 Above: The FORM kitchen and cabover.  All images are computer renderings courtesy of FORM
FORM For All Trucks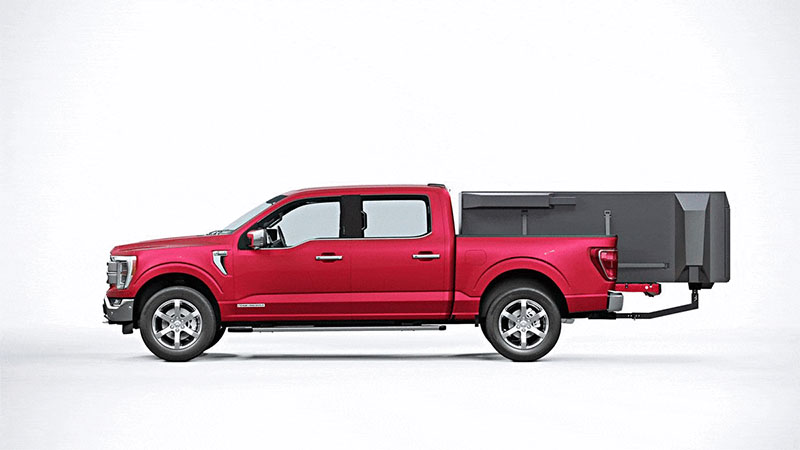 Part of the reason why this concept is more compelling than CyberLandr is the design compatibility with standard pickup trucks.  Yes, a lot of the concept art features Elon's electric wedgie (see below), but they also show the FORM with a Ford F-150 and explain how the camper works with short and long bed trucks from GM.  I'm not wild about the center of gravity-defying rear overhang or the receiver-mounted support they're suggesting (see above), but things don't weigh much in cyberspace.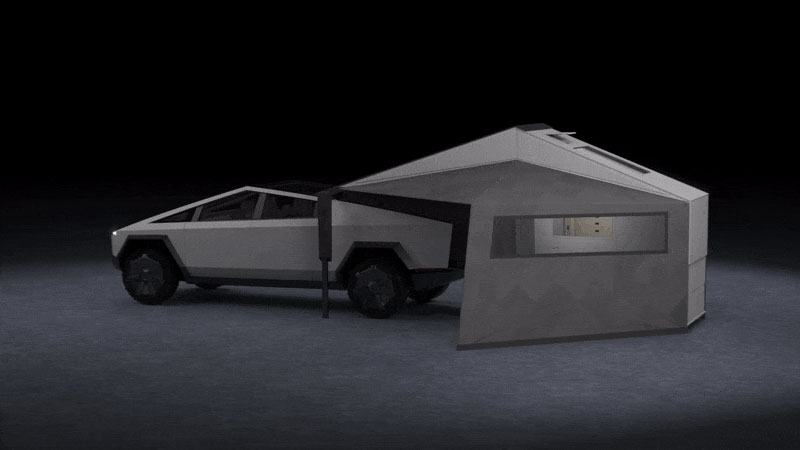 Above: FORM de-mounted from a Tesla Cybertruck
Carbon Fiber Shell
FORM shows a composite honeycomb material laminated with carbon fiber.  In theory, this would provide an incredibly strong and lightweight structure and represents a dream approach to camper manufacturing.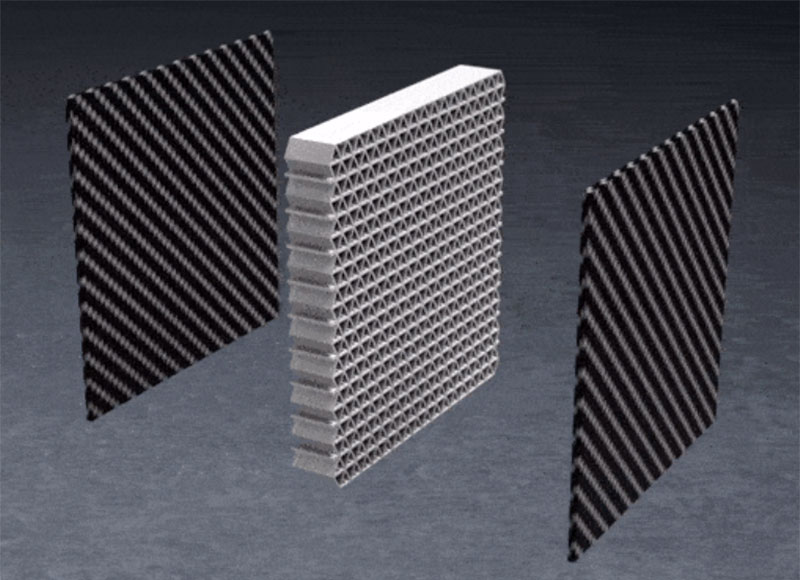 The downside to manufacturing with carbon fiber has always been the cost.  While I'm not suggesting that anyone of sound mind put a deposit down for FORM, even the steepest non-promotion price of $69,500 seems low for an all-carbon fiber camper.  Could it be that carbon fiber is coming down in cost enough to be practical for camper production?  Hey industry, please keep tabs on this important material.
Pull-In or Push-Out Kitchen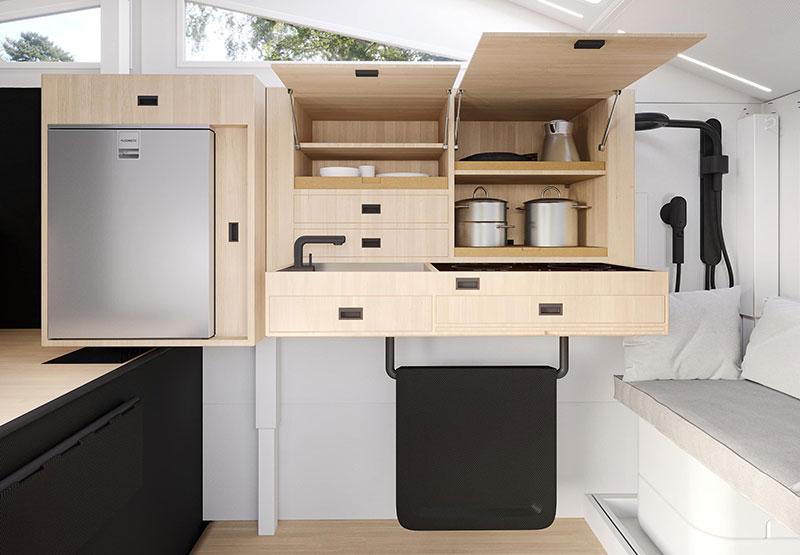 In a twist of design brilliance (or fantasy) the proposed kitchen can be pulled into the indoor living area, or pulled out into the outdoors.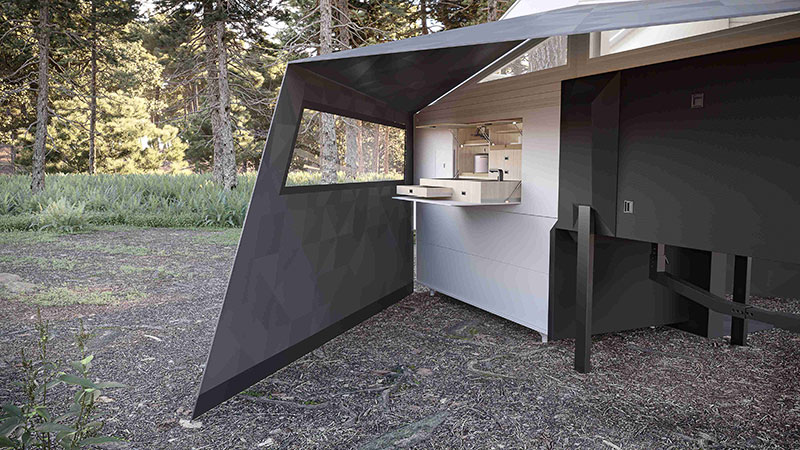 This would be, at least in theory, the first slide-in or slide-out truck camper kitchen.  If there's a camper designer looking for inspiration, here's a nudge.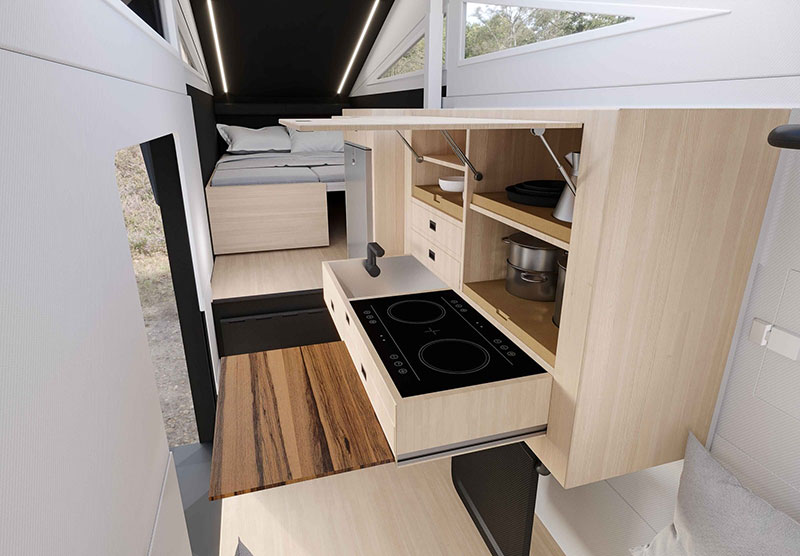 The pull-out sink and induction cooktop (shown above) is a knockout.  That doesn't mean it's possible, practical or safe.  It just looks incredible.  Never mind how the water from the sink drains, or if the induction could be pushed under cabinetry hot, or…  Gordon, stop thinking too much!  It's not real.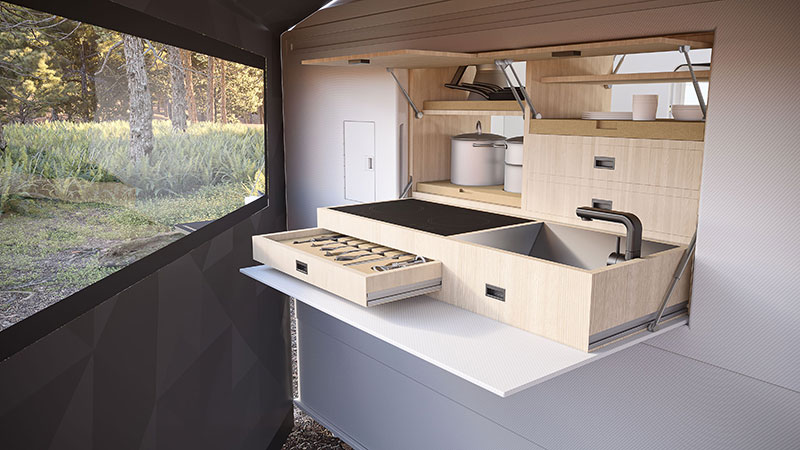 The rest of the kitchen features a Swiss Army knife density of functionality.  I particularly love the perfectly cut-out silverware and utensil trays; so elegant.  According to FORM, a full set of utensils, pans, and even the coffee maker are all included.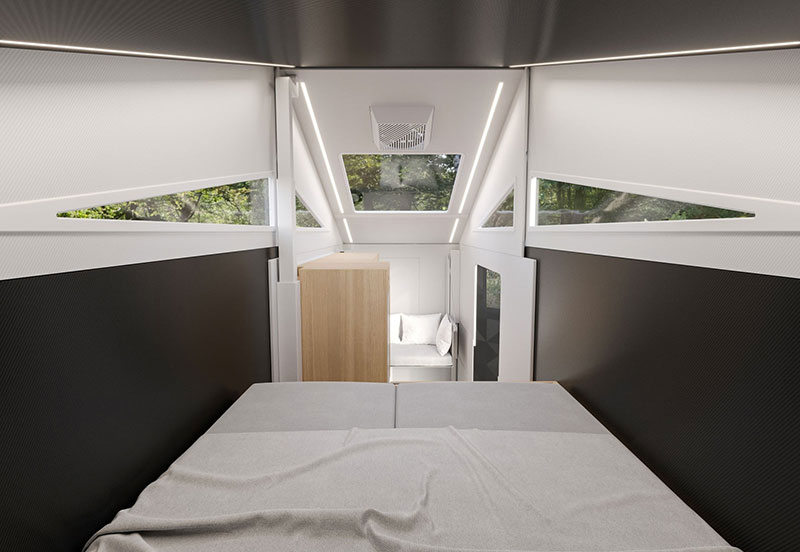 Above: The FORM cabover
Wet Bath and Push-Out Porta-Potty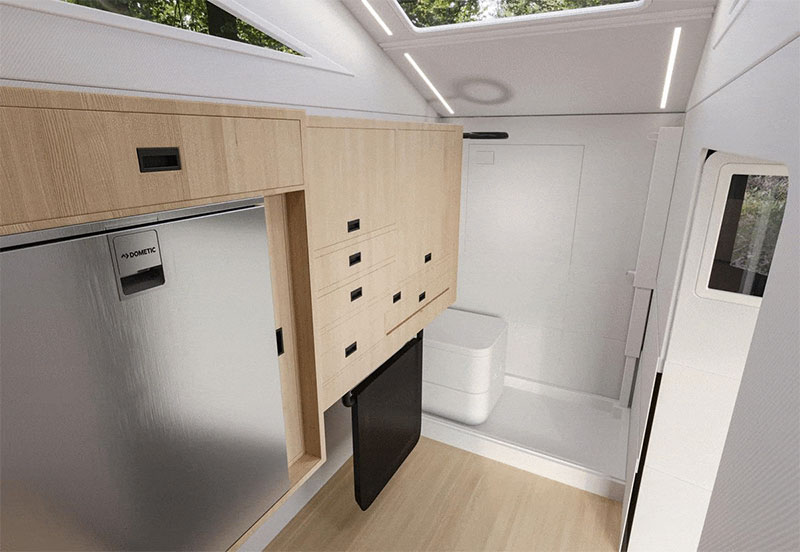 The rear portion of the FORM is dedicated to a wet bath complete with a shower, porta-potty, and sliding "magnetic rail" privacy screen and water shield (see below).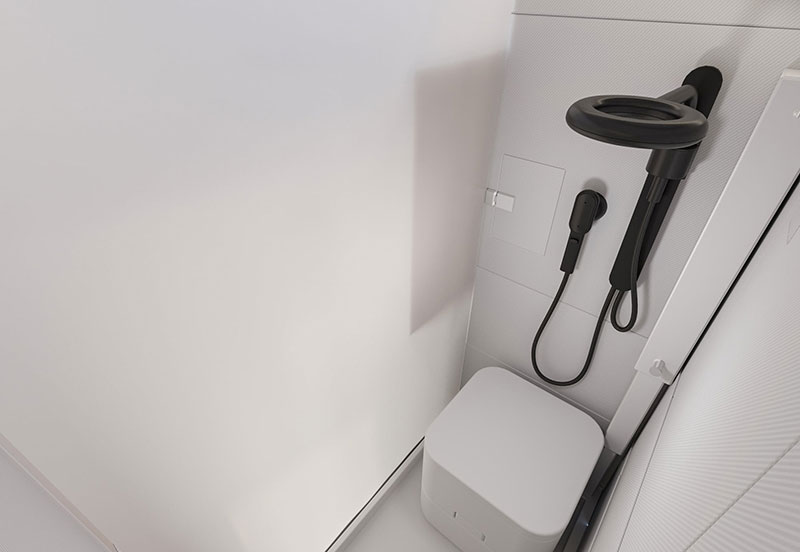 The porta-potty looks like the ones currently used in campers throughout the world.  FORM adds an interesting touch by providing something of a rear peek-a-boo potty retrieval door out the rear of the unit, presumably for convenient dumping in pit toilets, porta-johns, and residential toilets.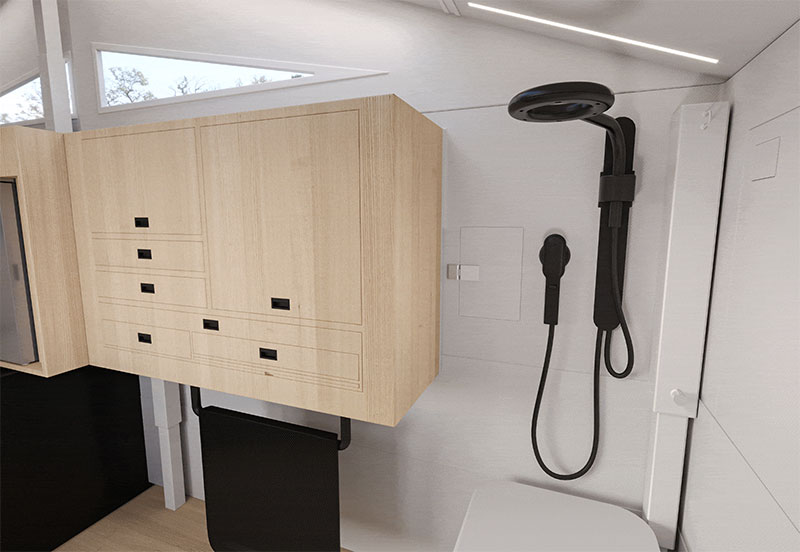 Above: Note the small door to put the second shower head through for outdoor showering
The shower offers two heads; a Moen-brand NEBIA indoor shower head and an outdoor shower head.  The outdoor shower head gets fed through a small door.  The inside NEBIA atomized-water shower head is designed to save 45 to 65-percent of water and is said to blend the sensation of a steam room and a traditional shower.
100 Gallons Fresh with Reverse Osmosis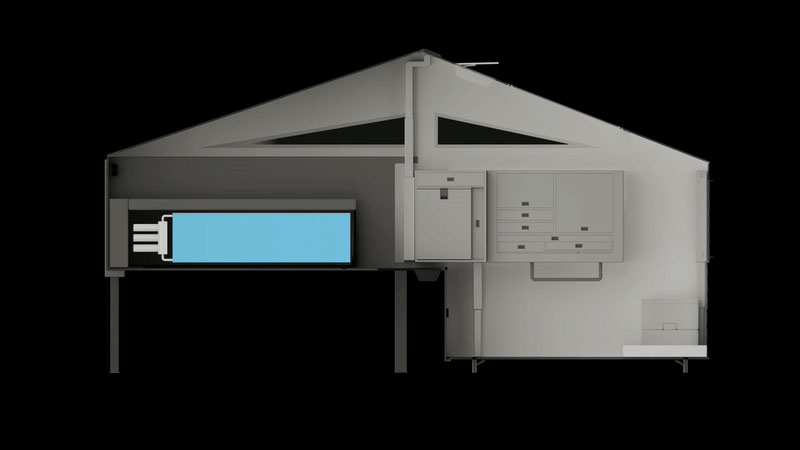 Above: Under the cabover is a 50-gallon water tank with an osmosis water system
As I was going through FORM's website, there were several points when I thought, "Here's where the truck camper industry goes berserk".  For example, FORM is presenting itself as an innovative concept for half-ton trucks and suggesting that it has 50-gallons of fresh water and another 50-gallons on tap from a technology that no production RV on planet earth currently has; an osmosis system.  Oh, and FORM evidently has 50 gallons of grey water storage as well.  Excuse me as I go full-on Camron from Ferris Bueller.
Allow me to put the obvious weight aside for a moment and focus on, "osmosis".  FORM appears to be suggesting that an onboard osmosis system filters the grey water into fresh drinking water.  We have seen portable water filtration systems that can take water from nearly any source (think a pond or stream) and turn it into drinking water, so FORM's onboard osmosis technology seems possible.  Mind-blowing and unheard of, but possible.
Wet Weight Doesn't Hold Water
FORM's stated holding tank capacities create another obvious question.  With 50-pounds of fresh and 50-gallons of grey, you're looking at 834-pounds of potential water weight.  Even if you back out the grey water, that's 417-pounds of water.  So how is it that FORM states the dry weight at "approximately 1,000-pounds" with a wet weight of only 1,300?  Am I starting to take this speculative rendering a bit too seriously again?  Yep.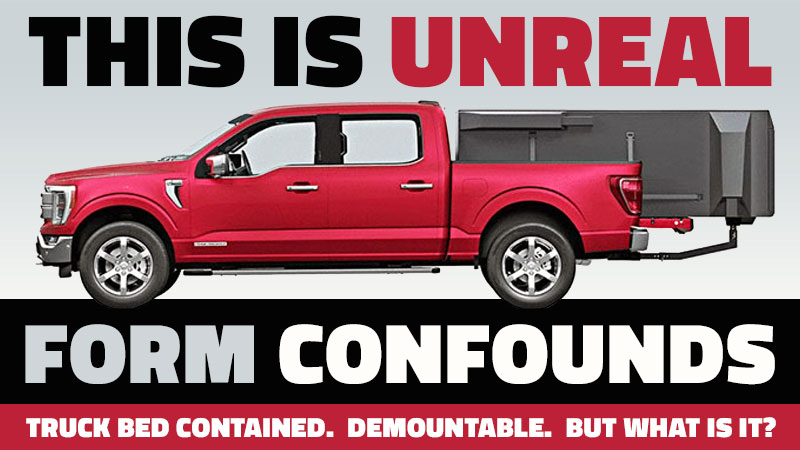 FORM Conclusion
The preliminary data offers no names, but the team behind FORM describes themselves as, "industrial designers from California who love spending time outdoors."  That sounds like a few of readers we know (if that's you, contact us).  Whoever they are, they have some serious imagination and CAD chops.
All kidding aside, I want to be 100-percent clear on where I stand on FORM.  Until proven otherwise, it's nothing more than electrons on the device you're holding.  Unless you plan on camping in the Metaverse, FORM isn't something you should be planning on.  Not yet.  Even FORM says, "The specs and features of the camper are estimates and subject to change.  Finalized production specs and features will be announced when prototyping is complete."  In other words, don't get too excited.
So why did we elevate this hypothetical art project to the level of Truck Camper Magazine?  One very important reason; as a concept, FORM simultaneously satisfies the definition of a truck camper (fully truck bed contained and de-mountable) and challenges what truck campers could be in the future.  If nothing else, the FORM concept signals camper design teams to think outside of the box, literally.  FORM may never make it beyond our favorite black rectangles, but it has already succeeded in expanding the truck camper design universe.